Are you going on a trip to Canada ? Want to know what to do and see?
You are in the right place! I have prepared a complete guide for you, with the 5 steps to organize the tour of your dreams in Canada.
Whether you want to go on a road trip in Canada or use a travel agency, I give you all my best advice and tips to prepare your vacation.
You will see, organizing your trip to Canada will be super easy!
How to organize your trip to Canada?
1. What to do and see in Canada?
First essential step to organize your trip to Canada: determine what are the things to see and the best activities to do according to your interests.
Said like that, it may seem complicated as the country is so vast and there are many beautiful places not to be missed. This is why I have prepared a summary for you in order to know what to visit and what to do in Canada.
So, what are the must-see places of interest?
In Canada, you will be able to:
Browse the sublime national parks , the most famous of which are those of Jasper and Banff
Discover splendid natural landscapes such as Niagara Falls
Live extraordinary experiences such as whale watching in Quebec or take a helicopter flight in Niagara or a seaplane in Vancouver
Take the most beautiful scenic roads: the Icefield Parkways or Route 132 in Gaspésie
See the Northern Lights in the North of the country
Get off the beaten track by traveling through Nova Scotia or the Yukon , where the wild landscapes are absolutely beautiful!
Taste typical dishes such as poutine or beaver tail
During your trip to Canada and depending on the season, there are also several really nice activities to do:
Sled dog rides
Snowmobile, also called "Skidoo"
Skiing, snowshoeing, sledding
Snow rafting
Ice skates
Descend the rivers by canoe
Go fishing (on ice or not!)

Hiking  in national parks
Observe the fauna and flora , outings with a guide are offered, for example, to meet black bears
All the places, cities and activities that I mention here are detailed in my complete guide of the 20 places to visit absolutely during a stay in Canada.
On the same principle, if you already know that you prefer to focus on the province of Quebec , I recommend that you read my article: What to do and see in Quebec?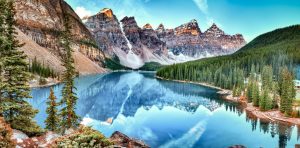 2. Travel to Canada: prepare your itinerary
Now that you know what to do and see in Canada , for the second stage of planning your trip, you will have to prepare your itinerary .
For Canada, this step is really important because it is necessary to study beforehand the distances between each place to organize these days.
The country is huge and even focusing on just one province, there is quite a bit of travel time to expect. Sometimes it takes almost a whole day on the road to get from one point to another.
And of course, depending on the duration of your trip and your city of arrival , you have to realize that you will not be able to see everything at once. To give you an idea, just to do Calgary (in the West) – Montreal (in the East) by plane, the flight takes 4 hours!
That said, even for a week-long Canada itinerary , you will have time to visit very well-known places like Montreal, Quebec or Toronto and Niagara Falls. The whole thing is to stay focused on an area.
For a trip to Canada of 10, 15 days or more , you will have time to travel more of the country , while still trying to group visits to the West or East of the country.
In order to help you optimize your stay, I have prepared recommended itineraries lasting from one week to one month in Canada.
Each of them is divided into stages where you will find for each day the visits to be made and the travel times .
They are all full of advice and good plans to do the maximum of things and you will also find a selection of the best hotels where to sleep according to your budget.
You will just have to click on the links on the names of the hotels to book them.
In this regard, for a trip to Canada, it is very important to book your accommodation as far in advance as possible, especially for those near national parks (Banff, Jasper, in Gaspésie or in Quebec). There aren't a lot!
For some very popular activities and tourist sites , it is also better to book in advance using the links or green buttons in the articles.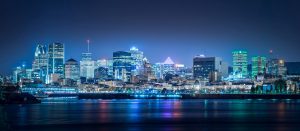 Here are my 5 itineraries in Canada, to choose from depending on the length of your trip:
For those who prefer to visit the province of Quebec on their trip to Canada, my itineraries in Quebec are here:
Finally, if you want even more detail on each city, I recommend reading my other articles on Canada.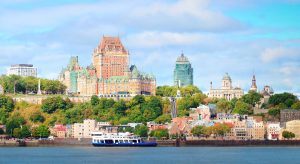 3. Book your flight to Canada at the best price
Now that you have an idea of ​​the route to follow , and if you already know your travel dates in Canada , you will be able to book your plane tickets.
Travel Tips
For your trip to Canada , you must first  apply for an Electronic Travel Authorization (AVE). This form, which you can  complete online , must  be done before your vacation in Canada.
The eTA applies to all travelers who do not need a visa.
You will find all the information  on this site.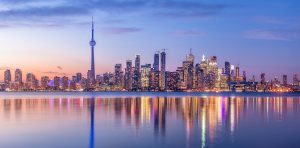 4. Rent a car in Canada
Another step to prepare your trip to Canada: car rental.
To cover great distances and above all enjoy magnificent landscapes, a road trip in Canada is the best way to discover the country! Renting a car is really essential to follow all the stages of my routes.
Super practical, you will find all the rental agencies present at the airport of your arrival city. You will immediately see who is the cheapest rental company, its reputation in relation to the opinions of former customers and the different options included in your rental.
For a circuit in Canada , I recommend that you choose a comfortable car to be well settled during long journeys. If you are going on a trip to Canada in the winter, don't worry, the cars are very well equipped for the weather conditions.
Travel Tips
To rent a car in Canada, you are not required to have an international driving license.
Your driver's license is sufficient provided it is in the Latin alphabet and you have had it for more than 12 months. 
If you still prefer to present an international driving license , you will still need to show your national driving license . Without it, you will not be able to withdraw your car.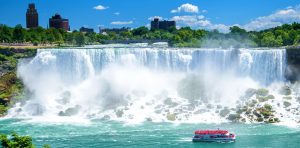 5. Get Canadian travel insurance
Last step to organize your stay in Canada: take out your travel insurance.
If you need to go to a hospital or clinic, it is required for treatment . The hospital can refuse your admission if you are unable to cover the costs for your care.
Not to mention that even if you are accepted, if you do not have travel insurance, the costs can quickly fly away. When you know that hospitalization costs amount to at least $1,000 per day , it is better to go on a trip to Canada with good insurance!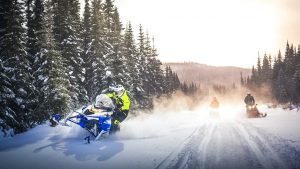 When to go to Canada? Weather
When is the best time to travel to Canada?
Excellent news, there are no bad times ! It all depends on what you want to do.
For example, you can visit major Canadian cities like Vancouver, Montreal, Toronto or Quebec at any time of the year. 
For national parks , they offer as many activities regardless of the season:
In winter, you can indulge in skiing, snowshoeing, sledding and typical activities such as dog sledding or snowmobiling . Snow rafting or ice skating is also super fun!
In summer, river descents by canoe, bike or hike are in the spotlight!
Besides, if you want to practice hiking, spring is also an excellent time to walk. The weather is good and there are a lot of people than in summer.
And I'm not telling you anything if I tell you that going on a trip to Canada in the fall is the perfect opportunity to witness the famous Indian summer , where the trees take on their most beautiful colors!
A few additional tips before going to Canada:
In the summer, Canadian companies generally close at the end of July-beginning of August during the construction holiday period. So in addition to other tourists like you, this little world also goes on a trip! You must book your accommodation even further in advance if you are leaving at this time.
In winter, even if Canadians are familiar with the season and the roads are generally clear, check the weather forecast before setting off on the road. No one wants to get stuck in a blizzard.
If you go on a trip to Canada to observe whales in Tadoussac , know that the best period extends from July to October.

Tour in Canada with a travel agency
Do you prefer to go through a travel agency to organize everything for you?
No problem! I give you here my selection of the best circuits in Canada and Quebec.
Traveling to Canada with Evaneos
Our partner  Evaneos works with local agencies to  offer you the best prices . To give you an idea,  a week-long tour in Canada starts from just €790 per person (based on 4 people)!

The tours that I offer are  fully customizable . When you request a quote, you can directly see with them what you want to do during your trip to Canada.
You will find my selection of tours in Canada in this article: The best tours in Canada.
And for Quebec, it's right here: The best circuits in Quebec.
Here is a short summary of some of the stays in Canada  offered by Evaneos:
Canada Tour: Along the St. Lawrence River – 15 days – 1310€
This 15-day circuit in Canada allows you to travel through a good part of Quebec by following the mythical river, the Saint-Laurent.
You will thus have the opportunity to discover all the beauty of the Quebec landscapes as well as the 2 must-see cities of the province: Montreal and Quebec.
In the program:
Montreal
Charlevoix
Tadoussac
The heat bay
Bonaventure Island
Gaspesie
Rimouski
Quebec
This two-week itinerary in Eastern Canada is one of the most complete for visiting Quebec and seeing the main places of interest.
You will also have the chance to pass by Tadoussac, a top spot for whale watching.
The price includes all accommodation, car rental, ferry to Gaspésie and 24-hour assistance in French.
Very competitive in terms of price/performance ratio, you are guaranteed to spend 15 dream days in Canada!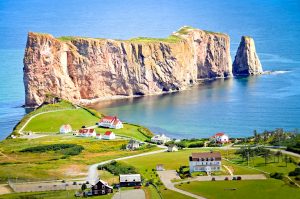 Canada Tour Western Canada at your own pace – 15 days – 1640€
This two-week circuit in Canada invites you to discover Western Canada in the form of a self-guided tour.
For 15 days, explore this magnificent region with your rental car. In particular, you will be able to discover the 2 most beautiful national parks in the West: Jasper and Banff . Without forgetting the 2 big cities of Vancouver and Calgary.
This circuit allows you to visit:
Calgary
Edmonton
Jasper National Park
Glacier Walk
Banff National Park
Kelowna
Whistler
Victoria
Vancouver
This 15-day itinerary in Canada is perfect for visiting most of the most beautiful places in the West.
The price also includes really cool activities like the trip to the Athabasca Glacier in the Canadian Rockies or the cable car ride to Sulfur Mountain in Banff National Park.
Also included in the package, car rental and nights in 3* accommodation.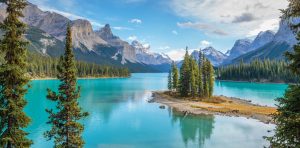 Circuit Canada The must-sees of the East – 14 days – 1050€
This last circuit in Canada , as its name suggests, takes you to discover the essentials of Eastern Canada.
It allows you to visit not only Quebec but also Ontario.
Here are all the places on the program:
Toronto
The Niagara falls
The Thousand Islands
Ottawa
Mauricie National Park
Lake Saint-Jean
The Saguenay Fjord
Tadoussac
Quebec
Montreal
This route is for me one of the most complete to visit Eastern Canada. Difficult to do better, you will not miss any of the most famous places.
In 15 days, you will take your eyes off it and experience unforgettable moments such as a cruise to Niagara Falls or whale watching in Tadoussac . An ideal circuit to combine the discovery of splendid natural landscapes and the most famous cities of the East!
Tour in Canada with Authentik Canada
Like Evaneos, Authentik Canada offers 100% tailor-made trips to Canada. 
You can choose your road trip online and plan it from A to Z by checking:
The duration of your itinerary: from 1 to 4 weeks
Region: Eastern or Western Canada
Your favorite type of road trip: by car, motorhome, family, luxury…
You will then have access to a proposal of several different circuits corresponding to your criteria.
Each circuit in Canada including  a detailed itinerary for each day with travel times / km on the program, suggestions for activities and visits, as well as recommended accommodation.
The operation is super simple and the site very practical: it's up to you to choose according to your budget what you want to do and your category of hotels! Everything can be modified directly online!
For example, if you want to add a cruise at the foot of Niagara Falls , you know that it will cost you 51€ per person; if you want a higher hotel category, it will be +25€ per night and so on.
Authentik Canada is completely transparent about pricing.
Whether you are looking for a cheap tour in Canada or a more luxurious one, you are bound to find the one that suits you!