What to do in Ottawa, Canada?
To visit Ottawa is to discover the capital of Canada.
And yes, if you had been asked the question at Trivial Pursuit, you might have spontaneously answered Montreal or Toronto to designate the capital of Canada and you would have screwed up. Ottawa is indeed a city less known than its big neighbors but which deserves a passage during a route in Canada.
To help you organize your visits, I have also prepared itineraries for visiting Ottawa in 1, 2 or 3 days. At the end of the article, you will also find our selection of the best accommodations according to your budget.
So what to do and see in Ottawa?
Visiting Ottawa: the must-sees
1. Parliament Hill
Parliament Hill is the seat of the federal government of Canada, you will find all the Parliament buildings here. It is the city's main landmark and therefore the perfect place to start your visit to Ottawa.
Free guided tours are organized daily to discover the House of Commons, the Senate and the magnificent Victorian-style library .
You can also climb to the top of the Peace Tower to enjoy a 360° panorama of Ottawa.
I advise you to pick up your tickets early in the morning if you want to be sure to be able to visit the buildings, because the distribution is based on the principle of first come, first served. There will not be for everyone.
If you choose to visit Ottawa in the summer, it is also on Parliament Hill that you can watch the Changing of the Guard.
And between July and September, every evening, you can attend a sound and light show projected onto the buildings. A show not to be missed to discover the history of Canada in an original way.
For information on the schedules of guided tours of this emblematic Ottawa monument, consult the Parliament website.
Tips:
A walking tour is a pleasant way to see Ottawa, but I also advise you to combine it with, at your choice  (click on the links in orange to book):
A hop-on hop-off bus tour:  very practical for making a first scouting of the main places of interest to see in Ottawa and also benefit from commentary in French.
A guided amphibian bus tour: to admire the architecture of the Canadian capital on land and water during a one-hour guided tour.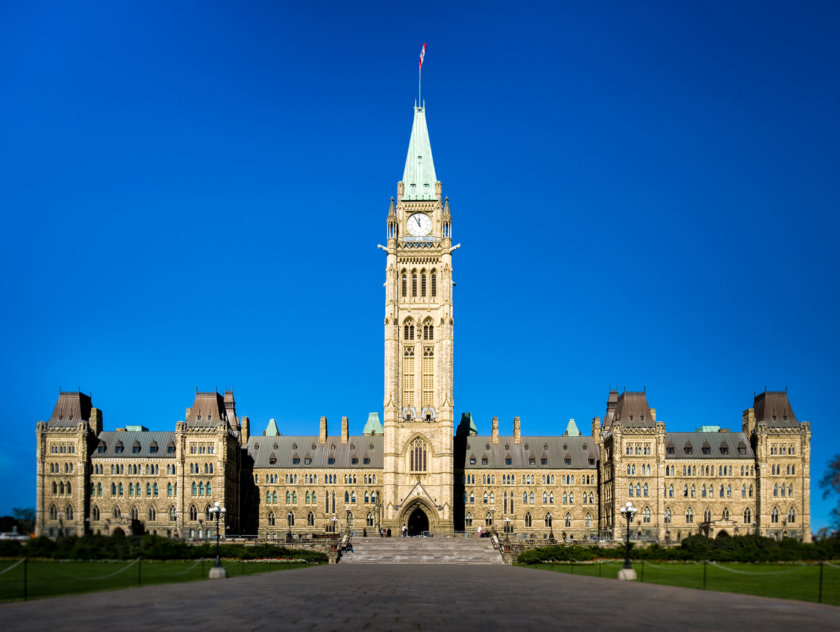 2. The Canadian Museum of History
During your stay in Ottawa, I strongly advise you to visit the Canadian Museum of History (or Canadian Museum of Civilization). This is clearly THE must visit in Ottawa.
Of all the museums I visited on my trip to Canada, this is one of my favorites. I didn't think I would spend so much time there and I even got a little tricked because I had to speed up the visit at the end due to imminent closure!
The museum is located across from Parliament Hill, on the banks of the Ottawa River. It is one of the oldest and busiest in Canada with over a million visitors a year.
It traces the entire history of Canada from the Canadian First Nations and gives you the opportunity to go back in time over almost 20,000 years.
The exhibitions are fascinating and the presentation is very well done, impossible to get bored even if you are not a fan of museums in general.
You will inevitably be impressed by its collection of totems, the largest in the world. The part devoted to the history of the first peoples also particularly interested me.
The museum is Ottawa's busiest tourist attraction. To avoid wasting time at the entrance, I advise you to buy your skip-the-line ticket in advance.
Tips:
Allow at least 3 hours for the visit. The museum is huge and the collection of objects very rich. It's worth spending the time on it.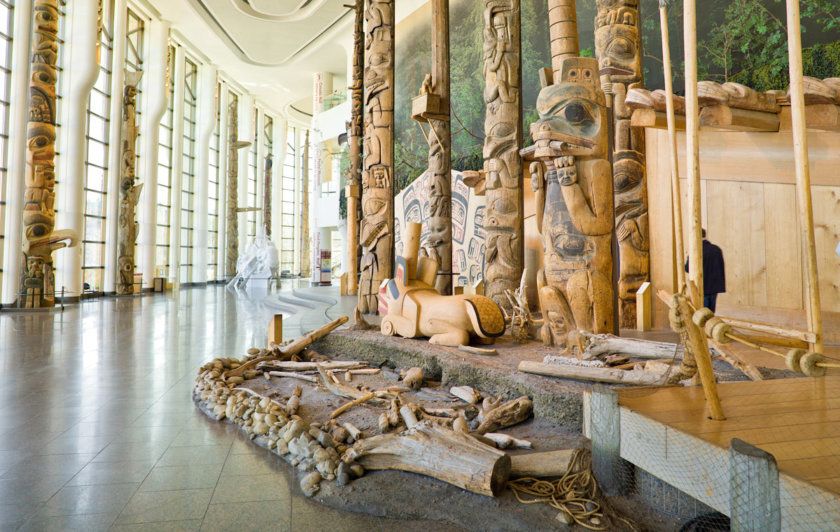 3. The Rideau Canal
A must on your trip to Ottawa: a walk along the Rideau Canal.
Listed as a UNESCO World Heritage Site, the oldest continuously operating canal in North America connects the city to Kingston on Lake Ontario.
200 km long , its banks are the ideal place to go in Ottawa for a walk or a bike ride during your tour of Canada. There is also a beautiful 8km cycle path. The surroundings of the canal are really well laid out and very nice.
The more athletic can even rent a canoe or kayak to explore it.
In summer, guided cruises allowing visitors to admire certain buildings in Ottawa are also organized on the Rideau Canal and the Ottawa River. To book your Ottwa cruise here.
There is also a version of this cruise available on an electric boat. You will have access to the information by clicking here!
And if you're wondering what to do in Ottawa in winter, know that the canal becomes the longest natural skating rink in the world! Put on your skates and slide over more than 7km through the whole city.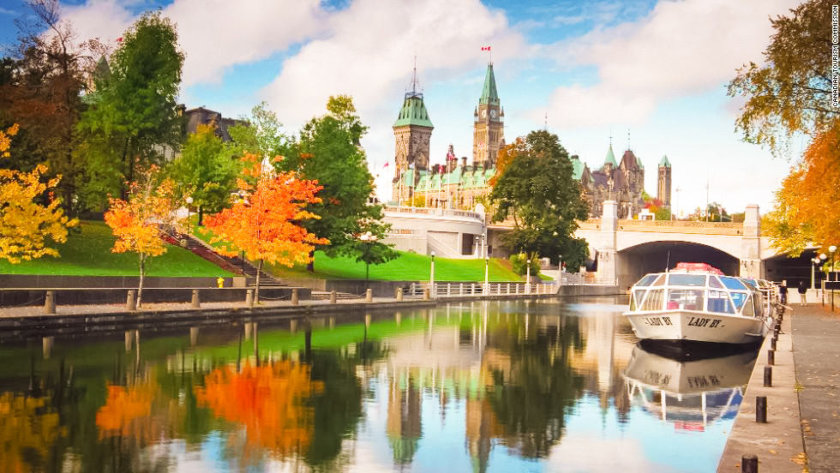 4. Museums to visit in Ottawa
In addition to the Canadian Museum of History, you will find plenty of other museums to visit during your tour of Ottawa.
I have prepared a summary of the museums not to be missed in Ottawa:
Now you know where to go and  what to do in Ottawa when it rains!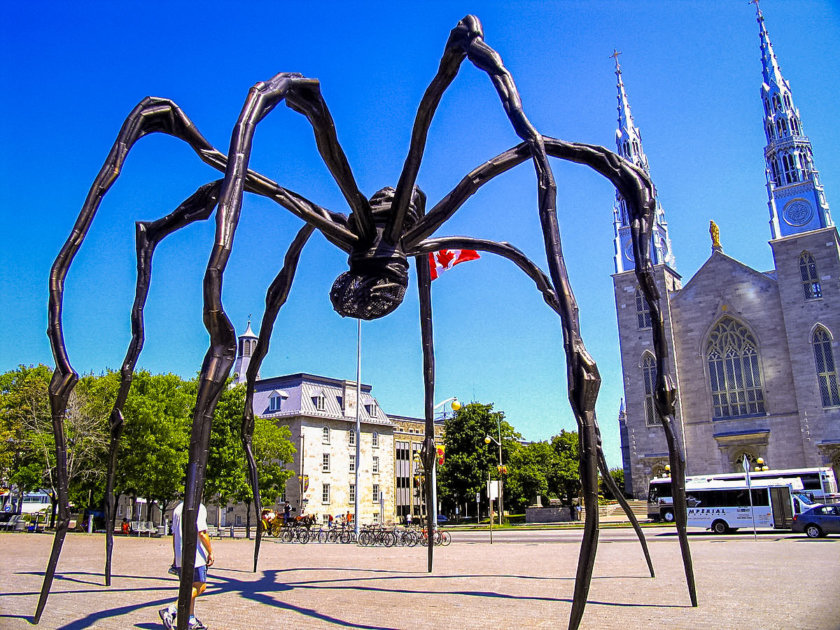 5. Byward Market
I continue this Ottawa tourist guide by the Byward Market which is located next to Parliament Hill.
Created in 1826, it is one of the oldest markets in Canada. You will find nearly 250 stalls to stock up on local products, including the famous maple syrup.
I recommend that you take the opportunity to taste a beaver tail, a traditional Canadian pastry. This pastry is a fried donut in the shape of a beaver tail on which you can add Nutella, bananas or cinnamon. Not recommended in case of diet but so good!
The area around the Byward Market is also the ideal place to do some shopping in Ottawa in the 500 businesses located there.
Finally, you will also find several great restaurants and cafés for a drink on the terrace. It is a very lively neighborhood of Ottawa.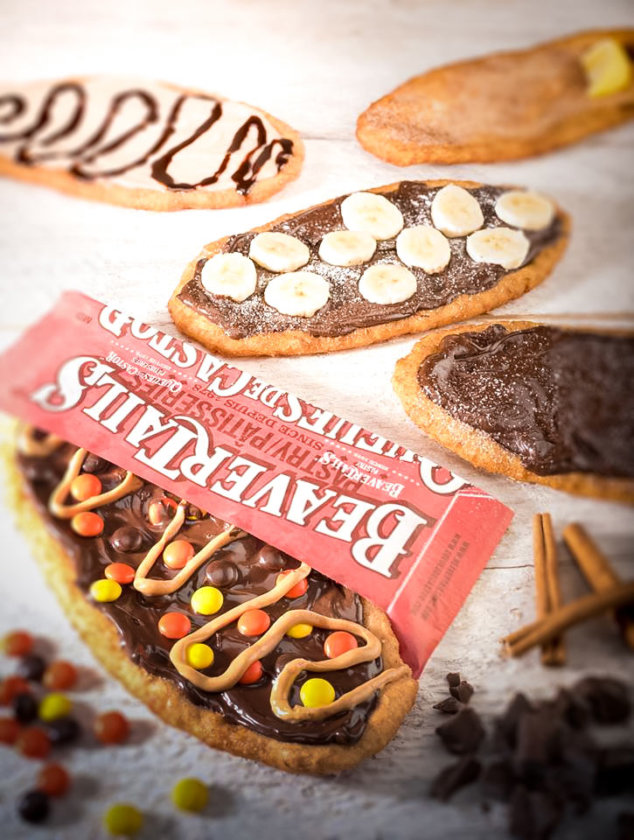 6. Parks to see in Ottawa
You'll find plenty of parks to visit in Ottawa to enjoy the greenery and a relaxing break on a bench.
In addition to Parliament Hill, I advise you to pass by:
Major's Hill Park where you can certainly see squirrels and marmots. It offers beautiful views of the Rideau Canal and the Parliament Buildings.
Jacques-Cartier Park and its famous snow sculptures in winter. It allows you to admire a beautiful panorama of the Ottawa River and the Rideau Falls. It's also a great place to cycle on the many trails.
The Confederation Park where there are several sculptures and monuments as well as a (supposedly) haunted fountain. If you manage to photograph the ghost, I want to see the photo!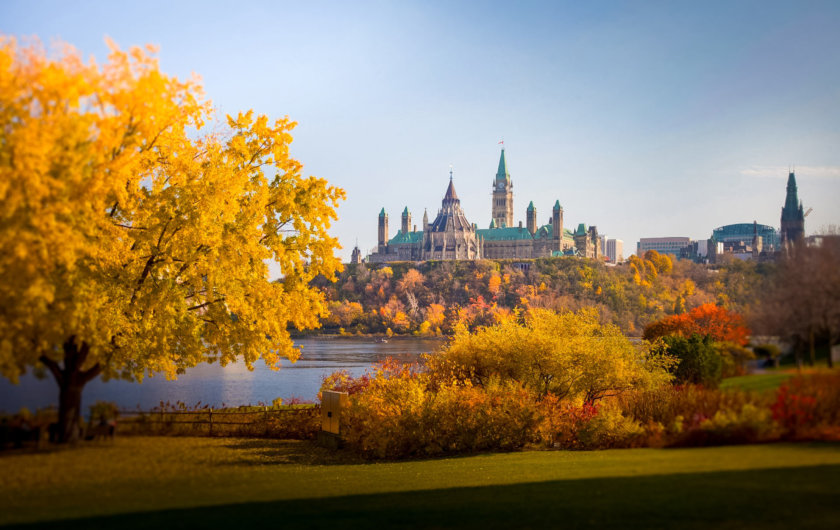 7. Take an original guided tour of the city: the haunted walk of Ottawa
In order to visit Ottawa in an original way, I found you a very nice circuit: a guided tour on the theme of ghosts.
There are several versions, each taking place in a different building in the city. You will be able to visit a former prison, the scene of the killing of several criminals, or the Bytown Museum, the oldest building in Ottawa.
And zombie lovers will not be left out. A circuit will take you through underground tunnels overrun with undead. Make sure you haven't been bitten on the way out!
Tours last about 90 minutes for around twenty dollars.
You can book them in advance.


8. Ottawa from above
If you don't know what to do in Ottawa, I found you 2 other super nice activities to take a little height and discover the city from a new angle!
We start with an urban zipline descent at more than 40 km/h and 35 meters high. Special fact: the zip line allows you to cross from Ottawa to the city of Gatineau by crossing over the Ottawa River.
You can also leave with the video of your descent!
To book a zipline in Ottawa here.
And to get even higher and admire a breathtaking view of Ottawa and the surrounding area, I strongly recommend that you opt for a helicopter flight. You can book this activity in Ottawa here.
9. Dows Lake
Dows Lake is located in the heart of Ottawa. It is an ideal place for a walk and a perfect place to enjoy a moment of relaxation away from the hustle and bustle of the city.
In summer, Dow's Lake is very popular because it allows you to practice several water activities. Here you can rent canoes, kayaks, paddles and pedal boats.
And in winter, it is the rental of skates, snowshoes and sleds that is set up.
You can also take the opportunity to take a lunch break in one of the 3 restaurants on the lake.

10. Festivals in Ottawa
During your trip to Ottawa, chances are that you will come across one of the many festivals organized in the city, in any season.
The list of festivals to go to in Ottawa is here:
Winterlude extends over 3 weekends in February and offers many activities such as skating, sliding, dog sledding, most of which are free. The ball is renowned for its international ice sculpting competition. Activities are spread all over the city: Confederation Park, Rideau Canal, ByWard Market, in museums, etc.
The Canadian Tulip Festival, the largest of its kind in the world, takes place in Ottawa every year in May. You can admire more than a million tulips in bloom. An open-air festival of colours.
The Dragon Boat Festival, the largest such festival in North America. This boat race of more than 200 teams takes place every year at the end of June.
The Bluesfest is held every year in July for 10 days. This music festival has hosted the biggest names in song like Sting, Pink, Bob Dylan. 5 scenes are installed on the banks of the river and inside the Canadian War Museum.
The Jazz Festival highlights the most renowned jazz artists. It takes place in June and July at Confederation Park and the National Arts Centre.
The Chamberfest, an international music festival dedicated to chamber music held in July and August.
The Gatineau Hot Air Balloon Festival is located a few minutes from Ottawa. Every morning at the beginning of September, you can admire the flights of these impressive machines.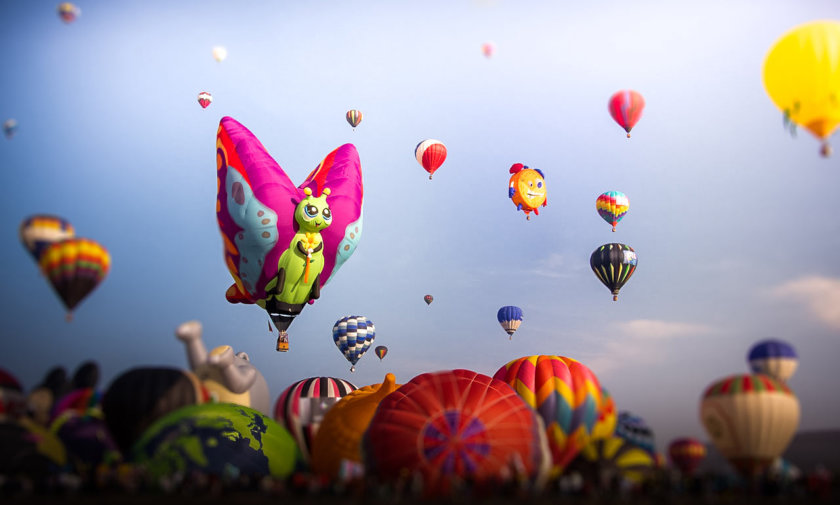 What to do around Ottawa?
Following your discovery of the city, I suggest that you continue your stay in Canada by visiting the surroundings of Ottawa.
Here is my selection of the most beautiful places to see around Ottawa.
11. Gatineau Park
Gatineau Park is located around Ottawa, just 15 minutes from Parliament Hill.
Covering an area of ​​36 hectares, it offers more than 250 km of trails between forest and lakes.
Whether you are a hiking or cycling enthusiast, the park is well laid out and the trails are passable all year round. In winter, the best way to cover it is to opt for cross-country skiing.
In the fall, it takes on all the beautiful shimmering colors of Canada.
Not to be missed in Gatineau Park:
Pink Lake whose water color is not pink but turquoise green. The lake is very pretty!
Mount King with a height of 344 meters
The Belvédère Champlain offers the best view of all of Gatineau Park
Luksville Falls, which when the snow melts turns into a large waterfall
Meech Lake frequented by locals because swimming is allowed there
La caverne Lusk
Philippe Lake and its sandy beach, ideal for swimming
Lac la Pêche, the largest lake in the park.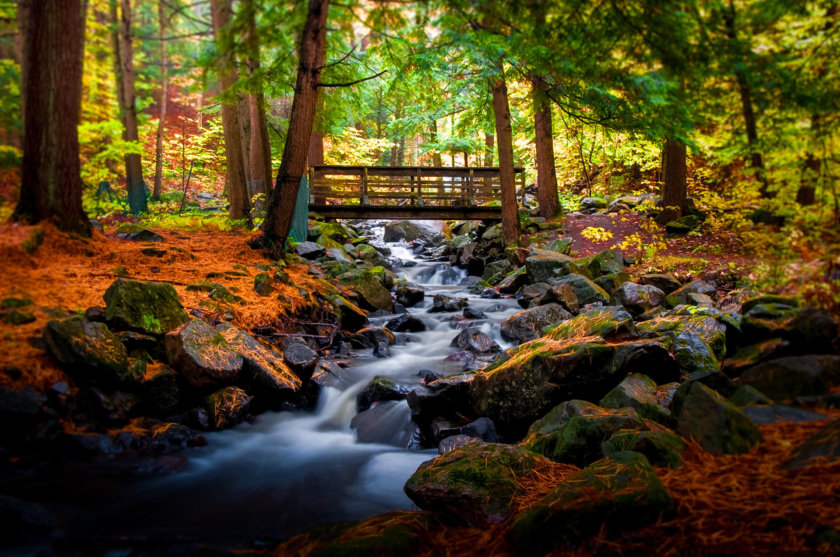 12. Montreal
Montreal is a 2 hour drive from Ottawa. It is the largest city near Ottawa.
What to see and do in Montreal?
A walk on the Plateau Mont-Royal to admire its traditional houses
Ascent to Parc Mont-Royal and the belvedere
Visit the historic district of Old Montreal
Walk along the quays of the Old Port.
All the details for visiting Montreal can be found in my dedicated article, accessible by clicking here: What to do in Montreal?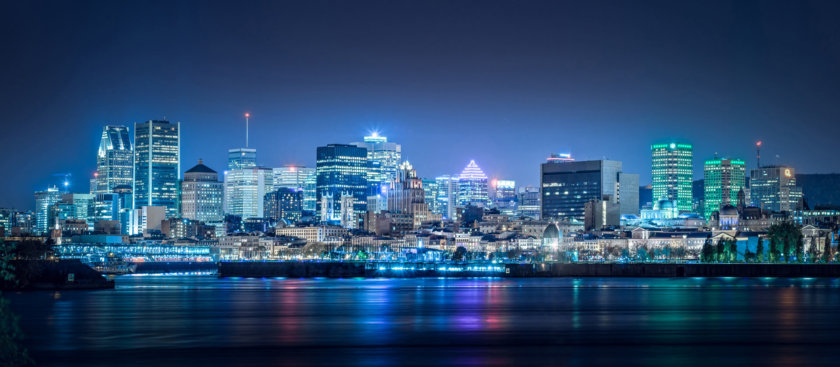 13. Mont Tremblant
Only 1h45 drive from Ottawa, you can reach Mont-Tremblant, considered one of the best ski resorts in Quebec.
If you have decided to go to Canada in winter, I also advise you to take advantage of your visit to Mont-Tremblant to go snowmobiling, an emblematic activity of the country.
The place is also renowned for being one of the most beautiful places in Canada to admire the colors of fall.
Finally, in summer, you can indulge in water sports on the lake or go hiking in the forest.

14. Other things to do around Ottawa
If you have decided to go to Ottawa for a few days, you can also add other activities to your program.
Do not hesitate to click on the links in orange  to access the details and make your reservations:
Rafting down the Ottawa River
Snowshoeing in an ice maze, in the village of Wakefield, 30 minutes from Ottawa
Ice skating, in the same ice maze
Stand Up Paddleboard Tour in a Water Maze (in Wakefield)
Canoe trip (still in the water maze)
Via Ferrata in Chutes Coulonge Park, near Ottawa
Tree climbing course, also in the Parc des Chutes
Giant zip lines, always in the same park (possible to combine tree climbing and giant zip lines in the same course).
How many days to visit Ottawa?
A small town that can be visited very well on foot, you can easily discover the main places of interest in Ottawa in 1 day.
But if you want to visit a lot of museums, it can quickly take time. At that time, I would advise you to allow 2 days.
If you also want to visit the surroundings of Ottawa such as Gatineau Park or add activities, you can spend 3 days in Ottawa.
1 Day in Ottawa
For a day in Ottawa, I suggest the following program:
2 Days in Ottawa
In 2 days in Ottawa, I suggest you take the itinerary of the first day and add:
A morning to discover the fascinating museums of the city. There is no doubt that you will find your happiness among the vast cultural choice.
Lunch break
Leisurely stroll through city parks and along Dows Lake
And if you rather want to enjoy nature, do the program for day 3 and go for a walk in Gatineau Park.
3 Days in Ottawa
If you have toured the city the first 2 days and you still have one day left in Ottawa, I advise you to take the opportunity to go to Gatineau Park.
You will be able to hike in the great outdoors and enjoy the magnificent Canadian landscapes.
For a little more adrenaline, you can also choose to do one or more activities: zip line, rafting, snowshoeing…
Accommodation in Ottawa
Ottawa may be the capital of Canada, but it's still a small city.
The offer for accommodation is therefore a little limited. I advise you to do it in advance to book accommodation from our selection and not to hesitate too long.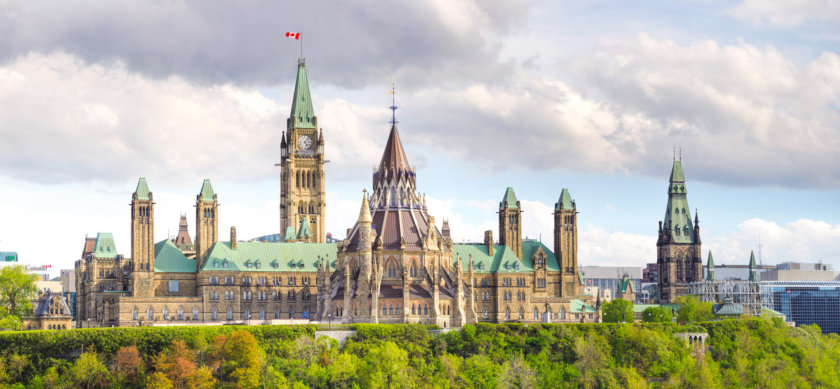 Restaurant in Ottawa
Play Food and Wine : Located in the ByWard Market. This restaurant offers dishes based on fresh and quality products from local farmers. A selection of wines is offered to accompany each dish. You can take several dishes to share. Reservation recommended.
La Bottega : Located in the ByWard Market area on George Street. The small restaurant is located in a grocery store selling Italian products. You can enjoy typical homemade dishes or make your own sandwich with excellent Italian cold meats and cheeses. The prices are really reasonable. Ideal for lunch.
Bâton Rouge : Located on Rue Albert, about a 10-minute walk from Parliament Hill. This restaurant is a steakhouse, so I recommend it to lovers of prime rib, ribs and burgers. The quality of the meat is excellent and the dishes very hearty. Don't forget to save room for the cheesecake for dessert!
How to get to Ottawa
Ottawa is located between Montreal and Toronto, so it is easily accessible from these 2 major cities.
From Montreal:
From Toronto:
Ottawa also has an international airport, but it is not really served from France. Direct flights exist from London for example.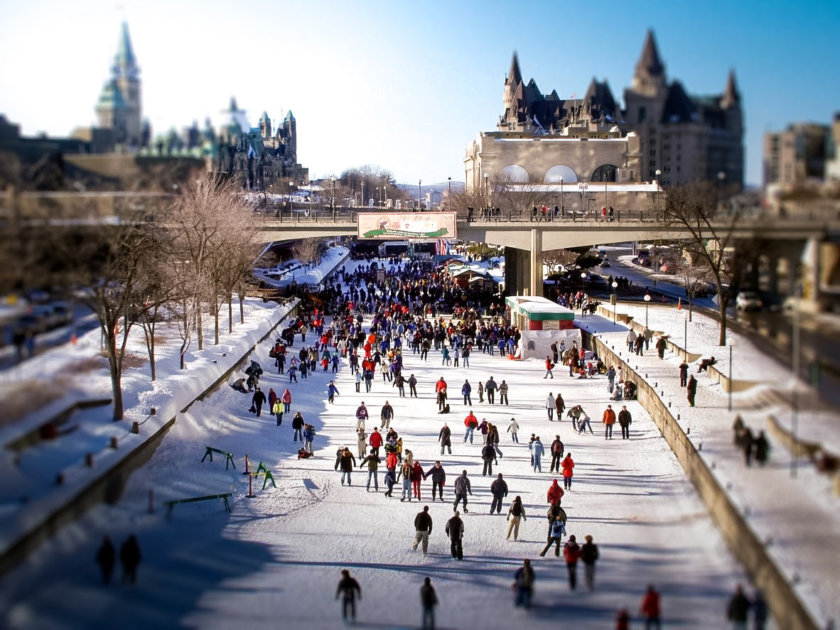 My impressions of Ottawa
I really liked visiting Ottawa because it is a city on a human scale, you can walk there quietly on foot and see everything!
Visiting the Canadian Museum of History has been a big part of making Ottawa a must-visit on a Canadian road trip. If there is one place not to be missed on the list of things to see in Ottawa, it is this one!
Ottawa tourist map
To help you visualize the city a little better, I made you a tourist map of Ottawa listing the places to visit that I talk about in this top 15 things to do. You can display the map legend by clicking on the top left button with a small arrow.
So what are you planning to do in Ottawa?
Are you going on a trip to Canada? Read also
Discover all our articles about Canada: All articles about Canada are listed here!