If you're starting to look around to figure out where to stay in Iceland and find the best accommodations in which to do so, you may have realized you have some doubts about it.
First of all, you must know that in Iceland it is strongly discouraged to "book at random" or not to book at all, relying on fate by knocking from door to door late in the evening, to find a place (perhaps even cheap) in which to rest your tired limbs.
There are mainly 2 reasons: Iceland experiences periods (especially in the summer months) in which it is literally invaded by tourists.
This causes the price of housing to rise exponentially, as demand is much higher than supply.
That's why in the next few lines I want to give you some advice on where to stay in Iceland, consciously choosing between hotels, guest houses, hostels and farms.
Obviously I will also include in this selection the most beautiful (although not always cheap) accommodations in which you should at least consider staying during your trip to Iceland, because yes: you will have to include a little pure personal pleasure in your itinerary of this incredible, tiring and unforgettable adventure.
Let's begin!
Tips for booking accommodation
What will mainly affect the cost of your trip will be the accommodations.
To try to keep costs down and thus be able to give you a few more tours in Iceland, I want to give you some advice to save money.
If your trip will take place in the summer period, you shouldn't hesitate for a second and book your accommodation immediately.
This will save you time and money, managing to find facilities at an affordable price and not risk having to stay in the car because you haven't found a place.
You should also know that the most popular accommodations in Iceland are guest houses, while the rarest and most expensive are hotels.
Plus, booking mostly self-catering accommodations will save you a lot of money! The further you get away from Reykjavík, the sparser the accommodations will become (although they are constantly increasing), so if you intend to go all the way around the island perhaps during a 10-day itinerary in Iceland, don't waste a second and start to book while you read this page.

Tips: reading this guide will certainly help you understand how accommodation in Iceland works (and the best available), but remember that you will also find the accommodation recommended day by day within the on the road itineraries .
1: Guesthouse in Islanda
As I told you just now, guest houses are the most popular accommodation in Iceland and you will also find them in quite remote corners of this fantastic land.
As the word itself says, guest houses are " guest houses " and are very similar to landlords.
Often, however, guest houses are real homes of locals, who choose to rent out a part of it to travellers, sharing common areas with them and a chat in company.
Conversely, you may also find guest houses geared entirely to travellers.
It's always a nice experience and I must admit that it makes me smile a little when the smells of food from different continents mix in the shared kitchen.
In any case, choosing guest houses for your stay in Iceland will be a wonderful experience!
Best Guesthouse in Iceland
The ones I will list below are the best guest houses I have come across during my travels in Iceland.
In short, don't necessarily go there, but if you pass by, remember to book your stay in these fantastic establishments (much more than "simple" guest houses).
Click on the names to take a look at the photos: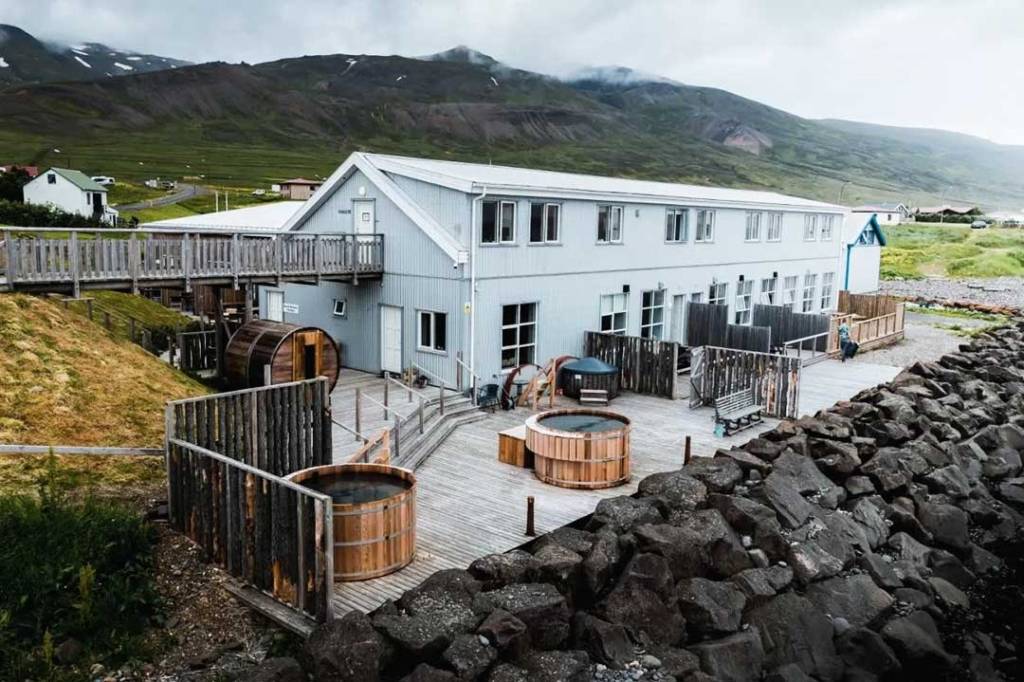 How much does it cost to stay in a guest house
The price of a room in a guest house varies according to many factors: the area, the period and how long in advance you will make the reservation.
In general, the average cost for one night in a double room in a guest house in Iceland is €120 (therefore €60 per person).
To find the best offers to stay in Iceland in  guest houses  for your dates, just go to this page, enter your destination, the exact days and start the search.
At this point, all you have to do is sort the results by increasing price.

Although they are the most popular accommodations, I suggest you choose and book where to stay in Iceland in guest houses well in advance because availability runs out easily.
2: Staying in hostels in Iceland
If you want to organize a trip to Iceland on a budget (compared to the Icelandic standard, of course), staying in hostels at least when available is certainly a good idea.
They are also the ideal solution for backpackers or those who want to take advantage of the trip to make new acquaintances.
Unfortunately it won't always be easy to find hostels, except in the main cities.
Best hostels in Iceland
The easiest area where you will find hostels is Reykjavík, the capital.
I would like to point out 3 structures that stand out above all, in which you should check availability:
How much does it cost to stay in hostels in Iceland
The average price for staying in a dormitory in a hostel in Iceland is around €40 per person per night (again, the price is influenced by many factors and by seasonality).

3: Staying in campsites in Iceland
Even if you have to travel to Iceland with a camper, caravan or minivan, you will have to spend the night in authorized campsites.
It is possible to find them near the main attractions and the cost is around €15 per person (to which must be added the cost of electricity and showers and the tourist tax of 333 kr, equal to around €2).
If this is going to be your main place to stay, you can save money by buying a camping card for €159.
Visit the site to learn more or buy it.

You might also be interested in this itinerary in Iceland On The Road in 7-8 days.
4: Hotel in Iceland
Staying in Iceland in hotels is not an option to be discarded a priori.
Although they are not "typical" accommodations, but on the contrary, often very modern and expensive, spending a few nights in one of these (perhaps with an excellent restaurant in the structure), could be decidedly pleasant.
Iceland and its beauties could drain your energy and so yes, spending a few nights in a hotel can certainly not hurt you.
Best hotels to stay in Iceland
During my trip to Iceland I had a 3 day stopover in Mývatn in the north of Iceland.
I rested by spending the time between a thermal bath, the food of the restaurant in the structure and, when I was bored too much, indulging in an excursion to the Askja volcano.
Ah, then of course, I could sleep peacefully because in case of sighting of the northern lights, they would have called me in the room. I can't tell you if it is one of the best hotels in Iceland, but I would do it again a thousand times the experience of staying at the Hotel Laxá, so yes, I recommend it!
Among the hotels that certainly stand out in Iceland, I would also like to point out:
How much does it cost to stay in hotels in Iceland
The cost of staying one night in a hotel in Iceland is around €170 on average for a double room.

The 10 best accommodations to stay in Iceland
This selection includes the best hotels, guesthouses, hostels and farms where I suggest you stay during your trip to Iceland.
Take a look at the photos and find the accommodations that make your heart beat faster and don't miss them!
1: Seljalandsfoss Horizons
When you stay at Seljalandsfoss Horizons you will have at your complete disposal a small wooden and glass house, equipped with everything you need to feel right at home.
In addition to the views, there are also the comforts we are used to: if during your stay here you want to cook something in the oven, you can do it! These cottages are in a very practical position: they can be reached after a small detour from the Ring Road and are located a few kilometers from the famous Seljalandsfoss waterfall.
And then yes, they are really cool!
Check prices and availability for your dates on the dedicated page.
2: Torfhús Retreat
Torfhús Retreat is a really great place to pamper yourself after a day of adventurous waterfalls and geysers.
The accommodation, in fact, is located a few kilometers from Geysir and the Golden Circle.
Here you can take a dip in the tub, choosing between thermal and hydromassage and delight your palate in the on-site restaurant.
Book your stay at Torfhús Retreat (or take a sneak peek at the photos online).

3: Hotel Blue Lagoon: where to stay in Iceland
Staying in the Blue Lagoon hotel in Iceland is the dream of many, but I have to admit that the price isn't exactly cheap (but it's more than understandable, we're talking about a five-star hotel!).
The beauty of this structure is indisputable, so I had to include it in this selection.
Check prices and availability for your dates conveniently here.
4: Arnarstapi Cottages
Gorgeous light wooden cottages located on the coast at Arnarstapi, north of the capital, and at the foot of a small mountain.
The only "disadvantage" of this structure is that the cottages are not equipped with a kitchen, but only with a kettle and a microwave oven.
If you want to spend a few nights here, remember that you will have to dine at the nearby restaurant.
Check prices and availability for your dates on the dedicated page.

5: Where to stay in Iceland for the Northern Lights: Midgard Base Camp
The Midgard Base Camp has double and family rooms, but it also offers the possibility of booking a stay in the hostel's dormitories and therefore saving on the budget for staying in Iceland (which never hurts).
You can relax in the hot pot and enjoy the fantastic view, or cleanse yourself in the sauna.
On site you can also rent a bicycle and set out to explore the area.
Choose where to stay and book your room right here.

6: Fosshotel Glacier Lagoon
The Fosshotel Glacier Lagoon, as the name suggests, is a hotel that is only 30 km away from the Jökulsárlón glacier lagoon and diamond beach.
The rooms are modern and equipped with large windows, from which to admire the landscape and the ocean in the distance.
This structure is the ideal solution for those looking for a hotel to stay overnight near the largest glacier in Europe.
Look at the photos and check availability for your dates on the hotel page.
7: Where to stay in Iceland: Dis Cottages
Dis Cottages is a collection of isolated log cabins in West Iceland.
It is located just over 10km from the world famous Kirkjufell Mountain.
These cottages are equipped with everything needed to make you feel at home, but immersed in the beauty of Mother Nature that will give you unforgettable sunsets and nights under the banner of the queen of the skies, the northern lights.
Book your stay at Dis Cottages or take a peek at the photos.

8: Blabjorg Guesthouse
Blabjorg Guesthouse is located in a fishing village only 5 minutes away from the famous bird colony of Hafnarhólmicamere, where you will be able to see the beautiful puffins when they return to the island to nest (in the months of May to August).
The rooms have an ocean view, there is an equipped shared kitchen and beautiful wooden tubs filled with boiling water, in which to relax while contemplating the immensity.
If I were you I would run to check that there is availability for your dates on the property page.

9: Vogafjós Farm Resort
A family-run accommodation, where you can be pampered by an overwhelming welcome and genuine flavours.
By staying here you will also have the opportunity to spend a few days in contact with the animals and have breakfast at the Vogafjos Café, housed in an old stable.
If this accommodation suits you, reserve your reservation at Vogafjós Farm Resort.

10: Reykjavik Domes
These domes located a few kilometers from the capital are one of the most particular accommodations in the whole country! The whirlpool tub and the champagne ready to be uncorked will make your stay here truly incredible (ideal for couples).
Book your stay at Reykjavik Domes quickly , as accommodation fills up quickly.

FAQ: Where to stay in Iceland
Where to stay in Iceland?
In Iceland you can stay in guest houses, hostels, hotels, campsites and farms.
The choice of which is the best accommodation depends solely and exclusively on your travel preferences.
You can also stay overnight in different types of accommodations, to try as many experiences as possible (which is what I recommend).
Where to stay in Iceland to see the Northern Lights?
If you are looking for a dream property in which to book your stay to see the Northern Lights, I suggest you check availability at Panorama Glass Lodge.
I won't say anything else, because I'm sure you just need to look at the photos to understand why you should spend a few nights here.

How much is the average overnight stay?
Staying in Iceland can have really different costs.
If you stay in the campsites you will get by with less than €20 a night; in hostels the cost varies between  €40 and €50; the average price of a night in a guest house, on the other hand, is €120 per couple and, as regards hotels, the minimum price is €140 per night.
The price varies a lot from season to season (it reaches its peak in the months of July and August).
To save money, I suggest you start your search from this page: in this way you will discover the structures that have active promotions.
Iceland accommodation map
The map that you will find below will help you  organize your trip to Iceland : to use it, you can zoom in on the area where you are looking for accommodation to stay in Iceland.
You can choose between guest houses, hotels and hostels.
To check availability or book, all you have to do is click on the name of the accommodation.
Easy, right?
I hope this article has helped you understand the different types of accommodation and find where to stay in Iceland.
If you still have any doubts or questions, leave a comment at the end of the article and I will gladly help you.
I hope this article has helped you understand the different types of accommodation and find where to stay in Iceland.
If you still have any doubts or questions, leave a comment at the end of the article and I will gladly help you.
Are you going to Iceland? Read also: