Top things to do in Montreal
To visit Montreal is to discover the largest city in Quebec, a cosmopolitan and multicultural city par excellence.
Perfect mix between Francophonie and North American culture, many French people choose it as a destination every year, whether it's time for a trip to Canada, for an internship, a PVT, or to settle there permanently!
Having lived in Montreal for 3 years, I present to you all the places of interest in Montreal in this complete guide to the city.
You will find the 33 things to do in Montreal, as well as itineraries to visit Montreal in 1, 2, 3 or more days. And to top it all off, I have also prepared my selection of the best hotels for you according to your budget.
So what to do in Montreal? 
Visit Montreal: the must-sees in all seasons
1. Plateau Mont-Royal
The Mont Royal plateau is the "in" neighborhood par excellence, so it's the best choice to start this top places to visit absolutely in Montreal!
This place is very famous and especially very appreciated by the French, whether they are tourists or expatriates who choose it to settle there (at least in the first times). It is therefore not there that you will be able to hear the most Quebec accent!
These typical houses with exterior staircases and colorful facades add to the charm of the Plateau and it is very pleasant to walk there in all seasons.
This district is very lively with its many shops, restaurants, bars and thrift stores which are spread over 4 main arteries where to go for a walk in Montreal:
Boulevard St Laurent where multiple cultural communities have established their shops
Rue St Denis famous for its avenue of cafés with terraces
Prince Arthur Street with its restaurants
Avenue du Mont Royal with its trendy bars and fashion boutiques.
Tips for your Montreal itinerary:
Where to eat in Plateau Mont-Royal?
You will find the 2 famous restaurants that I will tell you about a little further down:
La Banquise and its poutines
L'Avenue with its very famous brunch.
But you can also treat yourself to the "Saint Viateur" which offers a wide choice of bagels or to the "Mont-Royal Hot dog" restaurant with its somewhat outdated American diner atmosphere (and its excellent brunch potatoes).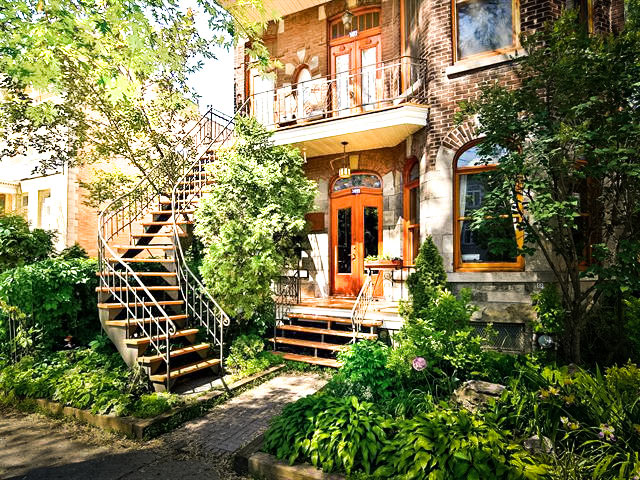 2. Old Montreal
Located between the Saint Lawrence River and the skyscrapers of downtown, the Old Montreal district is the historic area to go to in Montreal.
To find out, stop at the "Place d'Armes" or "Champ-de-Mars" metro station.
Places of interest to see during this essential visit to do in Montreal:
The old seminary of Saint Sulpice : the oldest existing building in Montreal
The Notre-Dame basilica : I will talk about it in detail a little later.
The New York Life building : built in 1888, it was Montreal's first skyscraper
Rue Saint Jacques : Montreal's "Wall Street"
Place d'Youville converted into a green space and its peaceful atmosphere
The three courthouses
The town hall to be admired in the evening for its play of light on the facade
Place Jacques Cartier, ideal for sitting down and having a drink on the terrace
The Bonsecours market with its luxury boutiques and temporary exhibitions.
Tips for your Montreal itinerary:
To not miss anything of Old Montreal and to benefit from historical explanations on all the monuments, I recommend this guided tour in French. 
This walking tour lasts 4 hours and allows you to discover the East and West of Old Montreal for a very complete circuit.
Book your guided tour in Montreal here.
If you spend little time in Montreal before continuing your itinerary in Quebec or you don't like walking, you can also get a very good overview of the city by booking a guided bus tour.
The circuit passes through Old Montreal, the Old Port, Mount Royal, Saint-Joseph's Oratory and Olympic Park. These are all places that I recommend you see in this Montreal tourist guide.
Book your guided bus tour of Montreal by clicking here!


3. The Old Port of Montreal
The Old Port  is part of the historic district of Old Montreal. This is another Montreal tourist site ideal for strolling.
It is no longer really a port strictly speaking because all the port activity has been moved but rather a place offering a beautiful walk along the Saint Lawrence river, in particular near the clock tower with a view of the bridge Jacques Cartier.
Many activities are possible both in summer (cycle path, rollerblading, leapfrog, carriage ride) and in winter (ice rink, ice fishing).
But I particularly recommend 3 activities (click on the links in orange to book):
During your walk, I also recommend that you push open the door to the Center des Sciences, located at the end of the port.
It offers many very playful, interactive exhibitions which are renewed quite often. It's a great activity idea if you're wondering what to do in Montreal with kids. The center also offers an IMAX cinema allowing you to watch 3D documentaries.
Find all the information about the exhibitions, prices and the IMAX cinema program on the science center website.
Tips for your Montreal itinerary:
Not far from the science center, I also recommend that you visit the Pointe-à-Callière museum, the only major archeology museum in Canada covering a period ranging from the Amerindians to the present day. It is the busiest in Montreal.
It offers permanent exhibitions on the history and archeology of the city.
And I also advise you to test the restaurant of the museum, which I discuss in detail later in the article.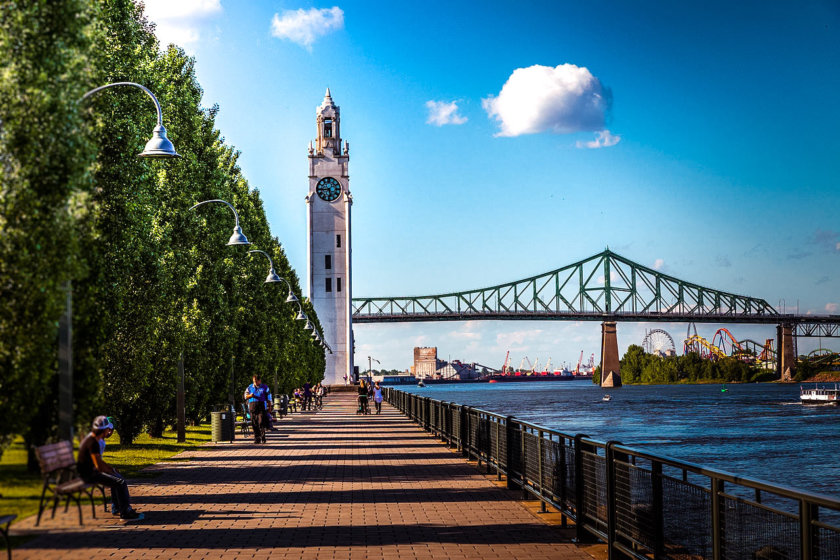 4. Sainte-Catherine Street
If you're wondering where to shop in Montreal, head to Sainte-Catherine Street, the city's most famous shopping street.
With a length of 11 km of which 3 km are really dedicated to shopping, it is home to more than 1000 shops, bars, restaurants and large shopping centers such as the Eaton Center or Montreal Trust.
You will of course find all the most famous brands such as H&M, Forever 21, Victoria's secret, Urban Outfitters…
The easiest way to get there is to take the metro to Mc Gill station, which is in the Eaton Center.
Tips for your Montreal itinerary:
In winter, you won't even have to go out and walk in the snow to do your shopping.
The city of Montreal is home to a 30 km underground pedestrian network linking many buildings, including downtown shopping centres, to each other.
5. Montreal Olympic Stadium
Built for the 1976 Olympic Games, the stadium has become one of the symbols of the city internationally, in particular thanks to its unique architecture and its famous tower.
It is a very interesting place to visit in Montreal during a guided tour to discover its history thanks to an exhibition retracing its construction and featuring many sporting objects.
Then take the glass funicular to climb to the top of the tower, the tallest inclined tower in the world (165 meters high at a 45 degree inclination). At the top, a view of the entire Montreal region awaits you .
If you pass by there at night, you should know that the Olympic Stadium in Montreal is just as beautiful to see when it is all lit up.
Tips for your Montreal itinerary:
To admire the Olympic stadium from another angle as well as the city center or Mount Royal, I strongly advise you to book a helicopter flight over Montreal.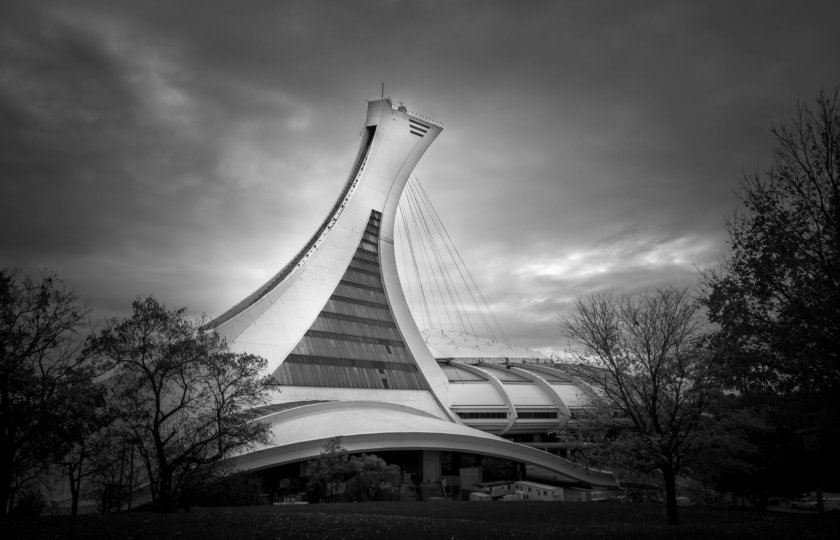 6. Montreal Botanical Garden
It is one of the most important botanical gardens in the world with its 75 hectares comprising more than 20,000 species of plants, 10 exhibition greenhouses and more than twenty thematic gardens.
My favorite is undoubtedly the Chinese pavilions, simply magnificent with its pagodas in the middle of the water and the multitude of colorful carp.
See also the Japanese garden, the aquatic garden or the rose garden. The greenhouses, for their part, present the flora of the arid regions or even of the humid tropical forest.
The botanical garden also houses an insectarium with more than 250,000 specimens of live or stuffed insects. You can also admire, in a greenhouse only reserved for this purpose, hundreds of butterflies in freedom.
Every year, the Montreal Botanical Garden is transformed into a garden of light with its lantern festival. Light structures are specially created for the occasion and are integrated into the decor of the garden. It is grand and magnificent.
If you have planned a stay in Montreal in winter, the botanical garden can also be visited and it's free!
Many people take the opportunity to come and practice cross-country skiing or snowshoeing on flat trails. The garden's trail networks communicate with Maisonneuve Park and offer nearly 10 kilometers of trails. You will need to come with your equipment because the garden does not offer rentals.
For more information on the garden and prices, it is on the website of the botanical garden.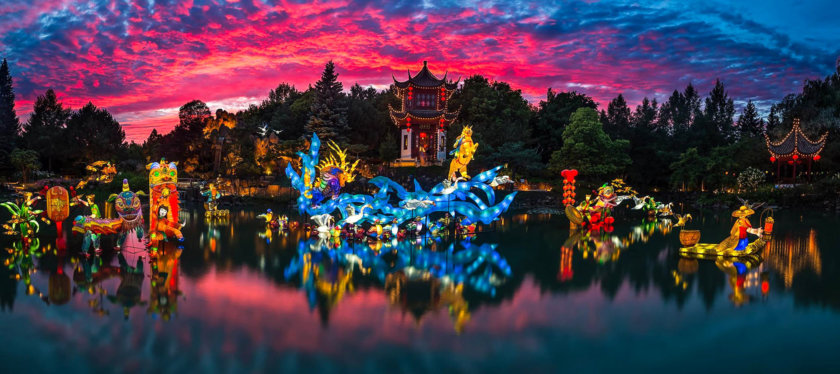 7. The Montreal Biodome
Another must-visit place in Montreal (and even more so if you have children!): the Biodôme.
It allows you to discover the ecosystems of the American continent thanks to its very particular layout. Natural conditions such as temperature or humidity are recreated thanks to an ingenious system that follows the seasons.
You can observe the fauna and flora of 5 different ecosystems:
The tropical rainforest : lush vegetation with a temperature of around 28 degrees, you can see piranhas , caimans , parrots and capybaras.
L'érablière des Laurentides : typical Quebec forest with maples and birches, observation of lynx, otters and beavers.
The Gulf of Saint Lawrence : represented by a basin containing no less than 2.5 million liters of seawater with cod, bass, salmon and on the beach many ducks and seagulls.
The Arctic and the Antarctic : it is here that you can admire a whole colony of penguins and penguins.
Find all the information to plan your visit on the Montreal Biodôme  website .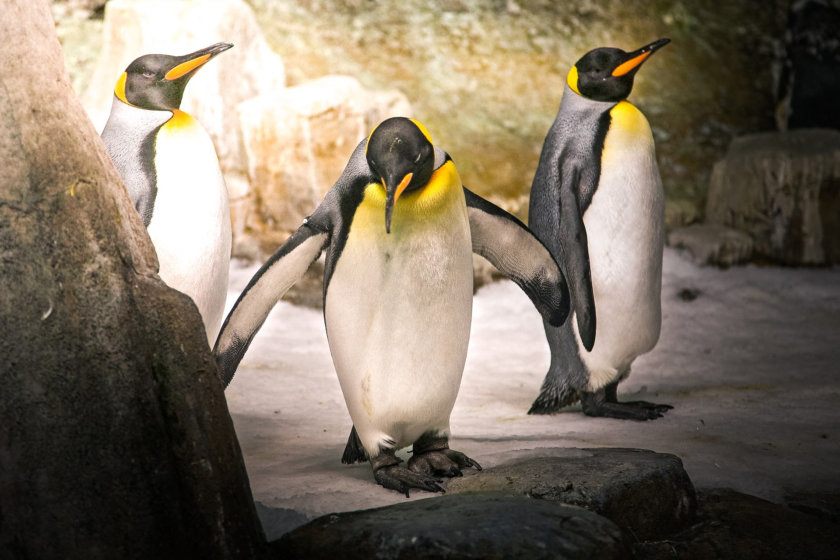 8. Museums to Visit in Montreal
In Montreal, culture and art occupy a very important place.
In addition to the Pointe à Callière Museum, the Biodôme and the Science Center that I mentioned earlier, there are more than 50 different museums in Montreal.
Here is my selection of the main museums to see during your visit to Montreal:
Montreal Museum of Fine Arts, 1380 Sherbrooke Street West
Museum of Contemporary Art (MAC), 185 Sainte-Catherine Street West
McCord Museum : objects related to Canadian history, and in particular to Native American culture. 690 Sherbrooke Street West
Maison Saint-Gabriel : this magnificent traditional house has more than 300 years of history. Animations in traditional costume and several activities are possible on the site, including a New France style meal in the Refectory! Very lively, for me it is the best history museum in Montreal. 2146 Place Dublin, Pointe-Saint-Charles
Montreal Firefighters Museum (MMFA) : Open only on Sundays from 1 p.m. to 4 p.m. (5100, Saint-Laurent)
Redpath Museum : On the program, paleontology, zoology, mineralogy and a skeleton of a carnivorous dinosaur in this free museum (contribution appreciated). 59 Sherbrooke Street West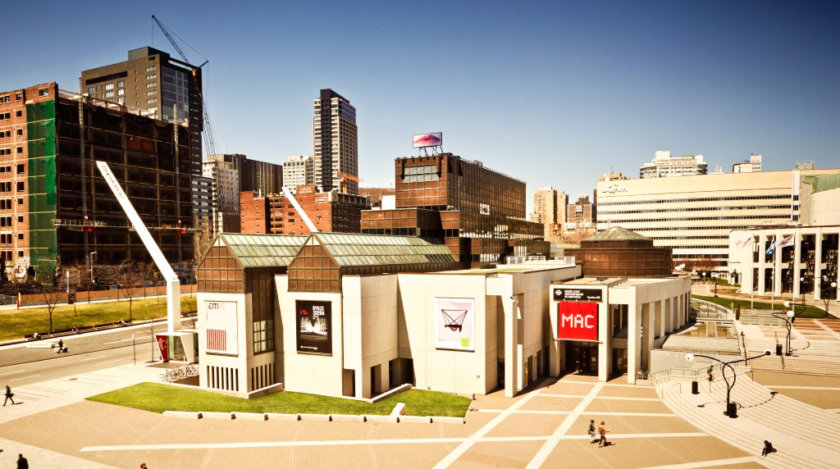 9. Churches in Montreal
Let's continue this guide to Montreal with the churches not to be missed.
The most famous is undoubtedly the Notre Dame de Montreal Basilica, located in the old Montreal that I briefly mentioned above. The interior of this 60 m high neo-Gothic style building is sublime!
To my knowledge, it is the only religious building whose entrance is charged for in Montreal, because the entrance fees are used for the maintenance and renovation of this major building of Quebec's religious heritage.
A 20-minute guided tour is included in the price of admission, but you can also visit freely.
Here are some other religious buildings that I enjoyed visiting during my trip to Montreal, for their exceptional architecture!
Mary Queen of the World Cathedral
Christ Church Cathedral of Montreal
Saint-Edouard Church in Montreal
St. James United Church
St. George's Anglican Church.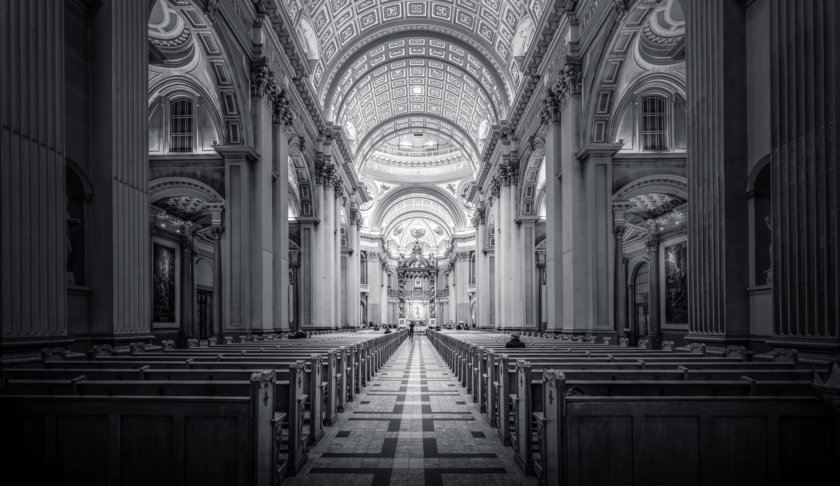 10. Visit Saint Joseph's Oratory
On the list of things to do in Montreal, Saint Joseph's Oratory, located in the Côte-des-Neiges district, is a must for its exceptional architecture, but also to appreciate the importance of religious life in the Quebec at the beginning of the 20th century.
This imposing building built on the side of Mount Royal is nearly 100 meters high and is topped by a huge dome 39 meters in diameter. This one is even more impressive from the inside!
In addition to the Oratory itself, it is also possible to visit the small chapel of Brother André as well as the gardens and its Stations of the Cross along which there are many sculptures.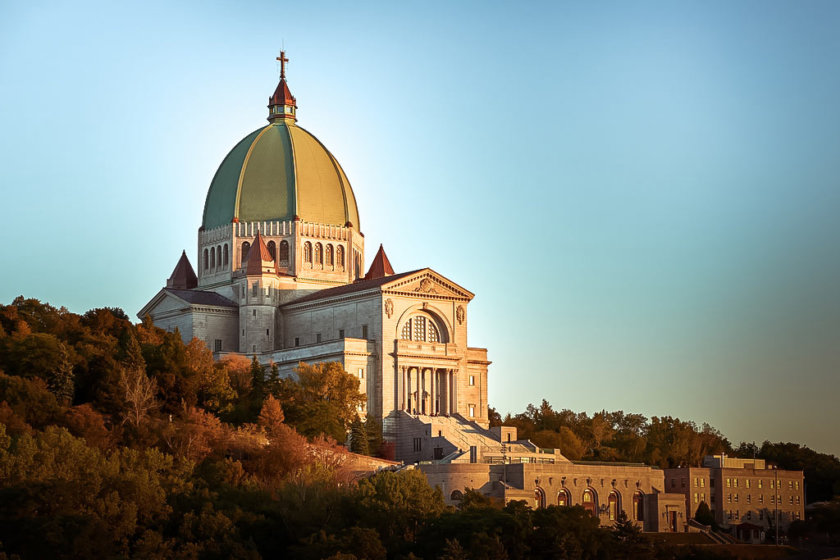 11. Montreal Markets
If you're a little tired of burgers, poutine or brunch, which are all a little greasy, why not go for a walk on one of the 3 major markets in the city of Montreal, in order to stock up on good fresh products locals or simply take a look at the colorful stalls:
The Atwater market with its perfect location on the banks of the Lachine Canal: renowned for its butchers and cheese shops. For cheese lovers, this is where you can buy 3 cheeses for $10, as much to tell you that in Canada it is very rare!
The Jean Talon market located in Little Italy : here you will find fresh fruits and vegetables as well as a multitude of products from various countries ranging from Polish pastries to French creperie.
The Maisonneuve market with its stalls of fishmongers, market gardeners, bakers and florists.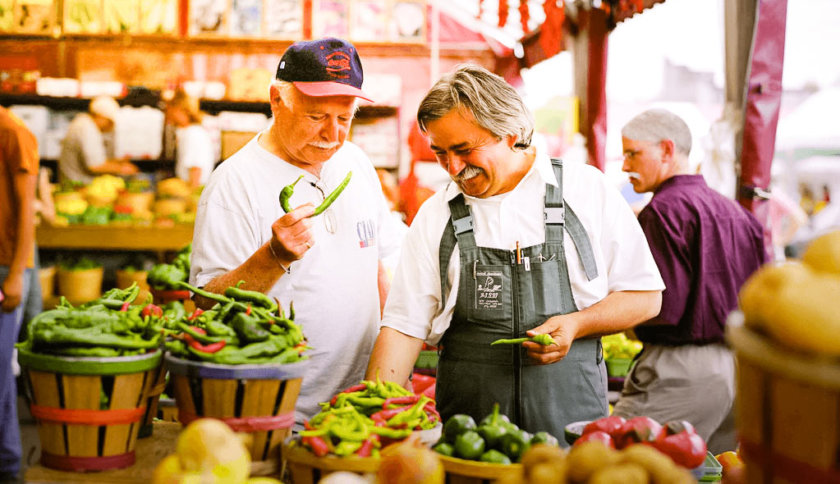 12. Le Village, Gay District of Montreal
Another iconic neighborhood to see in Montreal is Le Village, Montreal's gay district.
It is the perfect example of the tolerance and diversity that are the values ​​of Quebec. Recognized worldwide as one of the high places of gay tourism, this lively district is very pleasant to visit with its cafes, bars, restaurants, nightclubs and its friendly layout!
In summer, rue Sainte Catherine at the level of the village becomes pedestrianized, so this is the best time to enjoy it.
Some flagship establishments of the Village:

13. What to do in Montreal at night?
What could be more pleasant than going out to enjoy a cocktail with friends in the evening? Well in Montreal, it's not complicated, you will find bars and brasseries absolutely everywhere!
You will also find several establishments offering a drink while playing board games. Whether it's the classics like Monopoly or Jungle Speed, or downright more obscure games you've never heard of, "C'est ben l'fun" as Quebecers say!
When I lived in Montreal, I used to go to Randolph, but there are other gaming bars and restaurants, like: Colonel Moutarde, La Récréation, Meltdown (specialized in video games). 
There are also many diverse and varied shows including comedy shows, very popular on this side of the Atlantic. You can then go to the Montreal Comedy Club or The Comedy Nest.
If you don't want to laugh but rather scare yourself, I also recommend a night visit on the theme "The ghosts of Old Montreal". Accompanied by a guide, follow in the footsteps of the spirits that haunt the historic center!
And for the slightly more daring version of a night out in Montreal,  strip clubs are quite common in Montreal.
For these ladies*, I suggest Club 281. Also called a "naked dancers bar", it offers Chippendale-style striptease on stage as well as "private shows", where you can buy someone a dance.
*Men can attend the shows, if they are accompanied by a woman.

What to do in Montreal in winter?

Below is my selection of the best places to go in Montreal in winter. 
14. Visit Parc Mont-Royal in winter

Mont-Royal Park is the largest park in Montreal and in winter its paths, hills and pond are transformed to allow you to enjoy winter activities!
So you can practice:
Tobogganing : with family or friends, this is the ideal place to practice this activity for free.
The snow scooter : like a toboggan, but upright, to vary the pleasures!
Ice skating : in winter, Beaver Lake turns into a free skating rink for everyone! enjoy!
Cross-country skiing : the paths of Mount Royal allow you to practice this sport in a beautiful natural setting, a stone's throw from the city.
Snowshoes : a good alternative to cross-country skiing!
If you don't have any equipment, don't worry. It is possible to rent everything (except sleds) at the Beaver Lake pavilion, which also serves as a small restaurant to warm up after a sliding session.
You can also opt for a guided snowshoe hike organized by the park. Your guide will take you on a 2-hour ride through Mount Royal and will also introduce you to wildlife and birds. 
The tour is very fun and even perfectly suited if you have children (from 8 years old).
And if you are looking for an unusual activity to do in Montreal, know that it is also possible to snowshoe at night  with a guide from the Friends of the Mountain Association.
Tips for your Montreal itinerary:
To get to Parc Mont-Royal, you can take the STM bus n°11 which goes up to the top of the hill located in the park.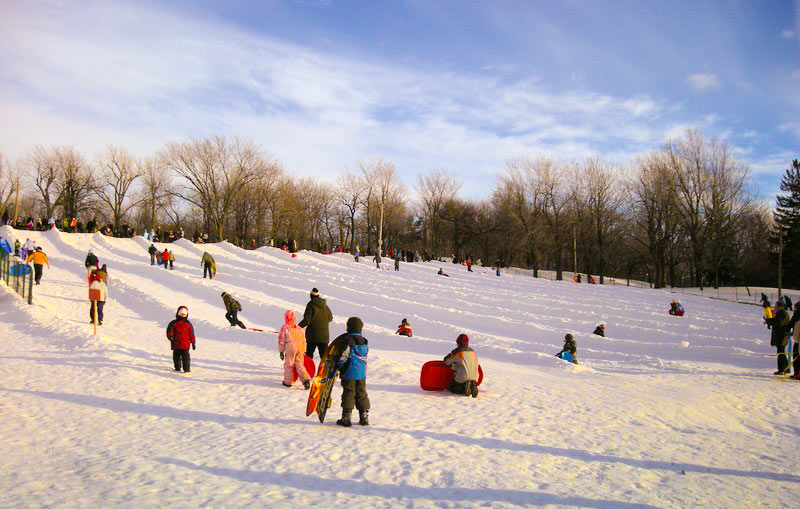 15. Where to Ice Skate in Montreal?
Ice skating is an emblematic activity in Quebec in winter.
In Montreal, hard not to practice this sport, all neighborhoods have their own small free outdoor skating rink. Children can learn to skate without too much danger and adults can practice the sport that thrills Montrealers: hockey.
But the best place to skate is in the Old Port of Montreal. The ice rink, which has to be paid for, is large and the view of the old port and the Saint Laurent is truly magnificent. This is the trendy place to skate.
In addition to Beaver Lake in Mont-Royal Park which we mentioned earlier, another cool place to skate in Montreal but very crowded in winter, Lafontaine Park.
Here, you can even see many mothers skating while pushing their strollers on the ice. Access to the ice is free. If you don't have your own skates, you can rent them for $10.

16. Montreal Snow Festival
Montreal's snow festival is the unmissable family get-together of winter. Each year, it takes place over 4 weekends between January and February at Parc Jean-Drapeau. Admission is free, but some of the activities on offer are subject to a charge.
The full range of winter activities you can do in Quebec is represented there: ice sculpture workshops, tube slides (buoys), skating, dog sledding, zip line, musical show.
You can also eat with maple taffy, beaver tails and poutine.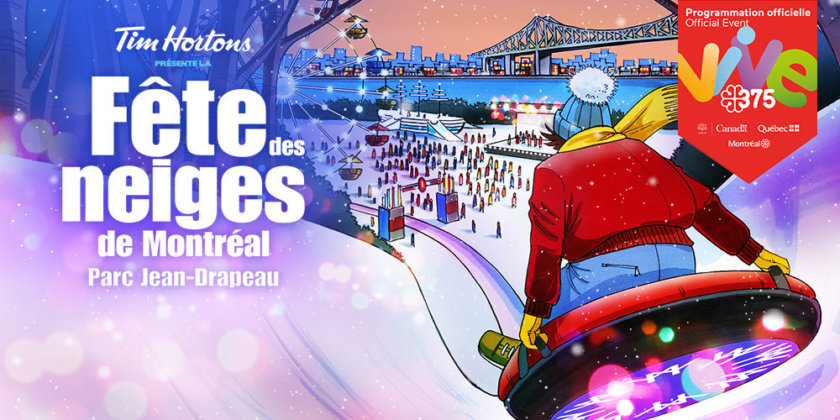 17. Other Activities to do in Winter in Montreal
1) Ice fishing
It is possible to go ice fishing in the city, and more precisely on the Old Port of Montreal. It's certainly less exotic than in the depths of Quebec, but it's a good way to enjoy this activity when you don't have time for a weekend getaway!
2) You ski
You can also go skiing near Montreal.
Alpine skiing is a must-do winter activity in Quebec, and although it's not the Alps, here are some cool ski resorts:
Mont Saint Bruno : Less than 30 minutes from downtown, hard to get closer to Montreal! Very popular with city dwellers, this small resort has 15 runs.
Mont-Rigaud : Also located less than 30 minutes from Montreal, this tiny resort with 9 trails is known to be the ideal place to start.
Bromont : South East of Montreal, about an hour's drive away is the Bromont ski resort, whose area has 141 trails.
Mont Saint Sauveur : 1 hour from Montreal, with its 40 runs, its "Viking" roller coaster-style luge on rails and its many restaurants, concerts and entertainment, this resort is very pleasant to spend a weekend there! Mont Saint Sauveur also has an excellent snowpark for freestyle enthusiasts!
Mont Tremblant : The farthest ski resort from Montreal in this selection, with 1h30 of travel required to enjoy it! Nevertheless, its 96 trails, its charming village (even if a little "Disneyland") and the possibilities offered for après ski make it one of the most popular resorts in Quebec.
3) Spas and hot baths
This activity, which can be done in any season, is really exotic when you do it in the middle of winter! In Montreal, several spas offer outdoor hot baths all year round, here are the best known: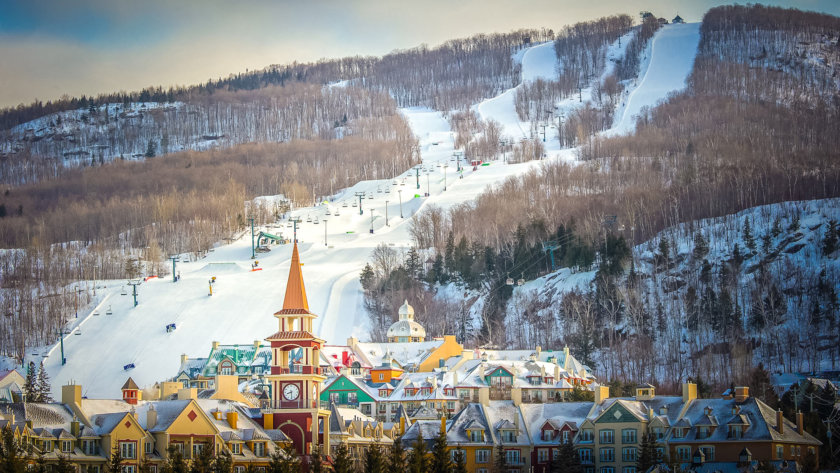 Visit Montreal in summer
Summer in Montreal,  contrary to what one might think, it is really hot! Sunscreen and a hat will therefore be 2 essential accessories for your excursions.
18. Visit Mont-Royal Park in summer

Mont-Royal Park,  which is truly a famous tourist site in Montreal, has several shaded paths allowing you to walk in the cool and admire many views of the city.
Don't forget to go to the Mont-Royal belvedere to enjoy a panorama of the entire downtown area.
The park is also the ideal place for jogging or cycling.
In summer, it is also the perfect place for a picnic by the beaver lake, an artificial lake surrounded by a playground for children and tourist facilities such as a bar-restaurant with a terrace.
And finally, you will be able to see many very curious and not very shy squirrels. An unmissable part of your stay in Montreal!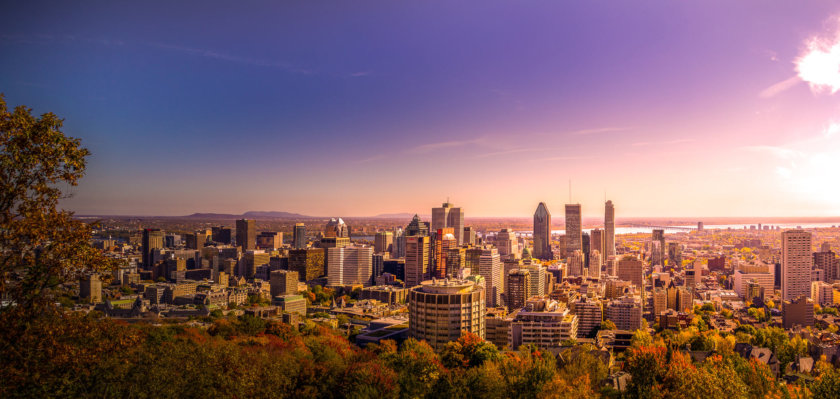 19. The Lachine Canal
If you do not know what to visit in Montreal, I suggest you go to the Lachine Canal which is located in the southwest of Montreal. Its 14.5 kilometer route starts from the old port and arrives at Lake Saint-Louis.
In summer, it is the perfect place to cycle safely along its landscaped banks lined with trees. The route is flat and away from traffic, ideal for a family walk in Montreal.
You can rent bicycles near the Atwater market, in a small outdoor hut, on the edge of the canal: My bicycle.
You can therefore discover the Lachine Canal by going along the banks but also by walking on it on various boats.
A rental service offers to rent pedal boats, kayak canoes and small electric boats.
The very calm waters will not cause you any problems and in addition you will have fun passing the many small locks.
Here is the site of the Lachine nautical center.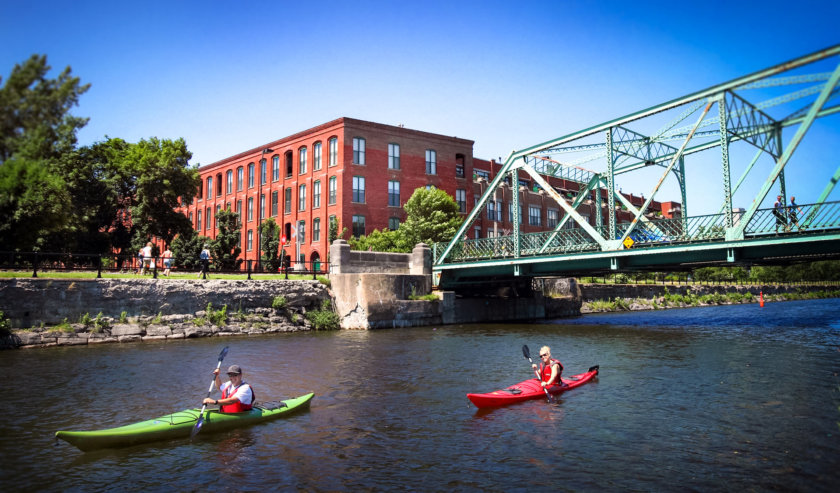 20. Go Leapfrog or Spin Boat on the St. Lawrence River

As opposed to a quiet stroll on the Lachine Canal, you can opt for a slightly more vigorous activity in Montreal: the leapfrog.
You will brave the Lachine rapids, on the St. Lawrence River aboard a somewhat special boat: thrills guaranteed! You will come out refreshed, even completely soaked.
To be practiced on very hot days and bring a change of clothes!
Another idea for a boat trip in Montreal: the spin boat is a fast boat that takes very tight turns and turns on itself ("to spin").
In groups of ten people, you will board the boat in the Old Port of Montreal. The adrenaline is very present with what is a little bit the equivalent of the rodeo by boat!
On the other hand, it does not go in the Lachine rapids, not to be confused with the "Saute Mouton" therefore!
You'll have the information here!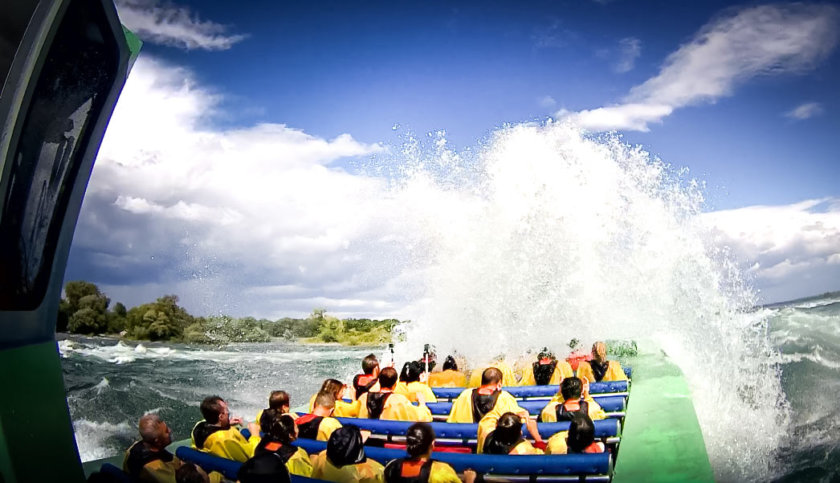 21. Walk to Jean Drapeau Park
In the list of places to see in Montreal, head to Parc Jean Drapeau, located on 2 islands south of Montreal, which offers a multitude of outdoor activities.
On the program: 25 km of hiking trails, cycle paths, kayak and paddle rental, rock climbing, observation of fauna and flora, supervised beach, restaurant service and picnic areas.
More than enough to spend a whole day there but, a little advice, also stay there until nightfall. It is from there that you will have the most beautiful panorama of the city center whose illuminations reflecting in the river give you the opportunity to take beautiful photos!
It is also on the islands of Saint Hélène and Notre-Dame, which today constitute the Parc Jean Drapeau, that the Universal Exhibition of 1967 took place. 

Most of the pavilions were demolished once the exhibition ended, only the French pavilion, which became the Montreal casino, remains today, as well as the American pavilion, called the biosphere (environmental museum).
Another vestige of the universal exhibition located not far from the park that you can go see: the habitat 67 residential complex, located in the Cité du Havre.
Parc Jean Drapeau also hosts many music festivals, which I'll talk about a little further down. And don't forget the Canadian F1 Grand Prix, which takes place every year!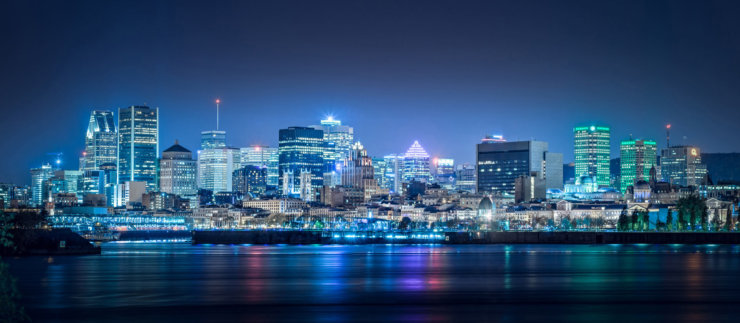 22. La Ronde, Montreal's Amusement Park
In addition to Jean Drapeau Park, on Île Sainte-Hélène there is also the "La Ronde" amusement park, open every summer.
This park has 42 attractions, some of which, like the "ultimate flight", are quite impressive!
To organize your day at La Ronde, you have the information on the official website.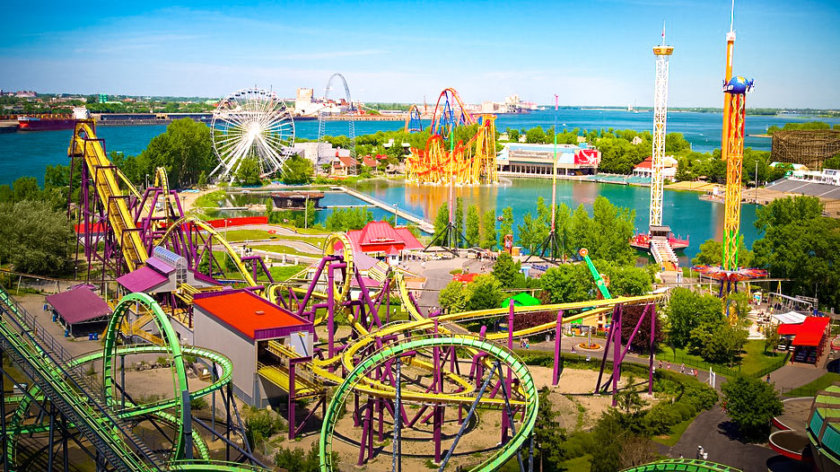 23. Stroll through other Montreal Parks
In addition to Mount Royal and Parc Jean Drapeau, which deserve a separate section, the city of Montreal has many other very pleasant parks to get away from the hustle and bustle of the city:
1) Angrignon Park
After Mont Royal, it is the second largest wooded park in Montreal.
You can walk along 3 ponds, a large 1km lake and many shaded paths for nearly 10 km. It is also possible to cycle and rollerblade on a specially equipped 2 kilometer track which in winter turns into a cross-country ski track.
It is the ideal place for a family picnic by the water and there are even barbecues available.  A playground with swings is also there.
2) Lafontaine Park
It is one of the largest parks in the city of Montreal.
But what makes it special are the many outdoor sports grounds that are accessible free of charge: tennis, petanque, baseball, volleyball and playgrounds for children.
The park also hosts cultural events at the Théâtre de Verdure, a very pleasant open-air theater in the evening.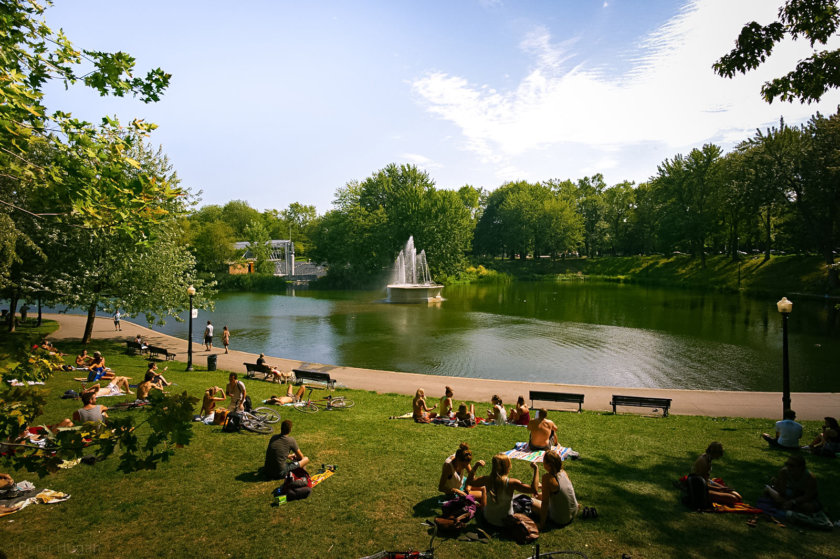 24. Mont Saint-Sauveur Water Park
What better way to cool off than spending a day at a water park?
In Quebec, I recommend the one at Mont Saint-Sauveur, located about an hour by car from Montreal. It is an ideal excursion to do on a day during a tour in Canada!
This park is really big with its 12 water slides, its slides, its rafting and buoy descents, its water games, its wave pool and other outdoor pools.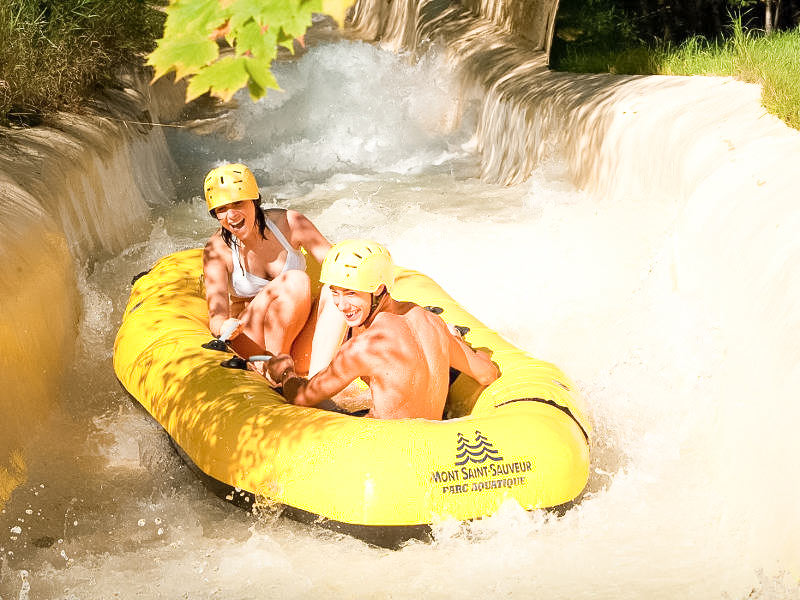 What to do in Montreal: festivals

In all seasons, Montreal hosts excellent festivals: here is a selection of those not to be missed!
25. Osheaga
Every year a huge music festival takes place in Montreal : Osheaga.
It is held every summer at Parc Jean-Drapeau and lasts 3 days during which you will be able to enjoy yourself while listening to good music. The biggest groups have already been there: Radiohead, Arcade Fire, Coldplay, Red hot chili peppers etc.
So certainly to listen and see all these beautiful people, you will have to pay at least $320 for the 3 days of the festival but apparently this does not discourage anyone because the festival attracts no less than 40,000 people every day.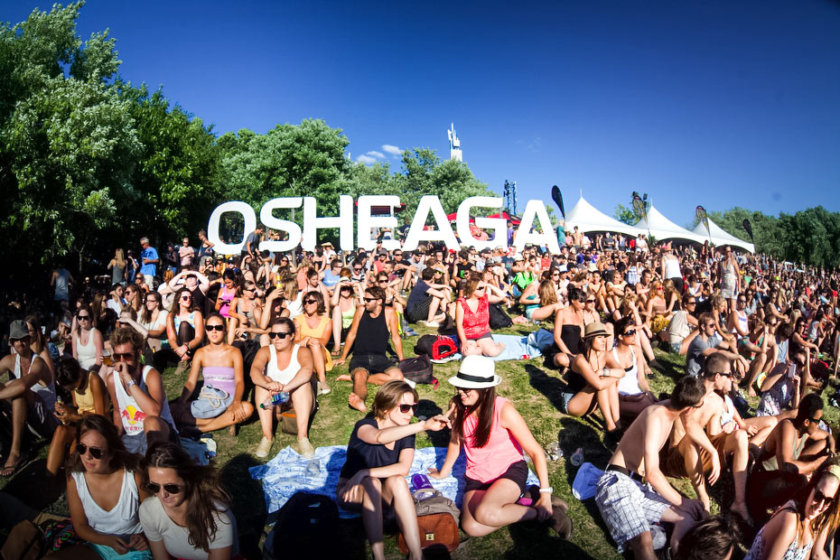 26. Igloofest
This is the electronic music festival not to be missed in Montreal in winter.
The Igloofest has taken place every year for the past ten years in the Old Port of Montreal.
Several DJs from all over the world come to ignite the track over 4 weekends.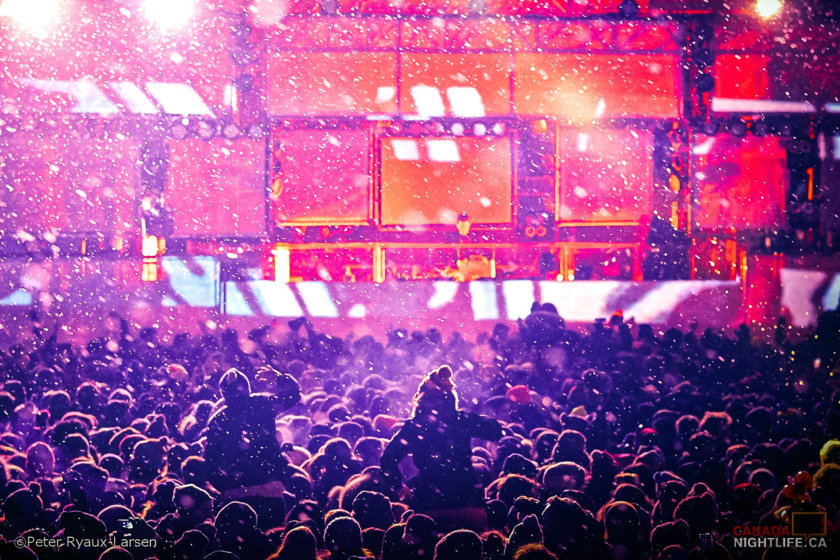 27. Montreal in light
Another must-see festival in Quebec in winter if you have decided to visit Montreal: its festival of lights which attracts nearly 900,000 people each year.
Montréal en lumière's program mixes light installations, the performing arts with theatre, circus, song and gastronomy.
You can take advantage of many free activities (ferris wheel, zip line, giant curling), stroll among the luminous works of art, admire multiple street performances and taste Quebec culinary specialties at the street stands.
This festival also includes Montreal's Nuit Blanche where you can visit certain museums and churches, take part in dance, singing or artistic creation workshops, all for free. In all, more than 200 activities are on offer.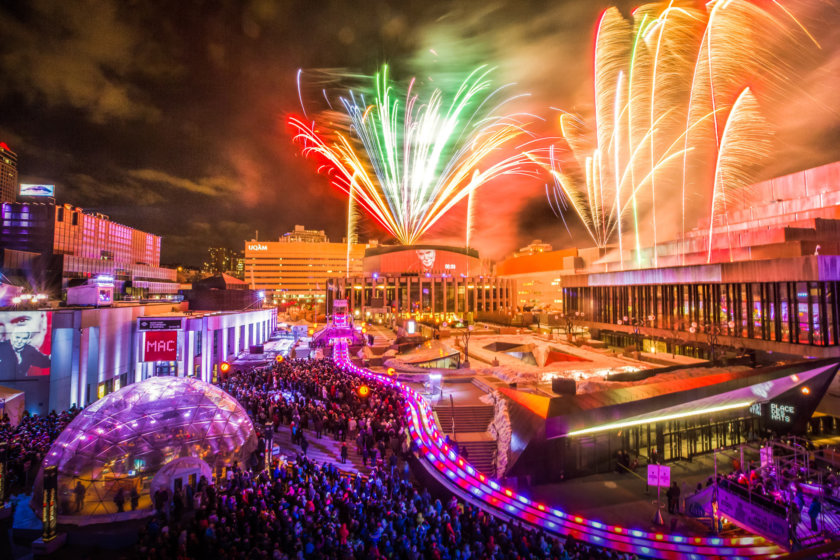 28. Just for Laughs Festival
The Just for Laughs festival is a comedy festival that takes place every year in Montreal.
It's the biggest festival of its kind in the world and it's a real tradition in Quebec. On the program: a very large number of comedians who came to present their show, whether in theaters or in the street.
The programming is very varied and of high quality.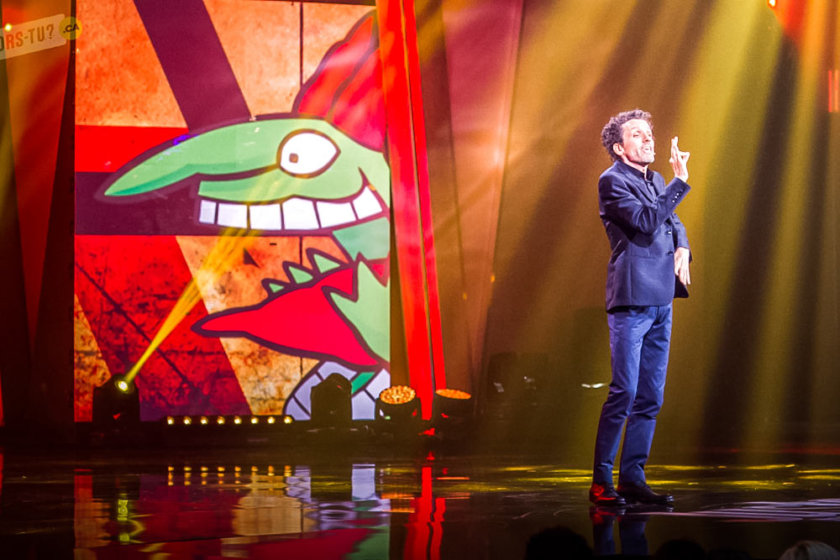 What to do around Montreal?

For those who are thirsty for the outdoors, there is a multitude of things to discover around Montreal, here is a small selection of places to visit!
29. Fall at Mont Tremblant
When we talk about Quebec, it's impossible not to mention this special season that characterizes it: autumn and its flamboyant colors.
If you want to admire this very special setting for yourself, in the vicinity of Montreal, I advise you to go to Mont Tremblant, located 1 hour away.
In winter, it is a ski resort, but in autumn the forests are adorned with warm colors and there is a profusion of red, orange and yellow trees as far as the eye can see.
This is the ideal time for long hikes. You can therefore climb the mountain on foot or take a ski lift (operating only on weekends) which will take you to the top to enjoy the spectacular view of the valley below and its color-reflecting lake.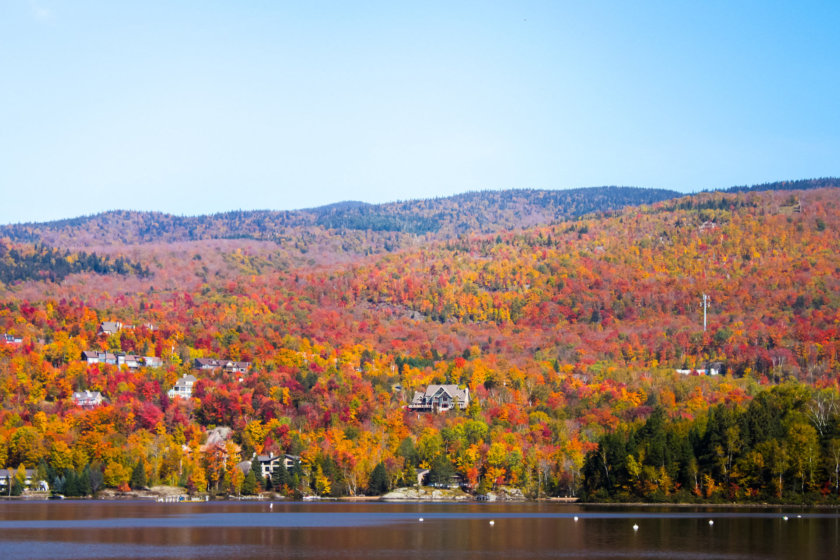 30. Cap Saint-Jacques
Cap Saint Jacques is the largest park in the Montreal region with nearly 300 hectares. Whether in summer or winter, you can enjoy long, peaceful walks in this site, which consists mainly of maple groves and is located on the shores of a lake and a river offering multiple viewpoints.
In summer, you will have access to a large natural sand beach with a picnic area and the possibility of renting pedal boats and kayaks. You can even make your own barbecue.
In the fall, Cap Saint Jacques, with its west-facing beach, is the best place to enjoy the sunset over the island of Montreal. The light is wonderful!
In winter, the park is transformed into a hiking trail for cross-country skiing and snowshoeing with the possibility of renting the necessary equipment on site. Nearly 32 kilometers of trails are available to you. The ecological farm, meanwhile, becomes a sugar shack with its typical menu based on maple syrup.
But whatever the season, go there to admire the sunset over the lake, it's simply magnificent and you won't regret it. The brightness is perfect for taking very beautiful shots.
Useful information:
Open all year round and parking is chargeable.
To get there by public transit, you can take the 64 bus from the Côte-Vertu metro station to the Cartierville terminus, then take the 68 bus to the park entrance.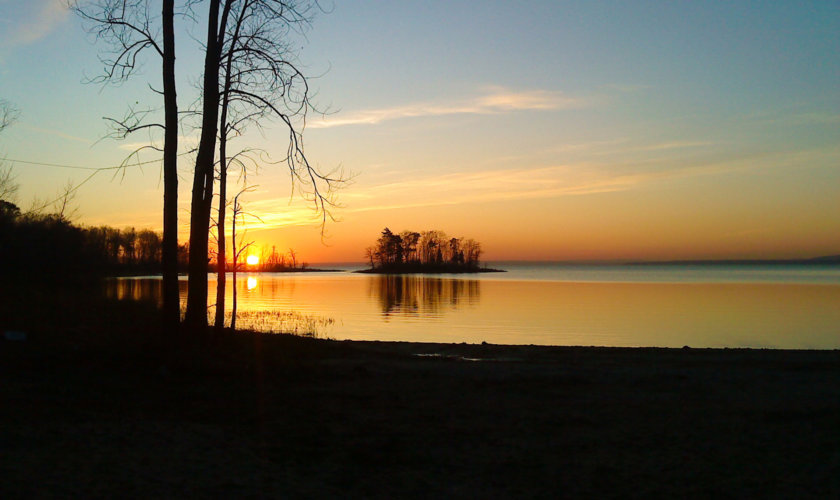 31. Omega Park in Montebello
This animal park is located between Montreal and Ottawa, about 110 kilometers from Montreal.
The park can only be visited by car because the animals live freely in their natural habitat.
Through a course of 10 kilometers you will pass in turn in meadows, forests, at the edge of the lake and will be able to admire wild animals of Quebec like the moose, the elk, the black bear or the wolf. You will also have plenty of time to stop and take pictures.
You can easily spend half a day or even a night there! The park offers several kinds of atypical accommodation : tipis, prospector's tents, wooden cabins and houses on stilts.
This is one of the best things to do around Montreal with kids.
Parc Omega is open all year round, times and prices vary depending on the season, you can find all the information here: Parc Omega.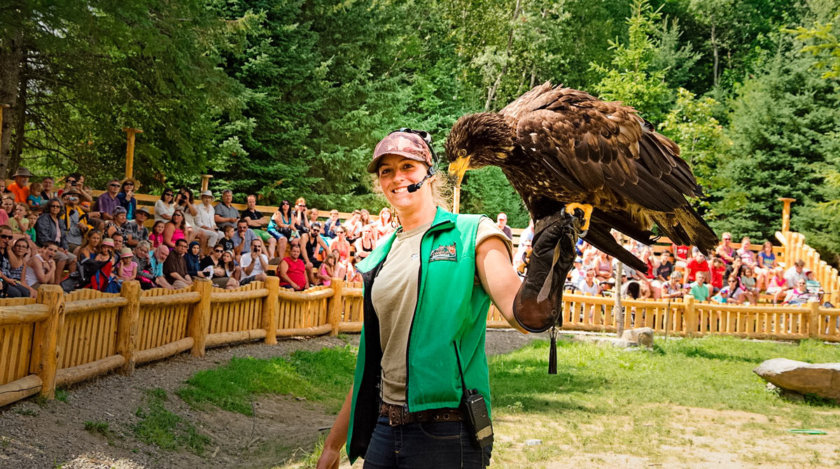 32. Other Activities to Do around Montreal
Still around Montreal, you can also try several very nice activities (click on the links in orange to book):
Dog sledding in St Hippolyte  near Montreal
Dog sledding in the maple groves, not far from Montreal
Snowmobile outing near Montreal, in Saint-Hippolyte – Duration: from 1h to 8h
Snowmobile excursion in the Laurentians, departure from Sainte-Agathe-Des-Monts – Duration: from 2 hours to a day
A guided quad ride near Montreal
Rafting down the Red River in Mont Tremblant
A canoe descent on the Assomption River, in the Mont-Tremblant Natural Park
Via ferrata  between Montreal and Mont-Tremblant, at Mont Catherine
From the zipline,  still at Mont Catherine
The discovery of ice climbing in Montreal.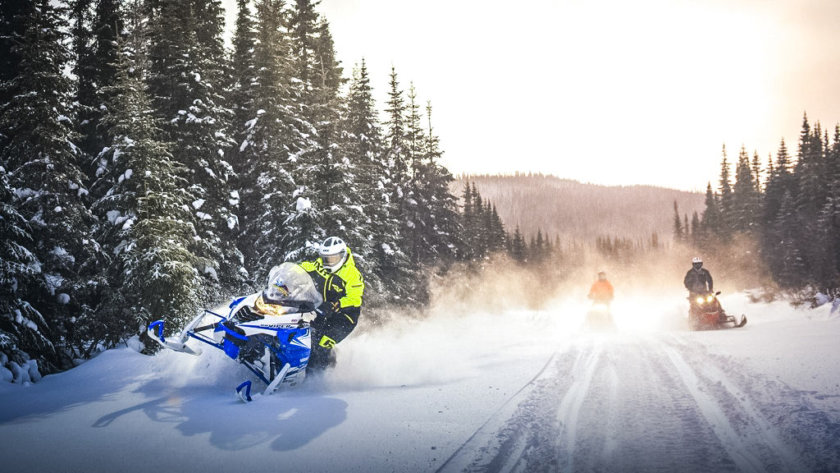 33. What to do in Montreal? My best places to eat

The Rockaberry for a Cheesecake
For me without a doubt the best cheesecake I have ever eaten!
In Montreal, if you pass a rockaberry, it's impossible not to stop in front of the window filled with cheesecakes and pies, each one more appetizing than the other.
The hardest part is then choosing between rockabrownies, banalicious, mochamisu or all varieties of fruit crisps (blueberries, strawberries, raspberries, etc.).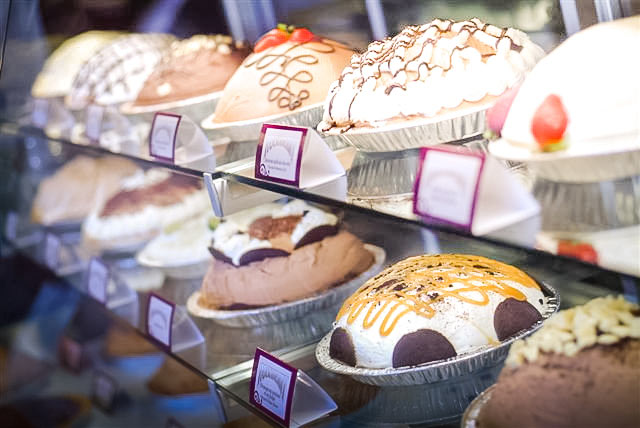 Taste Poutine of La Banquise

During your stay in Montreal, it is impossible not to taste this emblematic dish of Quebec! Appreciated by some, hated by others, it's up to you to make up your own mind about Poutine.
The traditional poutine is very simple, and is made up of 3 ingredients:
Fries
brown sauce
"Cheese droppings"
Needless to say, you will find various qualities: from poutine with frozen fast food fries to homemade poutine with potatoes cooked in duck fat, there is a world!
Poutine is a bit like the kebab back home: it is possible to eat it at any time in restaurants open 24 hours a day. It is also the favorite choice of Montrealers after an evening in a nightclub!
Some restaurants offer no less than a hundred different recipes, but beware, not all of them are created equal. The 2 most famous restaurants in Montreal for their poutine are:
"La Banquise" which is open 24 hours a day.
Poutineville: an unmistakable name!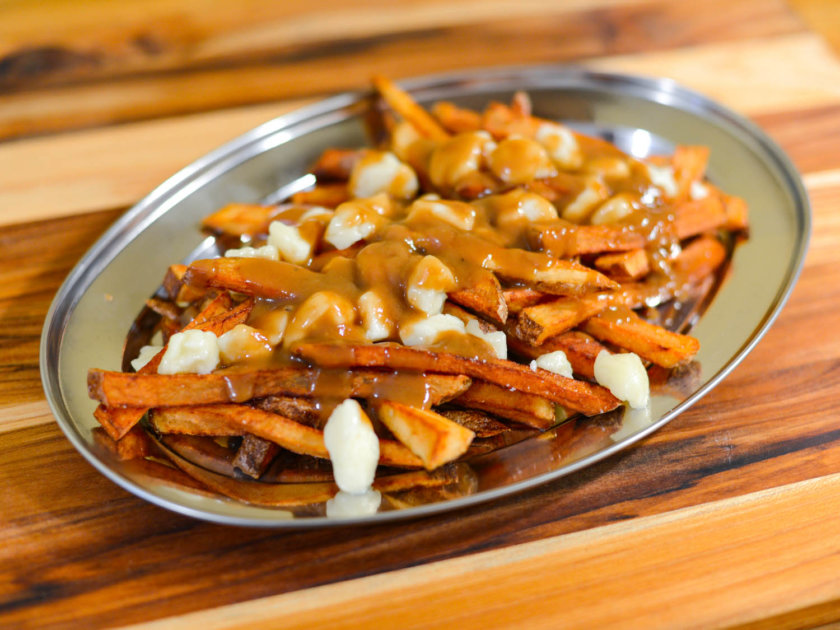 The Weekend Brunch in Montreal

Montreal is a bit of a brunch paradise! But what does the Quebec version of this meal look like, between breakfast and lunch?
The classic brunch you will enjoy in Montreal consists of:
Eggs, cooked any way possible
You bacon
baked beans
Potatoes
Maple syrup, to put everywhere!
A coffee or tea and an orange juice.
In addition to this, each restaurant has its own specialty and also offers: fresh fruit salad, smoothies, pancakes, crepes, sausages, bagels, etc.
Tips for your Montreal itinerary:
To enjoy an excellent weekend brunch in Montreal, I recommend:
L'Avenue, which amply deserves its reputation for its excellent brunch, but beware, expect a long queue before you can treat yourself.
Fabergé : This trendy restaurant in the Mile-end district of Montreal offers an excellent brunch with some original specialties!
The Hot Dog : On the Mont Royal plateau, it doesn't look like much, but potato lovers will be delighted, because they are particularly delicious!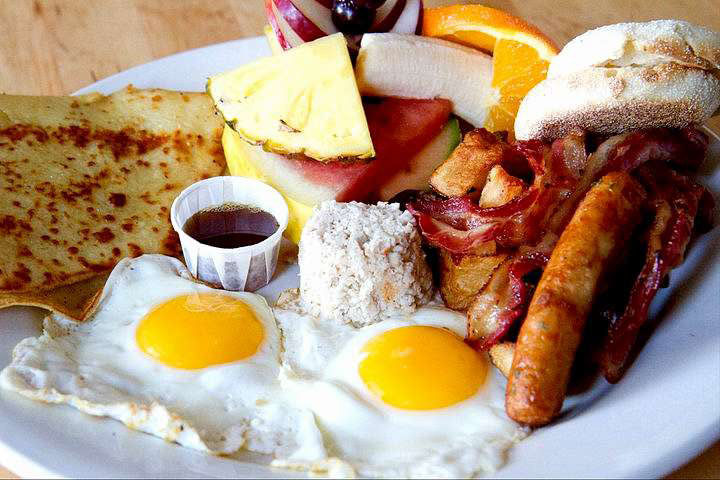 Montreal's Chinatown

Another place where you can do culinary experiments is Montreal's Chinatown, which is full of small restaurants offering typical Chinese dishes.
You can try the famous bubble tea, a drink made from tea, fruit and tapioca pearls that line the bottom of the glass and are to be sucked up with a large straw.
Also to taste: the many soft cookies or cakes from the neighborhood Chinese pastries.
In Montreal's Chinatown, you'll also find a large Asian grocery store. If you live in Montreal, this is the best place to shop for Asian products!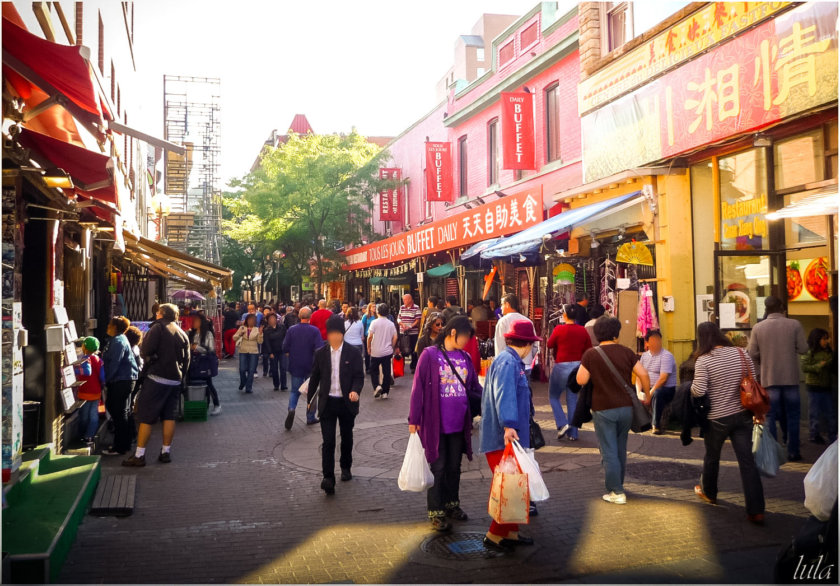 The Best Restaurant in Montreal
I couldn't not mention it, it's a bit like my canteen in Montreal: the restaurant "l'Arrivage" at the Pointe-a-Callière Museum. A lover of good food, I was a little reluctant to eat at the "museum restaurant" the first time, and I came away totally amazed. Really.
Located on the second floor of the museum, the restaurant offers a superb view of the Old Port of Montreal.
It offers a different gourmet menu every week and the dishes are really delicious. I advise you to take the "Table d'hôtes" menu with a starter, a main course and a dessert for less than $25. At this price, you will enjoy a refined menu in an exceptional setting with unparalleled quality of service.
It is clearly the best value for money in Montreal, by far! Very little known, even to Montrealers.
However, the restaurant is only open for lunch!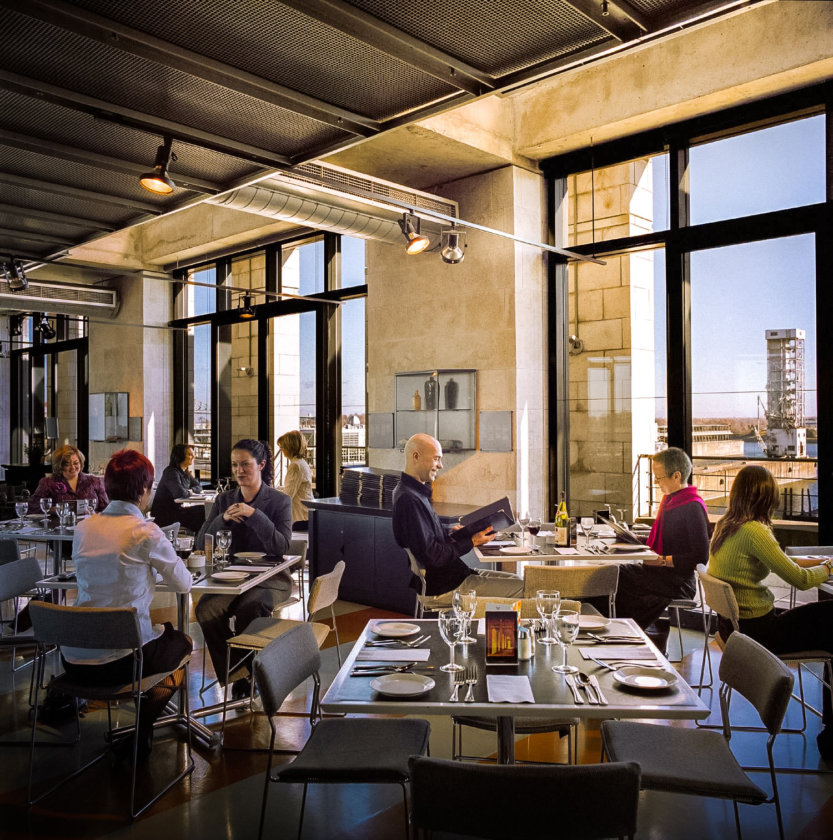 TimeOut Market Montréal
The TimeOut Market is located on Sainte-Catherine Street West, in the Eaton Center and brings together more than twenty restaurants and bars in one place. 
The setting is really super nice,  chic and modern atmosphere with neat decoration and you can enjoy dishes from all the cuisines of the world: Indian, Italian, Greek, Vietnamese, West Indian, Spanish… The dishes are really of excellent quality and well cooked.
Everyone can choose what they want and everyone meets to eat together on the tables placed in the center. This avoids arguing over the choice of restaurant!
Open every day from 11:30 a.m. to 9 p.m./10 p.m.
Microbreweries in Montreal
Craft beer lovers will be delighted to learn that Montreal has many microbreweries, each with their own specialties! Here are some addresses:
Harricana Brewery, 95 Jean-Talon West
Pub Brouhahah, 295 Avenue Papineau, Ahuntsic
The Branch, 3188 Rue Masson
HELM microbrewery, 273 Rue Bernard O
Good Lord! 29 Laurier Avenue West

Accommodation in Montreal
My Impressions of Montreal
What I really loved in Montreal is that each neighborhood is very lively, which gives the impression of living in a village and not a big city.
Tons of local businesses, welcoming people, an exemplary quality of life and seasons offering a variety of activities, that's what makes Montreal one of the most pleasant cities in the world!
Advice for those living in Montreal
Here are some tips from former Montrealers. If you have any others, I'd be happy to add them to the list!
Shopping in Montreal
If you want to eat "like in France", food can quickly become very very very expensive in classic supermarkets such as Provigo and IGA (for example, peppers at $9 per kilo or chicken fillets at $25).
I therefore recommend that you go to a small supermarket called Esposito, there are 4 of them in Montreal, it's up to you to see which one is closest to you. There is a good chance that you will divide your shopping budget by 2.
Where to find cheap cheese in Montreal?
As a Frenchman, if there's one thing you might miss in Montreal, it's cheese. It is of course findable, but it is very quickly very expensive (Hello the Roquefort Papillon at 100$ per kilo!).
But don't worry, there's a place where you can find cheese (and lots of other stuff) for not too much money. Chez Aubut, a store that sells wholesale, but is open to the public!
They offer lots of stuff, including an excellent brie, sometimes even on sale at $10 a kilo.
Address : Aubut, 3975 Rue Saint-Ambroise.
Rent or buy cheap winter sports equipment
If you live in Montreal, chances are you'll want to take up ice skating, snowshoeing, or maybe even skiing. But if you're only here for a year, there's no question of paying full price for them! The best is to rent it for the season, or to buy second-hand equipment. And where can you do that?
The answer: in the ski bin! Behind this rather unprepossessing name hides a little nugget known to Montrealers. A small store where you can rent or buy good equipment for not too much money. For example, I paid for a pair of totally new hockey skates (not a scratch) half the price in the store.
Address : The Ski Bin, 8278 Boul St-Laurent
And you, what are you planning to visit in Montreal? Let me know your favorite places in the comments!
Read Also:
Check out all our articles about Canada: All articles about Canada are listed here!
5 steps to prepare your trip to Canada :  The complete guide to prepare everything from A to Z!