3 Days itinerary in Montreal
Are you traveling to Canada want to be able to see as much as possible during your stay?
Even if this megalopolis is full of places of interest that deserve to be visited, visiting Montreal in 3 days is not impossible if you have planned your itinerary properly, and we are here for it!
Below we present you to Montreal itinerary for 3 days:
Day 1: Old Montreal and the Old Port
How about starting your first day in Montreal by discovering the oldest and most authentic parts of the city?
Although it is a city with a much more recent history than European cities, its past is still present in its social fabric and visiting its older neighborhoods will allow you to better understand its evolution.
Old Montreal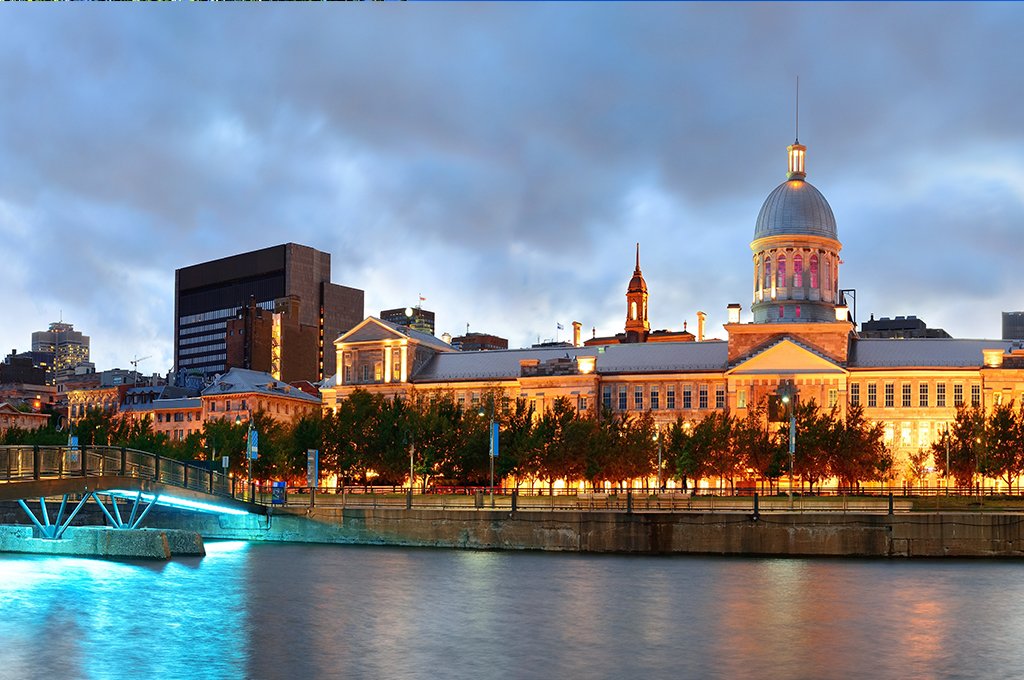 Old Montreal ( Vieux-Montréal ) is a neighborhood particularly loved by its citizens, and obviously a must-see for any visiting tourist.
How come?
Because, as the name suggests, Old Montreal is the oldest part of the city, where it was born and started to grow.
This neighborhood was founded in the 18th century and one of its most particular characteristics is that the fortifications that surround it are still visible and that once served to protect the city from possible Iroquois invasions or European troops.
Originally the fortifications were made of wood, but the material quickly became obsolete so high stone walls were built between 1718 and 1744. However their life was quite short as in 1801 they were destroyed by the municipality, but its remains can still be seen.
What can you visit in Vieux-Montréal other than the ruins of the fortifications?
Certainly the architecture of its buildings. Here there are no mirrored skyscrapers or ultra-modern towers, just small cobbled streets, villas or low buildings with stone walls.
The atmosphere here is very special, it is the most bohemian place in the city of Montreal. Walking along the avenues you will come across many old-fashioned cafes, small shops, antique dealers…
Our advice is to come and explore this area on foot, arriving early in the morning, perhaps having breakfast in one of its little cafes full of the charm of yesteryear, looking at the shop windows and taking lots of photos.
And at lunchtime you could stop by Verses Bistrot which is just a few minutes away from the Old Port, this restaurant offers typical Quebec dishes and has a great reputation.
The Old Port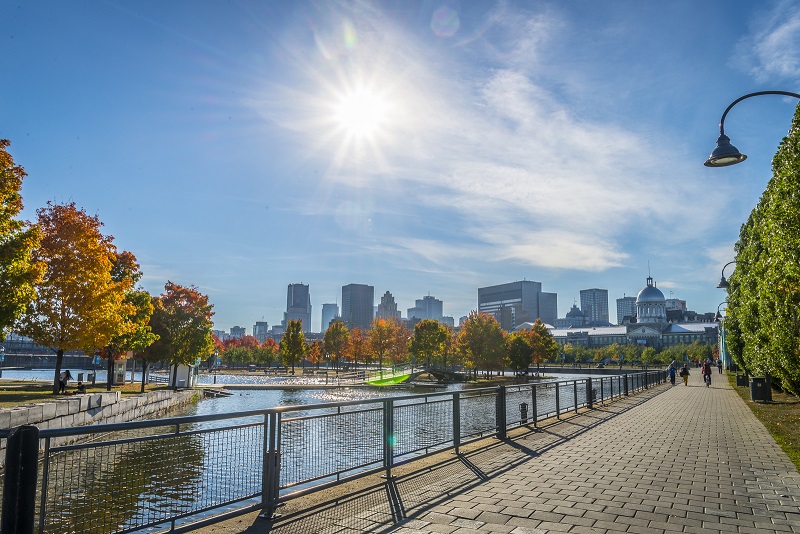 The afternoon of this first day of visit to Montreal will be dedicated to its old Port.
Afraid it will be a sad and boring experience?
Not at all!
The Porto Antico is more than a collection of piers, docks and boats. Montreal has worked hard to redevelop it, reinvent it and make it a valuable destination for the city, full of interesting opportunities for citizens (or tourists).
What can you do here in the old Porto?
Of course, you can decide to take a boat tour to discover the beauty of Montreal from another perspective. Here you can rent various types of boats, from pedal boats to jet skis, fly boats or classic motor boats.
Your aquatic exploration can be sporty, adrenaline-pumping or relaxed and educational depending on the type of boat you choose.
But in this old Porto there are many other activities that you can experience, from bungee jumping on the Quick-Jump, to zip-lining through the surrounding area, to treetop climbing on a breathtaking tree climbing course.
Its flagship jewel is the Ferris wheel. Standing 67 meters high, you will be able to admire an almost limitless panorama during the slow ride in the cabin. And if you're lucky enough to climb it at sunset, I assure you that the show will be so impressive that you will never forget it again.
---
Day 2: Plateau, Little Italy and Mile End
The Plateau of Mont-Royal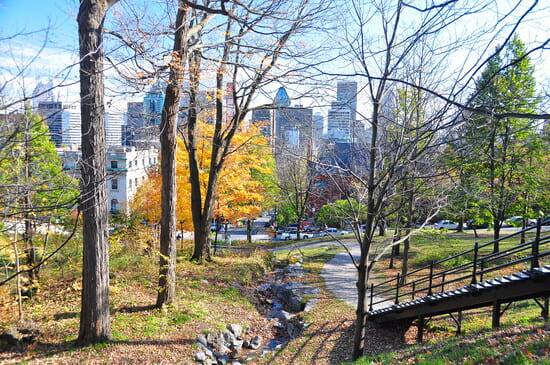 The Plateau of Mont-Royal is the trendiest and most fashionable district of the city. Located downtown near Mount Royal Park, this youthful-spirited old neighborhood attracts a huge crowd of people who want to move to the area or just visit – especially the artist community, as it's considered Montreal's bohemian area.
What is surprising about this neighborhood is the architecture: you can find small brick and stone buildings like in old Montreal, but not only!
For example, on the Carré (or Square) Saint-Louis you will feel as if you are immersed in another world: its large Victorian-style bourgeois houses, the originality of the colors of the buildings, the particular external staircases…
These beautiful, brightly painted buildings aren't just beautiful to look at, they've also housed some of the biggest names in Canadian literature over the years, such as Nelligan.
Little Italy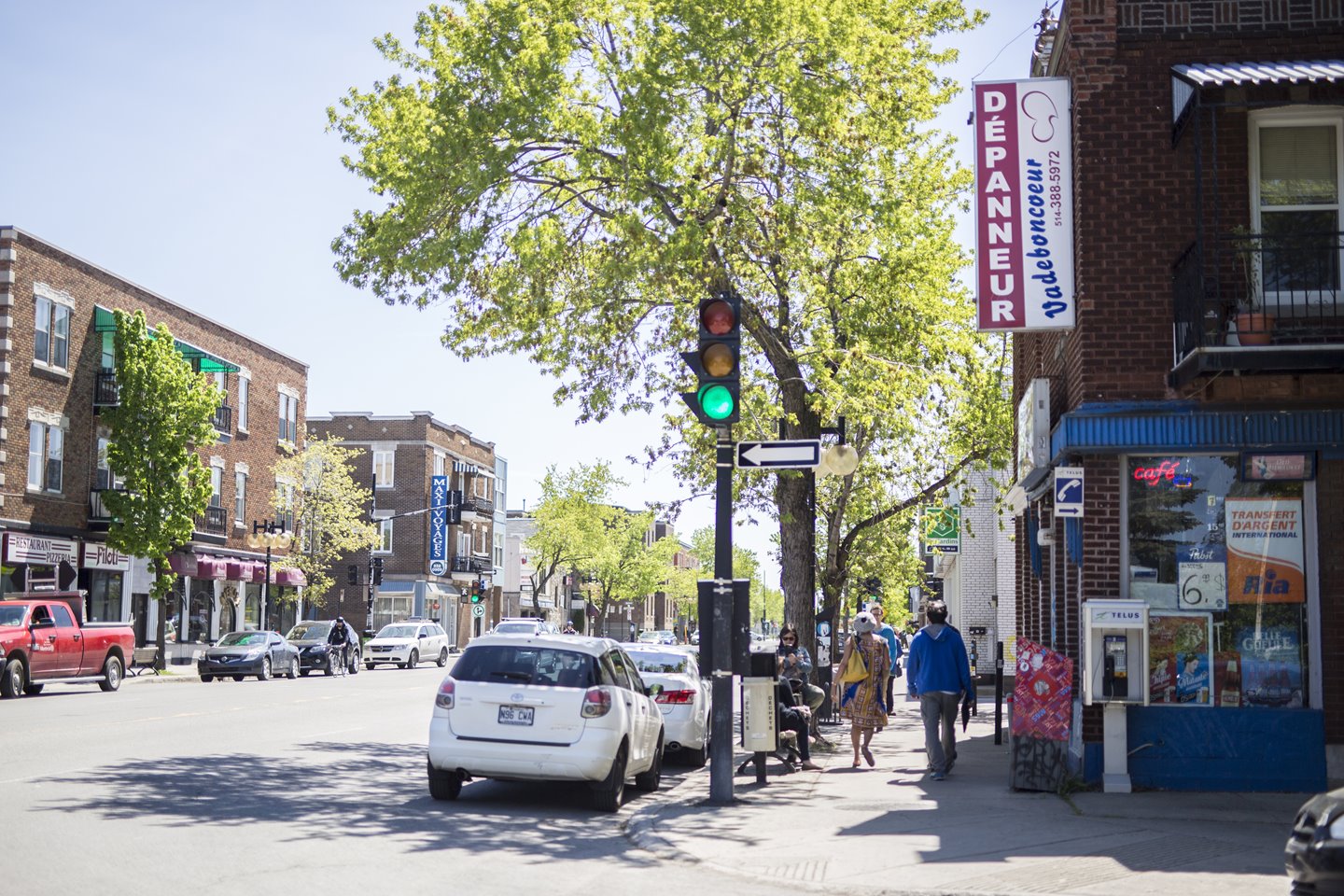 Comes midday and you start to feel hunger pangs clearly?
Perfect – Little Italy is just the right place to come and enjoy lunch.
The Little Italy neighborhood is located next to the Plateau de Mont-Royal and is therefore easy to access from this part of Montreal.
North America has seen many waves of migration, many Italians have also chosen this region to start a new life, the city still has a large community of our compatriots.
On the other hand, most large cities in North America have an Italian neighborhood, and Montreal is no exception.
When visiting Little Italy, stop by the Jean Talon Market, it is the most iconic market in the city and where you can sample many of the region's specialties and discover fresh new products.
You can also explore (and relax) in parks like Dante's or Saint-Zotique's. You can find lots of Italian street-food stalls along the streets if you prefer to eat something on the go or maybe have a picnic on the grass.
Alternatively, you can go and eat in a typical local restaurant such as Il Bazzali. Il Bazzali is one of the best restaurants in Little Italy serving real Italian food, and apparently it's quite a treat!
Mile End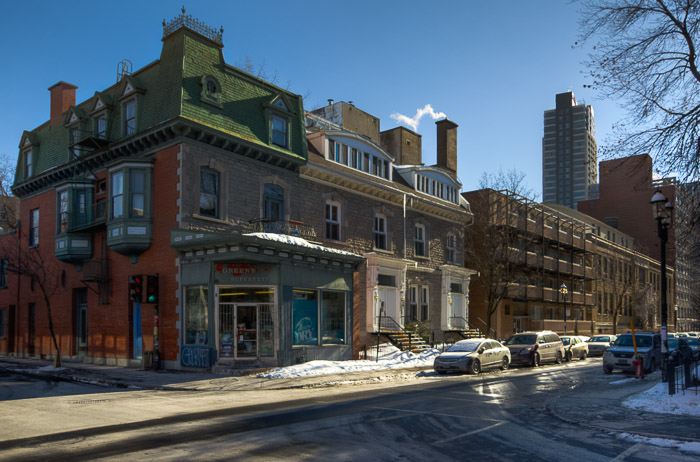 Mile End is an area of ​​Mount Royal's Plateau neighborhood famous for its strong arts community.
It owes its name to the fact that until the last century the area was a racing track.
In Mile End you must come see the unique and original architecture of Caserne 30, which is the old Town Hall, and take a tour of St Michael's Church.
Regardless of your creed, it is nothing short of a sensational building. Try looking for some images on the web: if it already looks spectacular from the photos, imagine what it will be like to see it live!
---
Day 3: Mont-Royal Park, the Biosphere and the Saint Lawrence River
Mont-Royal park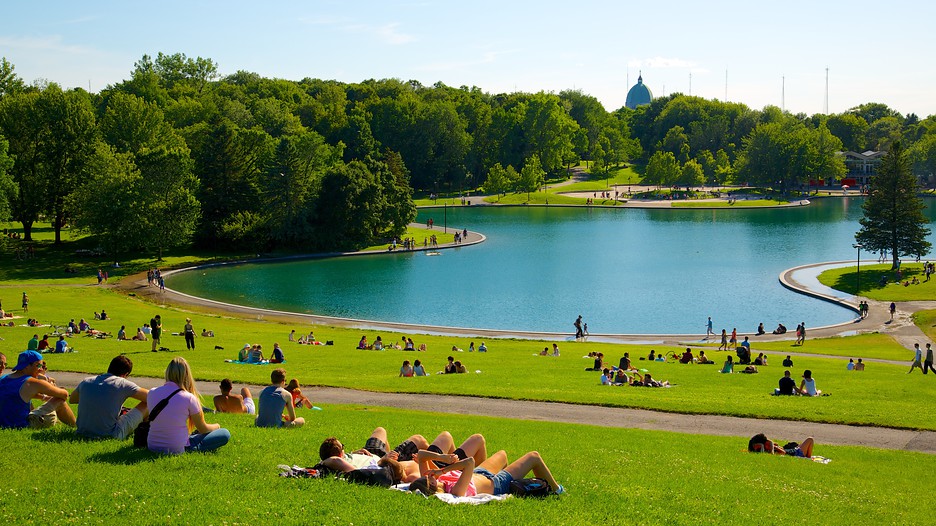 Do you know what Mont Royal park is?
Mount Royal is a large park located in the hills of Montreal. The place is splendid and always frequented by locals who love it above all for the breathtaking view it offers.
If you're in town, a trip here is an absolute must.
For sports enthusiasts, Mount Royal Park is the right place as this 190-hectare green lung is crossed by many wooded paths where you can run, cycle or simply take a walk and immerse yourself in the lush Canadian nature.
And in winter? You can rent skis and hit the park's slopes, or strap on a pair of skates and spend a few hours gliding over Beaver Lake.
The biosphere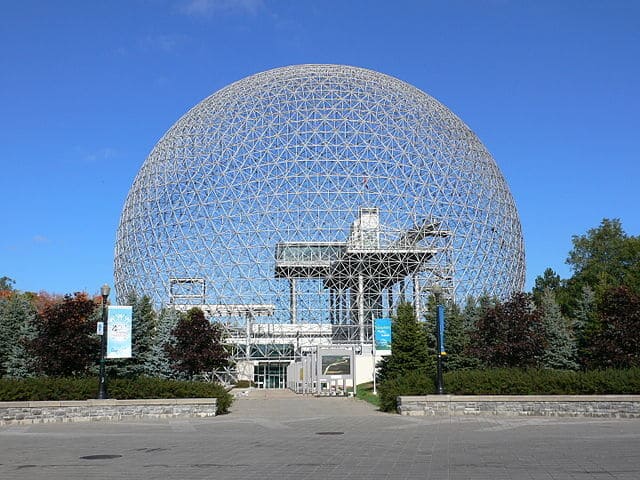 Created in 1967 for the Universal Exposition, the Biosphere is the largest geodesic dome in the world.
This gigantic and crazy spherical structure located inside the Jean Drapeau park now houses an interactive museum that will give you a better understanding of climate issues and global warming.
The Biosphere is also known as the Museum of the Environment.
A perfect destination to amaze the children which, however, I assure you, will leave you speechless too!
The St. Lawrence River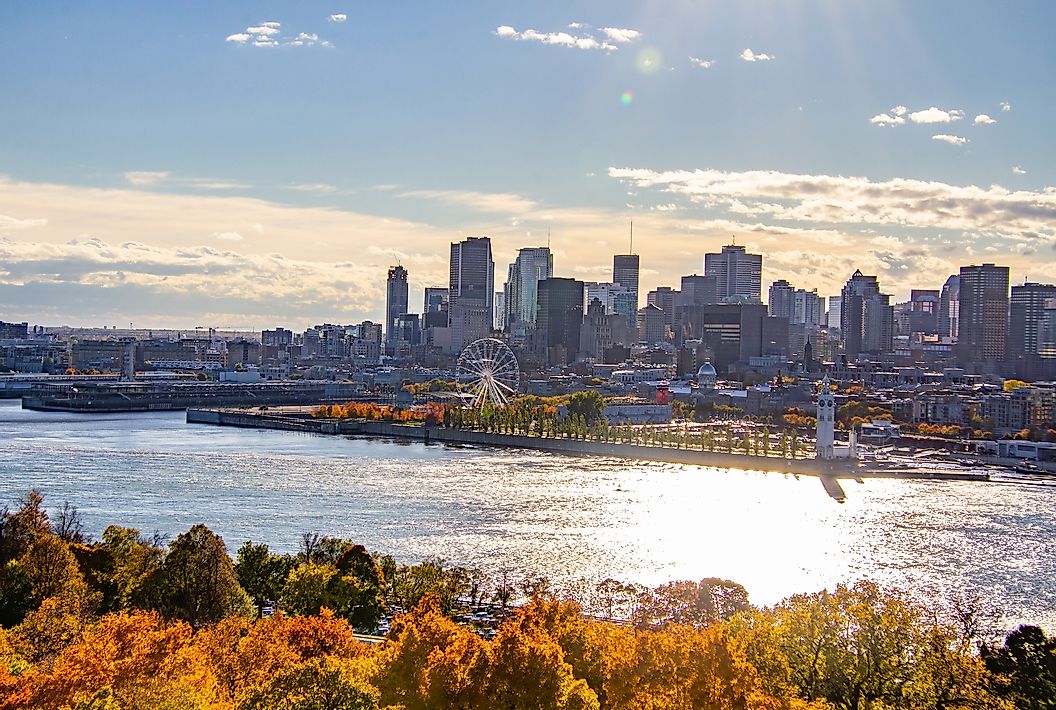 The St. Lawrence is the river that flows through the city of Montreal. 1197 km long, it is a precious resource for the city and not only for its incredible biodiversity!
There are many points that deserve to be explored, but with so few days available you can limit yourself to taking a trip to its banks to enjoy its nature and observe the fauna and flora of Quebec.
For the record, the first explorer to discover the St. Lawrence River was Jacques Cartier in 1534!
The banks of the San Lorenzo River are well equipped and allow for activities such as cycling, running and walking. It is also possible to take a boat or canoe tour.
---
Visit Montreal in 3 days: practical information
Montreal is the largest French-speaking city in North America but it is not impossible to visit it in just 3 days or in a weekend.
All you need is to plan your itinerary in advance by choosing the places you would like to visit.
Would you like to add a few more stages or maybe some of our ideas don't fully reflect your interests?
No problem! Search our article dedicated to the 20 most beautiful places in Montreal and choose the stops you prefer!
Here are some essential tips to prepare for your (amazing) trip to Montreal:
If you want to visit museums or attractions that require tickets, we recommend that you buy tickets online before you leave.
If available, invest a few euros more in the priority access ticket, it will allow you to skip the line (which can sometimes be very long) and therefore gain precious time to explore the other attractions on your travel schedule.
Even for hotels and restaurants it is better to book well in advance or you could be left with a bad taste in your mouth.
Remember that your stay will be short and spending hours looking for an alternative place to sleep or eat at the last moment could ruin your organized schedule.
As soon as you arrive in Montreal, get a transit pass that allows you to ride unlimited public transportation. In this way you will be able to get on and off the bus and subway without having to queue at the ticket office every time.
A smart move that will save you time and money, as passes are always cheaper than single tickets.
Have the phone number and address of the Montreal Tourist Office handy .
If necessary, you can count on their support for information, suggestions and help during your stay.
Our last tip is also the most valuable: ENJOY IT!
We will never get tired of saying it: beyond the itinerary and the stops to see, you must remember that you are on vacation in a splendid city and you must fully enjoy every moment and every place.
If you can't stick to the timing of your travel plan, don't make a fuss about it. Be flexible, leave time to walk around, experience nature, its atmosphere, relax and savor all that Montreal has to offer.
Accommodation in Montréal
There are many options for sleeping in Montreal, from hostels to hotels to apartments with fully equipped kitchens.
These are some of the hotels and apartments that I have found with the best value for money. If you are not convinced, you can find other options here.
Auberge St. Jacques
It is one of the few hotels in Montreal with a price below €100 per night. It has free parking and is located near the metro to be able to move comfortably around the city.

Le Square Phillips
It is in the heart of Montreal. Close to everything and equipped with a kitchen, as if you had your own home in the city.

Sainte-Therese House
This apartment is located near the Saint Lawrence River, a few steps from the Grande Roue de Montreal and close to the city center. It also has a kitchen equipped with a fridge and everything you need to feel at home.

Where to eat in Montreal?
Did you know that Montreal has the most restaurants per person in North America? 
Recognized throughout the world for the variety and quality of its gastronomy, it is a foodlover's paradise!! 
During our walks, we discovered nice places where we enjoyed ourselves! In Montreal, we walked a lot, but we also ate a lot, more than that!
Here is the return of our gourmet experiences: 4 addresses to try without hesitation!
Brunch is an institution in Montreal! And Beauty's is another! Since 1942, Beauty's has been delighting Montrealers at Brunch time.  On the menu side, there is a choice! For us it will be a classic, the SuperBeautys 2: eggs, bacon, sausages, hash browns and bagel! We really enjoyed ourselves!
◊ 93 Mont-Royal Avenue W, Montreal, QC H2T 2S5

This is a very very gourmet address!! The Jean Talon Market is a place that will thrill your taste buds for sure! 
Here we eat on the go over the stalls. Let yourself be tempted by the famous smoked salmon bites, glazed with maple syrup at Atkins&Frères or by an olive focaccia at Première Moissons. 
We end up with a piece of maple syrup pie, unless we fall in love with these perfectly aligned fruit stalls.
◊ 7070 Henri-Julien Avenue, Montreal, QC H2S 3S3

The MuvBox is an old container converted into a restaurant located on the Old Port. You can eat lobster from the Magdalen Islands served in a hot dog bun… A delight!
◊ Place du Genie, Montreal, QC

His reputation is well established ! We come here especially to eat a Poutine and in the opinion of Montrealers it is the best in the whole city. 
The basic Poutine: fries, melted cheese and gravy, but there are several variations such as Poutine Dan Dan with pepperoni, bacon and onions.
Heavy ?! Nooooo…. Economic ?! For sure since you will skip the next meal!
◊ 994 Rue Rachel E, Montreal, QC H2J 2J3

If you have any questions to organize your 3 days Montreal itinerary in Canada, do not hesitate to ask me in the comments.
Are you going on a trip to Quebec? Read also
Check out all our articles about Canada: All articles about Canada are listed here!