2 Days in Victoria: Ultimate 2-Day BC Itinerary
Are you going to BC soon and are you looking for places to discover?
After doing Vancouver and Whistler, why not stop in Victoria, the provincial capital, before heading to Tofino?
The pretty little town is almost unanimous with travelers who stop there. Victoria will charm you with its colors, its flowers, its beaches and its seafood! Here are some ideas for activities, restaurants and accommodations for your two days of fun in Victoria.
So, let's start our 2 days Victoria itinerary!
Day1: Craigdarroch Castle and Rockland
To get to Victoria from Vancouver, you will need to take BC Ferries from Tsawwassen (about 40 minutes by car from downtown Vancouver).
It's safer to book in advance, but by showing up the same day, you risk finding a place on one of the ferries (maybe not at the time you want though). Don't forget that you have to arrive between 30 minutes and 1 hour before your departure time.
The 90-minute ferry ride is super nice, as you go around several islands in front of Vancouver Island. Go out on deck to get some fresh air and admire the view during your ride, it will make the time pass faster.
Bring a jacket, it's windy! Arriving at the Swartz Bay terminal, you will drive 30 minutes before arriving in the heart of Victoria.

Stroll through the Rockland neighborhood before heading to Craigdarroch Castle. You will want to buy a house there, it is guaranteed, even if they are not at all affordable!
Then visit Craigdarroch Castle, a historic site designed by Baron Robert Dunsmuir in the late 1800s. Fun fact : the Baron died before he could even see the final result of his home.
Chinatown

Victoria's tiny Chinatown is truly charming. It's time to enjoy dumplings, dim sum or bubble tea!
Go through the Fan Tan Alley, a small alley crushed between two buildings, which hide several pretty shops. You'd think you're a bit like in Harry Potter!
Bordered by a dozen shops , it was once the favorite place for opium buyers.

View of Fan Tan Alley
Don't worry, today you will find more gourmet products , clothes and other variety items.
Government Street

Government Street is so full of life, day and night! You can stop at an antique store as well as at a candy store or restaurant. It's also a no worse commercial artery if you want to go shopping (let's say your suitcase wasn't already overflowing).
Tea Time

The city of Victoria has a very " British " side, so take the opportunity to have tea (or coffee) with a pastry at tea time, around 4 p.m.
Several restaurants or cafes offer the option. If you have big means, you can go to the Empress, otherwise, Murchie's Tea & Coffee on Government Street is more than enough!
Miniature World

Well, this activity is not essential, but if you have free time, or it's raining, it's worth the detour. Miniature World stages several historical events in miniature format models. It's super well done, really cute and you can spend hours looking at every little detail.
Day 2: Visit of the Parliament

The Parliament of Victoria, also the Legislative Assembly of British Columbia, is a magnificent building that you can visit for free!
Every day of the week, guided tours are offered on site between 9:20 a.m. and 4:20 p.m. Arrive early, as it's first come first served.
Beacon Hill Park

Don't underestimate Beacon Hill Park. The place is beautifully landscaped and super nice for a walk. You can have fun looking for the Moss Lady, this work representing a woman lying in the greenery. Flower gardens, funky trees and a small farm are among the attractions at Beacon Hill Park.
Completely south of the park, you can go from Finlayson Point to Clover Point Kite Park via Spiral Beach. There, sit down to admire the kites doing their show in the wind. You can even see the American mountains in the distance with their snow-capped peaks.
The Water's Edge

Soak up the "maritime" side of Victoria as you walk along the waterfront from Steve Fonyo Beach to Fort Victoria. This path will take you all around the tip of James Bay, passing by beautiful viewpoints such as the Ogden Point Sundial (perfect for sunsets ), the Breakwater lighthouse, as well as Fisherman's Wharf.
Many people also rent kayaks or paddle boards to sail around Victoria and see the city differently.
Fisherman's Wharf

Little Fisherman's Wharf is a really sweet place to dine. The colorful little stilt houses will make you want to move on the water right away.
Mexican food, fish & chips, sandwiches, ice cream, there is something for everyone. Don't forget to take a look at the pretty craft shop 4 Winds Nest.
Orca Watching Cruise
Finally, end your day of exploration with an orca cruise on the Salish Sea, a maritime area renowned worldwide for its concentration of cetaceans .

The Salish Sea is a maritime area renowned for its concentration of cetaceans
As the sun sets , set off aboard an open boat , for an authentic game-viewing safari , away from the tourist crowds.
Accompanied by a biologist guide , you will learn a ton of interesting facts about marine mammals, in addition to having the chance to discover the unique song of orcas.

Zodiac Killer Whale Safari
This twilight excursion will leave you with lasting memories , that's for sure!
Above all, don't forget your camera!
Where to eat?
Red Fish Blue Fish
This small stand on the seaside is the perfect place for a lunch. Fish & Chips, salmon, sandwiches, salads, you will find your account at Red Fish Blue Fish if you are a fish lover.
Don Mee
Located in Chinatown, this restaurant offers a midday dim sum menu to fill your belly. Try new Chinese specialties, or stick to classic shrimp dumplings.
Finn's Seafood Chops Cocktails
This waterfront restaurant is great for a fancy dinner. The heated terrace is pleasant in the evening and we even provide you with blankets! You can have a delicious cocktail to accompany your pasta with seafood or your fish fillet at Finn's. Cheers!
10 Acres Bistro
This great local restaurant offers a delicious seafood platter to share for two. You can let yourself be tempted by the other dishes and desserts at 10 Acres Bistro, each as tempting as the next. Right next door, you'll end your evening with a drink at 10 Acres Commons.
Fisherman's Wharf
Of course, at Fisherman's Wharf, you'll be spoiled for choice of places to eat and all options are good! Eating in the middle of colorful houses is still not worse.
If there are too many tourists for your liking, don't hesitate to order "takeout" and eat at Fisherman's Wharf park next door or on the David Foster Harbor promenade.
Accommodation in Victoria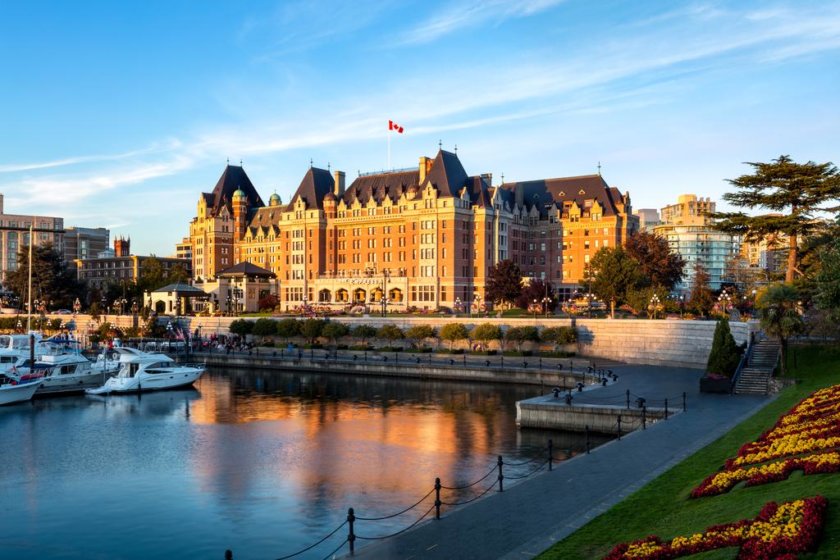 Are you going to Canada? Read also:
5 steps to prepare your trip to Canada:  The complete guide to prepare everything from A to Z!