3 days in Toronto: what to do? 
Are you going to spend 3 days in Toronto during your tour of Canada ?
Very good choice!
To help you organize your stay, I have prepared the ideal itinerary for you to visit Toronto in 3 days.
I will first give you some tips and tricks to save money and avoid waiting in front of the main places of interest, before continuing with the program to follow each day.
Accompanied by a map to find your way, you will have all the elements to optimize your visit to the city!
I end with my selection of the best accommodations in Toronto and ideas for activities to try for a family trip.
So where to go and what to do in Toronto in 3 days? Where to stay?
Our advice to avoid queuing in Toronto
Along with Montreal and Vancouver, Toronto is one of the most important cities in Canada.
Many tourists allow themselves a short stay in the capital of Ontario during their itinerary in Canada, if only to discover the famous Niagara Falls!
At any time of the year, you will therefore be confronted with long queues that stretch in front of the main tourist sites such as the famous CN Tower or the Royal Ontario Museum.
But rest assured, there are 2 very simple tips to avoid queuing and make the most of this 3-day tour of Toronto. I'll tell you about it right away!
1. Toronto CityPASS
The first solution I recommend to you to save money and avoid queuing during your 3-day stay in Toronto is to buy the Toronto CityPASS.
The CN Tower – On the agenda for Day 1
Ripley's Aquarium of Canada (also day 1)
La Casa Loma – to visit on the second day of this 72 hour trip to Toronto!
The Royal Ontario Museum (the ROM) – also to do on day 2
The Toronto Zoo (for the last day)
The Ontario Science Center (also in last day tours).
2. Skip-the-line tickets to Toronto tourist attractions
The second solution you have to avoid waiting in front of the sites to visit is to buy skip-the-line tickets on a case-by-case basis.
You will be able to make your choice according to your program of visit of Toronto in 3 days.
You also have the possibility to book your guided tours on foot or by Segway, other activities such as a cruise or a helicopter ride, as well as the excursion to Niagara Falls for example.
There are really several ideas of very cool things to do in 3 days in Toronto.
So that you do not waste time looking, I have already prepared the list of tickets with priority access and visits that I propose in my itinerary.
You just have to  click on the links to reserve them  and I also give them to you as I go along in the article:
Visit Toronto in 3 days: the best itinerary
Now is the time to discover my 72h itinerary in Toronto. All you have to do is follow this program of day-to-day visits to have a great time.
To establish this route, I started from the fact that you will spend 3 full days in Toronto and that you have opted for the Toronto CityPASS or skip- the-line tickets in order to maximize the visits per day.
And if after reading the article, you have other questions or need help planning your stay, do not hesitate to ask me for advice in the comments!
So  what to visit in Toronto in 3 days?
Day 1:

Toronto Itinerary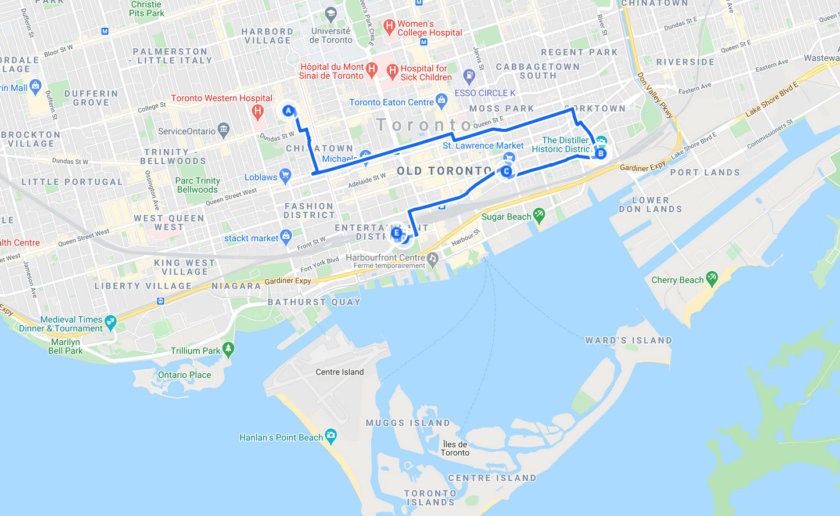 The visits for day 1:
A. Kensington / Chinatown
B. Distillery District
C. St. Lawrence Market
D. Ripley's Aquarium Toronto
E. CN Tower
A. Kensington Market / Chinatown
I suggest you start your 3-day Toronto itinerary by discovering Kensington Market. This district is one of the best known and oldest in the city.
The atmosphere is super nice, in a hippy and bohemian style. You can take a tour of the many thrift stores, vintage shops and you will find products from all over the world.
There are also many health-oriented restaurants with organic, vegetarian and vegan dishes.
Adjoining Kensington, at the level of the streets of Spadina Avenue and Dundas Street West, continue the walk through Chinatown. Chinatown is just as cosmopolitan as its neighbor, with grocery stores selling exotic produce and other Asian oddities.
You will also find the cheapest souvenirs in the whole city! So it's time to buy the traditional postcard and the magnets that will complete your collection.
Finally, Chinatown is also excellent restaurants serving traditional noodles, chicken soups and dumplings.
While you're in the area, I suggest you check out Graffiti Alley, a street perpendicular to Spadina Avenue. The walls of the street are completely covered with graffiti over a hundred meters, some of which are made by renowned artists.
Tips
To visit Kensington and Chinatown, I recommend opting for a guided tour. It's the best way not to miss anything and to enjoy local stories and anecdotes about the 2 districts.
The tour lasts 2 hours, you can then continue the day by following my route.
You must book this guided tour in Toronto by clicking the link below:
Booking my Kensington Market guided tour now!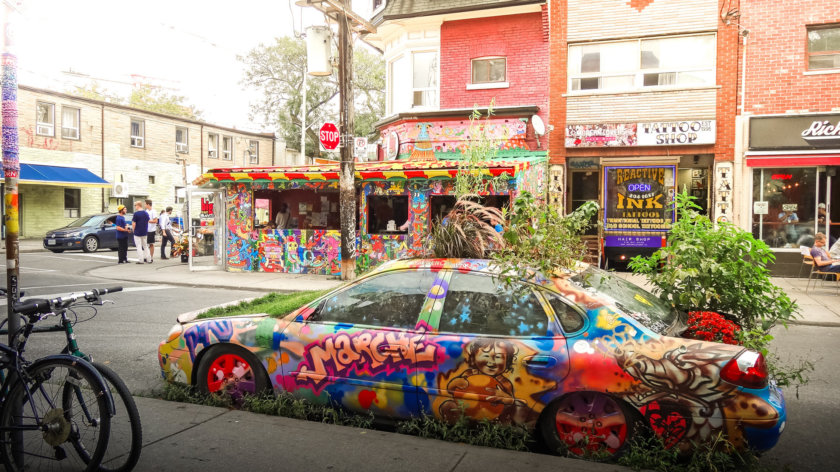 B. The Distillery District
Continue your 3-day tour of Toronto with a visit to another historic district: Distillery District.
It's located in Old Toronto, about a 45-minute walk from Graffity Alley, but if you don't feel like walking, you can also take the trolley there.
The Distillery district consists of several red brick buildings, very typical of the city, which once belonged to one of the largest distilleries in the world.
Completely renovated and rehabilitated into a pedestrian area, the place has kept the tradition since many establishments offer to taste the local beers, but it has also turned into a trendy area with trendy cafes and original shops.
And if you have decided to go to Toronto for 3 days at the end of the year, you will also find the Christmas market there.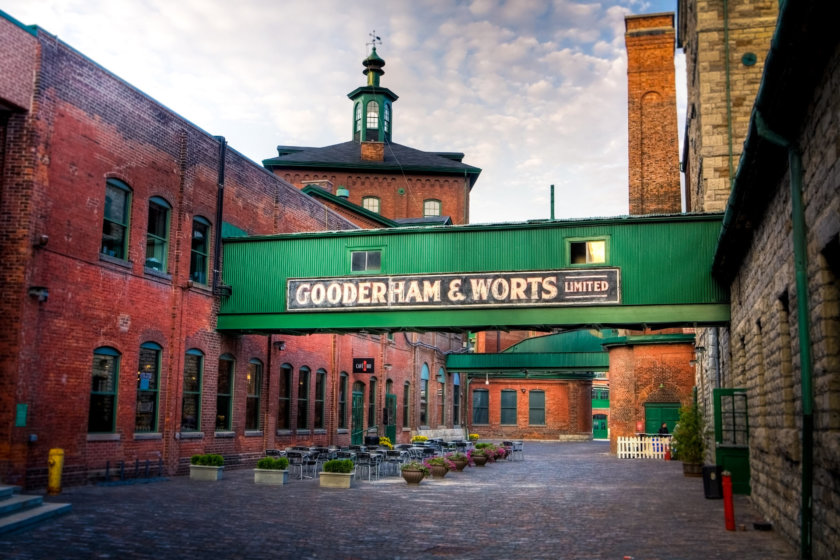 C. St Lawrence Market
After this morning walking around Toronto, you must be getting a little hungry. Head to St Lawrence Market for a gourmet lunch break!
From the Distillery, take the street "The Esplanade" which runs along several parks for 1 km and you will arrive right in front of the market.
In this authentic covered market which has existed for 200 years, and which was elected a few years ago as the best market in the world by National Geographic, you can find good local products and taste everything on the spot.
Guided tours including tastings are also organized to learn more about its history. You can book by clicking on the link below:
Booking my St Lawrence Market Guided Tour now!
Tips
Right next to the market and on the way to the next visit of the day, be sure to check out the Gooderham Building, nicknamed the Flatiron Building. This red brick building is one of the iconic images of the city.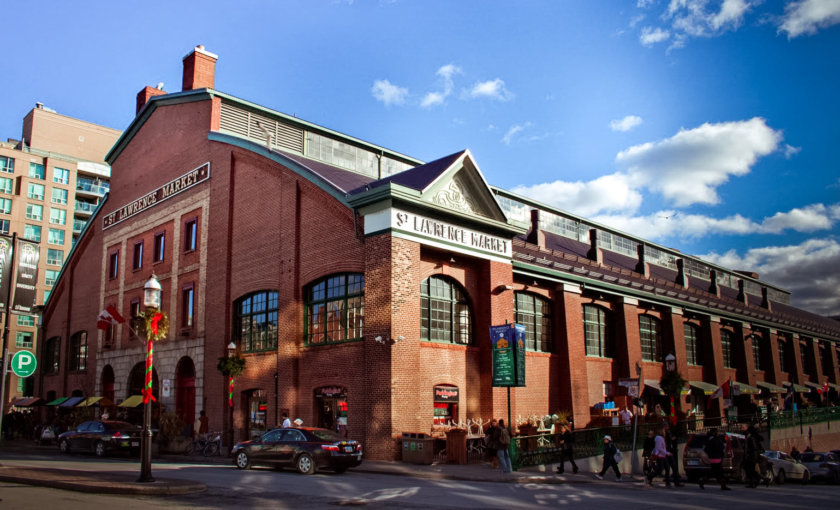 D. Ripley's Aquarium
I suggest you continue the afternoon by visiting the Ripley Aquarium in Toronto. From the market, it's only a 20-minute walk or take the tram.
If you have decided to go on a trip to Canada with your children, they will be delighted to go and admire the thousands of animals that are there.
Even if you are not a fan of this kind of visit, the one in Toronto, which is still the largest aquarium in Canada, is really well done.
In addition, the visit is free with the Toronto CityPASS !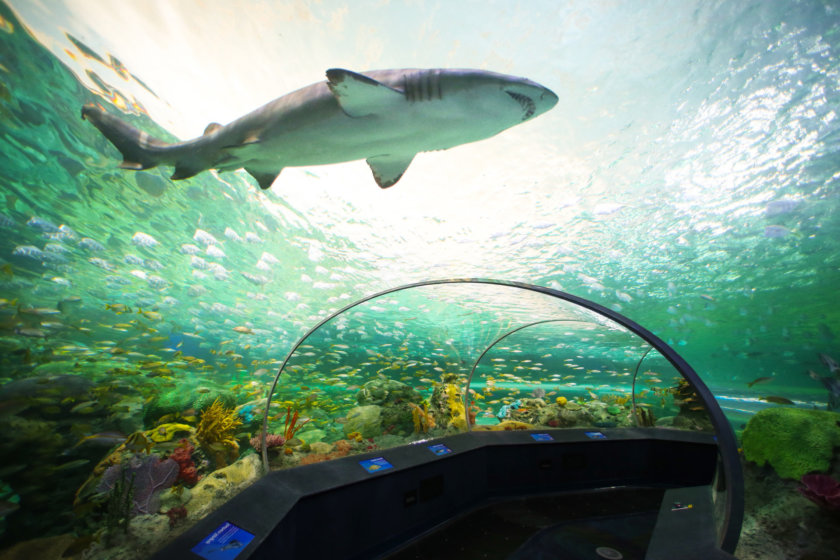 E. The CN Tower
The CN Tower being the city's must-see attraction, it's impossible not to include it in your 3-day stay in Toronto!
And that's good because it is located right next to the aquarium.
I advise you to go up there just before sunset to enjoy the view of the city during the day and then be able to contemplate it at night with the illuminated buildings.
With its 533 meters high, the CN Tower has long been the tallest tower in the world , but it has since been dethroned by the Burj Khalifa in Dubai or the Taipei 101 tower in Taiwan.
But I assure you its height is quite sufficient to enjoy an unobstructed view of all of Toronto and get a little fright while walking on its transparent glass floor! Especially since to access the observation platform at 346 meters above sea level, you will take a glass elevator!
And if you still need a little more adrenaline, no problem, I recommend you try the Edge Walk attraction. Put on a harness and go for a walk along the outer ledge of the tower.
On the other hand, given the price for the 30-minute experience, it is better to be sure not to give up!
If you want to end this first day in style, you can also dine in the restaurant of the tower whose panoramic platform rotates during the meal to make the most of the view.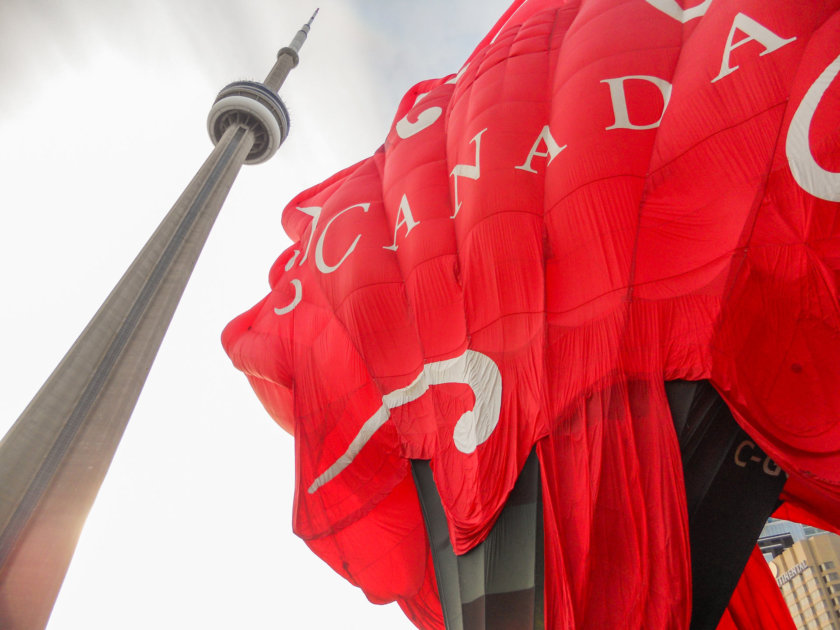 Day2: What to do and see?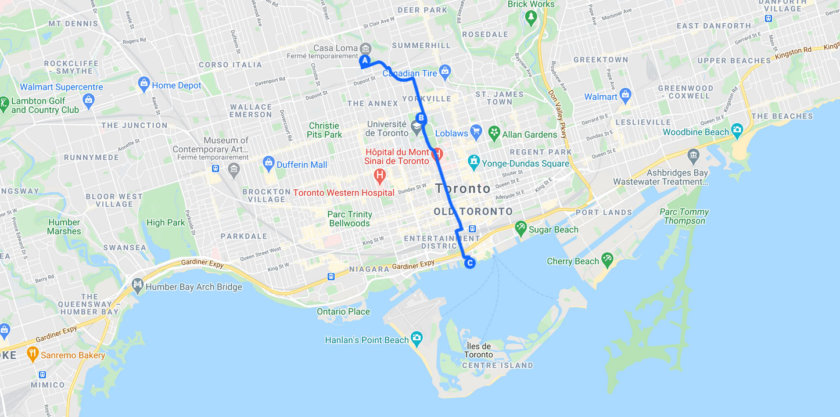 The visits for day 2:
A. Casa Loma
B. Royal Ontario Museum
C. Toronto Islands
A. Casa Loma
For the second day of your 3-day Toronto itinerary, start by visiting Casa Loma.
To get there, the most convenient way is to take the metro to Dupont station and finish on foot.
When you arrive at your destination, you will be surprised to find that Casa Loma presents an architecture that is quite unique for Canada. With its turrets and rough stone walls, it looks a lot like the medieval-style castles that are very common in Europe.
Built in 1914 by a wealthy industrialist, its construction took nearly 3 years and required 300 men at a cost of $3,500,000 (at the time). The interior, which you can visit, has a hundred luxurious rooms including an impressive library.
You can also contemplate one of the best views of Toronto from the turrets.
You will then continue the visit with a stroll in the 2 hectare park decorated with sculptures, fountains and beautiful flowerbeds.
Admission to Casa Loma is free with the Toronto CityPASS. You will also benefit from an audio guide in French.
If you do not have a CityPASS, it is possible to buy your entrance ticket to Casa Loma directly by clicking on this link:
Reserve my ticket for Casa Loma now!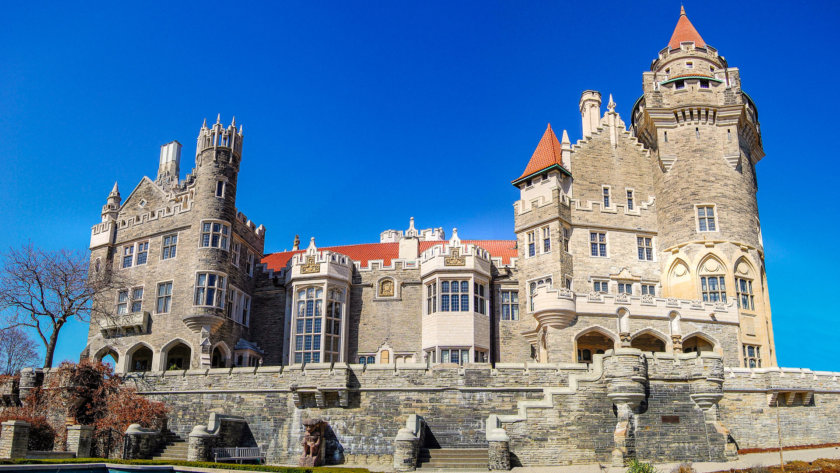 B. The Royal Ontario Museum
Then take the metro from Dupont station to Museum station.
You will be able to visit the largest museum in Canada: the Royal Ontario Museum, also called ROM.
Here too, its exterior architecture is particularly singular and has been the subject of a little controversy: we discover a very modern structure in glass and aluminum which will fit into the old stone facade. At least you're sure not to miss it!
The ROM features exhibits on world cultures and natural history. Personally, I really liked the part on the history of the first nations of Canada and the impressive collection of dinosaur skeletons.
It makes it a great idea to visit with children!
Admission is included with the Toronto CityPASS.
Otherwise, the only way to avoid the queue at the entrance is to buy your skip-the-line ticket in advance here:
Reserve my ticket for the Royal Ontario Museum now!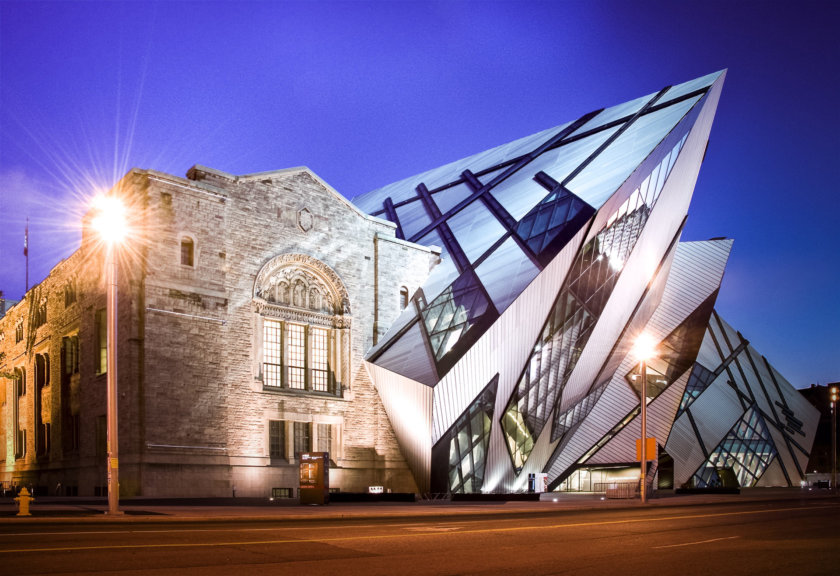 C. The Toronto Islands
For the rest of the day, I suggest you get away from the hustle and bustle of the city with a little relaxation time on the Toronto Islands.
Take the subway back to Museum station and get off at Union station.
From there hop on the tram to the Queens Quay Ferry Docks Terminal stop where you can catch the ferry which takes just 10 minutes to Ward's Island or Center Island.
Take advantage of the trip to admire the panorama of the skyline and the CN Tower, it's really worth a look (even better if you come back at night!).
The Toronto Islands being car-free, you can then walk or cycle (guided tours are also offered, you have the information by clicking here! ).
There are several beaches and beautiful houses typical of the 20s.
For details of ferry schedules and things to do on the islands, I invite you to consult this site (in English).
Tips
If you have spent a lot of time at the museums and you don't think you have time to go to the islands, I advise you to book an island tour by boat.
The commented cruise lasts 1 hour and is really nice to admire the islands. It is to be reserved with the link below:
Booking my cruise around the Toronto Islands now!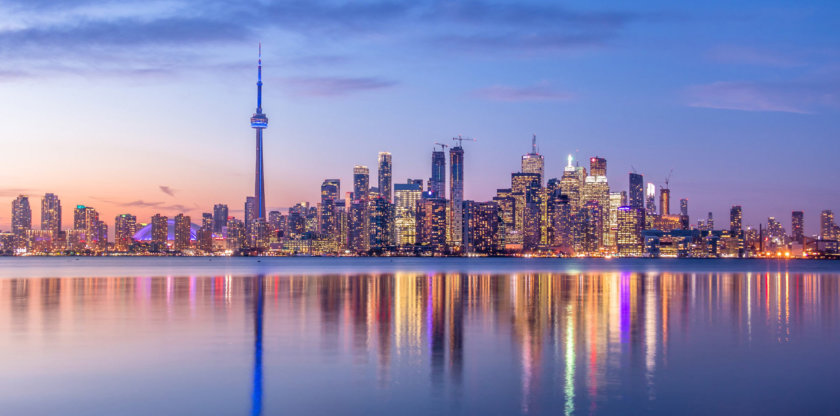 Day 3: places to visit
For the last day of your 3-day trip to Toronto, you have 2 options:
Stay in town and finish visiting the main places of interest
Take a trip to Niagara Falls.
I'll explain it all to you!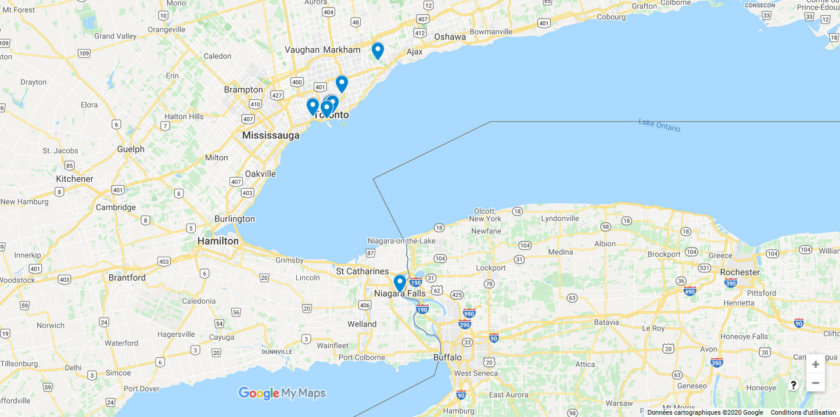 Option 1 – Walk and visit in Toronto
If you want to continue your 72-hour tour of Toronto while staying in town, here is the program I recommend you follow for the morning :
Visit the Royal Museum of Fine Arts or Art Gallery of Ontario which is interested in all forms of art: photography, sculpture or painting.
Reserve my ticket for the AGO now!
Go through Nathan Philippe Square to admire Toronto City Hall
Go shopping at the Eaton Centre, the largest shopping center in Toronto which brings together all the American brands (Abercrombie, American Eagle Outfitters etc.)
Go see Toronto's mini Times Square: Dundas Square (exit on the north side of the Eaton Centre).
For the afternoon, everything depends on your desires:
For history buffs, head to Fort York, a historic site with several vintage military installations. Easy access by tram from the city center.
For a walk in the open air, I suggest you go to High Park, a huge 160-hectare park with a little train, playground and free mini zoo (access by tram).
To learn while having fun, visit the Ontario Science Center which covers lots of themes in a super fun way: nature, music, science, astronomy… Admission included with your Toronto CityPASS.
In the evening, you can opt for a night tour on the theme of ghosts (to book by clicking here!) to discover the most terrifying anecdotes of Toronto!
Tips
If you have children, you can also take advantage of this third day to take them to the Toronto Zoo, which is a 30-minute drive from downtown.
Admission is included with the Toronto CityPASS.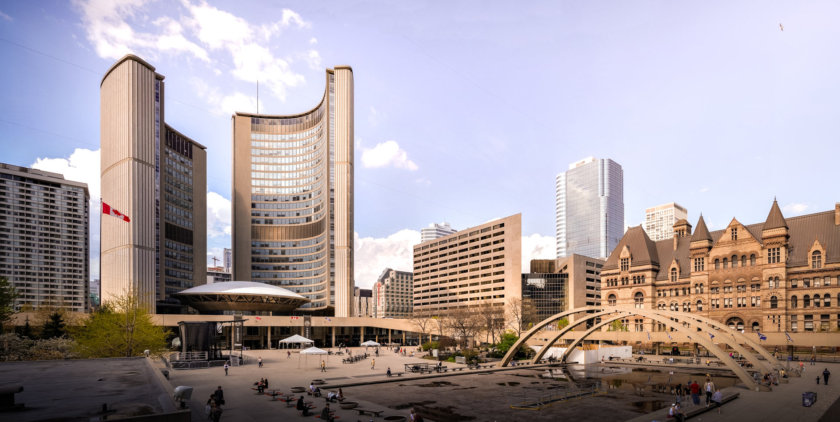 Option 2 – Excursion to Niagara Falls
Second option for those who do not want to stay in town, go explore the surroundings.
And if there is one ultra famous site not to be missed around Toronto during your trip in Canada, it is Niagara Falls! They are located 1h30 by car. 
Once you arrive, you will have the opportunity to (click on the links in orange to book your activities):
If you don't feel like driving there, you can also book a day trip. The best way to enjoy an all-inclusive and stress-free day is the one offered by GetYourGuide. 
A shuttle even picks you up directly in front of your hotel and brings you back to the same place in the evening.
The day includes:
The bus ride
Niagara-on-the-Lake Tour
A photo stop along the Niagara Parkway
The famous boat cruise close to the Falls
3 hours of free time to wander around as you wish and make the most of the day
As an option, you can also choose to live an extraordinary experience by flying over Niagara Falls in a helicopter!!!
To book this excursion, click on the green link below:
Book my excursion now!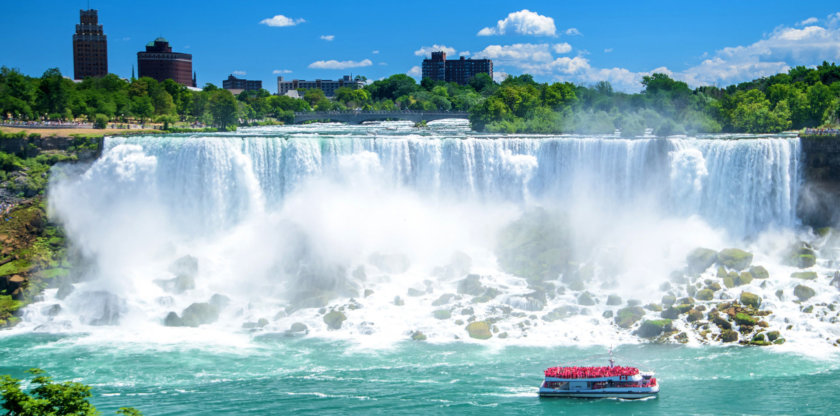 Where to sleep in Toronto
You now know how to visit Toronto in 3 days but you still have one question to solve: your accommodation.
Where will you sleep during this stay?
To be honest with you, it's not necessarily super easy to find a hotel offering good value for money in Toronto, which is why I've already prepared a small selection of the best hotels for you according to your budget.
A word of advice: if the establishment that suits you is available, book it immediately. Demand is really strong and the best accommodations are going super fast.
As you may have noticed, staying in the center of Toronto is still quite expensive, which is quite understandable because it is a large Canadian city that is very touristy.
If you want to save a little and don't mind staying a little further from the center, hotels located near the Toronto airport (17km from downtown) generally offer lower rates. You have for example: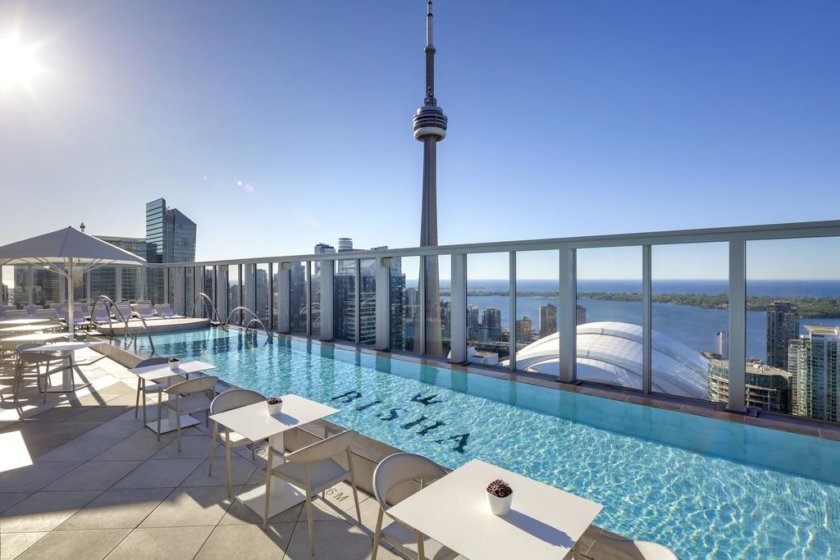 Visit Toronto for 3 days with the family
If you have decided to visit Toronto in 3 days with children, here is a summary of the activities to do absolutely with your family:
The CN Tower
Bike or walk on the Toronto Islands
Toronto Science Center
Toronto Zoo
I haven't touched on it in this article, but you can also take them to the Legoland Discovery Center, which has several Lego-themed attractions and small-brick replicas of Toronto's landmarks.
Entrance tickets can be booked here:
Reserve my ticket for Legoland now!
If you are looking for a family activity to do in the evening, I also advise you to go see the show Medieval Times Canada. You will attend 2 hours of medieval tournaments, a demonstration of bird flight and the ticket also includes food and drinks.
To book here:
Reserve my ticket for Medieval Times Canada now!
In terms of routes, you can absolutely follow exactly the same route that I have just detailed for you.
If your children are tired of walking or too small, the city is very well served by public transport. You can always take the tram or the metro.
Map of your 3-day Toronto itinerary
To help you visualize your  itineraries during these 3 days in Toronto,  I made you a map listing the  places to visit day by day. You can display the map legend by clicking on the top left button with a small arrow. You will then be able to view the routes for each day.
Are you going on a trip to Canada? Also read:
Check out all our articles about Canada: All articles about Canada are listed here!
5 steps to prepare your trip to Canada:  The complete guide to prepare everything from A to Z!