Security is one of the most important factors when choosing a country to live in. Especially for those fleeing urban violence in Brazil, the certainty of moving to a peaceful destination is a decisive aspect.
Security in Portugal is certainly a positive point in the process of choosing the country.
But is Portugal really a safe place to live? We present the country's crime rates, most common crimes and what to expect in the day to day security in the country.
| | |
| --- | --- |
| Questions | Answers |
| Is Portugal a safe country? | Yes, Portugal is one of the safest countries in the world |
| What are the safest cities in Portugal? | Portalegre, Bragança and Guarda |
| What is the most committed crime in Portugal? | Even with a reduction in recent years, domestic violence is still the most committed crime in the country |
Security in Portugal: is it safe to live in the country?
Yes, Portugal is safe to live in. And, more than that, Portugal is a peaceful country.
Security is even one of the main attractions that makes many foreigners, not only Brazilians, choose to live in Portugal.
Feeling of security in the country
In addition to being safe, Portugal is a peaceful country. In 2022, it is in 6th position in the Global Peace Index, which considers several factors to define the ranking. The country, which in 2014 occupied the 18th position, now remains in the top positions for some years.
The cost of the impact of violence is 5% of GDP, one of the lowest among the countries analyzed. Portugal also receives a good score in terms of social support for the population, which ranges from housing to health care.
In practice, all this is felt in terms of safety, whether on public transport or moving on the street. The feeling in Portugal, with few exceptions, is of a safe place, in which you can move through the cities without maintaining a state of alert.
Need to send money to another country? Send money safely, quickly and with the best exchange rate. We update the best entity daily, make your simulation now!
But of course, with exceptions, because there are areas with a certain danger, some housing estates where there are risks, and also some regions in the bigger cities, like Lisbon and Porto. But they are exceptions, in a country where what prevails is tranquility that directly impacts the quality of life in the country.
Internal Security Annual Report
The Annual Internal Security Report (RASI) is released by the Government of Portugal and takes stock of the situation in the country each year. Data for the year 2021 (the most recent) point to a reduction in some crimes compared to the previous year.
Violent and serious crime decreased by 6.9%, while general crime increased by 0.9% compared to 2020.
301,394 crimes were registered. With regard to violent crimes, 11,469 records were made.
Crimes with increasing occurrences
Many crimes had a reduction in the number of records and the highest growth was in violation, which had an increase of 26%. The other crimes that also grew in the number of records were:
Extortion – increase of 19.5%;
Offense to serious voluntary physical integrity – growth of 9.2%;
Car theft – growth of 14.2%;
Other thefts – 15% increase.
Crimes with a decrease in occurrences
On the other hand, there was a large drop in the crime of burglary at a gas station (-26.3%), burglary (-22.5%), snatch robbery (-20.9%) and kidnapping ( -9.8%), among others with smaller reductions.
The numbers follow a downward trend that has taken place since 2011. Furthermore, it is possible to observe that some of the results (both growth and reductions) reflect the periods of confinement experienced in the country during the years 2020 and 2021. robberies of establishments and residences, and increased crimes of rape and extortion.
Most recurring crimes
Among the crimes in which violence is not used, or which are not considered serious, the main occurrences in 2021 were:
Domestic violence – 22,524;
Motor vehicle theft – 22,250;
Computer and communications fraud – 21,374;
Offense to simple voluntary physical integrity – 18,948;
Driving a vehicle with an alcohol level above 1.2g/l – 15,390;
Other teasing – 15,123;
Other damage – 14,847;
Threat and coercion – 14,784;
Driving without a legal license – 14,511;
Theft in residences – 8,420;
Motor vehicle theft – 7,485.
Among the 16 most common crimes listed by the Portuguese government, 8 increased from 2020 to 2021, with the largest percentage increase in other scams. The biggest percentage drop is in thefts in commercial and industrial buildings, representing a reduction of 18.3%.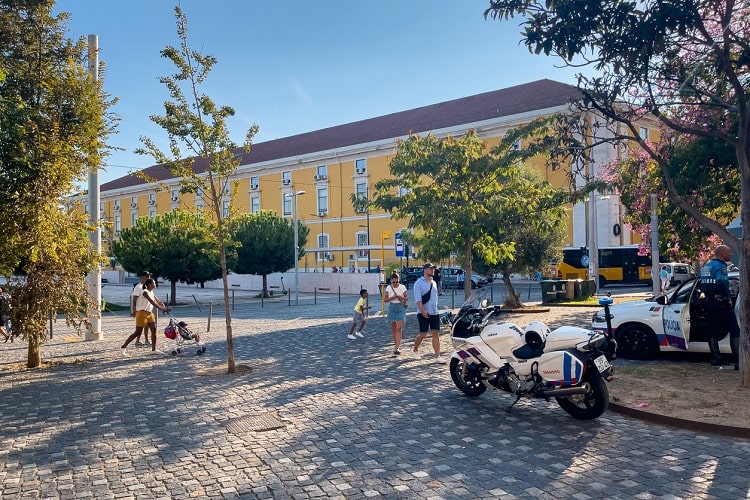 With regard to violent and serious crime, the main ones are:
Robbery on public roads (with direct approach to the victim) – 4,308;
Stretching theft (pulling the victim's objects) – 1,745;
Resistance and coercion by employees – 1,555;
Extortion – 789;
Offense to serious voluntary physical integrity – 629.
Of serious crimes, 3 types increased compared to 2020: rape (26%), extortion (19.5%) and other thefts (15%).
Most affected cities
The biggest cities in Portugal are undoubtedly the most affected when it comes to security. With regard to violent or serious crimes, the highest number of occurrences was recorded in the districts of Lisbon (4,619), Porto (1,886) and Setúbal (1,234).
In terms of general crime, the three districts also stand out negatively, Lisbon with 72,183 occurrences, Porto with 47,552 and Setúbal with 28,679. Next, there are the districts of Faro with 20,788 records and Braga with 18,419.
Get to know the most dangerous areas in Portugal and the most common types of crimes.
Domestic violence in Portugal
Domestic violence is a serious problem in Portugal, having registered a reduction of 3.9% in relation to the previous year. Domestic violence against spouse or analogues represented 22,524 occurrences, 915 less compared to 2020.
In the third quarter of 2022, there was an increase in the number of incidents compared to the same period in 2021. 8,887 incidents were reported to the police, which reflects an increase of 16.7%.
In 2021, it should be mentioned that there was a more significant reduction in records of domestic violence. The main drop occurred in violence committed by spouses or similar, driven especially by confinement and the impossibility of transiting through the cities of previous years.
Terrorist attacks
Portugal has no records of terrorist attacks, or even an international alert for terrorist situations. This fact even collaborates to attract tourists, since countries like France, Germany and the United Kingdom, traditional destinations, suffer from recurrent attacks or attempts.
A study carried out in 2020 even pointed out that Portugal "benefits" from attacks in other countries, since it becomes a safer alternative for those who want to travel through Europe. The country, being unprecedented, is considered safe from terrorism.
Crimes against tourists
The most common crimes against tourists in Portugal are thefts, especially by pickpockets, as they are called. They are thefts, therefore, they have the characteristic absence of violence, in this way, when the tourist notices the suppression of belongings, it is already too late.
Data from 2021 show that theft by pickpockets, one of the most common crimes committed against tourists, has dropped considerably. There was a reduction of 2.6% and 3,550 occurrences were registered.
It is also common, in the more touristic areas of cities like Porto and Lisbon, for the existence of exclusive police stations for tourists, in which it is possible to register complaints.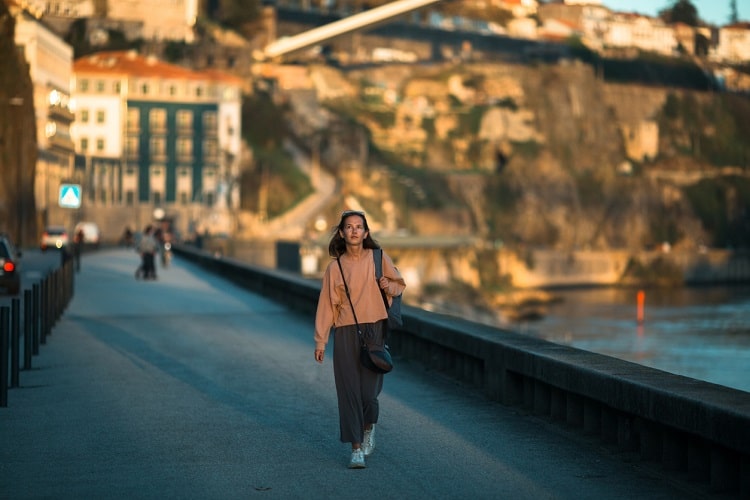 Is Portugal safe compared to other countries?
To answer this question, I will divide it into three parts, the first comparing the country to Brazil, the second with other European countries with a similar economic level and, the third, my perception of security in the country.
Comparison between security in Portugal and Brazil
One of the main reasons why Brazilians seek Portugal to live is security. Of course Brazil has many realities and some regions are safer than others. But, especially when we analyze large and medium-sized cities, fear and insecurity are growing.
In the Global Peace Index, in which Portugal occupies the 6th position of Portugal, Brazil occupies the 130th place, maintaining the position of 2021. Urban violence and the risks of transiting through cities on a daily basis in Brazil are many. Car theft and theft rates, as well as theft on public transport and when moving around the city, are also high.
In 2021, Portugal recorded 85 homicides, with a drop of almost 8.6% in this type of crime. In the same year, Brazil also recorded 47,503 violent deaths.
Indices aside, day-to-day life in the two countries presents clear differences.
Comparison between security in Portugal and another European country
Compared to other European countries, Portugal still stands out in terms of security. When comparing security in Spain and Italy, for example, the countries rank 29th and 32nd on the Global Peace Index.
Differences can also be extended to the feeling of security. Despite both being safe countries, scams against tourists are common in Italy, and Rome, in particular, has some regions that can be frightening at less busy times.
In Spain, the violence rates in cities like Barcelona, ​​have risen a lot. Considered one of the main tourist destinations in the country, the city has suffered from the increase in violence.
Best Cities to Stay in Portugal
Cities in Portugal preserve the best of the country's history and culture, each region has a different characteristic. Therefore, it is even difficult to define which are the best cities to stay in Portugal. In this selection, there are classic cities and others that have shown preparation to accommodate travelers.
The cool thing about Portugal is that some destinations can be visited while you settle in another city. The important thing is to organize the itinerary so that you can enjoy the trip without too much rush. Remember, not always knowing more places means a good trip, an unforgettable trip needs to have its rhythm and be special for you.
We separate seven cities where to stay in Portugal, check out some details:
Porto
In the northern region of Portugal, Porto is the birthplace of the country, where the Portuguese began their history. The region is well known for Port wine, and the capital has incredible architecture that combines old and new. It is a vibrant, current city with beautiful landscapes. Take advantage of the moment in Porto to sail along the Douro River.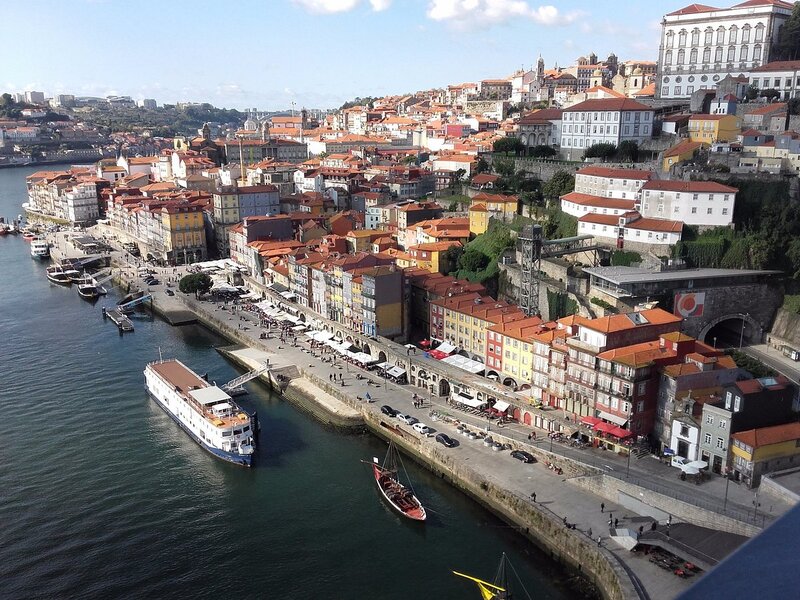 Coimbra
Coimbra, in central Portugal, is home to the University of Coimbra, the oldest in the country and one of the oldest in Europe. The university belongs to the UNESCO World Heritage list. This detail gives the city an air of youth, without losing traditions.
In addition to the university, it is the city to listen to a good fado, taste pastéis de Santa Clara and explore the alleys of the old center. The city can be your choice of where to stay in Portugal to discover other cities such as Óbidos, Aveiro and even Nazaré.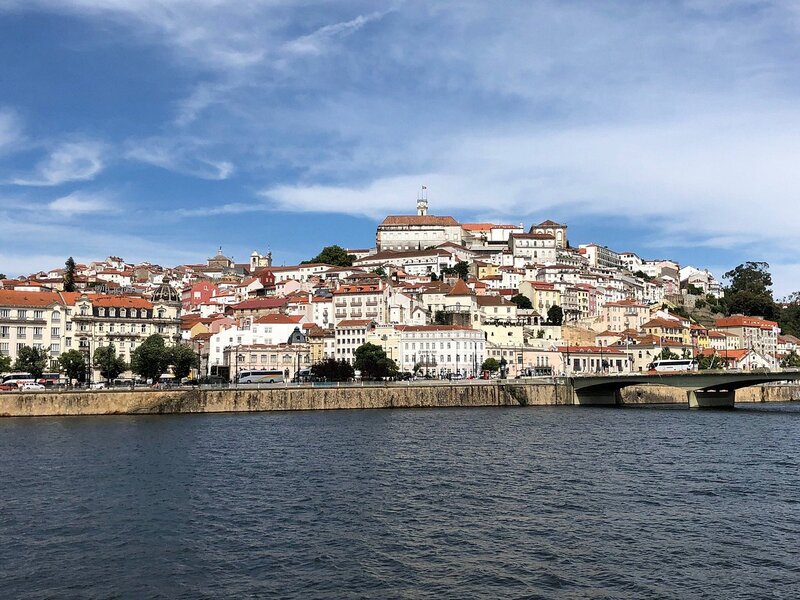 Nazareth
Nazaré is also in central Portugal, but it is a more beachy destination, despite the icy waters. The city is known for its gigantic waves, being quite popular with surfers and sports lovers. In the center of Nazaré, get lost in the narrow streets with restaurants, shops and lovely places to relax.
Take advantage of the tour in Nazaré to go to Sítio and enjoy one of the most incredible panoramic views of the Portuguese coast. The city is usually chosen for a day trip, but it has a great structure to stay.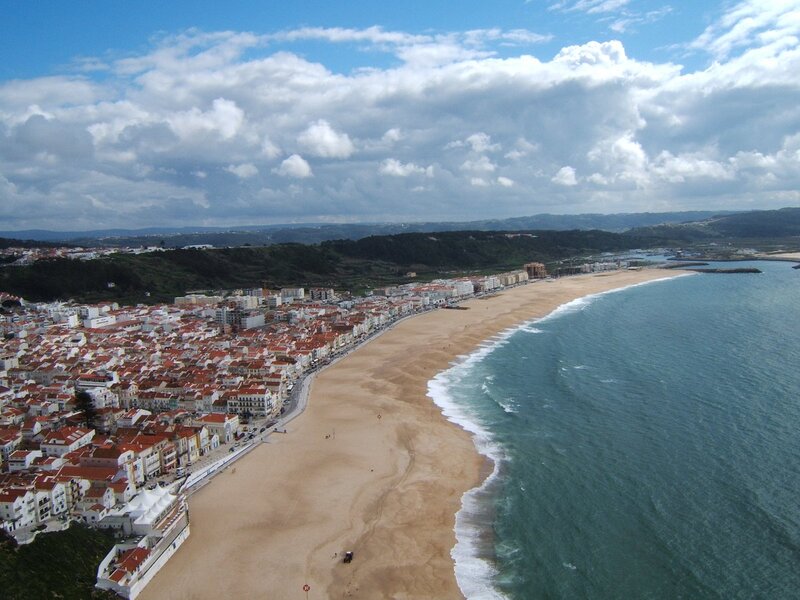 Aveiro
The city of Aveiro is a picturesque village with a network of canals to be crossed by moliceiro boats. In the central region of Portugal, the city is known as 'the Portuguese Venice' and colorful houses. The buildings in art nouveau style are from the beginning of the 20th century and give the place an extra charm.
In addition to the tour, take the opportunity to try the traditional sweet with eggs and sugar, known as soft eggs. And, if you want, extend the tour to the São Jacinto Dunes Nature Reserve.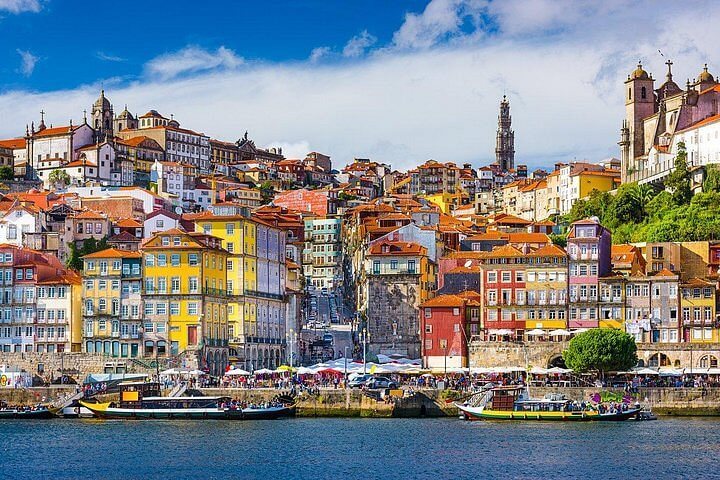 Lisboa
Lisbon is the capital of the country, it is another beautiful place to stay in Portugal. The city exudes a lot of history, and has incredible architecture. Strolling through the historic center is a must, in addition to the contemporary contrast of Parque das Nações. Take the opportunity to try the original custard tarts from the Belém Tower. Make the tour even more special by booking a trip to Sintra, about 30 minutes from the center of Lisbon.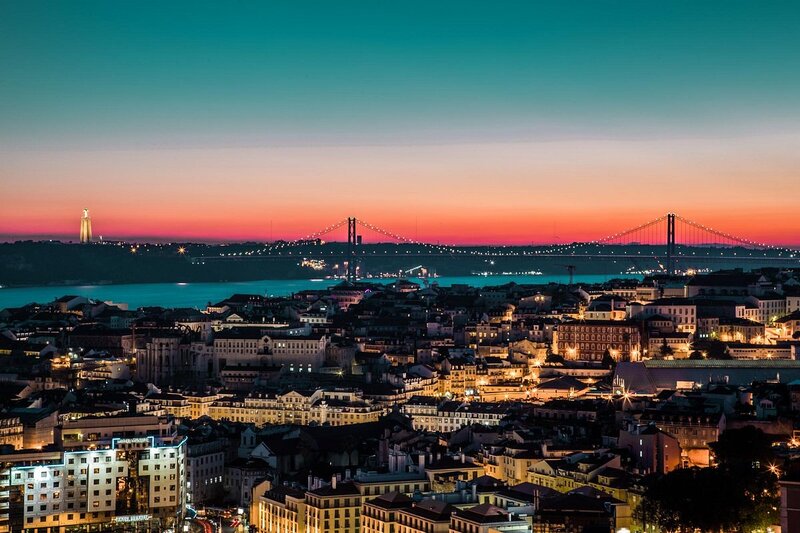 portimao
Algarve is the preferred Portuguese region for travelers who want to enjoy a beautiful beach with a very favorable climate. The region is known for being the starting point for the Portuguese to explore the ocean. In Algarve, there are many amazing places to visit and Portimão is a good place to stay in Portugal.
Portimão has excellent beaches, with warm waters and wide stretches of sand. In addition, the tourist infrastructure is impeccable, with many options for hotels, restaurants and places to have fun. It's the ideal place to go on boat trips, dive, and even learn some water sports.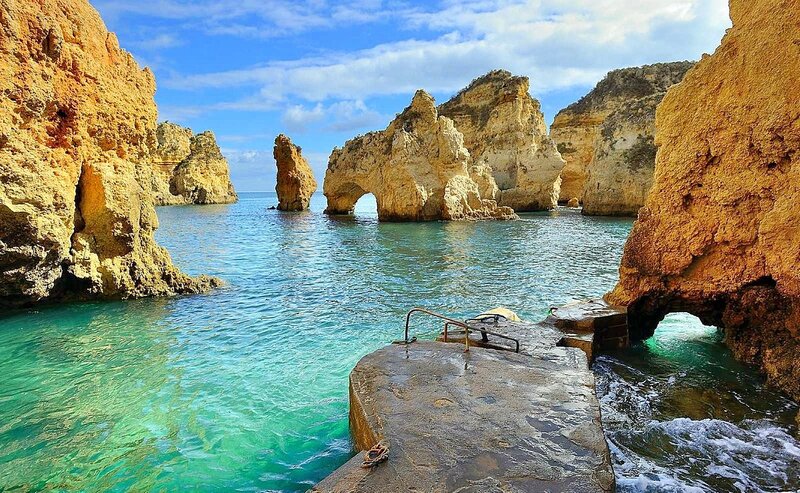 Funchal
Funchal is the capital of the Madeira archipelago, a region known for the beauty of nature and tranquility. It is a region with a spring climate, most of the year, but in winter, it is very cold. The look of the island changes a lot with the seasons.
The historic center of Funchal will conquer you and you will find yourself getting lost in walks, with stops to eat or drink something typical. It is to enjoy everything calmly and enjoy the landscapes. And, of course, venture into Funchal going down the slopes in the famous basket carts.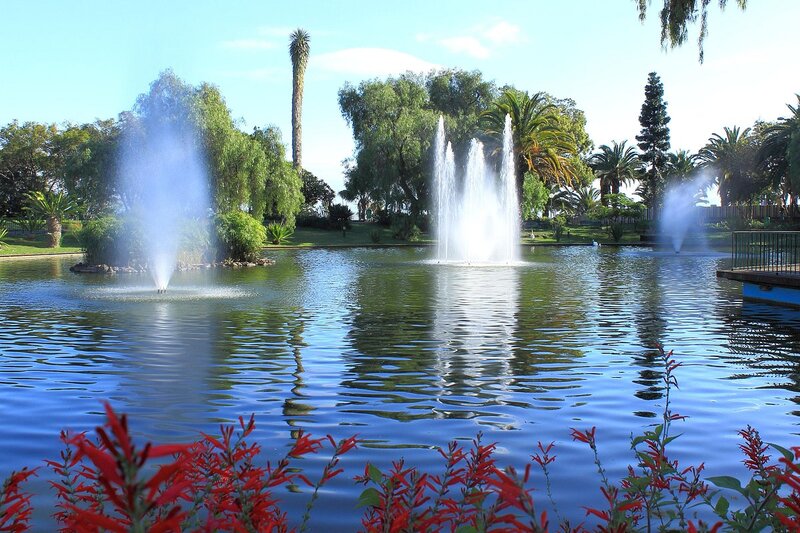 Best hotels to stay in Portugal
Vila Gale Porto
Vila Gale Porto is a good accommodation option in the center of Porto. In addition to being close to the bus station, it is also just 300 m from Campo 24 de Agosto Metro Station. It is ideal for travelers who enjoy the convenience of getting around the city. In addition to the good location, the hotel offers an indoor pool, gym and space for massages.
The hotel rooms are spacious, comfortable and equipped with cable TV, minibar and air conditioning. Guests can enjoy the hotel's restaurant, which specializes in Portuguese cuisine, and enjoy a good drink at the bar. Breakfast is included in the rate.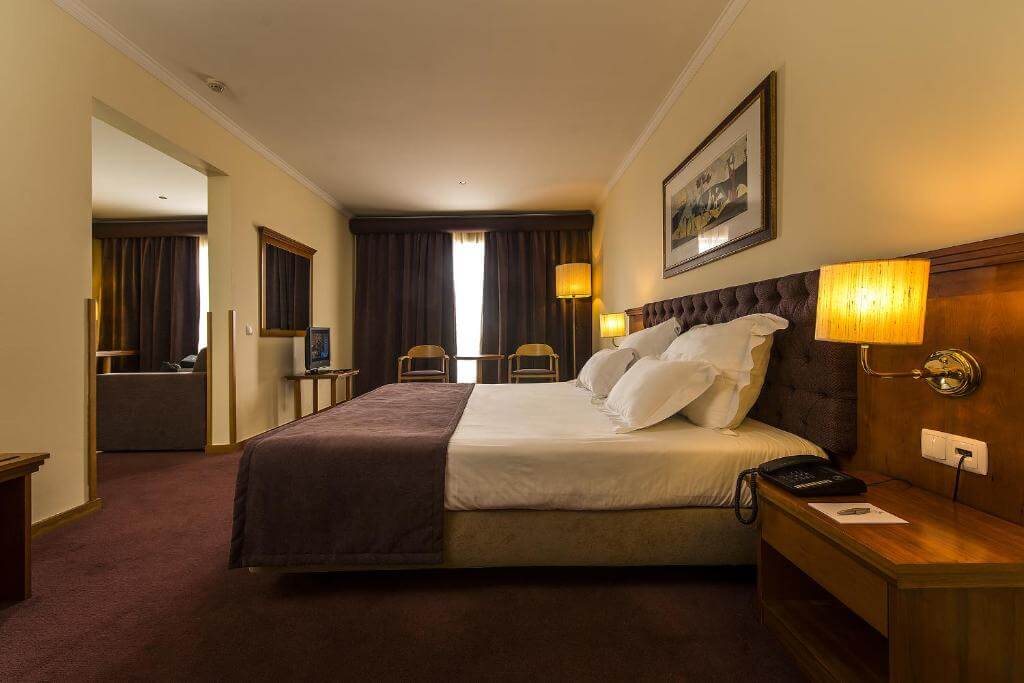 Book a room at this hotel on Booking. Click here.
comedy houses
The apartments at Casas da Comédia, in Coimbra, are graceful, decorated in white with wooden details. It is possible to choose an apartment for two, a studio with a king-size bed or a two-bedroom apartment for up to four people. All options offer a kitchenette, cable TV, wi-fi and air conditioning.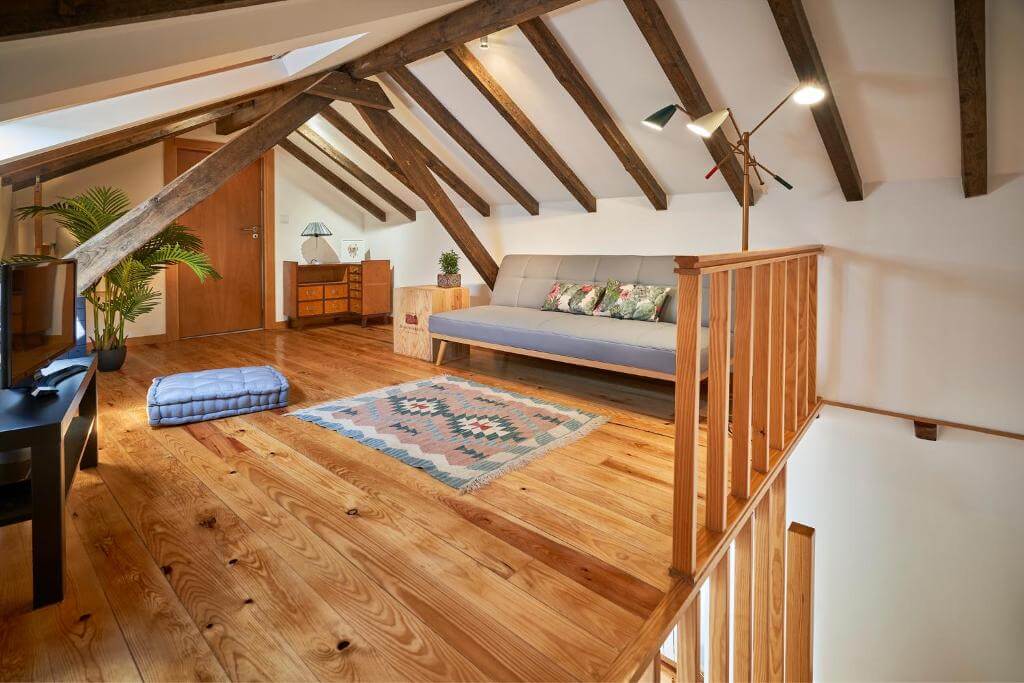 Book a room at this hotel on Booking. Click here.
beach hotel
The Hotel Praia, in the center of Nazaré, is a great option for those who want to have a pool on the beach. In addition, the pool is covered and located on the roof of the hotel, allowing an incredible view of the beach. To complete, the hotel is just 50 meters from Nazaré beach.
The rooms are comfortable, clean and well lit, in addition to being equipped with air conditioning, wi-fi, cable TV and bathtub. Some units have a balcony overlooking the sea, and there is the option of a family room, with a full kitchen. Parking is charged separately, as well as the presence of a pet. Breakfast is included.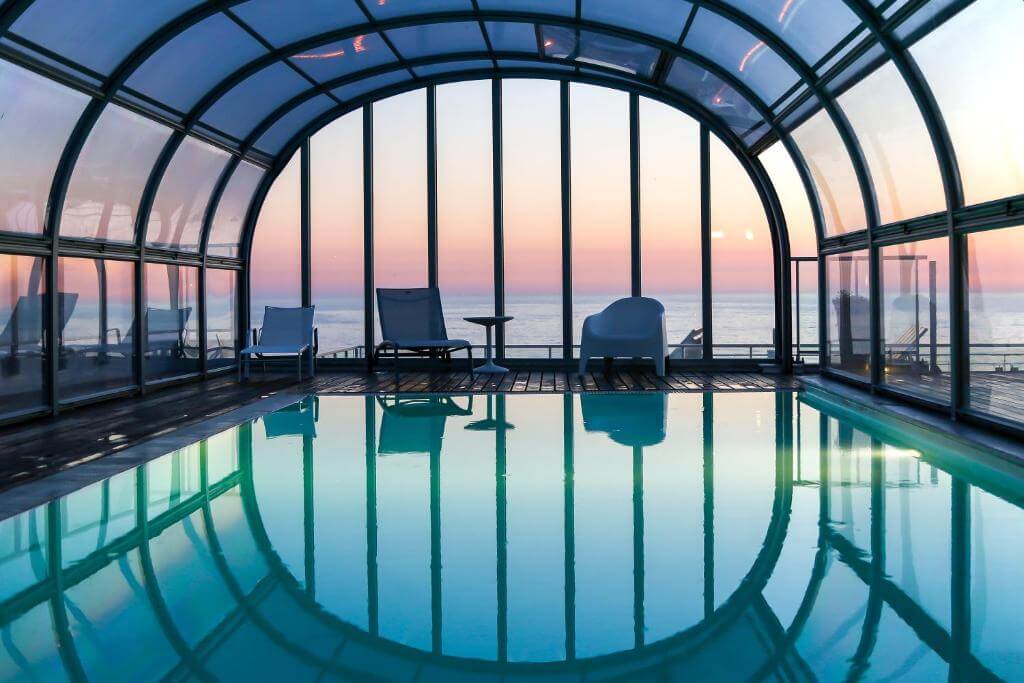 Book a room at this hotel on Booking. Click here.
Hotel Afonso V
In Aveiro, the Hotel Afonso V has a good location, 20 minutes walking from Aveiro station. It is a hotel in a more classic style, with comfortable rooms equipped with air conditioning, cable TV and Wi-Fi. There is also a bathtub and the option of family rooms. Breakfast is included in the rate, but parking costs extra.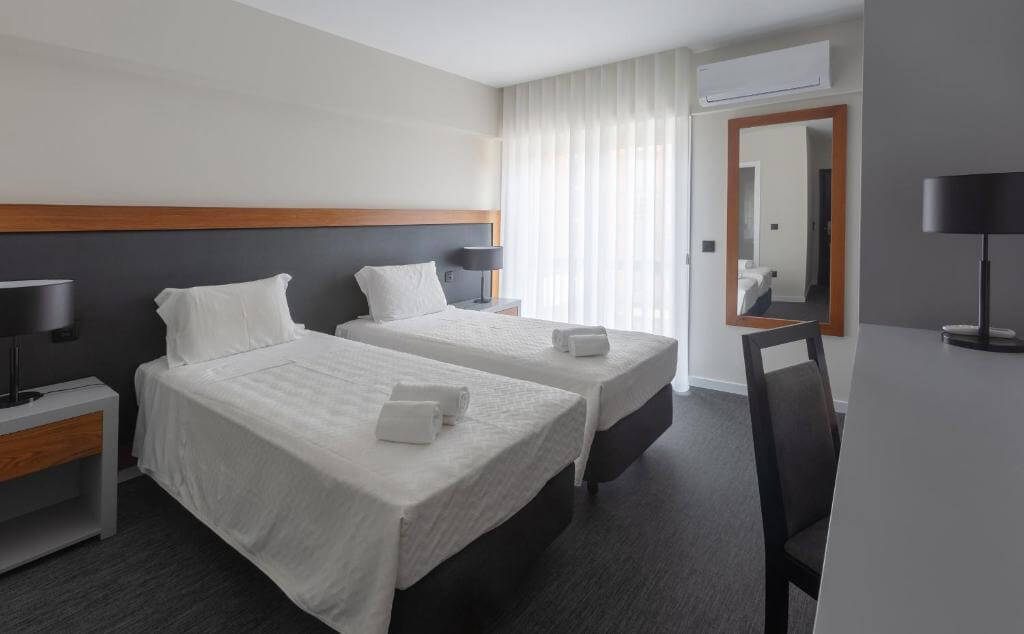 Book a room at this hotel on Booking. Click here.
Torel Palace Lisbon
Torel Palace Lisbon is an elegant accommodation in the center of Lisbon, an 8-minute walk from Bairro Alto. The building, from the 19th century, has a swimming pool on the roof with a privileged view of the Tagus River and the Castle of São Jorge.
The hotel's suites are decorated differently from each other, with many details and some units have a balcony. In addition, all include air conditioning, soundproofing, minibar, television, tea and coffee facilities. The hotel has complete apartments with two bedrooms, living room, balcony and kitchen for up to four people.
Breakfast, included in the rate, has typical Portuguese sweets and natural juices; at the restaurant, enjoy the best of international cuisine.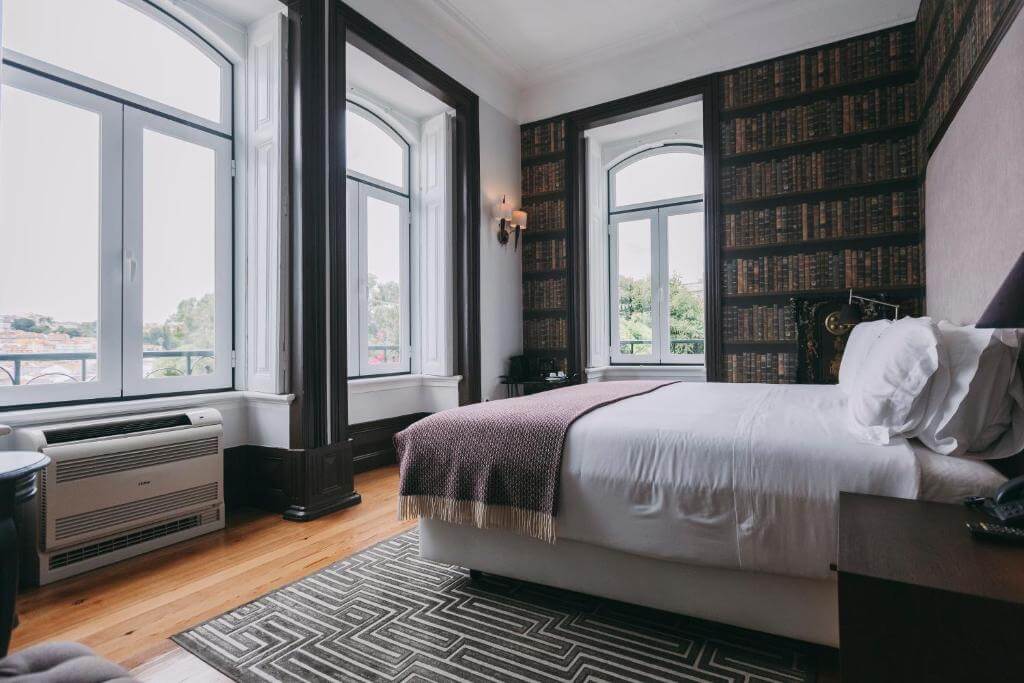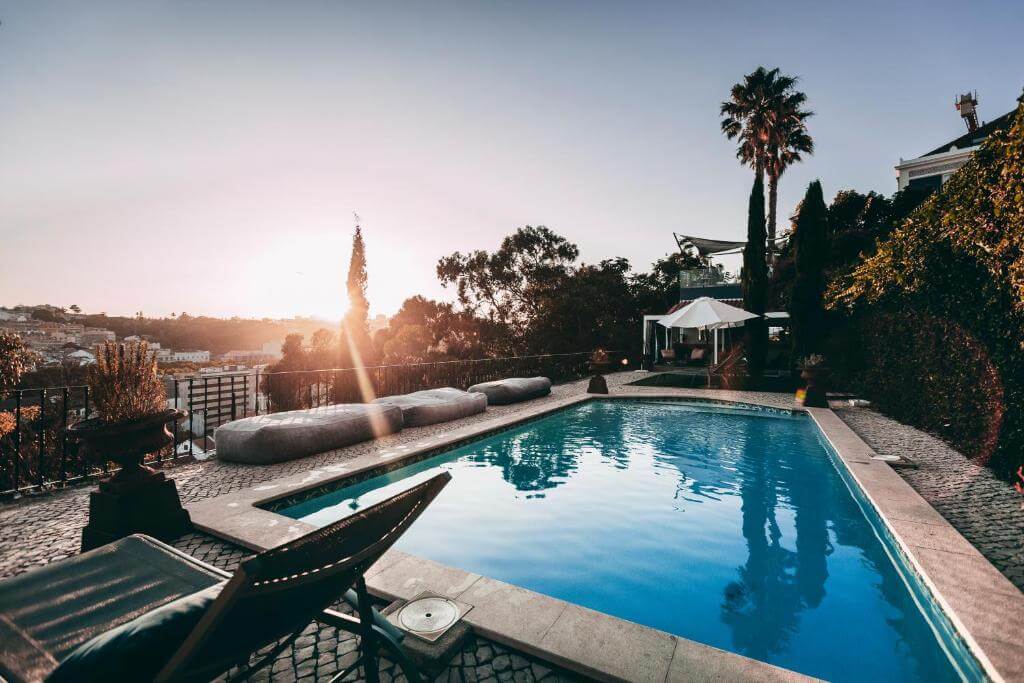 Book a room at this hotel on Booking. Click here.
Hotel Santa Catarina Algarve
In Portimão, 50 meters from Praia da Rocha, the Hotel Santa Catarina Algarve is a good value for money option. The hotel's restaurant serves local cuisine and breakfast, included in the rate, is highly praised.
The hotel rooms are simple but cozy, some have a balcony and even a view of the sea. All are equipped with air conditioning, wi-fi, satellite TV and minibar. There is an option for family rooms.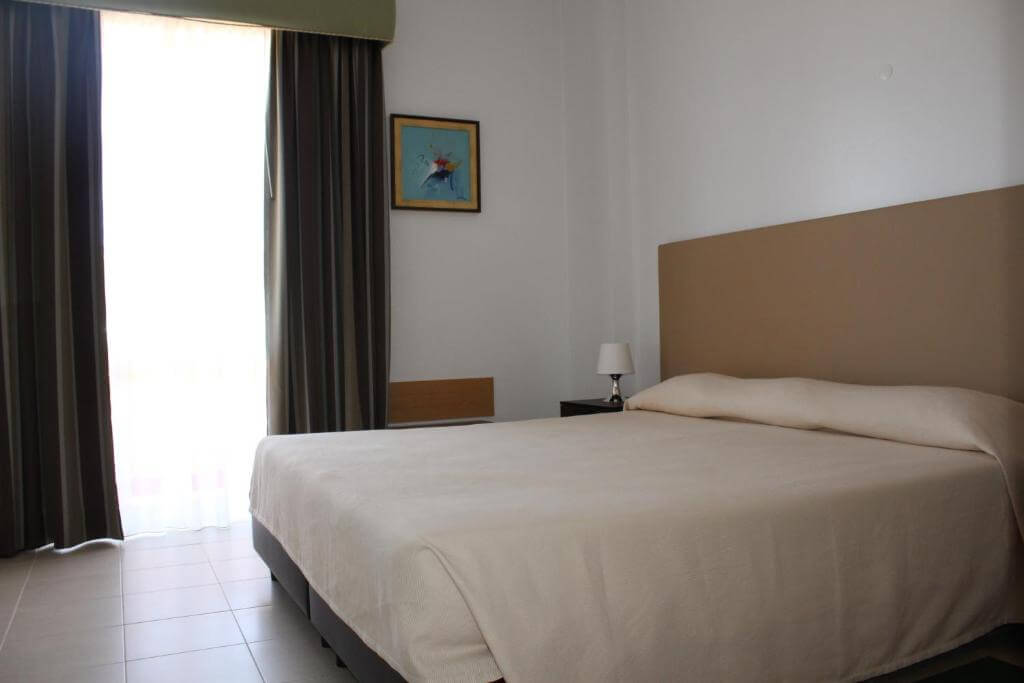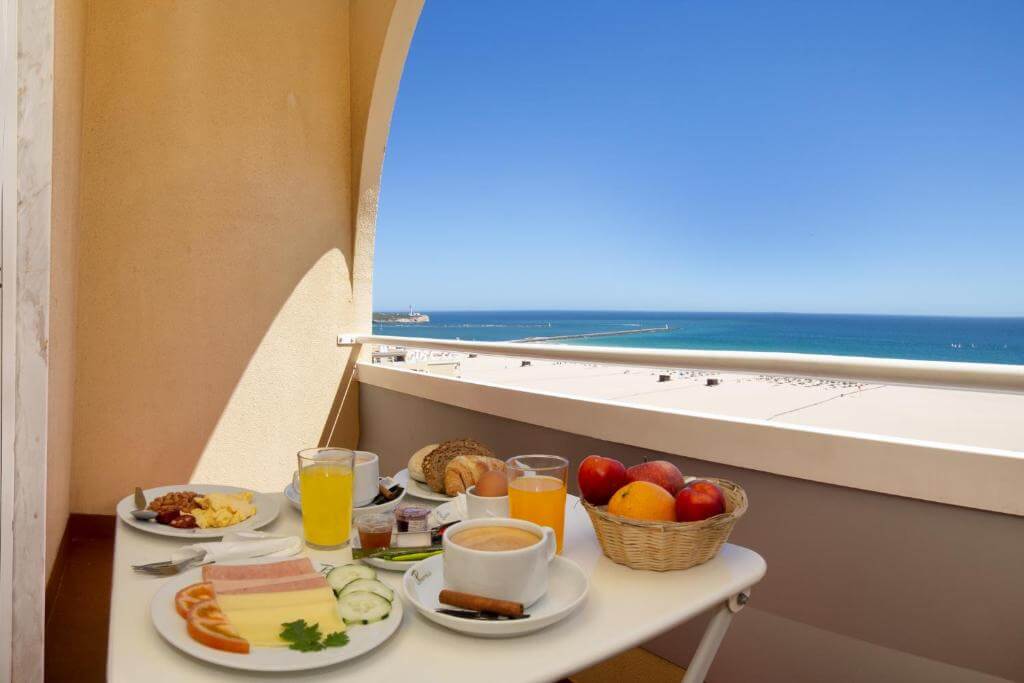 Book a room at this hotel on Booking. Click here.
Residencial Mariazinha by Petit Hotels
The Residencial Mariazinha by Petit Hotels, in Funchal, is the ideal choice for those who like to be well located. The hotel is housed in an old, restored building and offers comfortable, air-conditioned rooms. Some units have a balcony and coffee and tea making facilities. Wi-fi works in common areas and breakfast is included.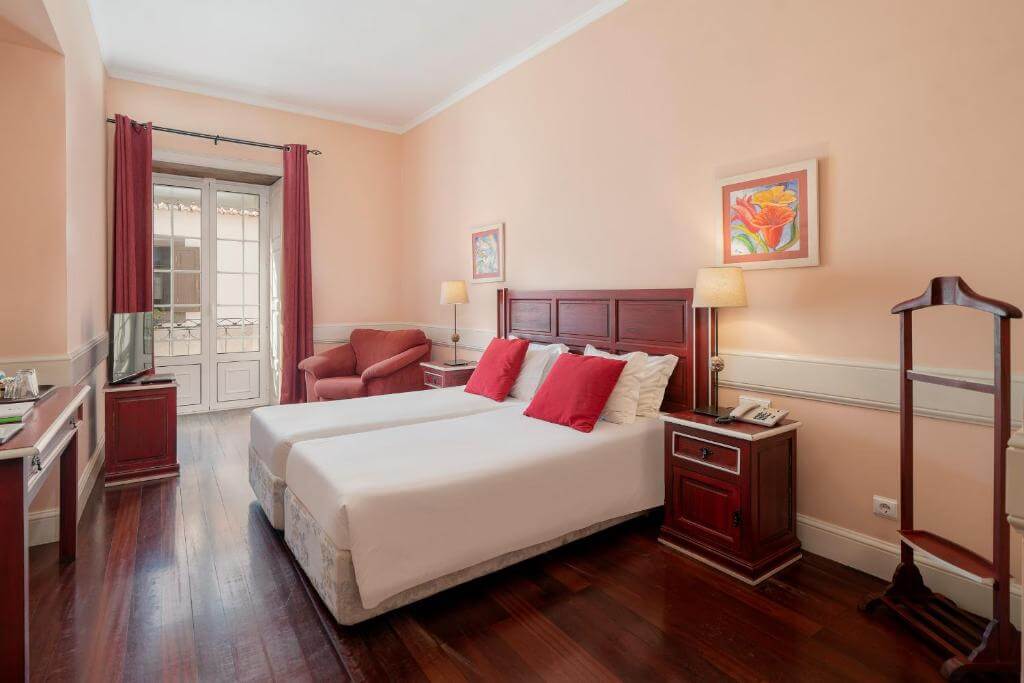 Book a room at this hotel on Booking. Click here.
My perception of security in Portugal
In Portugal I have a feeling of constant security, which of the many countries I have visited, in South America and Europe, I have had the same feeling in few.
I believe that part of this feeling is directly linked to low crime. When walking around the city it is rare to feel fear, I live in Porto on a daily basis, going out at night or walking after work, I never felt a direct threat, that is, I never thought that someone would rob me. That is, it is also on a daily basis that I feel that Portugal is safe to live in.
But the feeling of security, in my perception, is also linked to the environment. Although there are still many abandoned or unfinished buildings, there is no feeling of an abandoned environment and this contributes greatly to an uncomfortable perception of the environment.
In many cities I've been to, I've passed by areas of tourist interest surrounded by strange environments, with dirt, buildings with a depredated appearance, disorderly occupation of public space, precarious lighting, etc. In my view, all of this contributes to feeling less protected.
Read Also:

Crime Rate in Africa
Crime Rate in Paris
Crime Rate in London
Crime Rate in New York
How to Avoid Pickpockets and Thieves