How to visit Ile aux Cerfs?
Are you planning to visit Ile aux Cerfs during your holidays in Mauritius?
Excellent idea!
This paradise island is a must-see place in Mauritius so it is impossible not to visit it during your stay!
Surrounded by a turquoise blue lagoon and immaculate white sand beaches , a dream setting and breathtaking landscapes await you there.
And it is not the occupations that are lacking on this island between the sumptuous beaches, the water sports of all kinds, the shops and the restaurants.
In this article, I explain how to get to Ile aux Cerfs, I tell you about the activities to do there and I give you lots of advice and tips to make the most of your getaway.
So, how to visit Ile aux Cerfs? Let yourself be guided!
Where is Ile aux Cerfs located?
Île aux Cerfs is an uninhabited islet located off the east coast of Mauritius, in the lagoon of Trou d'Eau Douce.
This small coastal island is actually made up of 2 islets separated by a strip of sand: the main islet to the south, and a small private islet to the north, called the Mangénie islet.
The set is very close to the coast and it only takes 10 minutes by boat to get there.
Ile aux Cerfs is a major attraction in the country and it is even downright the most visited place in Mauritius!
Thanks to its heavenly decor and its ease of access, it attracts both foreign visitors and locals, who meet there with friends or family on weekends.
Over the past few decades, Ile aux Cerfs has been transformed into a leisure destination with many amenities. We find there:
shops
restaurants
straw huts on the beach
water sports providers of all kinds
and even one of the most famous golf courses in the world!
The northern island is much wilder and more preserved.
In addition to its beaches worthy of the most beautiful postcards, Ile aux Cerfs is home to lush vegetation in the center in which you can walk in the shade, as well as mangroves rich in biodiversity.
The Mauritius Travel Story
Why is it called "Ile aux Cerfs"? 
That's a good question!
It would seem that the island owes its name to the population of Java deer which once occupied the center of the island, before it was transformed into a seaside resort.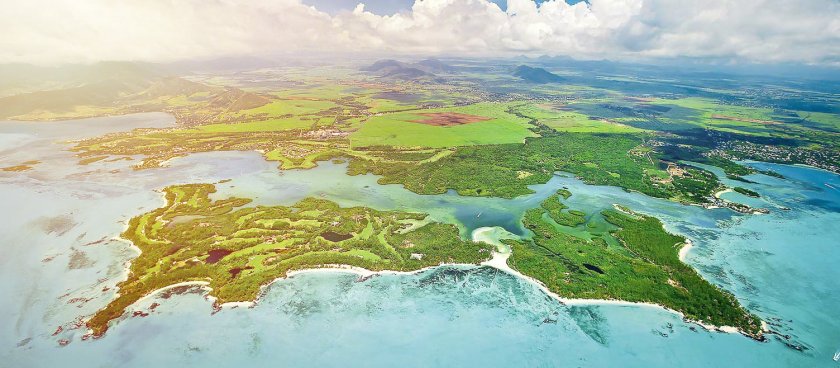 How to get to Ile aux Cerfs?
Wondering how to get to Ile aux Cerfs?
There are many possibilities.
Shuttle to Ile aux Cerfs
Shuttles or "taxi-boats" for Ile aux Cerfs go back and forth every day from the village of Trou d' Eau Douce.
Trips usually start between 8:30 a.m. and 9 a.m. and there are every 20 minutes. The last return shuttle usually brings you back around 4 p.m.
It takes between 300 and 800 rupees (about 7 to 20 €) for the round trip between Trou d'Eau Douce and Ile aux Cerfs, depending on the type of boat.
The trip takes 10 to 25 minutes depending on the speed of the boat.
A word of advice: take advantage of this moment of crossing the lagoon, which is a real delight for the eyes!
To take a shuttle to Ile aux Cerfs, go to the public beach  or to the Trou d'Eau Douce landing stage (click for Google Map location).
Tips for your Mauritius itinerary:
Several private providers offer to take you to Ile aux Cerfs from Trou d'Eau Douce. If you don't know which one to choose, I recommend the "Vicky boats" which have a very good price-quality ratio.
The excursion in catamaran
Another option for going to Ile aux Cerfs: the catamaran cruise!
This excursion includes:
round trip to Ile aux Cerfs
a stopover on Ile aux Cerfs
breakfast and lunch on board
unlimited drinks
swimming and diving breaks in the lagoon
and optional: transfer from your hotel if needed.
This is a must to experience an unforgettable VIP day on Ile aux Cerfs!
You will board a luxurious sailboat and leave for a full day sailing on the turquoise and crystal clear waters.
You will have plenty of time to enjoy the scenery and relax in the sun on the deck of the boat.
Along the way, the captain makes stops in the most beautiful spots in the lagoon where you can swim and snorkel  to admire the multitude of reef fish.
You will then stop over on Ile aux Cerfs for several hours where you can explore the island at your leisure, relax on the sand and try out the many water activities on offer!
The starting point for this superb cruise is located at Pointe Jérome, near Mahébourg.
It is imperative to reserve your place in advance to be able to participate.
As you can imagine, this excursion is really very popular and places are going fast. So I advise you to book as soon as possible. To do this, just click here.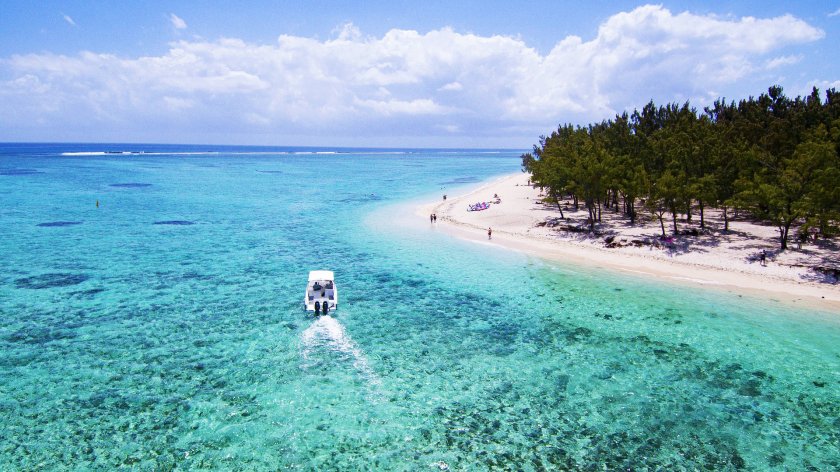 Tips for your Mauritius itinerary:
If you prefer to leave from the east coast rather than Mahébourg for the cruise to Ile aux Cerfs, that's also possible!
There is an excursion to Ile aux Cerfs departing from Trou d'Eau Douce. It also includes lunch on board, swimming breaks and also includes a visit to the Grande Rivière Sud-Est waterfall.
What to do on Ile aux Cerfs?
Once you arrive at Ile aux Cerfs, you will have plenty to keep you busy!
Between idleness on the beach, diving, water sports and walks, there is no risk of you being bored!
Here is a small anthology of activities to do on Ile aux Cerfs.
The Beach
If you come to spend a day on Ile aux Cerfs, it is mainly to enjoy the beauty of its beaches and its translucent blue waters.
Nearly 1km of white sand awaits you to relax facing the turquoise lagoon and believe you are in paradise.
On the south side, you will find deckchairs and parasols on the beach, but beware: they are for rent!
I won't hide it from you: Ile aux Cerfs is very busy and you will come across people.
If you want peace and quiet, do not hesitate to walk a little and move away from the landing stage to find a quiet, even completely deserted corner of the beach, where to put your towel.
Tips for your Mauritius itinerary:
To really enjoy Ile aux Cerfs without the crowds, it is best to come in the morning from 9am.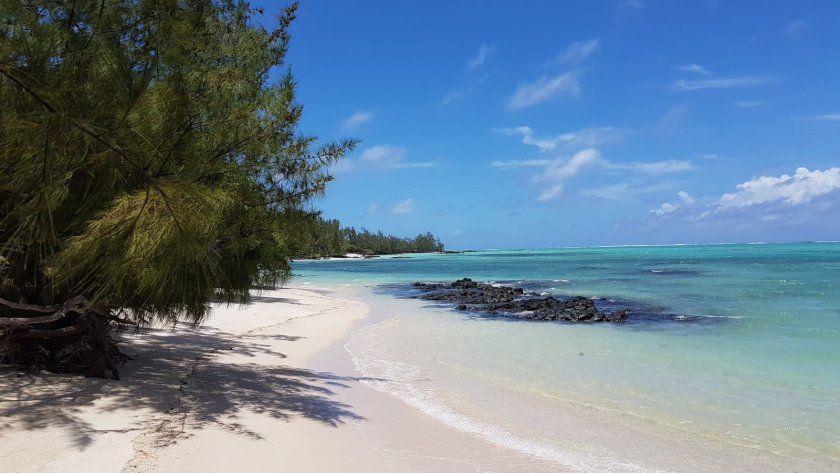 Activities on Ile aux Cerfs
This small island is the haunt of water sports enthusiasts. If you want to fill up on adrenaline, all this in a heavenly setting, this is the ideal place.
Several service providers offer various thrilling aquatic activities such as:
parasailing
the towed buoy
kitsurf
water skiing
On Ile aux Cerfs, you can also indulge in quieter water activities:
kayak
pedal boat
sailing _
glass bottom boat trips
And if water is not your cup of tea, there is also a 1h to 1h30 tree climbing course which winds through the center of the island and which you might like!
You will find the stands to buy the activities as soon as you leave the boat towards the shops. The operators also canvass directly near the landing stage or on the main beach.
Tips for your Mauritius itinerary:
Another activity on Ile aux Cerfs: snorkeling! You will easily find spots rich in marine fauna without going far from the beach. And if you opt for the catamaran excursion, you will be taken directly to the most beautiful spots around the island.
So remember to bring your mask and snorkel!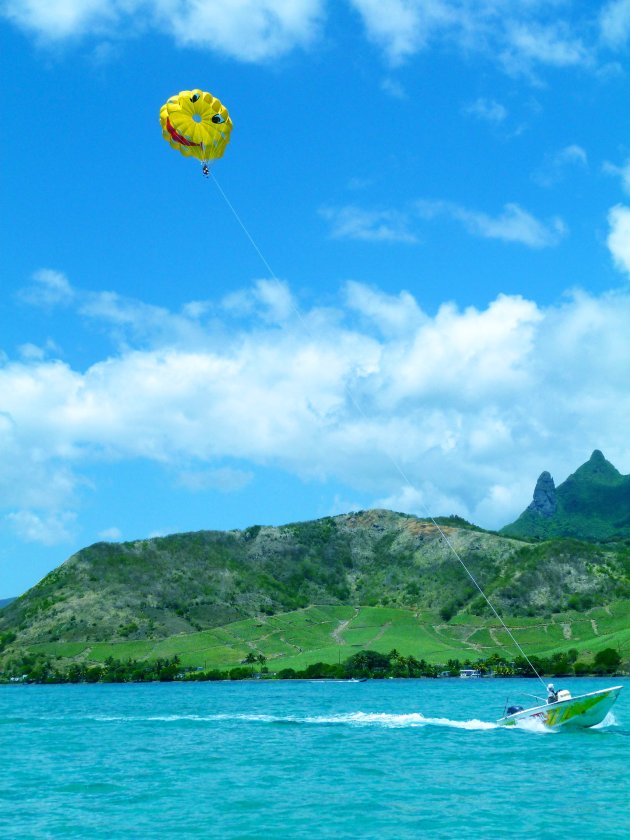 Hike to Ile aux Cerfs
You can also take advantage of your day on Ile aux Cerfs to take a nice walk of 2 to 3 hours!
You can walk along the entire east coast of the main islet to discover a succession of beaches, each one more beautiful than the other, but also venture inland into the tropical forest (where you can even find waterfalls!).
It is also possible to walk along the beaches and push on to Mangénie islet.
For that, I show you the route:
From the landing stage, walk along the coast heading north. After about an hour's walk, you will arrive at the spit of sand that separates the 2 islets. Follow it to the lagoon then turn left.
You will find a beautiful path in the shade of casuarina trees  which runs along the beach and which penetrates towards the interior of the island. Follow it, pass the restaurant and reach the other side of Ile aux Cerfs.
Walk along the beach for another 1km to reach a point of sand (often deserted). Mangénie islet belongs to a hotel and part of its beach is private but you can walk along the beach for about 1.5km of shaded path.
Retrace your steps to find the landing stage and return (do not miss the last return shuttle :-D!).
Golf on Ile aux Cerfs
Ile aux Cerfs is also a paradise for golf lovers !
As mentioned earlier in the article, this island is home to one of the most famous golf courses in the world!
An 18-hole course created by Bernhard Langer and which belongs to the luxury hotel establishment in the area (the unmissable Touessrok, a 5-star hotel which I will tell you about a little further down).
Access to the golf course is reserved for hotel guests.
Catamaran cruise
We end with the really unmissable activity on Ile aux Cerfs: the one-day catamaran cruise, which I told you about earlier.
This is the best way to admire the most beautiful viewpoints on the island, to dive in the most beautiful spots in the lagoon and to enjoy a relaxing day with meals included! (vegetarian meals also available on request).
If you have not yet reserved your place for this dream day, I am giving you the reservation links below:
Tips for your Mauritius itinerary:
For other ideas of things to do around Mahébourg and Trou d'Eau Douce, do not hesitate to read my other dedicated guides:
Hotels in Ile aux Cerfs
If you are wondering where to stay on Ile aux Cerfs, know that there is only one accommodation directly on the islet: the Bubble Lodge Ile aux Cerfs.
This establishment offers a particular concept: sleeping in luxurious "bubbles", with a view of the stars!
For longer stays, there are several hotels on the coast opposite the islet, 5-10 minutes by boat from Ile aux Cerfs. The latter offer a free shuttle service to come to the islet during the day.
This is the case of the Shangri-La Le Touessrok hotel , which is also one of the most beautiful hotels in Mauritius.
This 5-star establishment is located about 10 minutes by boat from Ile aux Cerfs. And it is to him that the Mangénie island and the golf course belong.
In a heavenly setting facing the bay of Trou d'Eau Douce, the hotel offers luxurious rooms with terrace and ocean view, from €430 per night for 2 people (breakfast included). The hotel has several outdoor swimming pools, 5 restaurants, a wellness center and a golf course.
By staying at the Shangri-La Le Touessrok, you are also entitled to privileged access to the Mangénie island with a beach club, lunch on the sand and butler service just for you.
Close to Ile aux Cerfs we also find:
The Four Seasons Resort Mauritius : sumptuous hotel located opposite the lagoon of Trou d'Eau Douce. Stay in a luxury detached villa with swimming pool and garden from €600/night for 2 to 3 people. Shuttle service to Ile aux Cerfs and access to the golf course.
The Anahita Golf & Spa Resort : another luxury hotel 15 minutes by boat from Ile aux Cerfs. Sleep in a spacious and comfortable suite with double bed and large covered terrace from €550. Access to the golf course and Ile aux Cerfs by shuttle bus.
Ile aux Cerfs: restaurants
Want to know where to eat on Ile aux Cerfs?
If you have not planned a picnic on the beach or opted for the catamaran excursion with lunch on board, you will find several restaurants on the island :
the Sands Grill : high-end restaurant that offers Creole cuisine, grilled meats and seafood
La Plaz Bar Restaurant : beach bar where you can enjoy Mediterranean and European cuisine
La Flibuste : bar-restaurant offering barbecues served on the beach
This guide to Ile aux Cerfs ends here! I hope it will allow you to have a great day in this little tropical paradise and to take full advantage of all the activities to do.
Do not hesitate to send me your feedback and comments in the comments. 😉
Organize your trip to Mauritius easily
Here are all my other travel guides to Mauritius: Just click on the links below to read the articles.
Routes
Regions to visit + Where to stay
Unmissable visits
And you, what are you planning to do on Ile aux Cerfs?