12 best things to do in Flic en Flac
Are you planning a visit to Flic en Flac during your holidays in Mauritius?
Flic en Flac, on the west coast of Mauritius, is undoubtedly one of the most emblematic places on the island.
This very lively village with a catchy name is best known for its long white sand beach, very popular with locals and tourists alike.
Beaches, nautical activities, hikes, road-trips … There is so much to do in this area that it deserves its own article!
I have listed all the best things to do in Flic en Flac to facilitate the preparation of your schedule.
So, what to do in Flic en Flac?
1. Western Beaches
Flic en Flac beach
If you go to Flic en Flac during your stay in Mauritius, you cannot miss its famous and magnificent beach.
It extends over nearly 10km and has the particularity of being bordered by filaos, the famous Mauritian pines, which allow you to settle in the shade.
Mauritians also meet there very often with their families on Sundays, it's a kind of local tradition.
In addition to lazing around and swimming, it is also an ideal spot for snorkeling and scuba diving. But of course, a siesta in the shade of the pines is also an option!
My advice
If you are peckish, you will find several snack bars and street vendors set up along the beach.
The one I highly recommend is the "Roti Aka " trailer and its delicious faratas garnished with different curries. Personally, I still haven't gotten tired of it.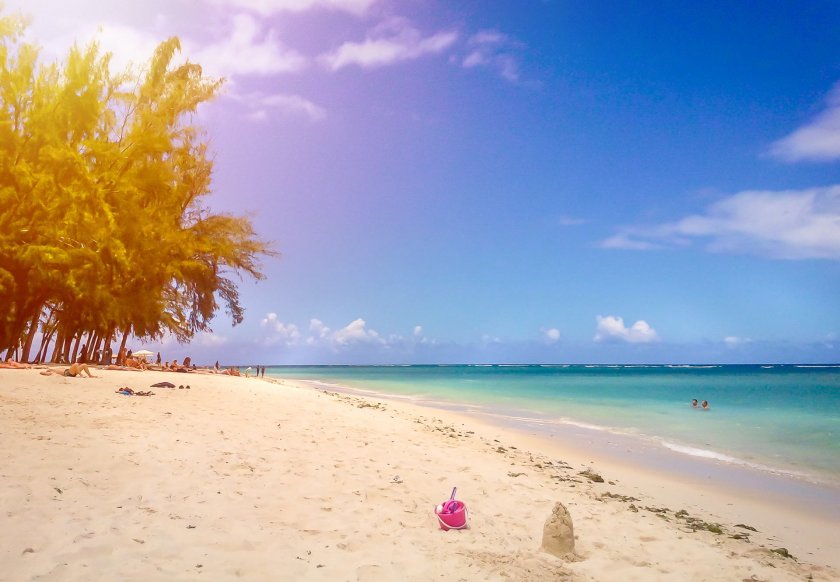 Wolmar Beach
A few minutes from Flic en Flac is the pretty beach of Wolmar.
It has all the advantages of Flic en Flac, but quieter because it is further from the tourist center.
It is a perfect spot to rest and sunbathe in peace, or to have a picnic for example.
And that's where you can watch the most beautiful sunsets on the island!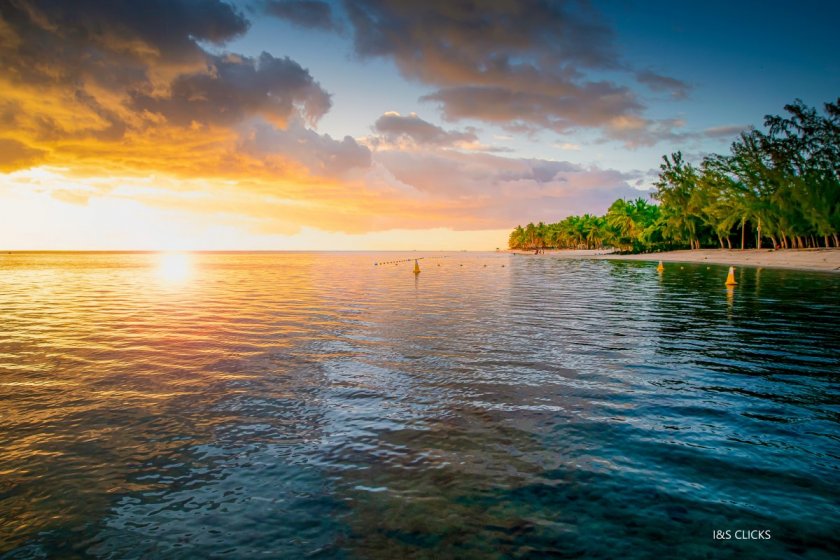 La Baie de Tamarin
Tamarin Bay is home to a pretty wild beach, accessible  in about 15 minutes by car from the center of Flic en Flac.
It is also a popular spot for surfers and divers because, not being protected by the coral reef, the waters are deeper and the waves more intense.
Still well preserved, Tamarin Bay is also often visited by dolphins!
My advice
If you want to do your first dive in Mauritius, I recommend this great initiation session for beginners.
Surrounded by a super nice team, you will enjoy a quick workout in the pool before reaching a magnificent diving spot in the middle of the coral reefs where you can see lots of colorful fish under the supervision of your instructor.
To book your scuba diving initiation in Tamarin Bay, click on the link below:
Book my diving session in Mauritius now!
Le Morne Beach
Le Morne beach is one of the most beautiful beaches to see during your holidays in Mauritius.
It is a 40- minute drive from Flic en Flac, at the foot of Morne Brabant, a very important mountain in the Mauritian natural and cultural heritage.
Wilder than the large beach of Flic en Flac, Le Morne beach is a real little corner of paradise.
It offers a breathtaking landscape, conducive to calm and contemplation.
My advice
For example, you can enjoy this beach after or before climbing Le Morne Brabant, which I will tell you about a little further down.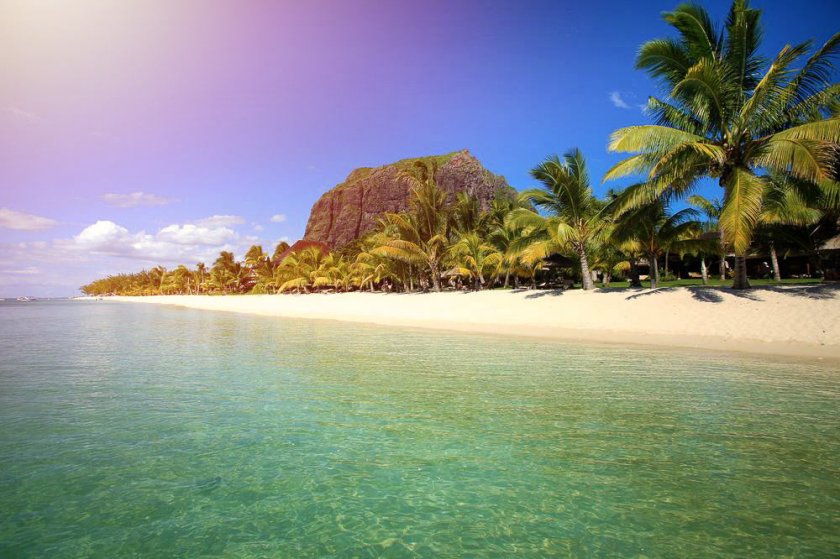 2. Nautical Activities in Flic en Flac
Snorkeling and scuba diving
The lagoon of Flic en Flac is an El Dorado for lovers of the seabed. Whether you're a diving enthusiast or veteran, you'll love it.
For those who just want to observe the many species of fish and coral without going too far, Flic en Flac beach is ideal for snorkeling.
Indeed, the water is transparent and it is a real treat for the eyes. The marine fauna and flora are very diverse in this area and offer a pretty spectacle full of colors.
My advice
Watch out for sea urchins though! I recommend not to go in the water barefoot but to bring a pair of shoes.
If you want to go a little deeper, I advise you to turn to diving, one of the best things to do in Flic en Flac.
The seabed of Mauritius is full of surprises and there are many diving centers along the west coast, especially in Tamarin Bay.
Personally, I had never dived before and it was there that I did my initiation.
Your professional instructor will teach you all the theoretical bases before having a first try in the pool.
Then, once you're ready, you can join the deep end! And I assure you that it is truly an unforgettable moment.
For those interested, I did my first dive with the Tamarin Ocean Pro Diving team , which I really recommend.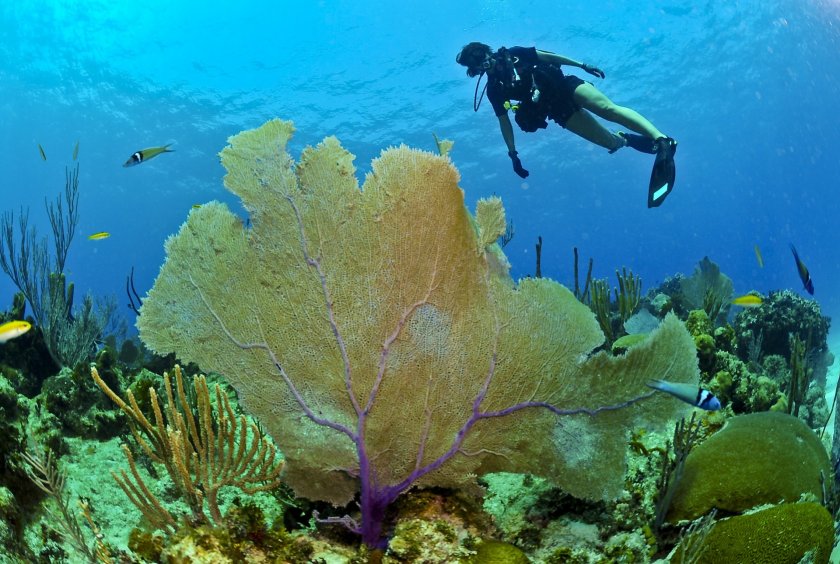 Boat Trip to Flic en Flac
Among the things to do in Flic en Flac, I also recommend boat trips in the lagoon.
If you spend your holidays in Mauritius between May and September, you can in particular treat yourself to a sea excursion to go whale watching!
With a specialized team that will teach you more about this fantastic marine species, you can sail for several hours to meet them, without disturbing them of course. An opportunity not to be missed!
My advice
As you can imagine, the boat trip to see the whales is a very popular activity in Mauritius. I therefore advise you to book as far in advance as possible to be sure of having a place on the date of your choice.
Another boat trip to Flic en Flac: the cruise to Île aux Bénitiers, departing from Black River (30min from Flic en Flac).
Ile aux clams is a small uninhabited islet off Morne Brabant. It owes its name to its particular shape which resembles a clam, an elongated shell!
If you want to spend a quiet day without overwork, enjoying the sea and the sun, this excursion is really the best.
It includes several swimming and snorkeling breaks, a stopover on the islet and a passage near the famous "Crystal Rock", a magnificent rock in the middle of the water in front of Île aux Bénitiers.
To reserve your place on this cruise, simply click below:
Book my boat trip to Flic en Flac now!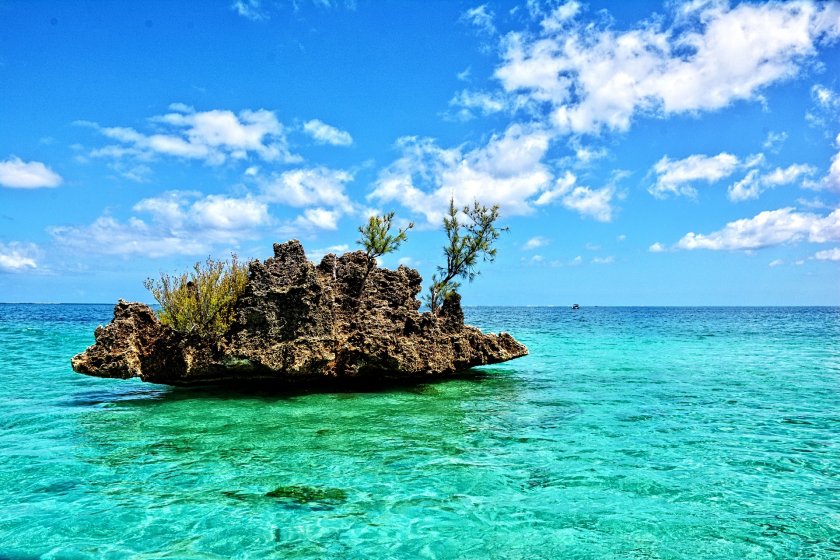 Kitesurfing
Thrill seekers will also be able to find what they are looking for near Flic en Flac, by treating themselves to a kitesurfing session.
Even if you've never done it before, you can benefit from a beginner's course and perhaps discover a passion for this practice.
And then honestly, do you have a nicer place in mind to start? Me no.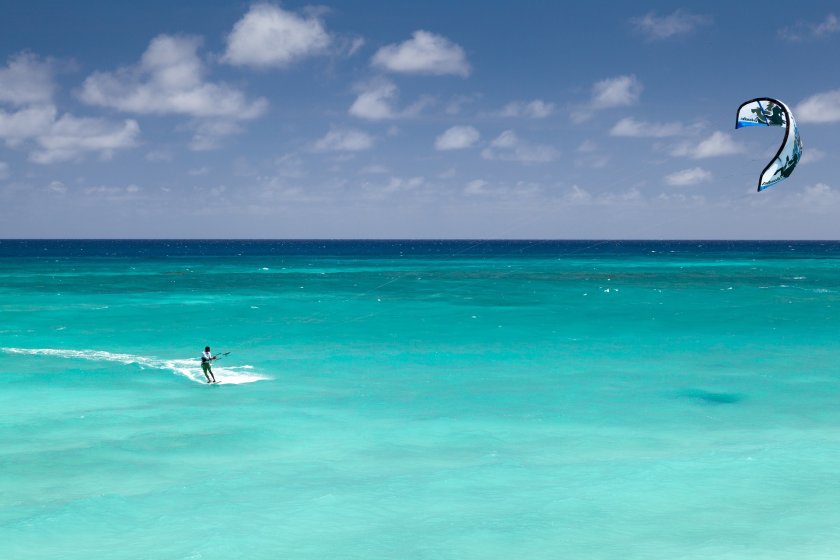 3. Black River Gorges National Park
Wondering what to do in Flic en Flac apart from beaches and water activities?
I suggest you go a little inland to discover the lush nature of the West Island.
15km from Flic en Flac, there is a fabulous hike to do in the Black River Gorges National Park.
This immense nature reserve of 6.5 hectares is one of the must-see sites around Flic en Flac.
There, you can walk the forest paths strewn with waterfalls, small rivers, and spectacular views of the mountains and the lagoon.
The park is home to no less than 300 species of plants and 9 endemic bird species.
During the walk, it is quite possible that you will come across black fruit bats, a large endemic fruit bat, and even monkeys. Change of scenery guaranteed!
There are several different trails in the park, including:
The Piton de la Rivière Raide, the easiest, which is 9km round trip. Be careful though, the end is quite steep.
La Boucle de Mare Longue, 12 km, the intermediate level.
The Sentier de Macchabée, 10 km long, for experienced walkers who are not afraid of climbing.
In any case, it is best to do this hike with a guide. The park is quite sprawling, and it's sometimes difficult to know where you are when you don't know the place. In terms of safety but also to learn a lot about the local fauna and flora, guided hiking is a must!
I advise you to book your guide in advance because the places go quickly. To do this, just click here.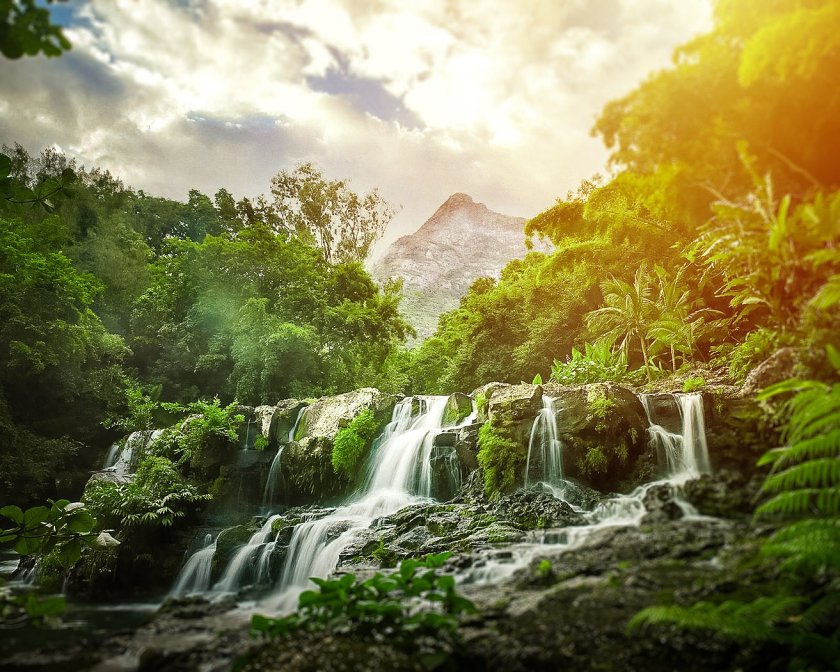 4. The 7 Cascades Hike (Tamarind Falls)
Another essential hike to do near Flic en Flac: the 7 Cascades trail.
It is also called the Tamarind Falls hike (or Tamarind Falls for our English-speaking friends), and it owes its name to… its waterfalls, crossed all along the route.
For me as for many, it is one of the most beautiful hikes to do in the West of Mauritius.
It takes you to discover a succession of waterfalls in the heart of nature. It is a very refreshing and soothing ride, although quite sporty.
The 7 Cascades hike can be done in both directions, up or down.
The trail is not marked at all, so I would again recommend doing this hike with a guide. This is the best option to be sure not to take the wrong path and to ensure maximum safety.
My advice
This hike is rather sporty, sometimes dizzying and not necessarily suitable for everyone. I do not recommend it for young children, the elderly, people who are not at all sporty or who have vertigo.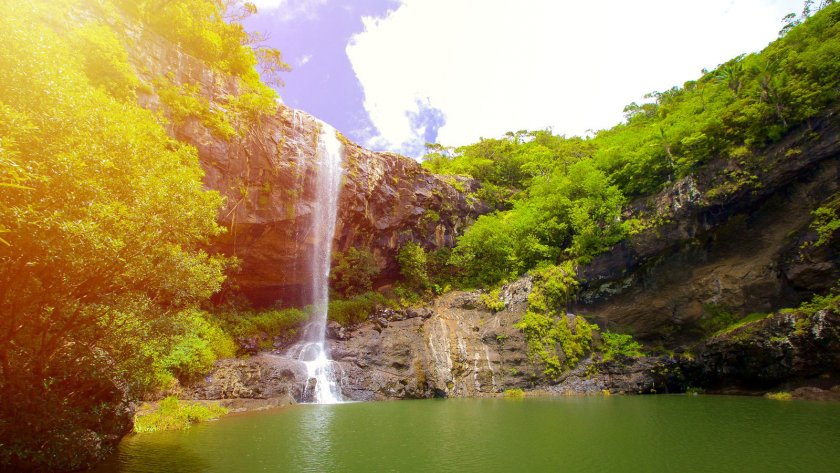 5. A Road-Trip Day in the Southwest
Spending a stay in Flic en Flac is also an opportunity to explore the South West of Mauritius.
To make sure you don't miss anything and make the most of it without spending days there, there's nothing like a little road trip!
The course that I propose to you is done in 4 stages and lasts one day, but you are free to modify it according to the time you have.
First head to Grand Bassin, or Ganga Talao, located 40min drive from Flic en Flac.
It is a sacred lake and a place of Hindu pilgrimage, very impressive with its 2 gigantic statues of the gods Shiva and Durga!
You can stop to go around the lake and discover the temples.
For the next stage, head south towards Plaine Champagne with a stop to make at the point of view on the Alexandra waterfall ( Alexandra Falls, indicated by signs).
Then continue to the village of Chamarel, where you can visit the Ebony Forest nature reserve, passing through the 7 Colored Earth.
You can end this road trip in style at the Rhumerie de Chamarel! Enjoy a glass of rum like you've never had before to end this beautiful day (be careful, however, if you're back on the road afterwards).
This road-trip can be done with a guide to save you the risk of going the wrong way, to book by clicking here.
The guided tour also exists in 'off the beaten track' mode if you're feeling wild and adventurous. Click here for more info.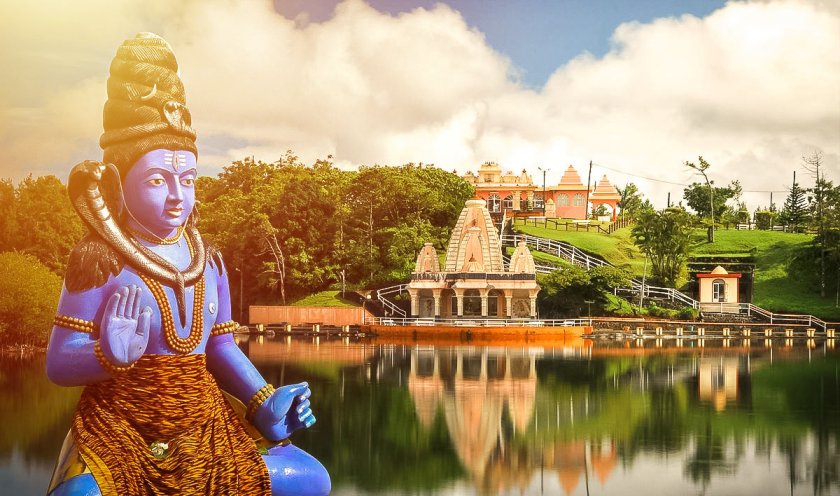 6. Plaine Sophie Nature Walk
We continue this inventory of the best things to do in Flic en Flac with the botanical reserve of Plaine Sophie.
It is about twenty km from Flic en Flac.
This small nature reserve  is ideal for a quiet walk in the rainforest,  away from the hustle and bustle of human activity for a few hours.
If you are going on a trip with your children, this is a great idea for a family outing in Mauritius!
Nature lovers will be delighted to find many species of endemic plants, but also protected birds and  monkeys.
Mauritius Travel Story
In the past, this site was distinguished by its high concentration of ferns and orchids. But today most have disappeared due to the plantation of pines.
As you enter the reserve, you only hear the sound of the wind in the leaves, the birds, the cries of the monkeys… Enough to escape completely!
There is also a very small museum in the reserve, which presents a collection of old tools which were used for the maintenance of the forest.
My advice
I advise you to bring your mosquito repellent lotion (essential!) as well as a pair of binoculars to be able to observe the birds and monkeys even better.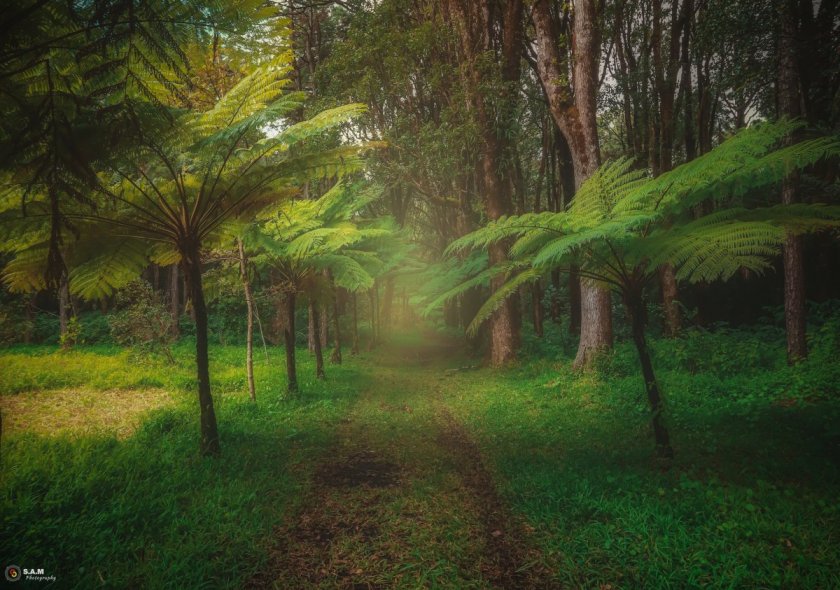 7. Le Morne Brabant
If you are still looking for what to do in the West of Mauritius after all these activities and you are a fan of hiking, then I have exactly what you need.
I have already told you about Le Morne Brabant, the mountain that overlooks Le Morne beach. I also mentioned its importance in the Mauritian heritage, so let me tell you a little more:
It is the most famous mountain in the whole country, which dominates the southwest coast. It has also been listed as a UNESCO World Heritage Site since 2008.
Its historical and emotional value is very strong, linked to the period of slavery.
Because in the past, many runaway slaves took refuge on the heights of Le Morne and many threw themselves into the void to escape their oppressors.
You can see the memorial dedicated to them just at the foot of the mountain, opposite the beach parking lot.
Apart from its historical value, this iconic mountain also has some great scenery to offer.
During your holidays in Mauritius, I advise you to plan a day to climb Le Morne. This is clearly my favorite hike on the island.
It will take you about 3 to 4 hours, the time to reach the top and then go down.
If you expect a walk on flat ground, I prefer to warn you to avoid unpleasant surprises: this is not the case!
It climbs quite a bit but in a reasonable way, except for the last meters before the superb panorama from the summit.
The ascent is really pleasant, but be careful if you have vertigo.
If this hike does not scare you, then you may have the chance to enjoy the once you reach the top. A nice reward after the effort!
To ensure your safety during the ascent, but also to learn as much as possible about the history of the region, I recommend that you hire a professional guide.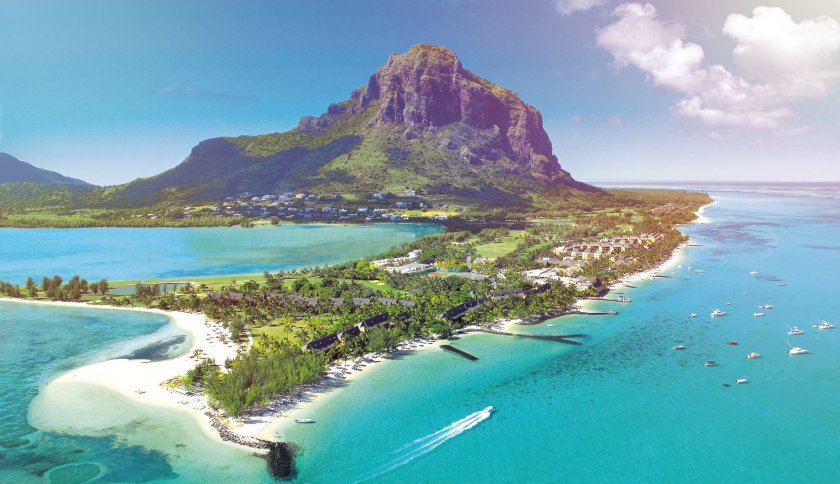 8. Hike to Piton de la Petite Rivière Noire
Another activity idea to do near Flic en Flac: a hike to the Piton de la Petite Rivière Noire.
With its 828m high, it is the highest point in Mauritius and it is less than 25km from Flic en Flac.
From a distance, this mountain is recognizable by its slightly quirky shape. I think she exudes something really impressive!
Although it is the highest peak in the country, it is not very difficult to get to the top. Plus, the view up there is absolutely breathtaking.
There are actually 3 different trails, suitable for all levels: an easy, an intermediate and a sporty one.
The path via Plaine Champagne is the simplest because its starting point is already at high altitude. There remains only 150m to climb to reach the summit. This route is approximately 3.5 km.
The medium level circuit starts at the Planteau piste in Chamarel. It starts at 250m altitude and is 5.2km long.
Finally, the route via the Grand Piton track is the longest and most difficult. Count 5.5km.
A great reward awaits you at the top, with a magnificent panorama. There is even a bench to sit in front and recover from the effort while enjoying the view.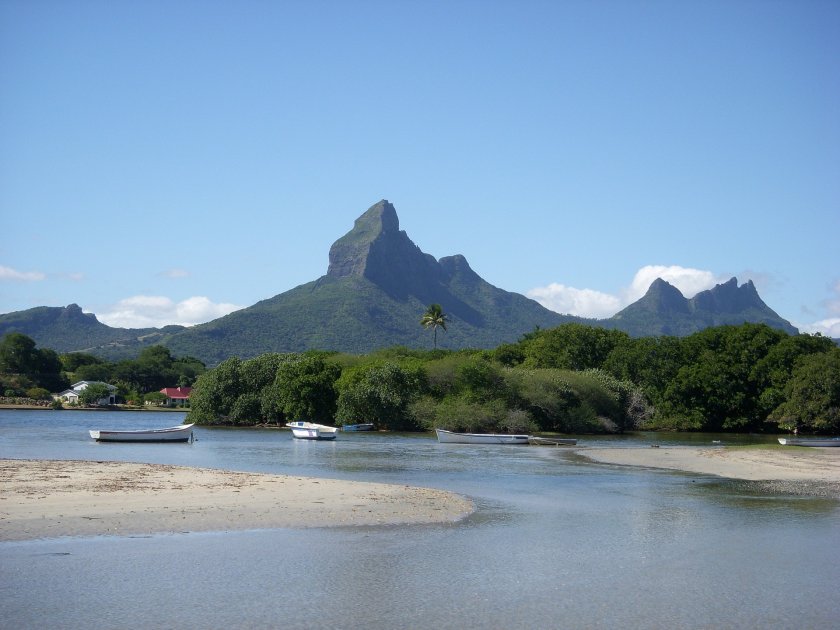 9. The Earth of 7 Colors
If you want to see something really unusual during your stay in Flic en Flac, then take a trip to the Earth of 7 Colors, in Chamarel.
This natural curiosity is a famous spot in the country for its uniqueness. And I've never seen anything like it anywhere other than Mauritius.
It is in fact an area of ​​natural volcanic earth which presents a magnificent gradation of colors, with shades of brown, purple and red. It really has its little effect!
To get there, it takes a little less than 1 hour by car , following the coastal road from Flic en Flac.
Before, it was possible to walk on the dunes and even collect samples. But today this is no longer possible. There are fences all around to protect the site because over time it was starting to deteriorate.
The Earth of the 7 colors is in a private area, the entrance is therefore paying.
My advice
Before or after seeing the Seven Colored Earth, I advise you to take the walk to the Chamarel waterfall, which is right next to it.


10. Ebony Forest Reserve
Just a few steps from the 7 Colored Earth, you can also visit the Ebony Forest reserve .
It is on the same private site and is included in your entrance ticket.
This protected rainforest is currently being restored after being decimated centuries ago for ebony harvesting. Its restoration project extends over some fifty hectares.
Since 2017 only, a small portion of the reserve has been open to the public, in an approach to raise awareness of biodiversity conservation. Moreover, the site often hosts schools as part of educational outings.
It is a super pleasant and interesting visit to do during a stay in Mauritius.
At the entrance to Ebony Forest is a super well done little museum that sums up the entire history of the island.
Then you will take a 4×4 shuttle that will take you to the center of the reserve. A guide will tell you about the restoration project and explain a lot about this endemic forest  and the species it shelters.
Several types of visits are offered:
the classic visit
one more focused on the observation of endemic birds
and a special visit at the end of which you can plant a tree.
It is also possible to take a 3-4 hour guided hike in the reserve.
All the detailed information is on the official Ebony Forest website.
At the end of your escapade, you will be invited to climb up to "Sublime Point", which clearly lives up to its name!
From there, you can sip a drink while enjoying a spectacular view of the bay and the Piton de la Petite Rivière Noire.
11. Visit of the Rhumerie de Chamarel
Among all these excursions from Flic en Flac, visiting the Rhumerie de Chamarel is also something to do!
Lovers of good rum have every reason in the world to pay a visit, but also those who are not fans of the beverage (like me) because the visit is really super interesting!
You will discover the whole process of making Mauritian rum with the different machines, before enjoying a small tasting of the best vintages of Mauritius.
If you hit the road right after, remember to spit it out
12. Other Things to Do around Flic en Flac
The list of all there is to see in Flic en Flac does not stop here. There are so many things to discover in the West of Mauritius!
Here are some other ideas for things to do and see around Flic en Flac:
Cascavelle Shopping Center
In the town of Flic en Flac, there is the Cascavelle shopping centre.
During the day, it's very nice to do some shopping there because the mall is open air.
In the evening, outdoor concerts are regularly organized. And to enjoy the night a little longer, there is the "Lakaz" club where you can party.
The Museum of Optical Illusions
For a fun family activity in the West of Mauritius, I highly recommend Curious Corner. It is a museum of optical illusions which is located in Chamarel.
The visit is super fun to do, there are great photos to take and good memories to create. The youngest especially should love it!
The Tea Factory in Bois Chéri
For lovers of hot drinks, don't hesitate to visit the Bois Chéri Tea Factory, in the southwest of the island.
This is where Mauritian tea is grown, harvested and packaged.
The tour of Bois Chéri includes the factory where the tea is produced, as well as the tea museum.
You will also see the tea fields that stretch as far as the eye can see and can taste a delicious cup of a Mauritian vintage recognizable by its aromas of vanilla.
Canyoning in Mauritius
If you are looking for another thrilling activity, let yourself be tempted by an initiation to canyoning at the 7 waterfalls of Tamarin!
Accompanied by an instructor, you will see the different waterfalls up close, with direct crossings, abseiling and views from the top of the falls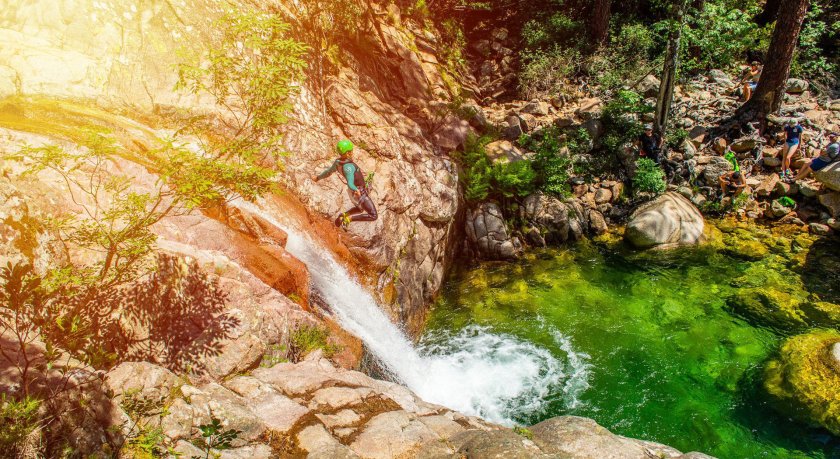 A Seaplane Flight
Departing from La Prairie beach ( 45min drive from Flic en Flac) ,  you can also take a seaplane flight to admire Mauritius from the sky.
You will fly over the Morne Brabant and the Piton de la Petite Rivière Noire.
It is also an opportunity to see the "Underwater Waterfall" at the lagoon level, an illusion of waterfalls in the water. Super impressive and something to see once in a lifetime!
How long to visit Flic en Flac?
Flic en Flac and more broadly the west coast is one of my favorite places in Mauritius.
The village of Flic en Flac itself comes down to the beaches and water activities. You don't need more than 1 or 2 days to go around and enjoy it to the fullest.
On the other hand, to see all that the West region of Mauritius has to offer, you can spend a whole week there.
Flic en Flac can be your base, from which you will visit each of the must-see places that I have listed in this guide. Each visit can take half a day to a full day.
How to get to Flic en Flac?
Flic en Flac has the advantage of being a very touristic place. Therefore the seaside resort is easily accessible by car via the main roads.
Count 1 hour drive from the airport, and the same from Grand Bay (North coast).
If you leave from the east coast, around Bellemare, count 1h15 drive.
Accommodation in Flic en Flac?
Do you want to find the best hotel in Flic en Flac, adapted to your requirements and your budget?
To help you, I have just selected some of the best places to sleep in Flic en Flac. Just click on the orange links for more info and to book:
Lariad BnB: beautiful residence 5min walk from the beach of Flic en Flac. Comfortable double room from €50, breakfast included. Free access to the tropical garden, the 2 swimming pools and the terrace where breakfast is served. I recommend it for an affordable stay in Mauritius!
Shanti Ghar Guest House: welcoming and well decorated guest house, less than 2km from the beach of Black River Tamarin. Comfortable double room with balcony from €95 per night. Outdoor pool, shared lounge, garden and bar.
La Mariposa Mauritius:  hotel located in Black River with magnificent views of Le Morne and located 10km from the 7-colored earth of Chamarel. Double room from €120/night, breakfast included. Access to the private beach, swimming pool and pretty garden.
Veranda Tamarin Hôte & Spa: superb little hotel in the bay of Tamarin. Double room with balcony and sea or mountain view from €150/night. Presence of 2 restaurants, 2 swimming pools and a spa. My favorite in the West region of Mauritius!
Sugar Beach A Sun Resort: luxurious hotel directly overlooking the beach of Flic en Flac. Stay in an independent, comfortable and super well-equipped villa for 390€/night minimum, with a view of the sea. If you want a luxury stay in Mauritius, I recommend it!
Are you going to Mauritius? Also read
Discover all our articles on Mauritius : all our guides are listed here.
Our turnkey itineraries: