What to do in Chiang Rai?
Are you planning to visit Chiang Rai during your stay in Northern Thailand?
Good idea!
To help you organize your trip, I have prepared a detailed city guide , with the 17 best things to do in Chiang Rai.
In addition to this list of must-see places of interest, I also give you itineraries to visit Chiang Rai in 1, 2, 3, 4 or 5 days as well as my list of the best accommodations to sleep in according to your budget.

And of course, everything is accompanied by my best advice to make the most of your visit!
So what to do and see in Chiang Rai? 
Visit Chiang Rai: the must-sees
1. The White Temple / Wat Rong Khun
Impossible to visit Chiang Rai without discovering the most famous tourist site of the city: the White Temple or White Temple. It is 13 km south of the city.
It is this temple that you will find on almost all the postcards of the province during your tour in Thailand. Many people only travel to Chiang Rai to be able to visit it.
And yet, Wat Rong Khun is not an ancient temple with a Buddha statue to worship. Its construction started in 1997, and is not even completed yet.
It is the work of a Thai painter, Chalermchai Kositpipat, who later became an architect. He is building the temple with his own funds and expects it to be finished in about fifty years!
Its particularity is to be built with a mixture of lime and mirror shards, which make it sparkle in the sun. Everywhere you will find statues and magnificent carved and mirrored details.
Really impressive to look at!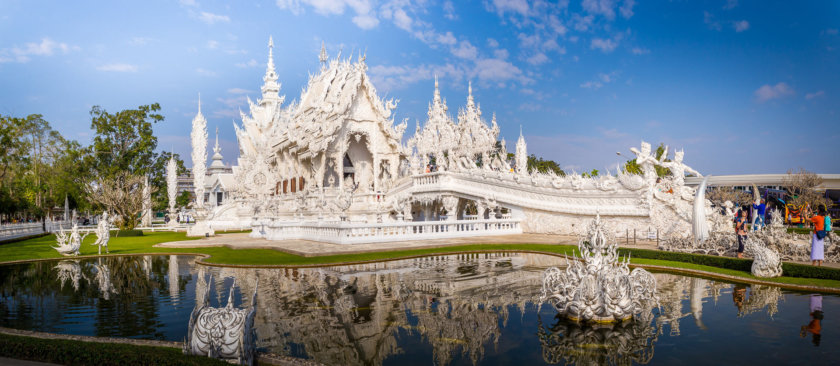 Inside the white temple, you will of course find a statue of Buddha, but above all a fresco, a mixture of traditional Buddhist scenes   and scenes from famous films such as the Matrix or Star Wars.
And yes this temple is really not like the others. A small note however: photos are prohibited inside.
Even having seen many photos in advance, I found the place really beautiful and well done. It is for me a must for a trip to Northern Thailand.
In addition to the White Temple, you can also visit a golden monument housing a small museum. At the entrance to the site, there is also another museum with paintings and drawings by the creator of the temple.
You will also find a souvenir shop selling magnets, t-shirts or keychains bearing his image. And of course a life-size cardboard effigy to take a selfie with him! A little megalomaniac maybe? 😛
Allow about 1h30 to see everything. Entry costs 50 Baht.
Travel Tips
The best time to visit the White Temple in relation to the light, and to take beautiful photos, is in the morning. Try to get there as early as possible to avoid the crowds.
To reach Wat Rong Khun from Chiang Rai, if you don't have a car, you can take the bus from the bus station or a song taew (collective taxi). Journey of about 30 min for 20 Bahts.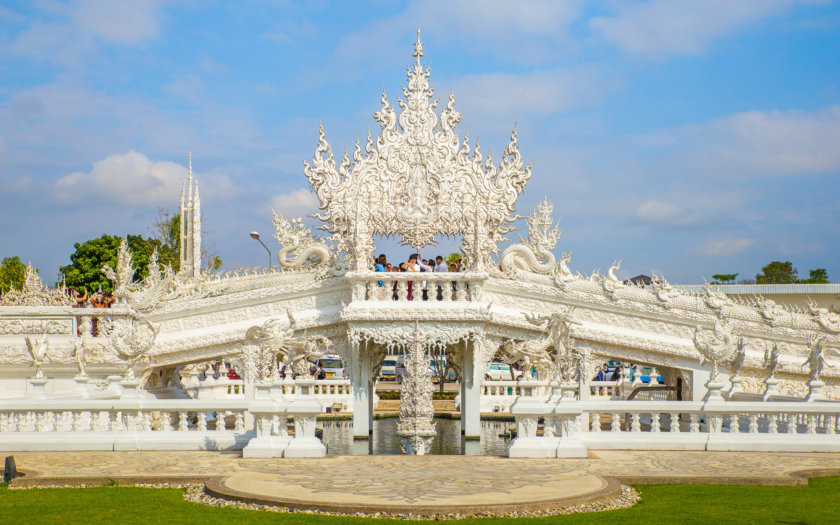 2. The Blue Temple / Wat Rong Suea Ten
After the White Temple, I now take you to discover the Blue Temple, another tourist attraction in Chiang Rai.
It is also outside the city, but to the north, on the other side of the Mae Kok River.
Like the White Temple, the Blue Temple, or Wat Rong Suea Ten in Thai, was only recently completed.
And as it is aptly named, you will quickly understand, its particularity is to be entirely blue, even inside. It houses a large seated white Buddha, but which is tinged with blue reflections depending on the light.
Outside, you will also find many blue statues with impressive details, such as dragons or huge guardians at the entrance.
After the White Temple, this is really the must-see place in Chiang Rai! I found the temple magnificent and the entrance is free.
Travel Tips
There is no public transport to reach Wat Rong Suea Ten, so you will have to go there by tuk-tuk or taxi, if you can find one.
If you come by car, there is free parking at the entrance of the temple.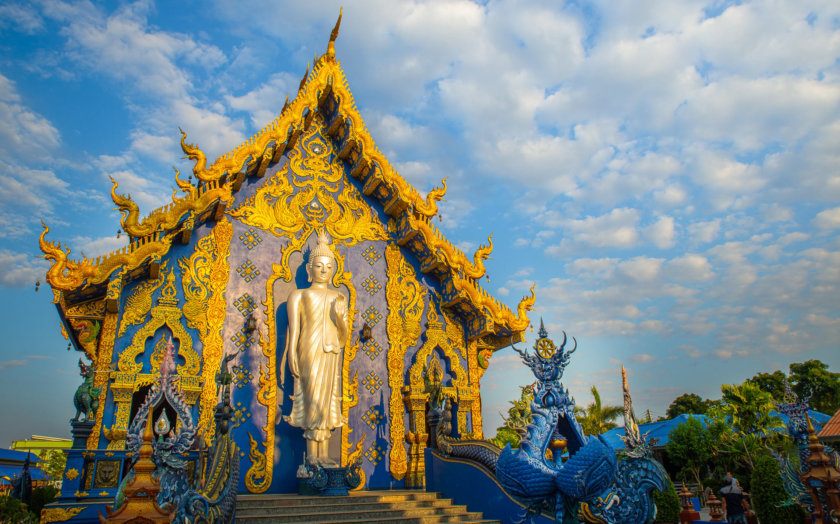 3. And Wat Phra Kaew
We continue in the series of essential temples of Chiang Rai with Wat Phra Kaew.
Contrary to the 2 previous ones which have more a tourist vocation than a religious one, this temple is one of the most venerated by the inhabitants.
In 1434, the chedi of the temple was struck by lightning, and the building collapsed, revealing a statue of Buddha hidden inside.
The Emerald Buddha (actually jade) quickly became a national emblem. So much so that he has been moved several times, notably to Chiang Mai and Laos. It is now in the Grand Palace, Bangkok.
Chiang Rai made a copy of it and it is therefore this one that you can admire. The walls around are painted with frescoes depicting its history.
Within the temple grounds, you can also see a large bronze seated Buddha and visit a small museum with statues.
Entrance to Wat Phra Kaew is free.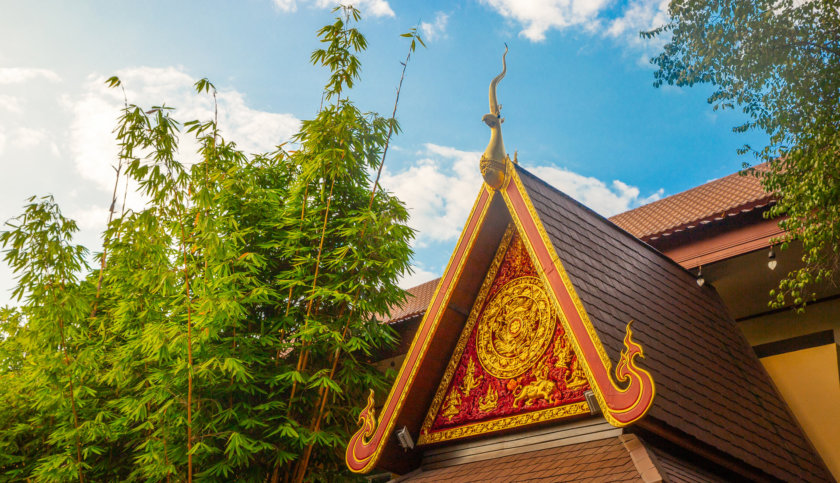 4. The Night Bazaar
Where to go in Chiang Rai at night?
If you want to buy some souvenirs during your Thailand itinerary, the Night Bazaar in Chiang Rai is ideal.
It is prettier than those in Bangkok or Chiang Mai and above all less expensive. You will find many stalls selling clothes, jewelry or wooden objects.
Several tribes from the surrounding mountains also come here to sell their handicrafts.
In the center of the evening market, you can eat in a very nice restaurant, all in wood. Just opposite is a stage where traditional dance performances are held. There are also several food stalls.
The Night Bazaar is open every evening  and is near the bus terminal.
If you find yourself in Chiang Rai on the weekend, I also recommend that you go to the Saturday or Sunday Walking Street. The street (a different street depending on the day) becomes pedestrian in order to accommodate many stands.
It's the perfect place to go in Chiang Rai on weekends to do some shopping and sample some Thai street food.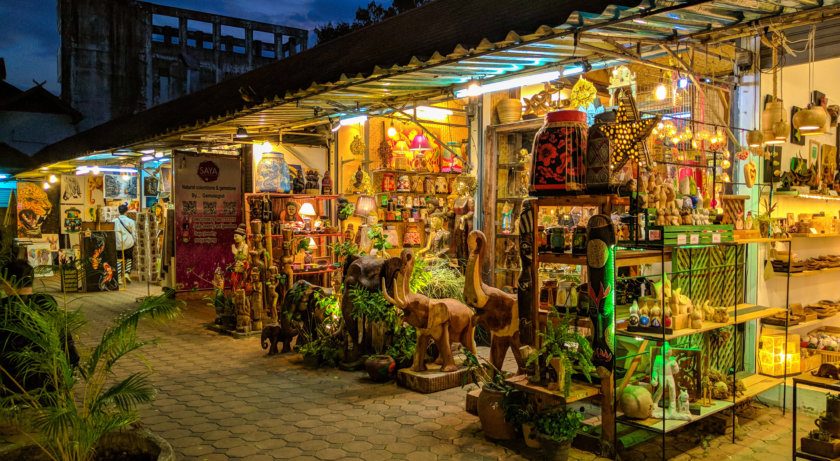 5. Other Sights to See in Chiang Rai City
During your trip to Chiang Rai, be sure to take a walk through the historic part of the city. There are several buildings and temples to discover.
What to see in Chiang Rai?
The statue of King Mengrai, the founder of the city
The golden clock tower or golden clock, designed by the creator of the White Temple and which lights up every evening in a game of sounds and lights.
Wat Ming Meuang, supposed to house the spirit of the city, quite different from other temples, with a little Hindu touch
Le Wat Phra Sing
Wat Klang Wiang
Wat Jet Yot
The HillTribe Museum or Hill Tribe Museum, on the history, culture and way of life of these ethnic groups in Thailand
The park which is in front of the HillTribe. During our stay in Chiang Rai the flower festival took place there (it takes place every year in January). There were plenty of art installations, delicious food stalls (we ate there every night!) and live music.
The Oub Kham museum and its superb collection of objects from the Lanna kingdom. Compulsory guided tour.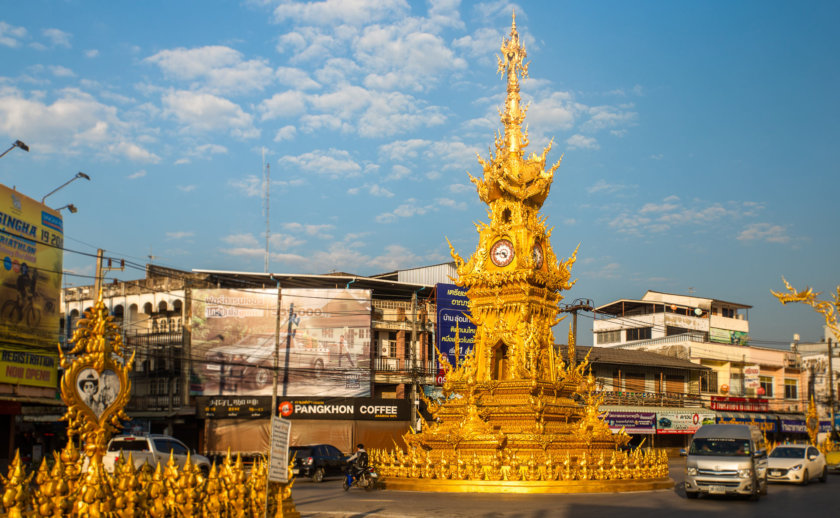 6. Singha Park
We continue this Chiang Rai tourist guide with the Singha Park (named after one of the most famous beers in Thailand!).
It is about 6 km from the White Temple.
You cannot miss the entrance to the park symbolized by a large golden lion statue where everyone stops for the souvenir photo. Next door is a food court with cafes and shops.
A road then enters the interior of the park. You can follow it to a viewpoint over a lake and tea plantations. On the other side of the park, you will also find an educational farm and a mini zoo with several exotic animals such as giraffes or zebras.
In the Singha Park, it is also possible to go ziplining (zipline) and to rent bicycles. Each year, the park also organizes a hot air balloon festival.
If you don't have a car, you should know that the park is not served by public transport so you will have to take a tuk-tuk or a taxi to get there.
And as the park is quite extensive, you will then have to rent bicycles to go through it or take the little train that goes around.
Admission is free, but you will have to pay to zipline or ride the little train.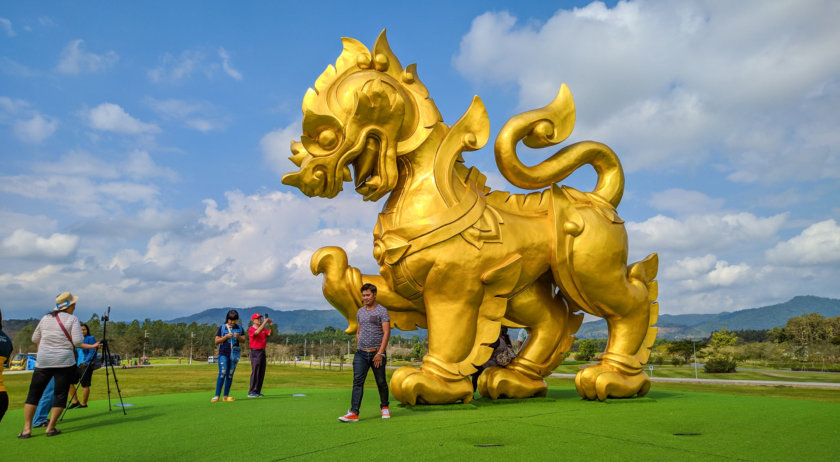 7. Baan Dam Museum
Among Chiang Rai's most famous places of interest, you will find the Baan Dam Museum or Black House Museum. Some also sometimes call it the black temple. 
It is about fifteen kilometers north of Chiang Rai.
The place brings together around forty small black houses decorated in a very special way with crocodile skins, furs and bones for example.
All this is the work of Thawan Duchanee, a slightly crazy Thai artist (in the style of the creator of the white temple but in a morbid version!).
So certainly it's original, but I found that all the houses are alike. It's always a bit the same and quite messy.
What I also find unfortunate is that most of them are closed and you have to be content to watch from the outside, behind barriers or windows.
Entry costs 80 Baht. 
To reach the black houses, the easiest way is to go there by car. If you don't have one, you always have the option of taking a song taew or a tuk-tuk.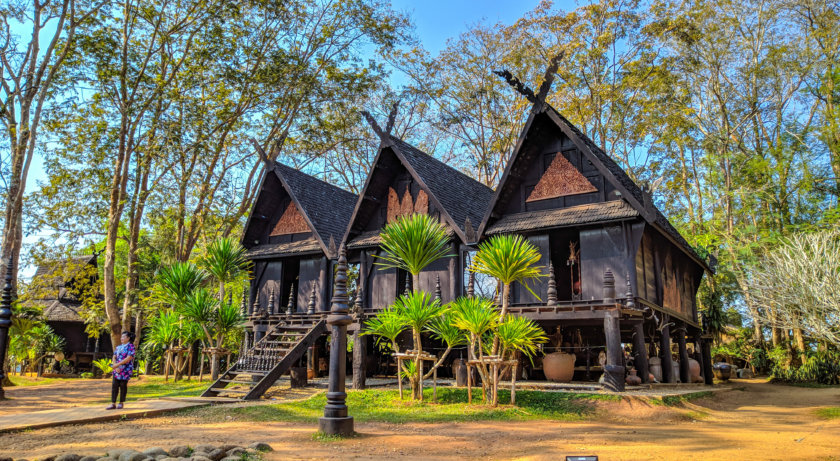 8. Khun Korn Waterfall
If you are wondering what to do in Chiang Rai to enjoy a little of the surrounding nature, I recommend you to go see the Khun Korn waterfall.
It is located 15 km west of Singha Park.
To reach it, you must follow the road (car or scooter required) to the parking lot. From there, go up along the river following the road on foot until you reach a building (toilets). The trail for the waterfall starts from there.
The walk allows you to cross the bamboo forest and the path is quite easy but bring sneakers because it is quite slippery. Count 30 minutes of walking with a little unevenness, to reach the waterfall of Khun Korn.
The latter is rather pretty and has a really high flow, it's not just a trickle of water like some other Thai waterfalls at this time (in January). With its 70 meters high, it is the highest in the province of Chiang Rai.
Plan to spend 2 hours there, enough time to go there and back, take lots of photos and stop a bit to enjoy the coolness of the waterfall. It is authorized to swim there, but it is reserved for the less cautious!
Be careful, the site closes at 4:30 p.m. Free entry and parking.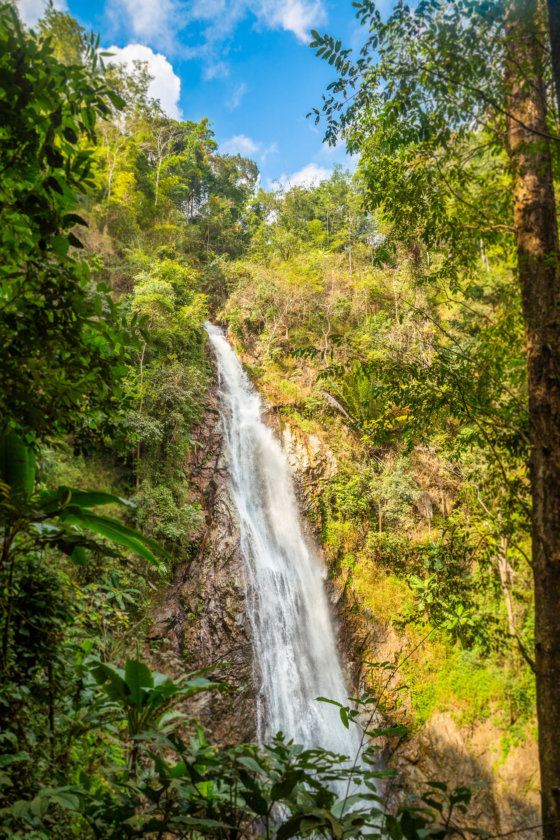 9. Wat Huay Pla Kung / Big Buddha
You have understood it, the main activity to do in Chiang Rai is to discover its rather original temples.
And Wat Huay Pla Kung is no exception to the rule.
Of very recent construction, like the white temple or the blue temple, the Wat is in fact made up of a huge white statue representing the goddess of compassion Guan Yin and not the Buddha (yes suddenly we wonder why it is called the Big Buddha!).
It is super impressive to see, especially since it was built on top of the hill and looks really huge. You can reach the base of the temple by a staircase and then take an elevator that goes up inside, to the head of the statue (40 Bahts to go up).
In addition to Wat Huay Pla Kung, the site includes 2 other equally grandiose  but completely different monuments: a pretty white temple and a large 9-storey pagoda. Do not hesitate to climb to the top to contemplate the view.
The set is really worth the detour, and given the people who were still there at the end of the day and the full parking lot, it quickly became one of the places to see absolutely in Chiang Rai.
The Wat is a 15-minute drive from the center of Chiang Rai. Entrance and free parking + 40 Bahts if you want to go up to the temple.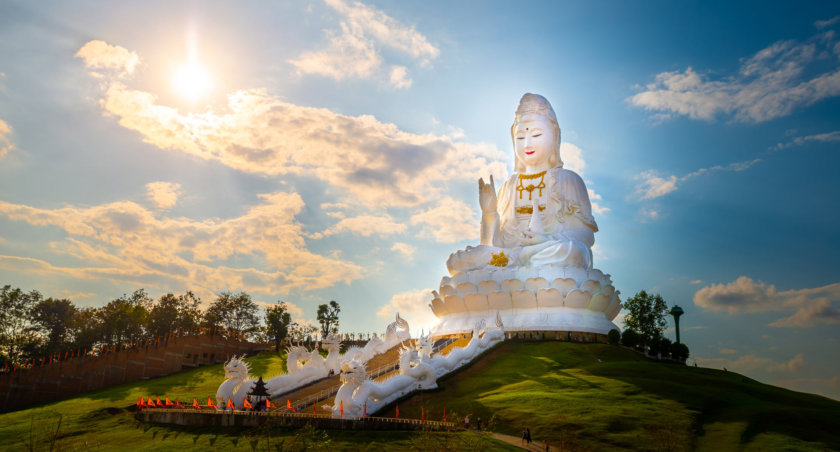 10. Mae Fah Luang Arts and Culture Park
During your vacation in Chiang Rai, I advise you to visit the Mae Fah Luang Cultural Park.
Precision: not to be confused with the gardens of Mae Fah Luang which is located at Doi Tung and which I will tell you about a little later.
It is 4 km west of the center of Chiang Rai.
Built around a large lake, the park is well laid out and features several Lanna-style wooden buildings and pavilions.
In particular, you will be able to discover:
The Haw Kham, a tower built from the remains of 32 wooden houses and which houses a Buddha inside
The Haw Kham Noi and its 19th century murals
The Haw Kaew, a museum bringing together several objects from the Lanna culture
The place is quiet and relaxing. To do if you have a little time or if you are tired of the crowds.
Entrance at 200 Bahts, which is still a bit expensive compared to the prices of visits to Thailand. That probably explains why there aren't many people there.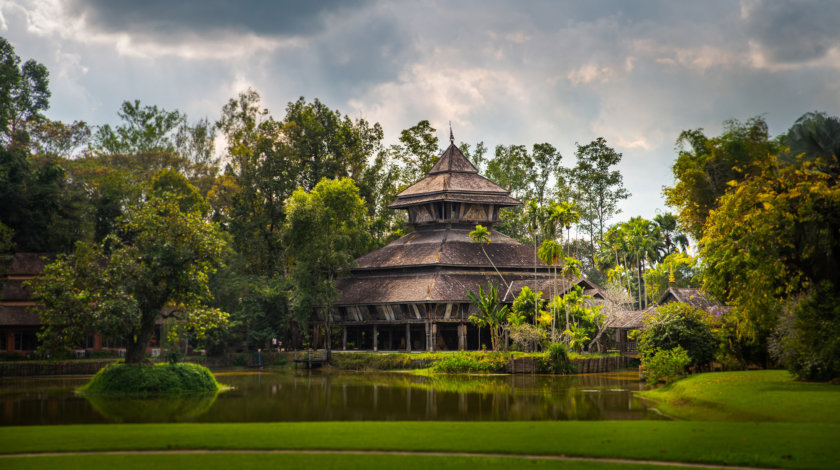 11. Trekking in Chiang Rai
Chiang Rai is also known to be an ideal destination to go for a mountain trek.
Most hotels or guesthouses in the city offer 2 or 3-day tours to do a bit of hiking and meet the mountain ethnic groups in the surrounding area.
Populated for the majority of refugees from Burma or Laos, you can get to know and discover the way of life of the Akha, Hmong, or Karen peoples.
The latter is known for its women with long necks, also nicknamed the "women giraffes".
Prices start at around 3,000 Baht per person for a 3-day trek and always include accommodation and food.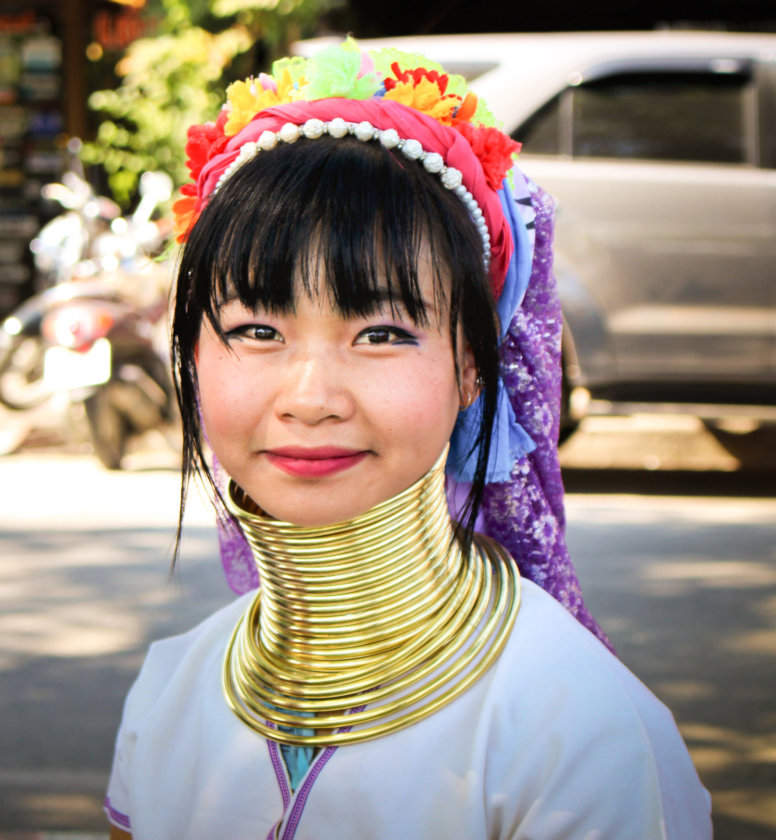 What to do around Chiang Rai?
If you have visited the main tourist sites of the city that I am talking about in this top and your tour in Northern Thailand lasts a few more days, I advise you to discover the surroundings of Chiang Rai.
There are several places to see nearby on day trips. To get there, you will certainly have to rent a car or hire a driver for the day.
12. Two Tung
The first place I recommend you go around Chiang Rai is Doi Tung.
It is 45 km from Chiang Rai,  not far from the Burmese border.
At the top of Doi Tung mountain, you can discover several tourist attractions:
The Mae Fah Luang Garden, a very large landscaped garden, super pretty, well maintained and very flowery
The Doi Tung Royal Villa which was the residence of the Princess Mother of Thailand. The building, really atypical for Thailand, looks like a Swiss mountain chalet (the Princess Mother having lived in this country for a long time). You can visit the interior and discover the royal apartments. Audio guide in French available and photos prohibited.
The Hall of Inspiration where a film on the history of the place is shown
On the site, it is also possible to go zip-lining.
The place is ultra touristy, with lots of food stalls and souvenirs.
You will have the choice between several passes, depending on whether you want to visit all or only part of the site. The full pass costs 220 Bahts but the zip line is extra.
The entrance ticket also includes access to an arboretum, located 9 km further than the Mae Fah Garden. It is a large garden, also well landscaped. To get there, you can take your car or a small bus.
Travel Tips
You will not be able to access the summit of Doi Tung by car. The traffic is regulated and you will therefore have to leave your car parked on the side of the road about 2 km from the entrance. From there, song taew shuttle to the top in 5 minutes (free).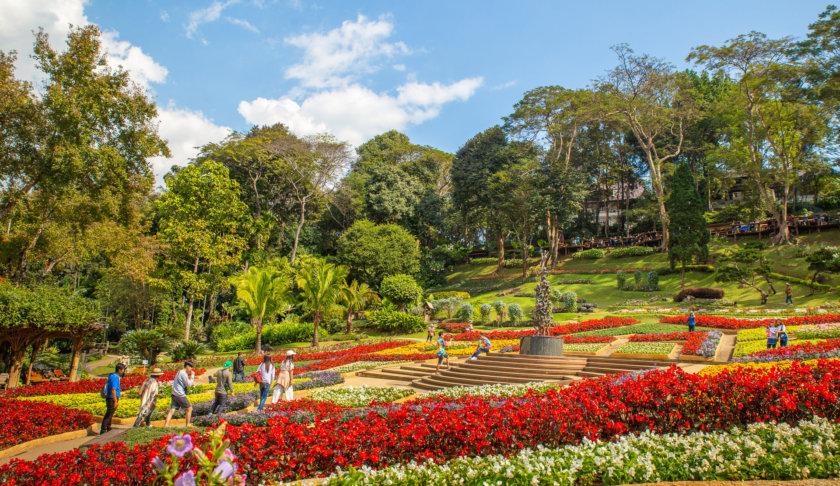 13. Mae Salong
In the vicinity of Chiang Rai, I suggest you take a trip to Mae Salong.
The region is known for its splendid landscapes and numerous tea plantations. The road to go to Mae Salong is really nice with a view of the rice fields and the forest. You will pass through some small traditional villages before arriving there.
In Mae Salong, you will find a large market as well as a monument with the statue of a general. The area is renowned for offering a nice view of the surroundings, but I must admit that we didn't find the place that great.
Travel Tips
What we preferred was to travel around Mae Salong by car. It's the best way to experience beautiful natural scenery in this part of Thailand that's more authentic and rural than the rest.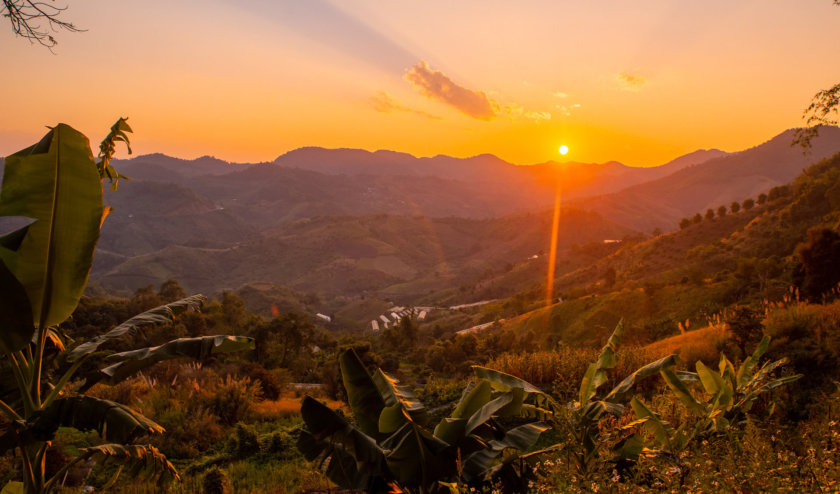 14. Hot Springs
There are several hot springs where you can relax around Chiang Rai. They are very popular with Thai people who love to come here with their families on weekends. 
And contrary to what one might think, their favorite activity is not necessarily swimming but cooking eggs in hot water! Small baskets of 3 eggs are sold at all sources, if you want to try.
Here are the best known of them:
Pha Soet springs, 20 km from Chiang Rai, towards Ban Ruam Mit
The source of Ban Huay Zai Kao, in the village of Mae Lao
Huay Mak Lium Spring in Lam Nam Kok National Park
That of Wieng Pa Pao, on the Chiang Rai – Chiang Mai road
The Pong Phrabat Hot Spring, 11 km to the North
15. Mae Sai
Mae Sai is 60 km north of Chiang Rai, right on the border with Myanmar.
The city is popular with backpackers because it is the ideal place to extend your visa when leaving and re-entering Thailand. You will only have to cross the bridge that connects the city to Burma and make the trip in the opposite direction for your visa to be renewed.
But it is also known for its huge border market with the town of Tachileik where you can buy typical products from the region or really cheap cigarettes and alcohol.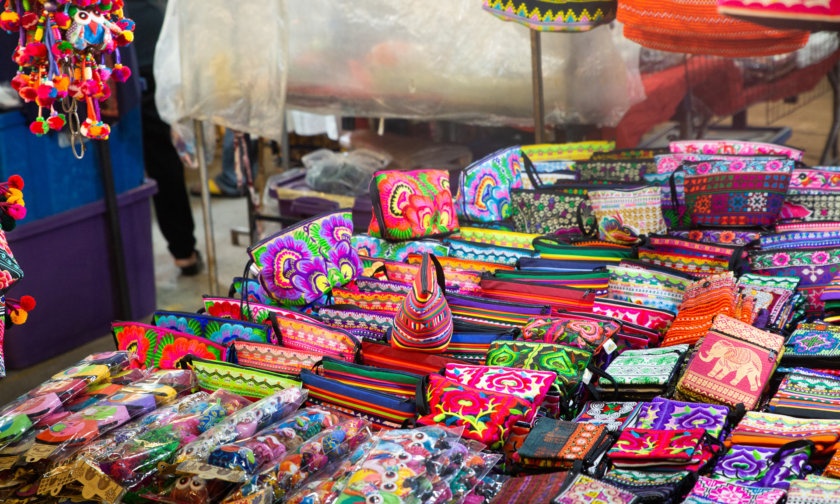 16. Golden Triangle
It is also near Chiang Rai that you can visit the famous Golden Triangle. 
The golden triangle represents the junction point between 3 countries: Thailand, Laos and Myanmar. The place is known to have been the nerve center of the opium trade for many years.
The best point of view to contemplate the 3 countries of the Golden Triangle and the Mekong which separates them is towards Chiang Sen. You can't miss it because all the tourist buses go there!
In the vicinity of Chiang Sen, you can also visit the Opium Museum to discover the whole history of the Golden Triangle.
It is also possible to opt for a cruise on the Mekong.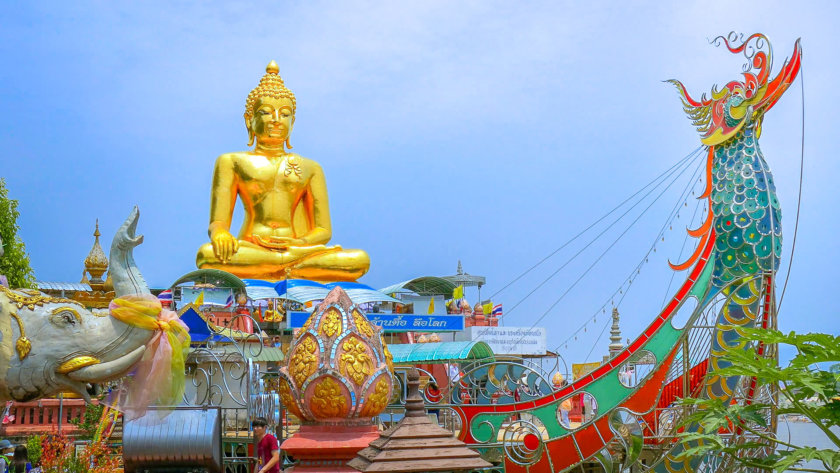 17. The Elephants
If you have not yet had the opportunity to see elephants during your trip to Thailand, there is a sanctuary in the vicinity of Chiang Rai.
The Valley of the Elephants hosts several elephants living in semi-freedom, in conditions as close as possible to their natural environment.
During your visit, you can help feed them and learn more about their way of life.
You will find all the information about Elephant Valley Chiang Rai on their official website. 
Travel Tips
The valley welcomes a very small number of visitors per day (about twenty max), so I advise you to book your visit in advance.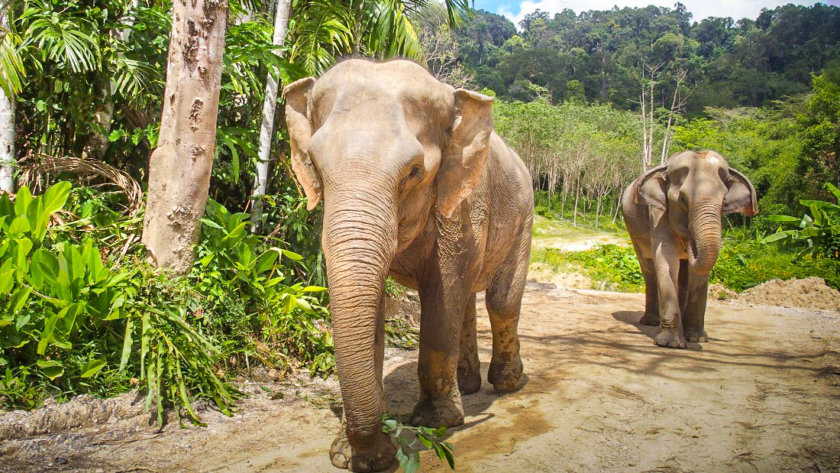 Visit Chiang Rai with family
What to see in Chiang Rai with children?
To help you organize your family trip to Chiang Ra i, here is a summary of things to do in the region with your children:
The White Temple because they will necessarily be intrigued by all its sculptures
The Night Bazaar where they can choose some souvenirs to bring back
A day in the Valley of the Elephants
Rent a bike to explore Singha Park and see the animals there
Go for a swim in the hot springs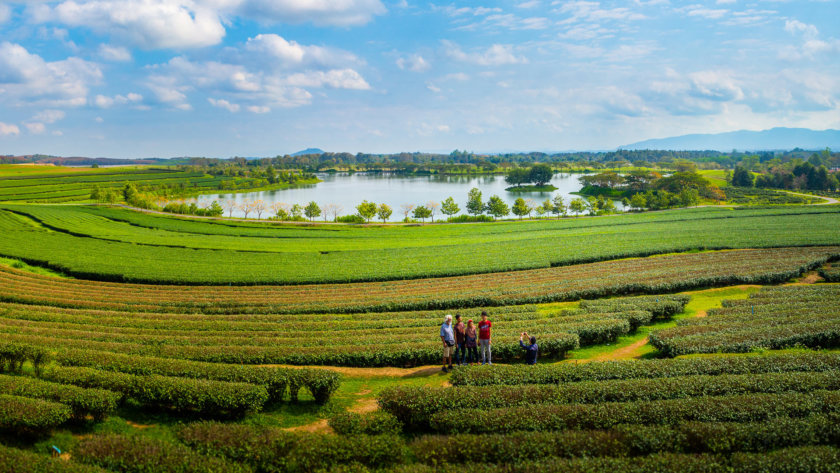 How many days to visit Chiang Rai?
To visit Chiang Rai and its surroundings, I recommend that you plan at least 3 days.
Apart from the walk in the historic center of Chiang Rai that you can do on foot, all the other places of interest are quite scattered. It is therefore necessary to count the transport times in your days, which means that you will have to spread the visits over several days.
For our stay in Chiang Rai, we had rented a car and my itineraries to visit the city in 1, 2, 3, 4 or 5 days are therefore based on that. If you plan to travel by tuk-tuk or song taew, you may have to adapt your days a little.
1 Day Chiang Rai Itinerary
If you have a day to visit Chiang Rai, I advise you to follow this program idea:
Visit the White Temple, the city's must-see monument
Hike to the Khun Korn Waterfall
Passage through Singha Park for the photo with the golden lion
Discovery of the cultural and artistic park of Mae Fah (if you have time, otherwise go straight to the next one)
Stop at Wat Huay Pla Kang to contemplate these 3 impressive temples
Blue Temple Tour
Evening at the Night Bazaar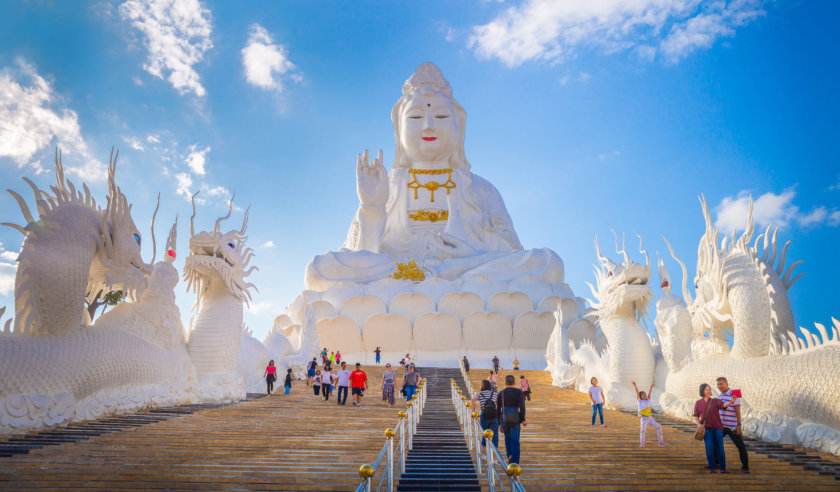 2 Days Chiang Rai Itinerary
If you spend 2 days in Chiang Rai, take the previous itinerary and add, for the second day:
La visite du Baan Dam Museum 
Discovering the attractions of Doi Tung
A road trip on the road between Doi Tung and Mae Salong to contemplate the landscapes
Mae Salong Market
Return to Chiang Rai
3 Days Chiang Rai Itinerary
In 3 days in Chiang Rai, in addition to the program of the previous 2 days, I offer you different options:
1. Walk to Chiang Rai in the morning to discover the city's temples including Wat Phra Kaew and the Hill Tribe Museum. In the afternoon, head to the hot springs to relax.
2. A day at Elephant Valley
3. A day at the golden triangle and you can take the opportunity to push on to Mae Sai.
4-5 Days Chiang Rai Itinerary
If you spend 4 or 5 days in Chiang Rai, you can go for a 2 or 3 day trek in the mountains of northern Thailand.
Of course, you can also spread all the activities I talk about in this guide over several days.
Accommodation in Chiang Rai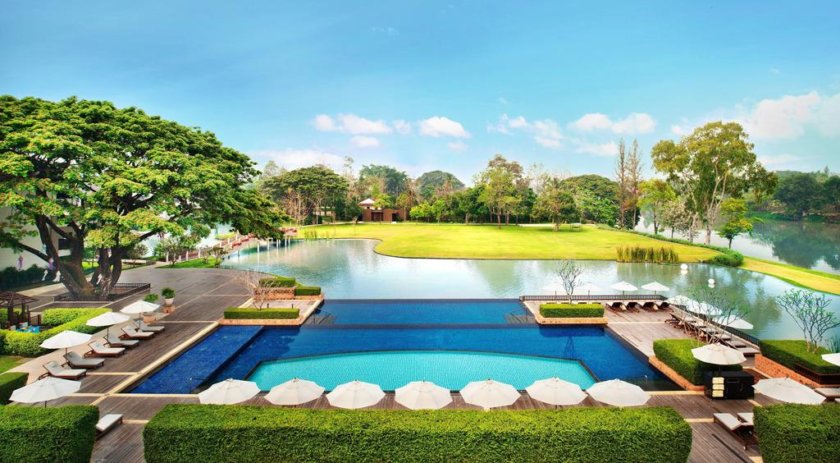 Where to eat in Chiang Rai
I don't have specific recommendations for any particular restaurant in Chiang Rai.
I told you about it in this article, we ate every evening in the park where the flower festival was held. There were a number of food stalls and everything was delicious, from the meat skewers to the pad thai!
If you visit Chiang Rai at another time, I advise you to eat at the Night Bazaar. You will find excellent Thai cuisine in all the stands there and can take advantage of the tables set up to rest a little.
I find it really nice and practical, everyone can choose what they want and there is no need to argue about the choice of restaurant!:-P
How to get around Chiang Rai
The most convenient way to get around Chiang Rai is really to have a car. There is no metro and few taxis.
You will have no trouble walking around the center and the few temples there.
But for all the main tourist attractions in Chiang Rai, such as the famous White Temple, you will need to be motorized. In addition, they are all at a good distance from each other.
If you don't want to rent a car, there are still other options for getting around Chiang Rai:
Song Taew are shared taxis and the cheapest way to get from place to place. They circulate everywhere. Just wave to them, you tell him where you want to go and he'll tell you if he's going in that direction.
Tuk-tuks are faster than Song Taew because they don't stop at multiple places. On the other hand, they are more expensive and the drivers have an annoying tendency to want to rip you off on the price of the race. Always try to negotiate and if he doesn't want to hear anything, let him go and see with the next one.
By scooter, one of the favorite means of transport for Thai people to get around. But since everything is quite far away in Chiang Rai, you might as well take a car. This is especially true if you are not used to riding a scooter.
Another solution is to hire a guide (and driver) for the day if you really don't want to drive.
The tour that I recommend is completely customizable, the guide will take you to see everything you want in a full day of 8 hours. You can visit Chiang Rai but also the surroundings and in particular the golden triangle.
If I particularly recommend this tour, it is because the guide is really experienced and knows a lot of history and anecdotes about the things to see.
You can book it by clicking directly here.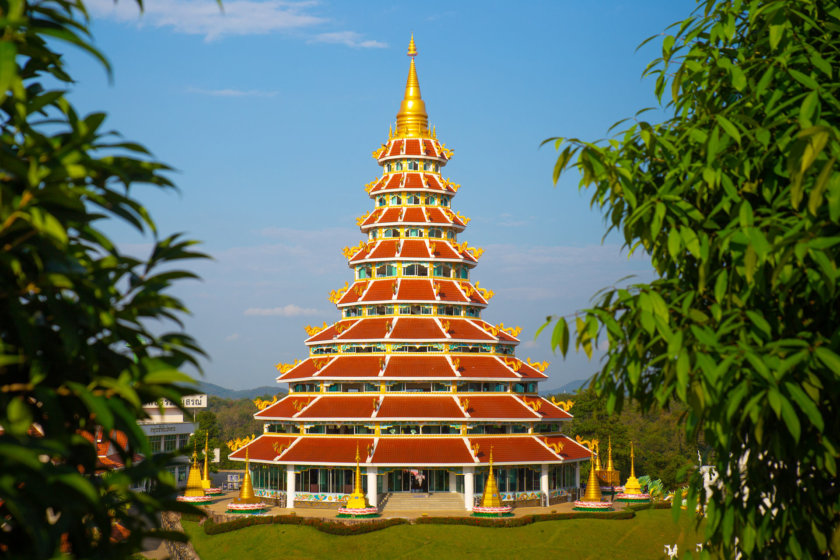 How to get to Chiang Rai
There are several possibilities to reach Chiang Rai.
By plane
Chiang Rai has an international airport, which is 10 km north of the city.
Flying is therefore the fastest way to get to Chiang Rai. 
From Bangkok, allow about 1h30 flight but it is also possible to take an internal flight from other Thai cities such as Phuket or Krabi. The rates are not very high and you will save a lot of time.
Do not hesitate to compare the prices of flights to Chiang Rai using our comparator which is in the following section.
By train
There is no train station in Chiang Rai.
You will necessarily have to take a train to Chiang Mai (the nearest station) and from there the bus to Chiang Rai.
And bus
There are 2 bus stations in Chiang Rai : the old one is in the center and the new one is 7 km further south. Both are in operation and are linked by a Song Taew service (collective taxi) which will cost you around 15 Bahts.
The old station is reserved for journeys within the province of Chiang Rai and Chiang Mai.
The new welcomes buses from major Thai cities.
Travel time to Chiang Rai:
From Chiang Mai, it takes about 3 hours by bus to reach Chiang Rai.
From Bangkok, the journey takes about 11 hours. In this case, the best option is to take a night bus to waste as little time as possible visiting the city.
If you arrive from Sukhothai, you will take about 7 hours.
By car
Of course you can also go to Chiang Rai by car. It is this option that we chose during our Thailand itinerary. 
We made the trip Bangkok – Ayutthaya – Sukhothai – Chiang Mai – Chiang Rai, which is quite a few kilometers on the clock.
And frankly we did not regret this choice: the roads are well maintained, everything is in a straight line, there are several lanes and the Thai people drive really safely. We were able to visit what we wanted, stop when we wanted: it was great!

As I told you earlier, the places to see in Chiang Rai are quite scattered, so the car is really very practical to visit all the surroundings. 
And you, what are you planning to visit in Chiang Rai?
Are you going on a trip to Thailand? Read also
Discover all our articles about Thailand: all articles about Thailand are listed here.