2 Days in York, Best Itinerary
Are you planning to spend a weekend in York and you don't know what to do? This York itinerary will show you the best things to do!
Ideas are not lacking ! York is a relatively large city since it has more than 200,000 inhabitants. There are therefore a lot of things to visit on site… not to mention all the discoveries that can be made in the region.
The city is surrounded by national parks (Yorkshire Dales, North York Moors, Peak District), there are plenty of coastal (and not coastal at all!) villages to discover… and York is a university city, which promises a dynamic atmosphere. 😉
If you are also going to visit York, I have put together a weekend itinerary that shows you all the highlights of the city.
We'll take a look!
York Itinerary Map

Day 1 = Red
Day 2 = Yellow
York Weekend Itinerary
Fortunately, York is not a very big city. So spending two days in York gives you more than enough time to tick the major highlights off your bucket list. Let's dive.
Day 1: York Minster
For this York itinerary, we start by exploring the city center and the old town. York is one of the UK's most charming cities (along with Bath). Especially since most of the city is a pedestrian area, it's a real treat to walk around. On the first day we will visit York Minster, the Shambles, Clifford's Tower and do a ghost tour.
No visit to York is complete without seeing York Minster. Also known as the Cathedral and Metropolitan Church of St. Peter, York Minster is the largest Gothic cathedral in Northern Europe. Not all cathedrals are cathedrals and vice versa, but York's is both.
It dates back to the 7th century, and you can see traces of the Saxons, Vikings and Normans – all of whom made York their home at some point.
Admission is charged, but a visit to the cathedral is included. The visit is free with the York Pass. Although it costs £5 extra (even with the York Pass), I highly recommend visiting the top of the cathedral. You get to climb the 275 narrow steps to the top of the tower, giving you the best view of York. It's 100% worth the extra five cents!

The Shambles
This street, The Shambles, gives the impression of entering Diagon Alley from Harry Potter! Can't see? It's simple: a cobbled, crooked street from another time, with magnificent shop windows and lots of little shops…
There are buildings dating from the 14th century… and the street has long been the street of butchers! As in a lot of old cities, each street had its function (we also find that in French cities like Troyes).
The Shambles have housed up to 25 butcher shops! Yes yes, all that in the same street!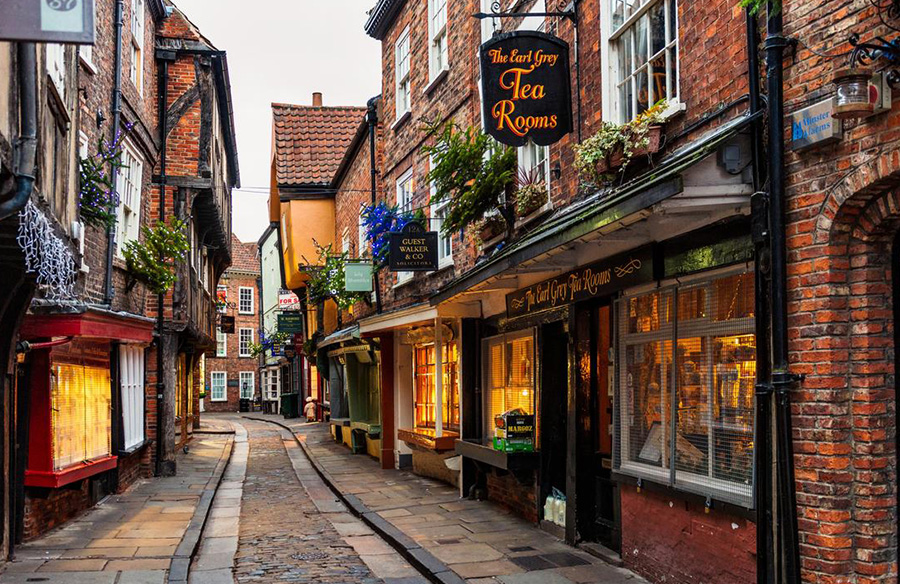 Climb Clifford's Tower
This tower was once an integral part of York Castle and is perched on a hill, which is actually an old castle motte created in 1068 by William the Conqueror. This castle was the seat of power in the North of England.
Negotiations are underway to completely restore Clifford's Tower, which is in very poor condition and therefore quite disappointing for visitors. We go around it very quickly, in less than half an hour and even if it offers a nice view of the city, it is true that its price currently seems a little high compared to what we see.
I nevertheless chose to enter it because it is an opportunity to enjoy a beautiful panorama of York!

York Castle Museum
It stands a stone's throw from Clifford's Tower, on the site of what was once York Castle. It is a very, very rich museum, where you can easily spend 3 hours! It remains THE nice surprise of my stay in York.
It's open daily and tells you all about York's history .
In particular, you can walk in the middle of the reconstruction of an authentic Victorian street (all the shops on the street in question are based on real shops, thanks to enormous research!), you will also discover the evolution of fashion over the past centuries, not to mention a toy museum, an exploration of the past of York Castle which served as a prison…
We take full eyes!

Follow York's Ghost Trail
There are tons of great pubs in York, and I highly recommend picking one for dinner. What could be better than ending the day at the pub?
Well… And a ghost tour?
York is known to be one of the most haunted cities in Europe! And there are tons of ghost tours and rides available. A guide will take you through the history and mystery of York. Especially after dark, it gets pretty scary!

Day 2: York's Chocolate History
York is for the English the "city of chocolate" (industrial, of course), with several families of chocolatiers (Terry, Craven, Rowntree). York's Chocolate Story immerses you in this history of chocolate in York, teaches you how chocolate is made. We even have the opportunity to make our own chocolate lollipop!
Did you know that the famous KitKat candy bar originated in York?
That's why the Chocolate Story is a great addition to this York itinerary. You'll learn over 300 years of chocolate history, why the chocolate bar is such a hit in Japan, and even get to try some chocolate yourself.
Then you can stop by the Chocolate Cafe for one of their deluxe hot chocolates. Delicious!

Walk the City Walls
Now we are all stocked with chocolate; it's time to burn some of those calories 😉 The Roman walls are the perfect place to do it. They stretch for 3.4 km and are among the best preserved walls in the UK. Dating back to 71 AD, it really adds to the historical atmosphere of the city.
It's free to walk on the city walls, but keep in mind that they're open from dust until dawn. When I visited York with my parents, we were just a little too late. Luckily I walked them when I went to York a few years earlier – but it would have been nice for my mum and dad to have the same experience. I guess there's always next time
Over 2.5 million people walk it every year, and there are tons of fantastic photo opportunities! The whole route takes about two hours, but you can choose to do a shorter part.

See the Ruins of St. Mary's Abbey
Now we slowly return to York Minster. Nearby are the Museum Gardens. This botanical garden covers around 10 hectares, including the ruins of Sainte-Marie Abbey.
The abbey was founded in 1088 and stood proudly for over 450 years. Unfortunately, it was destroyed under the decision of Henry VIII. However, you can still visit the ruins today. It's quite an impressive sight.

Visit the Railway Museum
Unsurprisingly, this museum dedicated to railways is located next to York station 🙂 I didn't think to visit it but I was told so many good things about it that I changed my mind… without regret because it his is a superb museum, the largest in England on the subject.
It tells you the whole history of British rail… and the collection is impressive: 260 locomotives and vehicles, hundreds of thousands of objects, you can quickly spend 2 hours there without noticing!
And to top it off, the museum is free and open every day from 10 a.m. to 6 p.m.

Where to Stay in York
Ideally, I advise you to look for accommodation in the historic center of York or nearby, both for its charm and for the ease of doing everything on foot. However, this is England and the cost of living is high so hotel prices are rising rapidly.
If you have a very small budget, you can watch:
For a slightly larger budget :
If you have a comfortable budget and want to take advantage of the best hotels in York, three very well located addresses:
Things to Know before Visiting York
Before spending a weekend in York, here are some travel tips. Including the best times to visit the city, how to get to York and how to get around.
Best times to visit York
Although there is never a bad time to visit York, spring and summer are the best seasons. It is best to visit between April and September due to the mild temperatures and less chance of rain. This is England, though, so bringing an umbrella is never a bad idea
Because it's a beautiful city, there isn't really any off-season. York is usually quite busy, especially during the weekend! If you want to avoid huge crowds, it's best to plan a two-day weekday trip.
If you visit in November or December, be sure to check out York's Christmas Market.
How to get to York
By plane: York does not have an airport, but you can fly to Leeds-Bradford or Manchester airport instead. From Leeds-Bradford, you can take the bus which will take you to York in 40 minutes. Alternatively, you can take the bus to Leeds and catch a train from there. From Manchester it is best to take the train, which will take about an hour and a half.
By train: It is easy to take the train to York. Trains in the UK can be more expensive, but they run between all major cities. From Manchester, it takes about an hour and a half to get to York. From London, it takes two to three hours.
By bus: As trains are quite expensive in the UK, you may want to opt for a more economical option. The coach is a great alternative! Although it is cheaper, it also takes a little longer.
By car: York is easily accessible by car from most parts of the UK. If you decide to drive, keep in mind that most of York city center is pedestrianized.
How to get around York
York isn't a big city, so it's easy to get around on foot. Especially since most of the city center is a pedestrian zone (one of the largest in Europe, in fact!), it is better to walk around the city.

Conclusion – How to spend a weekend in York
York is such a quaint and charming city that it should definitely be on your list of places to visit! Filled with history and tons of great things to do, it's the perfect city break or weekend getaway.
I hope this York itinerary has helped you plan your own trip. If there are any places you would recommend, please leave them in the comments! I'm always on the lookout for new places to visit on my next trip to York!
FAQ
Is York a good city break?
Yes, York is one of the best city breaks in the UK. York captures England like no other city; the cobbled streets, the Roman ramparts, the well-preserved medieval streets, it's steeped in history. Especially since the city center is not very big, you can easily see all the highlights in a few days.
How many days does it take to visit York?
You need two days to visit York. Although you can visit York on a day trip, it's best to take your time and spend at least a full weekend in York. This way you can see all the highlights without having to rush.
Is York worth visiting?
York is 100% worth the trip! If you are planning a trip to the North of England, you should definitely include York in your itinerary as it is one of the best cities in the UK. It perfectly captures the history of England, with traces of the Romans, Saxons and Vikings. It's a wonderfully charming city that everyone will love.
Are you going to UK? Read also: