What to visit in Dublin for 2 days?
If you are wondering what to do in Dublin you will find that there is not so much to see unlike other capitals in Europe. In one weekend you will have time to visit the must-see sites because Dublin is more a city where you enjoy the atmosphere. To complete your experience of the city, enter one of the pubs in the famous Temple Bar district to listen to a group of traditional Irish music while enjoying a pint of Guinness, the country's emblematic beer.
How to get from the airport to the city center
To reach the center of Dublin from the airport located 10 km north of the city, there are several solutions:
Taxi : count about twenty euros to reach the city center of Dublin.
Airlink Express bus : departing from the airport, this bus goes directly to the city center where it makes about ten stops. The fare is €7 per person (€12 return) and you can book your ticket in advance here .
Bus lines 16 A and 41 : yellow and blue double-decker buses, to take if you are really not in a hurry because it takes 1 hour to travel.
How to get around to visit Dublin
All the sites to visit and presented below are concentrated in an area that is easy to explore on foot. If you don't want to walk too much, the public transport network is well developed to reach more distant areas, such as the one where the Guinness Storehouse is located (one-way tram ticket for €2.5).
If you stay at least 3 days and plan to move a lot, there is a 72 hour pass (DoDublin pass) which allows you to borrow:
Hop-on Hop-off tours hop-on hop-off buses.
all Dublin public buses and trams.
the Airlink Express line between the airport and the city center.
The DoDublin pass, valid for 72 hours, is sold for €35. In addition to transport, it allows you to have reductions during certain visits and in many bars and restaurants.
You can also opt for the hop-on hop-off bus to visit Dublin with a choice of Classic (1 day), Premium (2 days) or Deluxe (3 days) ticket. The route includes 32 key stops with recorded commentary in 8 different languages.

Accommodation in Dublin
Dublin being a popular destination all year round, and even more so on St Patrick's Day (March 17), remember to book your accommodation in the capital well in advance. The quality / price ratio is not the best in Ireland, accommodation is quite expensive especially in the tourist center. Here are some addresses with excellent feedback from travelers located near the center and lively neighborhoods for going out in the evening.
Trinity College
The campus of Ireland's most prestigious university, founded in 1592, offers a fine example of Georgian-style architecture. Buildings and statues are gracefully distributed around cobbled squares and lawns. Access to Trinity College is free, which forms an odd mix between tourists and students.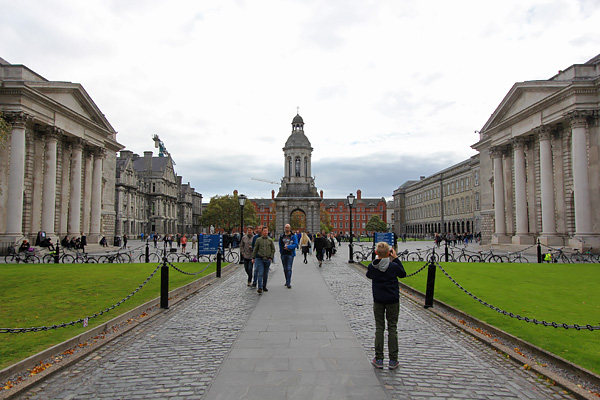 Old Library
The Old Library, which is the reason many tourists come to Trinity College , contains some 200,000 of the library's oldest volumes including the Book of Kells . This 340-sheet vellum (calfskin) manuscript containing the 4 Gospels was created around the year 800 by monks.
Admission to access the Old Library and Book of Kells is €14 per person. It's not a real library in the sense that you are not allowed to leaf through the books (cords prevent you from touching anything). It's more of a museum-style tour that ships out pretty quickly with a lot of people in a tight space.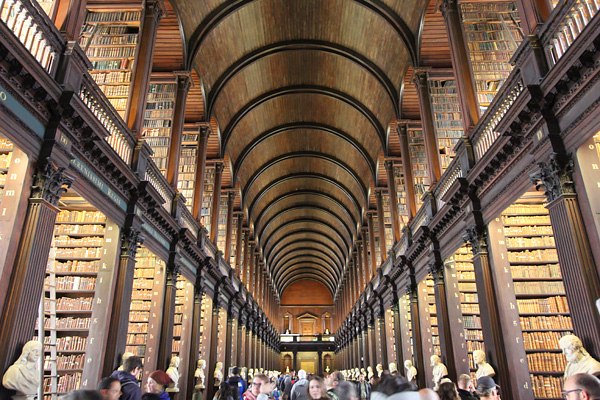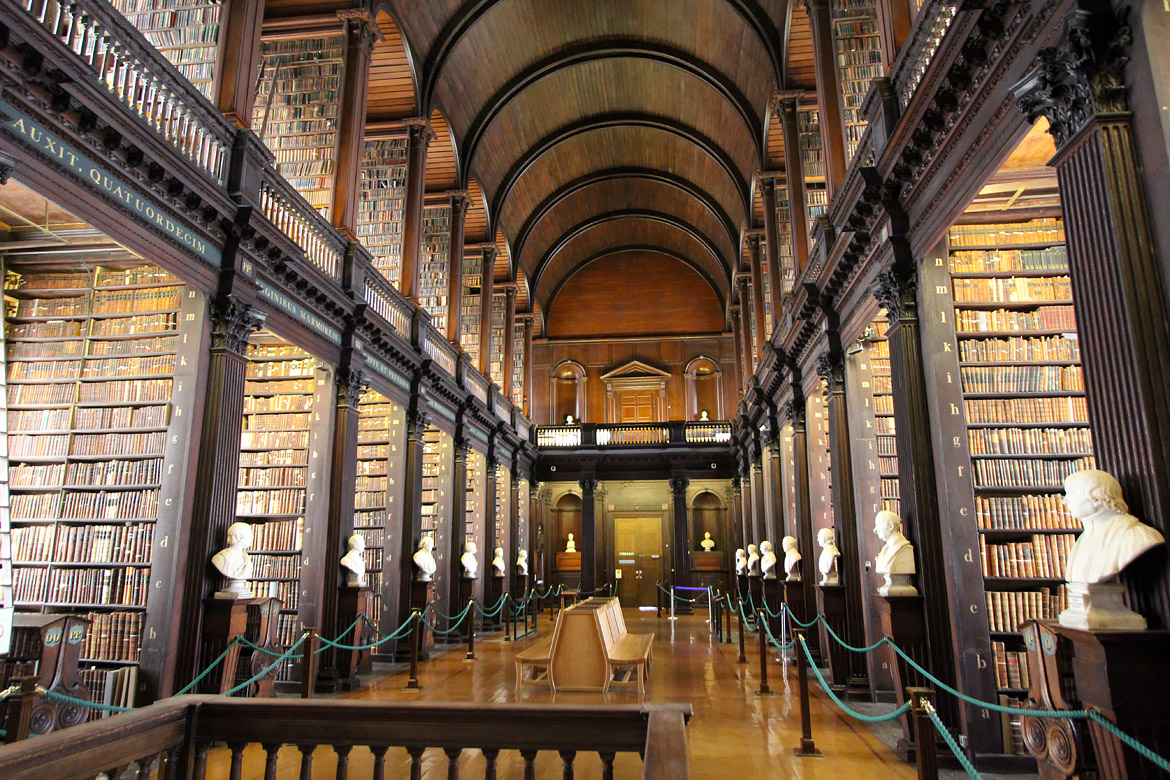 Temple Bar District
With its colorful facades and cobbled pedestrian streets, it is Dublin's most touristy district, where an impressive number of pubs and restaurants are concentrated. If you're wondering what to do in Dublin, this is the place to come. The activity in Temple Bar is at its height in the evenings and on weekends, everything is crowded and the atmosphere is warm. You won't buy your cheapest pint of beer here, but visiting Temple Bar for a Guinness and listening to live traditional Irish music is an integral part of the experience of a trip to Dublin. Nothing then prevents you from ending the evening in a more authentic pub.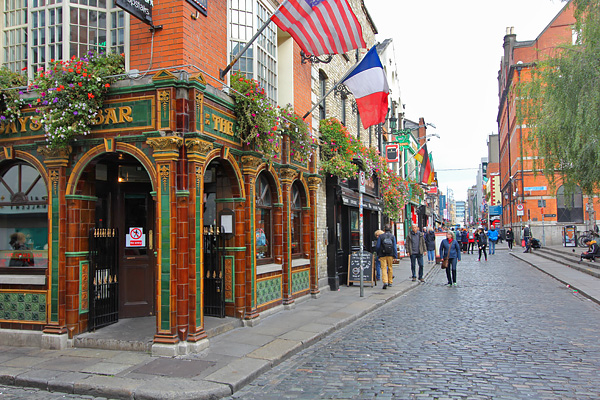 Dublin Cathedrals
Dublin has two cathedrals dating from the Middle Ages in the Liberties district: Christ Church Cathedral founded in 1028 and St Patrick's Cathedral founded in 1191. There is a charge to visit these cathedrals, you will have to pay €6.5 each time.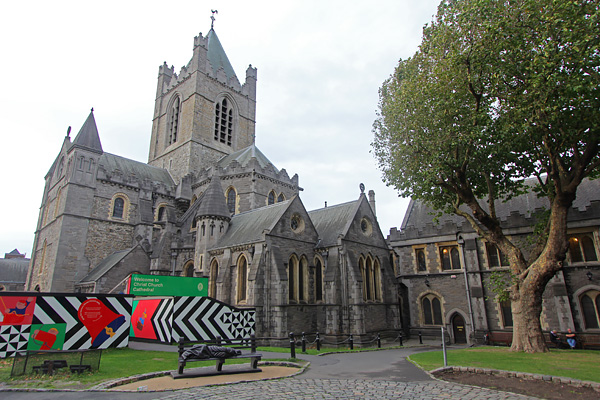 Guinness Storehouse
Housed in part of the brewery built in 1904 (St James's Gate Brewery), this multimedia museum is a tribute to the most famous Irish beer, Guinness. You learn everything about the history of the brewery up to the process of making dark beer. At the top, the floor-to-ceiling windows of the Gravity Bar offer panoramic views of Dublin.
Admission is not given, 25 € per person plus 1 € if you want the audio guide in French. At this price a pint of Guinness is offered, you can taste it at the Gravity Bar but it is smarter to take part in the workshop which teaches you how to serve the perfect pint (we will even provide you with a diploma) and then raise the drink at Gravity Bar. If you go directly to the panoramic terrace to drink your pint, you will have to buy a ticket to follow the workshop.
The Guinness Storehouse being the most visited tourist attraction in Dublin, I advise you to buy your ticket before going there or to simply opt for the skip the line ticket which is a little more expensive but which avoids you having to go through the queue. wait which can be quite long.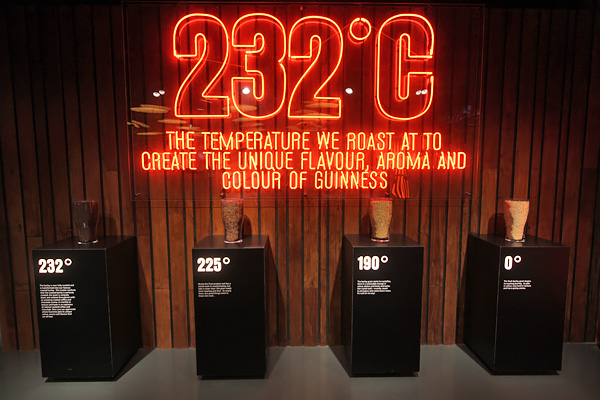 Visit Dublin: activities from the capital

During a stay of several days in Dublin, you can opt for day trips that will allow you to discover some of the most famous sites in Ireland without having to hire a car. Among the things to do around Dublin here are some examples:
Dublin and its surroundings (villages, mountains, …)
The charm of Dublin has amazed you and you will love discovering its surroundings such as the city of Belfast or other villages. Dublin in 3 Days is plenty of time to afford a trip to one of the most unique locations around Dublin City.
1) Dublin's fishing port: Howth Harbor
You can go to the fishing port of Howth to take a walk, discover the small shops, or enjoy a good Irish dish in one of its restaurants.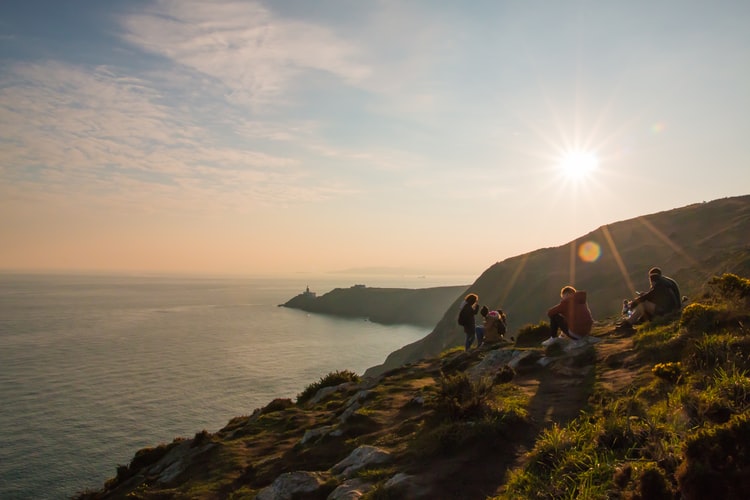 2) North of Dublin, Malahide Castle
Around Dublin, to the north, the coastal town of Malahide opens its doors to you. You can spend an excellent weekend there by visiting its castle and its park.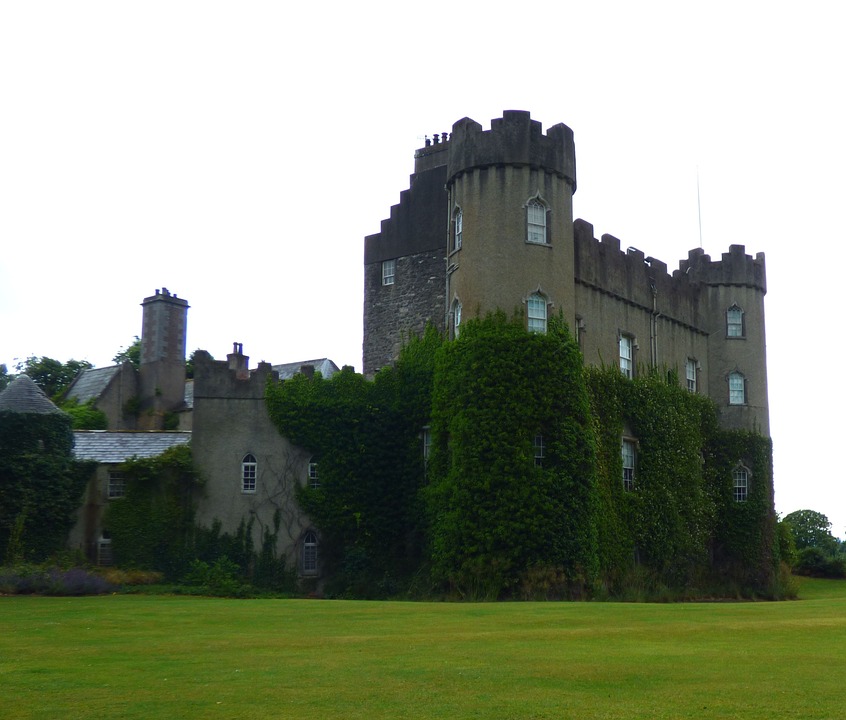 3) The village of Glendalough in the Wicklow Mountains
In the vicinity of Dublin, you will surely not miss the very beautiful town of Glendalough, a valley made up of an abbey and two magnificent lakes.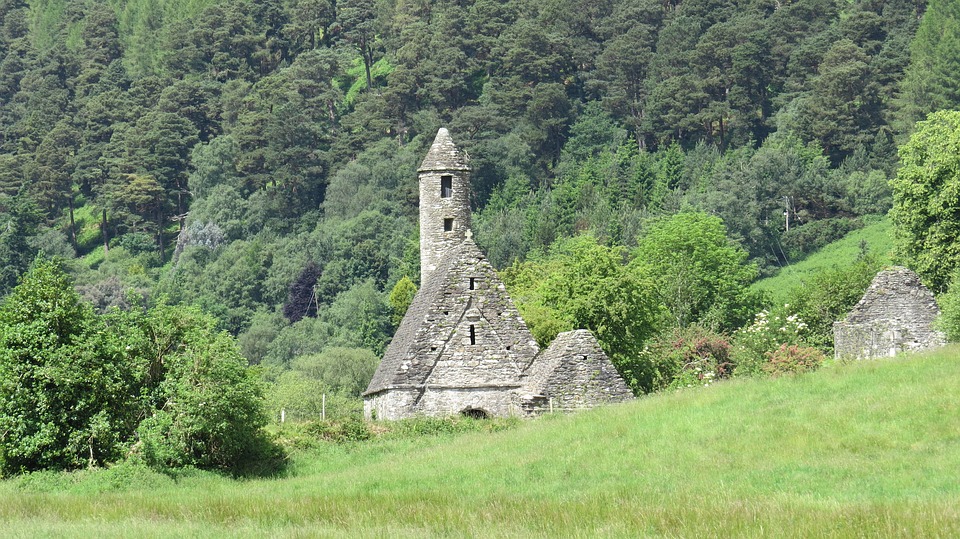 4) South of Dublin, the Powerscourt property
South of Dublin is a 5th Viscount of Powerscourt, formerly owned by Richard Wingfield. A magnificent castle enhanced by its park, its gardens, its inclined slope, its sculptures, reminiscent of the Palace of Versailles.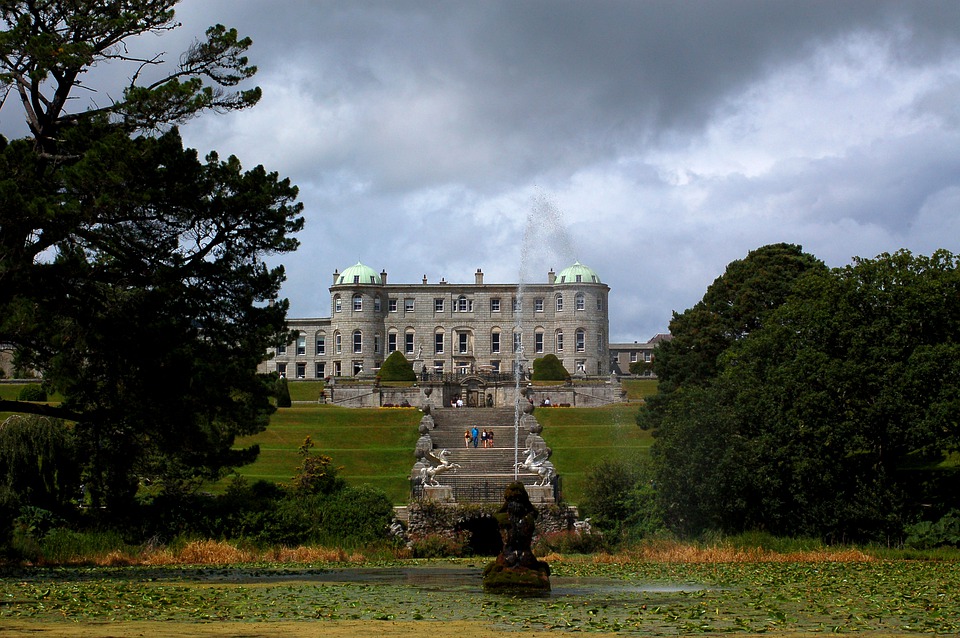 The best time to visit Dublin
The city of Dublin has a unique charm to offer its many visitors. Lively and friendly, Dublin will be pleasant for all types of tourists. But to better appreciate the best assets of the Irish capital, you have to know the best times to get there.
You can visit Dublin in 3 days, by going there in the spring, when the weather is a little chilly. In summer, the temperatures are good, but that doesn't mean you can be in a t-shirt and shorts. In the fall, it is the time when the atmosphere is mild. Finally, in winter, it is cold and it often rains but it is rare to see snow.
The best time to visit Dublin is July – September, a warm period when the sky is open, a good time for hiking and enjoying the green spaces around Dublin. It should be noted that the worst time to visit Dublin are the months of January and October when it rains a lot.