2 weeks in Madagascar
Madagascar is the fourth largest island in the world. With its 587 000 km, this island state located 400 km from the south-east coast of Africa has a remarkable biodiversity. The island is also known for its cultural diversity and gastronomy.
To fully enjoy your two weeks vacation in Madagascar and discover the essence of the country, it is important to determine your itinerary beforehand.
If it is a first stay in Madagascar, the circuit of the South is the most advisable. The hotel and catering industry is suitable for all budgets and the roads are perfectly paved.
Along the national road 7, you will discover the island in many facets. From the Highlands to the South, you will see contrasting landscapes, experience the hospitality of locals and visit some of the largest national parks in Madagascar, including Ranomafana and Isalo.
You will also experience unique moments by taking the Fianarantsoa train to Manakara. It is a must, because it allows to meet closely the population and at the same time, to appreciate the beauty of the landscapes Tanàla.
What to do and see in Madagascar in 2 weeks
If you follow this itinerary of 15 days in Madagascar, you can be sure to miss nothing on the inevitable of the Malagasy territory.
Day 1-2: Antananarivo
Antananarivo is the main entry point for a trip to Madagascar.
By taking the good security precautions for your jewelry, cameras and mobile phone, you will stroll in all serenity in interesting neighborhoods such as the Upper Town and the Queen's Palace, the royal hill of Ambohimanga or Isoraka and its houses ancestral.
You'll find countless open-air markets where you can find fresh produce or exotic spices.
Gourmets can treat their taste buds in the many restaurants of the city. The latter offer specialties from around the world, but also and especially local cuisine.
Do not forget to take a trip to Croc Farm to savor crocodile skewers.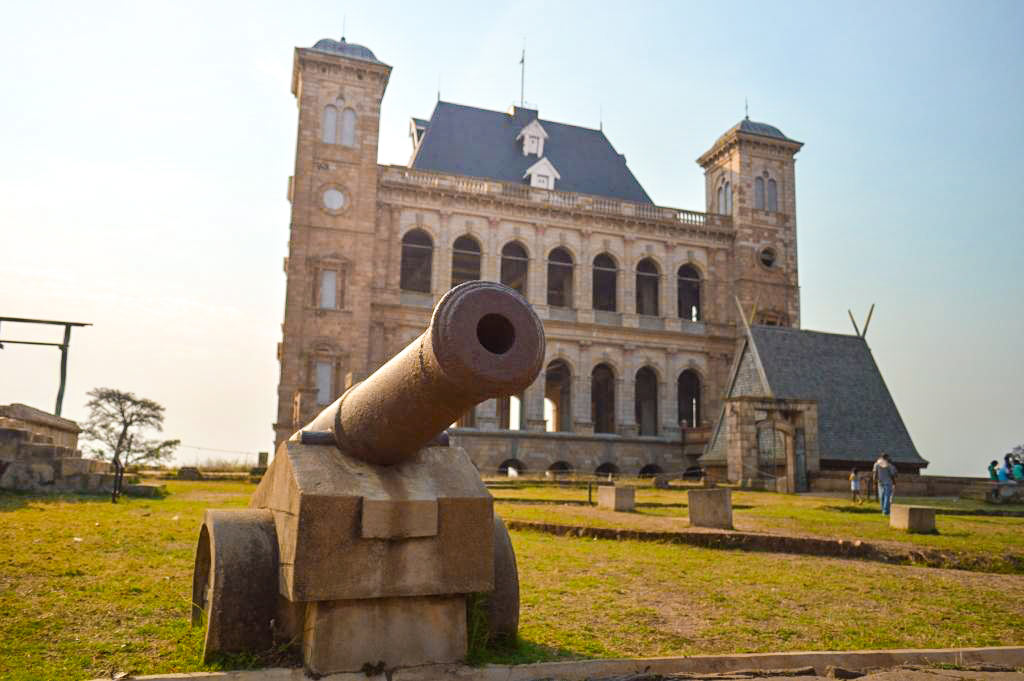 Art is also invited to Antananarivo. The collections are endless: miniature cars, embroidery, aluminum cookware and wood carving.
It is best to be accompanied by a local guide, because most street traders do not speak French.
For a nature outing, do not miss the Mantandia Nature Reserve, where you will meet nearly 14 species of lemurs, including the Indri, and discover orchids that you will only find in Madagascar.
You can also visit the Itasy region whose main attractions are the volcanic lake, the Analavory geysers and the fall of the Lily.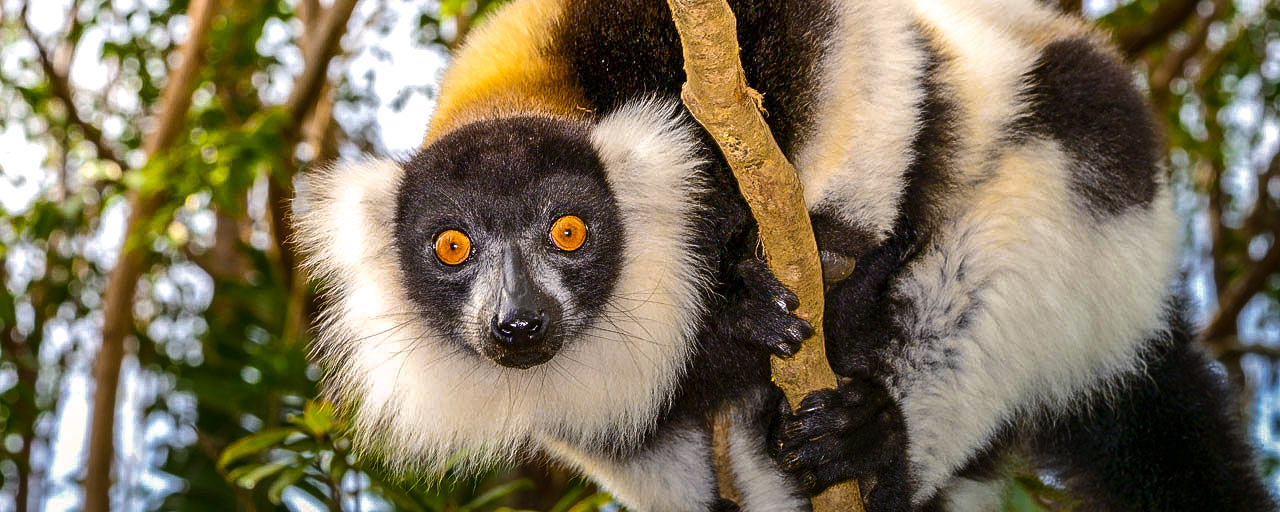 Suggestion of restaurant in Antananarivo
Sakamanga, a restaurant specializing in French and Malagasy cuisine. Menu price: 5 to 10 €.
Address : Lot IBK 7bis Street Ratianarivo Ampasamadinika.
Accommodation in Antananarivo
Here is our selection of hotels in Antananarivo, selected for their excellent price / quality ratio
Day 3-4: Visit Antsirabe and Ambositra
Antsirabe is 165 km from Antananarivo. If your journey is by rental car, you will have the opportunity to discover the famous handmade aluminum objects in the villages of Behenjy and Ambatolampy.
Along the way, you will also discover typical houses of the Highlands, red soil laterite, some Catholic and Protestant churches as well as open markets still lively.
When you stop in Ambositra during this 15-day tour of Madagascar, the capital of art, take a leap into the village of Zafimaniry.
The Zafimaniry community is an ethnic group known for their know-how in wood carving.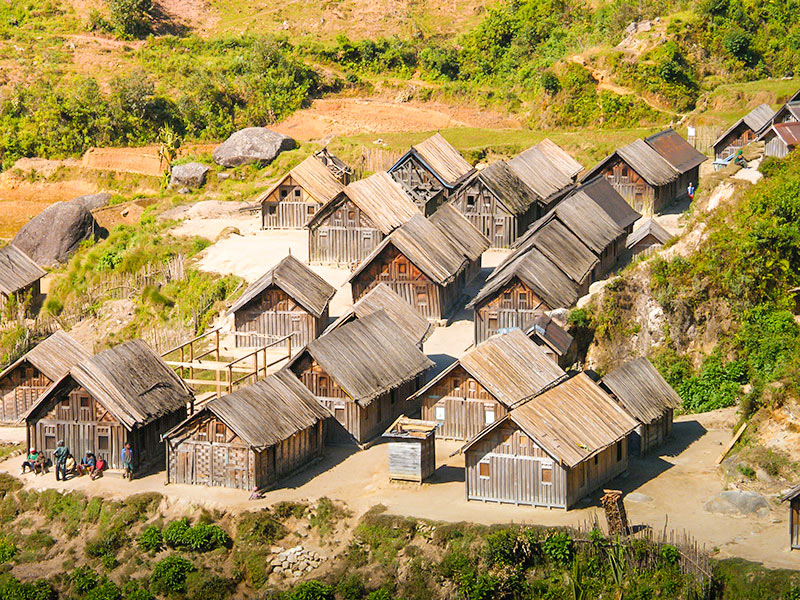 Transport Antananarivo – Antsirabe
By bush taxi: 3h to 3h 30mn for 170 km; transport costs from 2 euros.
By rental car: approximately 2h 30; Rental fees to do with a local agency.
It is worth remembering that the bush taxi route does not allow you to make frequent stops, but the main advantage is the affordable transportation costs.
If you choose to visit Madagascar in 2 weeks by using a car rental agency (with driver), the price is quite large, but you will be free of your time.
Plan in the 43 euros per day, fuel at your expense, for the rental of an all-terrain car. The food and the accommodation of the driver will not be your responsibility.
Antsirabe – Ambositra
By bush taxi: 2h 30mn for 93.1 km; transport costs from 5 euros.
Accommodation in Antisrabe
Antisrabe hotel: Very friendly staff and double room from 16 euros: The friendliest hotel in the area!
Marciloui guest houses: This is the best solution if you are looking for something a little more upscale and you are traveling in a small group! Apartment for 4 of 75 m² from 75 euros per night.
Day 5-6: Visit Fianarantsoa and train journey to Manakara
For this part of your 2 week itinerary in Madagascar, most of your visit is in the discovery of Betsileo granaries and its typical villages.
Do not forget to take a tour in the vineyards and vineyards including that of the Antsahamasina wine estate. You can taste wine and liquor.
Train from Fianarantsoa to Manakara
Note that there are only Tuesdays and Saturdays, leaving at 7 am. The trip can take about 8 to 12 hours for 172 km. The ticket costs about 11 euros in first class and 9 euros in second class, booking fees included.
This trip is an opportunity to discover the beauty of the remote landscapes of Madagascar as well as to make a brief immersion in the remote villages.
On each station, you will see street vendors rushing towards you to sell fruit, donuts or spices. You will get in touch with poor villagers, but especially smiling.
Accommodation in Fianarantsoa
Three Palms Guest House Fianar : Located 15 minutes walk from the train station, it's very convenient! Some rooms even have balconies. The hosts are very hospitable. Double room from 7 euros per night.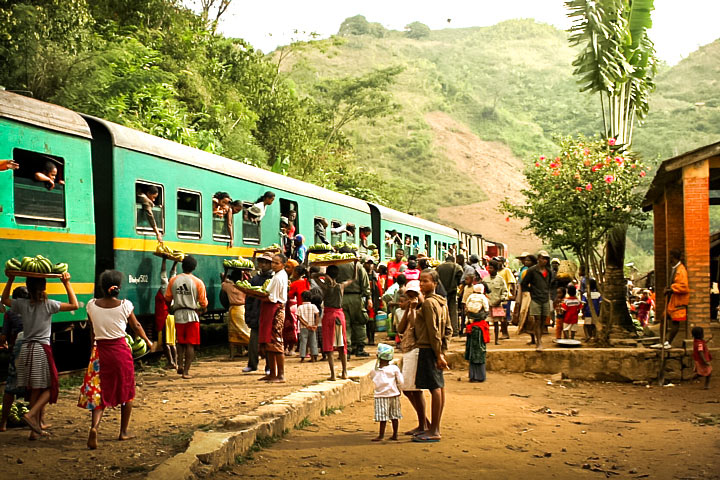 Day 7-8: Visit Manakara
The city of Manakara has about 40,000 inhabitants. It is a peaceful city where life is good and people are really welcoming.
You can walk there on foot or in rickshaw. Seeing the old buildings of the colonial time and the palm leaf houses, you will feel that time has stopped!
The only beach suitable for swimming in Manakara is located in the Commissioner's Hole, a few kilometers from the city.
The must of your stay in Madagascar, in this circuit, is the pirogue ride on the Pangalanes canal.
You will discover the daily life of the residents of this famous canal. The ideal for this excursion would be a picnic lunch with swimming.
Accommodation in Manakara
Hotel Lac Vert : Some rooms have a view of the lake! To book in advance, because the number of rooms available is very limited.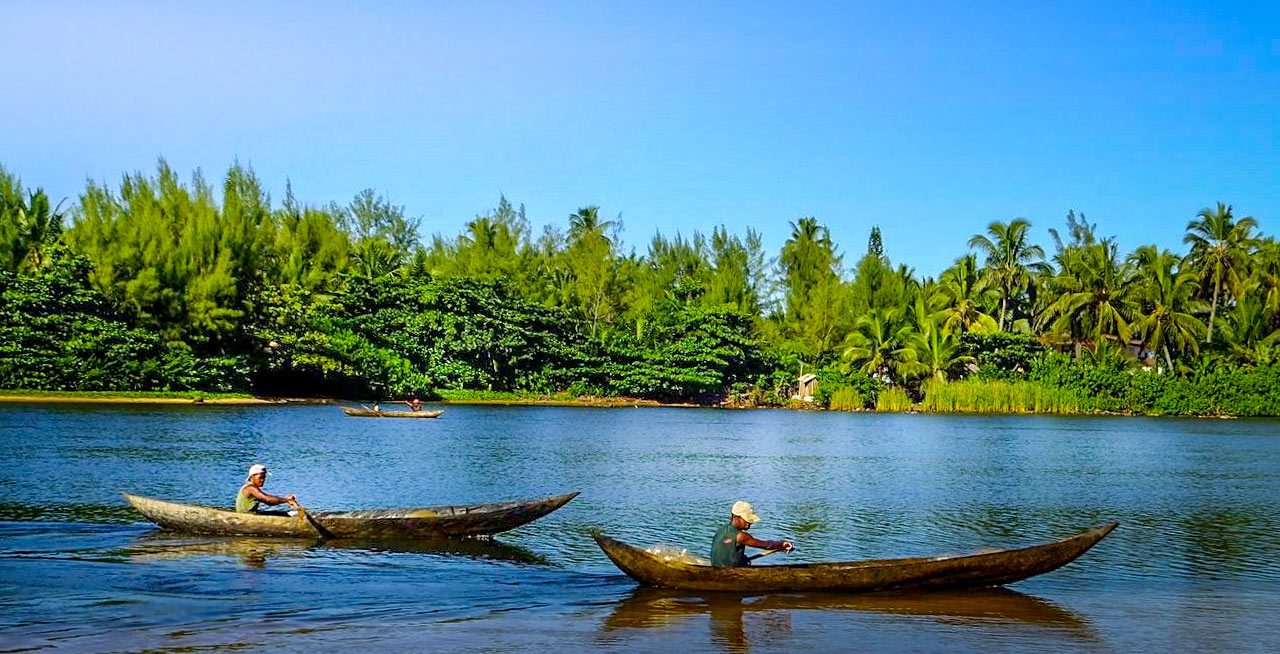 Day 9: Visit Ranomafana
Ranomafana is a village that is home to a national park of the same name.
You will discover all along the route the beautiful mountains of Ankaratra and rice terraces. A tradition modeled on that of Indonesia.
For the visit of the park, a local guide is imposed. The visit can last between 2 to 4 hours.
The park is home to lemurs, amphibians, chameleons, birds and many plant species that are largely endemic. Plan to visit the park very early in the morning to offer a massage and a swim in the hot pool in a tropical setting the rest of the day.
A night visit is also possible.
Transport Manakara – Ranomafana
By bush taxi: 5h for 265 km; transport costs from 4 euros.
Accommodation in Ranomafana
Hotel forest Austral Ranomafana : Simple but pleasant bengalows to live, located in a tropical garden near the park. The staff is very helpful and will help you organize your excursions.
Day 10: Direction south through Ambalavao
Ambalavao is a town located 56 km south of Fianarantsoa. It is famous for making sisal ropes.
The zebu market is held every Wednesday and Thursday in case you visit the city on these days.
If you can make a stop at the Bougainvilliers hotel, you will taste carefully preserved local wine in its cellar.
You can also take a tour of the antaimoro paper factory or its silk workshop.
Transport Ranomafana – Ranohira
By bush taxi: 6h for 365 km; transport costs from 8 euros.
Restaurant suggestion in Ambalavao
Restaurant of the hotel "Aux bougainvilliers" specializes in world cuisine with products from the region. Menu from 8 €
Address : Lot II G 6, located in front of the bus station Antsinanamanda, Ambalavao 303.
Day 11: Visit Ranohira and Isalo National Park
The journey to the south of Madagascar is a journey in its own right, as the landscapes are extremely diverse!
There, the ricefields give way to a desert landscape, the green mountains replace the rocky massifs.
Ranohira is the gateway to the Isalo National Park. It is a rural municipality with nearly 6,000 inhabitants.
Possible attractions are the bullfighting rodeos and the "ringa", a kind of hand-to-hand fight dedicated to men.
Near the entrance to the park is a guide house. They are licensed and speak several languages.


For the visits, several circuits are possible: hikes with halt in the famous green swimming pool of the Isalo, local immersion with visit of the historical places as the tombs Sakalava and Bara or the rice fields peasants. 
In the Isalo National Park, it is also possible to go on a mountain bike ride or to discover nature and explore the botanical site, the famous Tsingy. 
You will also see in the park some endemic species, such as orchids, lemurs and birds.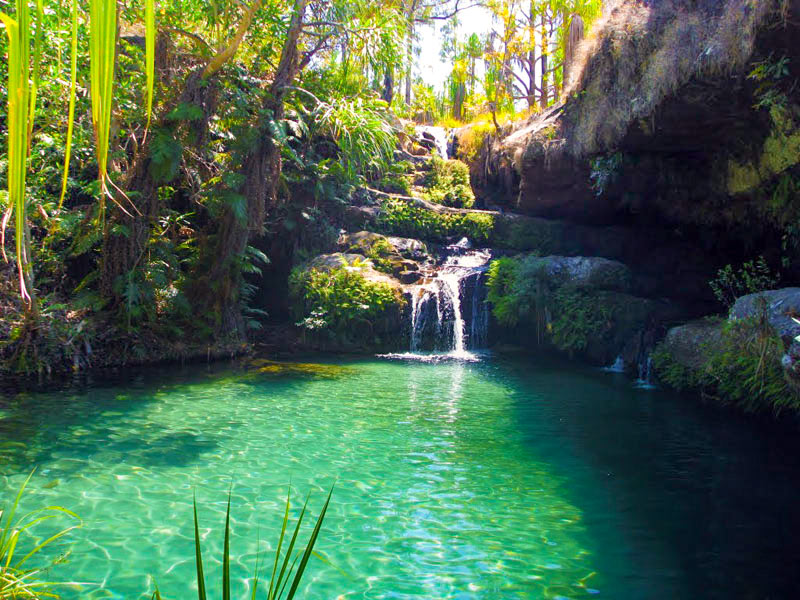 Where to eat in Isalo?
Isalo Ranch Hotel Restaurant: World cuisine with local products. Menu price: 11 €
Address : 313 Ranohira, Region Ihorombe Madagascar.
Accommodation in Isalo
Hotel H1 Isalo : Small bungalows with a view of the mountains, all for a very good price (35 euros per night), what more?
Hôtel le Jardin du Roy : What to say about this hotel, except that it is just beautiful and blends in perfectly with its surroundings with these stone houses. If you have to make a little fun during your trip to Madagascar, it's here! Night from 90 euros
Day 12-13: Relaxing Tuléar
Tulear is a fishing town. The arid climate is the main reason why locals focus, from generation to generation, on this sector of activity.
This is an advantage for you, because in almost every restaurant in the city, you can enjoy various freshly caught seafood dishes.
Apart from visiting the shellfish market, the Maritime Museum of the Institute of Fisheries Science, Museum of Arts and Traditions Mahafaly and rides rickshaw, you can bask on the white sand beach of Ifaty that located north of the city or Anakao, to the south.
Note also that all water activities are possible to know: kitesurfing, diving and sea trips.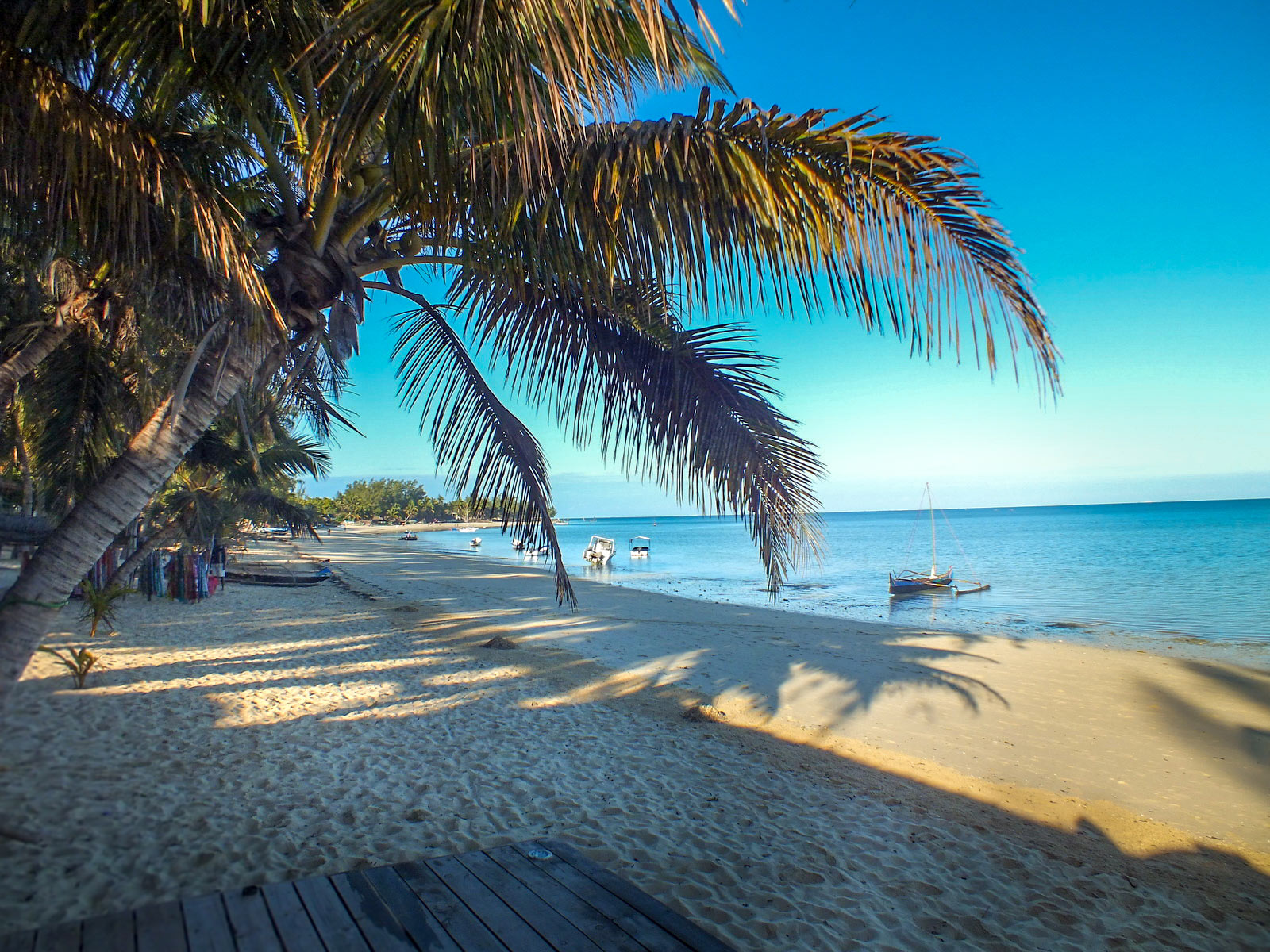 Ranohira Transport – Tulear
By bush taxi: 5h for 270 km; transportation costs from 3 euros
Suggestion of restaurant in Tulear
"Starfish", a restaurant specializing in seafood dishes, also offers world cuisine. Price between 3 and 8 €.
Address : Boulevard Lyautey TULÉAR.
Accommodation in Tulear
Bohobe Naboty : Charming bed and breakfast in the middle of palm trees at an unbeatable price: 29 euros per night!

Moringa Hotel : Very nice hotel in Tsianaloka, 2km from Tuélar. The best choice below 100 euros! Overnight from 60 euros
Bakuba Hotel : Located in Ankilibe, about 10 minutes from Tulear and 2 minutes walk from the beach. If we had to summarize it in one word: extraordinary! Night in a double room from 115 euros.
Day 14: Back to Antananarivo
The Tuléar – Antananarivo journey takes about 15 hours by private car and 24 hours by bush taxi for 950 km. The costs for public transport are from 15 euros.
So you have a day to rest or stroll through the streets of the capital before your flight.
2 weeks in Madagascar: the practical map of your itinerary.
Summary of your 2 weeks of travel to Madagascar
Madagascar is a big island, in 15 days it is not possible to see everything and do everything.
This suggested route to visit Madagascar allows, however, to discover the beauty of the island by yourself.
It is always better to go off the beaten track and stop occasionally to enjoy the beautiful scenery or have a little photo shoot.
If you have been to Madagascar for 2 weeks, what was your itinerary? What would you recommend to our readers?
Are you going to Madagascar? Read also:
Top 10 Things to Do in Madagascar