Ultimate 3-Week Mexico Itinerary
Do you want to visit Mexico in 3 weeks?
Good idea!
To help you organize your trip, I have prepared the best 21-day itinerary in Mexico that will allow you to discover the great diversity of the country by traveling through many states, each as fascinating as the next.
Your trip will begin in Mexico City, then you will go to Puebla, the cradle of the Mexican Revolution, before going to Oaxaca known for its cultural richness.
You will then set off to explore the fabulous Chiapas to discover its most beautiful natural sites and traditional villages, as well as the ancient city of Palenque hidden in the jungle.
For the 2nd part of the trip, you will tour the Yucatan Peninsula , starting with the colonial city of Campeche, then the beautiful Mérida, the site of Uxmal and the pink flamingos of Célestun.
You will visit the famous Mayan city of Chichen Itzá and the colonial city of Valladolid, before resting for a few days on the paradise island of Holbox.
You will then arrive on the Riviera Maya, where the white sand beaches of Tulum, the Mayan cenotes, and the Sian Ka'an reserve await you .
You will spend the last days of the trip in Playa del Carmen, ideally located to discover the island of Cozumel and the caves of Rio Secreto.
For each step, I have included my practical tips with my hotel recommendations for all budgets.
So,  what to do and see in Mexico in 3 weeks? 
Day 1-2: Mexico City
Mexico City's  Benito-Juárez International Airport is one of the largest in Latin America and receives flights from all over the world.
It is therefore the ideal starting point for your 3-week trip to Mexico!
As soon as you arrive, take possession of your rental car. 
After dropping off your luggage at the hotel, leave without delay to explore the great city of Mexico because there is a lot to do and see.
Here are some ideas for visiting Mexico City in 2 or 3 days:
Visit the National Museum of Anthropology which is one of the  most important museums in the world  and the magnificent  Castillo de Chapultepec which are located in Chapultepec Park. Buy your tickets with guided tour here!
The historic center of Mexico City: the cathedral and the templo mayor, the murals of Diego Rivera in the Government Palace, the Zocalo, the facade of the Casa de los Azulejos, the Palacio de Bellas-Artes. Plan for half a day.
Attend the famous Mexico City Folkloric Ballet show – Buy your tickets here!
Frida Kahlo 's house in the Coyoacan neighborhood and the Xochimilco canals . You can book the visit here!
See the mariachis in Plaza Garibaldi  in the evening, tequila in hand – Book your evening in Plaza Garibaldi with hotel pickup
Stroll through the pretty neighborhoods of La Roma and Condesa with their parks, bars, restaurants, terraces and shops
Take the tourist bus of Mexico whose ticket is valid on all the circuits proposed. You can book your ticket here!
Teotihuacan is arguably Mexico City's biggest must-see! Classified today as a UNESCO World Heritage Site, it is estimated that it was, in its time, one of the largest cities in the world. Book your morning guided tour here, to avoid the crowds.
See a lucha libre fight where masked wrestlers compete in an electrifying atmosphere – Reserve your place for the fight (with mask and tequila!)
Tips for your Mexico itinerary:
To know everything about the great capital, you can also read:
Accommodation in Mexico
Hostel Mundo Joven Catedral (historic center): one of the best hostels in Mexico City. Friendly staff, simple but clean dorms and rooms. We fell in love with its roof terrace with bar  which offers a great atmosphere in addition to an  exceptional view  of the cathedral and the Zocalo. From only €14 in a dormitory and €30 in a private room!
Hotel Villa Condesa  (Condesa): If you are looking for a  romantic hotel in Mexico City, here is a little oasis of peace in the heart of the La Condesa district. It is an elegant house with small green terraces and tastefully decorated lounge areas. The rooms are spacious and modern, the service is particularly attentive and the breakfast is very good. From 150€ per night
Hotel Casa Goliana (Roma Norte): high-end hotel with the best quality-price ratio  in its category, located in a  house from the beginning of the 20th century, typical of the La Roma district. Roof terrace, comfortable rooms, very attentive staff and good breakfast. From 180 euros per night
Four Seasons Hotel Mexico City (Juarez): this 5* hotel is one of the best hotels in Mexico, ideal for a business trip or a romantic stay. Located on Paseo de la Reforma between Colonia Juarez and Roma Norte. Large indoor garden, gym, swimming pool, spa, restaurant and bar. From 600 euros per night!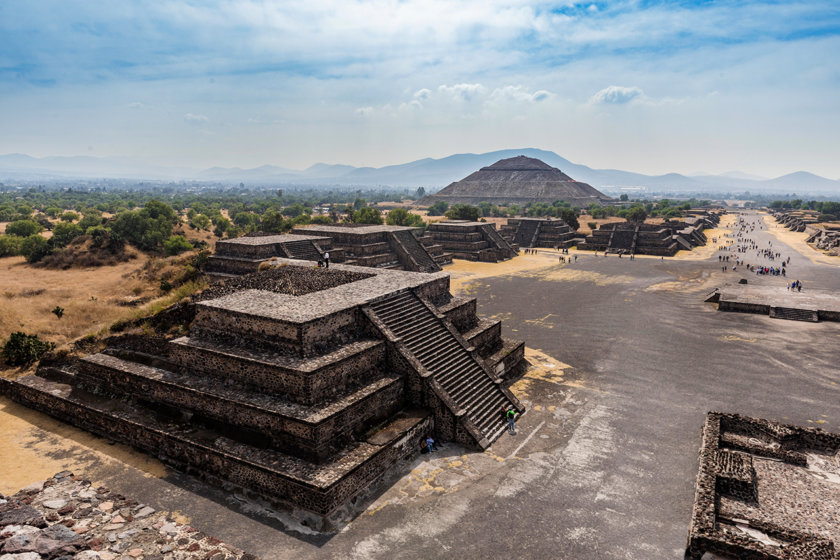 Day 3: Cholula and Puebla
In the morning, leave Mexico City and take the road to Puebla, a state not to be missed when traveling to Mexico.
First go to Cholula, known mainly for its Great Pyramid : it is the largest monument ever built by man and the largest archaeological site with a pyramid in the New World!
You can now visit its interior galleries to discover the different stages of its construction, which would have spanned 1000 years.
Then dedicate the day to visiting Puebla, just 25 minutes from Cholula.
It is a colonial city known for its traditional pottery, its cultural richness, but above all for its historical importance since it is considered the cradle of the Mexican Revolution.
You can discover the historic center of the city, declared a World Heritage Site by UNESCO, on foot :
The Zocalo  which is the main square of Puebla with the cathedral (the 2nd largest in Mexico!), the municipal palace, several restaurants and cafes with terraces.
The Palafoxiana library which was the first public library on the American continent (17th century) and which contains 43,000 volumes
The Capilla del Rosario of the Santo Domingo Temple (17th century), a great example of Mexican Baroque which stands out for the richness of its interior
The International Baroque Museum, the Amparo Museum with its friendly roof terrace and the Revolution Museum
The El Parian craft market, the best place to buy typical crafts like the famous talaveras
Calle de los Sapos, a pedestrian street with colorful facades, restaurants, cafes, shops, bars. One of the best places in Puebla to take photos!
The Analco district, one of the oldest in Puebla, and the Xanenetla district which has become the heart of the city's street art with its 75 murals
Explore the secret tunnels built between the 17th and 19th centuries between Puente de Ovando and Pasaje Historico 5 de Mayo 
Discover the Puebla Forts area with Forts Loreto and Guadalupe, the cable car, and the  free projection show (Thu-Sun at 8:45 p.m.)
Also try Ancho Reyes, a local liqueur made from dried poblano peppers, and traditional sweets from Calle de los Dulces.
Spend the night in Puebla.
Get to Puebla from Mexico:
By car: 2h15 south Mexico Highway – Puebla / Mexico 150D
By bus: departure from TAPO terminal with Estrella Roja or ADO bus to Puebla.
Tips for your Mexico itinerary:
If you go by bus, I recommend going only to Puebla because there is already a lot to see!
If you still want to go to Cholula, from Puebla take a bus from the CAPU terminal or the "Directo Cholula" from the Terminal de Autobuses Cholula y Anexas which leaves you 3 blocks from the Cholula pyramid .
As an organized excursion:  a very practical option for visiting Puebla and Cholula from Mexico City!
It includes pick-up from your hotel, visit to the Great Pyramid of Cholula and the Church of Our Lady of Remedies, lunch, and a visit to the major attractions of Puebla.
Accommodation in Puebla
NH Puebla Centro Histórico: here is a hotel in the historic center, roof terrace with swimming pool, gym, parking, good wifi and buffet breakfast included. From 45 euros per night!
Hotel Santiago: practically around the corner from the zócalo, with a roof terrace that offers a beautiful view of the cathedral. Room from only 52 euros per night!
Hotel Boutique Casareyna: this is a good option if you are looking for more comfort. It is a 16th century mansion located just off the Puente de Bubas, transformed into an upscale hotel that offers spacious rooms, a swimming pool and jacuzzi on the roof, a gym, and a spa. Free parking and hearty breakfast included. From just 107 euros per night!
Banyan Tree Puebla: this is my favorite hotel in Puebla, perfect for a romantic getaway or simply to enjoy luxury comfort in the heart of the city. Terrace with garden, swimming pool and spa on the roof with views of the volcanoes, elegant restaurant, very good breakfast. From 208 euros per night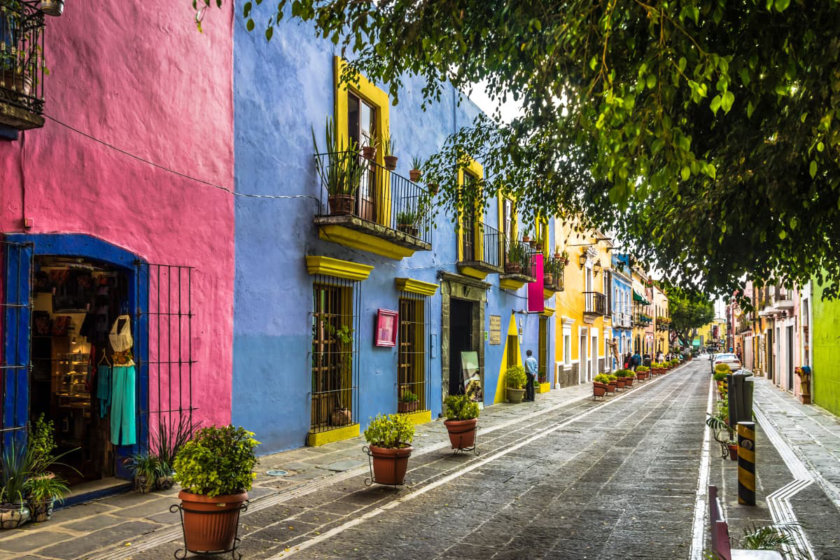 Day 4-6: Oaxaca
The state of Oaxaca is known for the richness of its culture, its crafts and its gastronomy.
There is a lot to see because it is a large region, but since you will only spend 3 days in Oaxaca on this 20-21 day road trip in Mexico, here is what I suggest for a program:
Some useful reading:
Day 1 – City of Oaxaca de Juárez
In the morning, depart Puebla for the city of Oaxaca de Juárez, the beautiful capital of the state of Oaxaca.
The church and ex-convent of Santo Domingo de Guzman is a must-see in Oaxaca with its baroque facade, its chapels, its pure gold altarpiece and pretty cloister with fountain.
There is the Museum of Cultures, considered the most important museum in the state of Oaxaca, with an exhibition that covers the period from 10,000 BC. BC until the 20th century!
It is also here that we find the famous Ethnobotanical Garden of Oaxaca which hosts hundreds of species of plants from different regions of the State of Oaxaca.
There is also a cactus of 5 tons whose age is estimated at 1000 years!
You should definitely not miss the Mercado 20 de Noviembre, the best-known market in Oaxaca with its grilled meat corridor nicknamed "Pasillo de Humo".
But in addition to meat, there is a wide gastronomic variety and it is therefore the best place to taste traditional local cuisine at a good price : tlayudas, tamales, mole negro, oaxaqueño chocolate, etc.
Discover the main square, the Metropolitan Cathedral of Oaxaca, the Government Palace where there are magnificent murals, and stroll along Andador Turistico, one of the prettiest streets in Oaxaca with museums, art galleries, restaurants and boutique shops. craftsmanship.
Spend the night in Oaxaca
Getting to Oaxaca from Puebla:
By car: 4 hours for Córdoba – Puebla / Mexico 150D then Mexico 135D International Highway in the direction of Oaxaca de Juárez
By bus: 4h40 by ADO bus. I recommend taking the 8:25 am departure to arrive at 1:05 pm and not waste the day!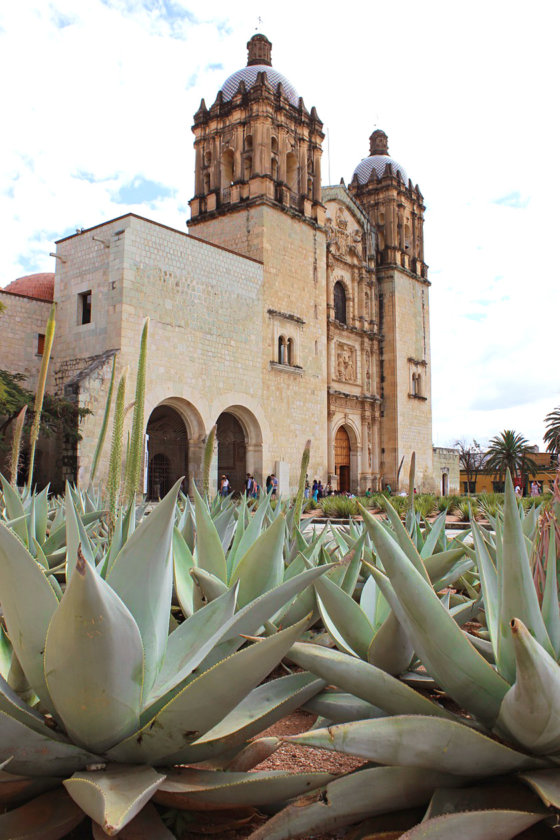 Day 2 – Boil the Water
70km from the city of Oaxaca, Hierve el Agua is a set of petrified waterfalls which overlook a valley.
It's a magnificent destination not to be missed during a 3-week stay in Mexico!
You can take the path (20 min) to the foot of the falls, then continue uphill to the water basins, taking advantage of several watchtowers.
It is a favorite spot for photographers because the landscape is unique, but you can also swim there and the water is warm all year round.
Getting to Hierve el Agua from Oaxaca:
By car: take Carretera 190 towards Istmo de Tehuantepec, then take the diversion towards Hierve el Agua via Carretera 179
By bus: take a colectivo or bus from here to Mitla (50 min), then another colectivo from Mitla terminal to Hierve el Agua (50 min)
On an organized excursion: this is the best option so as not to worry about transport because it includes pick-up from your hotel in Oaxaca.
The tour begins with  Santa Maria Del Tule to see its giant tree 40m high, then you will go to Teotitlán del Valle renowned for its textile crafts.
You will then visit Mitla, the 2nd most important archaeological site after Monte Alban, before leaving for Hierve el Agua where you will have free time for swimming.
The day ends with a visit to a traditional mezcal distillery, with tasting, before returning to Oaxaca.
You can book by clicking here.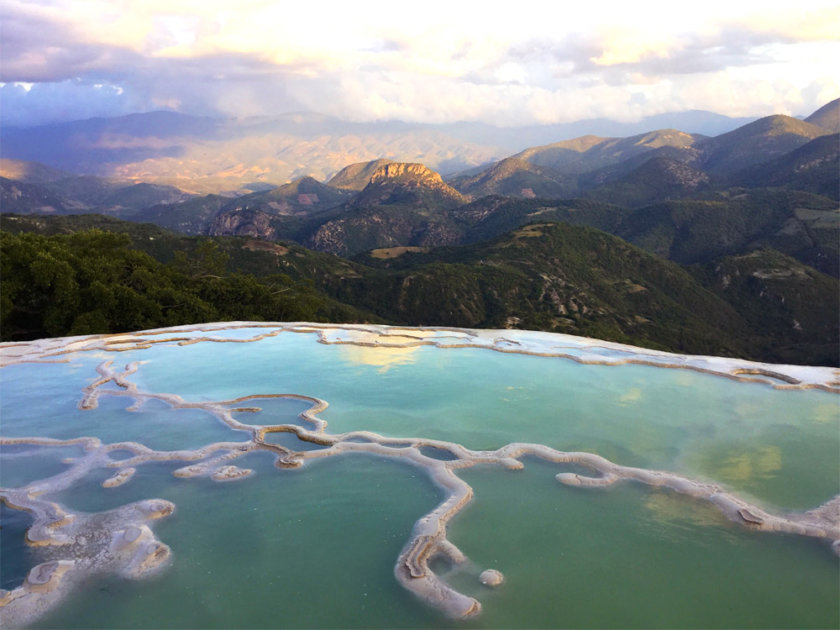 Day 3 – Monte Alban and villages
Designated cultural heritage of humanity by Unesco, Monte Alban is the most important archaeological site in the region!
It was an important urban, political and ceremonial center, occupied for more than 1500 years by the Olmecs, the Zapotecs and the Mixtecs.
Today you can visit the site's museum and climb the many structures to get magnificent views of the surrounding area.
Monte Alban is only 20 minutes from the center of Oaxaca City and is therefore quite easily accessible.
For a much more complete experience, this excursion takes you first to Monte Alban, then through a cultural route to discover the art of the region:
The village of San Antonio Arrazola whose artisans specialize in creating Alebrijes, colorful figures renowned across the country which generally represent fantastical creatures
Cuilapam de Guerrero, a town with Mixtec origins , where it was built in the 16C. a Dominican monastery considered an architectural gem
San Bartolo Coyotepec renowned for its art of "  barro negro ", its black clay pottery which you can see being made in a workshop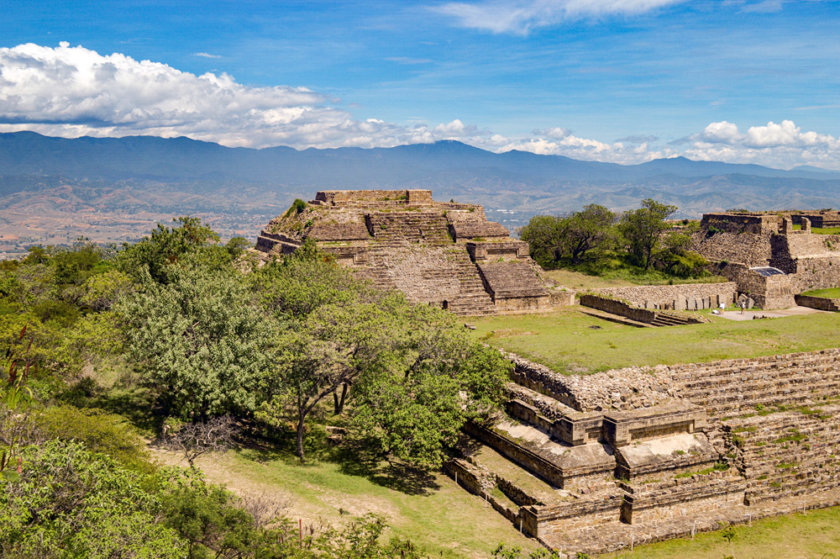 Accommodation in Oaxaca
Andaina Youth Hostel : here is the best option for cheap accommodation in Oaxaca. It's a small hotel perfectly located a stone's throw from the zocalo, with a roof terrace, clean rooms and a good atmosphere. From just 13 euros in a dormitory or 21 euros for a room per night! 
Casa Barroco Oaxaca : the hotel is located a stone's throw from the main square, in a  colonial house classified as  Historic Heritage  with two pretty patios. From just 77 euros per night!
Casa de Sierra Azul : for more comfort, here is a  19th century house  with enormous charm, with very welcoming, green, and carefully decorated common areas. Bicycles available to guests and  a good restaurant  on site. From just 120 euros per night!
Quinta Real Oaxaca : this  boutique hotel located in a former 16C  convent is the  ideal place for lovers. It has retained its  authentic character  while offering modern comfort and a  romantic atmosphere. Beautiful gardens, swimming pool, gym, restaurant, mezcal bar and live music on weekends. From 272 euros per night
Day 7-9: San Cristobal de las Casas
Leave Oaxaca to discover another must-see region during a 3-week Mexico itinerary: the fabulous Chiapas!
Day 1 – Today take the road to San Cristobal de las Casas, the  cultural capital of Chiapas.
It will be necessary to leave early to succeed in enjoying the day because it is a 9h road that awaits you.
If you are taking this  trip to Mexico by bus, you can take the night bus the night before.
In San Cristobal de las Casas you can discover the cathedral, the Center for Textiles of the Mayan World with its exhibition of 500 magnificent pieces from Chiapas and Guatemala, the Church of Guadalupe and the Na Bolom cultural center .
Also take a stroll on Real de Guadalupe, a charming pedestrian street with cafes and restaurants.
Spend the night in San Cristobal de las Casas
Getting to San Cristobal de las Casas from Oaxaca:
By car: 9:20 a.m. by Carretera Oaxaca – Tehuantepec / Tehuantepec – Oaxaca / México 190; La Ventosa – Salina Cruz Superhighway 185D; San Pedro Tapanatepec/Mexico 190 in the direction of Tuxtla Gutierrez and finally Highway 190D near San Cristobal de las Casas.
By bus: direct night bus with OCC, departure at 10:30 p.m. arrival at 10:25 a.m. On Friday and Sunday, there is also a departure at 9 p.m. with arrival at 8:55 a.m.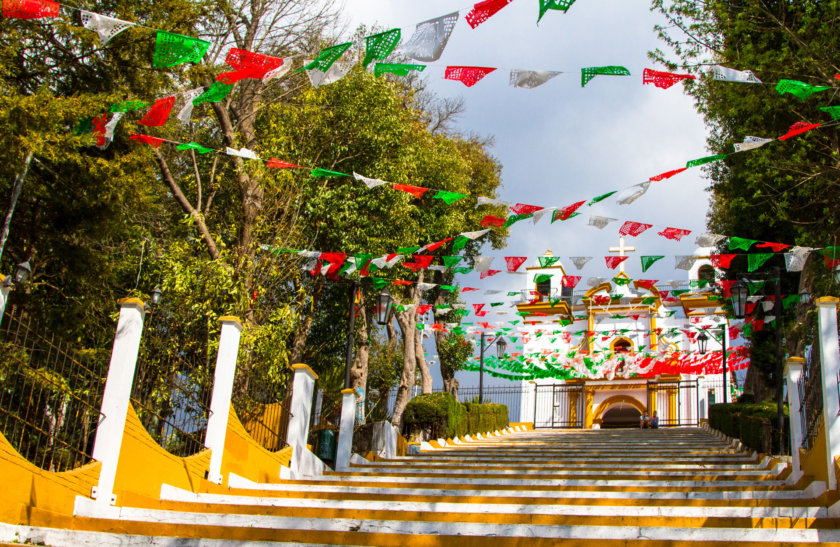 Day 2 – El Chiflon and Lakes of Montebello
Today you will discover two must-see natural sites in Chiapas.
In the morning, start with the El Chiflon Waterfalls, hidden between mountains and tropical forest.
It can be easily accessed via an ecotourism center with a one kilometer trail which allows you to explore 5 falls, the highest of which rises to 120m.
After a 1-1.5 hour walk, continue towards the Montebello Lakes which are located on the border with Guatemala.
Both a national park and a Biosphere reserve, it is a protected forest of 60 km² which is home to around fifty lakes!
Of course you can't see them all, but I recommend Lake Tziscao, Lake Pojoj, Cinco Lagos and Lake Montebello.
Getting to El Chiflon and Montebello from San Cristobal:
By car : 2 hours to El Chiflon in the direction of Comitan de Dominguez. For the Montebello park (1h40) you have to go back to Comitan, and take the 190 and the 307. Be attentive and careful because there are a lot of curves and speed bumps on the road.
By public transport: this is not a recommended option because you have to make several connections and the return transport will be complicated.
As a day trip : this is the option I chose because it is by far the most comfortable considering that it is a long day. The excursion lasts from 8 a.m. to 8 p.m., with hotel pickup, free visit to the El Chiflon waterfalls, and visit to 4 Montebello lakes.
You can book the excursion here.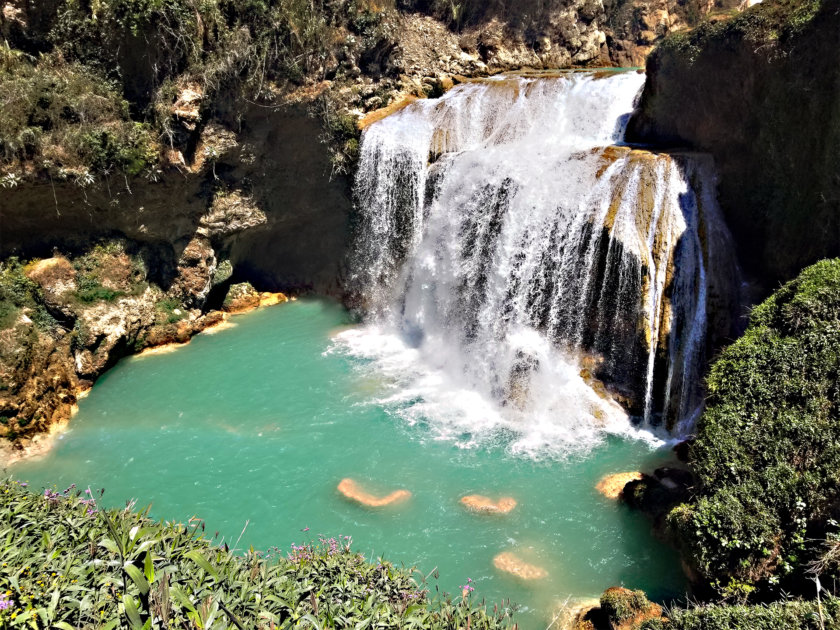 Day 3 –  Sumidero Canyon  or the Tzotzile villages
For this last day in the region, choose between two excursions: the Sumidero Canyon or, to discover the local culture, the villages of Zinacantan and San Juan Chamula.
Option 1 – Canyon du Sumidero
It is a national park that covers more than 20,000 hectares and protects a large canyon formed more than 35 million years ago.
You can get different points of view on the impressive canyon by taking a boat trip (2h30) on the Gijalva river which crosses it and following the route of the watchtowers.
The ideal is really to do both for the complete experience!
Getting to Sumidero Canyon from San Cristobal:
By car: take the road "Libramiento Norte" then follow the indication "Calzada Al Sumidero" towards the northeast
By public transport : if you travel by bus, I recommend only taking the boat tour because it is the most accessible. Take a bus (1h15) to Tuxtla Gutierrez, then a bus (45 min) to the main square of Chiapa de Corzo. From there, go to the Chiapa de Corzo pier.
On an organized excursion:  this is the option I chose like many travelers and I loved my experience. The tour is done in a small group, and includes transport from San Cristobal, the boat tour with the viewpoints, as well as a stop at the village of Chiapa de Corzo.
You can book the excursion here.


Option 2 – Zinacantan and San Juan Chamula
These traditional Mayan Tzotzile villages are only 30 minutes from San Cristobal de las Casas  and can therefore be easily visited in half a day.
In Zinacantan, you can see the typical church of San Lorenzo and discover the traditional textile manufacturing techniques that the village is famous for.
San Juan Chamula is mainly known for its church where one can see an impressive blend of Catholic beliefs and Mayan rituals.
Tips for your Mexico itinerary:
They are autonomous, self-managed communities that establish their own laws and are responsible for enforcing them.
It is important to follow certain rules such as paying an entrance fee and above all not taking photos inside the churches.
Getting to San Juan Chamula and Zinacantan from San Cristobal:
By car : for San Juan Chamula, take the Puerto Caté-San Cristobal highway (23min), and for Zinacantan, deviate at km9 on Calzada Juarez/Zinacantan (24 min).
By public transport : by bus (15 pesos) after the municipal market
As a day trip : I went on an excursion there and I recommend it because the information from the guide was very interesting! It is a small group tour with visit to Zinacantan (textile demonstration and tasting of pox, a traditional liquor) and free visit to San Juan Chamula. To book easily here.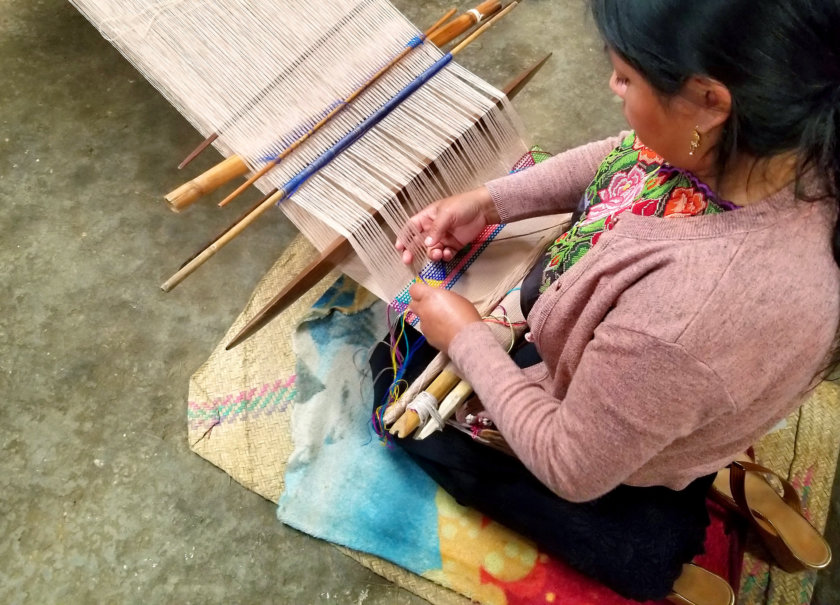 Accommodation in San Cristobal de las Casas
The Coffee Bean Hostel : very friendly hostel with nice common areas , restaurant-bar, garden, terrace with hammocks, pool table and several breakfast options. From just 11 euros in a dormitory!
Parador Margarita : just 3 blocks from the main square and the bus station, it is a small haven of peace with its garden and very comfortable beds. Wifi and breakfast are included. From just 42 euros per night!
Hotel Diego de Mazariegos : the hotel is located in a superb 18th century casona, which has retained its Mexican colonial style, charming interior patio with a fountain, and classic decoration in warm tones. On site, there are two restaurants and a bar. Wifi and breakfast included. From just 67 euros per night!
Casa Lum Hotel Eco Chic : it's definitely my favorite in San Cristobal de las Casas! It is a small, chic and intimate hotel, between modernity and traditional design. There is a very good restaurant, a terrace with panoramic views of the city and a garden. A stone's throw from the central square and all the action, it is the ideal getaway for lovers. From 150 euros per night!
Day 10: Palenque
Set off to discover Palenque, one of the most important archaeological sites in the world, which should of course be included in a 3-week Mexico itinerary!
From San Cristobal de las Casas it will take 5h-5h30 and to lighten the road I recommend these stops:
Toniná : a Mayan site whose main pyramid is twice as high as the Pyramid of the Sun at Teotihuacan
Agua Azul Waterfalls : Turquoise waterfalls located in a Biosphere Reserve. You can swim there!
Misol-Ha : a 30m waterfall in the jungle where you can also swim.
Upon arrival in the city of Palenque, take time for lunch to regain strength before visiting the ancient city of Palenque. 
This city protected by lush vegetation was one of the most powerful of its time, just like Tikal in Guatemala or Calakmul.
Start with the Palenque Museum, one of the most important museums dedicated to Maya archaeology, which offers a very good introduction to the site.
There are many structures to discover such as the Palace, which is the largest complex in Palenque, the Group of the Cross, and the famous Temple of Inscriptions where the tomb of the ruler K'inich Janaab' Pakal 1st was found (7 e ).
If you have visited the National Museum of Anthropology in Mexico City, you have certainly seen the impressive reconstruction of its burial chamber!
Spend the night in the town of Palenque.
Getting to Palenque from San Cristobal de las Casas
By car : take the Carretera 199 which passes through Ocosingo (5h). Misol-Ha and Agua Azul are on the 199. For Tonina you have to take the deviation on the Carretera 218 in Ocosingo.
By public transport: 9am by direct bus to Palenque (departures at 5am and 8am). For Misol-Ha and Agua Azul, take a colectivo to Ocosingo, then another colectivo to Palenque.
As a day trip: considering the long journey, the easiest way is to take a day trip from San Cristobal de las Casas.
This is a complete tour that includes pickup from your hotel, breakfast, visits to Agua Azul, Misol-Ha and the Palenque site .
Accommodation in Palenque
Mitico El Castillo : an atypical hotel that looks like a film set, with its castle that houses a bedroom, dormitory, swimming pool and kitchen. This is the best cheap hotel in Palenque, from only 13€ dormitory or 27€ the room!
Cabañas Kin Balam Palenque : another budget hotel in Palenque that has the advantage of being in the jungle, with fruit trees and the sounds of exotic animals and within walking distance of the ruins. With swimming pool and restaurant, from only €22 for a dormitory or €40 for a room!
Chan Kah Resort Village: ideal hotel to relax during a family trip to Palenque which offers excellent value for money. Bungalows that can accommodate 2 to 4 people, 2 large natural swimming pools, bar, restaurant and spa. From only €75 per room!
Villas Adriana : an ideal oasis of peace for couples, with rooms and villas in the jungle, swimming pool, hammocks, large gardens, roof terrace. Delicious breakfast included, from 80€ per night!

Day 11: Campeche (1-2 days)
Campeche is a fairly quiet colonial city, not very touristy, but whose old fortified city,  declared a UNESCO World Heritage Site, has a lot of charm.
In one or two days in Campeche you can:
Walk along the city walls of Baluarte San Francisco to Baluarte San Carlos which houses the city museum
Visit the Mayan Architecture Museum
See the main square, with the cathedral, El Palacio  cultural center   and  Casa no6
Take the tourist tram that takes you through the main attractions of Campeche in 45min-1h
Visit the archaeological site of Edzna, founded in 600 BC, just 1 hour from Campeche
Taste the chocolates of Chocol'Ha, with its pretty typical Mexican decoration
Take a walk on the Malecon facing the Gulf of Mexico, the perfect place to watch the sunset
Getting to Campeche from Palenque:
By car: 4h40 take the 199 Palenque-Pakana, then Villahermosa-Chetumal 186 to Escarcega. Finally the 180D to Campeche.
By bus: there are two night ADO buses (12:50am-6:50am and 2:20am-8:20am) as well as a day bus at 11:20am which arrives at 5:20pm.
Accommodation in Campeche
Melisa Hostal : hostel very well located in a beautiful typical house in the center of Campeche , very friendly welcome, small swimming pool, access to the kitchen, clean places and comfortable mattresses. Bed in dormitory  from only 18 euros per night
Casa Serena Beautiful Colonial Loft : This is a spacious apartment right in the center of Campeche that offers excellent value for money. With air conditioning, living room, kitchen, terrace, good wifi and breakfast included. It can accommodate 2 to 4 people, from 115 euros per night!
Hotel Boutique Casa Don Gustavo : an elegant, fully restored 18th century mansion on a pedestrian street in central Campeche. A nice mix between modernity and period decoration, comfortable rooms with air conditioning. Wifi, outdoor swimming pool, jacuzzi and a very good à la carte breakfast await guests. From 150 euro!

Day 12-13: Merida
For this new stage of your tour in Mexico, leave Campeche for Mérida, the capital of the state of Yucatan.
It is a city that, although larger and more touristy, will certainly remind you of Campeche thanks to its architecture.
In two days in Mérida you can:
1. See the pink flamingos of Célestun
The village of Célestun is the gateway to the Célestun Biosphere Reserve, the best place to see flamingos in Mexico!
You can get closer with a boat trip (1h20-2h30) which takes you to discover the reserve and bathe in a fresh water spring in the middle of nature.
In addition to the boat tour you can enjoy the beaches of Célestun which are much quieter than those of the Riviera Maya which await you further on in your Mexico itinerary. 
Getting to Celestun from Mérida : 1h30 by car via highway 181, by ADO bus 2h30 from Terminal Noreste
It is also possible to take this organized excursion from Mérida with pick-up from your hotel, the boat trip to see the flamingos, swimming, visit to the mangroves and lunch on the beach. To book here.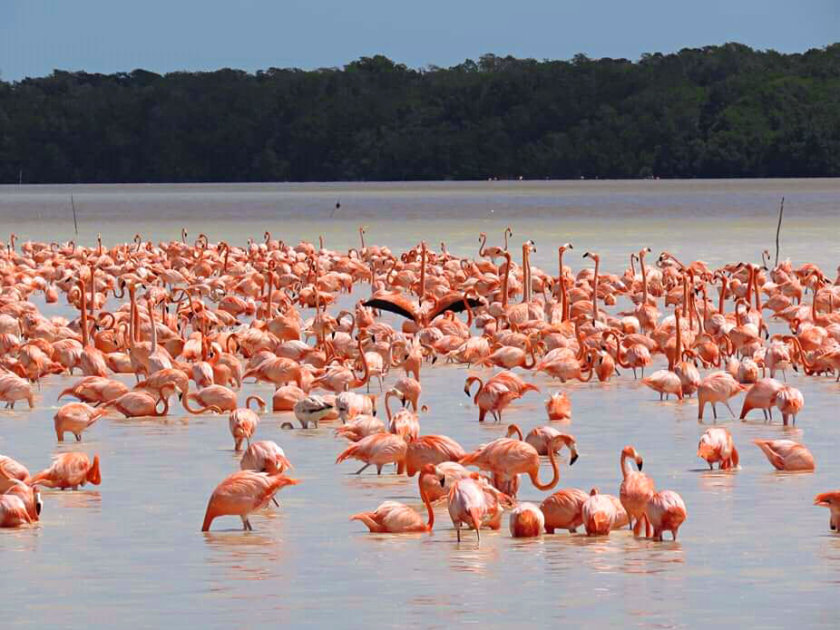 2. Stroll around the city of Mérida
Mérida is known to be the safest city in Mexico and you can therefore walk around peacefully.
You can explore Plaza Grande , where the Casa de Montejo, the cathedral and the Macay Museum are located , then walk down Calle 64 to see its pretty, colorful houses.
Visit the Great Museum of the Maya World and its collection of 1000 archaeological pieces.
Take the Paseo de Montejo to the Palacio Canton which houses the Yucatan Regional Anthropology Museum.
In the evening, don't miss the atmosphere of Parque Santa Lucia with its terraces and music!
For a very nice local experience, I suggest this tour which takes you to the Mérida market  before taking a typical Yucatan cooking class.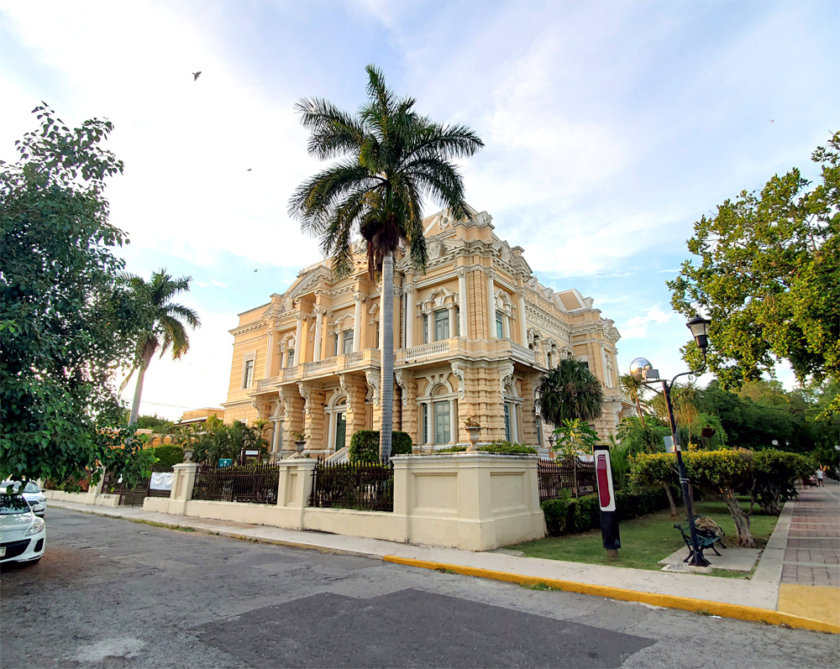 3. Visit the archaeological site of Uxmal
Uxmal was one of the most important Mayan cities, and a great ally of Chichen Itza.
Built between the 5th and 6th centuries, it stands out for the richness of the reliefs on its facades, typical of the Puuc style.
You can see, among other things, the Pyramid of the Soothsayer, the Great Pyramid, the Quadrangle of the Nuns, the Mayan ball court and go up to the Palace of the Governors which offers a beautiful view of Uxmal!
After the visit, you can also take a trip to the Choco-Story chocolate museum with its beautiful tropical garden and the Mayan site of Kabah just 20 minutes from Uxmal.
Getting to Uxmal from Mérida :
By car : 1h15 via Carretera Federal 261 towards Santa Elena. Kabah is located further on the same road, 20 minutes from Uxmal.
By bus: 2 hours, 1 departure at 9:05 a.m. from the TAME terminal, 1 return at 3 p.m.
As an organized excursion : this is the ideal option to not worry about transport! The excursion from Mérida includes transport by air-conditioned van, guided tour of Uxmal and free time, as well as a visit to Kabah.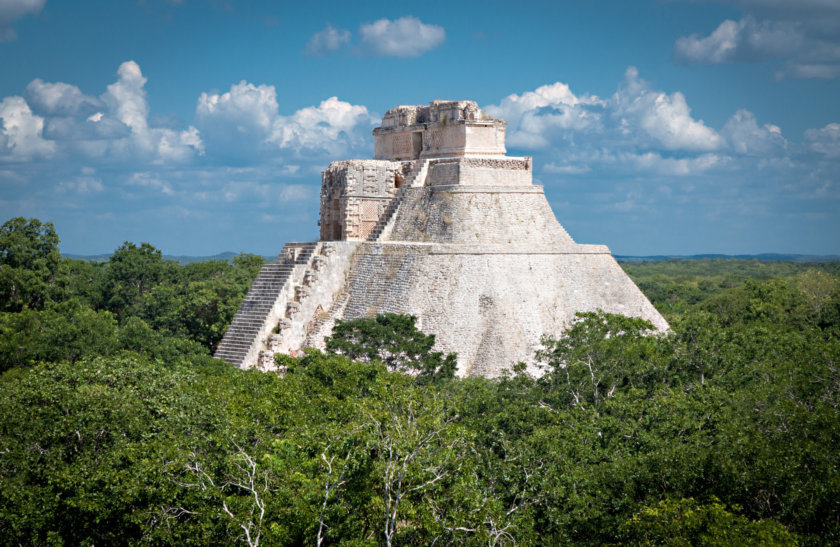 Spend the night in Mérida.
Getting to Mérida from Campeche:
By car:  2h15 on the 180 towards Mérida
And bus:  2h30 and bus ADO
Accommodation in Mérida
Nomadas:  it is the largest hostel in Mérida, but above all the one with the friendliest atmosphere in the city. There is a swimming pool surrounded by hammocks and plants, courses (yoga, cooking, etc.) and all well located, in the center of Mérida. Bed in dormitory,  from only 16 euros per night!
El Gran Hotel: perfectly located in the center of Mérida, right next to the cathedral, this is a hotel with a certain charm, where time seems to have stood still with its colonial look and its pretty woodwork. There is a restaurant on site, the rooms are spacious and the wifi works well. Good value for money at only 54 euros a night!
Hotel Hacienda Merida VIP: this small luxury hotel is the ideal place to spend a  romantic stay in Mérida. Located in the heart of the historic center, it is an address that looks like a chic hacienda, illuminated by candlelight when night falls. Here you will find a nice swimming pool, very comfortable rooms, as well as an on-site restaurant and bar. From 150 euros per night
Hotel Boutique Mérida Santiago: This is a small, cozy hotel with a colorful hacienda look, both modern and with a traditional Mexican touch. Swimming pool with deckchairs and parasols, a very good homemade breakfast, spacious rooms, this is the ideal hotel if you are looking for good comfort without falling into luxury. From 180 euros per night
Day 14: Chichen Itza and Valladolid
Say goodbye to Mérida and hit the road again towards Valladolid, a pretty colonial city that can be discovered very well in one day.
Along the way is the great must-see of a 3-week tour in Mexico: Chichen Itza!
First founded in the 6th century by the Itzá then controlled by the Toltecs from the 10th to the 13th century, it was at its height the most powerful city of the Yucatan Peninsula.
Today it is the most famous Mayan site in the world, classified as a UNESCO World Heritage Site, and elected among the 7 new wonders of the world.
In 3h you will be able to see many structures (temples, squares, platforms) such as El Castillo, which is the main pyramid of Chichen Itzá, the astronomical observatory, the Mayan pelota court and the temple of the Jaguars.
You can buy your skip-the-line ticket to Chichen Itza here.
After visiting Chichen Itzá, you will definitely need to cool off as the site is in full sun.
There are several cenotes in the area, natural water wells that were considered sacred by the Mayans, and I recommend going to Cenote Zaci in Valladolid.
Tips for your Mexico itinerary:
The Cenote Zaci is very practical since it is located in the center of Valladolid and you will already be there to visit the city.
In addition, if you consume 100 pesos at the on-site restaurant, access is free.
Then spend the afternoon visiting Valladolid.
Check out Francisco Canton Park, San Servacio Church and Municipal Palace murals, then San Roque Museum.
Walk the pretty  Calzada de los Frailes to the San Bernardino Convent
Getting to Chichen Itza from Merida:
By car: 1h30 by Gulf Coastal Highway E/Merida – Valladolid/Mexico 180 E et Kantunil- Cancun /Mexico 180D
By bus:  departure by ADO bus at 7:15 a.m. and arrival at 9 a.m., it leaves you right in front of the entrance
As an organized excursion: it includes pick-up from your hotel in Mérida, guided tour of Chichen Itzá with free time on site, swimming in a cenote, breakfast and lunch, as well as a stop in Izamal and Valladolid. To book here.
Getting to Valladolid from Chichen Itza:
By car: 40 minutes south Gulf/Mexico Coastal Highway 180 E
By bus:  there is a teen bus at 4:30 p.m. for an arrival at 5 p.m., but as it is quite late, I recommend taking a taxi (4 min) or a colectivo to Pisté. From Pisté take Oriente bus (47 min) to Valladolid
Accommodation in Valladolid
Hostal Candelaria: the best cheap option in Valladolid. Colorful hostel very well located in the center, with garden, access to kitchen, bike rental. Good breakfast included, from 13 euros for a bed in a dorm or 30 euros for a private room!
Real Haciendas: small charming and very quiet hotel with swimming pool, clean rooms with comfortable king size bed, very warm welcome. From €57 per night
IMIX Hotel: typical colonial house in the center of Valladolid on the pretty Calzada de los Frailes, very nice decoration and spacious rooms. Breakfast included, from 117 euros per night
The Muuch Hotel Boutique: an intimate hotel 5 minutes from the main park Francisco Cantón Rosado.  Excellent service, indoor pool and outdoor pool with hammock, garden view room, air conditioning, bar and restaurant. A la carte breakfast included, from €180 per night
Hotel Zentik Project: this is the  best hotel in Valladolid  and one of my  favorites in Mexico!  Beautiful Mayan-style cabanas, murals by local and international artists, restaurant and bar, outdoor pool with hammocks and  saltwater pool in an underground cave! Very good breakfast included,  from 346€ per night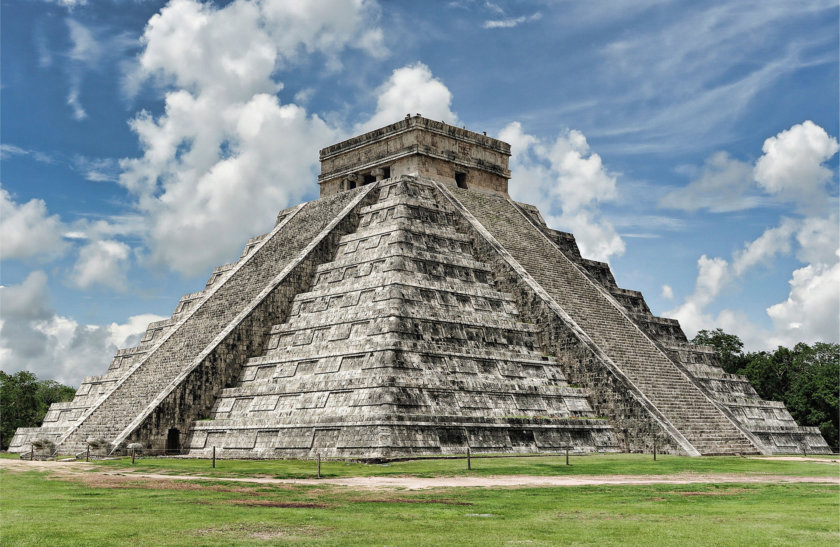 Day 15-17: Holbox (2-3 days)
Continue your 21-day Mexico itinerary towards Holbox, a dream island to relax the next few days!
In the morning, first go to Chiquila port and then take the ferry to Holbox.
The big advantage of Holbox is that even if it is quite close to Cancun and Playa del Carmen, we are far from the atmosphere of the Riviera Maya.
We come here to put our feet in the sand while sipping a margarita in peace. So enjoy it!
There are small streets with several colorful murals and long sandy beaches including Punta Mosquito  and Punta Cocos which are not to be missed.
I really recommend taking the boat tour (3h) which takes you to Isla Pajaros, the  Yalahau Lagoon  and  Isla de la Pasion, and which allows you to observe many species of birds and swim in a water lagoon fresh .
Between June and September, you can also swim with whale sharks in the Yum Balam reserve!
Getting to Holbox from Valladolid:
By car: 3h50 by car on the 180D towards Cancun, then QROO5 to Chiquila. You then have to take the ferry to Holbox (30 min journey, departure every 30 min). Leave the car in the parking lot (safe) because you cannot get on the ferry with the car.
By bus: take a Noreste Yucatán bus (4h) to Chiquila, then the ferry to Holbox (30 min)
Accommodation in Holbox?
Casa Chujuk : here is a hotel that offers excellent value for money, which is increasingly difficult to find in Holbox. Very clean, bright, comfortable mattress, small swimming pool to cool off, good wifi. From just 65 euros per night

Ensueño Holbox & Beach Club : hotel facing the sea which offers suites and apartments with kitchenette that can accommodate up to 5 people. Roof terrace, two swimming pools, beach club with good food and good music. Breakfast included, from 130 euros per night
Beachfront Hotel La Palapa-Adults Only : beautiful hotel very well located near the center, facing the sea, quiet beach with excellent cocktails at the bar. Spacious rooms and very good service. Excellent breakfast included, from 190 euros per night
Villas Flamingos : Located on a private beach on the island of Holbox, this 4-star hotel offers comfortable and colorful bungalows with private terrace and hammock. From €352 per night, breakfast included. Highlights: the stunning sea view, the relaxing ambiance, the friendly staff, the delicious food. This is my suggestion for a peaceful stay in Holbox!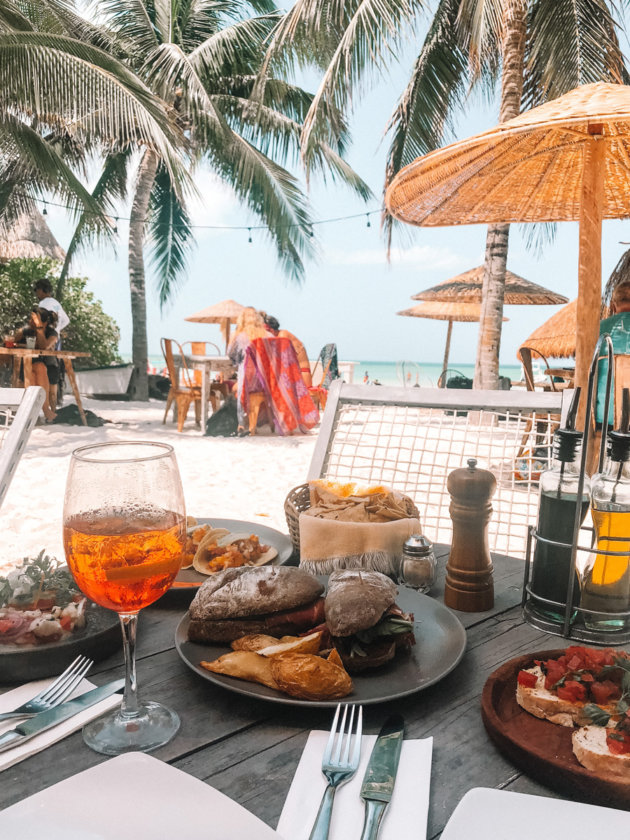 Day 18-20: Tulum
It will undoubtedly be difficult to leave Holbox, but fortunately this 21-day Mexico itinerary continues towards Tulum which is also famous for its magnificent beaches!
Day 1 – Visit the ruins of Tulum and its beaches
In the morning, take the ferry back to Chiquila and then the road to Tulum.
Start with a visit to the archaeological site of Tulum, one of the most emblematic places in the Riviera Maya. It must be said that it is in an exceptional location, facing the Caribbean Sea!
In 2 hours you will have time to visit the main structures of the site such as the Castillo, the wall, the  temples of the Frescoes  and the Descending God,  and go down to the small beach.
Depending on the time, you can then cool off in one of Tulum's cenotes or head to the Beach Strip to choose from the many cool restaurants for lunch.
Then enjoy the famous beaches of Tulum like Playa Paraiso or Playa Las Palmas. The Beach Strip runs along the coast so you will already be practically there.
Spend the night in Tulum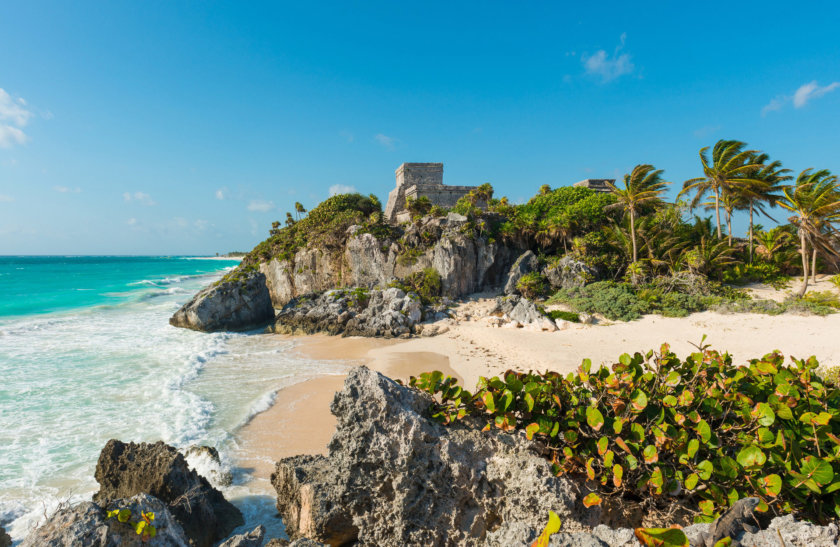 Day 2 – The Sian Ka'an Reserve
Today, continue your Mexico itinerary to the Sian Ka'an Reserve located south of Tulum.
It is a large protected area, declared a Biosphere Reserve and UNESCO World Heritage Site, which hosts rich biodiversity and magnificent landscapes.
As it is impossible to see everything in one day, you will have to choose between an excursion to Punta Allen (1 day) or to Muyil (half day):
Punta Allen is a fishing village that offers a more complete experience since it is more embedded in the reserve. The visit allows you to see the coast of Sian Ka'an with its magnificent beach, take a boat trip to see dolphins, manatees and other animals.
As the path is complicated (dirt, with potholes) you need to have a car with good suspension, ideally a 4×4, or take an excursion from Tulum. 
Muyil is much closer to Tulum than Punta Allen. You can see the Mayan site of Muyil surrounded by the jungle, and enjoy clear water between mangroves and orchids.
As Muyil is easier to reach, you can even get there by ADO bus (20 min) towards Chunyaxché or take this excursion from Tulum with vegetarian lunch.
Spend the night in Tulum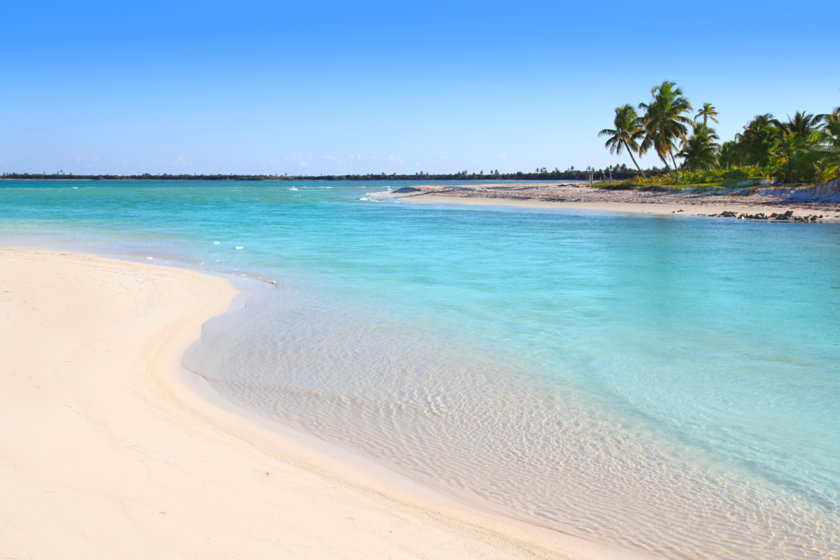 Getting to Tulum from Chiquila:
By car: 2h30 via QROO 5 then Quintana Roo Nuevo Durango – Coba/QROO 109
By bus: you have to take a colectivo (departure at 8 a.m. or 11:30 a.m.) to Playa del Carmen (2 hours), then an ADO or colectivo bus to Tulum (1 hour)
Accommodation in Tulum
Mayan Monkey Tulum : this hostel offers excellent value for money! Beautiful modern decoration and good atmosphere, swimming pool, bar, garden, fast wifi, access to the kitchen, yoga classes, coworking, bike and motorbike rental. Dormitories and private rooms,  from only 22€ per night!
Casa Almendro : for a little more comfort, here is a  small budget hotel in the center of Tulum. It's a green oasis with a nice big roof terrace with chairs and hammocks. Perfectly located, close to shops, restaurants, the ADO bus station. King bed and breakfast included, from  just €45 a night!
Diamante K : it offers  top-of-the-range comfort  at a very reasonable price, which is  exceptional in Tulum. Especially for a  hotel with  direct access to the beach  in the hotel zone! Bohemian chic atmosphere, restaurant, hammocks and beds on the private beach, massage service. Bungalow from 190 € per night!
Habitas Tulum : this small ecological hotel  with a chic design is ideal for a romantic stay in Tulum. It is a true haven of peace hidden between the palm trees, with a magnificent swimming pool and a private beach. With the added bonus of several on-site activities, such as yoga classes on the terrace facing the sunset. From 340€ per night!
Kanan Tulum – Adults Only : here is finally the  best choice for a luxury stay in Tulum. This is an adults-only  eco-friendly hotel located on a beautiful private beach with hammocks and beds. Beautiful roof terrace with a bar, a very good restaurant on site, spacious rooms and a very friendly welcome. From €520 per night!
Day 21-22: Playa del Carmen (2-3 days)
For the final leg of this 21-day Mexico tour, hit the road again to Playa del Carmen.
This small town has grown enormously in recent years, positioning itself as an alternative destination to Cancun, a little cheaper and with more easily accessible beaches.
Many come here to party and relax in a beach club, but what I particularly like about Playa del Carmen is that it is in a strategic location for exploring the Riviera Maya.
Day 1 – The caves of Rio Secreto and Xpu-Ha
Today, start by discovering the surprising world of Rio Secreto, one of my favorite places in Yucatan!
It is a 600m guided tour that takes you to see an underground river that is part of a huge 40km network, between stalactites and stalagmites.
We alternate between walking and swimming in the crystal clear water, with helmet, headlamp and neoprene suit because the water is cool.
The visits are made in small groups in order to preserve the places and it is obligatory to make a reservation.
After the excursion to Rio Secreto which lasts in 3h and 3h30, you can go to Xpu-Ha beach. It is one of the most beautiful beaches in the Riviera Maya with its calm water and white sand.
You can also take a trip to the pretty cenote azul which is not very far to refresh yourself.
Spend the night in Playa del Carmen
Getting to Rio Secreto from Playa del Carmen:
By car : 12 min, towards Tuulm on Carretera 307
By public transport : ADO bus or colectivo, frequent departures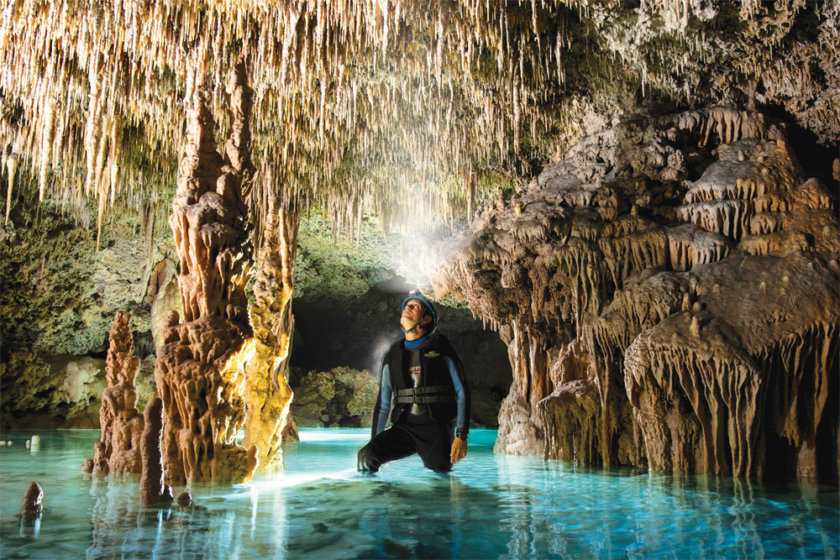 Day 2 – Cozumel
Easily accessible by ferry from Playa del Carmen, the big island of Cozumel is a must-see on a 20-21 day Mexico itinerary!
The destination is recognized as one of the best places in the world for diving thanks to its clear and calm water, and its proximity to the Mesoamerican coral reef.
There are many reefs for all levels : Palancar, Columbia, Paraiso, Punta Tunich, Chankanaab, Santa Rosa, the Garganta del Diablo (an underwater cave) and the Felipe Xicoténcatl wreck.
The island also contains many magnificent beaches, the Punta Sur reserve, the Chankanaab park and the archaeological site of San Gervasio.
You can book the best excursions in Cozumel here :
For all the best things to do on the island, here's my guide: The 15 Best Things to Do in Cozumel!
Getting to Cozumel from Playa del Carmen
Without rental car: 45min-1h by ferry from Terminal Maritima Navega with Ultramar or Winjet Fast Ferry
With rental car: by ferry from Punta Venado to Calica  with Transcaribe or Ultramar Carga
Several Cozumel tours already include transportation from the Riviera Maya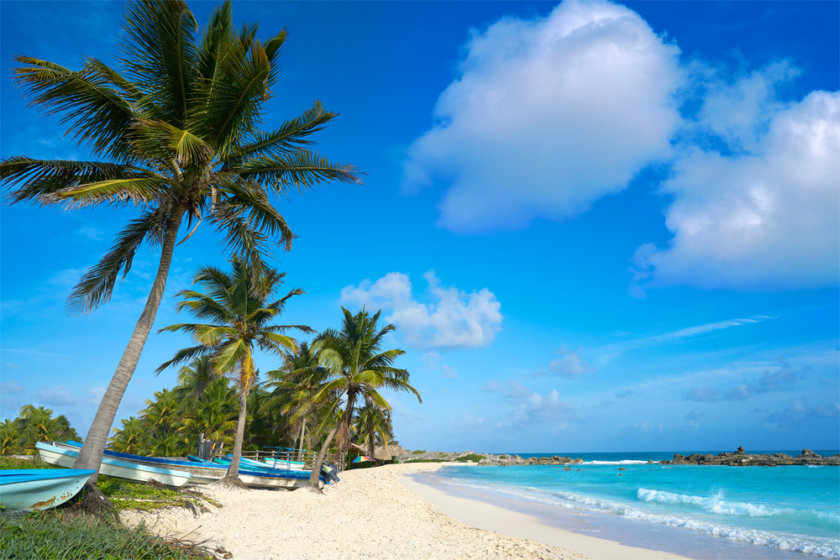 Day 3 – Free day in Playa del Carmen
As this 21-day itinerary in Mexico is very busy, taking this last day of vacation in the sun to rest is a pretty good idea!
Relax on the beaches of Playa del Carmen like Playa Mamitas, Playacar or Punta Esmeralda, but also walk on Quinta Avenida, the lively main street with many bars, restaurants and shops.
To not miss anything about Playa del Carmen, you can consult my articles: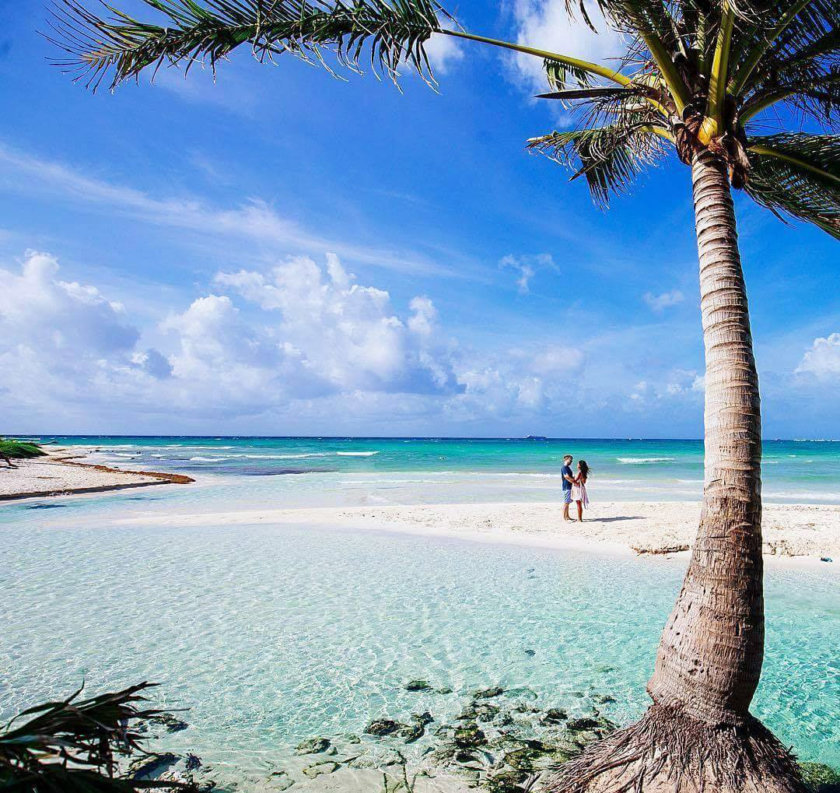 Getting to Playa del Carmen from Tulum:
By car:  50 min via Carretera 307 which runs along the Riviera Maya
By bus: 1h by ADO bus or by colectivo
Accommodation in Playa del Carmen
Che Playa Hostel & Bar Adults Only : ideal hostel for meeting other travelers and partying, roof terrace with bar and small swimming pool, several activities offered. Clean, good wifi and great welcome. From only €9 for the dormitory or €35 for the private room!
Hotel Lunata : charming hotel with hacienda-style decoration, which is hidden on Quinta Avenida, very close to the beach. Quiet, with garden, rooms with balcony, very friendly service. From just €66 a night!
Porto Playa Condo Beach Club : here is a spacious apartment ideal for a family close to Quinta Avenida with fully equipped kitchen, living room and terrace. On site there is a large swimming pool, gym and restaurant. From €160 per night!
The Reef 28- Adults Only : all-inclusive hotel in the center of Playa del Carmen, spacious rooms, superb roof terrace with sea view, swimming pool and jacuzzi. Gym, spa, excellent buffet breakfast. From €225 with all-inclusive formula
Hotel Xcaret Mexico All Parks All Fun Inclusive : this is definitely the best hotel in Playa del Carmen! Ideal for couples and families with children because this luxury hotel offers an exceptional formula that includes meals and access to its parks (Xcaret, Xplor, Xplor Fuego, Xenses, Xoximilco, Xel-Ha and Xenote). From €626 per night all inclusive
Departure from Cancún
Your departure from Mexico will be from Cancun airport, 1h10 from Playa del Carmen.
If you are traveling by rental car, allow enough time to return it before your international flight.
If you travel by public transport, the best is to take an ADO bus which will drop you off directly at the airport.
There are many trips per day, I recommend checking the ADO website to check the timetable and purchase your ticket in advance.
Have a nice flight home!
Tips for your Mexico itinerary:
If your flight leaves early in the morning, you can also choose to spend the last night close to the airport.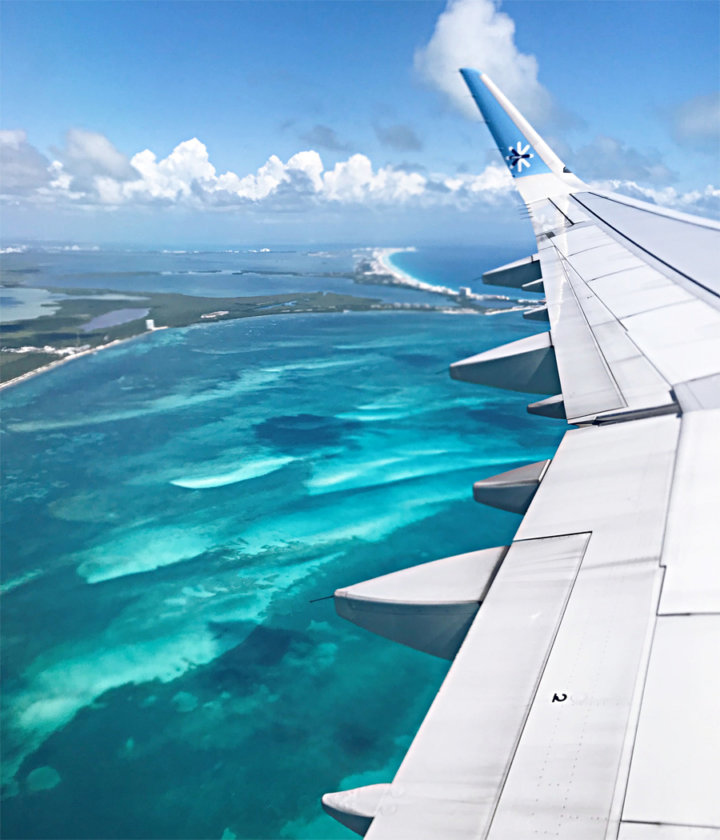 Map: three weeks in Mexico
Are you going to Mexico? Read also
All our articles on Mexico are here:  Find all our guides on Mexico!