Top Things to Do in Punta Sur (Cozumel)
Punta Sur is the largest nature reserve on the island of Cozumel.
It is an ecological park of more than 1000 hectares which is home to many species such as crocodiles, flamingos and sea turtles which come to lay their eggs there, between the lakes, mangroves, marshes and beaches.
It's my favorite place in Cozumel since you can enjoy a magnificent natural space without the hordes of tourists!
In the hope of convincing you to visit Punta Sur on your own and helping you not to miss anything during your stay, here is my complete guide with all the attractions to see and activities not to be missed.
I also explain how to get there on your own or with an organized excursion, how long to stay there and where to sleep to visit Punta Sur.
So what to do in Punta Sur?
Attractions of Punta Sur
There is a lot to do in Punta Sur in 3h, 4h or 5h and, as it is a protected site, all activities are ecotourism.
To maximize your time, I recommend visiting Punta Sur in this order (details below):
1-Arrival in the morning, as early as possible (9 a.m. if you are already in Cozumel, but if you have to take the ferry it will probably be 10:45-11 a.m.)
2- Celerain lighthouse (with museum and observation tower)
3-Boat tour on Laguna Colombia  (to be seen depending on the time, as there are only 3 departures per day)
4-Relax at Chunchacab Beach
5-Viewpoint south of the X'Tacún Lagoon
6- El Caracol Archaeological Site
1. Get a Spectacular View from the Lighthouse
Celerain Lighthouse ( sometimes spelled Celarain) is a must-see in Punta Sur.
It is a 30m high white structure which houses the small navigation museum and which offers a spectacular view of the Caribbean Sea and the lakes to those who are willing to climb its 133 steps.
Around, there is also a space with hammocks and chairs to relax facing the sea. There are even swings!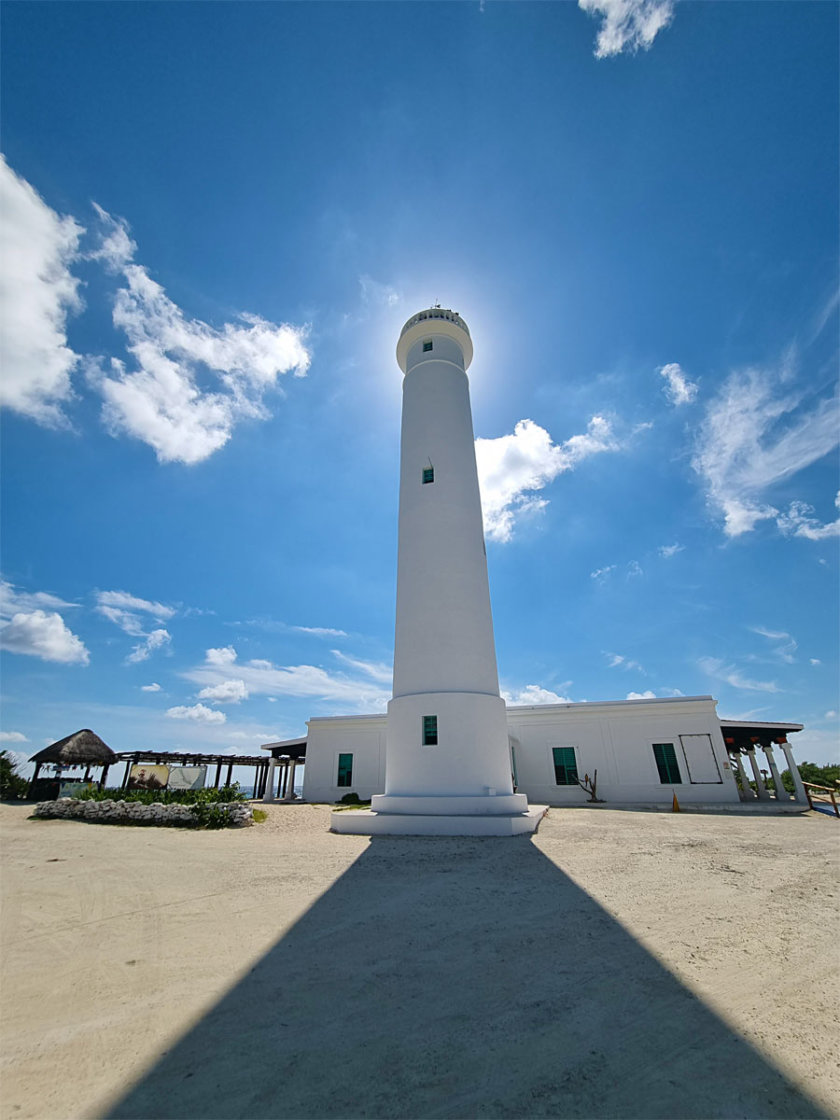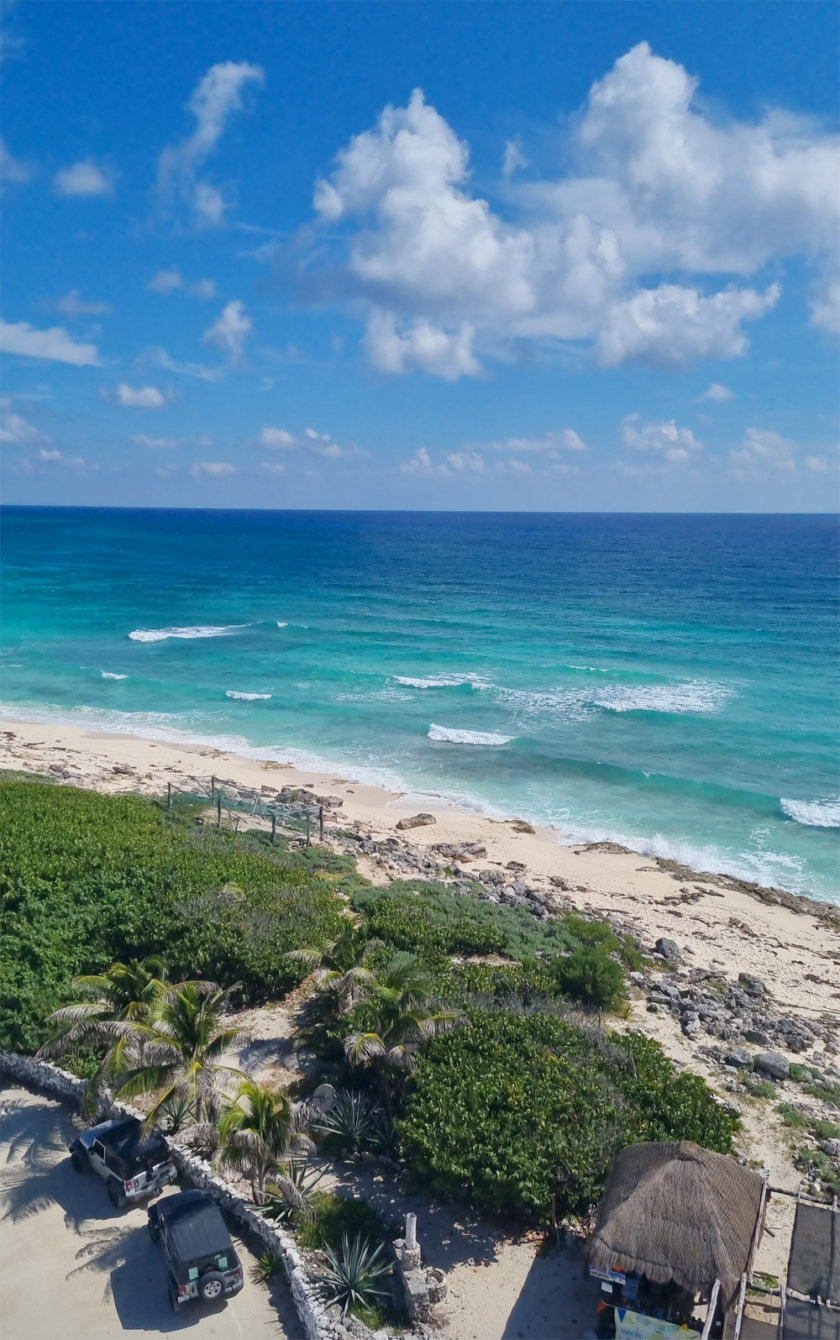 2. Colombian Lagoon
Laguna de Colombia is home to 23 species of amphibians and reptiles, 224 birds, 15 mammals, 24 bats and many endemic species.
I really recommend that you take the boat tour with a guide (Spanish/English) which is very interesting. We saw several flamingos and two crocodiles.
And then it's the opportunity to take a break in the shade!
Please note there are only three outings per day at 12 p.m., 1 p.m. and 2 p.m.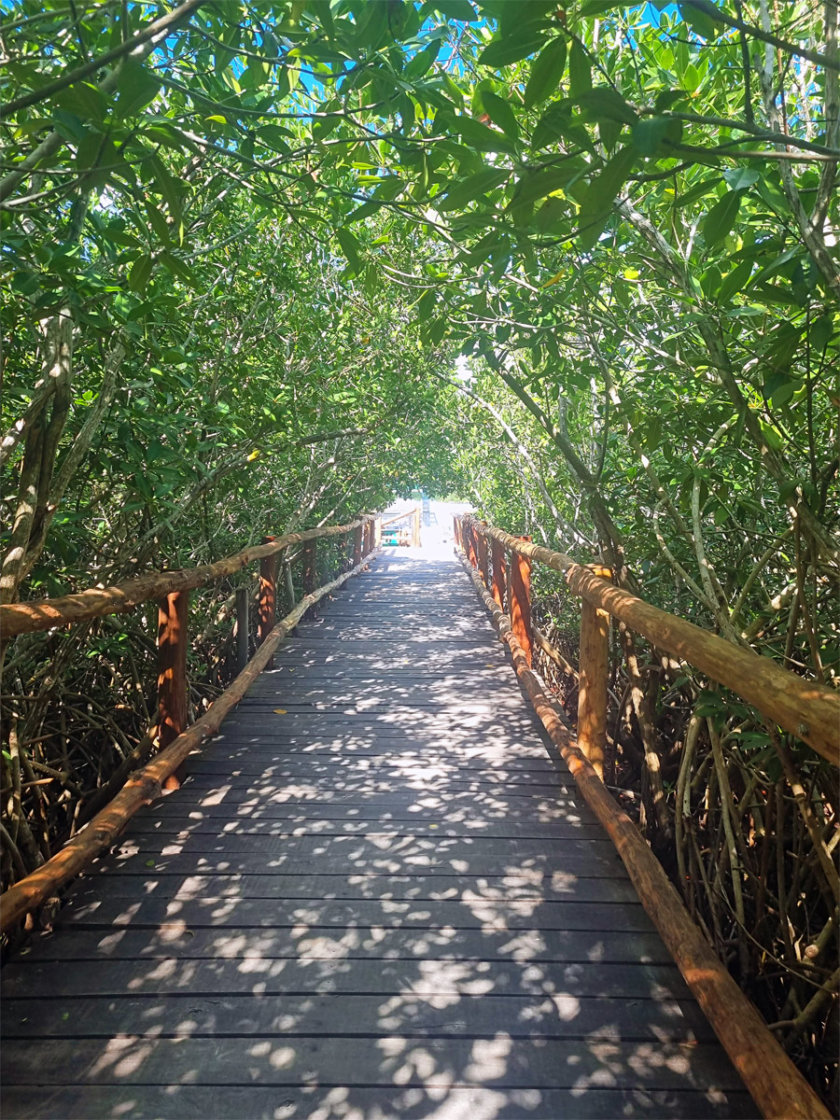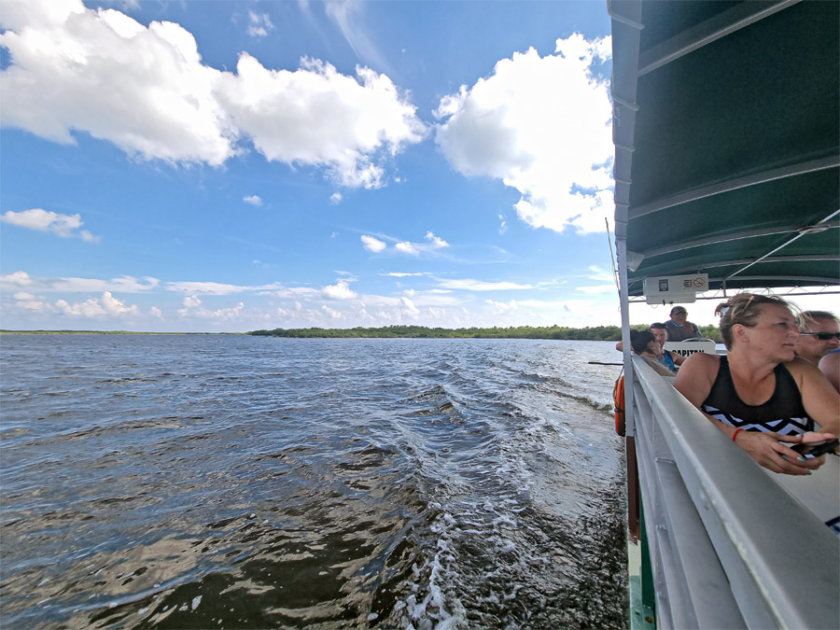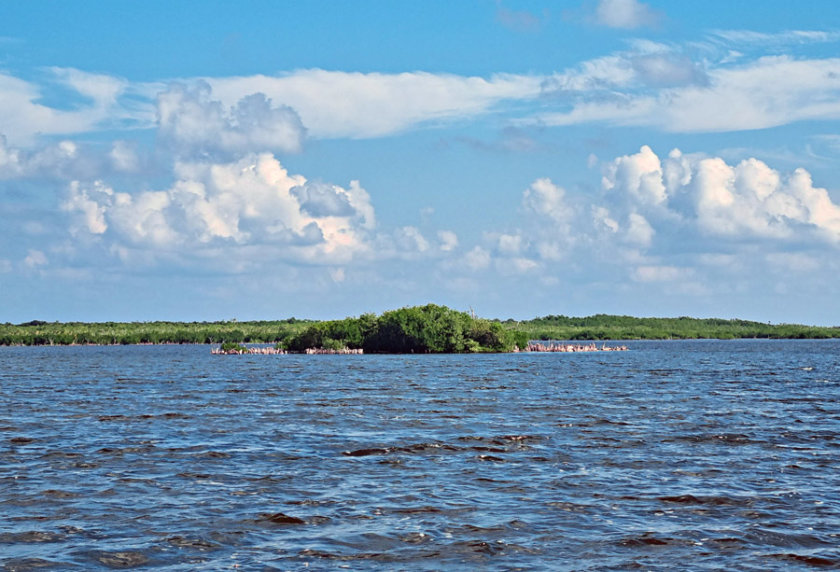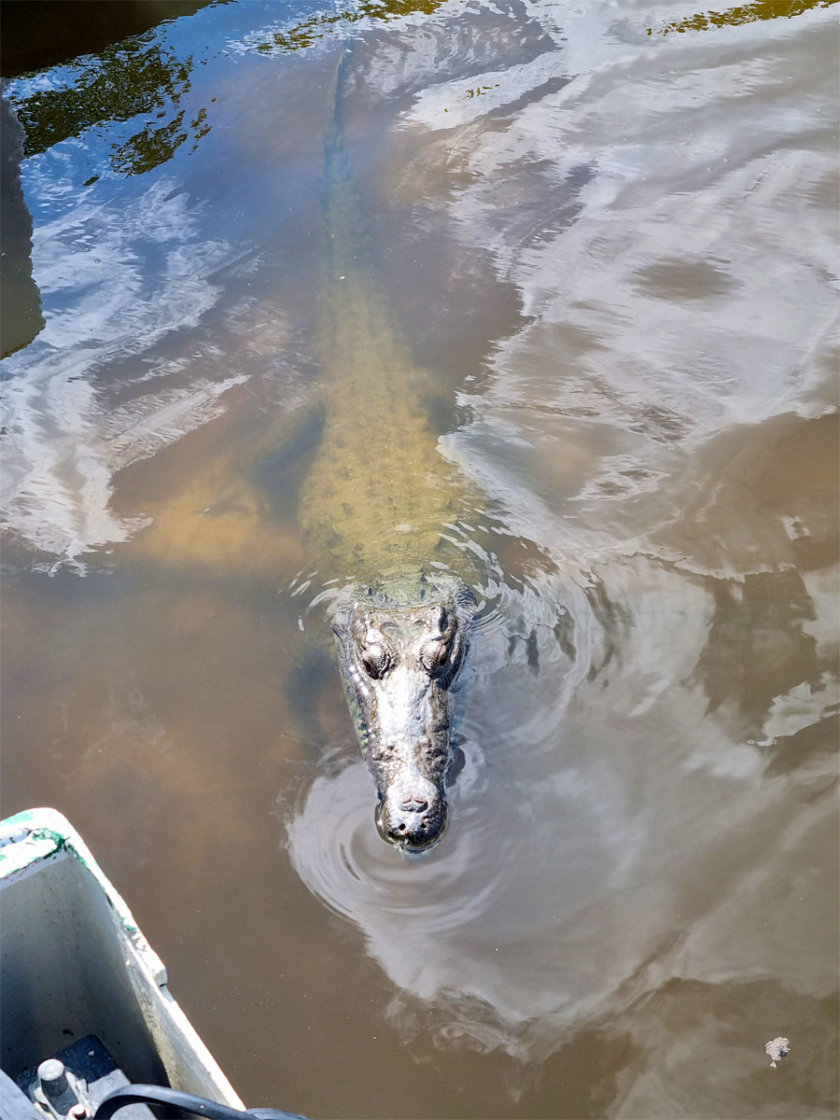 3. Plage Chunchacab
With its fine sand, its calm, transparent and very shallow water, Punta Sur beach is the ideal place to end your visit to the park in style.
There are several beach clubs in Punta Sur such as Bahia Azul, Anemona de Mar, Tikin Xic and El Cielo. I don't know which is better because I've only been to Bahia Azul.
The lounge chairs are comfortable, the service friendly, there is a food menu (hamburger, quesadillas, etc., 200-300 pesos) and cocktails (200-270 pesos).
The prices are really not given, but here there is no minimum consumption and at the beach, it must be recognized that it is always a little expensive. At least this one is really nice and very clean.
As we had a limited budget and we arrived a little late, we settled for two beers (90 pesos each). Having known, we would have arrived earlier to enjoy it longer, calmly, because the place is truly heavenly!
It is possible to rent snorkeling equipment which includes life jacket and flippers ($15 usd per person), or a kayak (1-2 people $20 usd for 1 hour)
There is also a massage service (20 min 30$usd, 60 min 90$usd)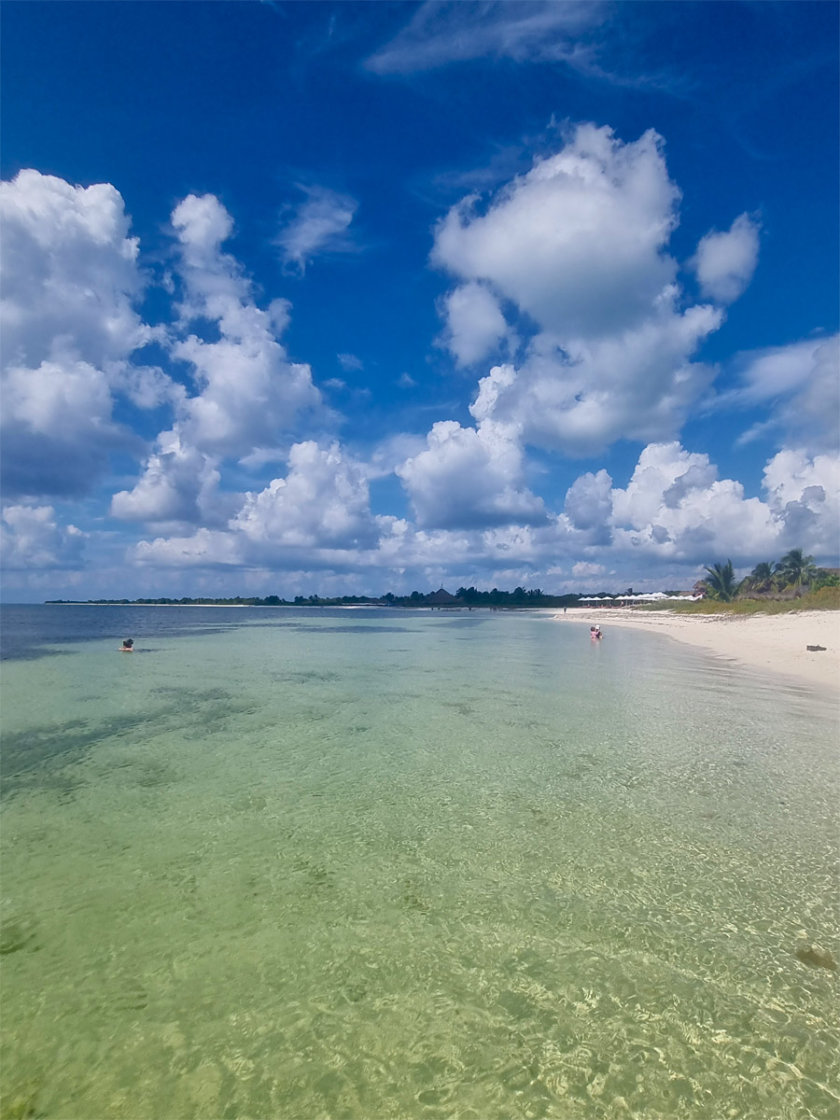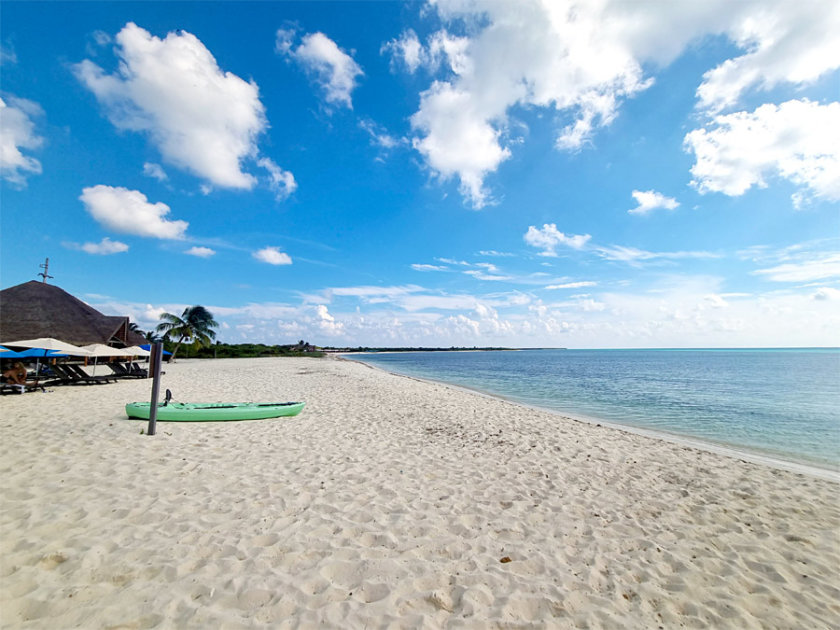 4. El Caracol Archaeological Site
El Caracol is a Mayan temple (13-16C ) which served as a landmark for boats. It was named caracol "snail" because of its shape and the snails that adorn its domed roof, a unique decoration in the region.
Some call it the tomb of Caracol because its small size makes it look like a funerary monument, but that is not the case.
Nearby is also a wharf and an observation tower facing the X'tacun lagoon, from where you can see crocodiles and several birds!
5. Have a Drink at Rasta Bar
At the entrance to the park is Rasta's Bar.
At first I thought it was a tourist trap, but after 40 mins of scootering, we really needed to take a short break before entering the Punta Sur park.
Finally, I loved: very nice decor, direct access to the beach, friendly service, good guacamole (120 pesos), well-laden cocktails (140-280 pesos depending on the size).
But since it was already 11am and we didn't want to waste any more time, our stop at the bar was quick.
I rather recommend going there at the end, after visiting the park before returning to town, to enjoy it calmly!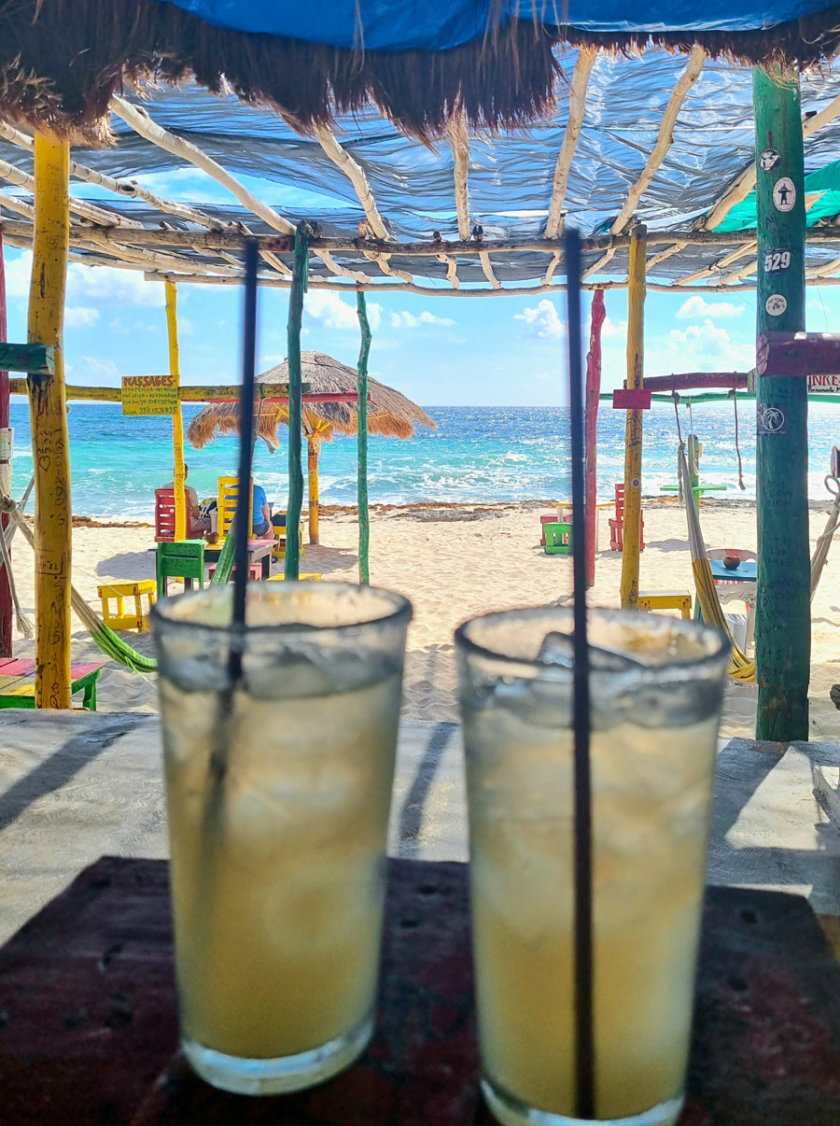 Punta Sur tourist map
Here are all the tourist attractions of Punta Sur in Cozumel: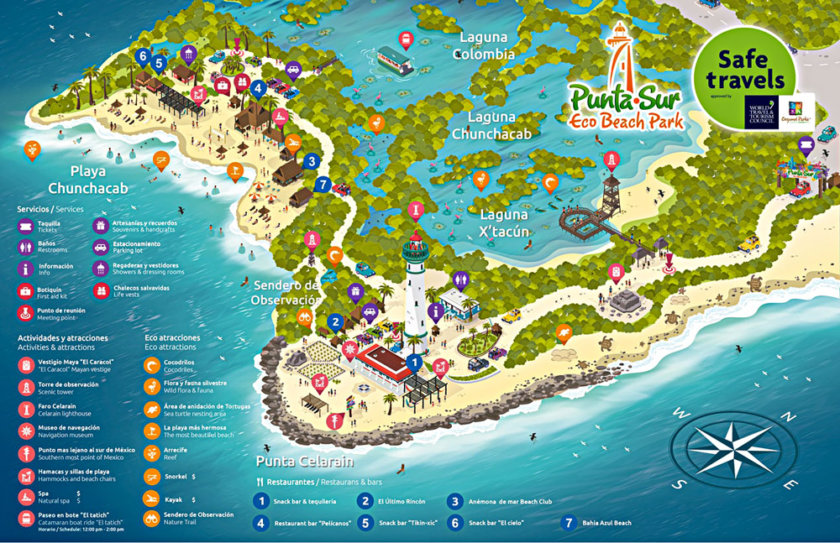 How Long to Visit Punta Sur
With Laguna Colombia (1h), the beach (1-2h), the lighthouse and getting around (1h) I would say at least 3h, but you can easily stay there for 4 or 5h.
How to Get to Punta Sur
It is possible to visit Punta Sur alone (without an agency) or with an organized excursion.
In both cases, you will first have to take the ferry from Playa del Carmen to Cozumel. I strongly suggest that you take the first ferry at 9am with Ultramar, so you will probably arrive around 11am at the entrance to Punta Sur.
If you have already rented a car in Cancun or Playa del Carmen, I suggest you take the ferry with the car, it will be much more convenient!
For all the details on transport to Cozumel, I invite you to read My complete article on Cozumel.
Go to Punta Sur without an Agency
Punta Sur is located in the south of the island of Cozumel, about 30km from the arrival wharf.
In the GPS, put Rasta Bar as a reference point for the entrance to the park.
It is very easy to get there by car (35 min) because there is only one road (Quintana Roo C-1) so you cannot get lost and it is quiet. You can also partially take the Carretera Costera which is quieter, but at some point it becomes reserved only for bicycles and pedestrians. 
If you don't have a vehicle, you will need to rent one on arrival in Cozumel. There are several rental agencies near the port, with different possible options : jeep, scooter, buggy
Personally, having little budget, I preferred to rent a scooter for two with my friend.
Honestly inside the Punta Sur park, the scooter is AMAZING, but we enjoyed less the 40 min out and 40 min back on the road with the wind, the sun, and especially the helmet that kept moving . Fortunately, we were able to take the Carretera Costera for a while.
With a small budget, the scooter is the best option, but if you can afford it (or if you are traveling with 3-4 people to share the costs) and know how to drive in manual mode, take a Jeep or a buggy instead.
Tips for your Punta Sur itinerary:
Don't get scammed like me!
I had previously spotted a rental agency in Cozumel that had good reviews on Google, but while waiting for the ferry in Playa del Carmen, a representative approached and convinced me to rent with her agency, promising a good price. on the scooters, of course by paying in advance.
Except that when I arrived at the agency, in addition to paying the basic insurance, I had to pay additional insurance!
When I asked and insisted, the lady ended up answering "ah yes, the representative often does that" by shaking her head (as if she was not fully aware and complicit…good joke).
In short, don't be a sucker like me: choose a good rental agency in Cozumel by relying on the reviews and above all don't buy anything in advance.
And what about the taxi and the bicycle to go to Punta Sur?
I don't recommend either, here's why:
-The taxi is an expensive option considering the distance and above all very limiting because the taxi will drop you off at the entrance, but you will have to move inside the Punta Sur park. If you still decide to go to Punta Sur by taxi, I strongly suggest that you arrange a return time with the same driver. 
-The bike still has several positive points (cheap option and you can take the Carretera Costera which is in good condition, very quiet and without a motor vehicle for a while).
On the other hand it takes 1h30 to go then 1h30 to return with the heat and the sun, so unless you have the whole day in front of you and really like to ride a bike, it is not the most practical way to arrive.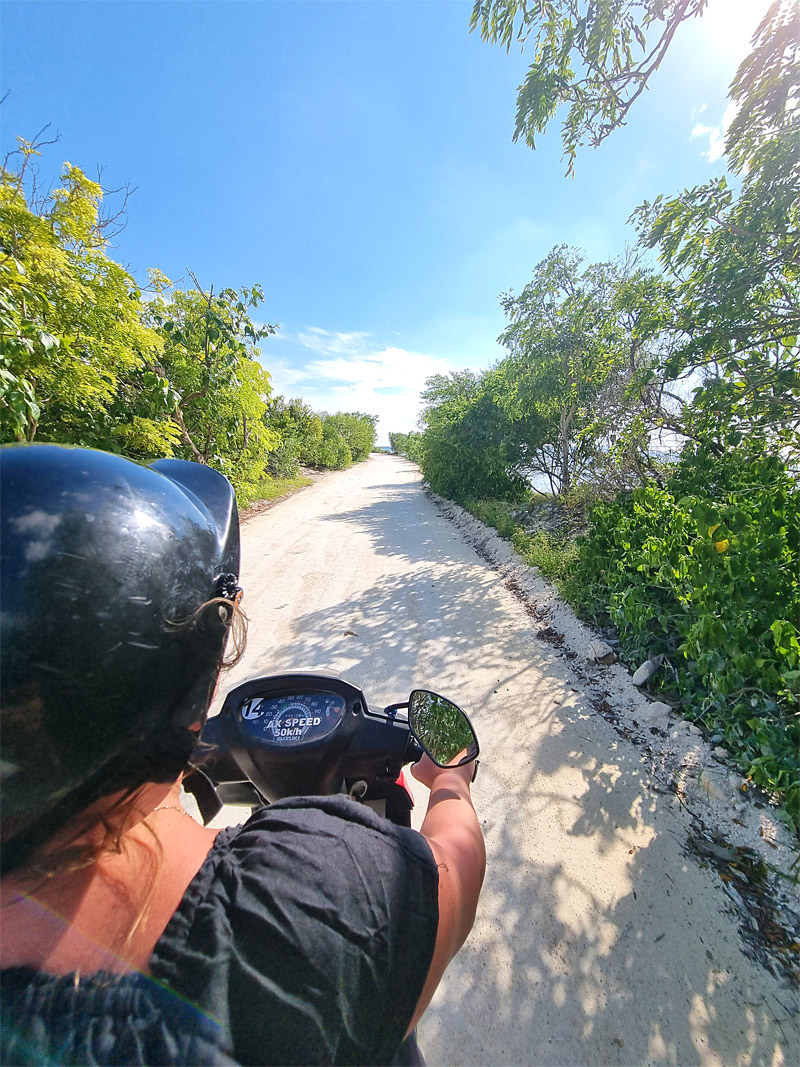 Go to Punta Sur with an Organized Excursion
If you prefer to avoid the stress of managing the rental and driving, another great option is to book a Jeep tour in Punta Sur.
It's an action-packed day with round-trip transportation, visit to the lighthouse, Mayan archaeological site, tequila tasting , boat ride on laguna Colombia, lunch at a beach club (with water and beer) as well as free time at the beach.
You can book the Punta Sur excursion directly here (by clicking on the option that best suits you):

Entrance to Punta Sur (Cozumel): prices and schedules
Entrance: adults 343 pesos (19$usd), children from 4 to 12 years old 234 pesos (13$usd) and children under 3 years old free
Open Monday to Saturday 9 a.m. to 4 p.m. (Sunday closed)

Accommodation in Punta Sur (Cozumel)
Depending on the time you have, you can decide to sleep in Cozumel or sleep in the Riviera Maya, for example in Playa del Carmen.
Accommodation in Cozumel
It is ideal for visiting Punta Sur as soon as it opens, with (almost) no one!
Hacienda Boutique Mi Casa tu Casa B&B: a hacienda-style house with authentic Mexican charm, colorful, with outdoor swimming pool and jacuzzi. Very good traditional breakfast and an excellent welcome from the hosts. From just 73 euros per night!
Villas El Encanto Cozumel: for more comfort, here is a hotel that offers air-conditioned apartments and bungalows with a small kitchen and terrace. Nice garden, swimming pool, hammocks and deck chairs. At only 100 euros per night, it offers excellent value for money!
Allegro Cozumel All-Inclusive: here is an all-inclusive hotel in Cozumel ideal for families! Located on San Francisco beach, you can do many activities (Beach volleyball, yoga, diving, kayaking, etc.). It also offers a playground and a children's club, in addition to 3 swimming pools, one of which has slides. From 180 euros per night with all-inclusive formula!
Melia Cozumel All Inclusive: for more tranquility, here is an all-inclusive hotel with a magnificent private beach, large rooms, complete spa, two swimming pools, one of which is reserved for adults with a bar. I recommend the ocean view room, from 240 euros per night with all-inclusive formula!
Accommodation in Playa del Carmen
You can sleep in Playa del Carmen and make the round trip in one day to visit Punta Sur.
Che Playa Hostel & Bar Adults Only : ideal hostel for meeting other travelers and partying, roof terrace with bar and small swimming pool, several activities offered. Clean, good wifi and great welcome. From only €9 for the dormitory or €35 for the private room!
Hotel Lunata : charming hotel with hacienda-style decoration, which is hidden on Quinta Avenida, very close to the beach. Quiet, with garden, rooms with balcony, very friendly service. From just €66 a night!
Porto Playa Condo Beach Club : here is a spacious apartment ideal for a family close to Quinta Avenida with fully equipped kitchen, living room and terrace. On site there is a large swimming pool, gym and restaurant. From €160 per night!
The Reef 28- Adults Only : all-inclusive hotel in the center of Playa del Carmen, spacious rooms, superb roof terrace with sea view, swimming pool and jacuzzi. Gym, spa, excellent buffet breakfast. From €225 with all-inclusive formula
Hotel Xcaret Mexico All Parks All Fun Inclusive : this is definitely the best hotel in Playa del Carmen! Ideal for couples and families with children because this luxury hotel offers an exceptional formula that includes meals and access to its parks (Xcaret, Xplor, Xplor Fuego, Xenses, Xoximilco, Xel-Ha and Xenote). From €626 per night all inclusive
My Opinion on Punta Sur
If you are looking for a less touristy place in Cozumel, focused on nature and relaxation, Punta Sur is a destination that will certainly please you.
If you are rather looking to spend the day in a place with several activities for the whole family (eg zip lines, water games, etc.), there are several other places that are probably more suitable, such as Chankanaab Park or Playa Mia.
Personally, I enjoyed my experience very much, but next time I'll either go to Punta Sur with an organized excursion so I don't have to worry about transportation (which I found a bit cumbersome on many levels) or I'll rent a more suitable vehicle like a Jeep.
But since I don't know how to drive in manual mode , it's a bad start for the 2nd option.
Are you going to Mexico? Read also
All our articles on Mexico are here:  Find all our guides on Mexico!