What to do and see in Puebla
Just 1.5 hours from Mexico City, Puebla sits at an altitude of 2,135 m in the mountains between the Popocatépetl, Iztaccíhuatl and La Malinche volcanoes.
Also called  Heroica Puebla de Zaragoza – in reference to its important historical past – or Puebla de los Angeles, it is the capital of the state of Puebla.
It is a pretty colonial town known for its colorful facades, its typical pottery, as well as its historical and cultural wealth. There is so much to see and do in Puebla!
So that you don't miss anything during your stay, here is my ultimate guide with the 25 must-see places of interest in Puebla and its surroundings, the best activities to do with children.
To help you organize your stay, I have also added all the practical information for getting to Puebla, a suggested itinerary for a day in Puebla, and my recommendations for restaurants and hotels for all budgets.
So what to do in Puebla?
1. The Zocalos 
Of course, it is impossible to miss the zocalo of Puebla which is the heart of the historic center, declared a World Heritage Site by Unesco.
Since the founding of the city in the 16th century, it has always represented the center of Puebla, as evidenced by the important buildings found there (the cathedral, the municipal palace), as well as the restaurants, shops, cafes that surround.
The square also regularly hosts various events and shows. One way or another, we eventually arrive at the square!
At the Municipal Palace (Portal Hidalgo 14) you will also find tourist information about Puebla with maps, etc. Practical!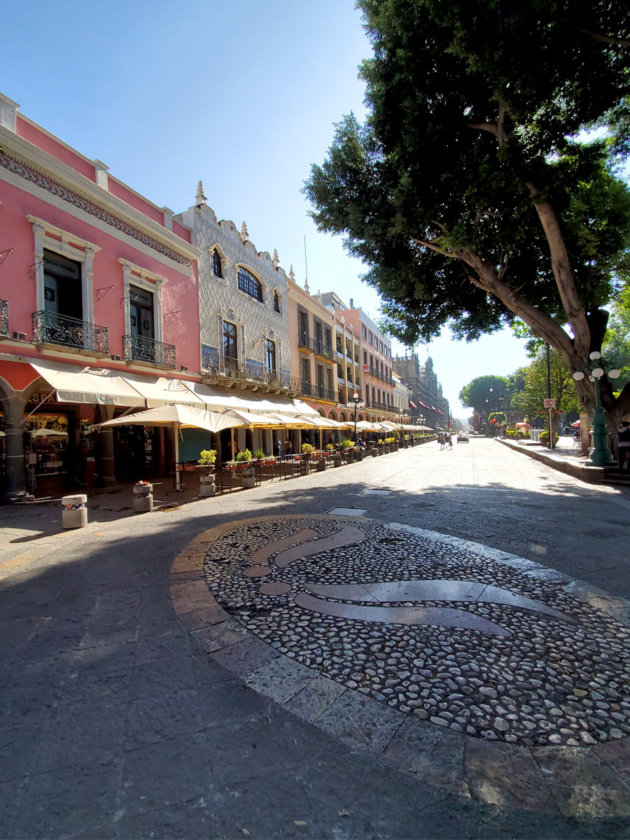 2. The Cathedral
The cathedral-basilica, of its full name Catedral de Nuestra Señora de la Inmaculada Concepción, is to be visited in Puebla: it is still the 2nd largest cathedral in Mexico!
Built between the 16th and 17th centuries, with a Renaissance-style facade and a Baroque interior, there are numerous paintings, sculptures, goldwork objects, three organs and impressive woodwork.
The Altar de los Reyes altar particularly impressed me for the richness of its details!
Mon-Sat 9 a.m. to 1 p.m., 4 p.m. to 8 p.m.
Free admission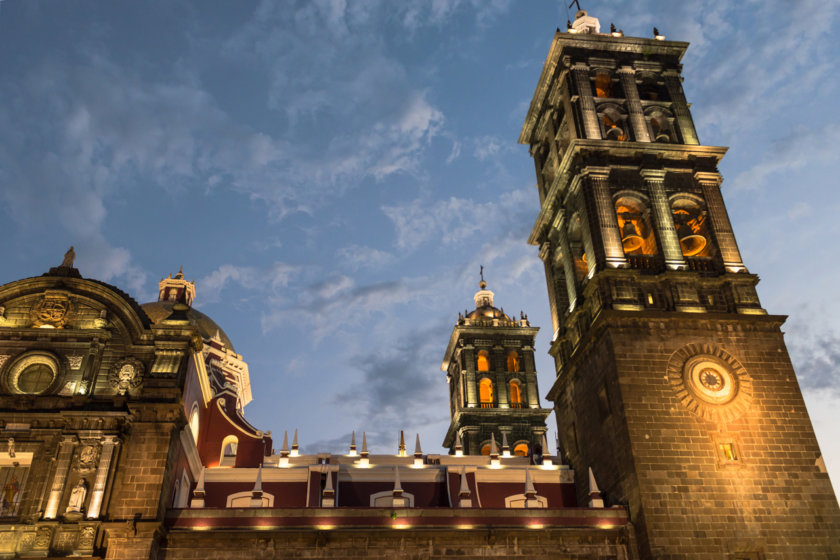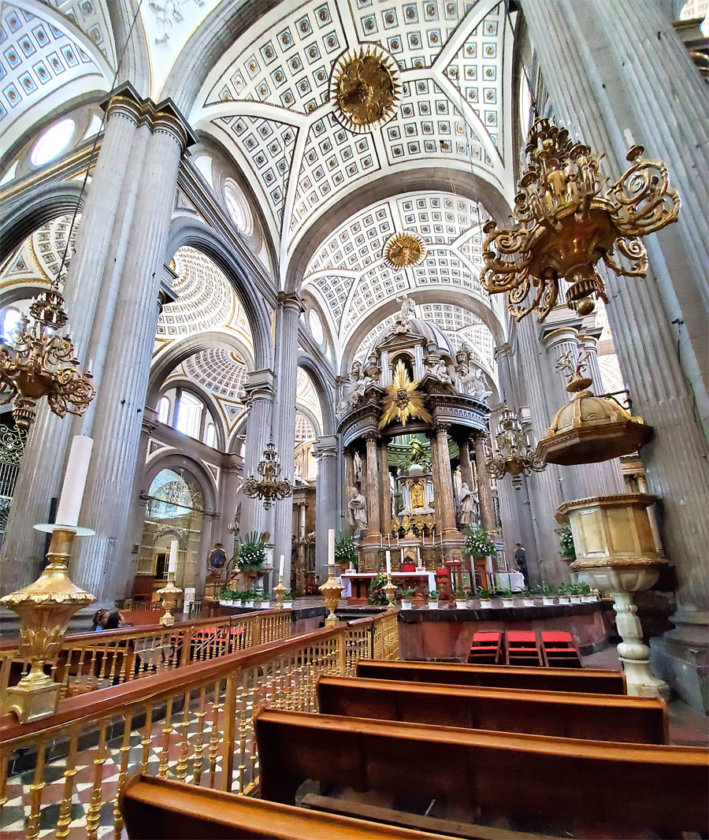 3. Chapel of the Rosary
In Puebla, more than the cathedral, it is the Capilla del Rosario of the Santo Domingo Temple (1650-1690) which is a real gem.
It is considered the finest example of Mexican Baroque and you quickly understand why upon entering: here everything is richly decorated from floor to ceiling, very laden and covered with 24-carat gold leaf .
The walls are decorated with large paintings by José Rodriguez Carnero and talaveras typical of Puebla.
I love churches, I have visited many in my life, but rarely one as richly decorated as this one. With the exception of the Church of the Company of Jesus in Quito , it still offers strong competition with its gold-covered interior.
Address: 5 de Mayo coin 4 Poniente #101, Puebla
Tue to Thu 11 a.m. to 1:30 p.m. and 3 p.m. to 5:30 p.m., Fri-Sat 11 a.m. to 1:30 p.m., Sun 3 p.m. to 5:30 p.m.
FREE ENTRANCE
4. Palafoxiana Library
On the 2nd floor of the Casa de Cultura de Puebla , in a magnificent vaulted room, is the Biblioteca Palafoxiana  : with its 43,000 volumes (from the 15th to the 20th century), it is the 1st public library on the American continent.
Indeed, Bishop Juan de Palafox y Mendoza donated his personal library of 5000 volumes to the schools of San Pedro and San Juan, on the condition that the collection be accessible to anyone who can read. A very modern decision for the 17th century!
It was in 1981 that the library ceased to be public to become a museum, it is definitely worth seeing in Puebla for its historical importance and the beauty of the place.
Address: 5 Oriente 5, coin September 16, Puebla.
Tue-Thu 10 a.m. to 5 p.m., Fri-Sun 10 a.m. to 6 p.m. Entrance 45 pesos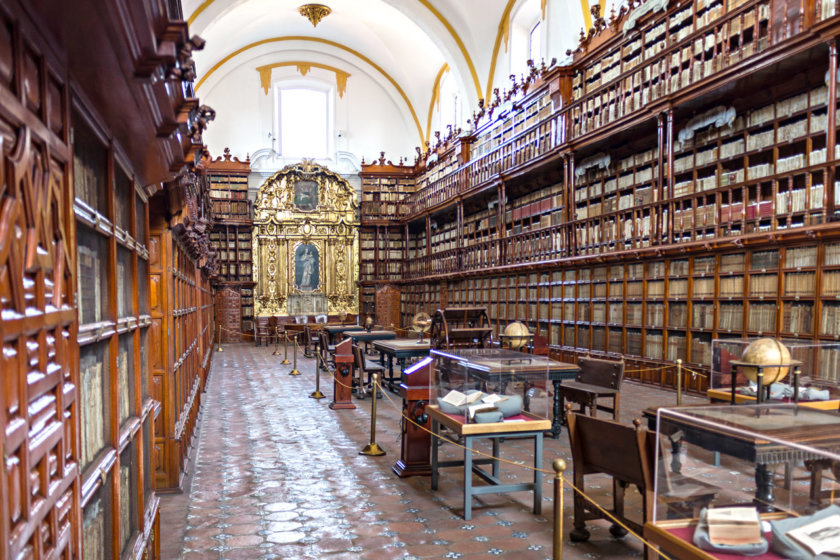 5. Amparo Museum
The Amparo Museum is a must in Puebla. Located in a palace and a hospital from the colonial era, it houses a large collection of Mexican art : 7 rooms on the pre-Hispanic era, 3 rooms on the viceroyalty era and the 19th century, as well as exhibitions of modern and contemporary art.
There are also temporary exhibitions of national and international artists.
I really recommend that you download the free Amparo Plus application ( Android, iOS ) which provides information on the exhibitions (audio, video).
You can also go up to the terrace. There is a café with a beautiful view, ideal for taking photos of the historic center!
You can eat breakfast there (Wed-Mon 9am to 12.30pm) as well as have a drink in the evening (Fri-Sat until 10pm). There are even concerts from time to time, check the museum's website.
Address: Avenida 2 Sur 708, Centro, Puebla.
open every day from 10 a.m. to 6 p.m., except Tuesday closed.
entry 85 pesos

6. The Gastronomy of Puebla
Puebla cuisine is famous throughout Mexico! It is the place of origin of the famous mole poblano, a sauce made from different chili peppers, chocolate and spices, and usually served with chicken.
Another iconic dish is chile en nogada, a chili pepper stuffed with meat and fruit, topped with a walnut sauce and sprinkled with a few pomegranate seeds. The colors are reminiscent of the flag of Mexico – green, white, red – and are therefore widely offered by restaurants in September, independence month.
And of course the street food of Puebla also has some nice surprises in store: cemitas, Arabic tacos, chalupas.
Personally I particularly like cemitas which are tortas (sandwiches) with avocado, cheese, onion, meat, papalo (a very common herb in Mexico), red sauce, all served in a bun with sesame seeds.
To get the full experience, I recommend taking this food tour of Puebla.
7. Sucreries of Sweets Street
Impossible to visit Puebla without tasting its famous sweets!
Made since colonial times, "dulces de Puebla" are so important that they even have their own street: Calle 6 Oriente, nicknamed Calle de los Dulces (or Calle del Dulce) in the historic center.
There is a very wide variety of sweets, but the most famous in Puebla are camotes, macarrones, muégano, jamoncillo, borrachitos, cocadas, limones rellenos de coco (lemons with coconut), alegrias and tortas de Santa Clara, my favorites.
These are tartlets that look like biscuits, created during the colony by the nuns of the Santa Clara convent.
Go take a trip to Gran Fama, the first confectionery to open its doors in the 19th century and Dulceria Santa Clara which is another Puebla institution, open since 1907.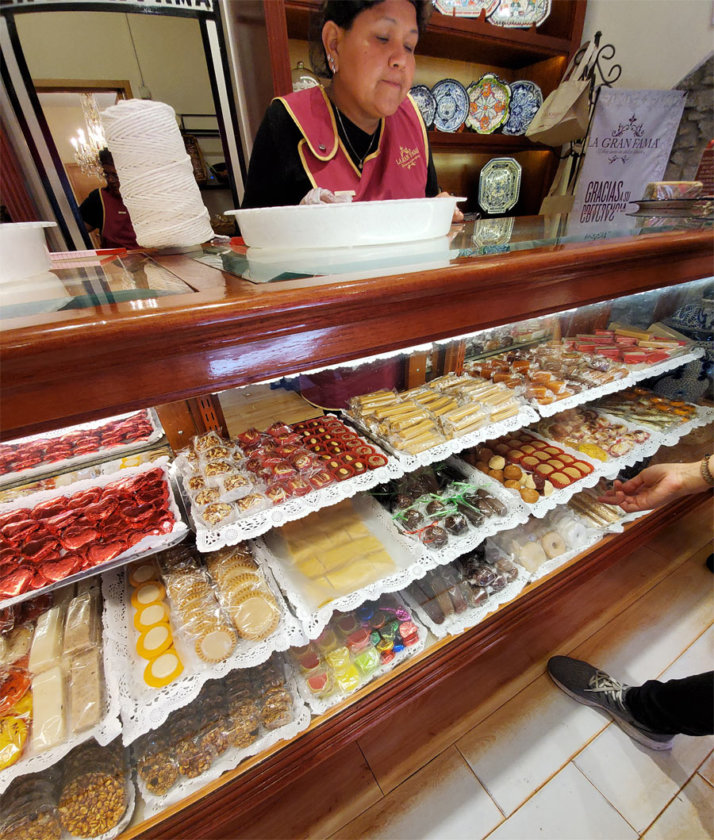 8. Museum of the Revolution
It is the house of the 4 Serdan brothers (Carmen, Natalia, Aquiles and Maximo) who joined the revolutionary movement led by Francisco Madero against Porfirio Diaz in 1910. The place is considered the cradle of the Mexican Revolution and the facade still preserves numerous bullet marks.
There are 26 rooms on 2 floors where we discover the daily life of the family and different aspects of the revolution (documents, photographs, weapons, objects)
Address: Av 6 Ote 206, Centro, Puebla
Tue-Thu 10 a.m. to 5 p.m., Fri-Sun 10 a.m. to 6 p.m.
Entrance 40 pesos or 20 pesos for ages 12 and under
9. The Talaveras
It's impossible to miss talavera , this Puebla pottery that has made the city famous since the 17th century. The creations are mainly plates, vases, jars and figurines, but we also find talavera de Puebla  in the form of  earthenware  for walls and facades (like the famous  Casa de los Azulejos in Mexico City ).
For a fine example of a building with talaveras in Puebla, take a trip to the  Casa de los Muñecos, "the House of the Dolls" (2 Norte #4, Puebla). The 16 ceramic images that adorn the facade are said to represent the councilors of the time who opposed the construction of the building because the owner wanted it to be higher than the town hall.
You can also go to the San Francisco Church (Address: 14 Oriente corner Blvd. 5 de Mayo, Puebla) which is the oldest convent in Puebla, and whose facade is covered with it. It is surprising!
You can discover the manufacturing process – which lasts on average 3 months and can even go up to 6 months! – in certain workshops which offer guided tours. For example, I recommend Casa Uriarte (4 Poniente #911, Puebla), the oldest workshop in the city, which has been operational since 1824.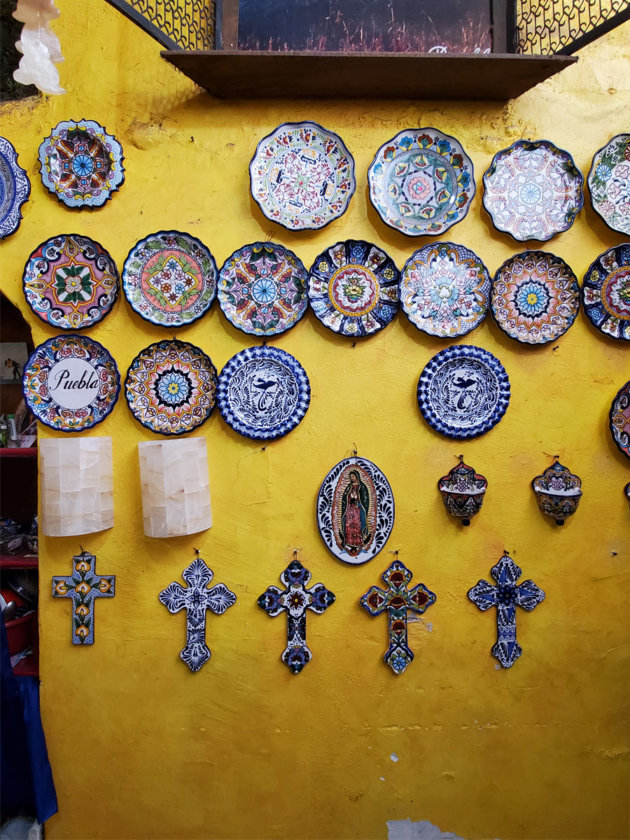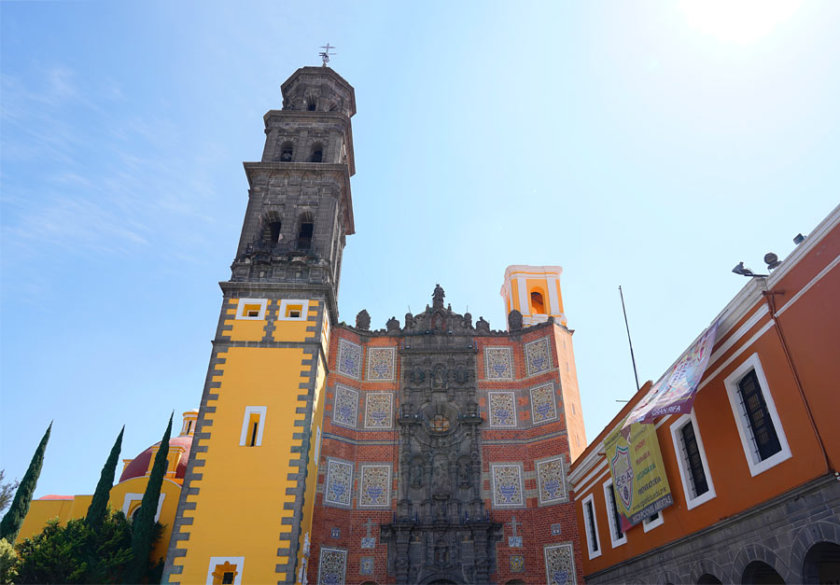 10. Taste the Ancho Reyes
Ancho Reyes is a liqueur made in Puebla made from chile ancho, the dried poblano pepper.
It's a product that I find interesting, both sweet and spicy, with a smoky taste. At 40% alcohol, I prefer to drink it in a cocktail rather than on its own or over ice, but that's a matter of taste.
In the 1920s, artists and intellectuals consumed a similar liquor in Puebla. It is therefore a kind of homage to this tradition.
Ancho Reyes is quite easy to find if you want to taste it, but to learn more it is possible to visit the distillery which is located in the very center of Puebla!
Address: Av 12 Pte 912B, San Pablo de los Frailes, Puebla
Free visit (1h30), Wednesday, Thursday and Friday by booking on the website
11. El Parian Handicraft Market
El Parian is the best place in Puebla to buy talaveras (and even handicrafts in general) while there are around a hundred small shops offering all kinds of traditional handicrafts, talaveras, leather, textiles, jewelry, sweets, pottery, wooden objects, etc.
It is considered the very first craft market in Puebla, while its first activities date back to 1760!
Address: Calle 6 Norte #205, Puebla
Every day from 10 a.m. to 8 p.m.
I advise you to take the opportunity to see the Casa de Alfeñique (Av 4 Oriente 416, 46 pesos entry, 10 a.m. to 5 p.m. – closed Monday) which is very close to Parian.
It is a large 18th century colonial house converted into a museum in 1926 (the first museum in Puebla!). It is a very beautiful example of the Alfeñic style, which owes its name to the typical sweet of the same name made from sugar and egg white.
12. Street of Toads
Toads ' Alley owes its funny name to a flood: it seems that at the time of the colony, the waters of the San Francisco River regularly overflowed, which caused flooding.
Some then decided to take advantage of the situation by installing windmills, which ended up attracting a lot of toads because of the stagnant water!
Today, it is a charming little pedestrian street lined with restaurants, cafes, bars and shops.
Friday and Saturday evenings it's a good place to have a drink and listen to music, but Sunday is the unmissable day: from 10 a.m., it's the big market with antiques, crafts, and all kinds of 'objects.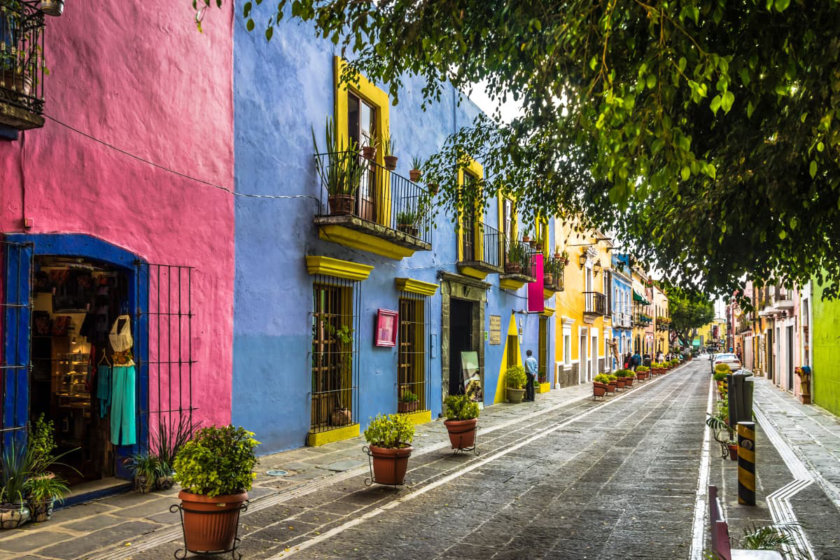 13. Explore the secret tunnels of Puebla
This is an absolutely must-do activity in Puebla!
It is an underground network built between the 17th and 19th centuries. composed of several tunnels and which was only discovered in 2014.
It is believed that it would have connected different strategic buildings and churches, and served for the transport of treasure, a hiding place, a discreet passage for politicians, etc.
The hypotheses are rife. What is known is that a portion was used as a weapons and ammunition warehouse by Mexican troops during the French intervention in Mexico in 1862.
It has been partly renovated and is now open to the public.
Today we enter by the Puente de Ovando, we pass by the Puente de Bubas, we visit a few rooms and we end with the Pasaje Historico 5 de Mayo which is 5m deep. It is this set that has been nicknamed "Los Secretos de Puebla", but it is estimated that the network in its entirety should be spread over 10km.
Entrance 30 pesos
Tuesday to Sunday 10 a.m. to 4 p.m.
Address: Blvrd Héroes del 5 de Mayo 8, Barrio de La Luz, Puebla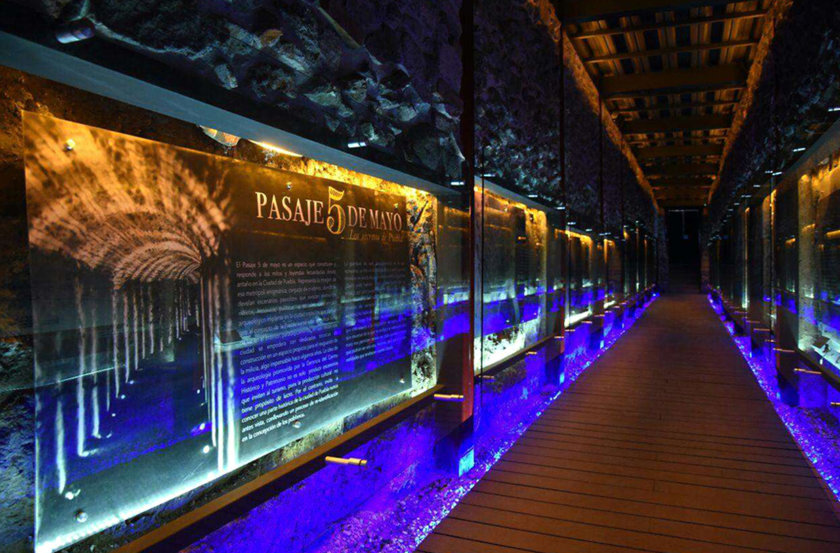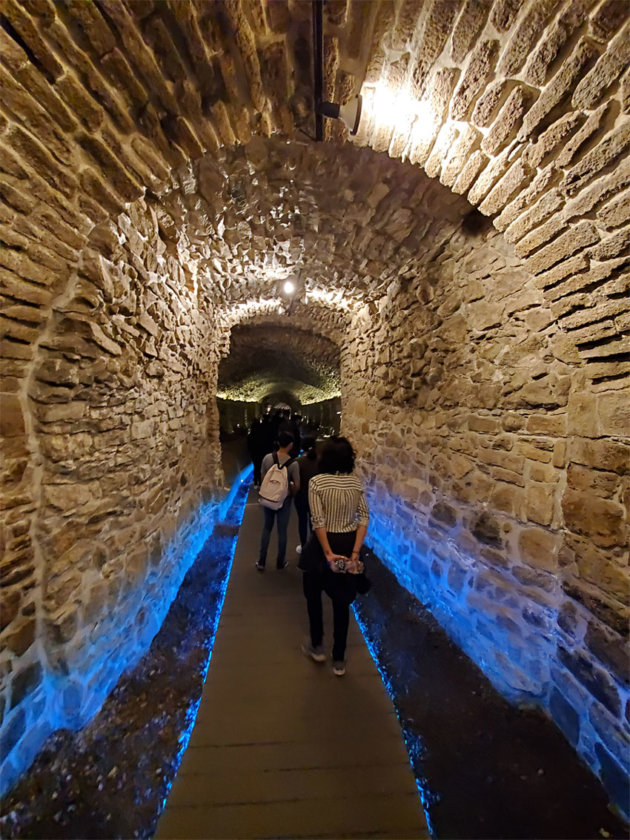 14. Analco Neighborhood
Founded in 1560, the Barrio Analco is one of the oldest in Puebla. Its name means "across the river". It is now best known for the tianguis, its market held there on Saturdays and Sundays.
There are mainly crafts ( wooden, silver, etc.) but also clothing, furniture, and even several food stalls.
This is the place where many Poblanos, but also Mexican tourists, meet.
15. Forts of Puebla
The famous "Cinco de Mayo" celebration commemorates the Battle of Puebla which took place on May 5, 1862, when the Mexican forces led by Ignacio Zaragoza won against the French who were much more numerous.
Fort Loreto (which hosts a museum open Tuesday to Friday, 70 pesos) and Fort Guadalupe are two must-see buildings in Puebla. These are emblems of this important battle which allow us to learn more about this part of history.
Also in the same park you can take the Puebla cable car at 58m height for a view of the city! Ticket 57 pesos round trip.
16. Street Art in Xanenetla
The Xanenetla neighborhood has undergone quite a transformation!
A few years ago, it was better to avoid it because of the insecurity, but today it is a tourist area, clean, and which is a real labyrinth of small streets with some 75 colorful murals !
We owe the initiative to Colectivo Tomate, a group of artists who have beautified several cities in Mexico through their Ciudad Mural project . And what's fascinating is that they always incorporate local cultural elements.
I was also very impressed by their intervention in La Paz in Baja California Sur with whales, sea turtles, etc. Here in Puebla, we find roosters, virgins, flowers for example.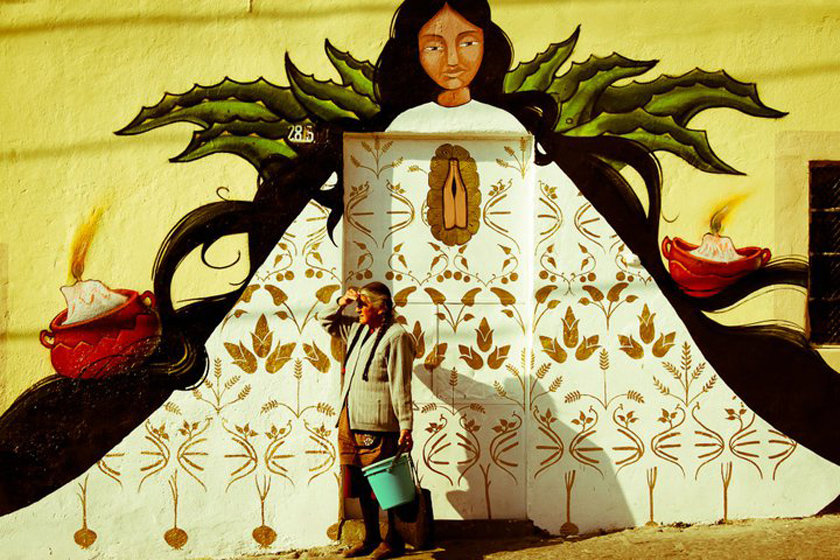 17. Take a Free Tour of Puebla
There is a Free Walking Tour which allows you to take a free overview of the must-see attractions of Puebla (the cathedral, Capilla del Rosario, Biblioteca Palafoxiana, Barrio del artista, Calle del dulce, Church of San Francisco, etc.), in exchange for a tip of course!
It's a good way to visit Puebla on the cheap, and having made several visits with Estacion Mexico, I can confirm that it's always full and you don't have time to get bored.
Departure every day at 11 a.m. from the Zocalo – Book here
18. Take a Tour Bus Ride
If you only have a short time in Puebla, taking the tourist bus is a very good option to see as much as possible!
It's a 55-minute tour, which passes by the main attractions of Puebla : the cathedral, the municipal palace, the library, the Los Sapos and Analco markets, the Palace of Congresses, the forts, the theater and the Calle de los Dulces.
It's also a good way to start your visit to the city (departure at 10am) to identify what interests you. And what's more, it's really not expensive!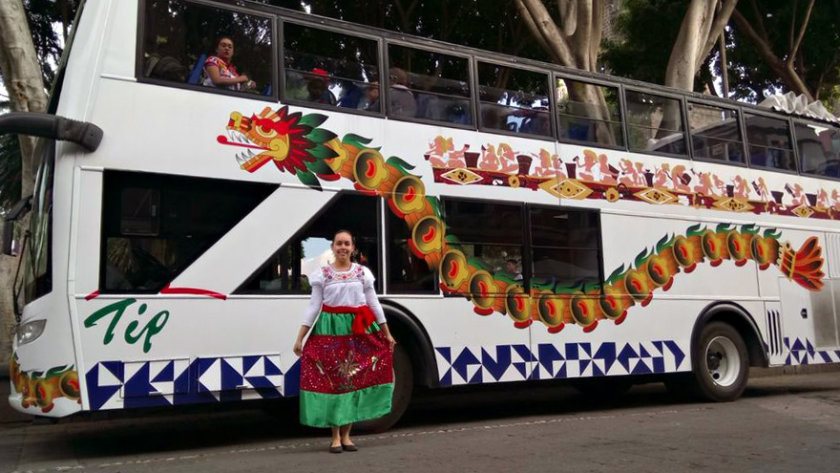 19. International Baroque Museum
It's the dream museum in a city that contains so many beautiful examples of Latin American Baroque!
Its surprising structure was built by the Japanese architect Toyō Itō and contains several temporary exhibition rooms as well as 7 permanent rooms which address different Baroque themes (architecture, painting, theater, music, clothing, etc.).
It is a modern museum that is far from boring, there are several touch screens and video mapping to make everything more interactive. I recommend that you allow around 2 hours for the visit because it is large.
Atlixcayotl Territorial Reserve, 2501, Puebla
Open Tuesday to Sunday from 10 a.m. to 7 p.m.
Prix: 80 pesos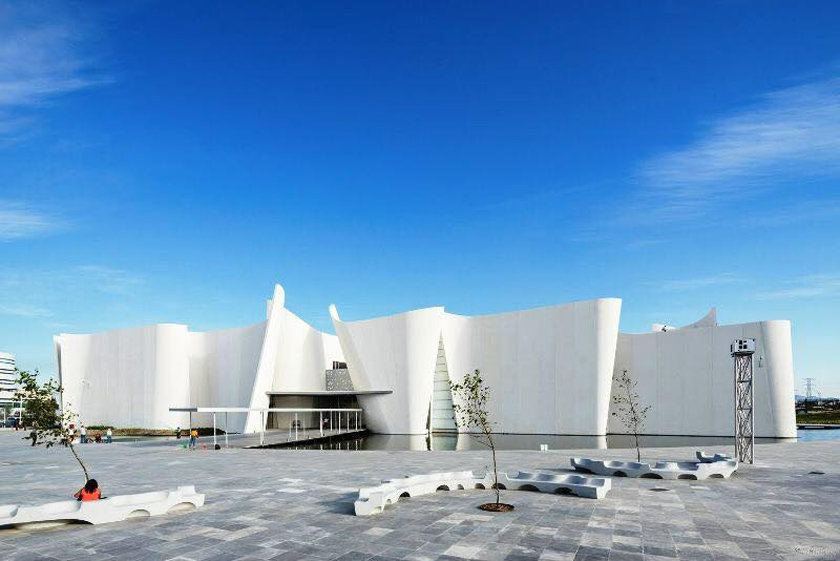 20. Descend into the Smallest Volcano in the World
A 15-minute drive from the Zocalo, in Colonia Libertad, is Cuexcomate : the smallest volcano in the world!
At least that's what everyone says, but this small volcano is actually a geyser (13m high, 23m in diameter and 17m deep), created following an eruption of Popocatépetl in 1064, and which is today inactive today.
It is surprising to see this mound in the middle of the city, and it is even possible to go down to the bottom of the crater with stairs!
Address 2 Poniente and Town Hall of Colonia La Libertad
Admission: 14 pesos
Open Monday to Sunday 10 a.m. to 6 p.m.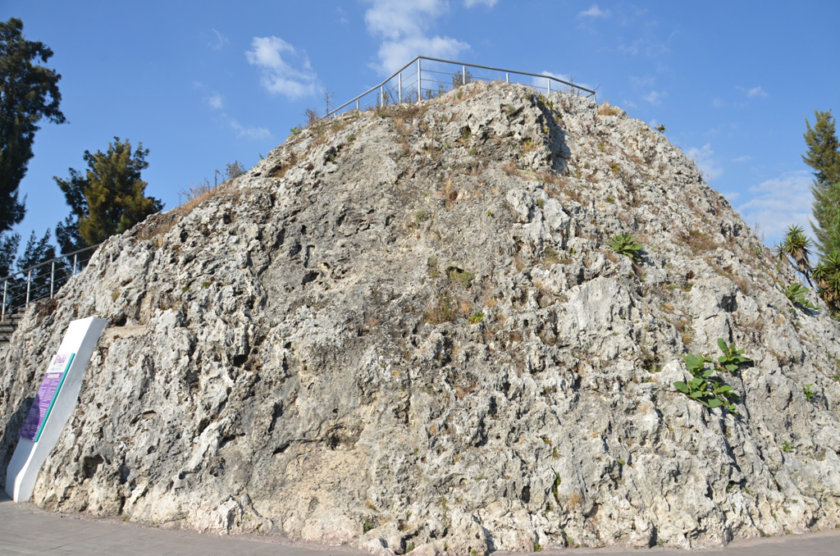 Around Puebla
21. Cholula
Cholula is on the outskirts of the city of Puebla, between San Pedro Cholula and San Andrés Cholula. It was an important place for the Toltecs who built the largest ceremonial center in the region there around 500 BC.
Today Cholula has been recognized as a "magic pueblo" for its various tourist attractions and its charm.
What to see in Cholula:
-Great Pyramid of Cholula : also known as the Tepanapa or Tlachihualtépetl pyramid, it is the pyramid with the largest base in the world (400m side!) and the largest volume in the world (4,500,000 m³). It is crossed by 8km of interior galleries that you can walk through to discover the different stages of construction and its murals.
-Sanctuary of Nuestra Señora de los Remedios : it is the religious building built in the 16th century above the pyramid and remodeled in the 19th century.
-The site museum : located on one side of the pyramid, it presents the development of the city since pre-Hispanic times, as well as an exhibition with ceramics, models, paintings, artifacts, etc.
How to visit Cholula from Puebla : 20-30 min by car, taxi (from Terminal CAPU or Terminal 4 Poniente) or by bus (departure from Terminal 6 Poniente)
How to visit Cholula from Mexico City : You can also take a tour that includes Puebla and Cholula. Book the visit here.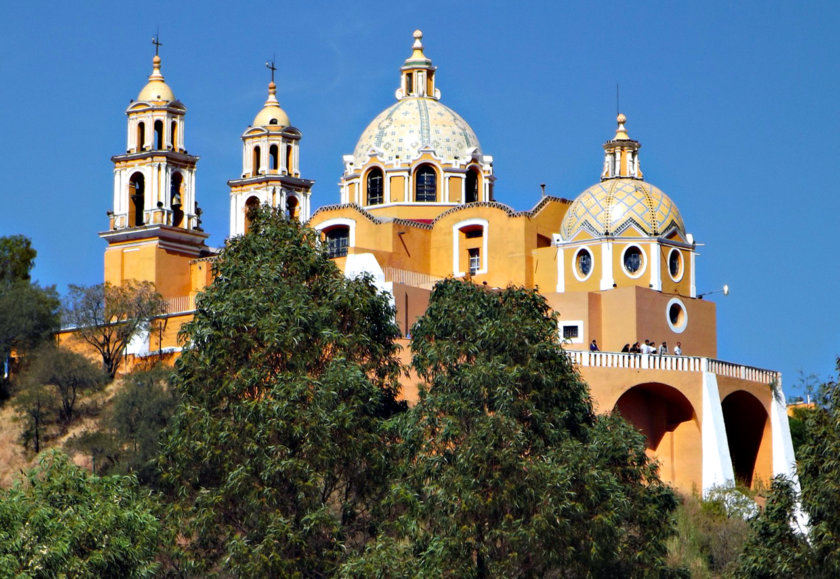 22. Zacatlan and Chignahuapan
These are two villages located 2h15 from Puebla which are also worth the detour for the surrounding landscape because the Sierra de Puebla is magnificent!
I suggest you make a stop along the way at the Cascada de Quetzalapan, also called "Salto de Quetzalapan" because it is one of the highest falls in the state of Puebla (100m).
A little further away is also the Centro Recreativo Cascadas Tulimán divided into 3 areas with different activities: hiking trails that run along the two rivers then arrive at the waterfalls, local food, suspension bridge, natural hot water pools, zip line.
Also, you can observe the "  Barranca de los Jilgueros  " a 400m deep ravine from its glass viewpoint. Green and covered in mist due to its tropical climate, it offers a very pretty natural spectacle.
In Zacatlán you can learn about the process of making local fruit wines, cider, and taste its famous traditional cheese bread.
There is also the "  Museo del Reloj ", the Wine Museum, the former Franciscan convent.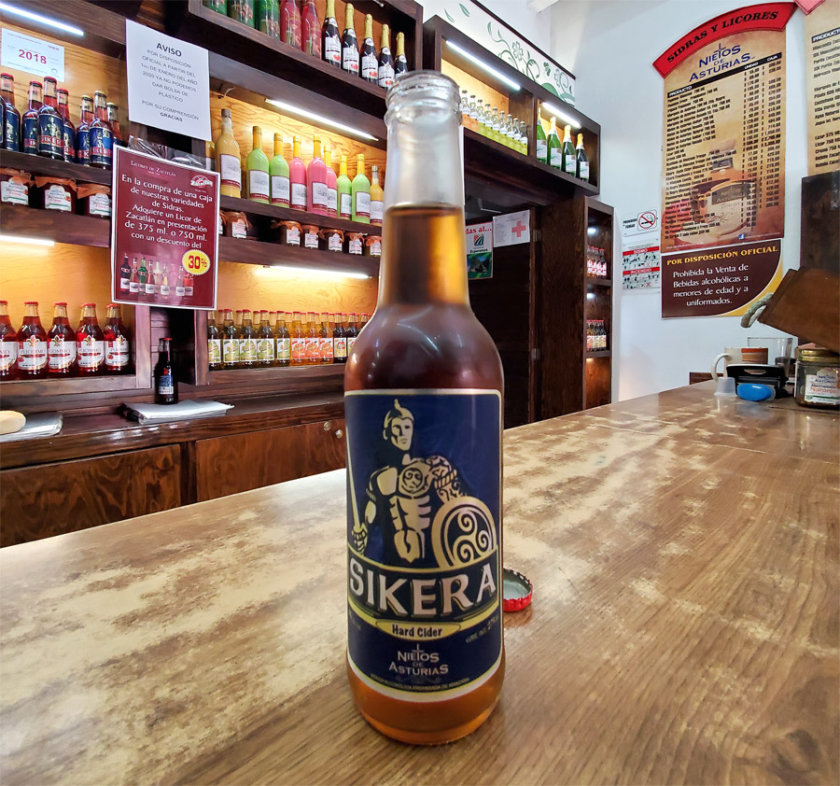 Chignahuapan is mainly known for its Christmas ornaments! In fact they are made here by hand and it is an opportunity to bring back a nice souvenir.
You can also see the Basilica of the Immaculate Conception with its 12m virgin and its main square with a colorful Moorish style kiosk.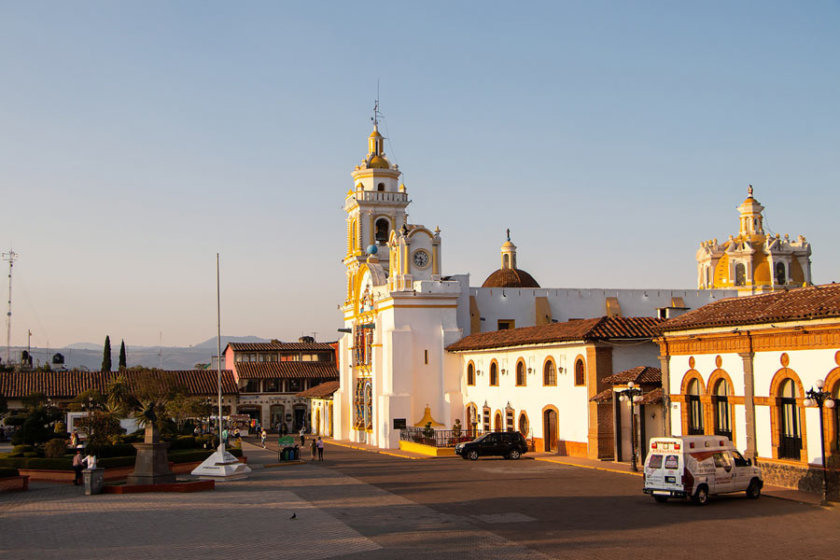 23. Cuetzalan
3 hours from Puebla is the picturesque village of Cuetzalan. Its name means "the place where quetzals are numerous". This is perhaps why the typical clothes of the region's women are among the prettiest in Mexico!
Here's what to see in Cuetzalan:
-The parish of Francisco built in the 17th century, and which is the emblem of the city
-The Church of los Jarritos or Sanctuary of Guadalupe, a neogothic building decorated with clay pots, whose construction was inspired by those found in Lourdes in France
-The archaeological zone of Yohualichan (3rd-9th century) means "the house of the night" in Nahuatl. The site was inhabited by several cultures including the Totonacs who then built El Tajin (State of Veracruz) on the same model and which became one of the most important cities in Mesoamerica.
-Its many waterfalls (there are about thirty!): there are several activities to do such as abseiling or zip-lining at Cascada El Salto, walking to arrive in front of the magnificent waterfall of Las Golondrinas
– Poza Pata de Perro : you can swim in this rock formation with natural wells filled with water
-The local market: it is held on Sunday mornings in the Plaza de Cuetzalan. The Nahuas, mainly women, sell all kinds of products (fruit, vegetables, etc.). Look closely and you will notice that the locals use barter among themselves!
Go to Cuetzalan
By bus there are several departures from Mexico City per day (6 hour journey with ADO or AU – from TAPO ), and every hour from Puebla (3 hour journey with VIA)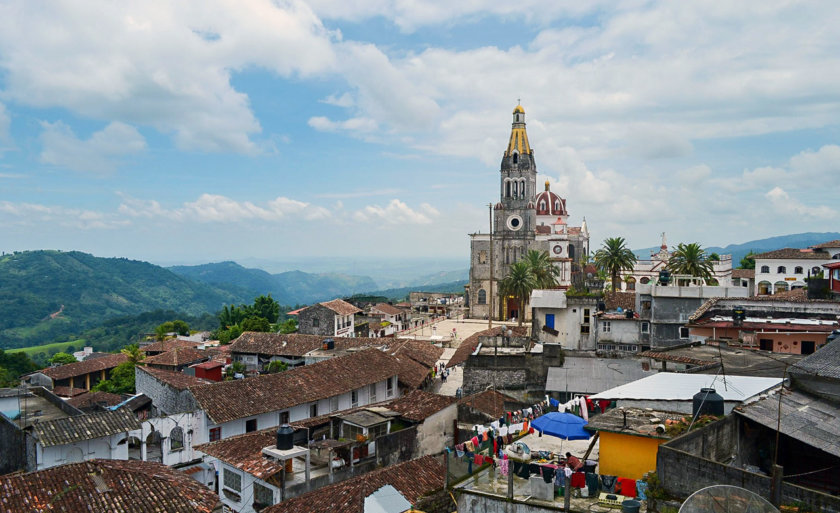 24. Cactus Botanical Garden
In the Tehuacan-Cuicatlan Biosphere Reserve, in the community of Zapotitlán Salinas 2 hours from the city of Puebla, is the Helia Bravo Hollis Botanical Garden.
It was named in honor of Helia Bravo Hollis, a great Mexican botanist who dedicated her life to the study of cacti.
It is a protected natural area of ​​100 hectares which contains more than 100 species of cacti, several of which are endemic and threatened with extinction. Some reach up to 10m in height and are 200 years old!
On site, you can follow interpretive trails that allow you to discover their medicinal and food properties, and what their use was in pre-Hispanic times.
There are also several bird watching excursions , among other things to be able to spot the eagles which patiently fly around while waiting to spot their food.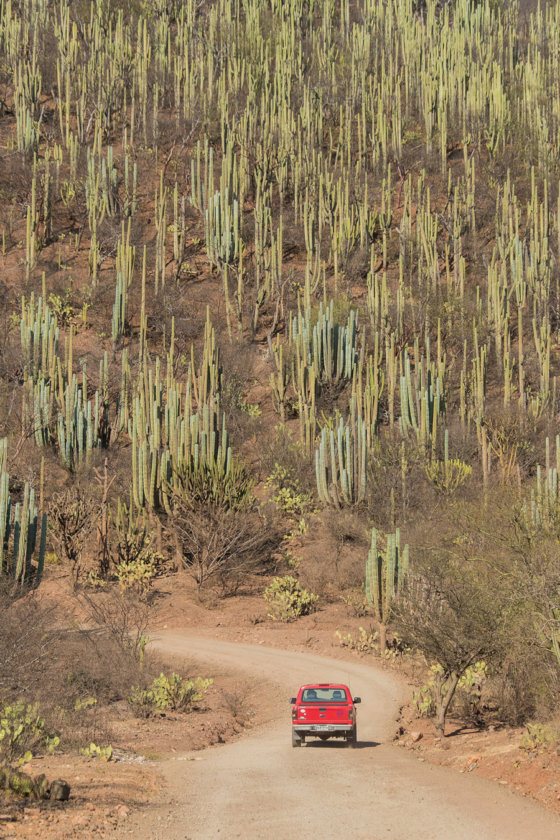 25. Atlixco
Located at the foot of the Popocatéptl volcano, Atlixco is known for its temperate climate and its important floral production . It is not for nothing that it is also called "Atlixco de las Flores"!
We walk with pleasure in its small streets with pretty colorful buildings, its markets, its craft shops, its restaurants with terrace.
In the main square is the Ex-Convent del Carmen which dates from the 16th century. Along with the San Francisco and Santa Clara convents, these are the three most important religious buildings in Atlixco, but my favorite is the Iglesia de la Merced for its superb Baroque façade.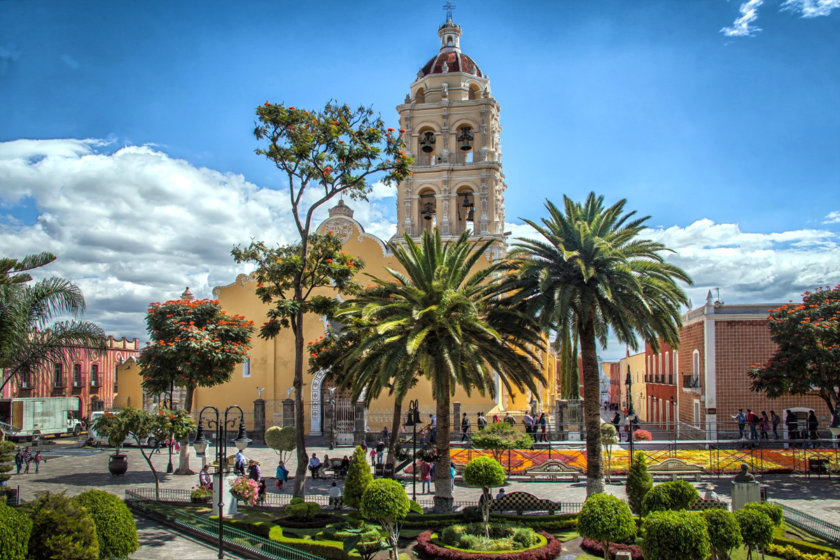 What to do in Puebla with children
There are also several activities to do with the family in Puebla, here are some suggestions:
1. Viennese Music Museum : This is a replica of the House of Music in Vienna (Haus der Musik). There are 16 rooms dedicated to music, sound, great international and Mexican composers, and 2 rooms with interactive games. Don't miss the Virto Stage where you can "direct" a virtual orchestra. – Temporarily closed
2. Africam Safari : this is the best activity to do with children in Puebla. There are 350 different species in (semi) freedom and you can cross the land peacefully by car, following the paths, and above all avoiding disturbing them. There is a section accessible only on foot to discover, among other things, a botanical garden and an insectarium. – You can buy your tickets here!
3. ArboTerra : it is an interactive conservation project that is home to around fifty different species, mainly birds. There is also a tree house there. Total visit about 1 hour. It is an ideal place to visit with the family in Puebla, because in addition there is a thematic restaurant on site. Website, Wednesday to Monday from 10 a.m. to 5 p.m.
4. Rescate Tactico : This is a laser tag game in which two teams compete to defend elephants or steal them to resell the tusks in Asia. Of course it's only a game, but the decor is well done! Website, Mon-Fri 1pm-9pm, Sat-Sun 11am-9pm
5. Estrella de Puebla : 80m tall, it's  the biggest Ferris wheel in Latin America! When the sky is clear you can even see the Popocatéptl, Iztaccíhuatl, Pico de Orizaba and La Malinche volcanoes! Admission 40 pesos, open from 4 p.m. – Temporarily closed
6. Museo de la Evolución : This is a large museum dedicated to science, technology and ecology. There are around twenty exhibitions in several thematic rooms which deal with the universe, dinosaurs and the evolution of human beings. Admission 45 pesos adult and under 12 23 pesos, Tue-Thu 10 a.m. to 5 p.m., Fri-Sun 10 a.m. to 6 p.m.
7. Planetarium : right next to the Museum of Evolution, with interactive games, and an OMNIMAX dome showing screenings Tuesday through Sunday at 12pm, 2pm, 4pm and 6pm. Facebook page
Accommodation in Puebla – The best hotels
There are hotels for all budgets in Puebla, but know that it's a good idea to book in advance as its proximity to Mexico City makes it a major tourist destination on weekends and holidays.
Hotels that offer good value for money fill up very quickly!
NH Puebla Centro Histórico: here is a hotel in the historic center, roof terrace with swimming pool, gym, parking, good wifi and buffet breakfast included. From 45 euros per night!
Hotel Santiago: practically around the corner from the zócalo, with a roof terrace that offers a beautiful view of the cathedral. Room from only 52 euros per night!
Hotel Boutique Casareyna: this is a good option if you are looking for more comfort. It is a 16th century mansion located just off the Puente de Bubas, transformed into an upscale hotel that offers spacious rooms, a swimming pool and jacuzzi on the roof, a gym, and a spa. Free parking and hearty breakfast included. From just 107 euros per night!
Banyan Tree Puebla: this is my favorite hotel in Puebla, perfect for a romantic getaway or simply to enjoy luxury comfort in the heart of the city. Terrace with garden, swimming pool and spa on the roof with views of the volcanoes, elegant restaurant, very good breakfast. From 208 euros per night
To see all hotels in Puebla, you can also click here.
How long to visit Puebla?
The ideal is to spend one or two days in the city of Puebla. If you want to discover the other attractions in the state of Puebla, you will of course need more time.
Here is my itinerary suggestion to see the maximum in 1 day in Puebla.
What to do in Puebla in 1 day?
It is easy to visit Puebla in one day, at least its historic center, since the main tourist attractions are all nearby.
Morning start with the Zocalo (main square) and the Cathedral
Continue to Palafoxiana Library
Continue to the Amparo Museum. Don't forget to go up to the terrace for the view, and why not, for a coffee
Discover the Callejon de los Sapos
To buy some souvenirs, you can then go to the Marché el Parian
Walk through the Barrio del Artista
Buy some typical sweets on Calle de los Dulces
Finished for the magnificent Capilla del Rosario
To better understand, here is the 1 day itinerary in Puebla plotted on the map:
Where to eat in Puebla
Mercado de Sabores  : it is a market with many cheap stalls that serve local food. It's a good place to try las cemitas, those huge sandwiches I mentioned above. There are several places, but I recommend Super Cemitas Alex!
Los Globos : located very close to the zocalo, this is an inexpensive restaurant in Puebla where you can taste typical dishes (like mole poblano ). Calle 2 Sur 509, Puebla.
Clementina cocina Poblana : it's my big favorite in Puebla! It's a small neighborhood restaurant, run by very friendly young people, with very good quality and affordable prices. I went there with my family and we all loved our different dishes. Personally I ordered the enchiladas tres moles (159 pesos) and I didn't leave a drop.
Augurio : a nice restaurant in Puebla, to try to discover regional cuisine if you have a little more budget. It is best known for its moles and won the 2017 Gourmet Award for best new restaurant in the state. Calle 9 Oriente 16, Puebla, Website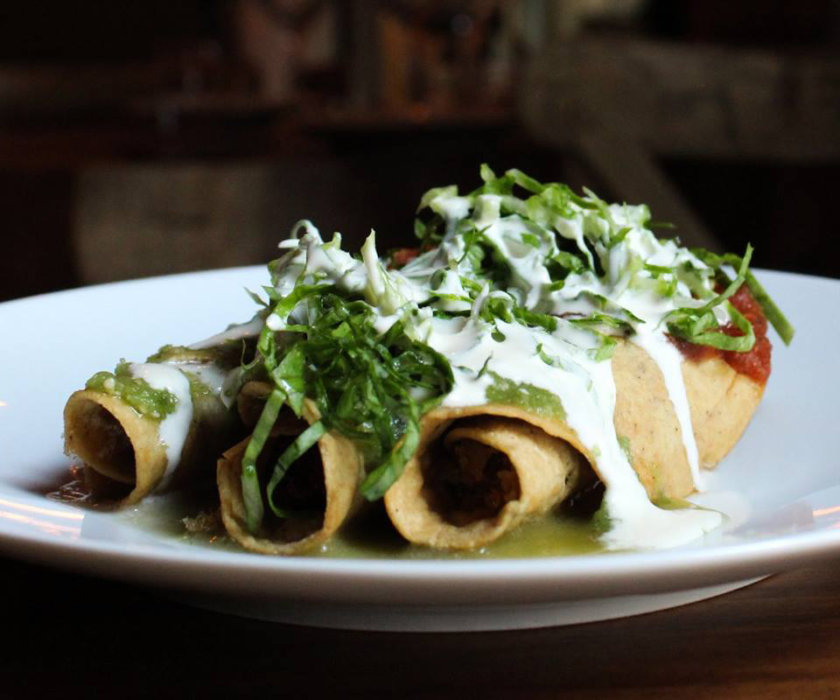 How to get to Puebla
Aller from Mexico to Puebla
1. And bus
The trip from Mexico City to Puebla takes 2.5 hours.
There are several bus companies to Puebla but I recommend ADO because it is safe, comfortable and reliable in terms of schedules.
There are departures every 20-30 minutes so it is not necessary to book in advance (but it is a good idea on public holidays and weekends), and the price varies depending on the departure time (between 180-220 pesos one way)
There are several stations to catch the bus in Mexico City, but I recommend the TAPO station in the center because it is better located to avoid the traffic to Puebla.
You will arrive at the CAPU bus station (Puebla) which is 20 minutes from the center.
Here's how to get from the terminal to the Zocalo:
By official taxi: there are counters inside, around 100 pesos. The Uber costs a few pesos less.
By bus: in front of the station you have to take the bus 44 (white and yellow) or the one that makes the route Boulevard – CU – Xilotzingo (beige and blue), 6 pesos the ticket
2. By car
To get from Mexico City to Puebla by car it takes 2 hours (140km).
From the historic center: take Calzada Ignacio Zaragoza which becomes Autopista 150 Mexico-Puebla
From the south: the easiest way is to take the Periférico to the highway
There are two tolls:
Between Mexico and San Martin Texmelucan (140 pesos)
Between San Martin Texmelucan and Puebla (44 pesos)
To find out the up-to-date tolls, it is best to go to the Traza tu Ruta website
3. By plane
I doubt this is the best option on such a short route, but Volaris and Aeromexico offer a few flights per week.
There is no direct flight, there is always 1 stopover (Monterrey, Tijuana, Cancun ). Sometimes there are even 2 stopovers so be careful when comparing prices.
The shortest journey I found is 4 hours, so the plane is longer than the bus.
Hermanos Serdán International Airport is located 20km from the center of Puebla. Taxi costs around 330 – 400 pesos
Go from Oaxaca to Puebla
1. And bus
The journey between the city of Oaxaca and Puebla takes 5 hours.
Several departures with ADO and AU. Prices vary greatly (between 427 pesos and 676 pesos) depending on the schedule and duration because some routes are direct and others are not.
2. By car
To get from Oaxaca to Puebla by car, it takes 4 hours 15 minutes.
From Oaxaca, take highway 135D towards Mexico City, then follow the Puebla/Mexico signs to take 150D ( Orizaba – Puebla / Cordoba – Puebla / Mexico)
There are five toll booths on the road:
Huitzo: 93 pesos
Suchixtlahuaca: 80 pesos
Miahuatlan: 33 pesos
Tehuacan: 46 pesos
Amozoc: 75 pesos
For up-to-date tolls, be sure to check out the Traza tu Ruta website
Tourist map of Puebla
Are you going to Mexico? Read also
All our articles on Mexico are here:  Find all our guides on Mexico!