Top 20 things to do in Mérida (Yucatan)
Mérida, Mexico, is a colonial city with colorful little houses, beautiful period buildings and narrow streets.
Capital of Yucatan, it is a city on a human scale that has a lot to offer travelers.
As a bonus, it is still largely protected from mass tourism – which tends to stay on the side of the beautiful beaches of Quintana Roo – and it is the safest city in Mexico!
From Mérida I expected nothing, because I wanted to let myself be surprised. Result? I was supposed to stay there for 3 days, I stayed there for 2 weeks instead.
So, what to do in Mérida and its surroundings? I offer you a complete guide with the must-see places of interest, my favorites and my best recommendations for restaurants and hotels to make the most of this city that deserves to be better known!
Visit Merida: the must-sees

1. Plaza Grande, the heart of the city
As with any Latin American city, the main square is a must because there are important buildings. Here are the activities not to be missed:
The House of Montejo
The Cathedral of San Ildefonso
The Macay Museum
Passage de la Révolution : it is a pedestrian passage covered by a glazed roof which connects the main plaza to the street located behind the cathedral. There are several works of artists who are installed there.
Government Palace: you have to go there to admire the 27 murals by the painter Fernando Castro. It also offers a very nice view of the square from the 2nd floor, day and night when everything is illuminated. Every day 8 a.m. to 9 p.m., free entry. By the way, to enjoy the view, you can also go up to La Casa de mi Tia, a restaurant on the 2nd floor right next door. It is rather simple, but there are balconies with tables.
El Olimpo Cultural Centre: displays all of Mérida's cultural programming outside with upcoming activities (events, shows, etc.). Take a look there!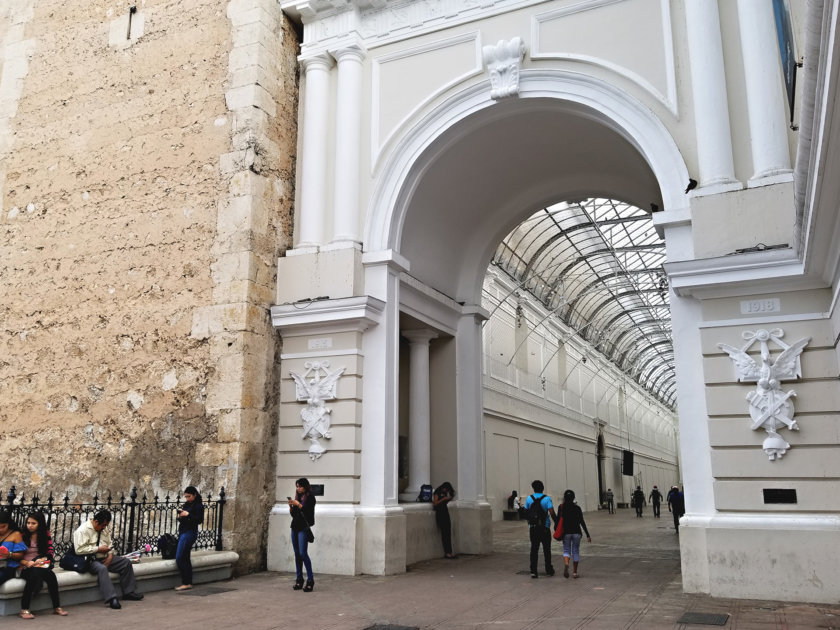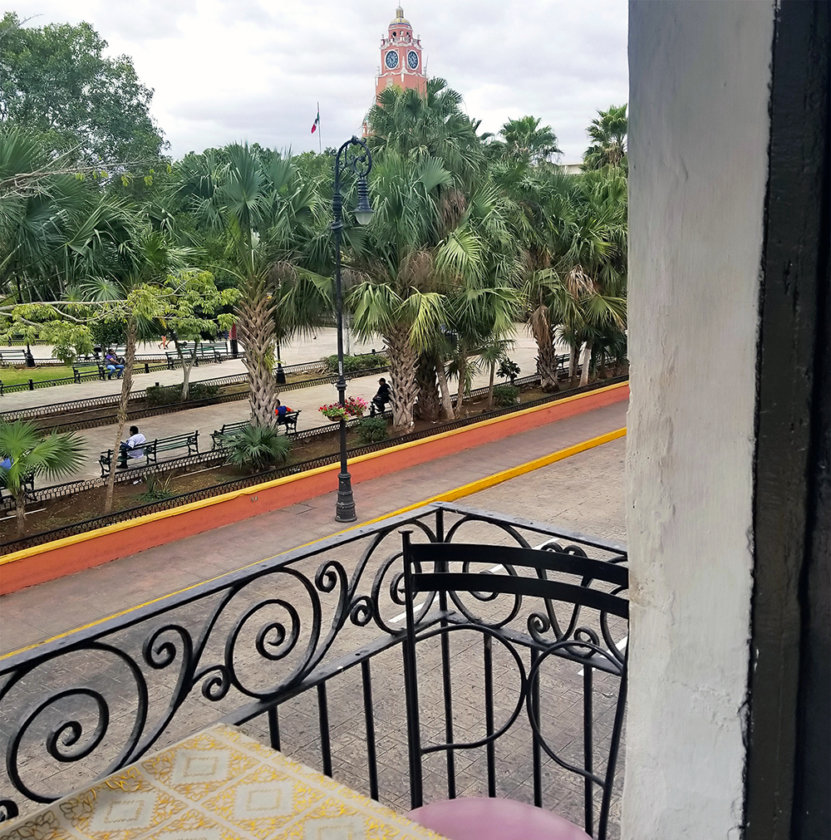 And know that Sunday is very lively on the Plaza! The streets are closed and there are several small food and craft kiosks for families to spend the day there. In the afternoon, you can even discover the "  Jarana  " a typical Yucatan dance.
Speaking of dance, Monday at 9 p.m. is also the "Noche de Vaquería" with regional dances in which everyone participates, it's worth a look. I was there by chance, and I really loved seeing the atmosphere!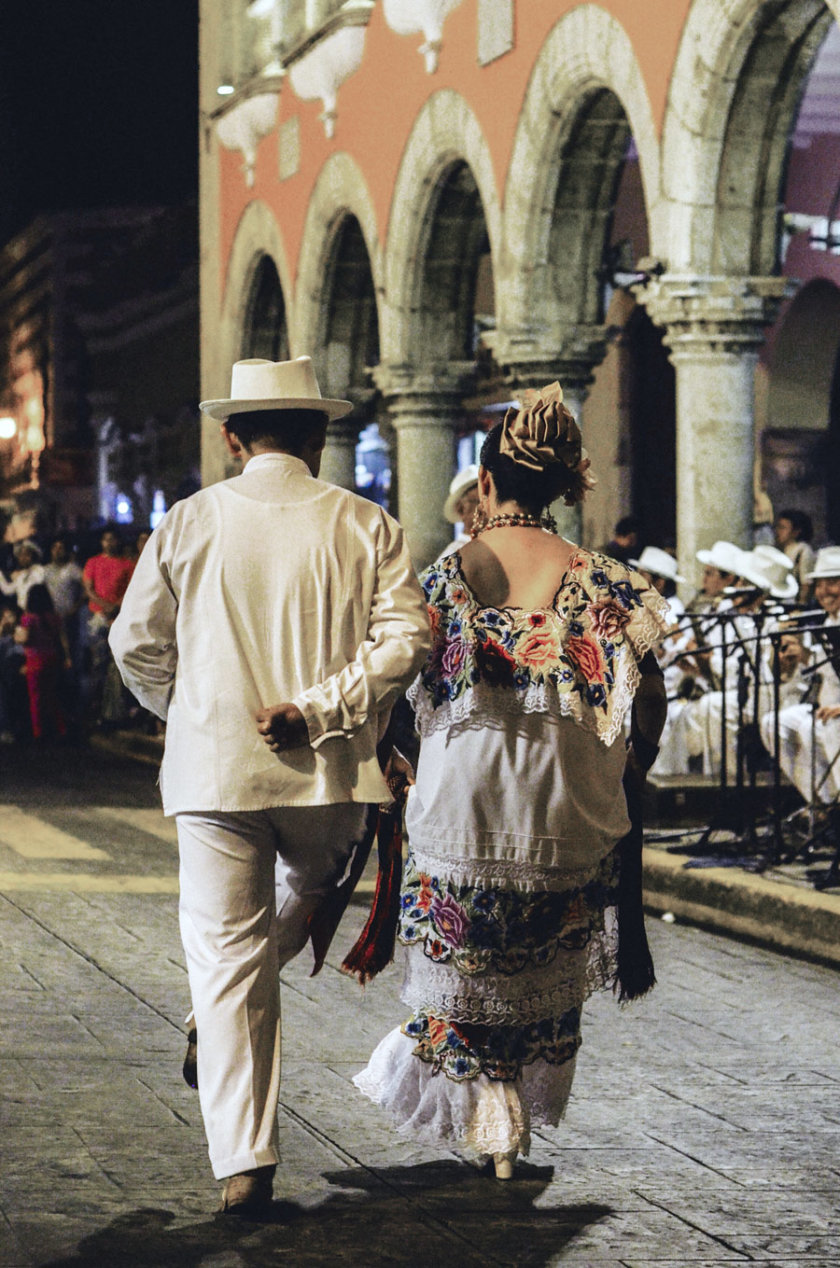 2. House of Montejo 
It is the oldest house in Mérida (1549), built for the family of Francisco de Montejo, the city's founder.
In reality, of the original construction only the entrance remains, but the visit is worth the detour as there are 4 rooms presenting the interior of a house from the end of the 19th century – beginning of the 20th century, in addition temporary exhibition halls .
Mardi-sam 10h-17h, dim 10h-14h.
On Wednesday at 8 p.m. there is a projection on the facade. Free admission.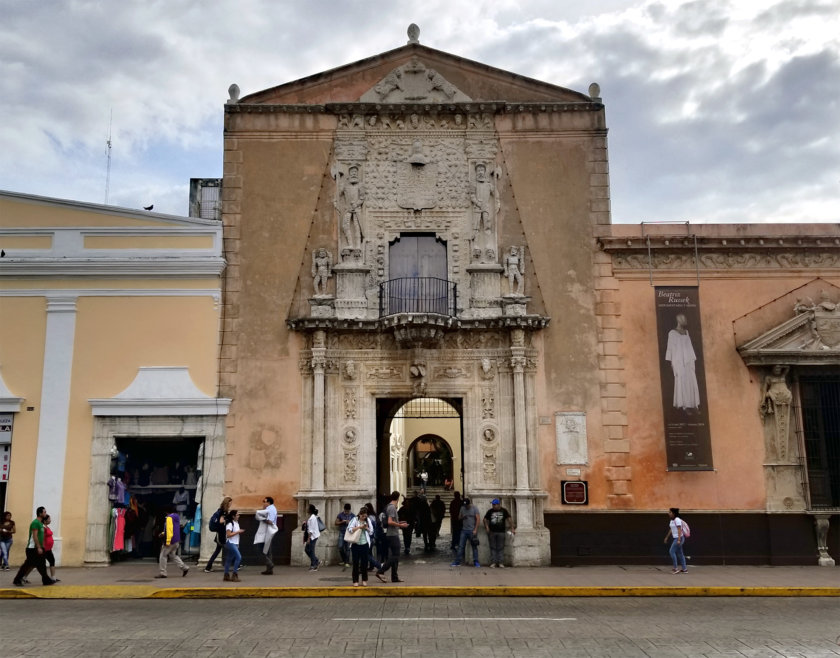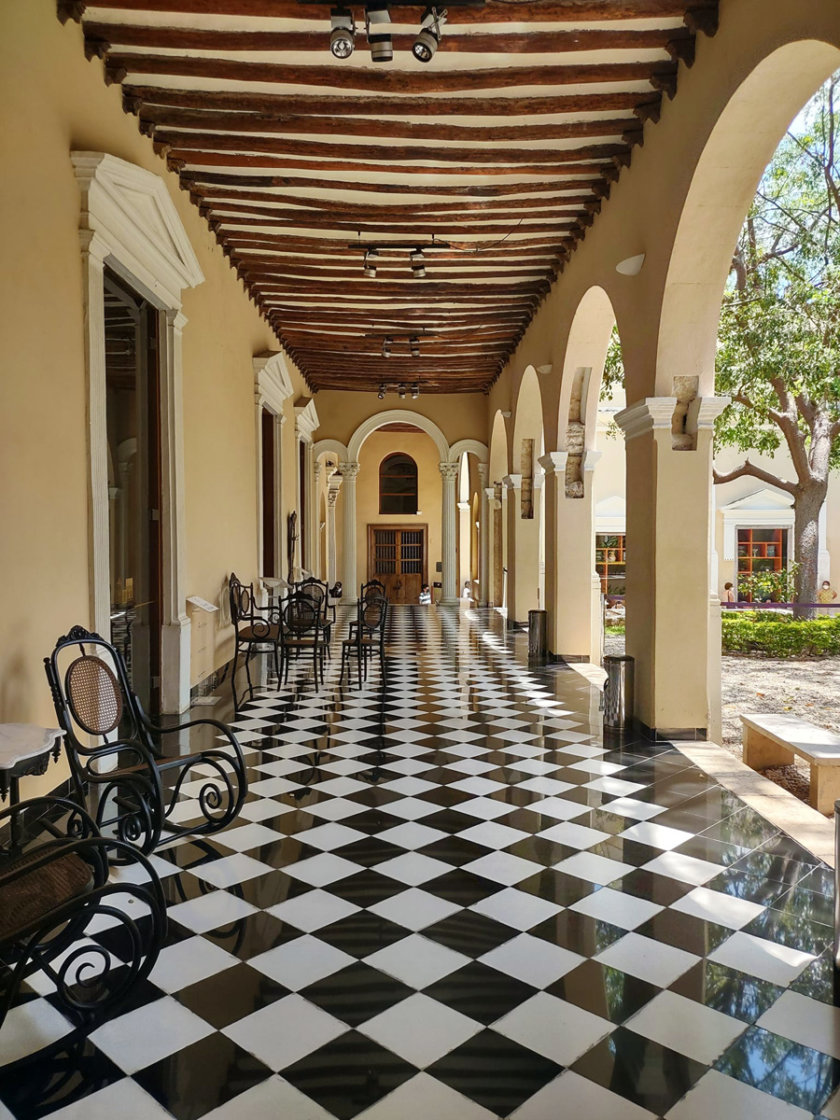 3. Cathedral of San Ildefonso
Oldest cathedral in Mexico (1561), built on the remains of a Mayan temple, it was partially demolished and ransacked throughout history. The interior is sober, but the building impresses with its imposing side with its large pillars and its statue of Christ which turns out to be the largest indoor statue of Christ in the world.
Every day 6 a.m.-12 p.m., 4:30 p.m.-8 p.m. Free admission.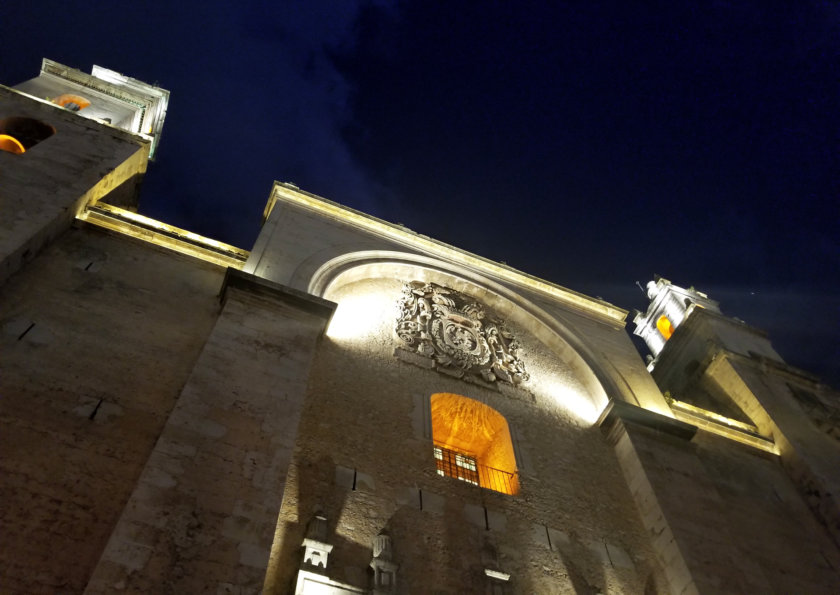 4.  Macay Museum
Right next to the cathedral, in a large and magnificent restored house, is the only museum dedicated to modern and contemporary art in the Yucatan Peninsula. We go there to see the temporary and permanent exhibition, but also to enjoy its pretty interior patio, filled with plants. It is one of the most pleasant places in Mérida to rest in the shade.
Open every day except Tuesday 10am-6pm.
Free admission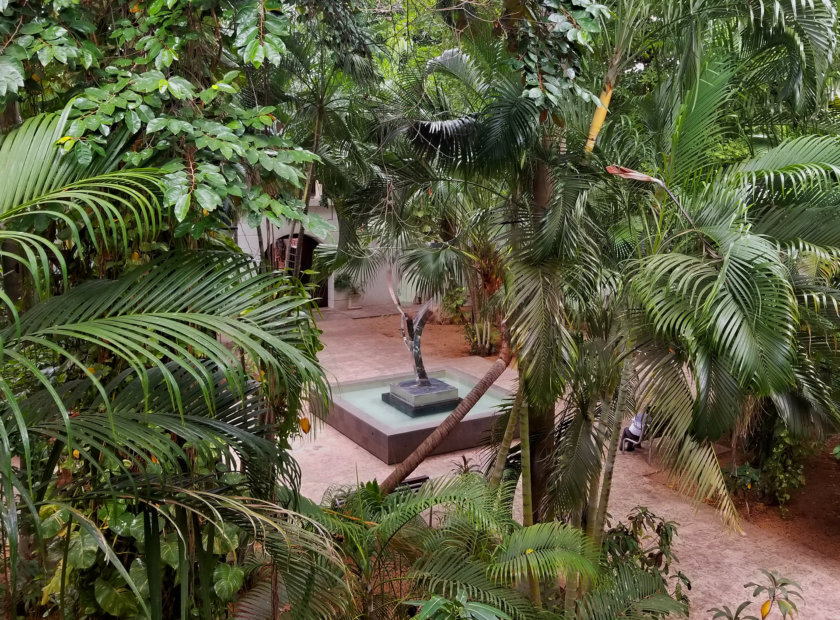 5. Juan Gamboa Pinacotheque
A stone's throw from the Plaza Grande , in a 17th century Jesuit building , is this museum which houses works from the Viceroyalty era through several rooms, in addition to temporary exhibitions and a room dedicated to Juan Gamboa Guzman, the most important 19th century Yucatan painter.
Mar-Sam 9h-17h, Day 10-17h.
Entry 70 pesos
6. The Charming Santa Lucia Park
Having spent my 2 weeks in Mérida in a hotel close to Santa Lucia,  I think it's the best part of Mérida to stay!
With its good restaurants with terraces and its music shows, Santa Lucia is a lively little square, with a nice neighborhood atmosphere.
On Thursday evening at 9 p.m., the traditional Yucateca serenata is held . This is an opportunity to discover the folk music of Yucatan while eating or simply sitting on one of the chairs.
Also, on weekends, craftsmen come to exhibit their products, it's a good time to take a look.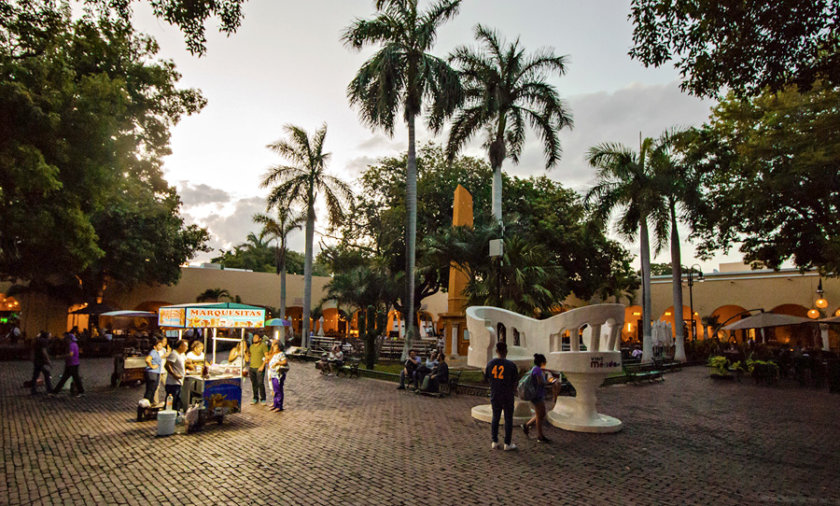 7. Canton Palace
It was while walking randomly through the streets of Mérida that I came across this magnificent building. After letting out a little "wow!" inside (it's because this rich building contrasts with the small houses in the neighborhood) and having taken off my headphones, I passed through the doors of the building.
It houses the Regional Museum of Anthropology of Yucatan and during my visit was held "  Mexicas, elegidos del sol  ", with many artifacts and interesting visual elements explaining the importance of the Mexicas (Aztec Empire) and their link with the Mayan culture.
A very clear and well presented exhibition to keep us interested until the end!
Mar-sam 8h-17h.
Entry 90 pesos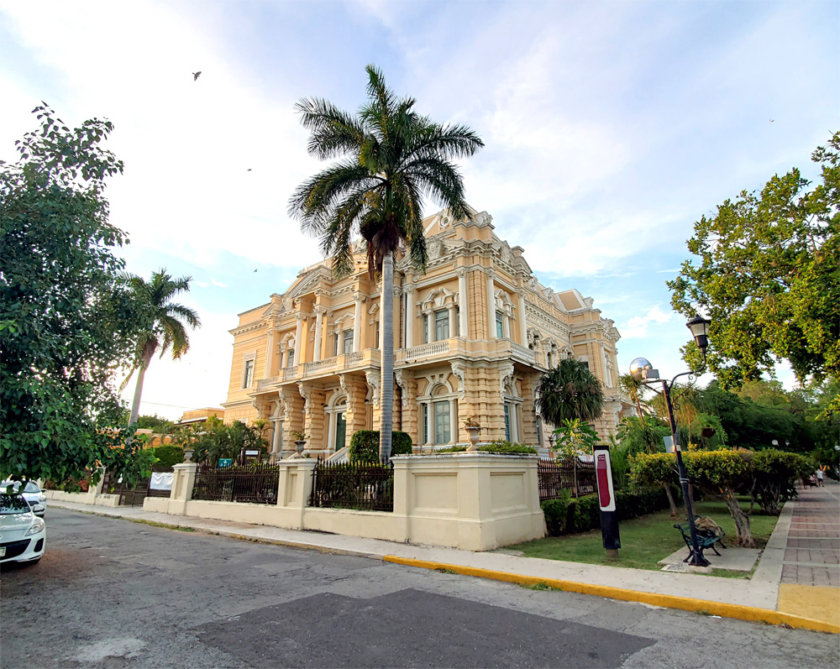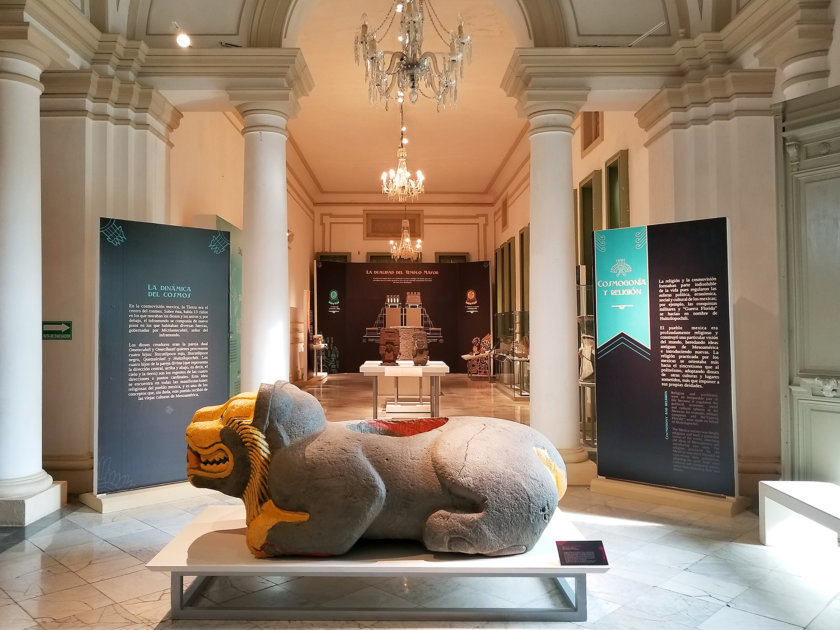 8. The Folk Art Museum
Mexico makes people dream with its colors and characters that have entered the collective imagination, especially with the famous Dia de los Muertos.
This museum allows you to discover Mexican folk art, through magnificent examples of the works of great artists and craftsmen of the country: clothing, textiles, work on stone, clay, wood, glass and miniatures. All in high color!
I was truly impressed by the thoroughness and attention to detail reflected in these works. For me, this museum is undoubtedly one of my favorite places in Mérida!
Address: Calle 50 (corner Calle 57, facing La Mejorada Park ), Wed-Sat 10am-5pm, Sun 10am-3pm.
Free admission
If you are interested in Mexican culture in general, around the corner is the Museum of Yucatec Song (Museo de la Cancion Yucateca) at 50 pesos the entrance.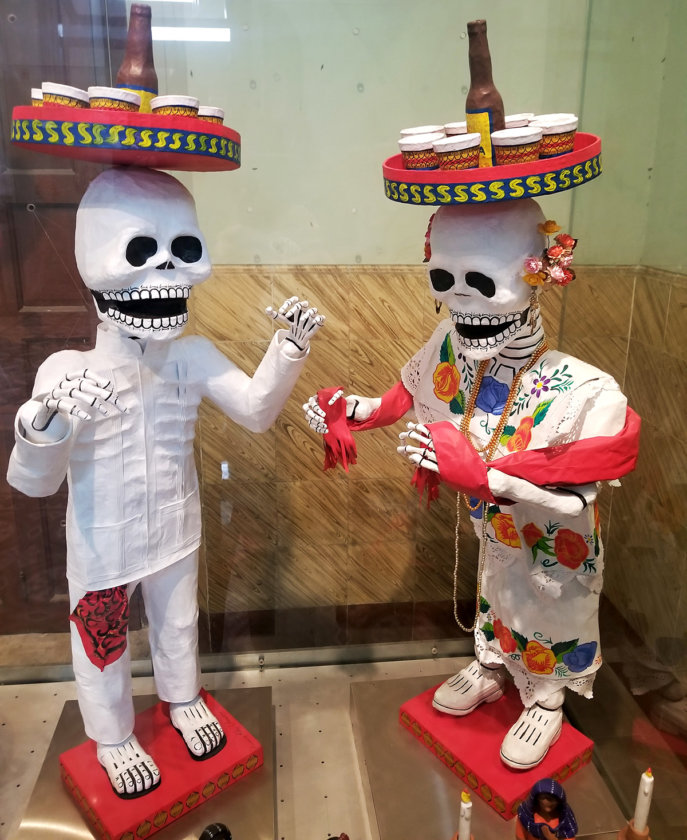 9. The Visual Arts Center
Here is an address that is certainly not touristy, but which is worth the detour if you are a fan of culture or simply curious to visit a beautiful building in Mérida.
Once through its large doors, you arrive in an impressive house with high ceilings, typical tiling and an interior patio, which has been converted into a cultural center.
Here are held several theater events, music, etc.) but there is also a free access exhibition that changes regularly.
During my visit, I discovered a very beautiful and interesting exhibition presenting each region of Mexico through chests decorated with typical elements.
Address: Calle 60 (between Calle 47 and 45, opposite Parque Santa Ana ).
Free admission.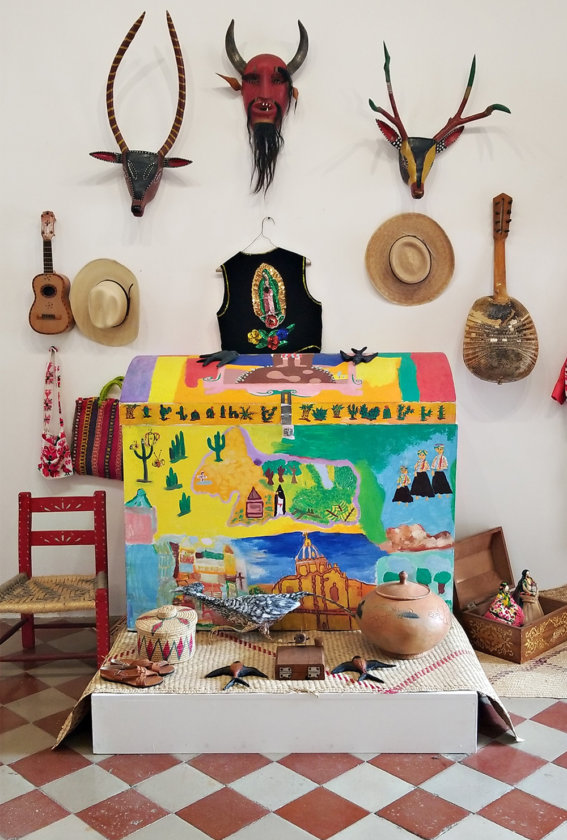 10. Get Lost in its Colorful Streets
In addition to being a pretty city of colonial heritage whose main attractions in its center can be discovered very well on foot, I would like to remind you that Mérida is the safest city in Mexico : it is therefore particularly pleasant to walk there!
Aside from the Mérida must-sees already mentioned, I really recommend checking out these three places:
Paseo de Montejo: a large avenue built in the spirit of the Champs Élysées, it is here that we found the residences of the greatest families of Mérida. Today it is one of the main streets of the city and there are still very beautiful buildings there, witnesses of the glorious past of the city. You will notice the Casas Gemelas, two large identical houses, which are the only ones on the Paseo that are still privately owned today.
Parque Santa Ana: it is a square located a few blocks from Parque Santa Lucia. In addition to its small church, the Visual Arts Center is just opposite and the Casa del Patron is very close .
Calle 64 : if you like colorful facades like me, I was specifically told that Calle 64 in Mérida is the most "colonial" with very beautiful examples.
Parque de Santiago : you have to go there on Tuesdays at 8 p.m.! That's when the whole place comes alive, with music from the 40s, and you can see lots of couples dancing (mostly adorable little old people).
But anyway, you will find little treasures all over the city. Keep your eyes open, and do not hesitate to look behind the shutters and half-open doors, there are sometimes nice surprises there.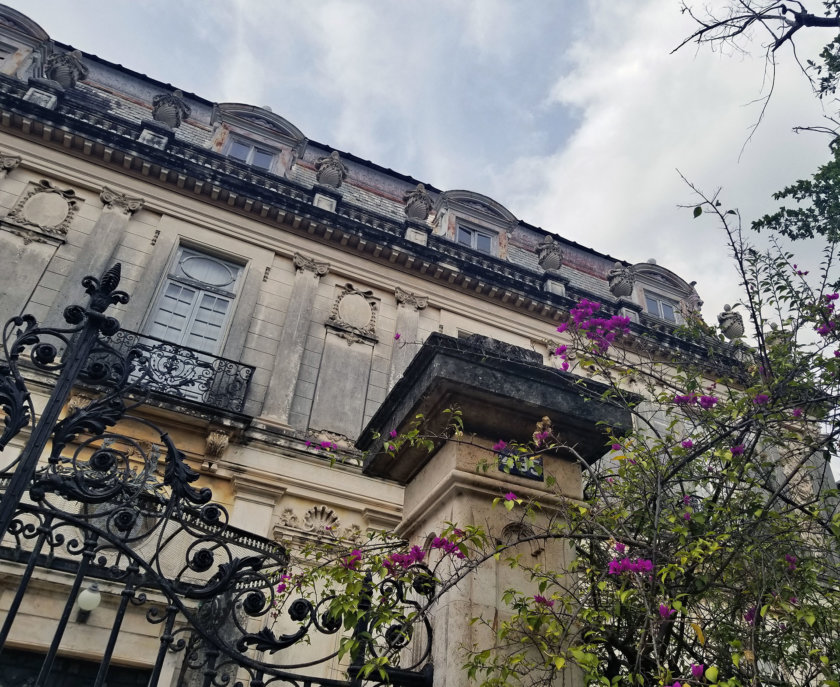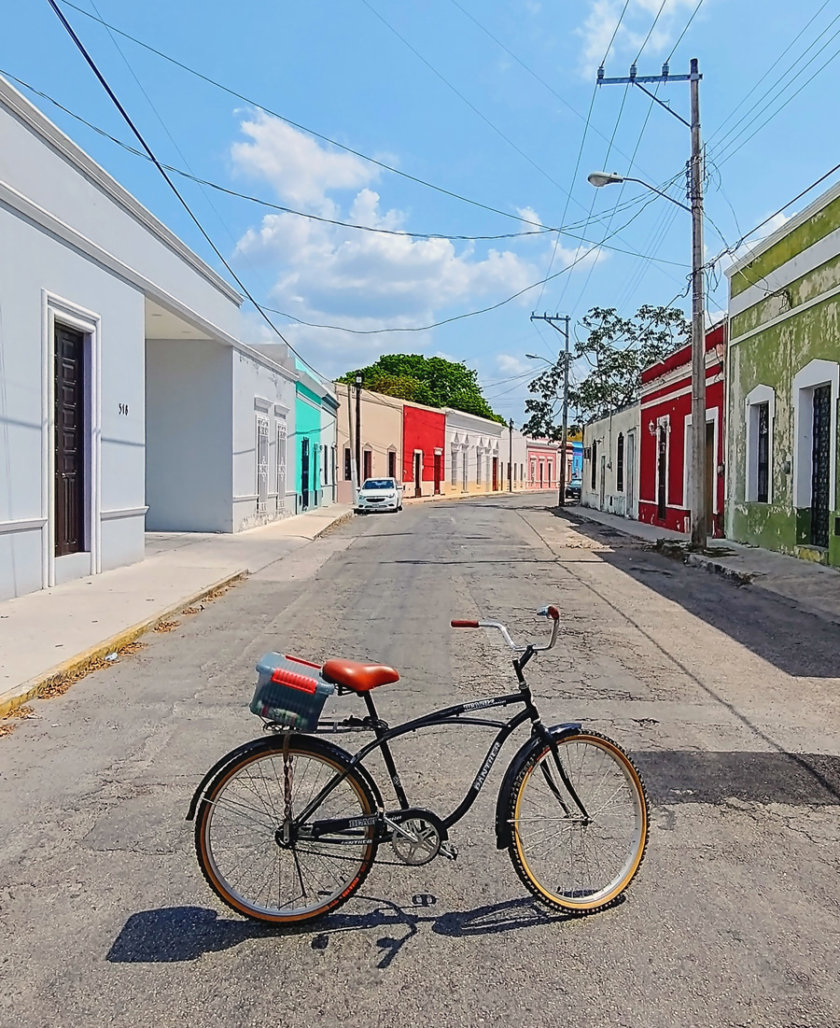 11. Free Walking Tour
Having experienced the Free Walking Tours several times in Spain and New York, I have always been enchanted by these "free city tours".
And not only because they are free (it is very important to leave a tip ), but also because the guides are generally dynamic and offer information that is a bit alternative to traditional visits.
For me, the best way to start a visit to Mérida is to take the Free Walking Tour from Estacion Mexico as it offers a general overview of the city passing by the main must-see places of interest.
Free tour of Mérida : at 10 a.m. and 5:30 p.m. every day, meeting point in front of Casa Montejo.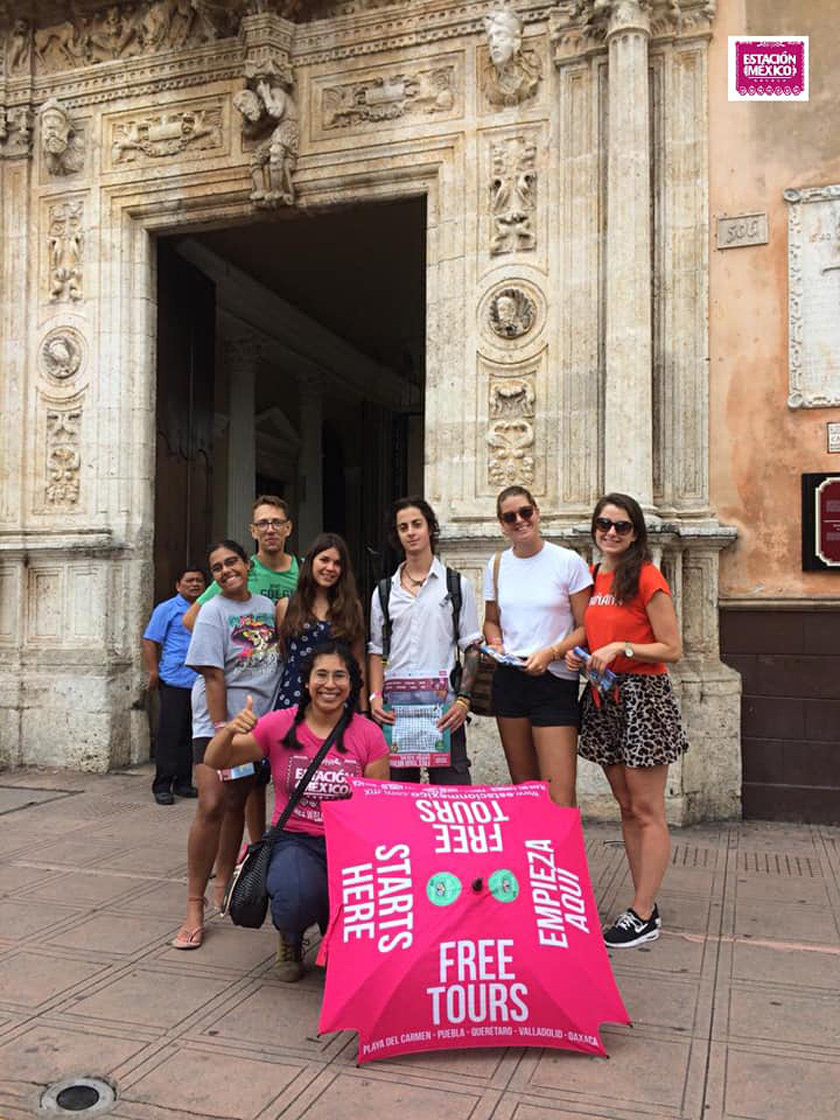 12. The City Museum
The city museum is located in a superb building which presents the history of Mérida through 4 permanent rooms :
The pre-Hispanic period with artifacts from the Mayan culture
The colonial era which contains pieces related to the Spanish conquest and the foundation of the city
Mérida in the 19th – early 20th century showing the economic and political development of the city
Mérida in the 20th century with objects related to the city today, its identity, its culture
There are also 6 temporary exhibition halls which feature works by local visual artists.
I was sincerely surprised to see that it is not better known to travelers when it offers a rather complete panorama of the city, between art and history, and all for free!
Address: Calle 56, 529ª (between Calle 65 and Calle 65ª).
Mar-Fri 9h-18h Sat-Dim 9h-14h
Free admission
13. Take a Bus Ride
If you want to visit Mérida by being calm and letting yourself be guided, I recommend a bus tour of the city. You have two options:
Turibus : it is a red double-decker bus like you can see everywhere else. There are two circuits, the Ruta Norte and the Ruta Barrios. Exits from the Plaza Grande.
El Carnavalito : this is the option I chose and I really enjoyed the experience! It is a traditional "  guagua " (a kind of trolley) colored, with wooden benches, which crosses the city during 1h30 with a guide. This is an opportunity to see the center, but also to discover the districts  a little further north and south where I would not have been on foot given the distance. Departure in front of Parque Santa Lucia.

14. Grand Museum of the Maya World
This is definitely another Mérida must to visit, especially if you are interested in the history of the Mayan culture and its evolution.
It is a large modern structure which presents some 1000 archaeological pieces (textiles, documents, engravings, bas-reliefs, sculptures, ceramics, etc.) through 4 rooms:
the mayans, nature and culture
today's mayans
les mayas d'hier
the ancient mayans
The exhibition is varied, dynamic, and even features a few projection rooms. Do not hesitate to ask questions to the guards, they are happy to talk about it!
Open Thursday to Sunday from 10 a.m. to 5 p.m.
Sound and light show at 9 p.m.
Entry 150 pesos
Address: Calle 60 Norte No. 299 E, Unidad Revolución, Mérida.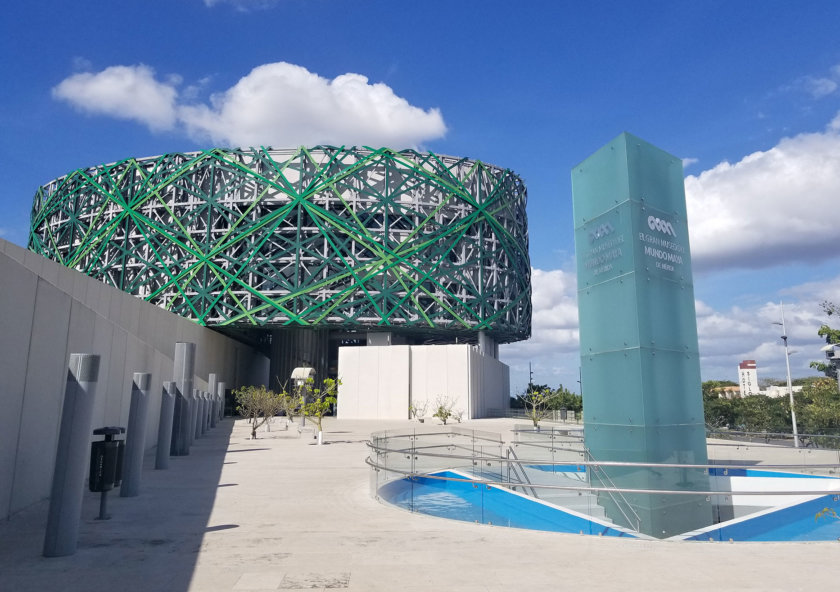 15. Buy Cool Souvenirs
It is true that there are very beautiful examples of typical Yucatan bordered shirts in Mérida  but if you are looking for something less traditional, here are my 4 suggestions of shops to visit in Mérida :
La Casa de Donia Way : a big crush on this shop which presents with humor and a touch of tenderness the culture of Yucatan through the character of "Donia Way". Here you can find notebooks, coloring books, typical cookbooks, a "Yucatec dictionary", postcards, in short, all kinds of small products. Do not hesitate to return at least to take a look, the reception is super nice and with a little luck they will have an illustrated map of Mérida (free).  Facebook page
Hola Cometa: It's a real Ali Baba's cave for lovers of independent local art. Here you can find all kinds of small objects, pins, stickers, t-shirts, lighters, jewelry, etc. Facebook page
Amerindio: it's a nice little shop that mainly targets men, with young Mexican brands (ties, shirts, beard care and accessories, caps, etc.). If you're looking to bring back a practical, made-in-Mexico gift that goes beyond traditional souvenirs, I really recommend checking it out. Facebook page

16. Discover a Local Market
Mérida has several culinary specialties: salbutes,  polcanes, cochinita pibil, tamalitos con carne mechada, papadzules, relleno negro. You can taste it in several local restaurants, but also at the market, for an even more typical experience.
There are several markets in Mérida, such as Santa Ana, Santiago, San Benito and Lucas de Galvez.
And for the full foodie experience, I suggest a guided tour of a local market followed by a Yucatan cooking class! To book here.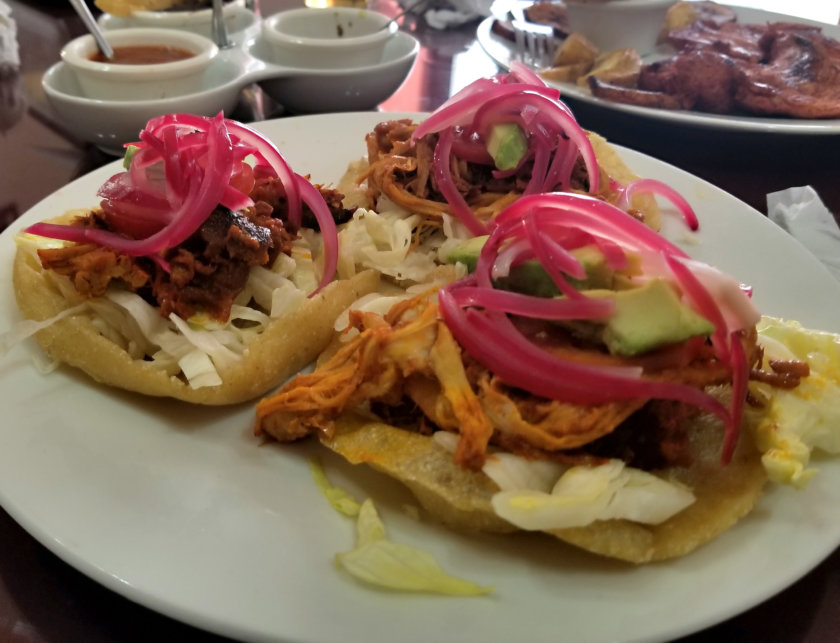 17. The archaeological site of Uxmal
Beyond its colonial heritage, Mérida is also close to some must-see Mayan archaeological sites, such as Uxmal,  which is listed as a UNESCO World Heritage Site.
Located about 1h15 (80km) from the capital of Yucatan, it is the Mayan site that impressed me the most architecturally .  It is also the most representative city of Puuc style architecture with rich facades decorated with masks of the god Chaac (the god of rain), Greek symbols, hieroglyphs and battlements.
Its history was quite brief (7th to 10th century ), but the city was locally important because it benefited from a strategic alliance with Chichen Itza.
There are several buildings there, the 4 main ones being the imposing  pyramid of the Diviner  (which welcomes us at the entrance), the quadrilateral of the Nuns, the Governor's palace and the house of the Turtles.
And what's great here is that some offer a superb view of the surroundings!
Visit Uxmal:
By car : 1h15 from Mérida taking the Carretera Federal 261. Parking costs 80 pesos
If you don't have a car, I recommend the easiest option which is to take this excursion to Uxmal which includes visiting Kabah and picking up from your hotel in Mérida. Easy to book here.
Tips for your Mérida itinerary:
Discover  my complete guide to Uxmal  with all the practical information to organize your visit alone or with an agency!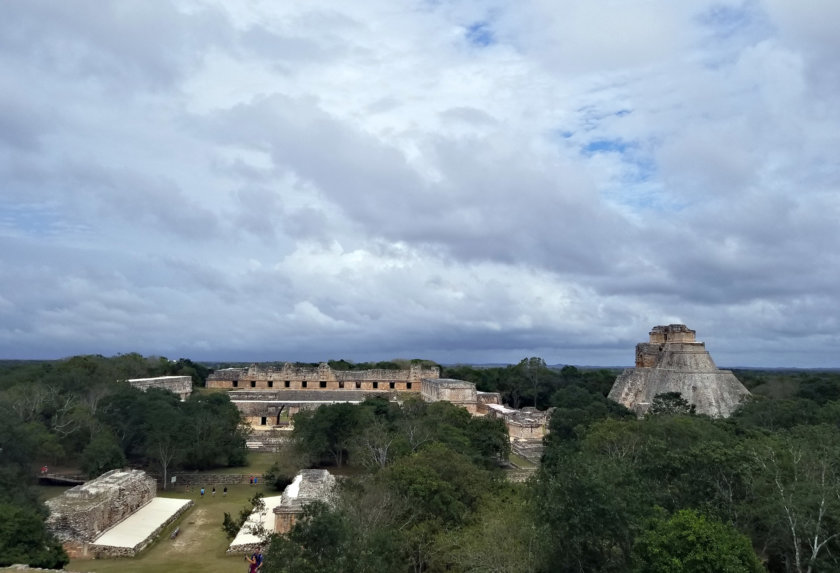 18. The Kabah Site
The second largest Puuc site after Uxmal, it is a small Mayan archaeological and architectural gem.
It is estimated that Kabah extends over 4km² and would have developed mainly between the year 700 and the year 1000. The city was then invaded by the Itzaes of Chichen Itza who occupied it briefly before abandoning it.
If the buildings are for the most part still covered by vegetation, we can see some impressive facades rich in sculptures, which represent the leaders of the city and war scenes such as the Temple of the Sun and the "Codz Poop " or  Palace of the Masks. 
The site is not very big, but as it is half wild and not perfectly restored, I found the atmosphere unique and particularly interesting.
Moreover there is really hardly anyone on the site, which makes it particularly special!
Visit Kabah:
The site is open from 8 a.m. to 5 p.m.
Entry costs 75 pesos
It is located only 22km (30 min) from Uxmal, which is why visits are often combined.
As I mentioned for Uxmal, I took an excursion from Mérida with transport and visiting the sites of Uxmal and Kabah.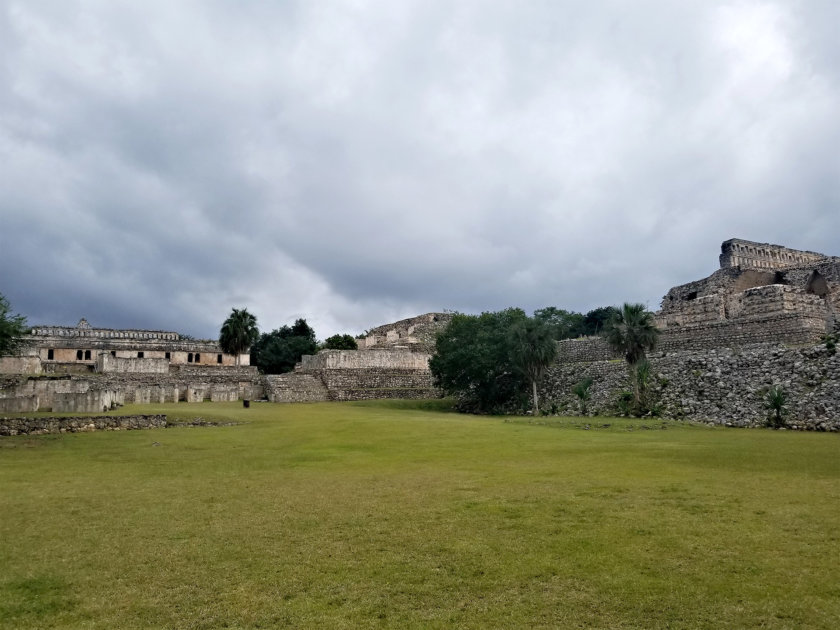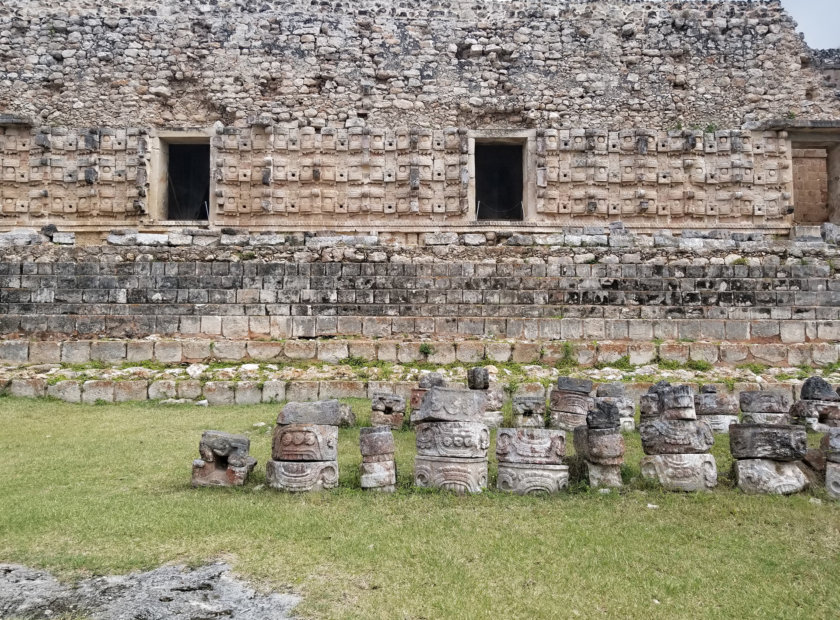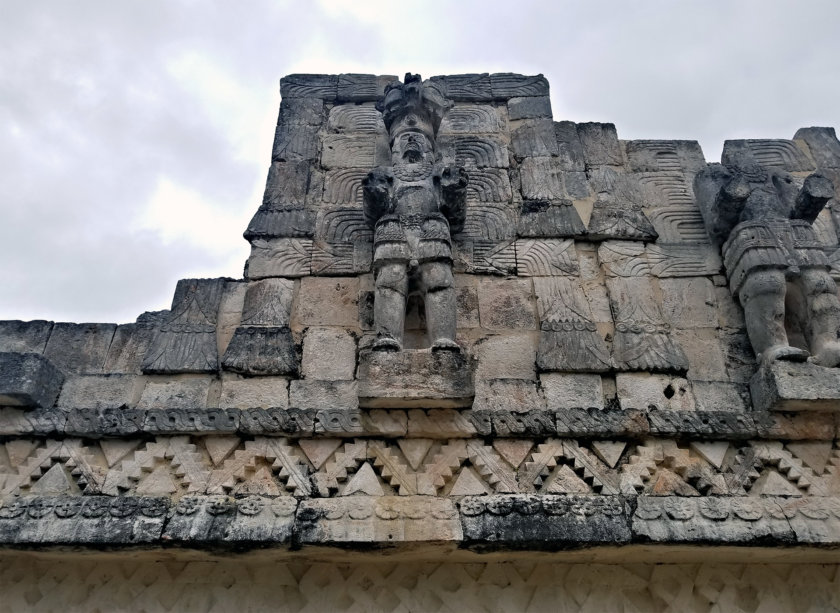 19. Dzibilchaltun
Dzibilchaltun is not a very touristic archaeological site and yet it was one of the largest Mayan cities in Mesoamerica with some 40,000 inhabitants.
No less than 8,400 structures have been found there, dating from 500 BC to the 16th century!
What to see in Dzibilchaltun:
-The Temple of the Seven Dolls which is the main building where an offering of seven figurines in human form was found.
-A 16th century Franciscan chapel, which is located in the middle of the city
-Le cénote Xlacah
-The museum which presents several artefacts found during the excavations including steles ( 2-9th )
How to get to Dzibilchaltún from Mérida:
By car : 20-30 min towards Puerto Progreso. You have to take the Carretera Carr. Mérida – Progreso/México 261 then exit at Dzibilchaltun
By public transport : take a colectivo at the corner of Calle 61 and Calle 58 which goes to the village of Chablekal (30min), then take a mototaxi to Dzibilchaltun which should cost 20-25 pesos
With a guided excursion : it's the best option so you don't have to worry about transportation! The day trip includes hotel pick-up, a visit to Dzibilchaltún, swimming at the X'laka cenote and free time on Puerto Progreso beach. To book here.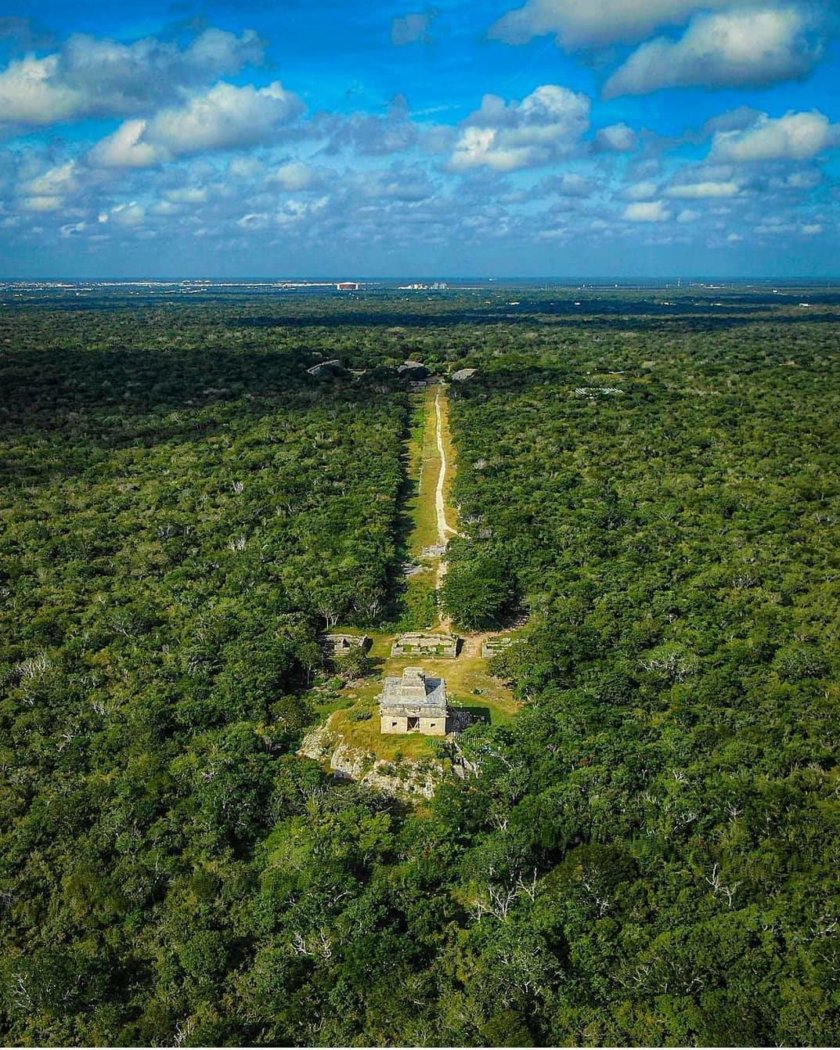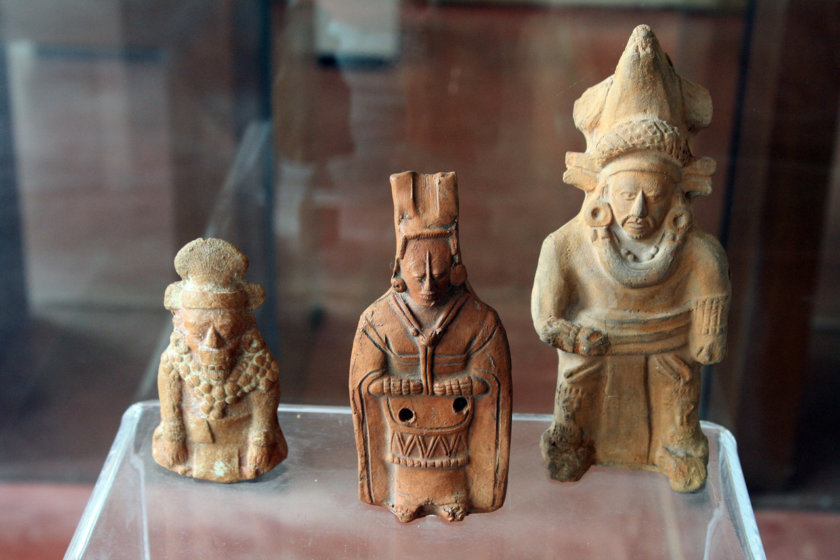 20. Flamingos in Celestun
It is a fishing village located in a biosphere reserve  that bears the same name.
There are some 300 species of birds including North American flamingos, making it a small paradise for nature lovers and birdwatchers.
We approach it thanks to a boat trip (max 6 people) of about an hour which also takes us to enjoy the ojo de agua, a lagoon of transparent slightly salty water: a delicious place to swim!
And to complete your visit to Celestun, take the opportunity to eat in one of the seafood restaurants in the village and enjoy the beach!
When to observe the flamingos : they can be seen all year round but the best period is from November to March and especially in January when the water level is at its lowest.
How to visit Celestun
It is 92 km from Merida (1h45 drive).
The easiest is probably to take a tour from Mérida, but you can also get there from Terminal Noreste (departure every hour from 5.45am, last return from Celestun at 8pm, it takes about 2 hours by road).
What is interesting is to see on the way the typical Mayan houses of the villages you pass, such as Caucel, Ucu, Hunucma, Tetiz and Kinchil.
So that you don't have to worry about the organization, I recommend this excursion to Celestun which includes transport from your hotel in Mérida, the guided tour, the boat trip and lunch. To book here. 

How many days to visit Merida?
Between its colonial architecture, its many museums and its easy access to various archaeological sites, Mérida is a city that has a lot to offer. Not to mention that it is a very safe and human-sized city where it is pleasant to simply walk around.
Here are my itinerary suggestions so you don't miss anything of Mérida and its surroundings, in 1, 2 or 3 days.
1 Day Merida Itinerary
If you only have one day in Mérida, you will have to go to the essentials, fortunately the attractions to see in the morning are all located around the square.
In the morning, go to the Plaza Grande to discover the heart of the city
Visit the Casa de Montejo, the Cathedral, and the Macay Museum
Take a trip to the 2nd floor of the Government Palace for a nice view of the square
Visit the Lucas de Galvez market to discover the local products and atmosphere. You can decide to taste a dish on site or choose from one of the many restaurants in Mérida.
In the afternoon, head to the great museum of the Mayan world
In the evening, return to the center to enjoy the atmosphere of Parque Santa Lucia while eating on the terrace or having a drink.
2 Days Merida Itinerary
In two days in Mérida, repeat the same route as the first day, then the next day, go on an excursion to Uxmal and Kabah.
3 Days Merida Itinerary
If you have three days in Mérida, you can take more of your time. Add to the itinerary already recommended this in the 3rd day:
Take a walk on the Paseo de Montejo and observe the beautiful examples of architecture
Go to the Regional Museum of Anthropology of Yucatan, located very close to the Paseo
You can also discover the interesting folk art museum 
Accommodation in Merida
Nomadas:  it is the largest hostel in Mérida, but above all the one with the friendliest atmosphere in the city. There is a swimming pool surrounded by hammocks and plants, courses (yoga, cooking, etc.) and all well located, in the center of Mérida. Bed in dormitory,  from only 16 euros per night!
El Gran Hotel: perfectly located in the center of Mérida, right next to the cathedral, this is a hotel with a certain charm, where time seems to have stood still with its colonial look and its pretty woodwork. There is a restaurant on site, the rooms are spacious and the wifi works well. Good value for money at only 54 euros a night!
Hotel Hacienda Merida VIP: this small luxury hotel is the ideal place to spend a  romantic stay in Mérida. Located in the heart of the historic center, it is an address that looks like a chic hacienda, illuminated by candlelight when night falls. Here you will find a nice swimming pool, very comfortable rooms, as well as an on-site restaurant and bar. From 150 euros per night
Hotel Boutique Mérida Santiago: This is a small, cozy hotel with a colorful hacienda look, both modern and with a traditional Mexican touch. Swimming pool with deckchairs and parasols, a very good homemade breakfast, spacious rooms, this is the ideal hotel if you are looking for good comfort without falling into luxury. From 180 euros per night
Where to eat in Merida?
Mérida has the advantage of offering a wide selection of restaurants for all budgets. Here are 3 addresses not to be missed :
Gorditas Doña Gorda $: located at the corner of the Plaza Grande, this is the perfect place to eat good and cheap. It's an unpretentious place, but it's packed with locals: so you know it's good! And indeed their gordita with cochinita pibil seemed excellent to me. Address: corner Calle 60 and calle 61 (Plaza Grande), Mérida.
El Apapacho $-$$ : bohemian soul universe, we go there to have a good breakfast while enjoying the colorful terrace. I recommend the chicken tecolota (75 pesos) if you are really hungry. It is definitely one of Merida's hidden treasures! Address: Calle 62, 354 (between calle 41 and calle 43), Mérida. Facebook page
Apoala $$$ : If you have a bit more budget, this is the place to try fine Mexican cuisine. The products are fresh, the arrangements very interesting, the place is very pretty and I recommend that you make a reservation to be able to enjoy a table in Santa Lucia Park. Address: Calle 60, 471 (Santa Lucia Park), Mérida. Website
Tourist Map of Merida
Here is a  map  to help you  easily locate  all the attractions, restaurants and cafes I mentioned above and to be able to organize your  visit to Mérida more efficiently.
How to get to Merida
By bus  : there are several departures per day from Cancun, Playa del Carmen, Tulum and Campeche. My ticket from Playa del Carmen cost 326 pesos but the prices change depending on the time. Be careful to go to the right bus station  (Terminal  Alterna  – Avenida 20 and calle 12 bis) because there are 2 in Playa del Carmen. 
By plane: there are several national and international flights that go to Manuel Crescencio Rejon airport. The airport is located just 15 minutes from the city center.
Are you going to Mexico? Read also
All our articles on Mexico are here:  Find all our guides on Mexico!