Visit Mexico in 2 weeks: what to do and see?

Want to visit Mexico in 2 weeks?
Good idea!
Mexico is a huge country that hosts a multitude of breathtaking archaeological, cultural, and natural sites .
To help you organize your trip, here is my 2-week Mexico itinerary to see the must-see places of interest in the Yucatan Peninsula and Chiapas .
This journey begins with the Yucatan Peninsula in Cancun, then takes you inland to Ek Balam, the famous Chichen Itza, Mérida and Campeche.
For the second part of the trip, you will arrive in Chiapas to discover Palenque, Bonampak and Yaxchilan. Then, direction San Cristobal de las Casas, Balamku and the site of Calakmul lost in the jungle.
You will finally return to the Riviera Maya to enjoy the famous beaches of Tulum before leaving Cancun.
For each stage, you will also find all my practical advice and my best  recommendations for accommodation  while respecting your budget.
So, what to do and see in Mexico in 2 weeks?
Day 1: Cancun
A tourist city with a pleasant climate and magnificent beaches, Cancun is the perfect starting point for this Mexico itinerary.
Upon arrival, take possession of your rental car. If you prefer to take public transport, I also give you all the information you need to organize your trips between the different stages of the itinerary.
So, go to your hotel to drop off your luggage and enjoy Cancun because you are already leaving the next morning!
Here are my suggestions for activities in Cancun :
Profitez des plages de Cancun like Tortugas, Los Delfines, Playa Langosta, Playa Linda, Playa Caracol, Playa Marlin.
For cultural visits, I recommend the Maya Museum and the El Rey archaeological site.
Snorkel or dive at MUSA (Cancun Underwater Museum) – You can book the diving excursion here!
Tips for your Mexico itinerary:
Cancun is probably the best party place in Mexico.
You can go to the City Nightclub (the biggest discotheque in the country!), the famous Coco Bongo Club or simply stroll through the Party Zone on Boulevard Kukulcan to take your pick.
You can buy your tickets to Coco Bongo here.
If you want to experience Mexican party culture , with typical dancing, music, food and drink, I really recommend Xoximilco Cancun! To book here.
Spend the night in Cancun.
Getting to the hotel from Cancun airport:
By car : the airport is 30 minutes from the hotel zone (Carretera Punta Nizuc – Cancun) and 25 minutes from the center of Cancun ( Carretera Cancún – Tulum / México 307 in the direction of Labna)
By public transport : ADO buses go directly from the airport to the center and the hotel zone
By air-conditioned taxi: an easy and safe way to get to the hotel, book here!
Accommodation in Cancun

Day 2-3: Ek Balam and Chichén Itzá (1-2 days)
After enjoying the warm waters of the Caribbean, I suggest you go to the impressive Mayan cities of Ek Balam and Chichen Itza.
Morning – Leave for Ek Balam which was an important administrative center and a real cultural capital during the time of the Mayan Empire.
There are 40 structures between temples and palaces, but its most important building is the Acropolis : from the top of its 30m it is the largest pyramid in northern Yucatan.
Climb to the top of the pyramid as the view of the other buildings and the surrounding jungle is breathtaking!
Tips for your Mexico itinerary:
If you are driving, I advise you to make a refreshing stop at the cenotes of Dzitnup (Xkeken and Samula) or Cenote X-Canché before driving from Ek Balam to Chichen Itza.
Another option, easier if you are by bus, is to take a short tour of Valladolid, a pretty and colorful colonial city!
In the afternoon – Direction Chichen Itza which was the main religious center of Yucatan in the 10th century.
Listed as a UNESCO World Heritage Site and considered one of the New 7 Wonders of the World, it's a must on a two-week trip to Mexico.
Here is an overview of what you can see at Chichen Itza  :
The Kukulcan Temple or "El Castillo", the main building of Chichen Itza and one of the most important pyramids in the Mayan world
The astronomical observatory or "El Caracol" from where the Mayans studied the stars
The Mayan pelota game, an important ritual game that ended in sacrifice, which is the largest ground found in Mesoamerica
Noches de Kukulcan which is an impressive nocturnal sound and light show (7 p.m. or 8 p.m. depending on the season)
To know all the attractions of Chichen Itza, here is my Complete Guide to Chichen Itza
If you go there on your own, it is better to end the day in Mérida and spend the night there.
If you are taking a tour from Cancun, the tour will drop you back at your Cancun hotel. The next day, you can take an ADO bus from Cancun to Mérida (4h20).
Getting to Ek Balam and Chichen Itza from Cancun
Ek Balam is 173km from Cancun. By car (2h50), take the 180 or 180D (with tolls), then the 295. By public transport, take an ADO bus to Valladolid (2h10), then a taxi at the corner of Calle 44 and 35 ( collective or private, 30 min).
Chichen Itza is 68km from Ek Balam.  By car (1 hour), take the 295 to return to the 180D towards Mérida, then the 79 (Chichen Itza/Piste exit). By public transport, from Valladolid take an ADO bus or a colectivo (next to the bus station) which will leave you at the entrance to Chichen Itza (50 min).
Getting to Merida from Chichen Itza:
By ADO bus (2 hours, departure at 4.30 p.m., the ticket can be purchased in the Chichen Itza shop) or by car (1 hour 25 minutes) joining the 180D.
Tips for your Mexico itinerary:
If you don't have a car, a convenient option is to visit Ek Balam and Chichen Itza with a guided tour.
I recommend this tour which includes pickup from your hotel, entrance fees, breakfast and lunch, and a stop at Cenote Hubiku. A very good value for money, to book here.
Accommodation in Merida
Here are my accommodation suggestions in Mérida :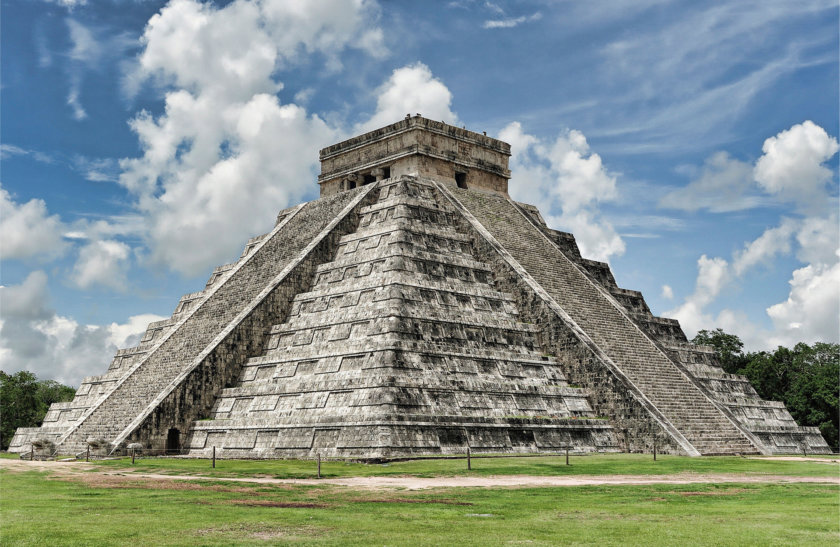 Day 4-5: Campeche
Day 1 – Merida, Uxmal and Kabah 
Start the day with a visit to the pretty colonial city of Mérida, capital of the state of Yucatan.
Visit the Plaza Grande and its free access historical buildings like the Macay Museum, the Cathedral and the House of Montejo.
Then head to Calle 64, the best place to admire its colorful houses!
You can also take a trip to the local market to discover the best of traditional Yucatan cuisine.
Continue your 14-day Mexico itinerary to Uxmal , which was one of the largest cities on the Yucatan Peninsula.
Today listed as a UNESCO World Heritage Site, this Puuc-style Mayan city stands out for the richness of the details of its structures.
The site is dominated by the Pyramid of the Diviner, built in honor of the rain god Chaac, but there are several other highlights to see such as the Palace of the Governors, the Quadrilateral of the Nuns and the Great Pyramid.
After finishing the tour of Uxmal, head to Kabah, another smaller and much less touristy Puuc-style Mayan site.
Tips for your Mexico itinerary:
I recommend the Kabah tour to those doing this 2 week Mexico itinerary by car or organized tour as there is no public transportation between Uxmal and Kabah.
There is an exception : on Sundays, a bus leaves Mérida at 8 am and goes through the 5 sites of the Puuc Route (Labna, Xlapak, Sayil, Kabah and Uxmal). Each stop lasts about 30 min, except Uxmal 2h. The bus returns at 4 p.m. to Mérida.
At the end of the afternoon, direction Campeche to spend the night there.
Getting to Uxmal and Kabah from Mérida
Uxmal is 80km from Merida. Kabah is 20 km from Uxmal.
By car: take the Carretera Federal 261 towards Santa Elena (1h10)
By public transport: take the 2nd class bus from the TAME Terminal (duration 1h20-2h). 1 departure at 9:05 a.m., 1 return at 3 p.m.
As a day trip: this is the best option if you don't have a car as it includes pick-up from your hotel in Mérida, the guided tour of Uxmal (with free time) and Kabah.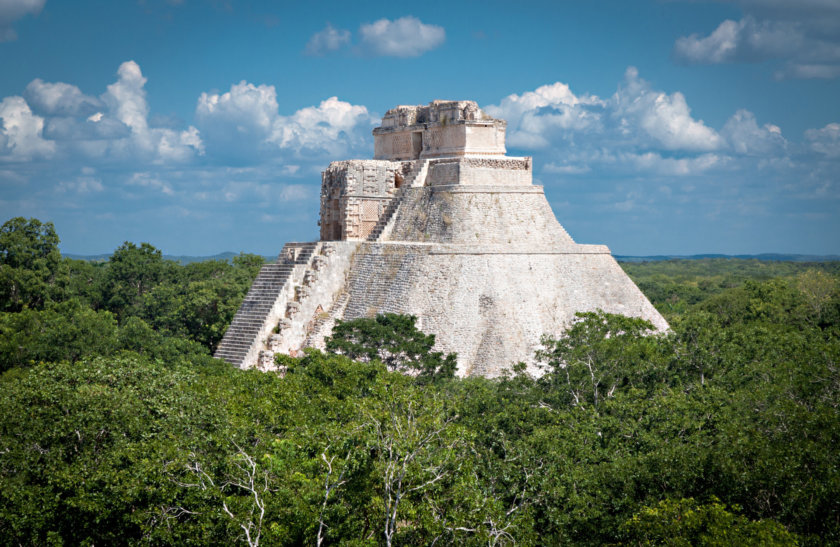 Day 2 – Campeche and Edzna
Discover the small, colorful historic center of the city of Campeche, capital of the state of Campeche.
Start with the Baluarte San Francisco to walk on the ramparts, observe the city from above and take beautiful photos!
Continue to the Baluarte San Carlos to visit the city museum, or go directly to the Mayan Architecture Museum which contains magnificent treasures.
Walk around the main square  where the cathedral, El Palacio cultural center and Casa no6 are located .
This 2-week Mexico itinerary continues to Edzna, one of the most important Mayan sites in Yucatan.
City of great political, economic and religious power, it was one of the most developed pre-Columbian cities in Mexico!
You will discover among others the Great Acropolis with the Palace of Cinco Pisos,  the Small Acropolis, the Temple of the Masks and the Palace.
In addition to being in a good state of conservation, Edzca receives relatively few tourists and you can really project yourself in time.
Getting to Edzna from Campeche
By car : take the China-Hool highway to join the 188 (47min)
By public transport: take a local bus near the market on Chihuahua Street (about 1 hour)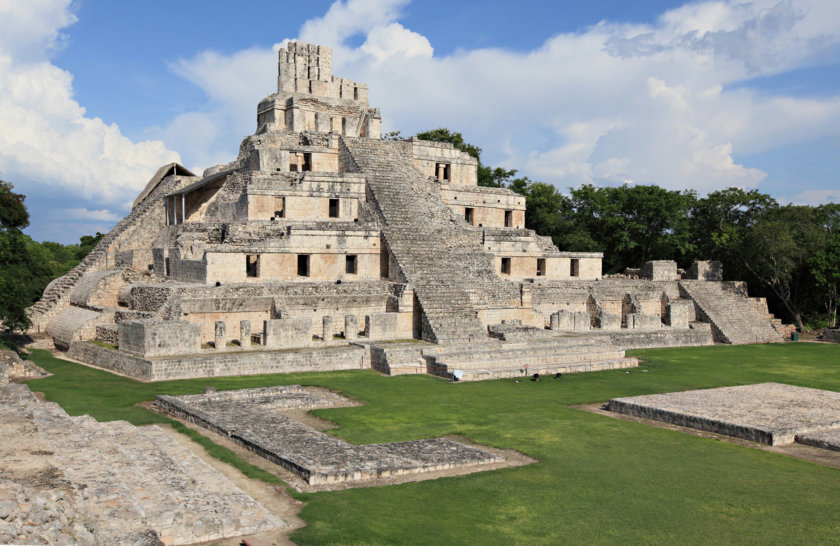 Accommodation in Campeche
Melisa Hostal : hostel very well located in a beautiful typical house in the center of Campeche , very friendly welcome, small swimming pool, access to the kitchen, clean places and comfortable mattresses. Bed in dormitory  from only 18 euros per night
Casa Serena Beautiful Colonial Loft : This is a spacious apartment right in the center of Campeche that offers excellent value for money. With air conditioning, living room, kitchen, terrace, good wifi and breakfast included. It can accommodate 2 to 4 people, from 115 euros per night!
Hotel Boutique Casa Don Gustavo : an elegant, fully restored 18th century mansion on a pedestrian street in central Campeche. A nice mix between modernity and period decoration, comfortable rooms with air conditioning. Wifi, outdoor swimming pool, jacuzzi and a very good à la carte breakfast await guests. From 150 euro!
Day 6-7: Palenque
Day 1 – The ruins of Palenque
For the rest of this 15-day road trip in Mexico, we leave the Yucatan Peninsula to arrive in the state of Chiapas.
Strategically located between the mountains and the coast, Palenque was an important place of trade, which allowed it to establish strategic relations with other large cities such as Tikal in Guatemala.
Listed as a UNESCO World Heritage Site, it is now one of the most important destinations in Mexico.
The city is hidden in the jungle and offers a unique setting with the cries of monkeys in the background.
It is estimated that only 10% of the site would be cleaned, and yet there is already a lot to see in Palenque :
The Palenque museum which is very complete and allows you to understand the importance of the site and the local culture
The Palace which is the largest complex of the city with houses, patios, etc.
The Temple of the Inscriptions and its pyramid which housed the funeral chamber of Governor K'inich Janaab' Pakal I, whose impressive reproduction is in the National Museum of Anthropology in Mexico City.
The Group of the Cross which includes the Temple of the Cross, the Temple of the Sun and the Temple of the Leafy Cross
Entrance to Palenque ruins: 80 pesos (includes museum)
Overnight in Palenque.
Getting to Palenque from Campeche:
The city of Palenque is 360 km from Campeche, so it is best to leave early in the morning.
By car : 5h take the 180D, then the 186 towards Villahermosa (4h20).
By public transport : duration 6 hours, departures with the ADO and OCC buses at 12:30 a.m., 2:35 a.m., 11 a.m., 9:45 p.m., 11:30 p.m. Better to prioritize night buses to avoid losing the day. The bus station is a 10-minute walk from the center.
The ruins of Palenque are located just 9km from the town of Palenque.
By car (16 min) simply follow the Carretera Zona arqueologica Palenque
By public transport : colectivos are constantly going back and forth between the city and the ruins, 25 pesos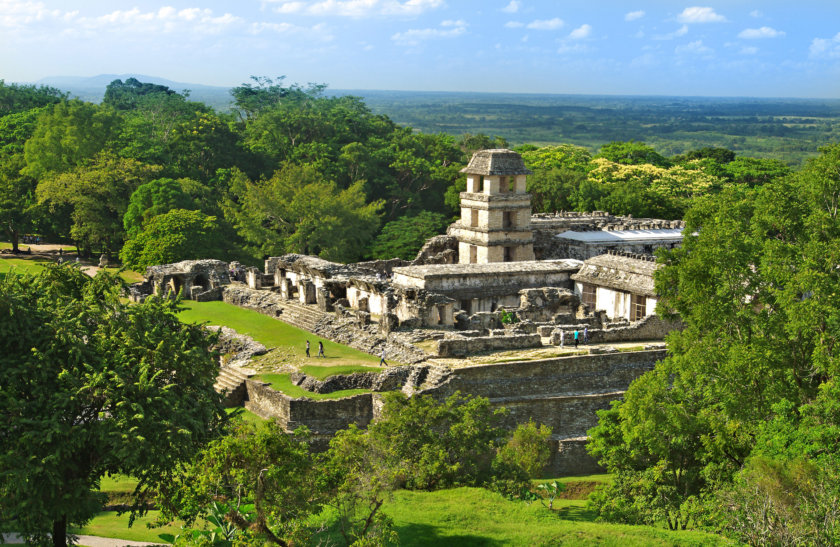 Day 2 – Bonampak and Yaxchilan 
In the vicinity of Palenque are also the sites of Bonampak and Yaxchilán.
Bonampak, "painted walls" in Maya, features magnificent wall paintings from the 8th century.
Its Temple of Paintings contains three rooms which describe the life of the time (priests and nobles, war and prisoners, human sacrifices, dancers, customs, etc.).
These wall frescoes are invaluable as they are the most complete representation of a pre-Hispanic civilization discovered to date!
Yaxchilan, located on the banks of the Usumacinta River, was an important city that dominated the region. It is known for its sculptures considered masterpieces of Mayan art.
The site features palaces and temples around the main square with a terrace overlooking the river.
Bonampak: entrance to the Lacanjá community 30 pesos and entrance to the archaeological area 80 pesos. Note that you cannot access the archaeological site with the car, you must take a van from the community (400 pesos for the round trip for 1 to 4 people).
Yaxchilán:  entrance to the Frontera Corozal community 30 pesos, entrance to the archaeological area 70 pesos.
Getting to Bonampak and Yaxchilan from Palenque
It is possible to visit both sites on your own (by car, not public transport), but the roads are not very well marked and the majority of the journey is through the jungle, so there is no signal network.
Also, Yaxchilan is not accessible by car. You have to go to Frontera Corozal by taking highway 307, then take a boat (40min) on the Usumacinta river (round trip 1000 pesos for 2 people or 2000 pesos for 6 people).
It is also important to note that Highway 307 should be avoided when night falls.
For all these reasons, the best option is to go there with a day trip from Palenque.
I recommend this day trip which includes pick up and return from your hotel, guide, site entrances and river cruise.
It even includes breakfast and lunch! A complete excursion, to book here.
Spend the night in Palenque.

Accommodation in Palenque
Mitico El Castillo : an atypical hotel that looks like a film set, with its castle that houses a bedroom, dormitory, swimming pool and kitchen. This is the best cheap hotel in Palenque, from only 13€ dormitory or 27€ the room!
Cabañas Kin Balam Palenque : another budget hotel in Palenque that has the advantage of being in the jungle, with fruit trees and the sounds of exotic animals and within walking distance of the ruins. With swimming pool and restaurant, from only €22 for a dormitory or €40 for a room!
Chan Kah Resort Village: ideal hotel to relax during a family trip to Palenque which offers excellent value for money. Bungalows that can accommodate 2 to 4 people, 2 large natural swimming pools, bar, restaurant and spa. From only €75 per room!
Villas Adriana : an ideal oasis of peace for couples, with rooms and villas in the jungle, swimming pool, hammocks, large gardens, roof terrace. Delicious breakfast included, from 80€ per night!
Day 8-9: San Cristobal de las Casas 
Day 1 – In the morning, depart towards San Cristobal de las Casas. 
In order not to go too fast, I suggest devoting the whole day to the journey.
Along the way, you will find several must-see places of interest in Chiapas, such as:
Misol Ha: it is a magnificent waterfall of warm water where it is possible to bathe. You can even go behind the waterfall to explore the cave! Entrance 30 pesos, cave 10 pesos
Agua Azul waterfalls : located in a biosphere reserve, these small waterfalls with opaque blue water offer a magnificent spectacle and a perfect place to take photos. Entry 80 pesos (2 entries of 40 pesos)
Toniná : a Mayan city whose great pyramid of 75m is higher than the pyramid of the sun in Teotihuacan. The view from the top is magnificent! Entry 70 pesos
Getting to San Cristobal de las Casas from Palenque
By car : take Carretera 199 via Ocosingo (5h). Misol-Ha and Agua Azul are on the 199. For Tonina, you will have to deviate onto the Carretera 218 at Ocosingo.
By public transport, directly to San Cristobal : bus departures at 5 a.m. and 8 a.m. ($200mxn – $368mxn, 9h trip).
By public transport, making the stops : for Misol-Ha (50 pesos) and Agua Azul (80 pesos), take a colectivo in the direction of Ocosingo, mentioning to the driver where you are going. For Tonina, take a colectivo (15 pesos) from Ocosingo. There are also direct buses between Palenque and Ocosingo.
Day 2 – Visit San Cristobal de las Casas and its surroundings.
Colorful colonial city, it is an obligatory stop of a 2 week stay in Mexico!
Start the day by visiting two traditional Tzotzil villages :
Zinacantan is known for the beauty of itsparticularly colorful and flowery crafts . You will be able to discover traditional manufacturing techniques. Also, don't miss the San Lorenzo church in its main square.
San Juan Chamula is known for its mystical church. Once inside, you will see an impressive religious syncretism (Catholic and Mayan). It is very important to be respectful and not to take a picture, it is very frowned upon!
Return to San Cristobal de las Casas.
For lunch, you will find your happiness on the  Real de Guadalupe pedestrian street which hosts pleasant restaurants, many of which have a terrace.
After eating, walk up to the Church of Guadalupe , then head to the Center for Textiles of the Maya World. It houses a collection of 500 magnificent pieces of Mayan textiles, mainly from Chiapas and Guatemala.
You can also take the opportunity to stroll around the craft market which is held very close to the entrance.
Finally, don't miss the Zocalo, the city's central and lively square.
Spend the night in San Cristobal de las Casas.
Getting to San Juan Chamula and Zinacantan from San Cristobal:
By car : for San Juan Chamula, take the Puerto Caté-San Cristobal highway (23min), and for Zinacantan, deviate at km9 on Calzada Juarez/Zinacantan (24 min).
By public transport : by bus (15$mxn) after the municipal market
On a day trip : this is the option I chose and I highly recommend it. Not only for the ease of transport, but also because the guide gave us very interesting information about these communities that are quite closed to the outside world.
So I suggest this tour to Zinacantan and San Juan Chamula from San Cristobal. It includes transportation and a visit to the two villages, a demonstration of traditional textile and tortilla making, and a pox (water of life) tasting.
Accommodation in San Cristobal de las Casas
The Coffee Bean Hostel : very friendly hostel with nice common areas , restaurant-bar, garden, terrace with hammocks, pool table and several breakfast options. From just 11 euros in a dormitory!
Parador Margarita : just 3 blocks from the main square and the bus station, it is a small haven of peace with its garden and very comfortable beds. Wifi and breakfast are included. From just 42 euros per night!
Hotel Diego de Mazariegos : the hotel is located in a superb 18th century casona, which has retained its Mexican colonial style, charming interior patio with a fountain, and classic decoration in warm tones. On site, there are two restaurants and a bar. Wifi and breakfast included. From just 67 euros per night!
Casa Lum Hotel Eco Chic : it's definitely my favorite in San Cristobal de las Casas! It is a small, chic and intimate hotel, between modernity and traditional design. There is a very good restaurant, a terrace with panoramic views of the city and a garden. A stone's throw from the central square and all the action, it is the ideal getaway for lovers. From 150 euros per night!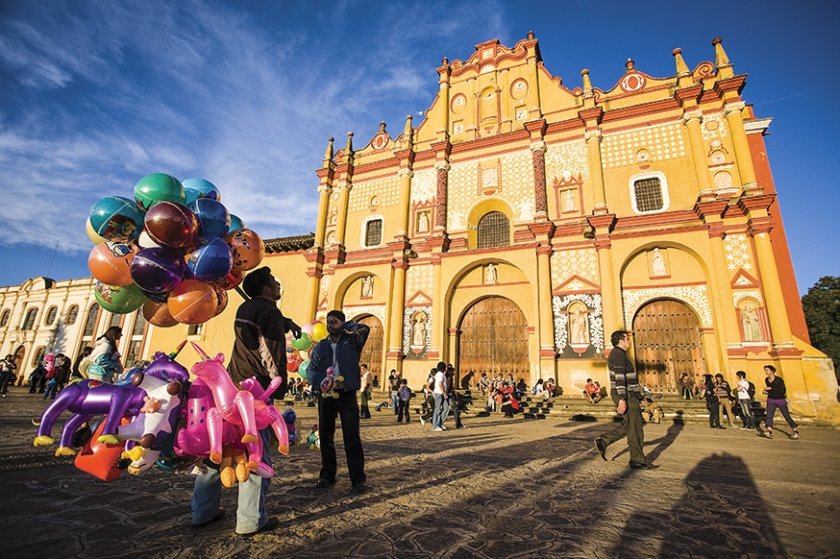 Day 10-11: Balamku and Calakmul
For the rest of this 14 or 15 day circuit in Mexico, you will have to retrace your steps a little in order to get closer to Cancun again.
Day 1 – Direction, the archaeological site of Balamku.
It is surrounded by a dense jungle, which contains several structures including the House of the Four Kings.
But its main attraction is its Frieze of the Four Kings, a 16m long piece  that represents the universe and its balance with jaguars, snakes and a lizard.
Tips for your Mexico itinerary:
Balamku is located 9 hours drive from San Cristobal. If you leave early in the morning, you can do the visit the same day because the site is quite small and it will be fast.
On the other hand, if it is getting late, go directly to Xpujil.
The next day, you can then combine the visit of Balamku with Calakmul, if you wish.
Night in Xpujil or Chicanna.
Surrender to Xpujil de San Cristobal de las Casas:
The main town near Calakmul is Xpujil, with gas station and hotels.
By car : going back on the 199 (towards Ocosingo and Palenque) then follow Villahermosa – Chetumal / México 186 (10h).
By public transport: take a bus OCC or ADO San Cristobal -Palenque (9h) then Palenque-Xpujil (6h)
Day 2 – Visit Calakmul, both a Biosphere Reserve  and  a UNESCO World Heritage Site, a must on a Mexico itinerary!
Calakmul was one of the most powerful cities in the Mayan world and at its peak had more than 50,000 inhabitants in a territory of 20 km².
It is an incredible site to explore as there are very few tourists and climbing to the top of the pyramids is permitted . Something to feel like a real adventurer!
Among all the attractions of Calakmul, you should not miss Structure II, a 50m pyramid, which is one of the largest in the Mayan world. Structure I, a 40m pyramid also offers a breathtaking view!
After the visit, departure to Tulum to spend the night there.
Tips for your Mexico itinerary:
I recommend arriving in Calakmul around 8am opening as the sounds of the jungle are awesome. 😀
The tour should last between 3 and 4 hours, so if you arrive early, you can easily get to Tulum before dark.
If you have time, it is also possible to visit 3 Mayan sites on the way: Becan, Xpujil and Chicanna
Getting to Calakmul from Xpujil:
Calakmul is inside the reserve, 60 km from the entrance to the highway. So there are two choices:
By car (2h12) take Calakmul / Villahermosa – Chetumal / CAM 269, then turn left on Campeche Conhuas-Calakmul Zona Arqueológica
Book a shuttle to Xpujil which makes the round trip to Calakmul, departure at 7am with a minimum of 3 passengers – 600 pesos per person (round trip ticket price)
Accommodation in Calakmul
Here are some of the best value-for-money accommodations around in Xpujil:
Coa de Collar : a good budget option in Xpujil with simple, but clean rooms in a good location, close to restaurants and supermarkets. Miguel the owner is a tourist guide, it's convenient! From  37 euros per night
Ecohabitat : a small house surrounded by vegetation, comfortable, very clean, with a very warm welcome. In the morning, they bring you breakfast on the veranda, or if you prefer, they prepare it to take away. From 64 euros per night
Casa Kaan : comfortable cabins with air conditioning, terrace and kitchen, located in the heart of nature. It is an ecological accommodation that runs on solar energy, houses several fruit trees and the residues are used as compost for the vegetable garden. From 90 euro

Day 12-13: Tulum
Drastic change of landscape for this great big stage of your 2 week road trip in Mexico  since we are returning to the Riviera Maya.
Tulum is a dream come true with its long white sand beaches, its famous Mayan ruins facing the Caribbean Sea and its chic bohemian atmosphere.
Day 1 – Start with a visit to the archaeological site of Tulum.
Then cool off in a Mayan cenote.
For lunch, head towards the Tulum Beach Strip   where there are many restaurants and cute shops.
It's time to enjoy the beach! Between fine sand and transparent water, the beaches of Tulum are worthy of a postcard.
I know that we have beautiful beaches in Europe, you may have had the chance to discover some during a trip to Corsica or Sardinia, but here what is particularly striking is the size : there are miles of fine sand and turquoise water!
I recommend for example Playa Paraiso or Xpu-Ha, or less touristy, Xcacel located in a nature reserve.
In the evening, know that Tulum is the perfect place to party and have a drink.
Spend the night in Tulum.
Getting to Tulum from Xpujil:

By car : take the Carretera 186 towards Chetumal then the Carretera 307 Chetumal/Cancun (4h)
By public transport : there are only 2 bus exits at 11 a.m. and 11:55 p.m. (4:35 a.m.).
Day 2 – Explore the Sian Ka'an Reserve, in the Tulum area.
Both a Biosphere Reserve and a UNESCO World Heritage Site, it is an immense paradise of biodiversity that extends over more than 5000km².
The two main access points are  Muyil  and  Punta Allen  which offer two very different experiences.
Punta Allen is ideal for enjoying the beach, enjoying the salt water lakes, snorkeling the coral reefs and even seeing dolphins.
To get to Punta Allen, you need a good 4×4 car (1h30). It's also doable by public transport, but it's long and you have to spend more than a day there.
The best way to visit Punta Allen from Tulum is to take a day trip. I recommend this tour which includes the return transfer from the hotel, the boat tour (3h) to observe dolphins and turtles, swimming and lunch. Book directly here.
Muyil makes it possible to explore the interior lands of the reserve, to see the freshwater lagoons, the marshes and the Mayan ruins.
Muyil is much closer to Tulum and the visit is easily done in half a day. By public transport, take an ADO bus towards Chunyaxché and get off at Muyil (20min).
You can also take an organized excursion from Tulum. I recommend this tour which includes hotel pickup, lunch, Muyil ruins and the boat tour in the freshwater lagoons. To  book here.
Accommodation in Tulum
Here are my  top suggestions for hotels in Tulum, for all budgets:
Mayan Monkey Tulum : this hostel offers excellent value for money! Beautiful modern decoration and good atmosphere, swimming pool, bar, garden, fast wifi, access to the kitchen, yoga classes, coworking, bike and motorbike rental. Dormitories and private rooms,  from only 22€ per night!
Casa Almendro : for a little more comfort, here is a  small budget hotel in the center of Tulum. It's a green oasis with a nice big roof terrace with chairs and hammocks. Perfectly located, close to shops, restaurants, the ADO bus station. King bed and breakfast included, from  just €45 a night!
Diamante K : it offers  top-of-the-range comfort  at a very reasonable price, which is  exceptional in Tulum. Especially for a  hotel with  direct access to the beach  in the hotel zone! Bohemian chic atmosphere, restaurant, hammocks and beds on the private beach, massage service. Bungalow from 190 € per night!
Habitas Tulum : this small ecological hotel  with a chic design is ideal for a romantic stay in Tulum. It is a true haven of peace hidden between the palm trees, with a magnificent swimming pool and a private beach. With the added bonus of several on-site activities, such as yoga classes on the terrace facing the sunset. From 340€ per night!
Kanan Tulum – Adults Only : here is finally the  best choice for a luxury stay in Tulum. This is an adults-only  eco-friendly hotel located on a beautiful private beach with hammocks and beds. Beautiful roof terrace with a bar, a very good restaurant on site, spacious rooms and a very friendly welcome. From €520 per night!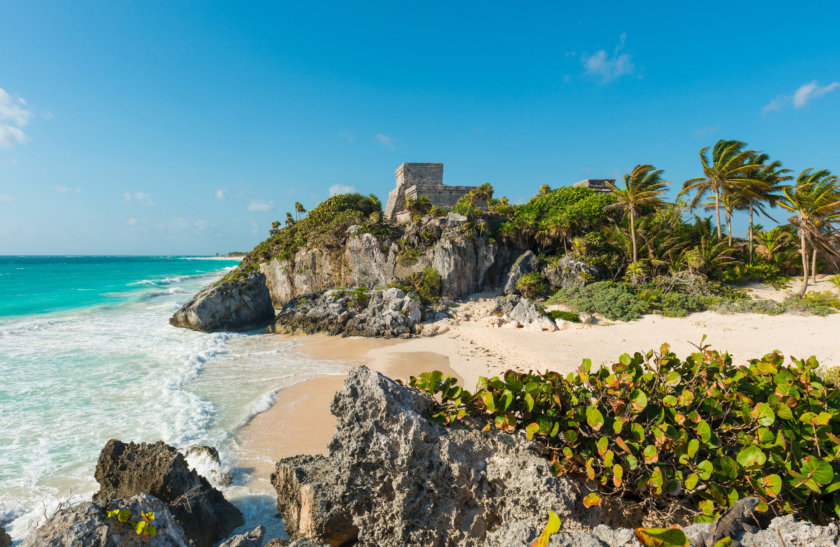 Day 14: Cancun
To complete your two-week itinerary in Mexico, you will have to return to Cancun, as it is the only international airport in the region.
If you have time, you can take the opportunity to visit the beaches of Cancun, the El Meco archaeological site, the Maya Museum or Avenida Kukulkan.
Getting to Cancun from Tulum
By car : follow the Carretera 307 which runs along the Riviera Maya towards Cancun (1h50)
By public transport : the best is to take the bus, several departures per day (2 hours). There is also the colectivo option but you have to take 2 (Tulum- Playa del Carmen 45 pesos + Playa del Carmen-Tulum 42 pesos) and it often stops.
2 weeks in Mexico: my advice
This two-week Yucatan and Chiapas itinerary is ideal for travelers who want to do as much as possible in Mexico.
Here are my final tips for making the most of it:
For a more leisurely 2-week circuit in Mexico, just remove some stages (such as Bonampak, San Cristobal or Calakmul)
Before you go on the road, make sure to download the gps maps because there is not always a network signal
It is strongly recommended to avoid driving at night . It is even more valid in Chiapas, and especially on the 199 (between Palenque and San Cristobal de las Casas) and the 307 (between Palenque and Bonampak, Yaxchilan)
If you travel by ADO bus, it is better to buy tickets in advance on the website because they are cheaper than on site.
Plan cash because many sites do not accept cards and ATMs are not always easy to find.
When to go to Mexico
It all depends on your itinerary because Mexico is huge and very diverse.
In general, it is not recommended to travel during the period of rains and cyclones, that is to say between July and October.
If you are following this 2 week Mexico itinerary, it is best to go between November and April, as this is also the dry season.
Are you going to Mexico? Read also
All our articles on Mexico are here:  Find all our guides on Mexico!