Ultimate Guide of Comino and the Blue Lagoon (Malta)
To visit Comino is to discover Malta's smallest island .
Renowned for its magnificent Blue Lagoon ("blue lagoon" in French), a lagoon with turquoise water where it is impossible to resist a swim, Comino offers a postcard landscape. It is clearly a must of a Malta itinerary!
In this guide, I tell you how to get to Comino, what are the best boat trips and all the things to do in Comino. You will have all the practical information and my advice to spend a dream day!
So, ready for your visit to Comino and the blue lagoon?
The island of Comino: a must in Malta
Before we begin, here are some things you need to know about Comino:
The island of Comino takes its name from the plant  that grows there in abundance in the spring:  cumin.
It is only 3,496 km² and has only 3 year-round inhabitants.
Comino is accessible only by boat. Cars are not allowed as the area is protected and classified as a nature reserve.
How to get to Comino and the Blue Lagoon?
As Comino is located between the island of Malta and the island of Gozo, transfers and boat excursions are offered from these 2 islands.
I detail all the ways to get to Comino from Malta and Gozo just below.
Getting to Comino from Malta
There are 9 different ways to get to Comino from Malta:
To help you find your way around, I will now detail these 9 best ways to do Malta-Comino by boat. This will allow you to choose the excursion that suits you the most!
1. Comino Day Trip from Malta
This is the most classic way to go to Comino and the Blue Lagoon : choose a day boat trip.
The boat departs daily from St Paul's Bay, a town located in the North West of Malta, 15 km from the capital Valletta.
What is super convenient is that the company that organizes these boat trips to Comino offers pick- up from all hotels in Malta (at an additional cost).
So don't worry if you haven't rented a car for your Malta itinerary, you can still enjoy the beautiful island of Comino!
On the program, you will start by following the north coast of Malta before reaching the first stop of the day: the Crystal Lagoon. A little less known than the Blue Lagoon, the other lagoon of Comino is just as nice for swimming.
Surrounded by high cliffs and with its translucent water, the place is super beautiful and can only be reached by boat and swimming. You will have about 1 hour to swim and snorkel.
The boat then reaches the famous Blue Lagoon of Comino and its ultra-crystalline water where you will have the chance to spend the rest of the day swimming.
You will also be able to take advantage of all the boat's equipment: slides, deckchairs installed on the deck for relaxation, underwater vision to observe the fish, showers, toilets.
And you can also of course walk a little on Comino if you want. To know what to do in Comino, you just have to read the rest of the article.
On the return, a passage is planned in front of the various sea caves of Comino including the cave of Santa Maria, once used by pirates to hide their loot.
To book this Comino boat trip from Malta here.
Tips for your Comino itinerary:
Remember to bring everything you need for the day: towels, sunscreen, hat. There is no shade at all and it hits dry!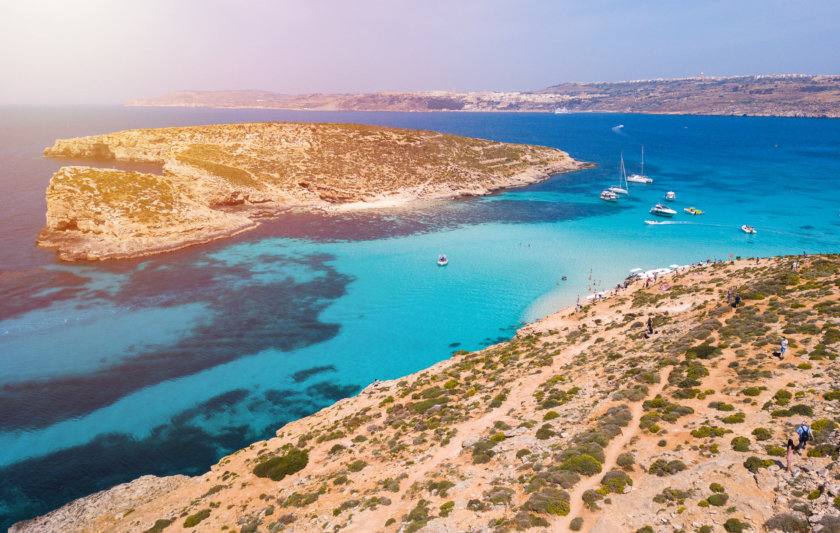 2. Blue Lagoon Catamaran Cruise
To go to the Blue Lagoon, you can also take a catamaran cruise.
Like the previous excursion, the boat leaves from St Paul's Bay and you can choose, after your reservation (if you don't have a car), to contact the company to arrange a pick-up in front of your accommodation.
For this day, you will discover the most beautiful snorkeling and swimming spots in Malta, including of course the Blue Lagoon in Comino and the Crystal Lagoon.
In addition to the Blue Lagoon, you can, for example, swim at:
Ghajn Tuffieha bay  (the boat also passes close to Popeye Village) which is one of the best beaches in Malta
Mellieha,  au Nord de Malte
Ramla bay  in Gozo.
For lunch, a delicious barbecue is served on board (to be booked directly online).
To book your catamaran trip to the Blue Lagoon and other bays in Malta.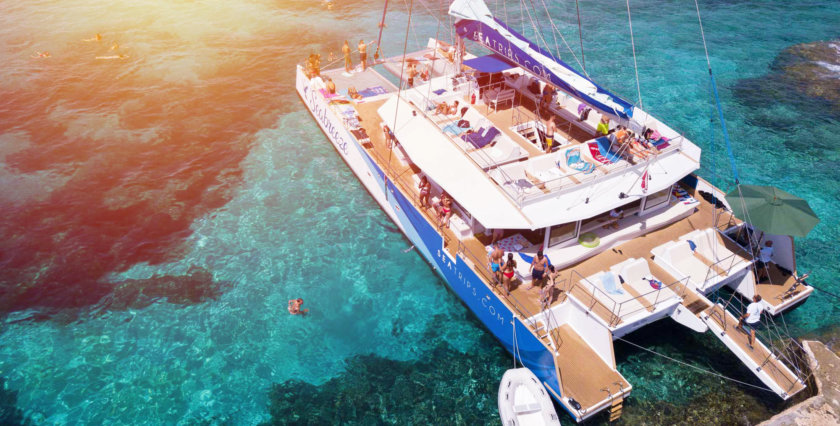 3. Sailing Cruise in Comino
The third option for visiting Comino's beautiful Blue Lagoon (and other bays!) is to choose a day trip by sailboat.
We are not talking here about any sailboat but about a very beautiful wooden schooner!
And good news, the excursion includes everything: round-trip hotel pick-up , lunch (+ wine) and snorkeling equipment. 
During this day at sea, you will go through:
Paradise Bay (North of Malta)
Crystal Lagoon in Comino
Le Blue Lagoon
The sea caves of Comino  including the cave of Santa Maria
Armier Bay (North Malta).
A great itinerary for a boat day in Malta!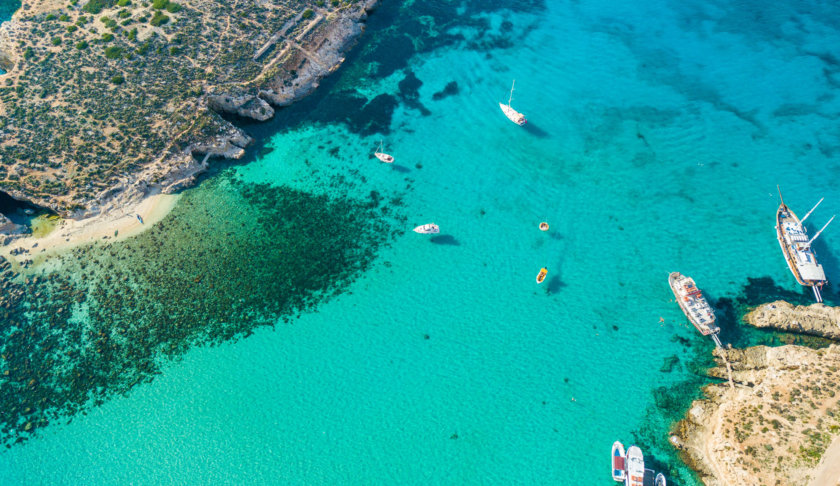 4. Private Boat Cruise in Comino and Gozo
For those who want to visit Comino and Gozo without being mixed with other tourists, I have what you need: a private boat trip!
For 3 hours, you and your group (up to 6 people) will discover the south coast of Gozo as well as Comino with a passage through the sea caves, the Crystal Lagoon and of course the unmissable Blue Lagoon.
Josef, your skipper, will take you swimming in the most beautiful spots away from other tourists and will tell you more stories about Gozo and Comino.
In addition, snorkeling equipment (mask, snorkel, fins) is provided.
This private boat tour departs from the port of Gozo (right next to the ferry landing between Malta-Gozo) or from the North of Malta: in Marfa (next to the Riviera Hotel) or Cirkewwa (next to the Paradise Hotel) .
You can decide the departure time with Josef and organize the day as you wish by choosing for example how long you want to swim.
This is the big advantage of a private excursion, everything can really be arranged according to your wishes!
To book this half day boat trip to Comino and Gozo
Tips for your Comino itinerary:
If you think that half a day is not enough to fully enjoy, I advise you to book the same private boat tour but for a full day (7 hours).
In this case, in addition to the south coast of Gozo, it will allow you to go all around the island of Comino by boat. This is the best way to discover the 2 islands from the sea in 1 day.
Book your private boat day trip to Comino and Gozo here.

5. Private Sailing Trip to the Blue Lagoon from Comino
Another way to discover Comino, the Blue Lagoon and the other coves of Malta without going through overly touristy excursions: choose a private sailboat cruise!
Just like the other private excursion I just mentioned, the boat will be reserved only for your group of friends or family. You can go where you want and spend as much time as you want at each swimming spot.
This boat trip departs from Valletta and allows you to cross from Malta to Comino along the entire northeast coast of the island.
For those who  stay in Valletta  and want  to go to Comino, you should know that there is  no ferry making Valletta – Comino, so this day is really the best choice!
Not to mention that this type of private cruise is certainly the best way to make the most of it and spend great moments with family or friends.
To book your private sailing trip to Comino Blue Lagoon and other Maltese bays.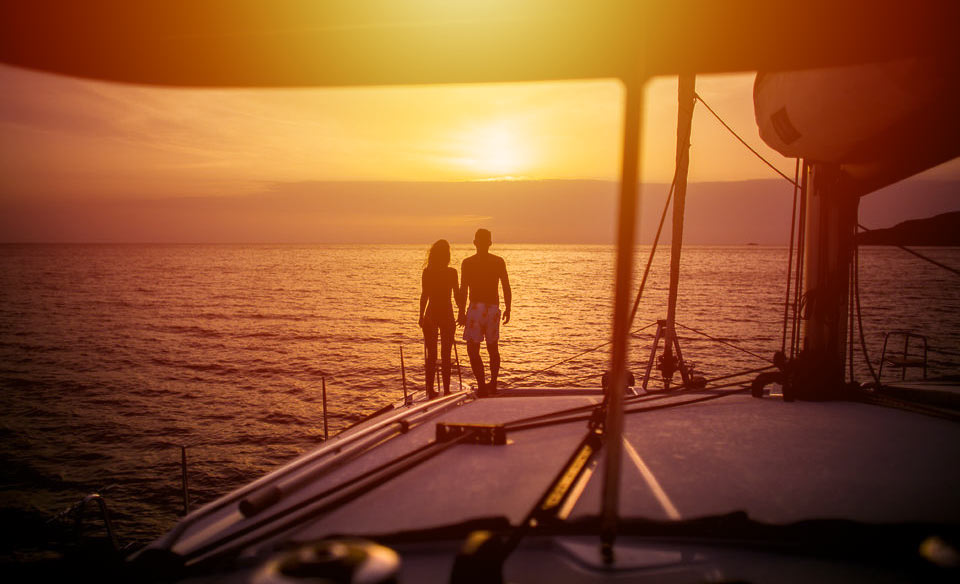 6. Excursion to Comino Blue Lagoon + Gozo from Malta
For those who have planned a  short stay in Malta  and don't want to spend too much time in Comino in order to visit other places like Gozo, I recommend you to  choose a combined excursion instead.
The principle is the same as for the first boat trip I told you about with departure from St Paul's Bay and possible pick-up at hotels.
During the boat trip, you will make a first stop of 1 hour to swim in the Blue Lagoon of Comino in the morning.
You will then get back on  the boat which will drop you off in Gozo  where you will have  3 hours of free time to visit the island. As you will not have a vehicle, I advise you to choose one of the means of transport offered by the boat company (in addition to the price of the cruise).
It is the best solution to  see as many things as possible  and it is also  very practical  since it will take you back to your starting point to  take the boat back to Malta.
During the high season, the boat will stop one last time on the return journey so that you can enjoy an hour of snorkeling in the turquoise waters of the Crystal Lagoon. Nothing like closing a great excursion!
To book the cruise to Comino + Gozo.
Tips for your Comino itinerary:
You also have another version of this excursion to visit Gozo and Comino in 1 day:
Free return pick-up from several cities in Malta: Valletta, Gzira, Sliema, Buggiba, Mellieha…
3h tour of Gozo by Jeep
1 hour lunch break included
3 hours by boat around Comino and the caves with swimming stops at the Blue Lagoon and the Crystal Lagoon.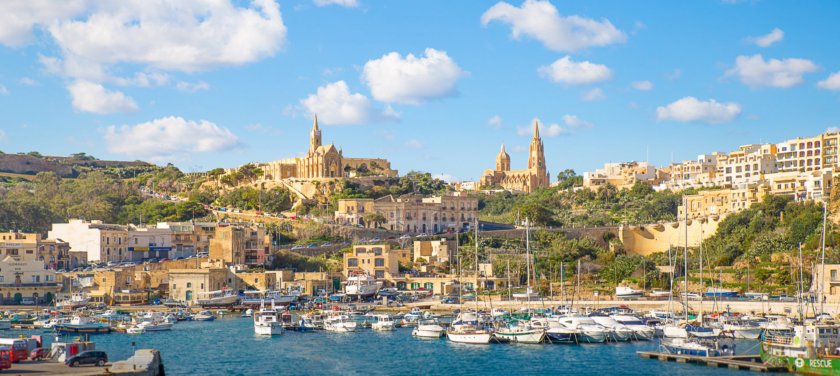 7. End of the day boat trip to Comino "Swim, Drink and Dance" (adults only!)
This Comino Blue Lagoon boat tour is very different from the others for 3 reasons:
It is only for adults
You'll experience the Blue Lagoon in the evening, which helps avoid the crowds (and sunburn!)
There is a bar, music, you can dance and meet new people!
Book your evening at the Blue Lagoon here.
8. Boat Dhuttle to Comino
From Malta, Comino is also accessible by  sea shuttles.
Note that this is  not a ferry to Comino  but a  water taxi  that can only accommodate  around twenty people  and  no car/scooter/bicycle. 
These  shuttles leave from Cirkewwa and Marfa, 2 places located  in the very north of Malta  and only 2 km apart.
Cirkewwa is also where the ferry to Gozo departs from (which is car-friendly) and that's why some people confuse and think it's possible to take the ferry from Cirkewwa to Comino, but that's not is not the same thing.
The  sea shuttles to Cirkewwa Comino  are to be taken at the  small kiosk located next to the  car pier. For Marfa, they are located  opposite the Labranda Riviere & Spa hotel.
The Malta-Comino sea shuttle crossing takes approximately 15 minutes.
To book your boat trip to Comino and the Blue Lagoon from the North of Malta (same price from Cirkewwa or Marfa).
And if you prefer to take the sea shuttle from Gozo to go to the Blue Lagoon:
It departs from the port of Gozo, right next to the ferry
The journey takes only 10 minutes.
You need to book this water taxi to Comino here.
Regardless of your place of departure, the price always includes the return trip.
In the summer there are boats that run all day, so you can choose to go to Comino whenever you want. Same for the return!
In winter, the service provider will contact you to determine a schedule with you.
Tips for your Comino itinerary:
If you go to Cirkewwa and Marfa by car, you can park in one of the parking lots nearby.
Cirkewwa is also served by several bus lines from the main towns of Malta (Mellieha/ Buggiba/ St'Paul's Bay / Sliema/ Valletta) and there is also a bus stop 200 meters from Marfa.
To consult the bus timetables and study your route, I recommend the official Malta public transport website or download the "Tallinja" application.

9. Charter a boat in Malta to get to Comino
If you have your boat license, you can also rent a boat to go to Comino.
It's also a great idea if you want  to visit Comino with family or friends  and be quiet.

Getting to Comino from Gozo
If you prefer  to go from Gozo to Comino  (instead of starting from the island of Malta), you also have  several possibilities:
Boat shuttle to Comino from Mgarr port
1. Comino Blue Lagoon Private Boat Trip from Gozo
I have already told you about it in point 4 "Private boat cruise to Comino and Gozo", the private cruise to the Blue Lagoon that Josef offers can also depart from Gozo.
In this case, the meeting point is fixed at the port of Mgarr, where the ferry arrives.
You will have the choice between 2 kinds of excursions (click on the links in orange to book):
All you have to do is choose the duration of your outing to enjoy a great day at sea with Josef!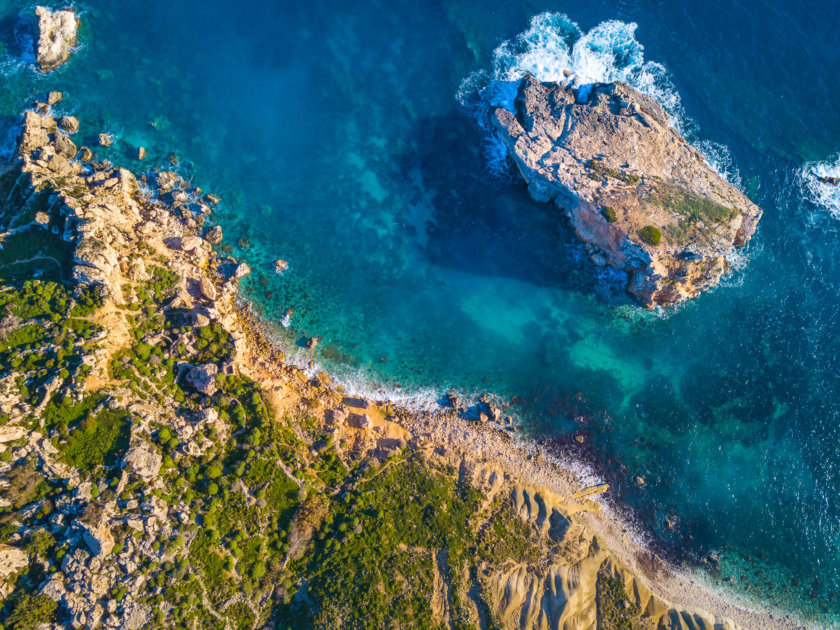 2. Boat shuttle to Comino from Mgarr port
Second solution to  get to Comino from Gozo : take  a sea shuttle.
Departures are  from the port of Mgarr (where the ferry that makes the Malta-Gozo crossing arrives) .
To book your taxi boat to Comino from Gozo.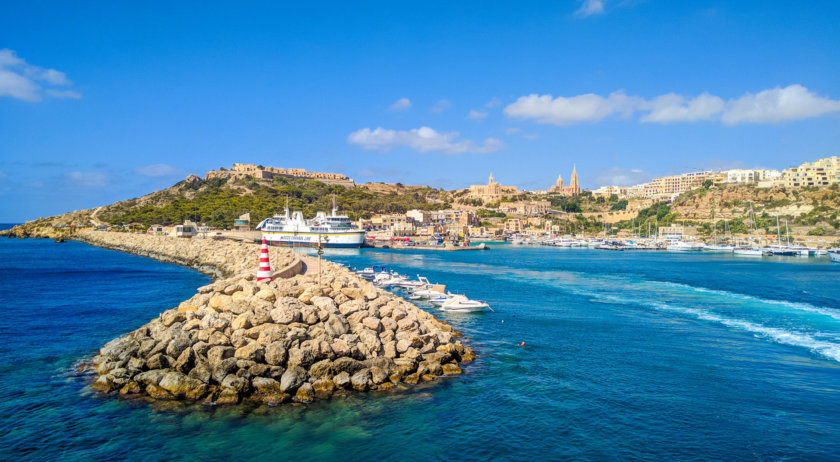 What to do in Comino?
Now that you know how to get to Comino from Malta or Gozo, here is my list of all the things to do on the smaller island.
1. The Blue Lagoon / The Blue Lagoon of Comino
I have already mentioned it several times in this article, the Blue Lagoon of Comino is really the must-see attraction.
If everyone has planned to include the visit of Comino in their program, it is to go see this splendid lagoon with its turquoise and transparent water, and of course to swim there (if the season allows it) .
It's simple, it's the most beautiful place in Malta to swim!
You absolutely cannot miss it since this is where the boats land everyone.
In front of the Blue Lagoon, you can also swim to the tiny island of Cominotto.
Tips for your Comino itinerary:
Between 2 swims in the blue lagoon, if you arrived via a boat trip, you can enjoy the sun on the deck of the boat.
For those who have taken the shuttle, it is possible to rent deckchairs or sit on the rocks overlooking the lagoon. Try to arrive early in the morning if you want to have deckchairs available or to choose a good place, because afterwards everyone will clump together.
For your valuables, you have lockers available next to the landing stage.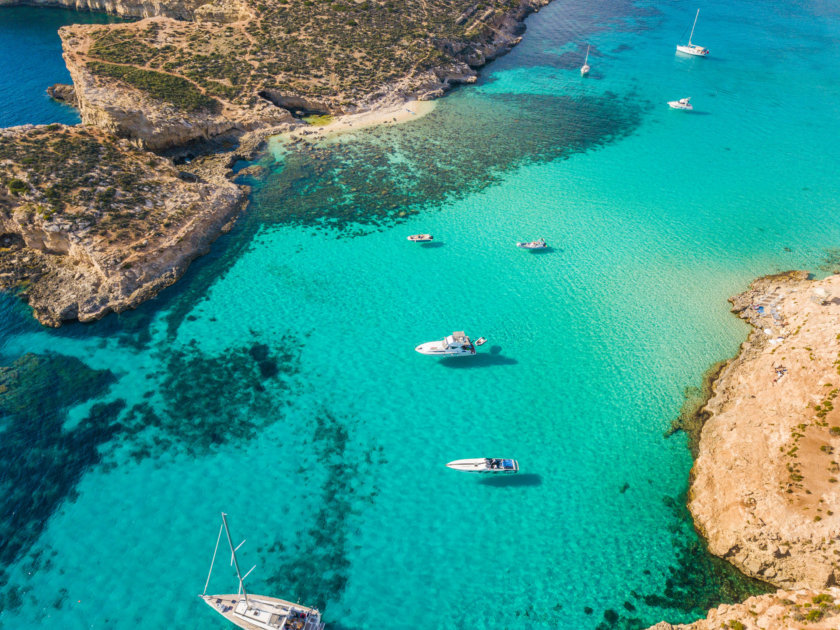 2. Crystal Lagoon
The Crystal Lagoon is another lagoon located in Comino.
Only accessible by boat, it is less crowded than the Blue Lagoon and is known to be one of the best places to snorkel in Malta.
And if you fancy an adrenaline rush, you can dive off rocks from one of the spots around the lagoon. (Always make sure the water is deep enough beforehand!)
3. The other beaches of Comino
On Comino, you can also swim on 2 other beaches, much less crowded than the Blue Lagoon and super nice:
Sante Marija beach, a long strip of fine sand and very clear water, located 20 minutes walk from the Blue Lagoon. Possibility to rent deckchairs and parasols.
San Niklaw beach, a very small beach also very pretty.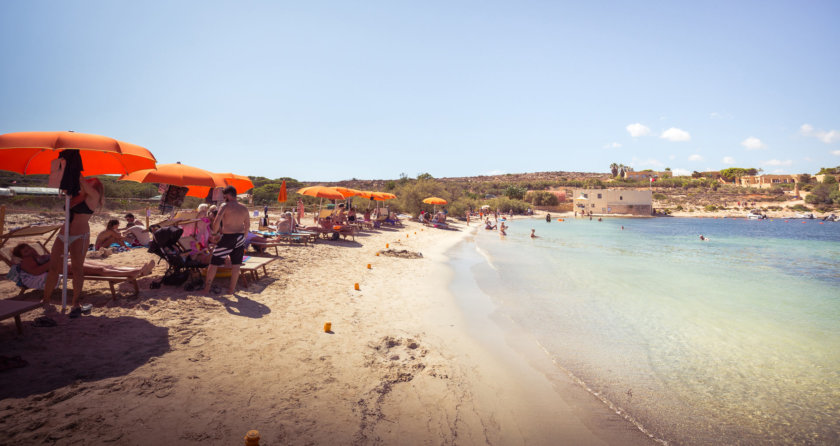 4. Walk around Comino
If you don't like spending the whole day in the water or you get bored quite quickly at the beach, I advise you to visit Comino on foot.
It is possible to go all around the island in about 3 hours. It's the best way to admire the landscape and enjoy a quiet moment without the noise of boats or music.
I recommend that you do the tour counter-clockwise starting by going to the side of the Sainte-Marie tower.
This former 17th century guard tower , where it is possible to climb to the top, allows you to contemplate an unobstructed panorama over Comino, Malta and Gozo.
Admission is free but you will be asked to leave a donation at the entrance. A word of advice: you can only visit the tower if the flag is raised, it means that it is open to visitors.
Then continue the walk to the Sainte-Marie battery, built in 1715 to protect Malta and which housed 6 cannons.
From the battery, you can take the path that goes directly to Santa Maria beach or opt for the slightly longer version, first skirting the cliffs.
Then allow about twenty minutes to return to your starting point: the Blue Lagoon.
Tips for your Comino itinerary:
Plan sneakers if you want to visit Comino on foot.
Remember to bring water because you will not find it anywhere during the walk.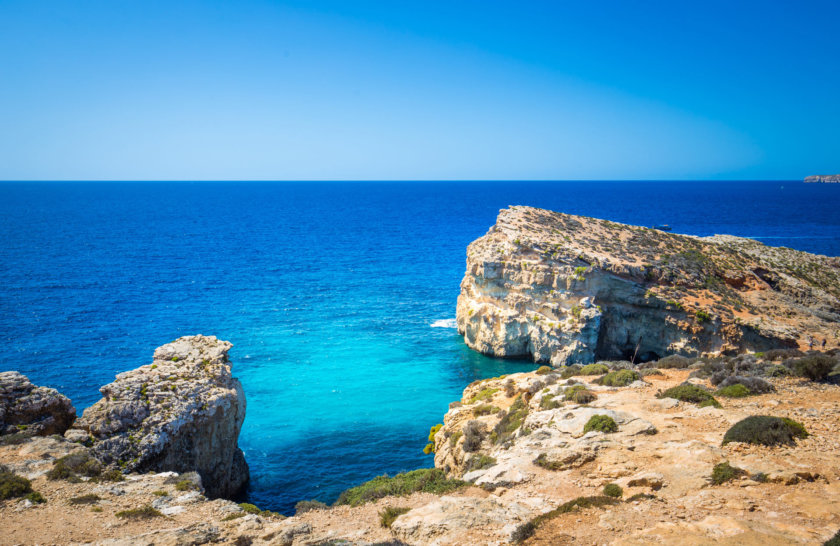 5. Scuba diving in Comino
Swimming in the Blue Lagoon and walking around the island are really the 2 main activities to do in Comino.
But did you know that you can also go diving in Comino.
With warm and super clear water, you can't dream of a better place to discover the seabed and observe corals and fish.
The Crystal Lagoon, Santa Maria Cave or Cominotto Reef  are known to be the best places to dive.
At the foot of the Santa Maria tower, it is also possible to dive to see the wreck of the P31, a patrol boat used by the armed forces and which now lies 20 meters deep.
To dive in Comino, you must be an experienced diver (baptisms are not possible) and book your dive in advance.


6. Other Activities in Comino
Swimming in the Blue Lagoon, snorkeling and hiking around the island are among the top 3 things to do in Comino.
But if you want, from the pier, you can also take a ride in a towed buoy or rent a kayak.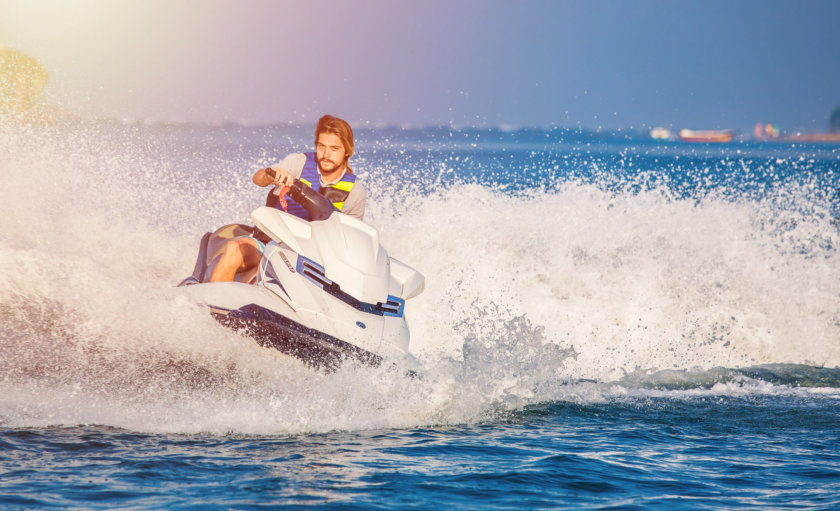 Where to eat in Comino
There are no restaurants on Comino but you will find food trucks selling sandwiches, burgers, fries and cold drinks.
It's not haute cuisine but honestly the prices are still very correct even though there's no competition.
In any case, if you want to be totally trendy, there is one thing you absolutely must do in Comino: drink a cocktail served in a pineapple! Choose between pina colada, mojito… with or without alcohol.
And don't forget to post it on Instagram with the turquoise color of the Blue Lagoon in the background to make people jealous.
What to do around Comino?
As Comino is located between Malta and Gozo and can only be visited during the day, you will have plenty of time to discover the other 2 islands during your stay.
Visit Malta
Here is my pick of the best things to do in Malta:
Valletta: the capital. A city renowned for its traditional architecture and its cathedral, Saint John's Co-Cathedral, whose interior is covered in gold.
The 3 Cities, 3 cities located opposite Valletta and offering superb panoramas
Mdina:   the ancient capital of Malta, very charming and picturesque
Blue Grotto (not to be confused with the Blue Lagoon!): a sea cave with deep blue water. To be admired from the belvedere or during a boat trip.
For more details and places to see in Malta, I advise you to read my article right here: What to do and see in Malta?
For visiting Valletta, you can also read this one: Top 10 things to do in Valletta.
Tips for your Comino itinerary:
To organize your tour in Malta super easily and quickly, you can also consult my other articles on the destination: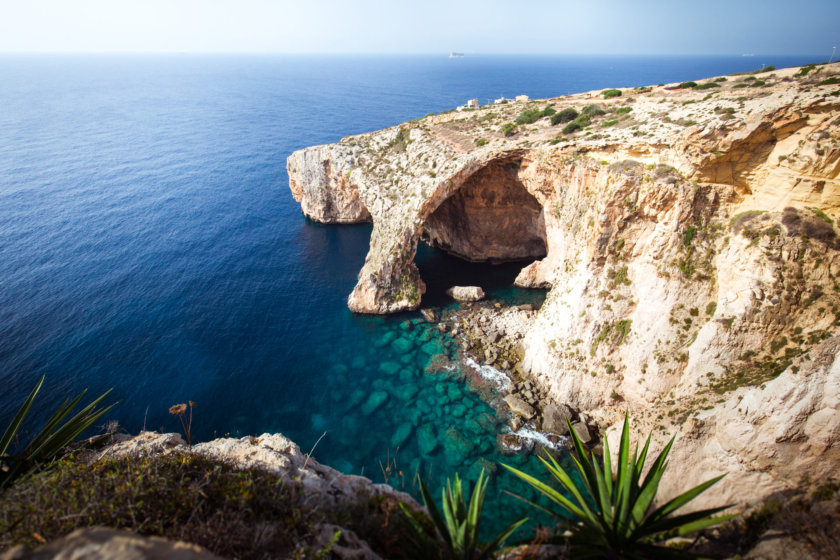 Visit Gozo
In Gozo, I advise you not to miss:
Victoria, the largest city on the island where the citadel is located, which offers a clear panorama of the whole island
Dwejra where the famous Azure Window (now collapsed) used to be . The place still remains to be seen for the Inland Sea (the inland sea) and the Blue Hole, an ultra-famous dive site.
The Ta'Pinu Basilica, a true architectural masterpiece
Marsalforn salt pans for a wonderful walk to Wied Il Gashri, a canyon where you can swim.
I give you all the details and even more things to see in Gozo in my article: What to do in Gozo?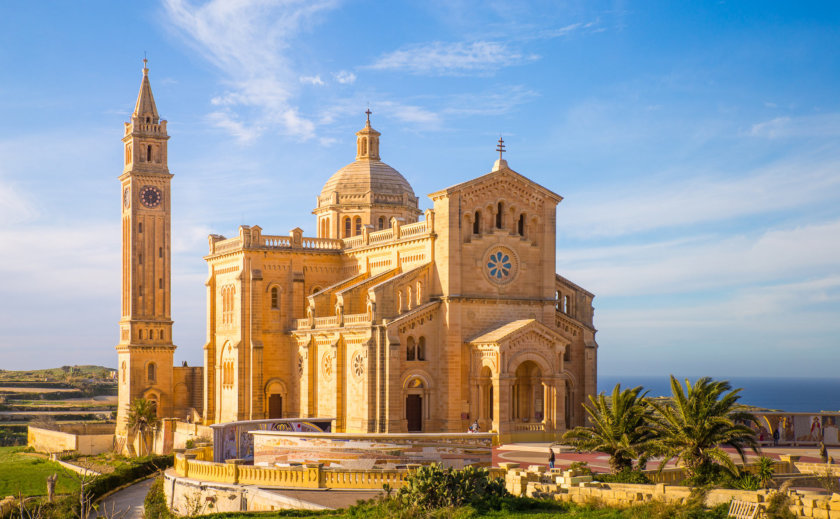 The Beaches of Malta
Comino is definitely one of the most beautiful places to swim in Malta, but if you want to take advantage of your trip to spend some time at the beach, I recommend:
And Malta:
Mellieha Bay: Malta's longest sandy beach
Ghajn Tuffieha Bay, which for me is one of the prettiest
Gnejna Bay: neighbor of Ghajn Tuffieha and also very nice
A Gozo:
Ramla Bay: the largest beach in Gozo renowned for the ocher color of its sand
Le canyon de Wied Il Ghasri
The beach of Hondoq Bay and where it is possible to do water activities: subwing, snorkeling, paddle …
This is just a brief overview of the beaches and coves, I have prepared the complete list for you right here: The 25 most beautiful beaches in Malta and Gozo.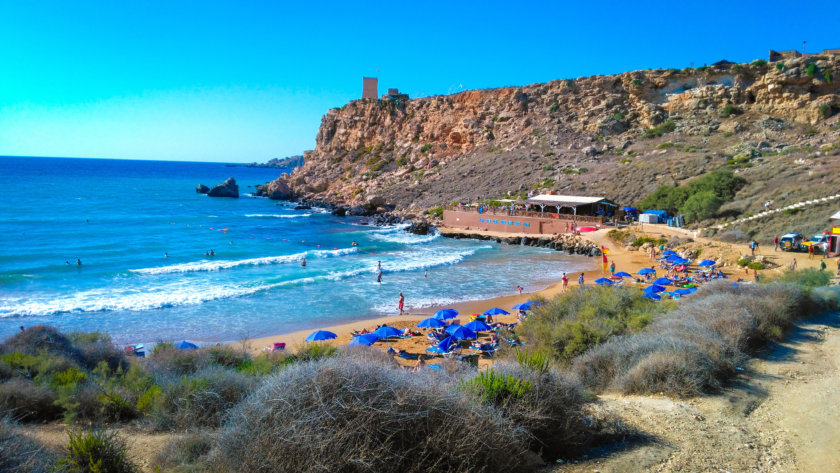 Where to Stay?
If you had planned to spend a holiday in Comino, this is currently no longer possible.
Comino's only hotel recently closed for renovations . It will probably be destroyed and completely rebuilt! It is not yet known when it will reopen.
There is indeed a campsite in Comino, which is located near the beach of Santa Marija but these are "bare" pitches. You will have to bring all your equipment (tent, stove, etc.) if you want to camp in Comino, which is not at all easy.
As you will have understood, you will therefore have to stay in Malta or Gozo to go to Comino.
Here is my selection of the best hotels in Malta and Gozo according to your budget and classified by city.
Accommodation in Malta
If you want a hotel in the south of Malta, I advise you to sleep near Valletta:
Grand Harbor Hotel : Hotel with traditional architecture, located in the city center of Valletta, just 100 meters from the Upper Barraka Gardens. Basic double room from €90 per night or with a view of the sea and the Three Cities for €110, breakfast included. Most: ideal location, magnificent view, the roof terrace.
Tano's Boutique guesthouse : Hotel located in the center of Valletta, close to all the places to visit. Spacious and bright double room from €115 per night. The pluses: the central location, the calm, the roof terrace for breakfast. The best value for money in town!

Grand Hotel Excelsior :  5* hotel located by the sea, the view is truly sublime! Very nice rooms from 170€ per night. Most: The swimming pool, the jacuzzi, the free parking, the excellent breakfast, the view, the service, and many other things that will make your stay truly exceptional! Our big favorite in Valletta.
Hotel Phenicia Malta : Luxury hotel located on City Gate Square. Spacious, bright and tastefully decorated double room from €349, breakfast at €17. The pluses: the infinity pool with a view of the port, the huge garden, the location and the free private parking. This is simply the best hotel in Valletta.
For a stay in the North of Malta (convenient to get to Comino), the best is to choose a hotel near Mellieha:
Pergola Hotel & Spa : Located in Mellieha, overlooking the bay, the church and the village, Gozo and Comino. Studio with equipped kitchenette from €57,  breakfast €8. The pluses: the possibility of cooking, the view, excellent service, the 3 swimming pools.
Maritim Antonine Hotel & spa : Located in the town of Mellieha, 1 km from a large sandy beach. Huge and elegant double room from €  77 per night, breakfast included. The pluses: rooftop swimming pool on the 9th floor  offering a panoramic view of the entire bay, heated swimming pool and jacuzzi, varied and plentiful buffet, proximity to bus stops to get to Valletta or the beach. It is our favorite for its performance / price ratio.
Radisson Blu Resort & Spa, Malta Golden Sands : Located in Golden Bay, 2 minutes walk from a beautiful beach. Large double room with balcony and view of the sea or the countryside from 150 e  per night, breakfast at 20€. The pluses: access to the beach, the view, the delicious breakfast, in summer the price includes the provision of deckchairs and parasols on the private beach.
Accommodation in Gozo
And if you prefer to stay in an apartment during your stay in Gozo, I recommend The Holiday Hub Gozo.
Located on the top floor (penthouse) of a typical Maltese stone building with a nice patio, this modern and fully equipped accommodation has 3 large bedrooms + 2 bathrooms.
Can accommodate up to 6 people, it is the best for a trip with family or friends!
It also has 2 beautiful terraces (75m²), ideal for taking your breakfast in the sun or an aperitif at the end of the day.
And we end with the highlight of the show: access to the 150m² rooftop with an above-ground swimming pool, a jacuzzi and a barbecue.
Something to relax after a good day of sightseeing! Our favorite in Gozo, to book well in advance!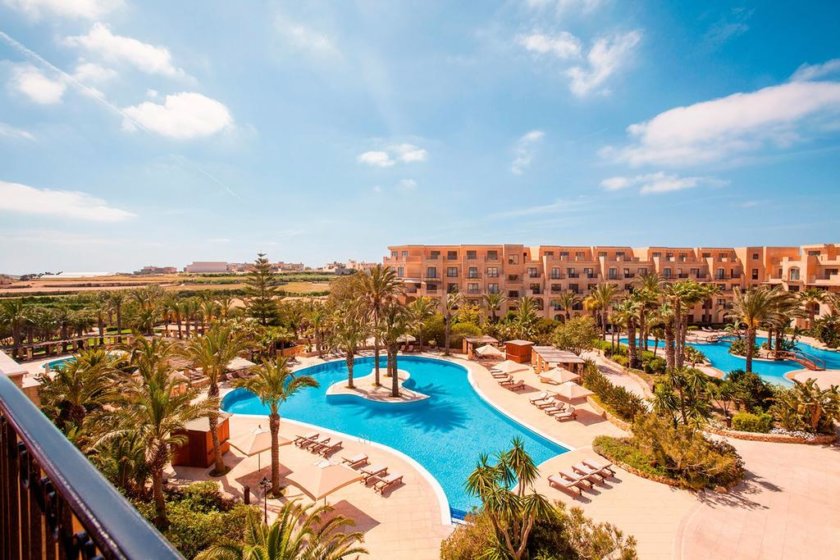 When to go to Comino?
It is possible to travel to Comino all year round. The crossing by boat depends on the weather conditions. If there is too much wind for example, the outings are cancelled.
Out of season, there are fewer departures between November and April.
In terms of tourist influx, you should know that there are really a lot of people between June and early September at the Blue Lagoon.
The best option to avoid the crowds is then to opt for a private boat trip which will allow you to discover the Blue Lagoon at the end of the afternoon ( book here for the 3 hour version or here for the full day ).
For me the best time to go to Comino if you want to swim is May -early June and September-October. The water is quite warm and there are fewer people.
For hiking, Comino Island is prettiest in March/April, when the vegetation is out.
Other activities to do in Malta and Gozo
If you like nautical activities and sports, in Malta and Gozo, you will be spoiled for choice! I have therefore prepared a super complete list for you with lots of ideas to have fun during your itinerary in Malta.
The 4 essential activities to do in Malta
It's your first trip to Malta and you want to take full view?
In this case, I particularly recommend 4 absolutely essential activities and excursions!
1) Take a cruise to Comino's Blue Lagoon
2) Visit Gozo by Quad or Jeep
Gozo VIP Guided Quad Bike Tour (top!) – Discover the whole island of Gozo with the best local guide and have lunch in a great restaurant with a view. Small group + 2 times more places to visit than with other quad tours (which includes secret places!)
Guided quad tour of Gozo for a day,  with departure from Malta (transport included) + return by boat via Comino and the Blue Lagoon! Clearly one of the best things to do in Malta!
Quad rental in Gozo: To visit Gozo you can also rent quads! (recommended if you know the island a little, otherwise taking a tour is the best solution).
Guided Jeep Tour of Gozo  – Transport from your hotel in Malta included. A great way to experience Gozo if you don't fancy driving!
3) Go diving in Malta or Gozo
4) Jet ski around Comino (Blue Lagoon)
What to do in Malta and Gozo after your day in Comino?
To discover all the essentials of Malta, it is in my article: What to do in Malta?
To make sure you don't miss any of Gozo's places of interest, it's right here: What to do in Gozo?
Want to spend time at the beach? So here it is: The 25 best beaches in Malta and Gozo.
And you, have you planned to visit Comino during your stay in Malta?
Are you going on a trip to Malta? Read also
Discover all our articles on Malta : all articles on Malta are here!