To visit Malta: what to do and see in a week?
Have you chosen to travel to Malta, one of the smallest countries in Europe  ?
To help you organize your stay , we have prepared an itinerary for a week in Malta and never miss places of interest essential to the island.
Throughout the article, you will find all the things to do and see + our tips and suggestions for visiting Malta in 6-7-8 days, as well as a selection of the best accommodations at each stage of your stay.
So, how to visit Malta in 1 week?
Let's go for a week to discover Valletta , Mdina , St Peter's pool , Gozo and Comino!
Step 1: Valletta (1 day 1/2)
For this first leg of your 1 week tour in Malta, you will of course start by discovering the very small capital, Valletta.
After landing at the airport, there are several choices for you to reach Valletta:
You can rent a car . However, I recommend that you only rent it from the day after your arrival. You will not need it in Valletta and, unless you have opted for a hotel with parking, it will be very difficult to park. It is also a way to save 2 days rental! For the rest of your tour in Malta, I recommend renting to avoid being dependent on more or less random bus schedules and not wasting time.
Take the X4 bus leaving every 30 minutes from the airport. The journey costs 1.50 € (2 € in summer) and takes 25 minutes to reach Valletta. This is the most economical option.
Take a taxi to your hotel for 15 €. The fare is fixed and there is approximately 15 minutes of travel.
If you choose to rent a car, I recommend you to go through Rentalcars.com, which is simply the best car rental booking site. And this for 3 reasons:
The site allows you to compare prices between different rental agencies . You are sure to have your car at the best price!
The cancellation is often free : A change of program? No worries, you can change or cancel your car rental in Malta for free.
They offer a "comprehensive protection" insurance that allows you to travel with peace of mind!
For having made use of it several times (they have paid me over 1300 euros at the time I write these lines!), I can tell you that this insurance is the best in the market. One more reason to choose Rentalcars.com for your car hire.
For my part, it is on their site that I reserve each time!   If you already have your travel dates, I advise you to book your car now to get the best price. Click on the button below to compare Malta car rental prices:
PS: I recommend you to bookmark the site, it will be very useful for your travels!
Most planes arriving from France, land in the middle or late afternoon. Once you have left your luggage at the hotel, you can take a short walk in the city before enjoying a good night's sleep.
The next day, we attack this week of vacation by starting to discover the inevitable Valletta.
I propose you to start the day with the most emblematic monument of the city, the co-cathedral Saint-Jean.It is better to start there because it is very touristy and quickly invaded by people in the day. You will be dazzled by its grandiose interior (in any case I was!). Allow about 1 hour of visit.
For the rest of the day, visit the Palace of the Grand Masters to visit the state apartments and the impressive armory of armor and weapons used by knights of the order of Malta. Between 1h and 1h30 of visit, it will depend on your passion for the armory.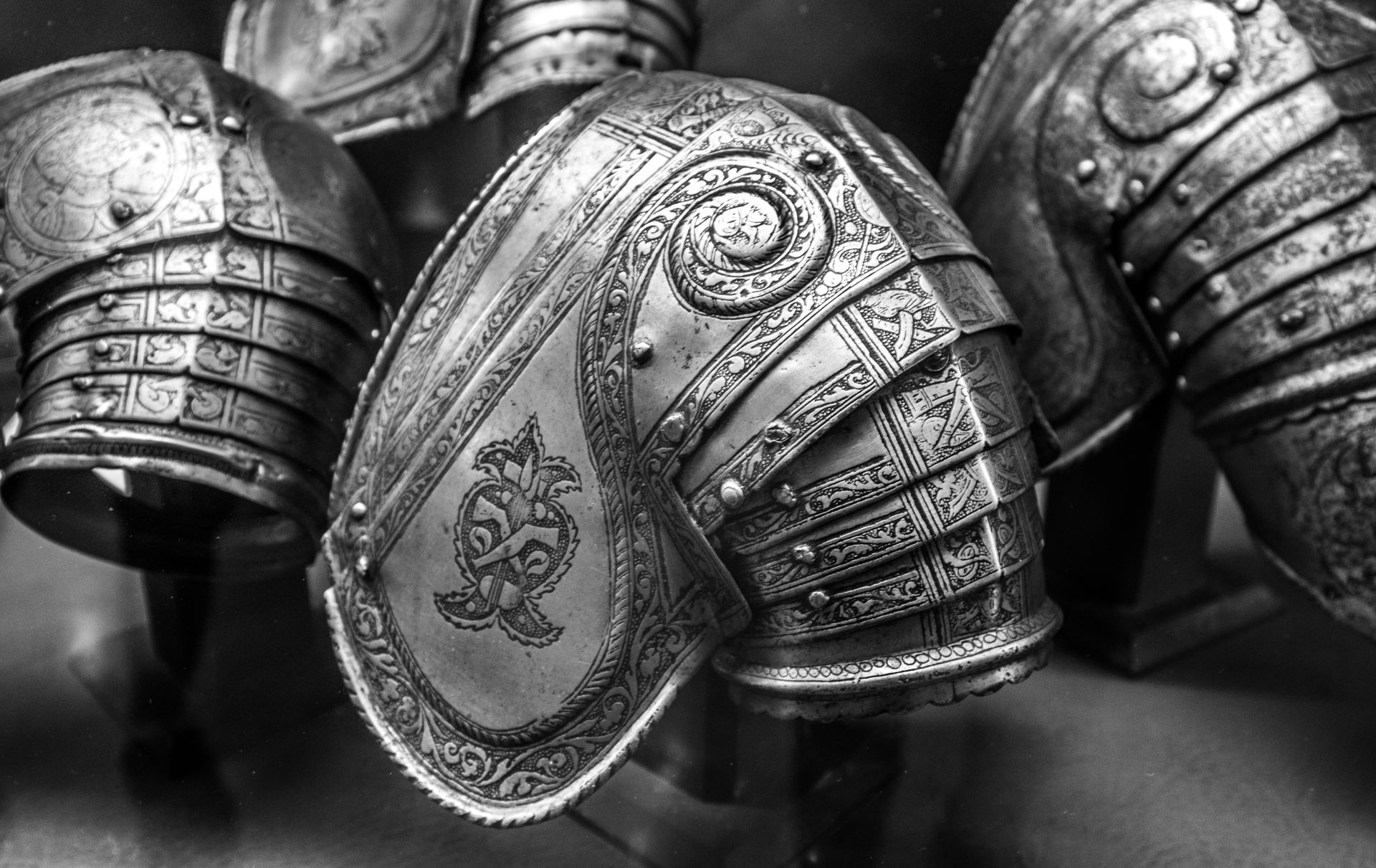 Leaving the Palace of the Grand Masters, you can take a tour of the Lower Barrakka Garden and take a picture of the very photogenic "  Siege Bell War Monument  ".
Then head to the Upper Barrakka Garden ( noon garden) at noon to witness a tradition of Valletta, shots guns fired daily. Originally intended to greet foreign vessels, the ceremony is now part of Maltese folklore.Do not miss it during your week-long stay in Malta!

The must of the garden Barrakka still remaining the breathtaking views it offers on the Three Citieslocated directly opposite and the sea. Take the opportunity to take a break in the shade and admire the view. To do absolutely during your week-long trip to Malta.
After a lunch break in one of the many restaurants in Valletta , the afternoon will be devoted to discovering the Three Cities that you have already seen from afar from the Upper Barrakka Garden.
To get there it's very easy:
First, you have to go down by the panoramic lift located in the  Upper Barrakka Garden
Then cross the street and continue to the left to the boat pier.
Allow 2.80 € per person (round trip) for 10 minutes. You will then be able to stroll in the multiple alleys of Vittoriosa, Senglea and Cospicua which offer beautiful points of view on Valletta.
By late afternoon return to Valletta where you can stroll the streets Republic Street and Merchant Street,the 2 main arteries of the city with many shops, cafes and restaurants. The opportunity to have a drink or start looking for a good restaurant for the evening!
[box type="info" align="" class="" width=""]For souvenirs purchases , I recommend you wait a bit , you will have the opportunity to find cheaper elsewhere![/box]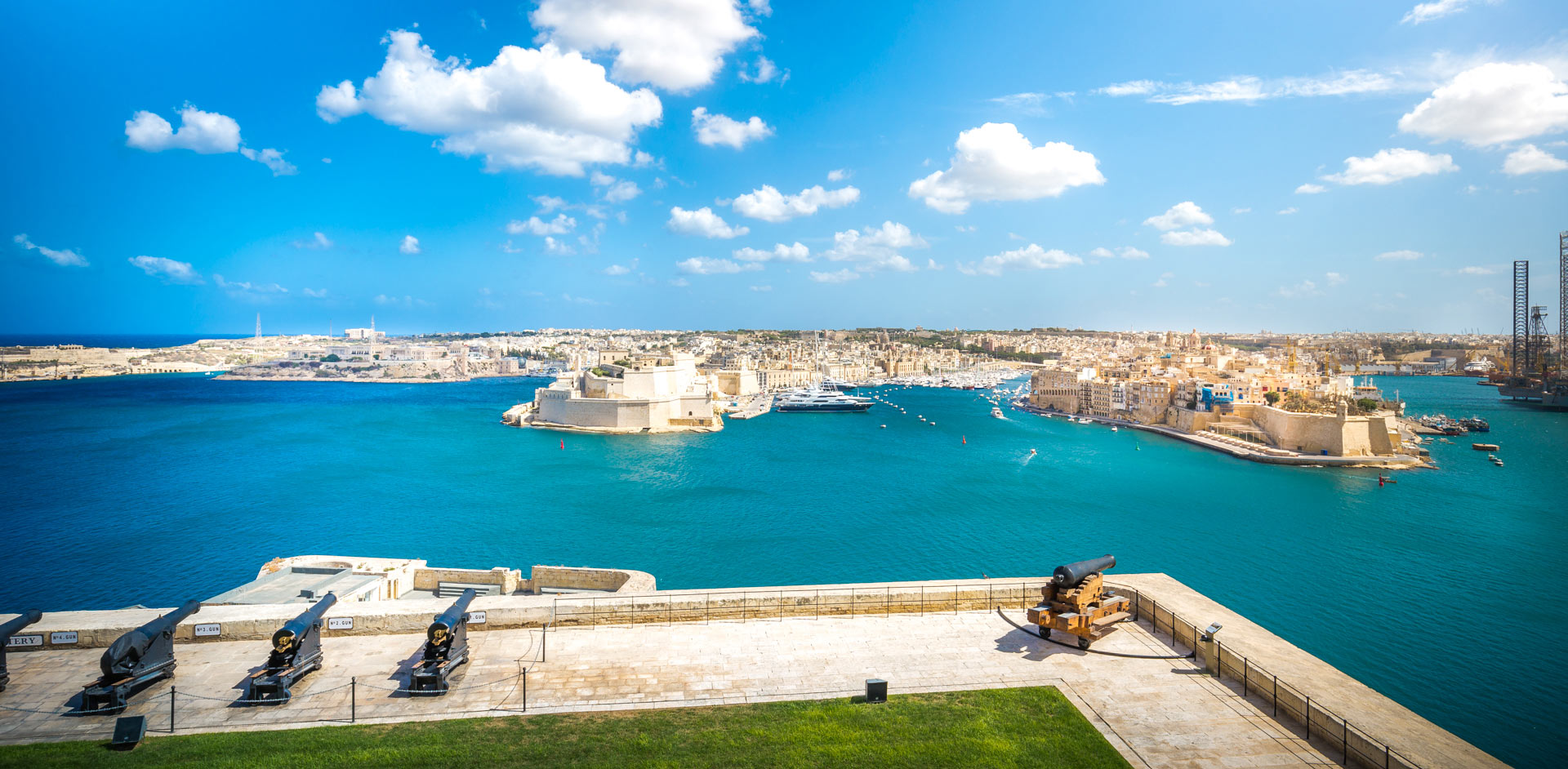 Accommodation in Valletta
Private Room : Located 300 meters from Fort St. Elmo and 700 meters from Barrakka High Garden. Comfortable double room from 75 €, the night breakfast included. The most: the excellent location, the welcome and kindness of the host, calm.
Grand Harbor Hotel : Hotel with traditional architecture, located in the city center of Valletta, just 100 meters from the Barraka High Gardens. Basic double room from 90 € per night or with view of the sea and the Three Cities for 110 €, breakfast included. Pros: ideal location, beautiful views, roof terrace.
Tano's Boutique guesthouse : Hotel located in the center of Valletta, 2 steps from all places to visit. Spacious and bright double room from 115 € per night. Most: central location, quiet, roof terrace for breakfast. Our big favorite for his report benefits / prices!
Hotel Phenicia Malta : Luxury hotel located on the City Gate Square. Spacious double room, bright and tastefully decorated from 154 €, breakfast 17 €. Most: the infinity pool overlooking the harbor, the huge garden, the location and free private parking. Would you like to please your sweetheart during your trip to Malta? Stay one night!
Step 2: Mellieha (2 days)
For this second day in Malta , it is time (if you chose this option) to pick up your rental car at the airport. This is the beginning of your week-long road trip!
If you've ever used our advice on a trip, you know that we usually go to rentalcars.com to rent a car to avoid any unpleasant surprises. Their comprehensive insurance is very effective and they repay super fast in case of damage.
For 5 days car rental in Malta, prices start from 35 € for a Fiat Panda type model. The full insurance of rentalcars.com is at 11.70 € / day. The total cost of a rental will come to you around 90 € , which is not very expensive to be totally free of these trips!
Once your car is recovered, pay attention to the driving on the left especially in the roundabouts! And be careful when you get out of a parking lot to leave on the right side of the road (an error is quickly arrived, and I know it!). Certainly you have taken insurance but also avoid using it right away.
I must admit that during our first stay in Malta , we rented an automatic car to limit the damage and focus on one thing at a time. It is sure that it is a little more expensive but it is still very convenient! Do not hesitate to solicit the vigilance of your co-pilot.
After all this super valuable advice provided graciously, take the road to the next stop on this 7-day itinerary to Malta, Mellieha.
On the road between the airport and Mellieha (located north of the island), I recommend you stop to visit 2 beautiful small neighboring towns: Mdina and Rabat.
Before the arrival of the knights, Mdina served as the capital of Malta and brought together the seats of the various administrations and the government .
In Mdina , it is good to walk through the streets to discover the main monuments such as St. Paul's Cathedral or Vilhena Palace. Fortified city, you can also admire beautiful views of the surrounding countryside from its ramparts.
[box type="info" align="" class="" width=""]Visit Mdina early in the morning before the arrival of tourist buses. They pour a real human tide and it becomes immediately less picturesque! We had the chance to visit an almost empty city and we loved it![/box]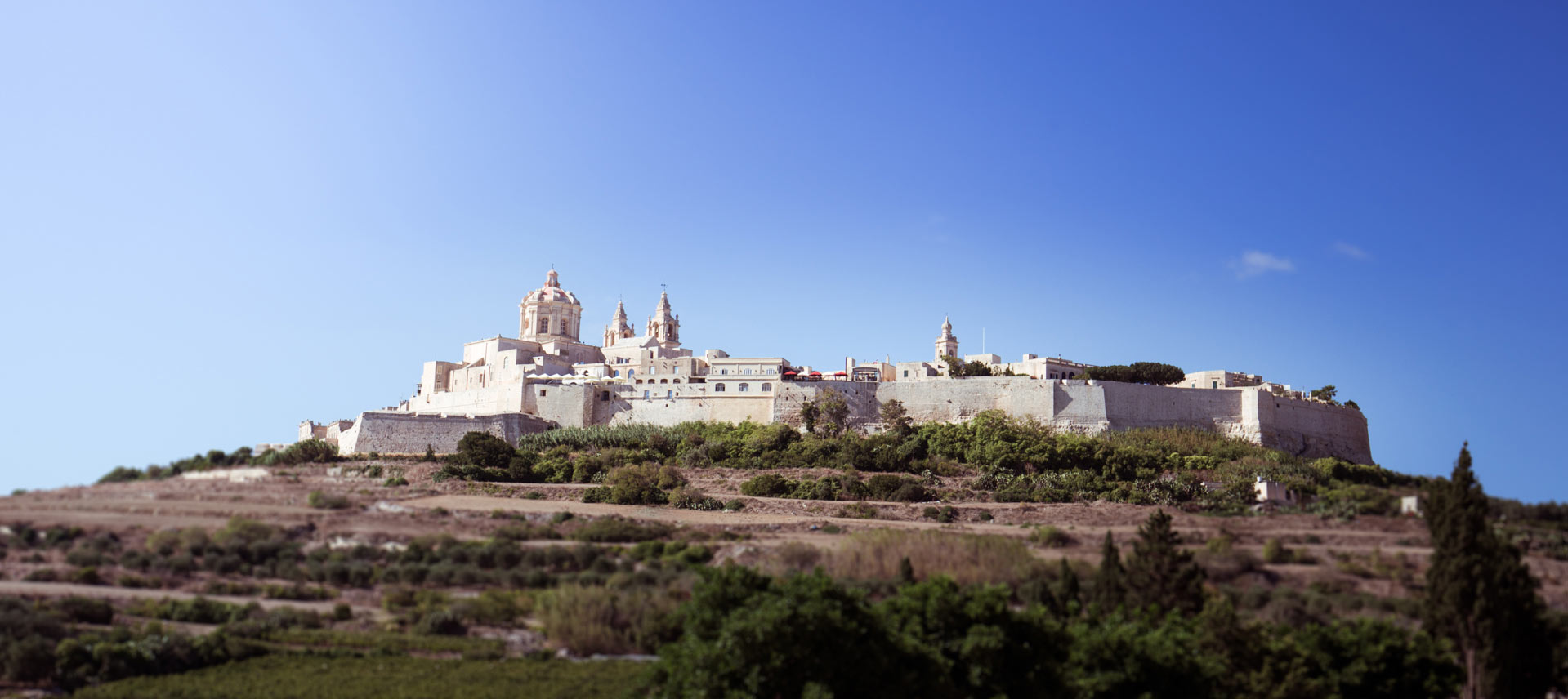 Leaving Mdina by the Mdina Gate , the bridge overlooking the moat, you will find yourself directly in the nearby city of Rabat.
Rabat is known as the city that served as a refuge for the Apostle Saint Paul during his sinking, you will find a church, a cave and catacombs dedicated to him. It is also very nice to walk there.
Then pick up the car to continue this second full day of your week-long stay in Malta . On the road, I advise you to make a detour to Mosta where there is a monumental church inspired by the Pantheon of Rome . Do not miss the souvenir photo.
Then explore some of the beautiful beaches in the Mellieha area . I can for example quote you:
Gejna Bay that allows for a stroll along the sea
Ghajn Tuffieha Bay and its amazingly shaped rock
Paradise Bay and its turquoise water
Golden Bay is also worth a visit
Mellieha Bay , the largest of all with its fine sand and shallow water
In short, an afternoon to test the best swimming spots in Malta , she is not beautiful life?
Be careful however to jellyfish that can infest the waters. On our afternoon in Ghajn Tuffieha Bay , we could not swim because of that.
After this busy day, no one doubts that you will enjoy relaxing in one of the hotels that I recommend below.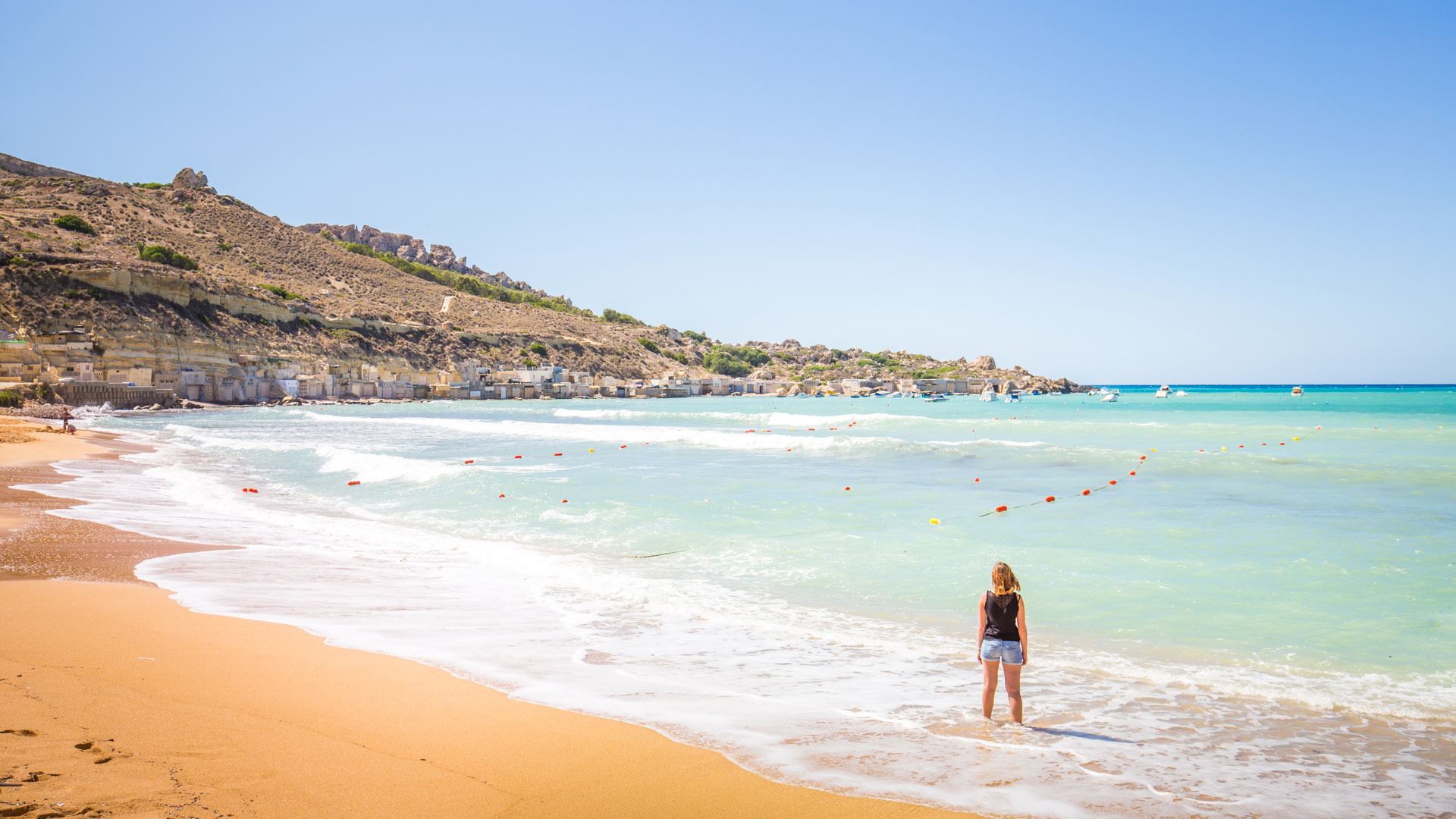 The next day, departure for one of the attractions that you must see during your tour of 6, 7, or 8 days in Malta: the tiny island of Comino.
If the place tells you something, it is because the island of Comino is certainly the most touristy place of Malta, with in particular its famous Blue Lagoon (blue lagoon). If like me, you like translucent and turquoise water that's where you have to go.
Well, by cons I prefer to warn you you will not be the only one to have the same idea, the place is crowdedand it's really less cool! It feels like you're in Ibiza with big boats, beach club music and dozens of people who disembark.
To avoid this, only one solution, go early in the morning or late afternoon . To get there you can opt for the option "big boats" with a formula including a time on Comino + a meal. You will find all the amenities on board including toilets. Price between 13 and 20 €. As much to tell you that Travel Tips is not too much our thing.
The other option (which we chose) is to go to Marfa , 10 minutes from Mellieha , to take a shuttle to Comino. The trip costs € 10 return for 25 minutes and there are every half an hour. The best solution to arrive and leave whenever you want.
On Comino , apart from swimming in the Blue Lagoon and its transparent water, you can also walk around. There are beautiful views around the island and another beach, Santa Maria Bay , much less crowded. It is next to the only hotel in Comino.
A good thing to note is that despite the crowds and the highly touristy place, you can eat for cheap. Food trucks offer sandwiches and drinks at prices more than correct and in addition it is not bad at all.
[box type="info" align="" class="" width=""]To be fashionable on Comino, you will have to drink a cocktail served in a pineapple! You will understand what I am talking about when you are there.[/box]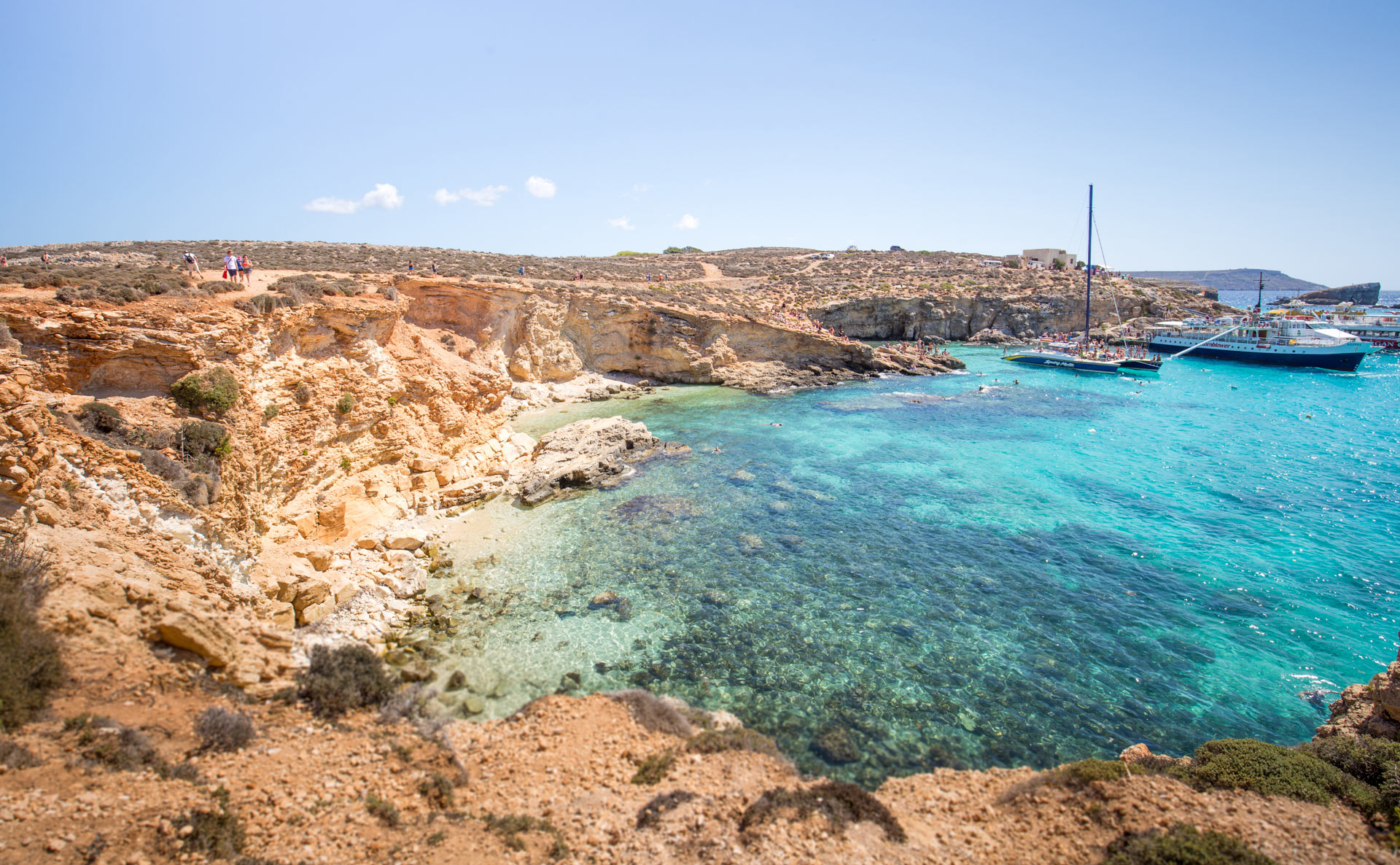 To stay in Mellieha
Pergola Hotel & Spa : Located in Mellieha, overlooking the bay, church and village, Gozo and Comino. Studio with kitchenette equipped from 57 €, breakfast 8 €. The most: the opportunity to eat, the view, excellent service, the 3 pools.
Maritim Antonine Hotel & spa : Located in the town of Mellieha, 1 km from a large sandy beach. Double room huge and elegant from 77 € per night, breakfast included. Goodies: rooftop pool at the 9 th floor with panoramic views over the bay, heated pool and Jacuzzi, varied and plentiful buffet, close to bus stops to get to Valletta or at the beach. It's our heart stroke for his performance / price ratio.
Radisson Blu Resort & Spa, Malta Golden Sands : Located in Golden Bay, a 2-minute walk from a beautiful beach. Large double room with balcony and view of the sea or the countryside from 150 € per night, breakfast 20 €. The most: access to the beach, the view, the delicious breakfast, in summer the price includes the provision of deckchair and umbrella on the private beach.
Step 3: Gozo (2 days)
For this third leg of your week-long trip to Malta, I suggest you go explore the island of Gozo, the little sister of the island of Malta.
For that, you have to go to Cirkewwa where is the ferry that goes to Gozo. From Mellieha , only about ten minutes by car. No need to check schedules before there are very regularly (especially in high season) and in any case you will not have long to wait. In addition to that, boarding is super well organized and is done quickly. You will have nothing to pay on the way , the payment is made on return (20 € for a car and 2 people).
On board the ferry you will find something to eat and a small shop selling newspapers and snacks. The trip takes about 20 minutes.
[box type="info" align="" class="" width=""]
Do not wait until the last moment to get back in your car because once back in the port, the landing is done in record time!
For this first day in Gozo, I advise you to start by visiting the main city, Victoria or Rabat (in Maltese). The must to see is its Citadell e located at the top of a hill. You may have already been able to see it from the ferry, it is the fortified part of the city. [/box]
Inside the Citadel , you can visit the old prisons and the cathedral and especially admire a 360 ° panoramaof all Gozo.
Leaving the Citadel, it will be time for the lunch break. There are plenty of restaurants and cafes along Repubblika Street , the main street of the city, which is extended by Fortunato Mizzi Street.  The opportunity also to do some shopping in the shops and find local Gozo products like honey or goat cheese.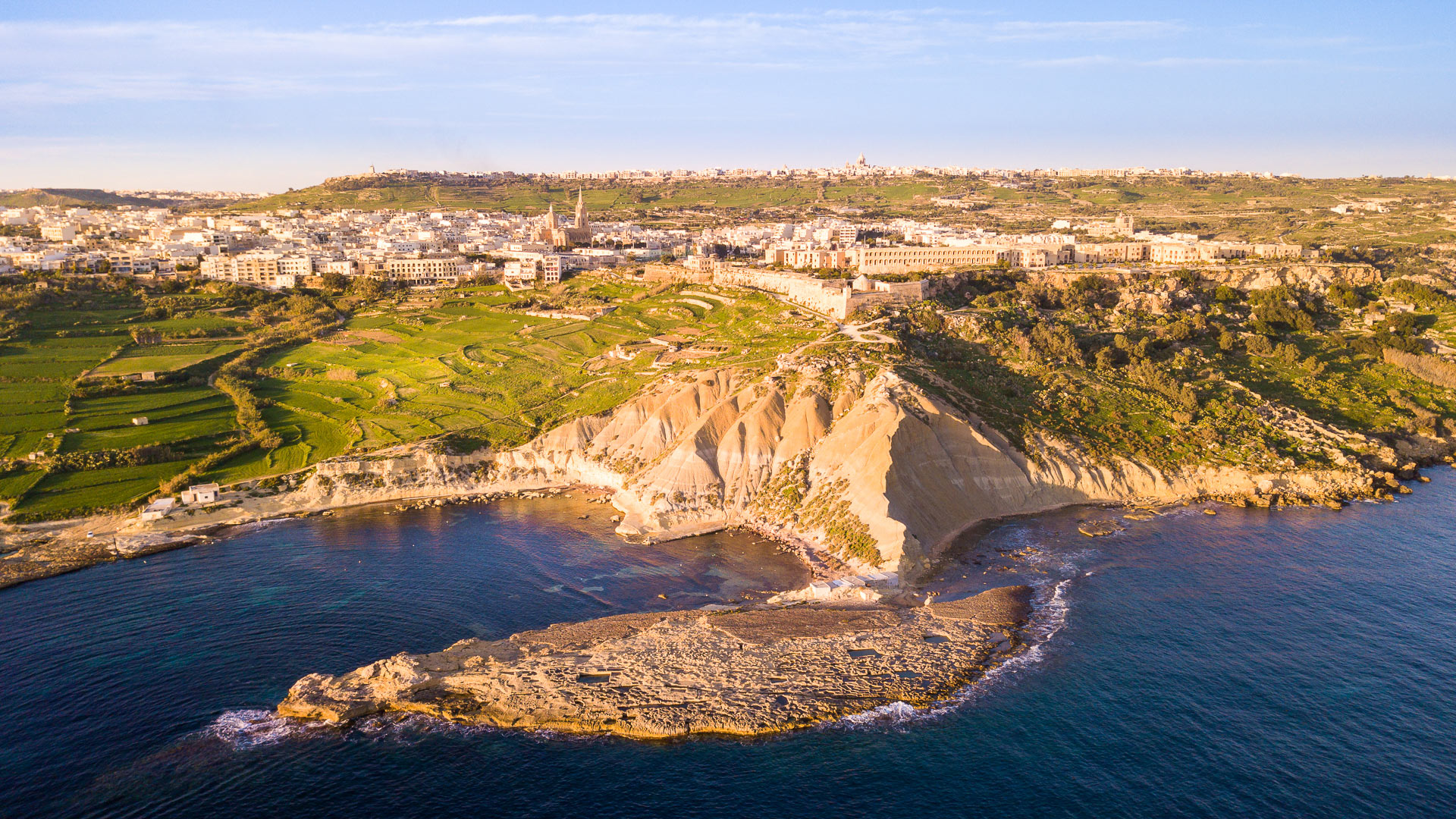 In the afternoon, head northwest to Gozo to Dwejra , where the Azure Window was once known. So certainly, it no longer exists but the place has retained all its tourist appeal and remains to be seen! Especially since it is in the same place as the Inland Sea , the Deep Blue Hole and the Fungus Rock . What you put in the eye.
On the return, stop at the Basilica of Ta'Pinu. Visible by far because built on a small hill, the church is really impressive from the outside and very photogenic. From an architectural point of view, I think it's my favorite building on this 6-7-8 day tour in Malta!
The next day, for the second day in Gozo, I recommend you go for a walk on the side of Marsalforn to see the salt marshes. The city itself is not pretty but the salt marshes are worth it. You can walk on a long way and it's really nice to see.
Do not hesitate to take the walk to Wied il Gashri, the sea has dug a canyon, become a paradise for divers and lovers of swimming in crystal clear water.
Then you can go to the beach. Gozo has beautiful places to swim and it would be a shame to miss it. Even if you do not want to dip or if it is not the season, it's beautiful in all seasons, I guarantee it!
I recommend 2 "real beaches  ":
Ramla Bay (arriving from Marsalforn is the first on the way), the largest beach in Gozo with its ocher sand and shallow water. Ideal with children. Small snack, restaurant and public toilets on site. You can also climb to the cave that dominates to admire the panorama.
San Blas beach  : Same ocher sand as Ramla but smaller. The setting is really nice with the big rocks that surround it. On the other hand the access is done only on foot and it is horny for the ascent on a steep slope. In summer it is possible that the benefits of a refreshing swim quickly fade away!
Finally to end the day in style, you can go to the cliffs of Ta'Cenc to admire the sunset.
I did not tell you about it, but during these 2 days in Gozo , you can also go for beautiful walks all along the island. Many trails allow you to walk the seaside and cliffs. One of my favorites is from Mgarr, on the right side of the ferry, at the foot of a huge cliff and a beautiful cove for swimming. Since Dahlet Quorrot you can also take a walk along the rocks.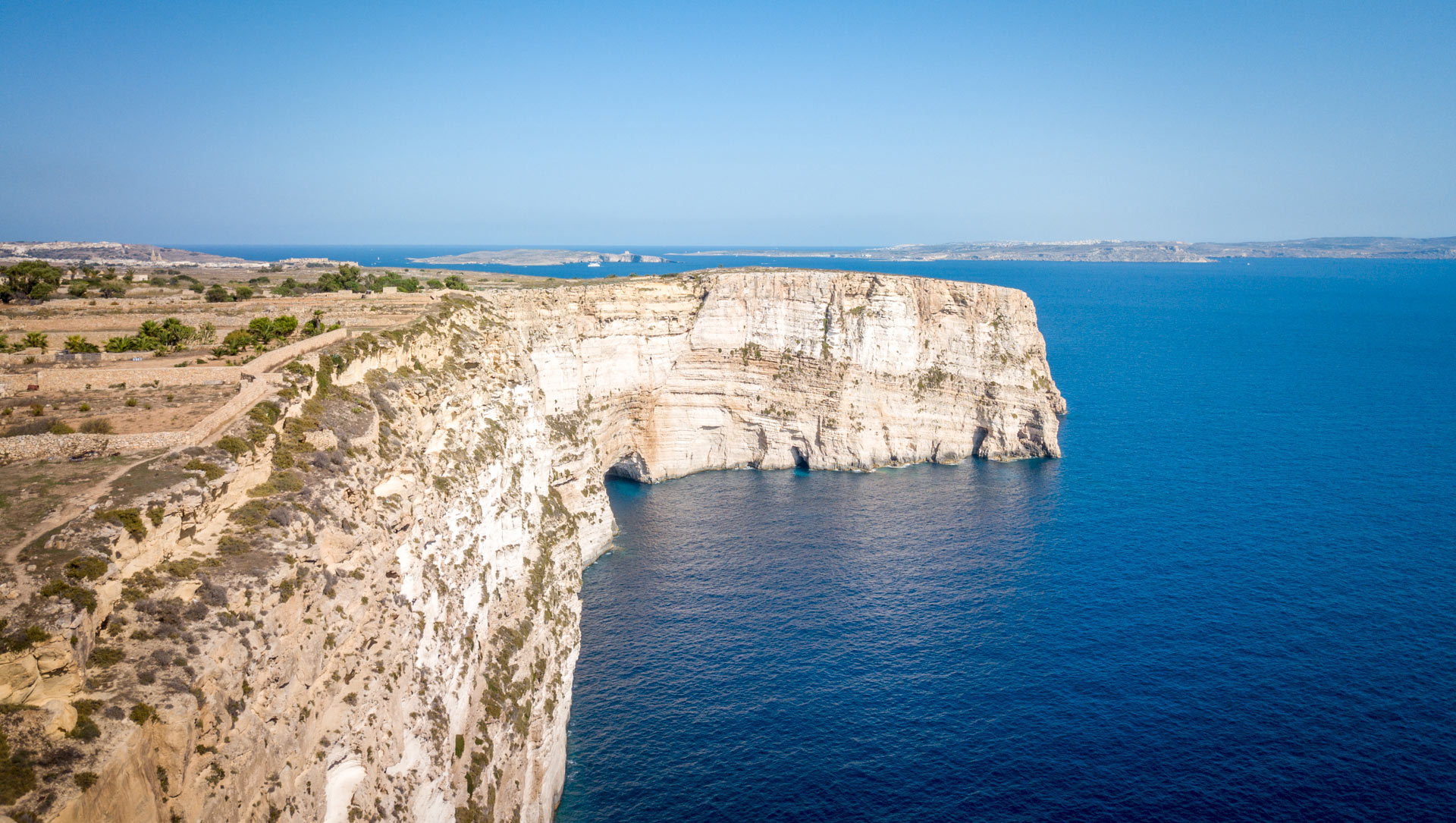 To stay in Gozo
Guesthouse Bambina : Guesthouse located in Xaghra, 10 minutes walk from the beach. Double room with modern decoration and Zen from 40 €. Most: superb house with pool and beautiful views of Gozo, warm welcome, access to the beach on foot, and the price completely unbeatable. Our favorite in Gozo! To book very early!

Casa Gemelli Bboutique Guesthouse : Charming hotel located in Victoria, the main city of Gozo. Double room entirely renovated with decoration combining traditional and modern from 70 €, breakfast included. Plus: Location in Victoria to catch all the buses, the homemade breakfast, the friendliness and the valuable advice of the staff.
The Duke Boutique Hostel : Establishment located in the center of Victoria. Huge and comfortable double room from 86 € per night, breakfast included. The most: the location, great bedding, the view from the roof terrace, the varied and hearty breakfast, the availability of staff, some rooms with Jacuzzi on the terrace.
Kempiski Hotel San Lawrenz  : Luxury hotel located in San Lawrenz, close to the Inland Sea and the Ta'Pinu Basilica. Spacious and modern double room with balcony from 116 € per night, breakfast surcharge 25 €. Pros: great views, huge pools, indoor pool, free parking, exceptional breakfast, spa. It's simply the best hotel in Gozo . You only have one week in Malta, enjoy!

Step 4: Marsaxlokk (1 day)
The next day for your last day of your 7-8 day stay in Malta , take the ferry back to the big island.
The last leg will take you to the south of Malta to Marsaxlokk and its surroundings. It is a convenient city to spend a last night on Malta as it is only 15 minutes from the airport.
Since you will have to cross the whole island from end to end to get there, I recommend 3 places of interestnot to be missed on the way:
First stop at Popeye Village located not far from Mellieha . The small village was created entirely during the shooting of the movie "Popeye" with Robin Williams. Today it acts as an amusement park. Stop at least for the souvenir photo with its colorful houses at the foot of the cliff.
Second stop at the cliffs of Dingli, the highest point of Malta at 250 meters above sea level. Nice walk and beautiful panorama on the program.
Third and last stop before Marsaxlokk ,  "The Blue Grotto" or Blue Grotto in French. The cave is famous for its intense blue water color. To see from above from a gazebo at the exit of Zurrieq town or closer by taking a boat that will take you inside. The departure is at the port of Wied Il Zurrieq, just after the viewpoint and the excursion takes about thirty minutes.

Arrived in Marsaxlokk late morning, if it is a Sunday you will find a large market near the port. There are stalls of fish, fruits and vegetables but especially many sellers of souvenirs. The ideal place to do your shopping because much cheaper than in Valletta.
On weekdays, it is also a very nice place to see with the many colorful boats, the luzzi, in the harbor. And a good place to have lunch with many fish restaurants but also pizzas and sandwiches. All for a really reasonable price.
After eating, I suggest you go see another well-known attraction in Malta, St Peter's Pool. It would be a shame not to go during your stay of 1 week.

It is only a 10 minute drive from Marsaxlokk and is very easy to find as well signposted. You will find 2 free car parks on arrival. Then, St Peter's Pool is within a 3 minute walk .
Do not forget your jerseys because this natural pool clearly wants to get into it. On the other hand it is a little reserved for the neck breakers because the access is made only by jumping or by ladders in the rocks. So I advise you with very young children.
To find a better place you can continue on the right where rocks form jacuzzis at the edge of the water. You can also go for a nice stroll along the coast.

And to finish the day, you can take your car and continue a little higher towards Marsaskala which has a seaside well arranged for a walk.

To stay in Marsaxlokk
Port View Guesthouse : Guest house located in Marsaxlokk, a pretty fishing village where is a very tourist market on Sunday. Modern and comfortable double room from 50 € per night, breakfast included. Most: the location by the sea, a good lunch and the perfect home.
Harbor Lodge  : Located very close to the fishing port. Double room quiet and comfortable from 85 € per night, breakfast included. Most: the quiet location, free parking, free shuttle to the airport.
Budget for a week-long trip to Malta
Because it's always nice to have an idea of ​​what a trip can cost, here's what we spent to visit Malta in 7 days:
Accommodation for 2 for a week : 385 €
Transport for 2 (flight + car rental + ferry to Gozo): 370 €
Visits for 2 : 65 €
Food for 2 : 200 €
Total budget for one week for 2 people : 1020 €
Malta is a great little country to discover.
This week, I mainly remember the beauty of the natural landscapes, which are beautiful. At each turn of the road or at the bend of a path, you will find a beautiful panorama . And everywhere beautiful little coves with turquoise water that make you want to dive.
And I had a big crush on the island of Gozo , much quieter and rural than its neighbor and just as breathtaking. It is the ideal place to walk around quietly and really enjoy your holidays.
Last but not least when visiting Malta in 1 week: the food  ! If you have been following me for a while, you must have noticed that I attach some importance to it. Another good point for Malta , where I enjoyed every meal! Whether it's a simple sandwich, pizza or pasta, everything is well prepared and really cheap.
Now that you have an idea of ​​what you can do in Malta in 6, 7 or 8 days, I also recommend you to request a free quote from a local travel agency : Thanks to our partner Evaneos, this can be done in less than 5 minutes! It's free, without commitment and a tourism professional will concoct you an unforgettable stay!
In addition, prices for a week-long circuit in Malta start from just 730 euros for 8 days! So, what are you waiting for? 🙂
Did you go on a 1 week trip to Malta and follow our itinerary? Feel free to give us your opinion in the comments!