Complete Guide of Calakmul (Campeche)
Both a Biosphere Reserve and a UNESCO World Heritage Site, Calakmul is definitely one of the great places of interest in Mexico. 
And be careful, we're not talking about just any reserve: it's the 2nd lung of America and the largest tropical reserve in Mexico!
What is incredible here is that you can freely explore one of the most important Mayan cities  hidden through the jungle, under the curious gaze of monkeys perched in the treetops.
But this adventure is worth it: located on the border with Guatemala, it takes a 5-hour drive from Campeche. This is why there are very few tourists there – completely unlike Chichen Itza, which is too saturated – and that's a good thing!
By far, far away, Calakmul was my big favorite in Mexico. Here is my complete guide to Calakmul with all the practical information so you don't miss anything during your visit.
The History of Calakmul in Brief
Calakmul means "two adjacent mounds" in Yucatan Maya , in reference to the 2 largest pyramids at the site: Structures I and II. But according to certain hieroglyphs, the city would also have had other names such as Kan "serpent" or Ux te tuun "three stones".
It is the site where the largest number of stelae in the Mayan world have been found . It is thanks to the valuable information they contain that it was possible to reconstruct the history of Calakmul and the type of society it was about.
Along with Palenque in Chiapas  and Tikal in Guatemala, it was one of the most important and influential cities in the Mayan world.
Here is a brief overview of its history:
Occupied from 550 BC. JC, it experienced its peak from the year 250 to the year 900.
Between 636 and 695 Calakmul succeeded in establishing a very powerful socio-political network.
Defeated by Tikal in Guatemala, Calakmul was forced to reorient itself politically. The new rulers established relations with other cities located more to the north, such as Rio Bec.
Between 1000 and 1500, it was mainly a place of pilgrimage.
From 400 BC to 1000 hosted numerous scribes, painters, potters, sculptors, master builders, and other figures who contributed to creating important works (buildings, murals, friezes, gigantic masks), as well as numerous colorful vases (for elite houses and tombs of great people), jewelry and jade masks, objects made of shell and wood, etc. It is also the site where the greatest number of funerary masks have been found.
What to see in Calakmul
It is estimated that there are some 6,500 structures at the Calakmul site , but so far only 21 structures have been "cleaned".
There are  3 possible routes  to visit Calakmul: a short (2h), a medium (3h) and a long (4-5h).
We find a map at the start of the route which indicates all the accessible structures with the different paths, but it is true that it would be much more practical (but less ecological, of course) if they gave us a map in person at the entrance . For my part, I took  several photos  of this map which were very useful to me and I recommend that you do so. Fortunately, there are signs to help us find our way.
I chose the long way. After a 5-hour drive from Campeche, I said to myself: I might as well make the most of it!

So here is what there is to see in Calakmul,  in the order of the trail I followed:
1. Chan Chi'ich 
It is a small residential area where large families lived with members who did not necessarily share blood ties, but rather were part of the same lineage. A drainage channel was found to evacuate the large quantity of water that fell during the rainy season and prevent flooding.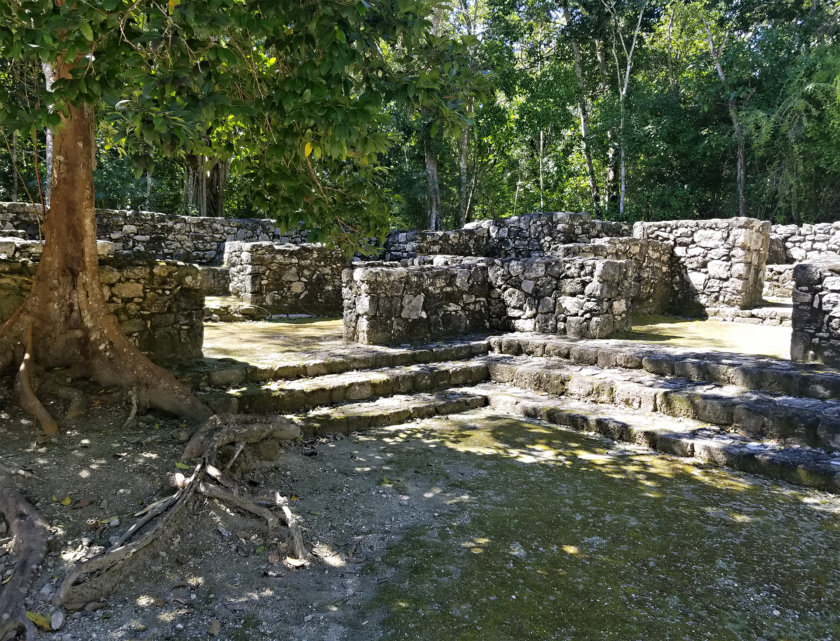 2. Chii'k Naab 
It is a complex of 68 structures with squares and corridors. It is believed to be a gathering place for different festivals and celebrations.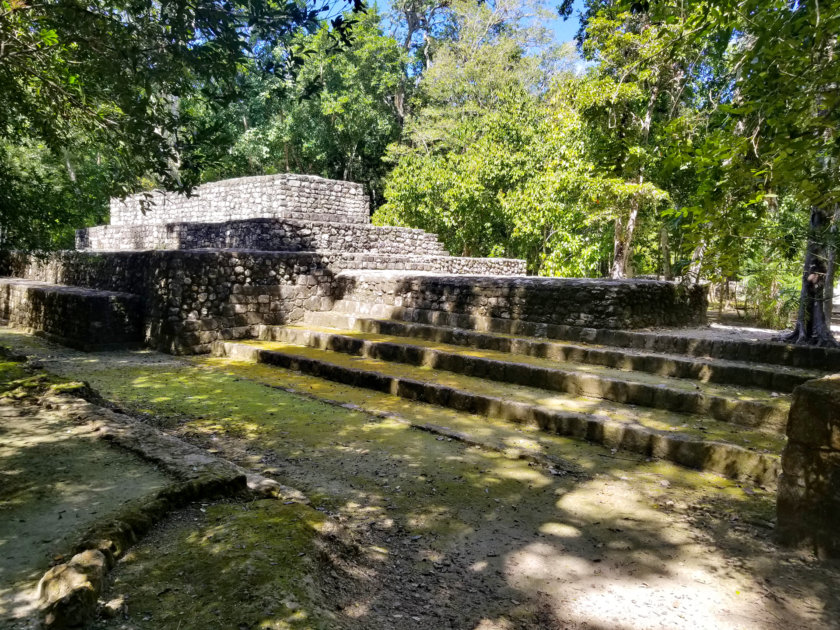 3. Great Acropolis
The previous two sites were much smaller, so this was the first large complex I saw while following the path: impressive! It is a large residential area divided into 2 main spaces : a semi-public and a private, reserved for the elite.
The semi-public space  : it encompasses some 10 buildings around two squares divided by Structure XII  : the north square  (with a ball court) and the south square. The original access to the Acropolis was via Structure XIV, so indeed it was public, but its access was limited and very controlled.
Private space  : this is the place where the governor and the elite of Calakmul resided. There are some 70 structures around 17 patios and squares.
In addition to being residential, the Great Acropolis area had administrative, political, social and ceremonial functions. In some structures tombs of important people with funerary offerings were found, as is the case of Structure XV where three tombs were found .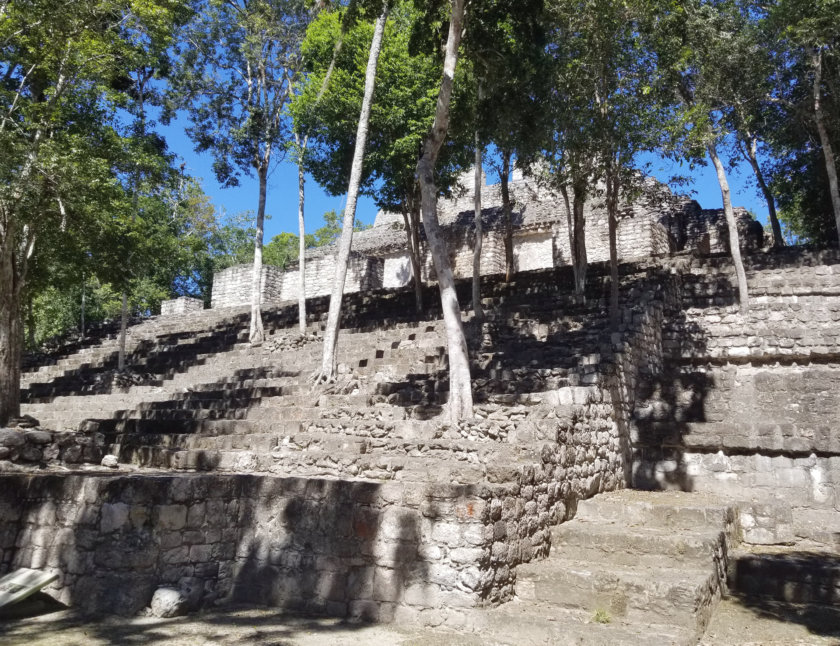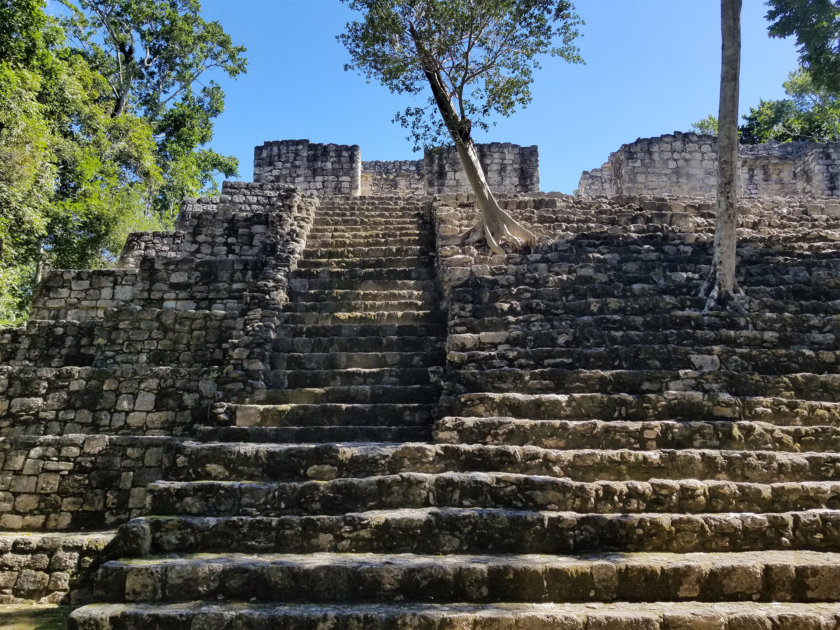 4. Gran Plaza and Structure II
The Gran Plaza is the central square of Calakmul. It is surrounded by different structures, including the famous  Structure II. In addition to being the largest pyramid in Calakmul, it is also the heart of the city. With its 50m height (at its time it reached 60m), it is one of the most important pyramids in the Mayan world.
This pyramid was the center of power of Calakmul and tomb of certain rulers. So far, we have found 9 burial chambers there!
You absolutely have to go up to admire the view because you are beyond the treetops. And if you look carefully you will see some points emerging from between the vegetation: these are other pyramids. Among it on your left you will see the other great pyramid of Calakmul : Structure I.
My advice: there are different levels and access to the highest level is a bit hidden. At least, for my part, I really thought I had reached the top because you can't see how big it is from below! I luckily followed someone who knew the structure very well to the top. You have to take stairs on your right going up.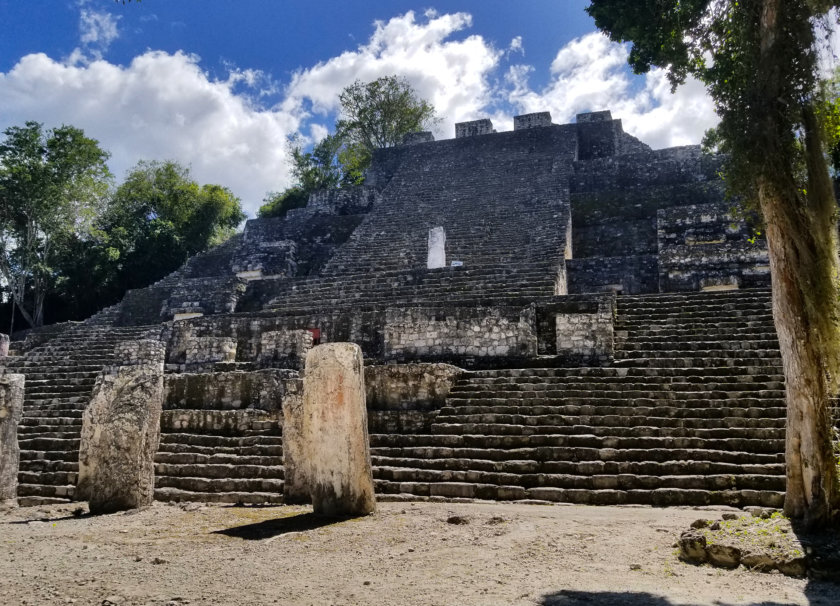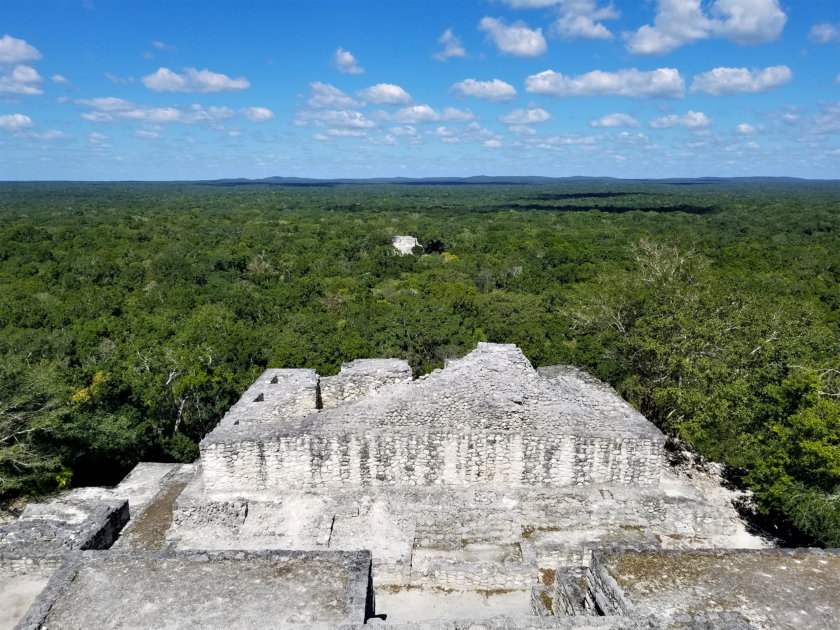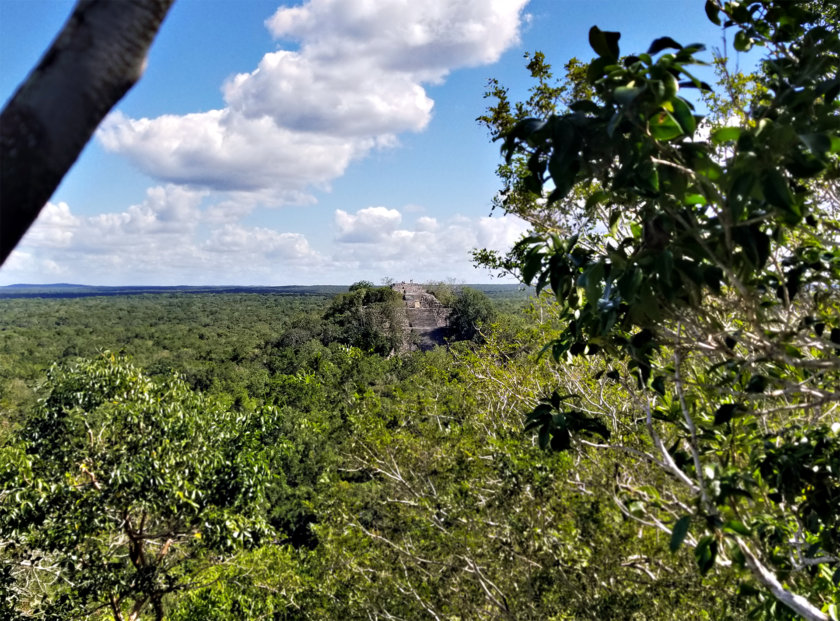 5. Structure I
With its 40m height, it is the 2nd largest pyramid in Calakmul after Structure II.
Fortunately, after mounting the Structure II, the knees are already used to it! But you still have to be careful not to slip because the stairs are quite uneven.
Here too, from the top, you also get a magnificent view of the surrounding area. And more or less in front of us: Structure II which emerges between the trees. It's a magical moment, I still can't believe it wasn't a film set!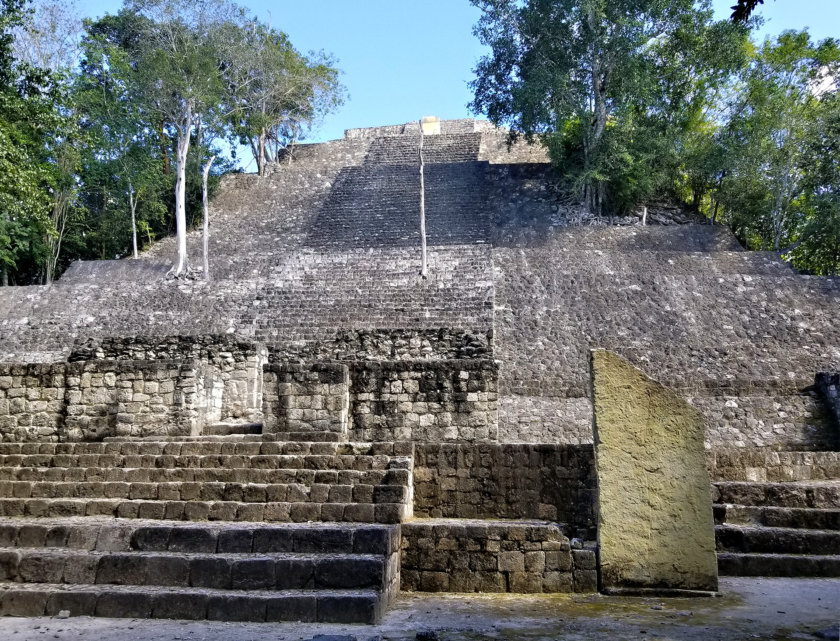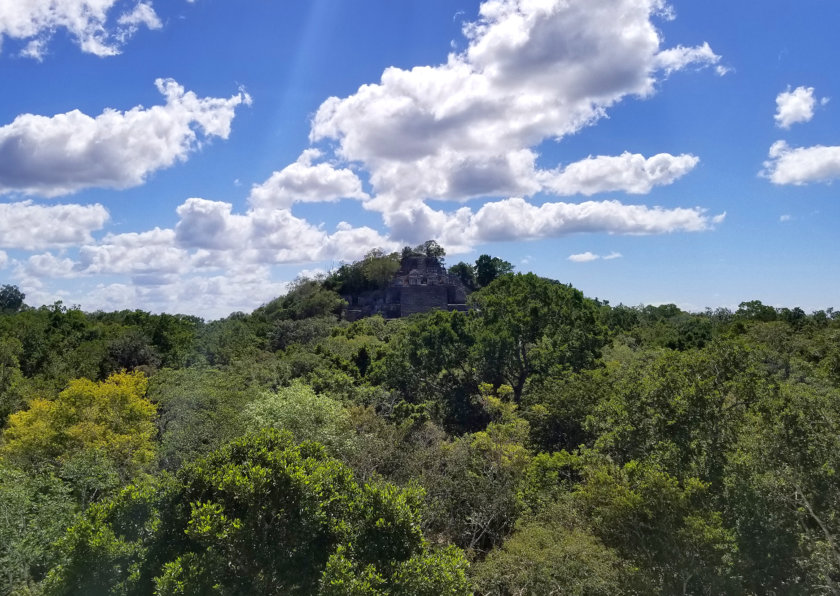 6.  Small Acropolis and Structure III
This is the last complex on the site before the release, so make the most of it.
It is true that after Structures I and II which are enormous, the Pequeña Acrópolis may seem less impressive because these are buildings which have not really been restored. And yet: I felt like I was in a real playground while climbing everywhere!

Structure III is located on the edge of the Little Acropolis. It is a palace where one of the oldest lineages in the city lived. Two tombs were found there , including one with offerings (dishes, jade masks) and plaques with hieroglyphic writing, which indicates that the deceased was an important ruler.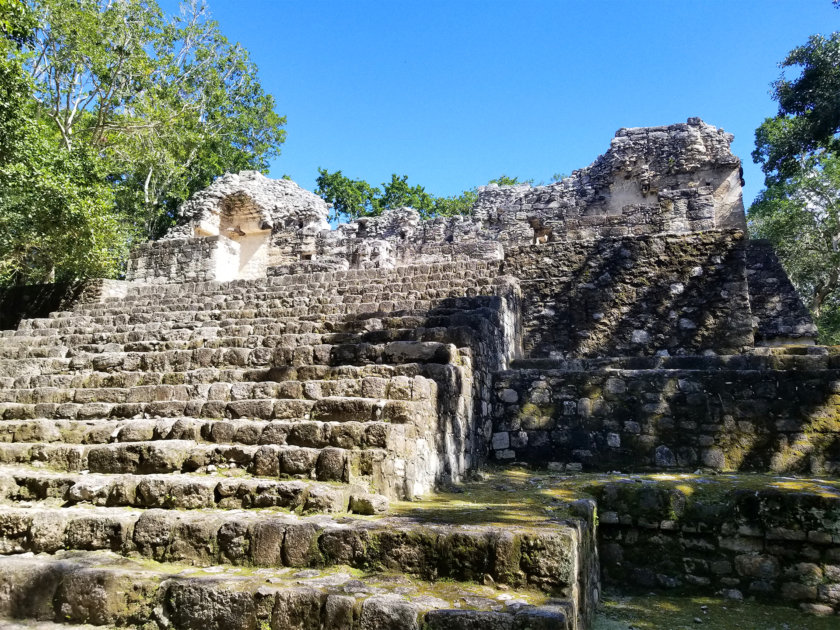 7. Wildlife
There is a rich fauna in the reserve : 235 species of birds, 5 of Mexico's 6 felines, numerous reptiles and monkeys.
As for the archaeological site of Calakmul, I saw several monkeys playing from one branch to another and a couple of ocellated turkeys walking around peacefully. You will certainly come across them, open your eyes!
Book by Calakmul
Here is a map of Calakmul with all the buildings accessible to the public, provided by INAH , it offers a nice overview of the places!

Calakmul: my impressions
How can you not fall under the spell of a Mayan site hidden in the jungle?
You can explore the Calakmul  site in complete freedom, by climbing to the top of the pyramids and other structures, which is no longer the case for the majority of other archaeological sites that I visited during my stay in Mexico!
It is a little-known archaeological site in Mexico which is nevertheless of great importance. This is also a great advantage for the moment because there are very few visitors there , which makes the place even more magical. On its busiest days, Calakmul welcomes around 100 people, that's saying something!
It's true that you have to be in pretty good shape to be able to climb the many steps (and be able to descend them), but I met travelers of all ages, including several who were clearly of retirement age.
The big question is : is the site worth 5 hours there (+ 5 hours return the same day in certain cases)? YES, without hesitation!
Believe me, this is a unique experience that you absolutely must live during your Mexico itinerary.
How to get to Calakmul
By his own means
The entrance to the Calakmul reserve is 4 hours from Campeche, 2 hours 15 minutes from Bacalar and 40 minutes from Xpujil.
Then it takes  1 hour more to reach the site (driving at 30km/h).
By car
From Campeche: take Carretera 261 south to Escarcega, then Carretera 186 towards Chetumal. At km 95 (Conhuas), you must take the crossing towards the south for 60km. Important: when you pass through Escarcega, absolutely fill up because there is no gas station until Xpujil!
After Bacalar : 2h15 via México 186 and Villahermosa – Chetumal/Mexico 186
At the entrance to the site you will find free parking.
On public transport
To get to Calakmul by bus, you will first have to go to Xpuijl  and sleep there. Then the next day take the shuttle from Xpujil to Calakmul (departure 7 a.m., return 3 p.m.). The ticket is valid for the round trip.
From Campeche: departures to Xpujil from Terminal Sur at 08:00, 13:30, 22:00 with Autobuses Sur, ticket 307 pesos
From Bacalar: there is an AU bus that leaves at 11:55 p.m. (from ADO station ) and arrives in Xpujil at 2:45 a.m. It's a direct bus, but the schedule is not convenient. Another option to consider is to take a bus or colectivo from Bacalar to Chetumal (40 min), then a bus from Chetumal to Xpujil (duration 1h35, exits at 6:30 p.m., 9 p.m., 10 p.m., or with AU at 12:55 a.m.)
Take an excursion to Calakmul
From Campeche: this is the option I chose. As I was in Campeche in the low season (and it's not such a popular excursion given the distance) there were no groups going out that day, and I had to take private transport. It was the only possible option, but I don't regret it and I recommend it without hesitation even if the price was quite high (I paid 4000$MXN, a price which would have been divided if I had been accompanied).
From Bacalar, Chetumal or Xpujil: there are also excursions to Calakmul from Chetumal, Bacalar or Xpujil with pick-up from your hotel. To book easily by clicking here.
Accommodation in Calakmul
It really depends on your route and given the distances, choose wisely to avoid driving unnecessarily!
If, like me, you leave Campeche and continue your trip by plane, the best thing is to stay in Campeche. Here are my three hotels in Campeche, tested and approved!
Melisa Hostal: hostel very well located in a beautiful typical house in the center of Campeche , very friendly welcome, small swimming pool, access to the kitchen, clean places and comfortable mattresses. Dormitory bed  from just 18 euros per night
Casa Serena Beautiful Colonial Loft : This is a spacious apartment right in the center of Campeche that offers excellent value for money. With air conditioning, living room, kitchen, terrace, good wifi and breakfast included. It can accommodate 2 to 4 people, from 115 euros per night!
Hotel Boutique Casa Don Gustavo : an elegant, fully restored 18th century mansion on a pedestrian street in central Campeche. A nice mix between modernity and period decoration, comfortable rooms with air conditioning. Wifi, outdoor swimming pool, jacuzzi and a very good à la carte breakfast await guests. From 150 euros!
If you are by car, you can stay in Xpujil and then continue your journey. Here are three great options for different budgets:
Coa de Collar : a good economical option in Xpujil with simple rooms, but clean and well located, close to restaurants and supermarkets. Miguel the owner is a tourist guide, it's practical! From  37 euros per night
Ecohabitat : a small house surrounded by vegetation, comfortable, very clean, with a very warm welcome. In the morning they bring you breakfast on the veranda, or if you prefer, they prepare it to take away. From 64 euros per night
Casa Kaan : comfortable cabins with air conditioning, terrace and kitchen, located in the countryside. It is an ecological accommodation that runs on solar energy, houses several fruit trees and the residue is used as compost for the vegetable garden. From 90 euros
What to bring to Calakmul?
You will be hot, not only from the sun, but also from going up and down the many structures. So bring light clothing and good  walking shoes . From June to August, mosquitoes are particularly voracious, think about mosquito repellent.
And above all, very important, a good quantity of water!
If you have them, also remember to bring binoculars . I would really have liked to have some, both to observe the wildlife in the treetops and the structures hidden in the distance between the vegetation.
Important: there is nothing on site, so stock up in advance!
Visit Calakmul: other practical information
Here is all the information you need to visit Calakmul :
Entrance 255 pesos (2 tickets to pay 165+90 pesos)
Optional guide on site 400 pesos (max 4 people)
Open from 8 a.m. to 5 p.m. every day
Are you going to Mexico? Read also
All our articles on Mexico are here:  Find all our guides on Mexico!