Croatia Itinerary of 7, 10 or 15 Days
A clever mix of medieval towns, natural parks and beaches, Croatia is a popular holiday destination in Europe, especially during the summer period.
We hadn't planned to go on a road trip in Croatia, but faced with an endless Covid-19 crisis and the constant cancellation of flights, we chose safety by leaving again this year with our car.
After the Dolomites last year, you looked for a destination that we didn't know yet, and finally it was Croatia that imposed itself for our holidays in September.
What to do in Croatia, which itinerary to choose for a circuit, what budget to plan and where to stay in Croatia?
I'll tell you in this blog article all my advice and practical information to organize your Croatia itinerary over a week, 10 days or 15 days.
What itinerary for a road trip in Croatia of 7, 10 or 15 days
Most tourists who come on a road trip to Croatia land in the south of the country in Dubrovnik. They then go up the entire coast of Dalmatia towards the north to catch a plane in Zadar, Pula or Zagreb (see even Split for those in a hurry). This avoids a long round trip (there are 624 km between Dubrovnik and Rovinj).
Your itinerary in Croatia will be greatly dictated by the airports you choose to arrive and leave the country. I'll give you some ideas below that can serve as a starting point for organizing your stay or tour. FYI there are fewer tourists in the north but the beaches are prettier in the south.
7-day itinerary: in one week on site you will not have time to visit the whole country. It will be necessary to focus on the northern part of Croatia (Istria – islands of northern Dalmatia – Plitvice Lakes) or in the south (Dubrovnik – islands of southern Dalmatia – Split). If you don't like crowds you can replace Split with the towns of Sibenik and Trogir. Last option choose the center of the country with a loop from Split to the Plitvice Lakes.
10-day itinerary: this is the minimum time to cross the country from north to south (from Dubrovnik to Istria), but it will remain quite "speedy" because we will not have time to stay longer than one day at each site. You will have to choose the islands you visit carefully so as not to waste too much time on ferry trips. If you prefer to take your time or drive less, opt for the northern or southern half of the country by staying several days in the same place.
Example of a 10-day circuit : Dubrovnik – island of Korcula or Hvar – Split – Trogir – Sibenik – Park Krka – Plitvice – Rovinj.
14-15 day itinerary: 2 weeks is the ideal length for a Croatia itinerary. You will have time to travel the entire Croatian coastline from Dubrovnik to Rovinj, passing through the parks of Krka and Plitvice Lakes. Compared to the previous itinerary which includes the main sites of interest, you can add one or two more islands.
What budget to plan for a Croatia itinerary
It is difficult to give an overall budget amount for traveling to Croatia as there are so many factors involved. It depends on your habits, the type of accommodation you prefer, the transport you choose and especially the season in which you will go to Croatia. Prices are at their maximum during the high season (in July and August) while out of season you can make real savings (especially from October to May).
During our trip in September 2021 the change was 1 € = 7.5 Kn. But since January 1 , 2023 Croatia has officially adopted the euro as its currency. This has also had the effect of driving up prices.
Accommodation budget
Most accommodation in Croatia is apartments for rent or bed and breakfasts, there are few hotels in comparison. The rates are quite reasonable (especially outside the high summer season) because there is a fairly large offer. Many also offer homestays. On average prices start at €40 per night for an apartment but can go higher if you are traveling in July and August. In this case, a key word, book well in advance.
Our accommodation budget for 12 days / 11 nights: €704, i.e. an average of €64 per night.
Budget Repast
We only ate at the restaurant very few times during our trip to Croatia. At lunchtime we favored sandwiches and in the evening we cooked in the apartments that we reserved thanks to the very practical equipped kitchens. The prices of the restaurants vary a lot according to the standing and the city (cheaper in the small villages than in the tourist cities). In general I found the prices of restaurants substantially identical to France , but the beer is cheaper there.
It was in the region of Istria , in the very north of the country, that we ate the best. The Italian influence is well marked there and above all it is the region of the truffle. We tasted excellent dishes in inns in the countryside at very reasonable prices. It is more difficult to find in tourist towns.
Regarding supermarkets in Croatia, prices are obviously lower than in France (to give you an idea, the average gross salary in Croatia is €1,277 compared to €2,988 for France). This is the biggest item of expenditure on which you can save money even if on vacation you do not necessarily want to cook and do the dishes.
Budget of Trip
The budget for your trip to Croatia can explode if you want to do a lot of excursions. The rates are rather high, especially the entrance fee to national parks when compared to the cost of living there. For our part, we contented ourselves with free activities and the public beach. Here is the detail of our budget for visits:
Entrance to Krka National Park: €40 per adult
Entrance to Plitvice Lakes Park: €39.80 per adult
Entrance to churches and fortresses: €24.6 per person
There are many private beaches in Croatia that offer deckchairs and umbrellas for hire. On the beaches in the north of the country the prices displayed are around €6.5 for the day. But in the south (in the tourist sector of Split for example) it can reach 20 € per day.
Practical information for organizing a road trip in Croatia
When to go on vacation in Croatia
Croatia can be visited almost all year round thanks to its Mediterranean climate along the coast. But the ideal time to go to Croatia is from May to September. It is in this season that you will have sun and warm water for bathing (although I found it colder than on the French Riviera ). Croatia is a very tourist destination in the summer, when millions of visitors come to enjoy its beaches. I advise you to avoid the months of July and August in order to enjoy a quieter (and less expensive!) stay.
Coming with your vehicle via Slovenia
If you are coming from France with your vehicle, you will have to go through Slovenia to get to Croatia. Slovenian motorways do not have tolls, instead you have to buy a vignette sold at service stations around the border. There are 3 different durations: 1 week (15 €), 1 month (30 €) or 1 year (110 €).
Do not try to skip the sticker, there are controls and the fines are very high. You can also leave the highway after Trieste (Italy) and use the secondary roads to the Croatian border, it's a bit longer but it's free.
Little tip to save money, if you have to fill up with gas during your trip, you absolutely have to do it in Slovenia because the prices are much lower than in Italy (about 0.40 € difference per liter) . During our trip to Croatia in September 2021 the SP95 was at 1.27 € / L in Slovenia.
There are controls at the Slovenia / Croatia border, it does not seem systematic but in both directions we were asked to present an identity document (it may be the fact of passing with a French car). On the other hand, no control of the health pass (if you read this article in several years, our road trip in Istria took place in September 2021 in the middle of the Covid period).
Where to exchange money in Croatia
Croatia having switched to the euro since January 1, 2023, this paragraph will only be of interest to our Swiss or Canadian friends who want to change dollars or francs into euros.
If you cross the border by car you will see many exchange offices along the road between Slovenia and Croatia. Above all, do not change your money at the border because the rate is very unfavorable. As soon as you are in Istria, you will find many exchange offices in tourist towns like Rovinj and Porec. They offer very attractive rates.
Otherwise it is easy to withdraw euros directly from cash dispensers, you can find them everywhere. Check with your bank if fees are applied to withdrawals and payments. Some distributors apply an additional commission when withdrawing (this is written on the machine during the transaction).
Road trip in Croatia
As we were coming from Nice with our vehicle, we had an imperative to organize our circuit, to choose a loop route that allowed us to return to our starting point. Unlike most travelers who come to Croatia by plane, we did not have the possibility of taking a vehicle to the very south of the country to return it to the north (or vice versa). With two weeks of vacation ahead of us and a 630 km long Croatian coastline between Istria and Dubrovnik, we chose to focus on northern and central Croatia. It is also the least touristy part of the country, which presaged a more authentic side.
Our itinerary in 6 stages :
Tour of Istria: 4 days (nights near Rovinj)
Island of Rab: 4 days (nights city of Rab)
Sibenik: 1 day (overnight in Sibenik)
Krka Park: 1 day (night in Sibenik)
Trogir and Cetina spring: 1 day (night in Plitvice)
Plitvice Lakes Park: 1 day
Details of Our 12-Day Croatia Itinerary
Day 1-4: Tour of Istria
Istria is a region located in the northwest of Croatia on the border with Slovenia. Arriving by car from France, it was only natural that we started our road trip in Croatia via Istria. The region is renowned for its hilltop medieval villages and its gastronomy, of which the truffle is one of the most renowned symbols. This is also where we ate the best in Croatia, probably thanks to its proximity to Italian cuisine. Because Istria has long been under Italian domination, from the Middle Ages and the Republic of Venice until the Second World War.
The Venetian style is found in the architecture of the coastal towns, Rovinj nicknamed the pearl of Istria is the most beautiful example. It was our favorite and one of the sites not to be missed during a road trip in Croatia. The other city on the coast that is one of the must-sees is Porec, especially for its superb Euphrasian basilica, listed as a UNESCO World Heritage Site.
And then how can we talk about Istria without mentioning its superb medieval villages perched in the countryside where we eat divinely well. Among the villages to see I recommend Hum, Motovun, Grožnjan, Pazin and Labin. Istria is not the best destination in Croatia to enjoy the beach but if you feel like it, the seaside resort of Rabac has pretty beaches with turquoise water. Otherwise wait until you are further south or on an island in Dalmatia.
If you plan to discover the region, I wrote an article to visit Istria where you will find all the information on the sites not to be missed as well as advice on accommodation in the region. Over these 4 days we traveled a little over 300 km to discover Istria.
Where to stay in Istria
It is best to choose accommodation roughly in the center of Istria, which will allow you to be less than an hour's drive from all the tourist sites. I advise you to choose Rovinj or its surroundings (up to Porec) which is the prettiest town in Istria.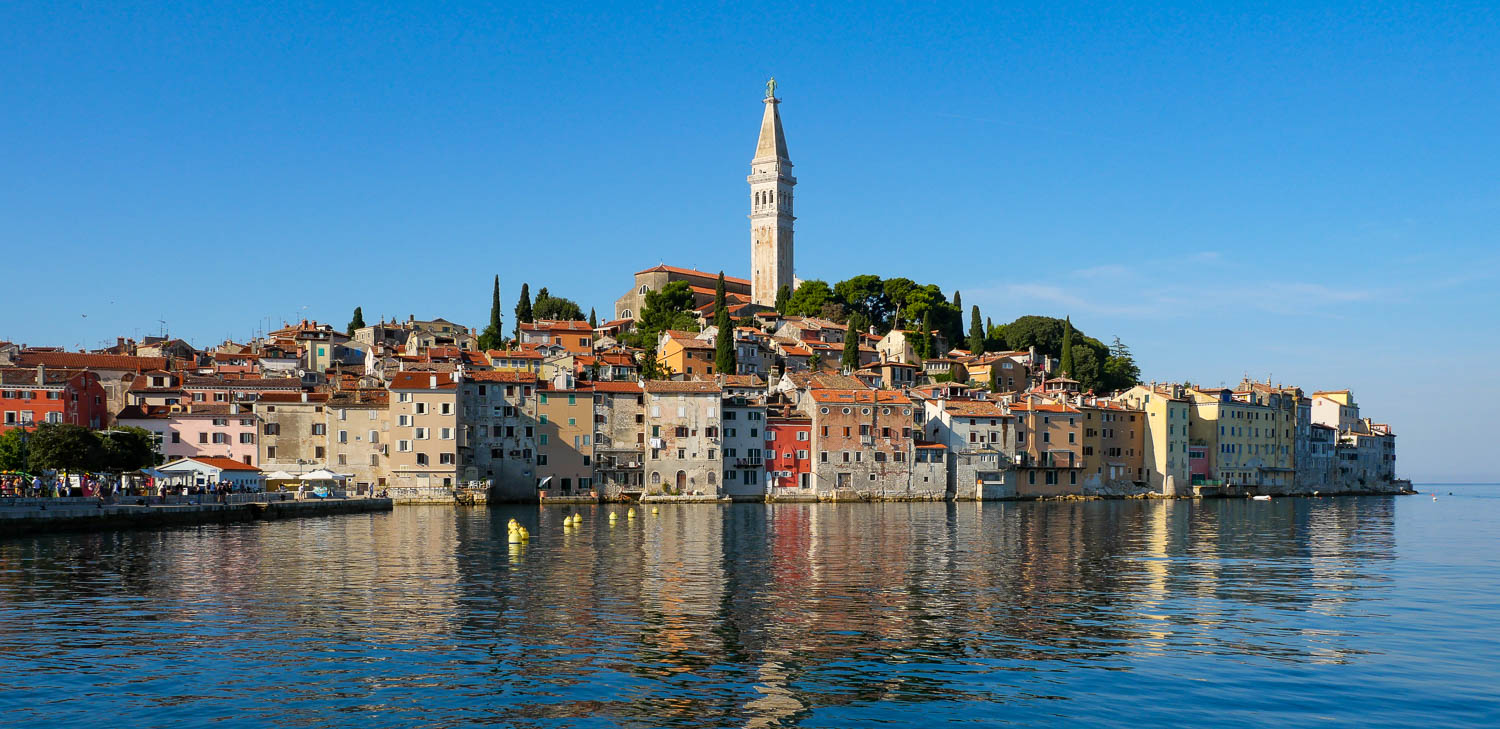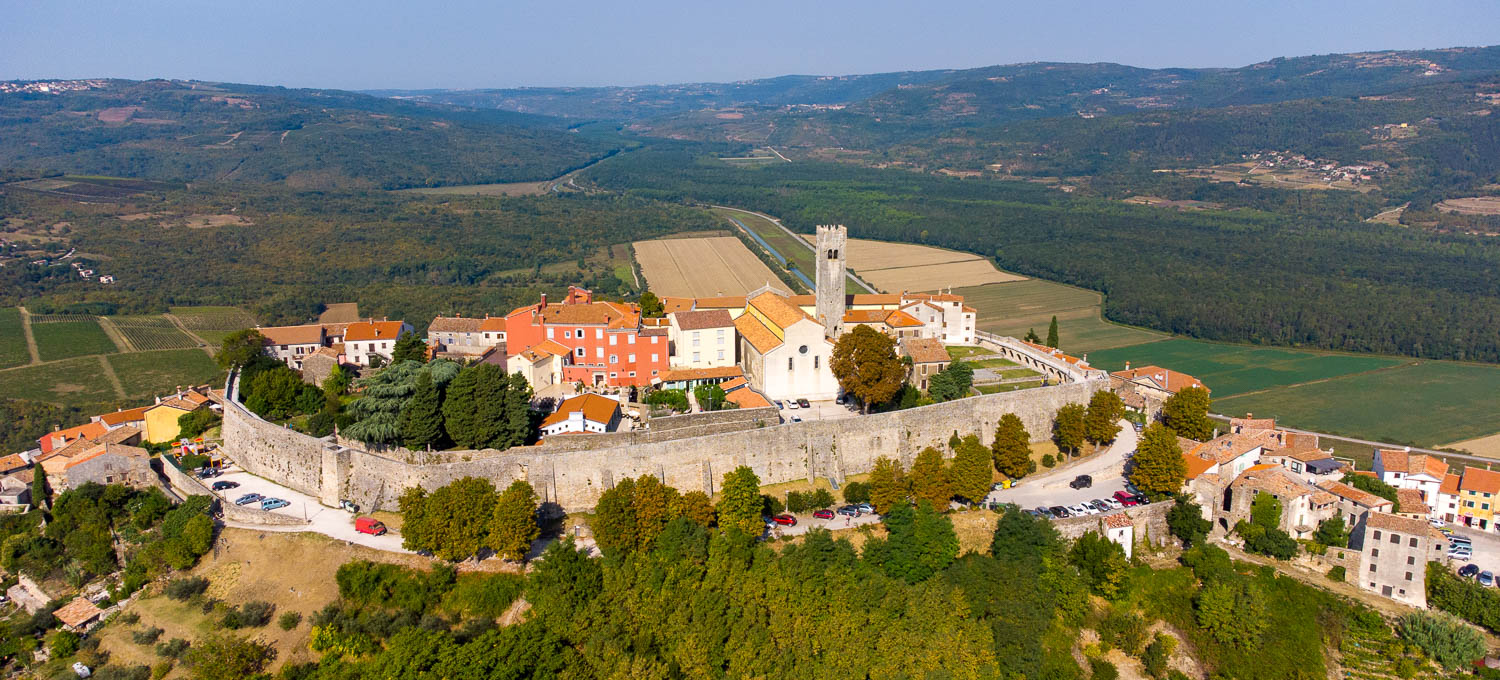 Day 5-8: Island of Rab
During this road trip in Croatia we wanted to spend a few days on an island to enjoy the beach. The country has 1,244 of them (not all of them are inhabited) and it was not easy to choose one. Finally our choice fell on the island of Rab in the Kvarner archipelago. What motivated this decision is that the island is relatively small with fewer tourists than on the other more famous ones. It is also home to a superb medieval town (the town of Rab) as well as sandy beaches, which is quite rare in Croatia. Its access is relatively easy since it takes barely 15 minutes by ferry from the mainland (at Stinica) to reach it.
We loved the town of Rab with its 4 bell towers, it's almost the only town on the island but it's really pleasant to visit and offers superb views. On the beach side we were a little disappointed, the large sandy beaches to the north are in a bay where the water is very shallow, which makes swimming difficult (except for children). Fortunately we found our happiness on a beautiful beach with turquoise water in the very south of the island (Pudarica beach).
The distance between Rovinj and the island of Rab is 210 km.
Where to stay on the island of Rab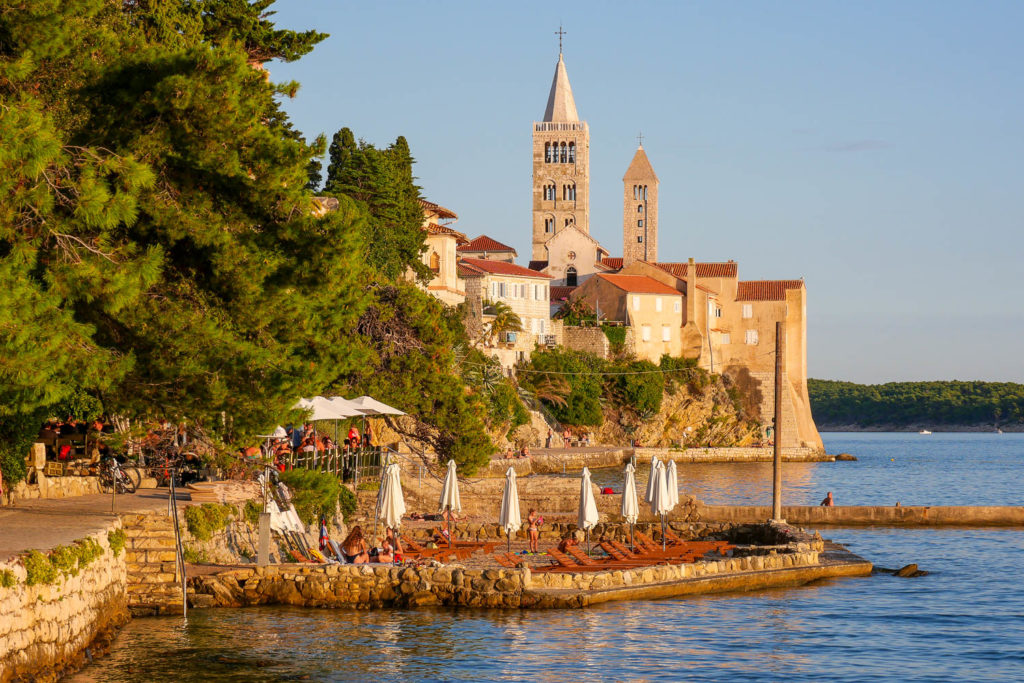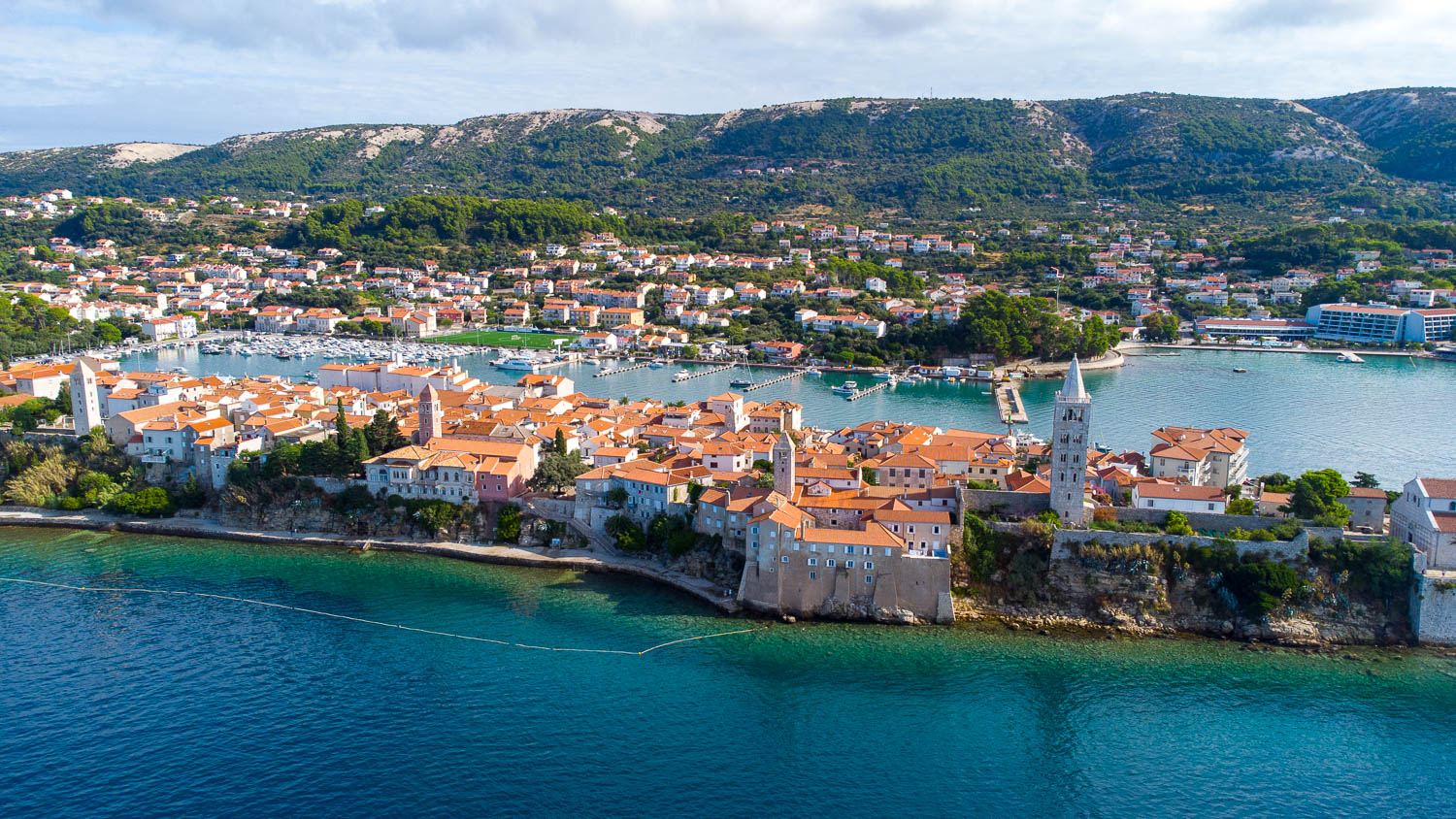 Day 9: Visit of Sibenik
The city of Sibenik on the Dalmatian coast is often forgotten by travelers who prefer to go directly to Split. Yet the city has assets that deserve a stop during a road trip in Croatia. The first is that there are far fewer tourists than in Split, and during the high season this clearly makes a difference when you know that the streets in tourist towns can be overcrowded. Sibenik has a pretty medieval old town all in stone as well as a cathedral registered on the list of world heritage of humanity by UNESCO. If you are looking for a route that is a bit off the beaten track, check Sibenik on your map.
Half a day is enough to visit the old town (we count the day including the journey), but you can stay several days if you want to discover the surroundings. Many excursions are offered. You will find more information on the blog article dedicated to the visit of Sibenik . On the way between the island of Rab and Sibenik we discovered a canyon (Pueblo Winnetou) straight out of an American western (I talk about it in the article mentioned above). The stage between the island of Rab and Sibenik is 192 km.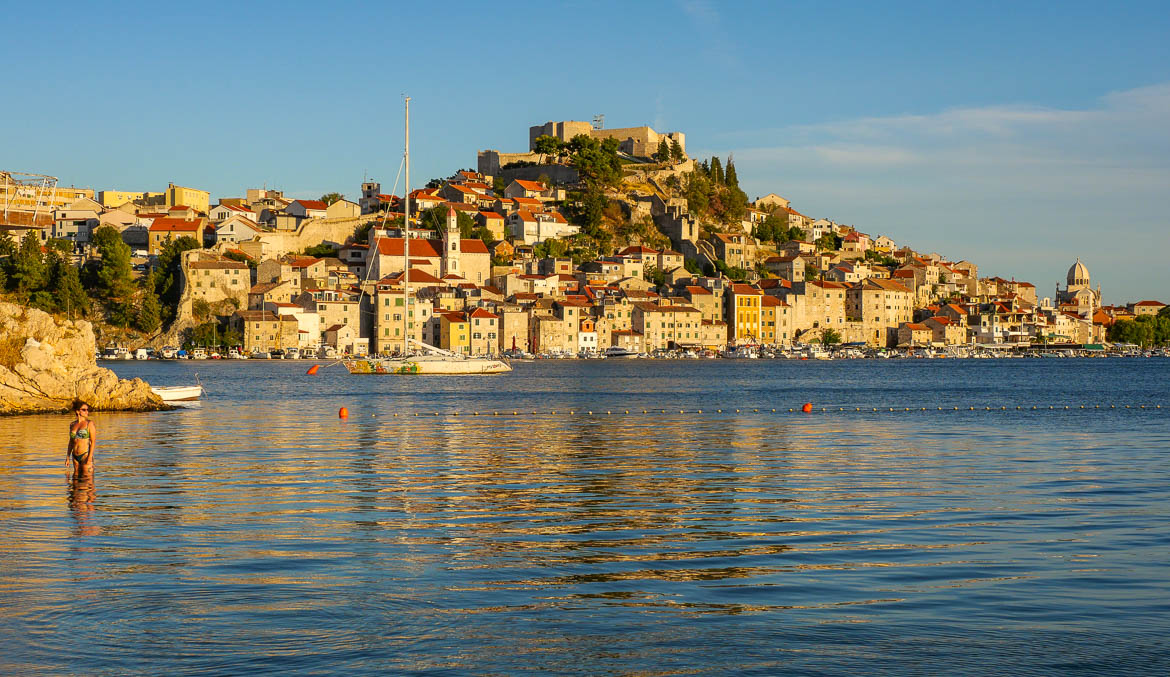 Day 10: Krka National Park
Located north of Sibenik, Krka National Park is the second most visited park in the country. It is one of the must-see sites of a road trip in Croatia. If it is best known for its famous Skradinksi Buk waterfalls, it also contains other treasures that would be a shame to miss. The ideal is to have a car to discover the whole park. Among the must-see sites, don't miss the viewpoint over the islet of Visovac as well as the Serbian Orthodox monastery of Krka.
It takes a full day to visit the park in its entirety (the 6 main sites). For an excursion to the Skradinksi Buk waterfalls only, one hour on site is enough. The complete loop to go around the park from Sibenik is 137 km.
The Krka National Park can easily be visited on a day trip from Sibenik, Trogir and Split. If you don't have a car you can opt for an organized excursion.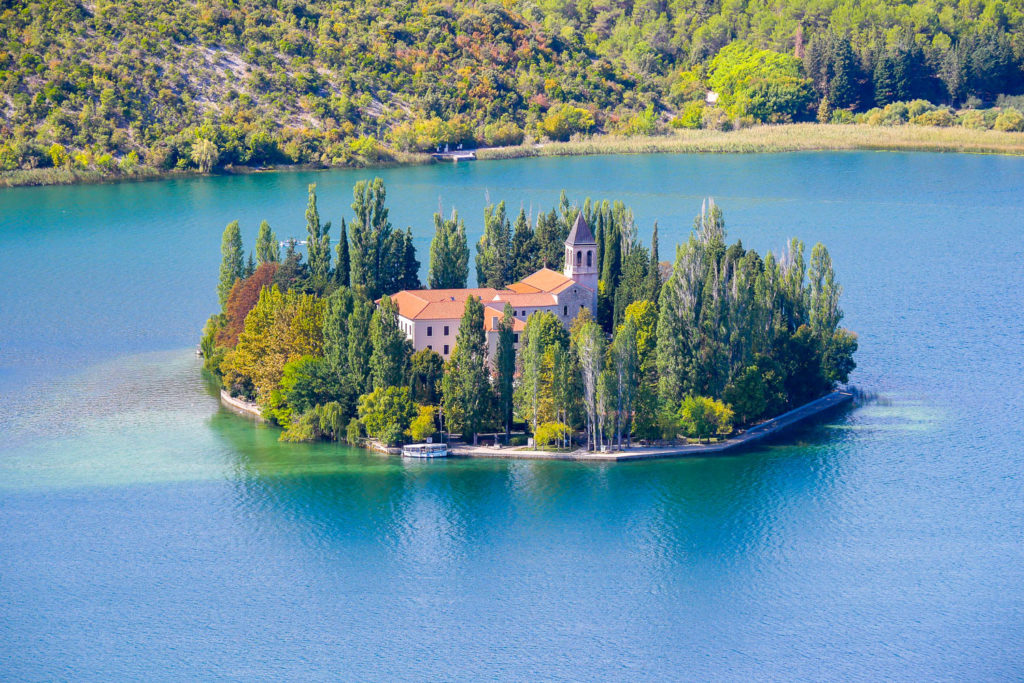 Day 11: Tour of Trogir (0.5 day)
The superb old town of Trogir, a UNESCO World Heritage Site, can easily be visited from Sibenik or Split. Once the old city gate is crossed, we find ourselves immersed in medieval times in the middle of stone buildings and buildings of Romanesque or Renaissance style. The visit of Trogir installed on a small island of about 1 km² will not take you more than 3 hours.
But you can easily extend your stay by discovering the surrounding beaches and islands. Trogir can also be a good base for visiting Sibenik and then Split thanks to its position in the middle of the two cities. For more info you can read the article to visit Trogir . Sibenik – Trogir stage: 47 km.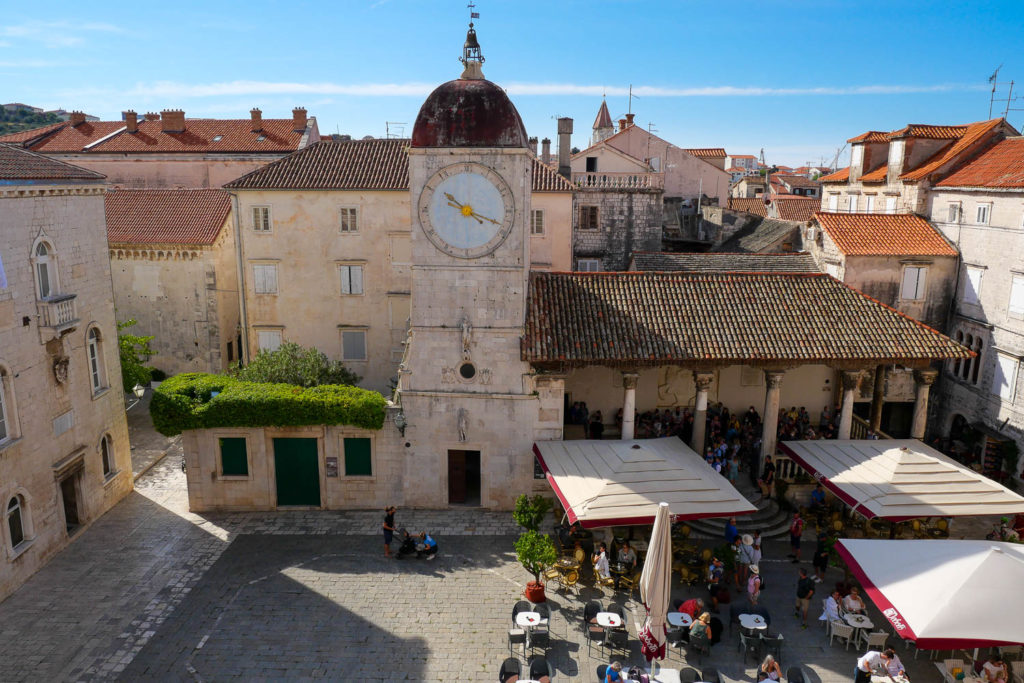 Day 11: Source of Cetina River (0.5 day)
You won't find this destination in travel guides, but it has become popular on social media thanks to its photogenic side. This eye-shaped, blue-green spring is located north of Split in the mountains on the Bosnian border. It is during aerial views by drone that it delivers all its beauty, otherwise it is a lot of kilometers to just see this "small lake".
For us this did not represent a big detour in the itinerary of our road trip in Croatia since after Cetina we were leaving for the Plitvice Lakes. You will find all my tips for getting to the source of the Cetina river on the dedicated blog article. The stage from Trogir to Cetina is 88 km long.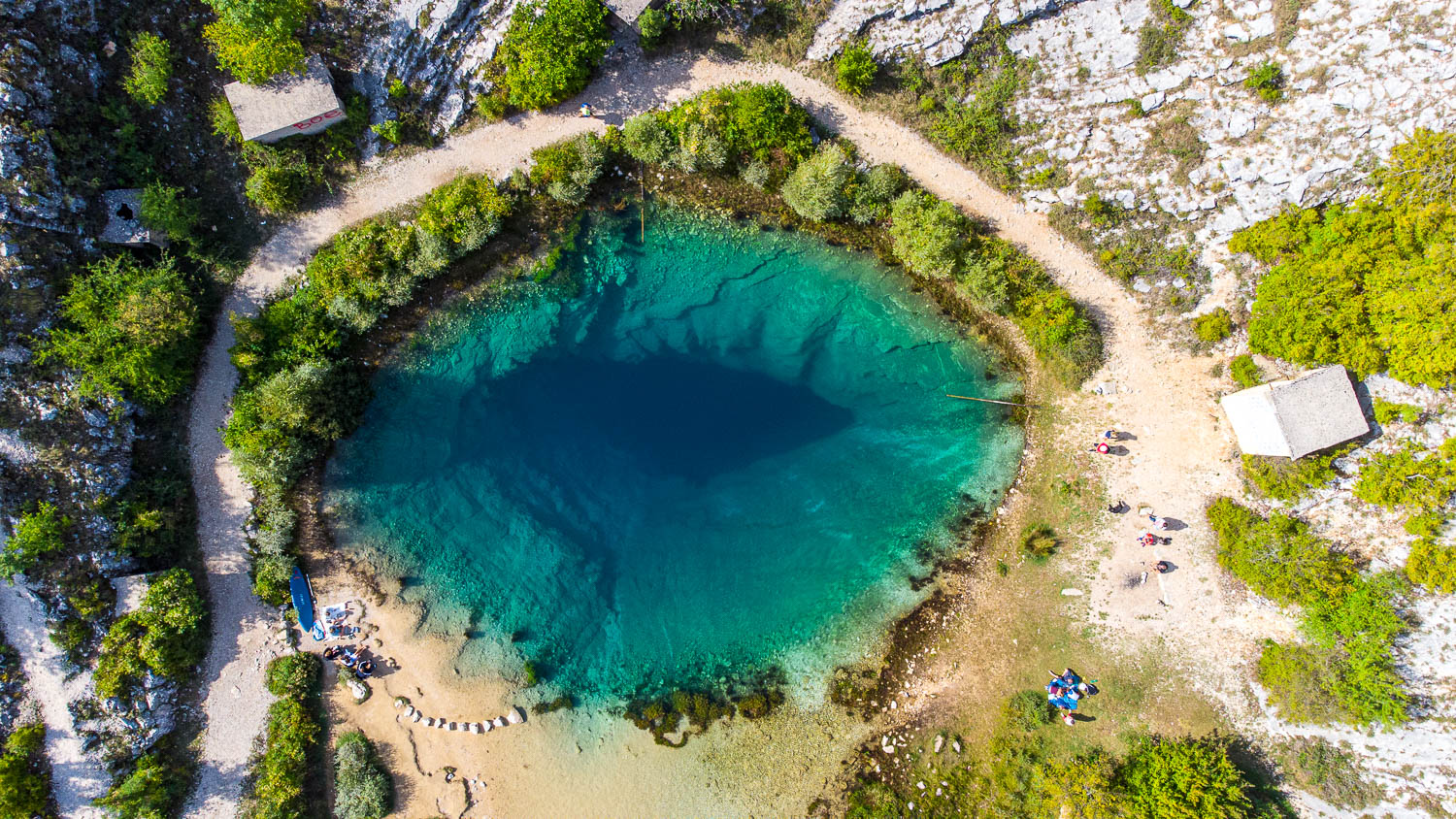 Day 12: Plitvice Lakes National Park
It is the unmissable site of any road trip in Croatia and one of the main reasons that push tourists to leave Dubrovnik to visit the north of the country. This superb park made up of 16 lakes and 92 waterfalls is world famous. It can be visited on foot by walking along wooden footbridges but also by sailing by boat.
Plitvice lakes are away from other tourist spots, we decided to include it in our loop itinerary on our last day of travel going up. But it is possible to visit the Plitvice Lakes in the day from Sibenik, Trogir, Zagreb or Split. I advise rather to spend a night there to be in the national park as soon as it opens. This avoids the crowd especially in July August. Stage Cetina – Plitvice: 167 km.
After spending most of the day in the national park, we took our car back to Trieste in Italy (on the border with Slovenia) before returning to Nice.
Where to stay at Plitvice Lakes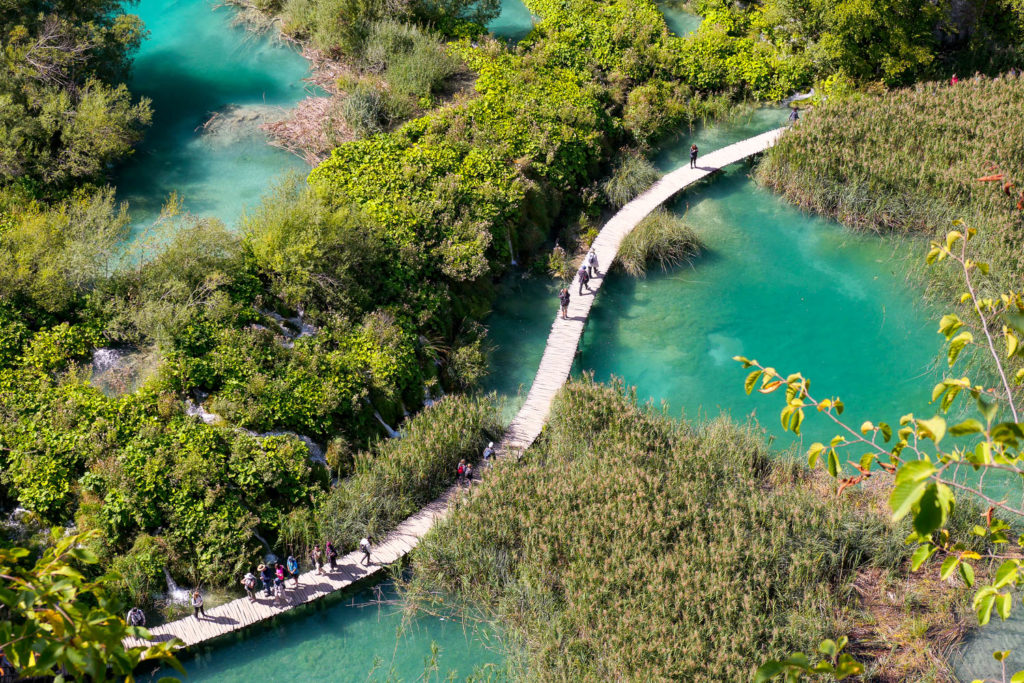 Regulations on the use of a drone in Croatia
Before leaving, I learned about the regulations in Croatia for flying a recreational drone and taking photos. While surfing on blogs, forums and specialized sites, I did not find precise or up-to-date information. So I wrote directly to the Croatian civil aviation whose answer you will find below.
On the Croatian territory, special rules are prescribed regarding to drone flying and filming.In accordance with current legislation at first we have to inform you that performing of aerial photography for private or commercial purposes of public areas on Croatian territory is not allowed without permission.

Two agencies are involved in process relating to drone flight and aerial imagery;

Croatian Civil Aviation Agency (CCAA) is giving permission to fly, but for taking aerial photos/videos is necessary to submit a Request to State Geodetic Administration.

Aerial imaging exclusively of own private property and exclusively for personal use of the owner is possible without permission and is governed by Article 5., Paragraph1 . Uredba o snimanju iz zraka (Official Gazette, No. 77/2020).

Whole procedure can be solved on line: for flight permissions use web application on CCAA site https://www.ccaa.hr and for aerial imagery use https://snimanje-iz-zraka.dgu.hr (prior registration is required). All necessary information are available on link.
Their answer is clear, it is forbidden to take photos or videos by drone without prior authorization.
On the other hand, to take aerial photos and videos, you need special authorization and apply for it on this site. The interface is entirely in Croatian including the pdf document from the last link they gave me. That's when I gave up. According to research on an English site, permits are only granted for professional and commercial use.
So how come we see lots of photos or videos taken by drone on social networks? I ended up contacting the people on Instagram who had posted photos and they all replied that they hadn't asked for permission to do so.
Now that you know the procedure and the rules, you are free to choose what you are going to do. In any case, if you decide to take photos or videos by drone without authorization, respect at least the rules in force in France (max altitude 120 m, no overflight of people or towns or near an aerodrome). For my part I used it very little because with the luck that I have I will have fallen on the police (it happened to me twice in France but I was in the rules).
You are now ready to organize your road trip in Croatia.
If you still have questions you can use the blog comments. Feel free to share this article if it was useful to you!