Top 30 Things Do in Osaka
Osaka is the third largest city in Japan after Tokyo and Yokohama.
Its port is one of the most important in the country.
Although it is world renowned for its famous castle, there are many more things to do in Osaka.
From being perplexed by the neon lights in  Dōtonbori to discovering Shinsekai, one of the most curious areas of the city.
In this post we'll tell you 30 things to see and do in Osaka.
On this map you can locate the best things to do in Osaka.


Osaka Castle is one of the most famous in the country.
Construction began in 1583 under the order of Toyotomi Hideyoshi, who wanted to start his term with a unified country after a period of feuds.
The castle was the largest in the country and played an important role in its reunification.
When Hideyoshi died, enemy Tokugawa troops destroyed the castle in 1615.
It was rebuilt a short time later, but an unfortunate electrical storm caused a fire that killed it until 1931, the date of its final reconstruction.
Miraculously, it was spared from air raids during World War II.
After a good restoration in 1997, the castle looks spectacular.
The most beautiful part is the Nishinomaru Gardens, with a large grassy esplanade covered by more than 600 cherry trees.
It costs 200 yen (€1.70) to enter, except during the cherry blossom season, which is open later and the price rises to 350 yen (€3).
You can also visit the interior of the castle, where there is a museum and an altar dedicated to its creator, Hideyoshi .
The entrance fee is 600 yen (€5).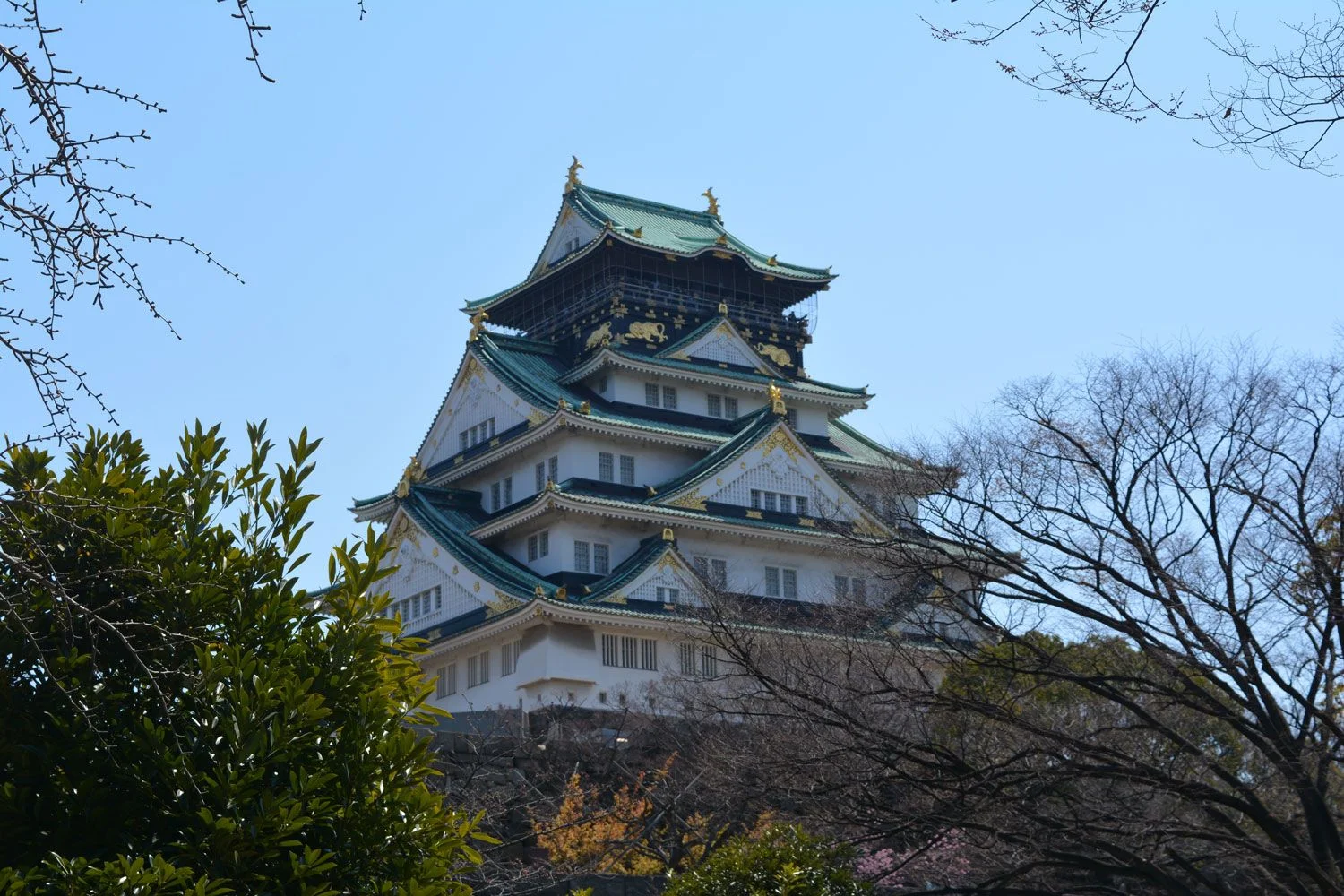 2. Go up to the OMM Sky Garden and have beautiful views of the city
Very close to Osaka Castle is the OMM building (Osaka Merchandise Mart).
It is a complex of offices, meeting rooms and also a restaurant.
At first glance it is nothing special, but you can freely go up to the 21st floor and go out to the terrace there.
From there you have good 360º views of the city.
Although the viewpoint is not spectacularly high, it is a nice place to enjoy the views.

3. Nakanoshima Park
If you want to see the oldest park in Osaka, you have to situate yourself between the Dojimagawa and Tosaborigawa rivers.
On its shore is Nakanoshima Park, which once housed the city's most exclusive hotel and restaurants.
Now it is a pretty garden, especially in May and October, when it is filled with colorful roses.
In addition, when the good weather arrives, there are several very tempting street food stalls.
Taking a walk there is a highly recommended thing to do in Osaka.

4. Kemasakuranomiya
Can you imagine how precious 5,000 cherry trees can be in the same park? You just have to go there to check it out.
It is the place par excellence to contemplate these trees so beautiful and typical of the country.
Many locals celebrate hanami by having picnics under the pink flowers.
It is also a very popular place to run or cycle.
In addition, you can take a boat ride on the river that crosses the park.
A very lively place, especially during the months of good weather.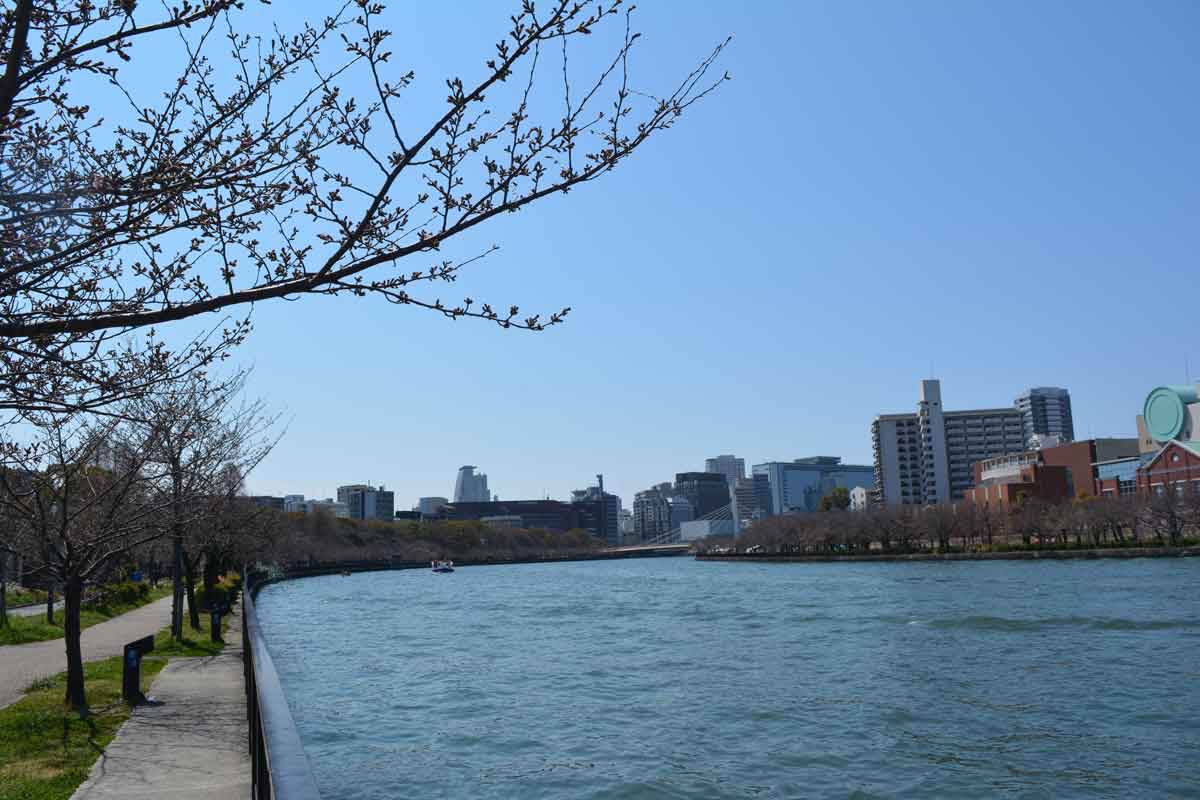 5. Hep Five and Ferris Wheel
As in all big cities, there are many shopping malls in Osaka, but none is as quirky as Hep Five.
It is a huge shopping complex that attracts attention for having a red Ferris wheel that takes you up to more than 100 meters to contemplate the city.
You can go up from the 7th floor of the shopping center and it costs 500 yen (€4.20).
Surely as soon as you enter , a gigantic 20-meter red whale hanging from the ceiling also catches your eye .
It is a work of the Japanese artist Tatusya Ishi.
Don't forget to take out travel insurance before going to Osaka.
You will have coverage for all kinds of unforeseen events that can ruin your trip and your bank account.
For example, delays or cancellations of transport, theft or loss of luggage.

This is surely the most spectacular and original building in Osaka since it opened in 1993.
Although it is not the tallest skyscraper, the stairs and bridges that connect the two towers give it a sci-fi movie look.
Something to do in Osaka for the most daring is to go up to its vertiginous viewpoint, which costs 1000 yen (€8.50).
You will go through a glass walkway almost 200 meters high.
You can also take the opportunity to get to know Shin-Umeda and its modern constructions.
It is a business area but it is a pleasure to walk around as there are garden areas between the buildings.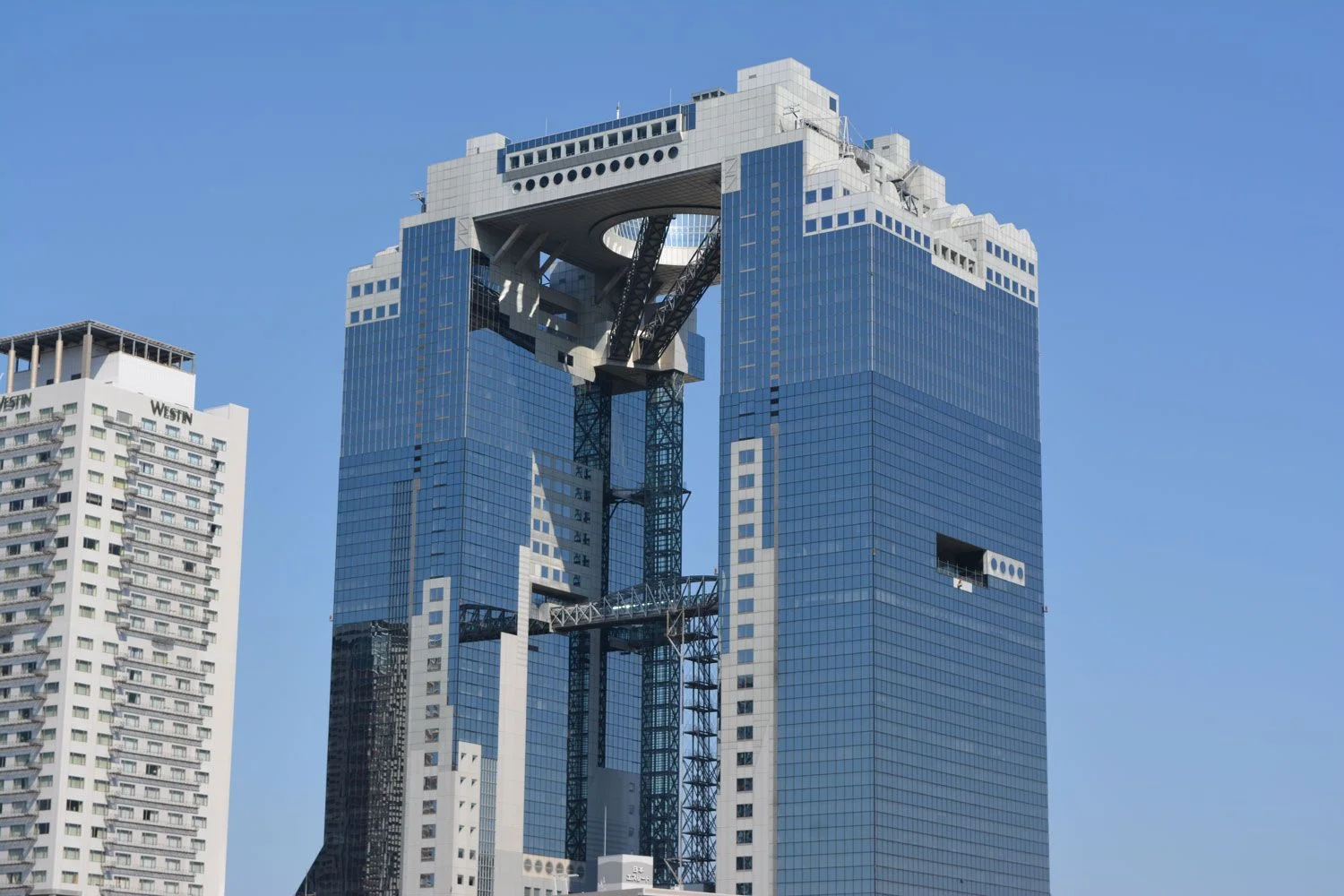 7. See How the Highway Crosses the Gate Tower Building
Near the central station you can see another very curious building.
The Gate Tower Building has all the numbers to be the busiest skyscraper to see in Osaka, with thousands of cars passing through it daily.
Contrary to what it may seem at first glance, the highway that crosses it does not touch the building, but is a simple bridge that passes very close to the pillars.
Office workers don't hear a thing, as the structure is isolated from vehicle noise and vibration.
As a curiosity, the elevators go from the 4th to the 8th floor without stopping, since the road is on those floors.
In case they didn't have enough with the cars, on the roof of the building there is a helipad.
a curious nickname
This building is popularly known as "the beehive".
It is a place with a lot of movement, as if the cars were the bees.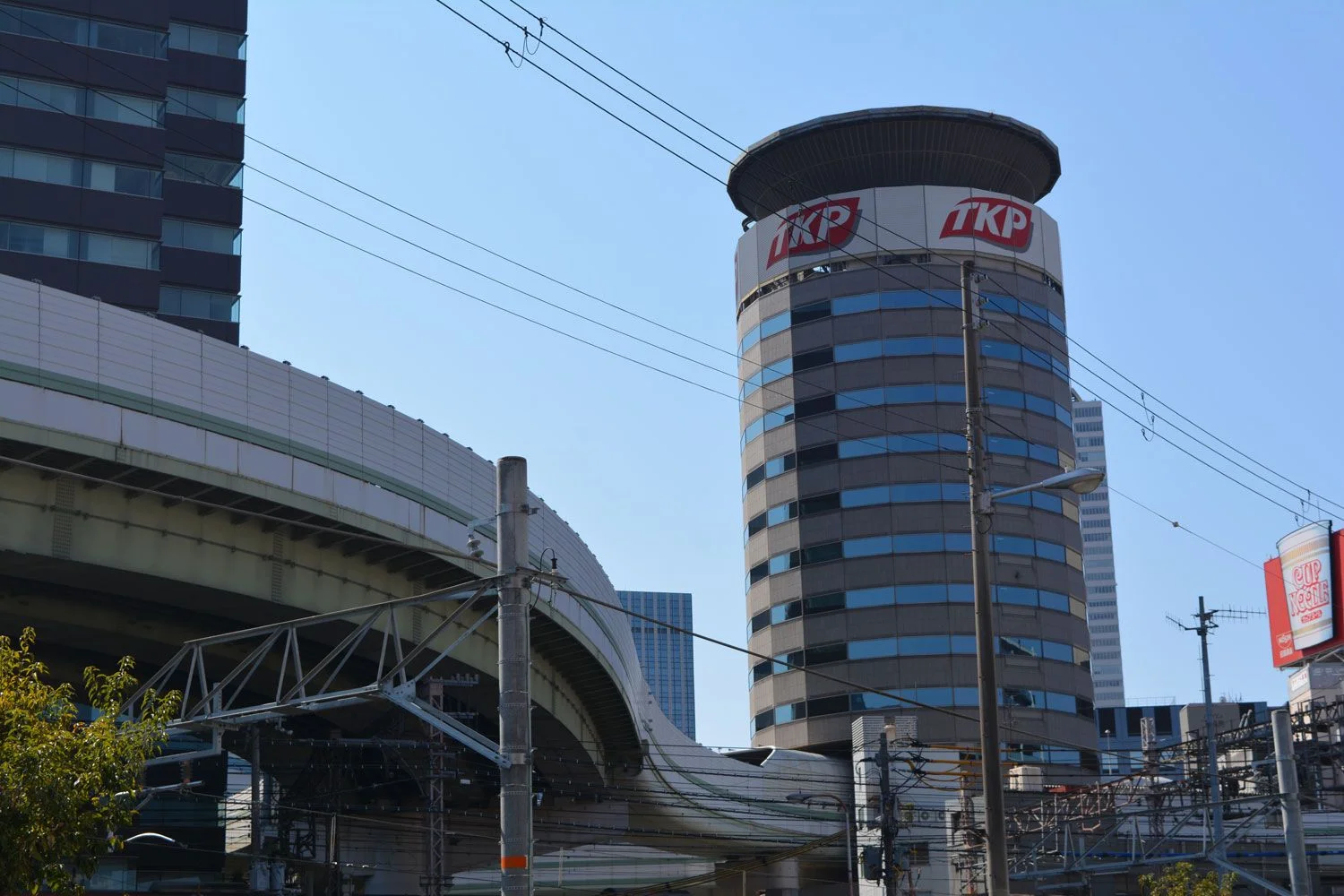 8. Walk through Dōtonbori
The Times Square with canals is in Osaka.
This is Dotonbori avenue, which is in the Namba neighborhood, the liveliest and most commercial in the city.
There you will see a lot of advertising screens on both sides of a river channel.
In fact, you can even take a boat ride there.
When the sun goes down it becomes a super lively area, with many restaurants to choose from and shops that do not lower the blind even at night.

9. Photographing the Glico Man on the Screens
Dotonbori's most famous advertising display is that of the Glico Man. It is an athlete who has been running against a background representing the Osaka skyline since 1935, when the 33-meter billboard was installed .
It is a simple advertisement for the food company Ezaki Glico, but after almost a century there he has become an icon.
Now the poster has been made a bit smaller and has been digitized.
Thus, Glico can run through a lot of cities in the world that change on the screen and also celebrate special events, such as soccer or baseball matches.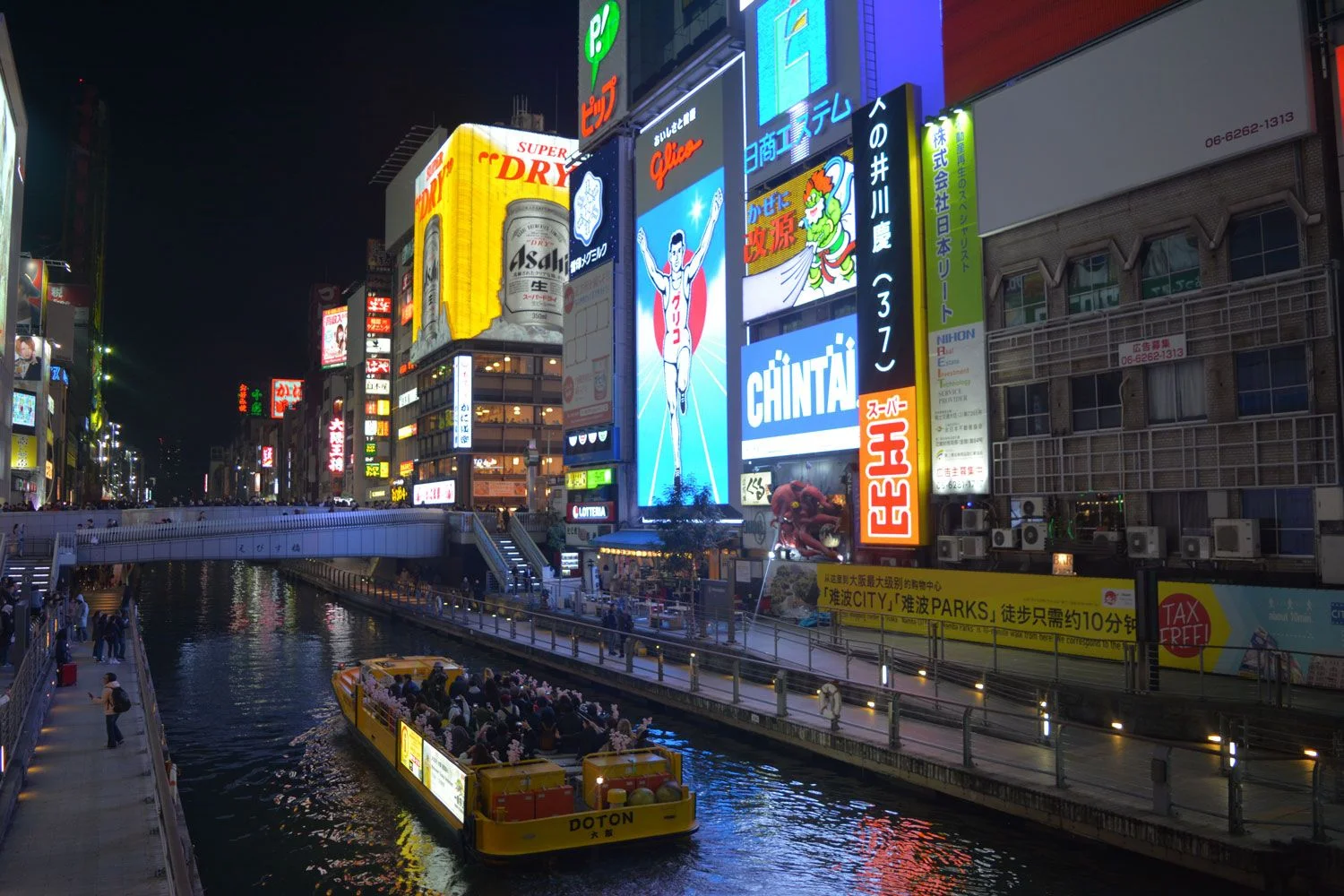 In the liveliest area of ​​Osaka there is a store where you can find practically everything.
In its 6 floors you can buy everything from food products from all over the world to clothing or electronics.
This is the Don Quijote chain, which has stores throughout the country.
Even so, the one in Dotonbori is special because you can go up to a very peculiar Ferris wheel, integrated into the building itself.
Also, the store is open 24 hours and we don't know how they do it, but there are always people!

Japan is a paradise for those with a sweet tooth, so it's hard to choose where to stop to treat yourself.
We did it at Pablo de Dotonbori pastry shop and what a discovery! Making a stop at Pablo is an essential thing to do in Osaka for lovers of cheesecakes.
His crunchy biscuit and soft cream cheese will seduce you completely, even if you think of eating a whole cake.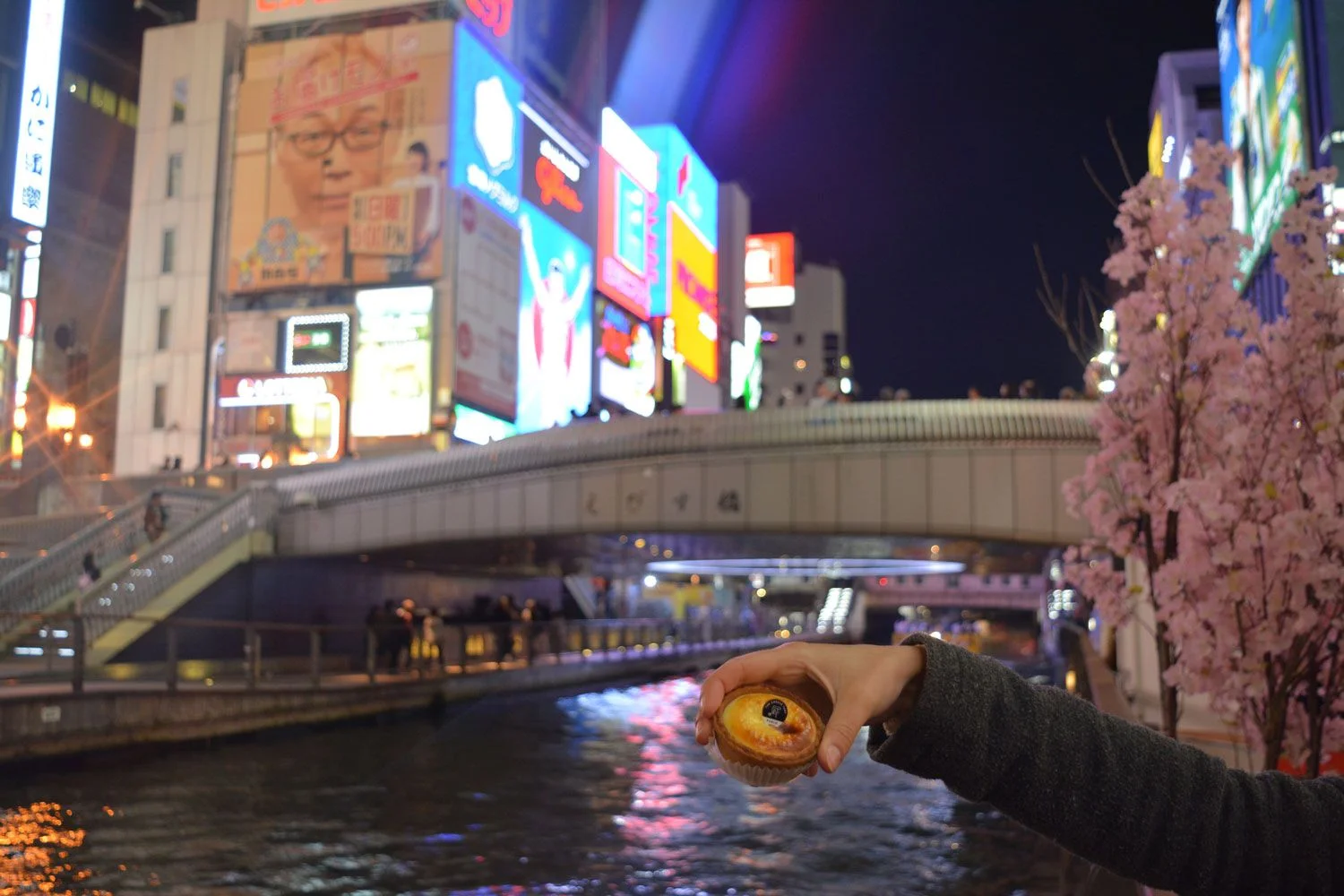 12. Moving to New York on the America-mura, a curious visit to do in Osaka
Osaka also has a Statue of Liberty.
Of course, much smaller and hidden than the New York one.
It is on the roof of a building in the neighborhood known as America-mura, a curious area to see in Osaka.
This area imitates the streets of the Big Apple, even the stores sell clothes with nods to the United States.
Even the streetlights, the cars and a small square at an intersection are reminiscent of New York.

An essential stop to make in Osaka if you are a fan of video games is the Space Station bar.
There you will be able to have a drink while you try a lot of both old and modern consoles.
The atmosphere is very nice and the owners are always willing to chat or answer any questions.
14. Go Shopping on Shinsaibashi Street
This street located in Dotonbori is one of the commercial centers of Osaka.
Walking under its roof you will find shops of all kinds: from reputable brands to the simplest.
In addition there are also restaurants and cafes to have a drink.
It is worth getting closer.

15. Tenjinbashisuji Street, the longest shopping arcade in Japan
If before we wrote about an important covered shopping street, now we will talk about the longest in Japan.
It is 2.6 km long and has more than 600 shops.
So if you complete it without buying anything, it has merit!

16. Discover the Hōzen-ji Temple
Throughout Japan you will surely find more beautiful temples, but this one surprised us.
We were walking through the streets of Dotonbori, in the midst of chaos and we found this beautiful temple.
Built in 1637. It pays homage to Fudo Myoo, one of the five Myoo, or Wisdom Kings.
Without a doubt, it is a space of tranquility among the neon lights that deserves to be known.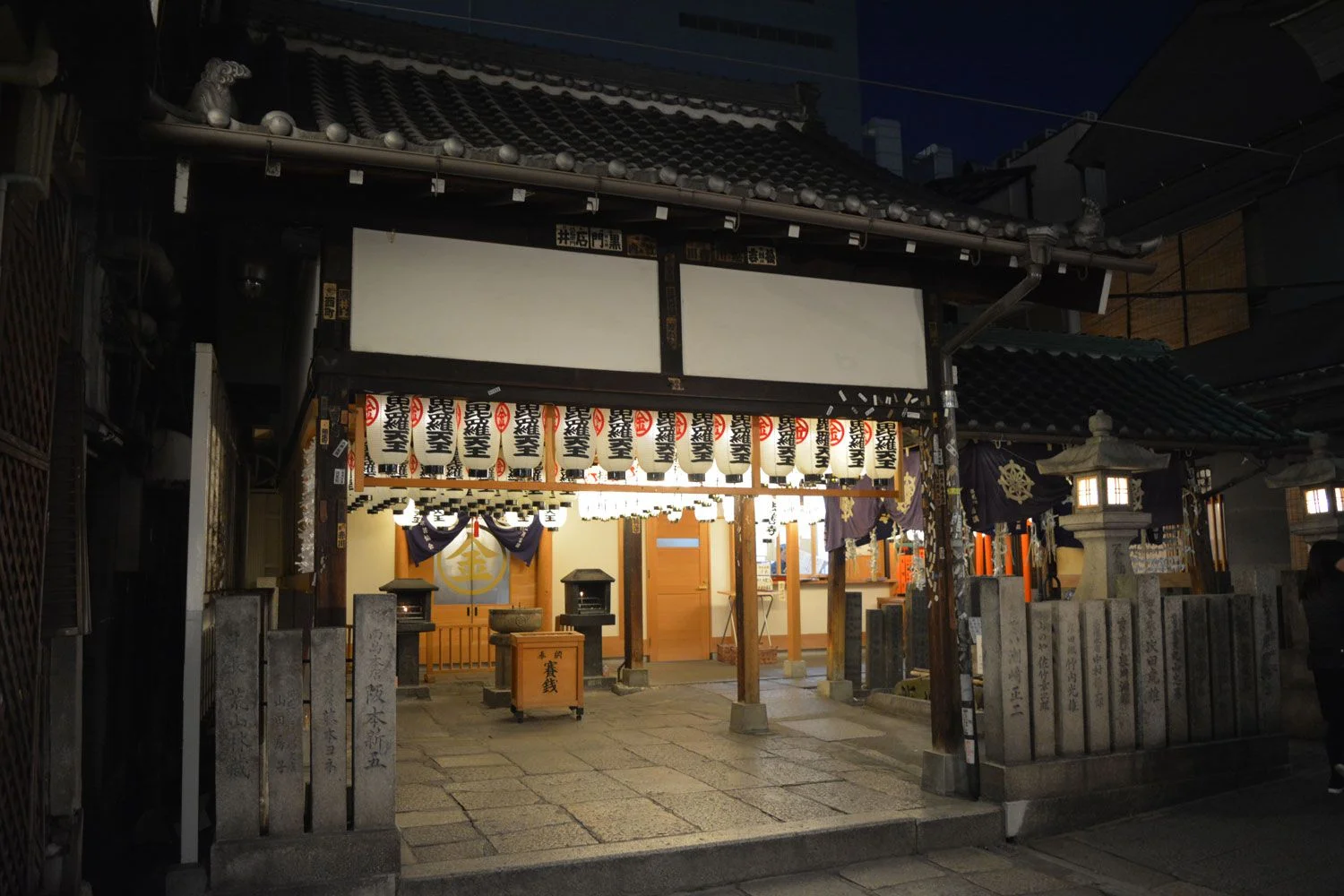 17. Dinner at a Restaurant in Yokocho Alley
A lovely place to dine in Osaka is Yokocho alley.
There are more than 60 small bars and restaurants serving scrumptious Japanese food.
The atmosphere is very special, since a few lanterns illuminate the place.
This pretty little street has been the center of nightlife since the 17th century, when it was a theater area.
At the end of the street is a statue of the deity Fudomyoo, which has an angry appearance to ward off all evil.
Many people go there to make a wish after pouring water over it as a purification gesture.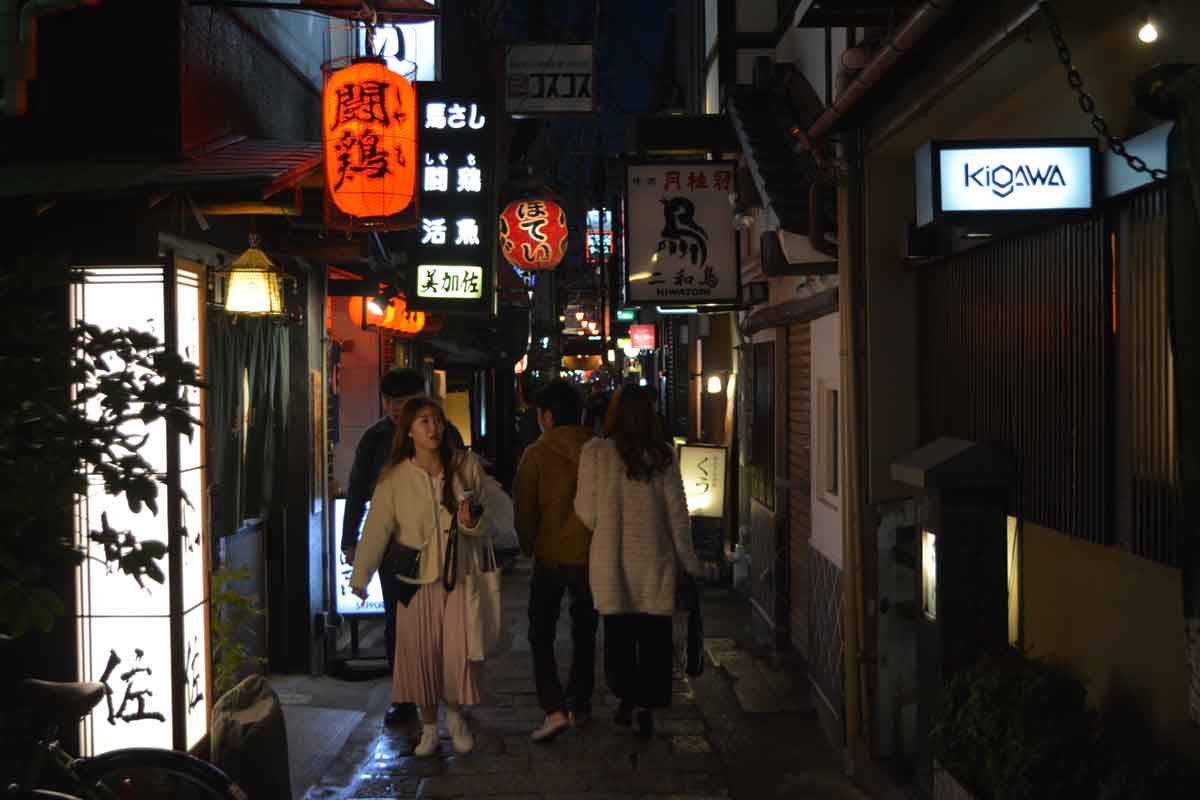 Here you will find the freshest Osaka products: meat, fish, eggs and vegetables.
Most of the buyers are the city's own restaurateurs, but the market has also been open to the general public for 170 years.
As in all places, the markets are an excellent place to get an idea of ​​what the daily life of the locals is like.
Its name means "black door" market, since in the past there was a temple with a large dark door very close.
In most shops in Japan you will have to pay in cash.
That is why we recommend you get yen before your trip with Ria Cambio de Divisas.
They offer a good exchange rate and they send you money wherever you want in a totally secure way.

19. Hallucinate with the Namba Yasaka Shrine
Osaka is not a city known especially for its temples, but this one has a very surprising element.
There is a huge building in the shape of a 12-meter lion with its mouth open to, according to tradition, eat evil spirits.
Besides that, it is a modest temple with a small garden that had to be rebuilt after the damage suffered during World War II.

20. Check if Shinsekai is as Dangerous as They Paint it
According to knowledgeable voices, Shinsekai is the most dangerous neighborhood in Japan.
During our trip to the Japanese country we did not feel intimidated at any time.
Along with Australia, we consider it the safest country we have visited.
The neighborhood was created after the Second World War, although Luna Park already existed before.
Its most famous building is the Tsutenkaku Tower, which used to be the entrance to Luna Park.
After the war, the area fell into disrepair and almost no one lived, hence its bad reputation.
It is a different neighborhood that you have to know.
The puffer fish is very typical in the area, so if you feel like it, trying it is something different to do in Osaka.
Do not get carried away by prejudices and visit it.
Of course, if you distance yourself a bit from the route, you will see that the area is very poor, although it is not dangerous at all.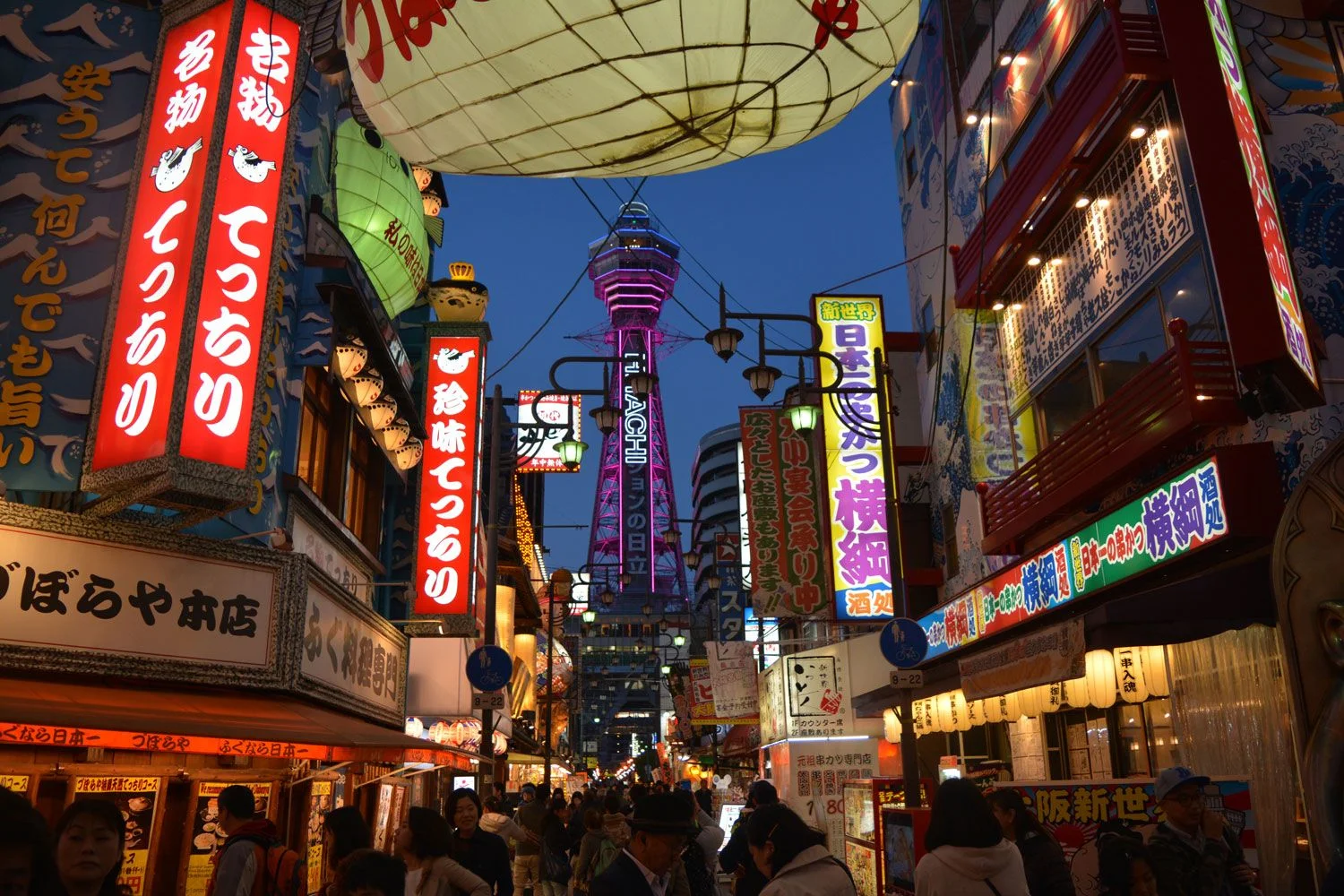 Without a doubt, it is one of the most beautiful aquariums we have visited.
If you only have one day in Osaka it's not worth it, but if you have enough time in the city you can't miss it.
Its design is unique.
You start the visit at the top and go down to discover the different species inhabiting the seabed: from the surface to the deepest.
The most surprising thing is its enormous tank of 11,000 tons of water.
There are many species, from almost all the world's oceans and they look very well cared for.
If you go with children, it is an essential activity to do in Osaka.

Surely you will discover walking the streets of Osaka but it is also interesting to do it from the sky (or almost).
At 300 meters high, the Abeno Harukas is the tallest skyscraper in the city and the country.
Its viewpoint is an almost essential visit to do in Osaka.
From there you can contemplate the city at your feet.
The entrance costs 1400 yen per person, about €12 approximately.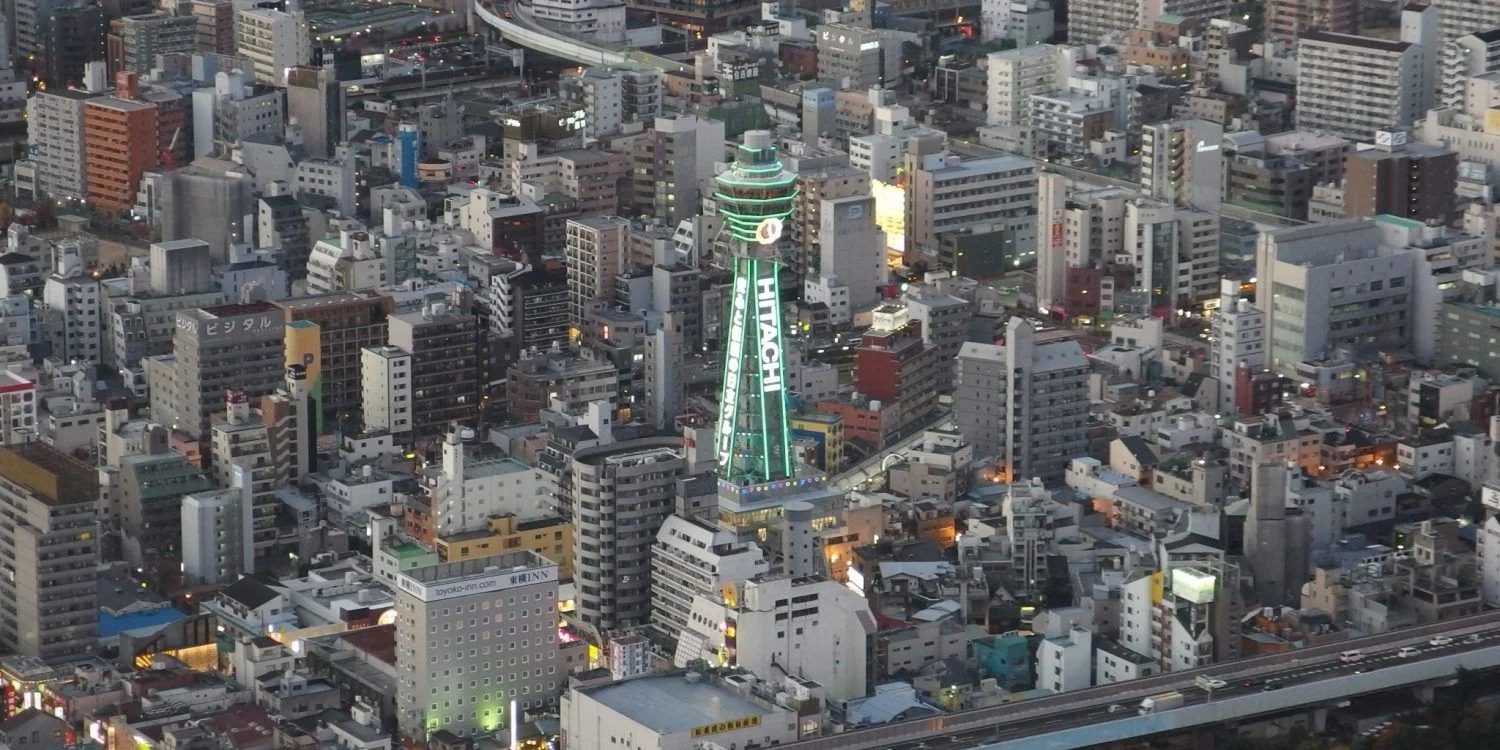 23. Moving to South Korea in Korea Town
If you have little time in the city, visiting it is not an essential thing to do in Osaka.
However, if you have a couple of days or more, you can get lost in the streets of Koreatown.
Don't expect a huge area, but rather simple streets with quite attractive shops and restaurants.
The area is also known as Little Seoul, or little Seoul.

24. Den Den Town
To give you an idea, Den den town is in Osaka what Akihabara is in Tokyo.
So if you're a fan of electronics, you'll surely love this Nipponbashi site.
It is the only place in Japan where you can bargain for products.
So if you have visited Tokyo and found it too expensive in Akihabara, maybe here you can win (or at least try it).
Without a doubt, one of the most curious things to do in Osaka.

25. Discover the Shitennoji Temple and its Park
Shitennoji Temple is historic, as it was one of the first to be built in Japan in the 6th century.
More specifically, it was the first temple financed by the state.
Since its creation it has been burned many times, but the numerous reconstructions have always tried to respect the appearance of its origins.
It has a beautiful five-story pagoda that you can visit if you pay the entrance fee.
Access to the enclosure is free, but if you want to enter the main building it costs 300 yen (€2.30) and 500 yen (€4.5) to see the treasure house exhibits.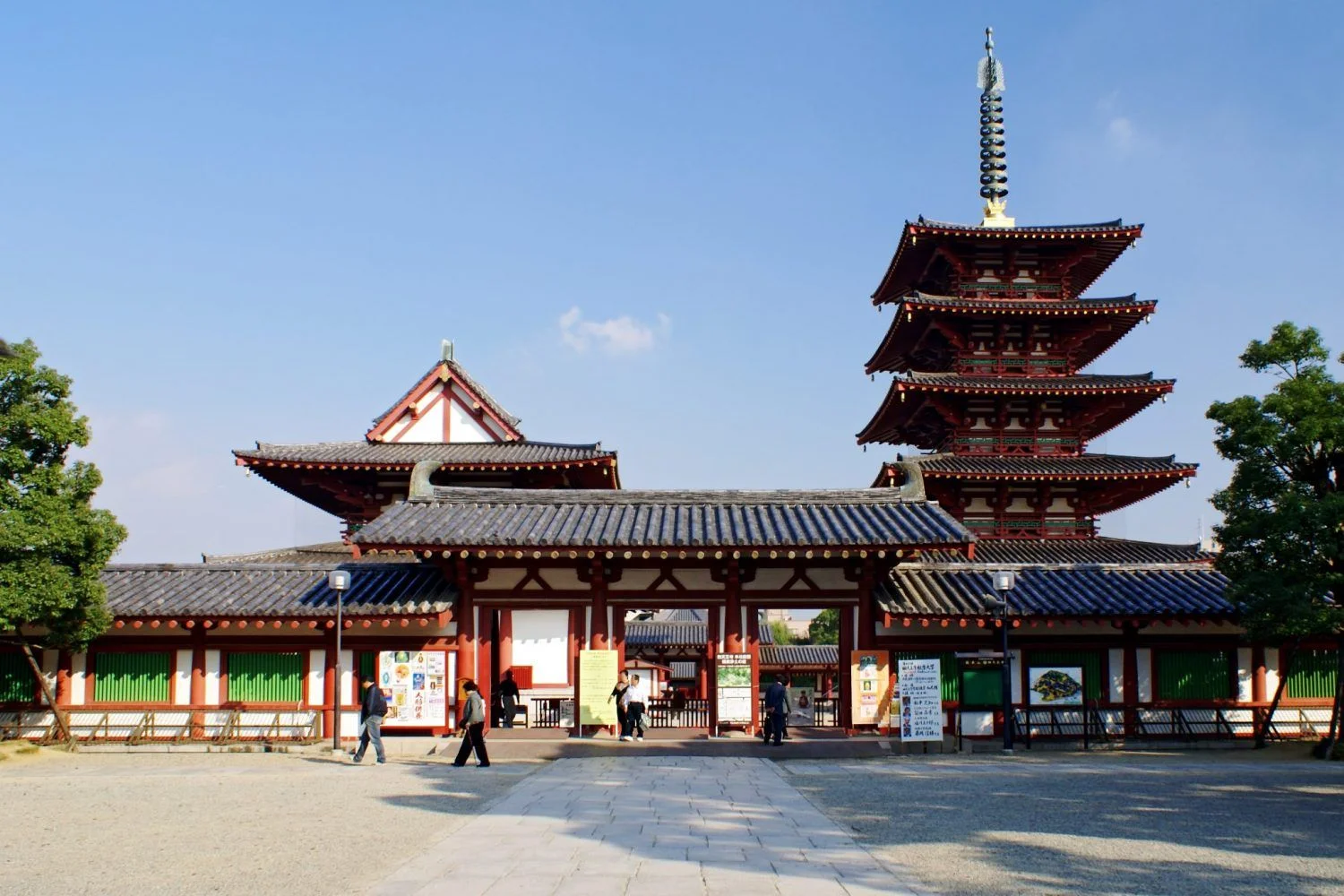 26. Sumiyoshi Taisha Shrine
This shrine is the most important in honor of the Sumiyoshi gods.
That is why it is made up of various buildings, each dedicated to one of the gods.
Its architectural style is very unique and is considered to be purely Japanese, free of influences from other Asian countries.
At the entrance to the shrine there is one of the most beautiful bridges, called Sorihashi.
Its great arch is reflected in the lake creating a beautiful image.
Admission to all spaces is free.
This is a must-do in Osaka for travelers who love hot springs.
It is a themed spa where various parts of the world and its most famous monuments are imitated .
It has enough indoor and outdoor areas to spend the day.
There are children's pools and a swimming area, so you won't miss anything.
They also do massages and relaxing treatments.
The price of the entrance varies according to the day of the week and the time you want to spend.
For reference, a day pass costs 2,700 yen (€23) on weekdays and 3,000 yen (€25.50) on weekends.
For theme park lovers, a really fun thing to do in Osaka is to visit Universal Studios.
It is a great space for the whole family, since there are from 3D attractions to strong roller coasters.
Of course, you will have the opportunity to take a photo with characters like those from Sesame Street, Snoopy or Hello Kitty.
The park is divided into eight themed zones, one of which is dedicated exclusively to the world of Harry Potter.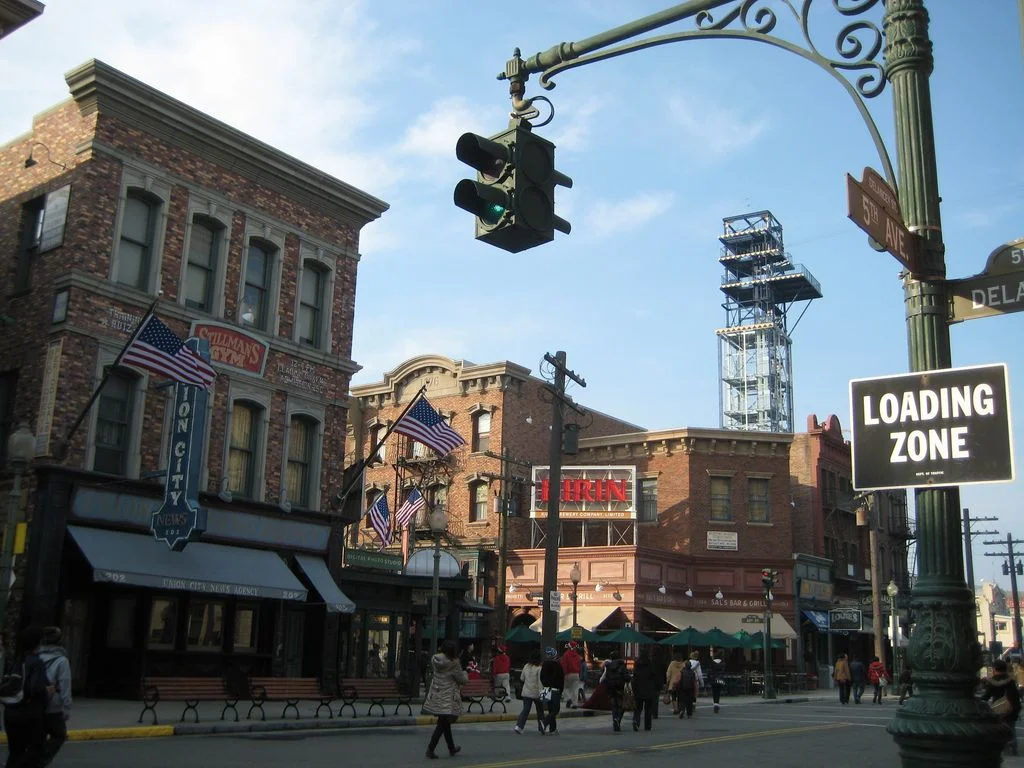 Visiting this museum is something very interesting to do in Osaka to learn about its history.
It is not a museum to use, but there is a recreation of the streets and houses of the city during the Edo Period.
It's quite small, but includes interactive exhibits to give you a good idea of ​​how Osaka was lived through the different eras.
Admission is 600 yen (€5).
30. Go to Nara, a very typical excursion to do in Osaka
To end our list of things to do in Osaka, we suggest an excursion.
A trip to Japan is not complete without meeting the famous deer of Nara.
The excursion can be done perfectly in half a day from Osaka, since it only takes half an hour to get there.
The city of Nara's main attraction is the vast Nara Park, where you can pet and feed hundreds of deer considered sacred.
In addition, you can take advantage of the visit to visit some temples.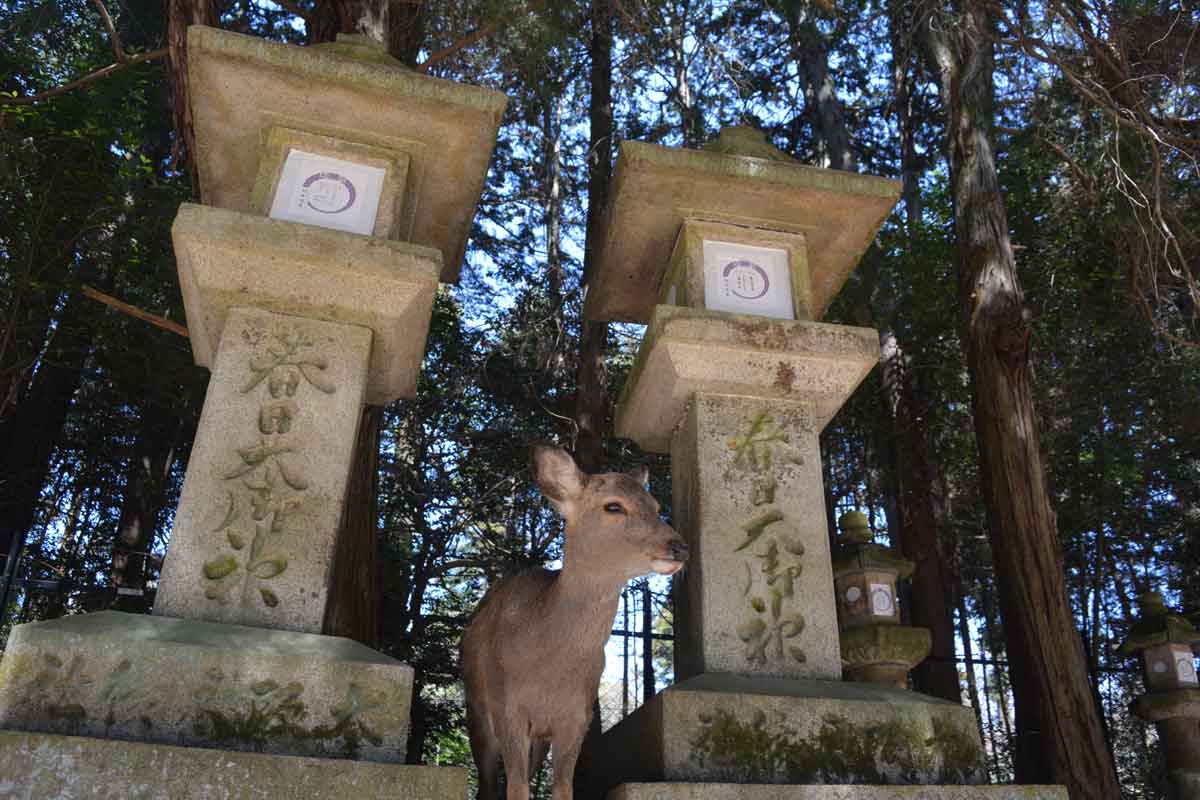 Accommodation in Osaka
1. Namba and Shinsaibashi, the best areas to stay in Osaka
These two neighborhoods have the largest hotel offer in the city. If you stay in one of them, that will mean that you are as central as possible. Namba is the commercial and entertainment heart of the city. Most of Osaka's tourist attractions are concentrated in its surroundings, which will give you a plus of comfort. There you will find a multitude of bars and restaurants, theaters and above all, neon lights!
Of course, all this has a price: most hotels are expensive, usually they are above €100 per night.  If you can afford it, choosing a hotel near Dotonbori is the best option. However, you also have the alternative of many interesting capsule hotels for around €40 per night. Without a doubt, it is one of the best areas to stay in Osaka. 
The best hotels in Namba and Shinsaibashi: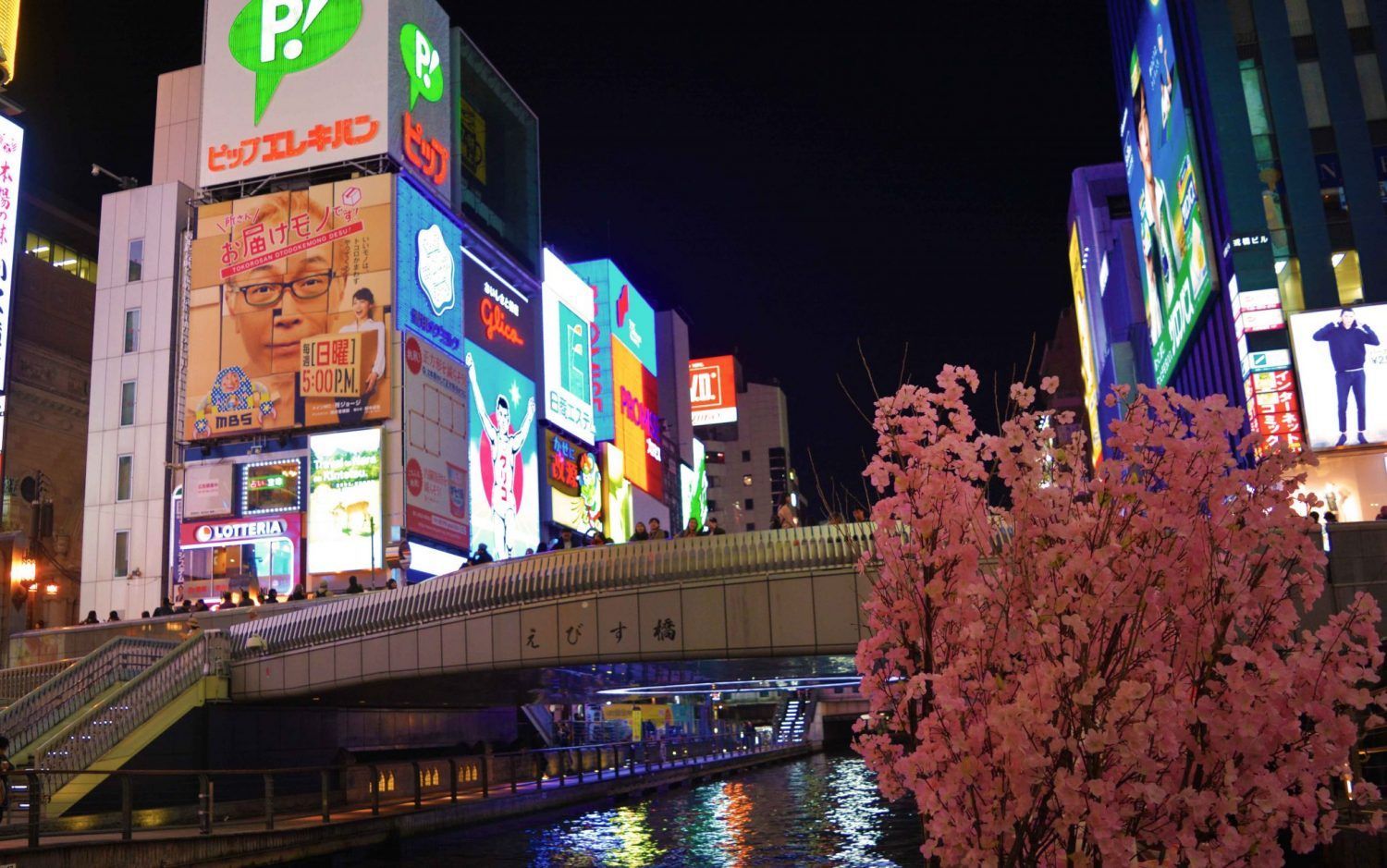 2. Kita district and Umeda neighborhood, smart areas to stay in Osaka
If you are looking for something cheaper without giving up a good location, you can stay in the Kita district, located north of Osaka. In addition to being the city's busiest transportation hub (with Osaka and Umeda stations) and a bustling business district, Kita also offers a wealth of shopping, dining, and entertainment. In its streets you can enjoy department stores and an extensive network of underground shopping centers.
Regarding hotels, most are medium and high range. As you can imagine, the value for money is much better than if you decide to sleep in Namba.  In theory you shouldn't have a problem finding a good hotel for around €80.
Also, being close to the station will bring you more convenience if you plan to visit cities like Kyoto or Nara, quite frequent excursions from Osaka. For us, it is the smartest option where to stay in Osaka. 
Good accommodations in Umeda and Kita:
3. Near the Castle and to the east of the city, a good alternative
Osaka Castle is the main attraction of the city. However, considering the two previous options, we advise you not to fall into the mistake of sleeping near the castle. It would be an unintelligent option, since there is not much in its surroundings. Also, at night it's a pretty dead zone. To this we must add that most hotels charge that "plus"  to be near the monument.
So in most cases, forget about cheap hotels. Still, there's plenty on offer, so if you fall in love with a hotel, the metro will take you everywhere!
Some hotels near Osaka Castle: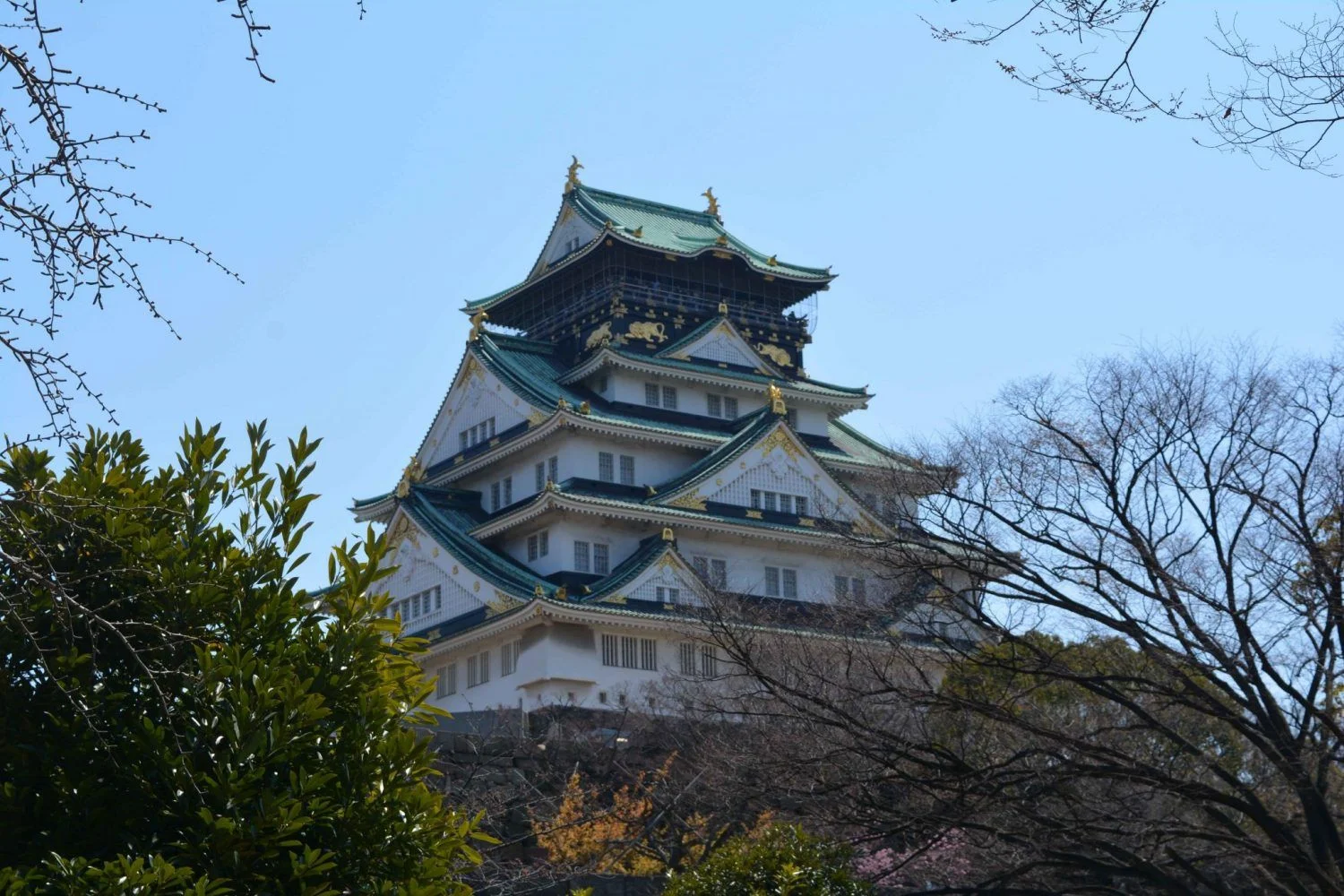 4. Tennoji, one of the cheapest and most interesting options to stay in Osaka
Without a doubt, the Tennoji neighborhood is one of the cheapest areas to stay in Osaka. Apart from being a fairly touristy area for hosting the Tennoji and Shinsekai park, it is very well connected by the important station in the neighborhood. In the area there are many well-priced hostels. It is also where there is a greater concentration of Love Hotels, which are a great option to save.
The neighborhood is also home to the tallest skyscraper in Japan, the Abeno Harukas, which has a great viewpoint. Regarding the price, Tennoji has hotels of all kinds : from the most luxurious to comfortable hostels for smaller budgets. To give you an idea, you can find good hotels for around €80 a night and simpler rooms from €40. 
Good hotels in Tennoji:
5. Staying in Osaka Bay, far but interesting if you want to go to Universal Studios
Osaka Bay is another world. Due to its recent development, it has become one of the most interesting areas of the city. There you can enjoy the Tempozan Ferris wheel, one of the highest on the planet! Overall it looks like a theme park itself.
In addition, it is a good option to stay in Osaka if you plan to go to Universal Studios to have a good time. This theme park, the company's first outside the United States, is located in this dynamic area. There you will find cheaper hotels than in the center and many hostels for €50 per night rooms with shared bathroom.
Regarding the distance to the center of Osaka and the Namba area, it will only take you 20 minutes by public transport. The cities of Japan are very large and are extremely well connected, so distances are always relative.
The best hotels in Osaka Bay: