What to do in Isla Mujeres: the ultimate guide
To visit Isla Mujeres is to enjoy the fine sandy beaches and transparent waters of the Caribbean!
It is a small island in Quintana Roo, located off the Yucatan Peninsula just 20 minutes from Cancun
We come here mainly to relax at Playa Norte which is considered one of the best beaches in the world, but also to snorkel and dive in the 2nd largest reef in the world!
To help you organize your trip, here is my complete guide with the 21 activities to do in Isla Mujeres.
I present all the must-see places of interest, a suggested itinerary for visiting Isla Mujeres in 1 day,  my  recommendations for hotels from backpacker to all-inclusive, and the steps to get to Isla Mujeres.
Plus, I've included a special section with my top tips for cheap travel to Isla Mujeres!
So, what to do in Isla Mujeres? 
Visit Isla Mujeres: the must-sees
1. Garrafon Park
The Garrafon Natural Park is a must in Isla Mujeres because it offers both a place of relaxation and several activities.
It should be understood that the beaches of Isla Mujeres are quickly overrun and Garrafon offers a much quieter and more exclusive alternative.
It is a small private beach where you can access by paying an entrance fee of 90$usd which includes deckchair, parasol, shower and toilet.
It is the ideal place for snorkeling because Garrafon is part of the longest coral reef in the northern hemisphere and is home to a rich ecosystem.
It is also possible to go kayaking , zip line (there are 3!), enjoy the swimming pool facing the sea and rest in the hammocks between the palm trees. In addition, there is a restaurant on site.
Tips for your Isla Mujeres itinerary:
An interesting option is to take this "all-inclusive" excursion to Parc El Garrafon from Cancun   which includes the return ferry, breakfast on the boat, open bar on the boat for 18+, lunch on site.
In addition of course to access to all activities! To book here.
Getting to Parque Garrafon : it is located in Punta Sur, the southern tip of the island (10min by taxi from the ferry). Address: Carretera Garrafon Lote 9 km 6, Supermanzana 9, Isla Mujeres.
Important : it is better to arrive early (around 10:30 am) because if the deckchair and parasol are included with the entrance, it is only according to availability.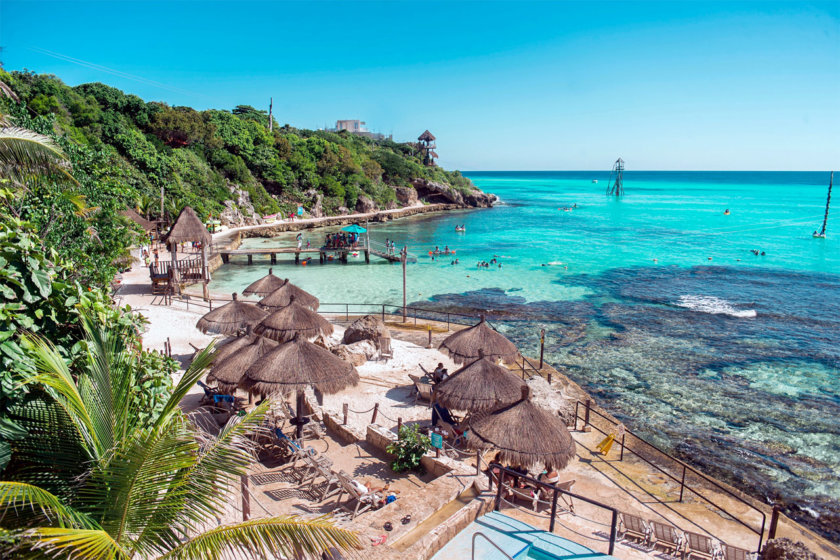 2. Garrafon de Castilla
Right next to Parc Garrafon is its cheaper, much less crowded and quieter version: Garrafon de Castilla
You don't come here for a luxury stay, but it's the perfect option for a cheap day out in Isla Mujeres!
It is a simpler beach club, but offers the same beautiful water for swimming or snorkeling, as well as an on-site restaurant and the basic facilities (deckchair, lockers, showers).
We must take advantage of the good plan now before it is known and invaded by tourists!
Entrance 150 pesos (includes snorkelling equipment rental and locker)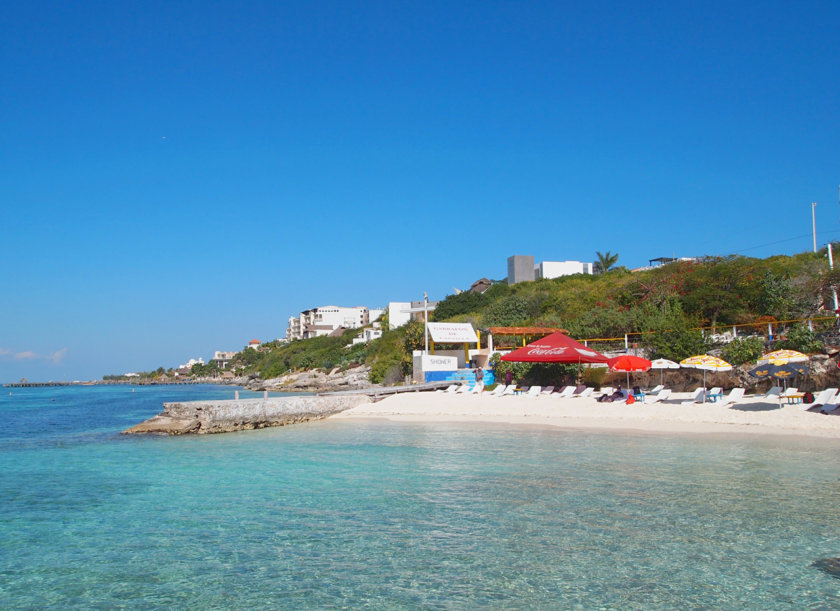 3. South Point Explorer
South of Isla Mujeres is Punta Sur, the highest point on the Yucatan Peninsula.
This is a must-see spot in Isla Mujeres for its magnificent sea views, but also for its Sculpture Garden and the ancient temple dedicated to Ixchel, the Mayan goddess of the moon and fertility.
And as we are here far from the beaches, there are a lot fewer tourists!
It can be reached through the Garrafon Natural Park, taking a pretty path facing the Caribbean Sea.
Tips for your Isla Mujeres itinerary:
The best time to visit Punta Sur is at dawn because it is one of the first places in Mexico where the sun rises: it's magic!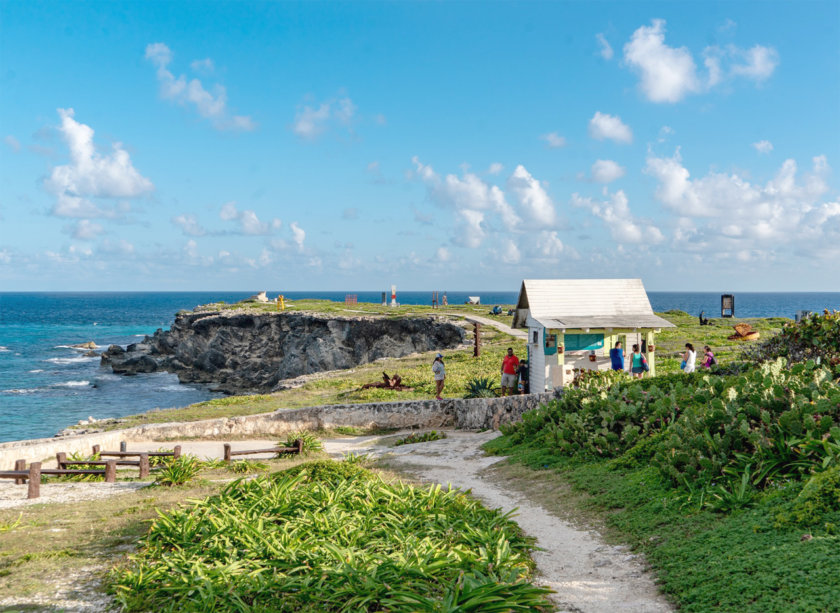 4. Relax on One of the Best Beaches in the World
For several years now, Playa Norte has been in the Top 10 of the best beaches in the world in the Travelers Choice awards .
With its white sand, calm, warm and shallow water, we quickly understand why!
Indeed the water is so shallow that you can walk 200m in the water without having the water above the belt.
It is a 1km public beach with different sections, umbrellas, bars, but also a quieter section with restaurants which is the ideal place for a family trip to Isla Mujeres.
It must be recognized that the beach is a victim of its notoriety and that it fills up quickly in high season, but it is also one of the widest beaches in Mexico (100m) so it does not feel cramped like elsewhere.
On site, you can rent deckchairs, snorkeling equipment and kayaks.
Seeing the sun set behind the water in Playa Norte is a magnificent sight!
For morning people like me, the sunrise is also very beautiful, but I recommend Punta Sur on the other side of the island instead.
Visit Playa Norte
Rental of two chairs with an umbrella 400 pesos per day, or two deckchairs with umbrella for 700 pesos per day (prices vary depending on location)
There is a section of the beach where it is allowed to be topless
Playa Norte is 500m to the left of the ferry terminal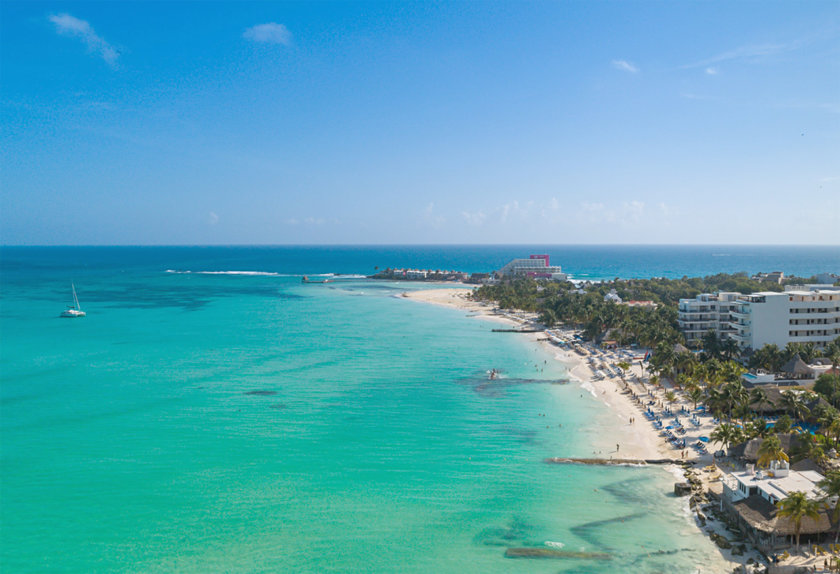 5. Take Advantage of Less Touristy Beaches
Playa Norte is the best known beach in Isla Mujeres, but there are others worth seeing like Playa El Pescador, Playa Tiburon, Playa Paraiso, Playa Na Balam, etc.
At Playa Pancholo the sea is choppy and that's why there's hardly anyone around. It's great for sunbathing on the beach, but not for swimming!
Playa Lancheros is a small beach known for its restaurant serving Tikin Xic fish. It fills up around lunch time so it is better to go there in the morning or from 3 p.m. when it is quiet.
Tips for your Isla Mujeres itinerary:
For me, the best beach in Isla Mujeres is Playa Sol. Located right next to Playa Norte, its water is calm, perfect for swimming or snorkeling. In addition, it is less crowded and less expensive than Playa Norte!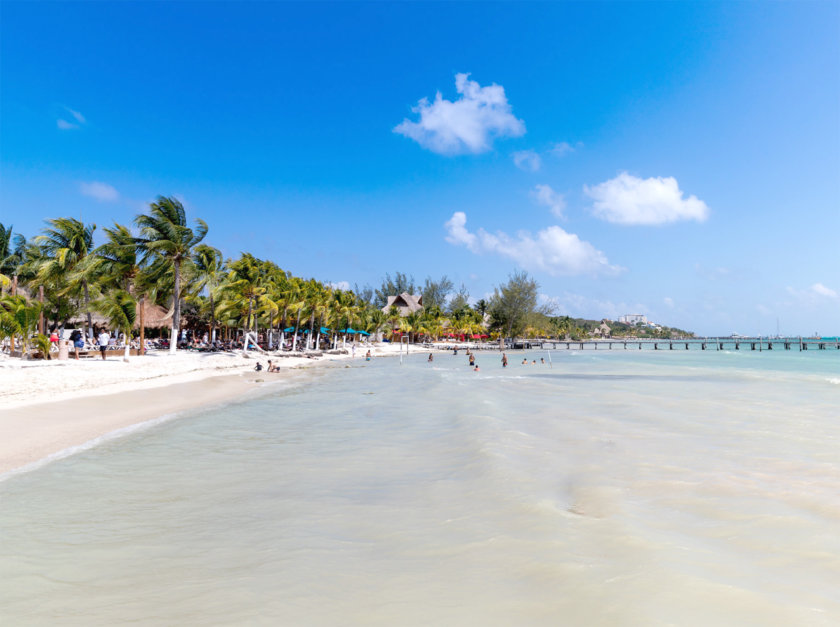 6. Sunbathe at Kin Ha Park
This is a little hidden treasure, much less crowded than the Playa Norte area!
Not many people know about it and that's why it's a must-see place in Isla Mujeres.
"El Parque de los Sueños" also called Kin Ha is a beach club that allows you to make the most of the island.
It is a small complex facing the Caribbean Sea where there is a restaurant with terrace, an infinity pool with bar, several areas to relax in the sun, as well as easy access to the sea.
On site you can rent kayaks, paddleboards and snorkeling equipment
Getting to Kin Ha: 15 min by taxi from the maritime terminal (100$MXN)
Open from 8 a.m. to 11 p.m.
Entry with a minimum consumption of 500 pesos

7. Walk in the Streets of Isla Mujeres
Of course, Isla Mujeres has more to offer than its beaches! If you have time to wander around a bit, here are some ideas:
-Miguel Hidalgo street : it is the main street of Isla Mujeres which is 3km long, there are shops, many restaurants and bars, live music. You can walk there day and night without any problem!
-See the colors of Isla Mujeres : and the island has no shortage of them! Between its street art and its many colorful houses (special mention to Casa Crayola), it is a feast for the eyes.
-Walk the malecon: the perfect place to walk from north to south of the island in 40 minutes along the sea. Along the walk, there are several points of interest such as the statue "la Trigue ñ a " and especially the colorful sign of Isla Mujeres (at the intersection of Calle Abasolo) which is the perfect spot to take a photo.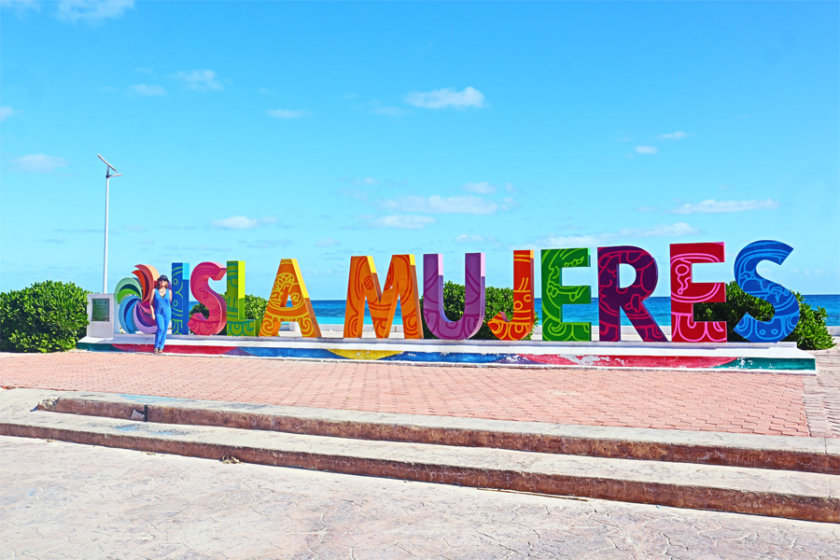 8. Snorkel in Paradise
With such transparent water and its Great Mayan Reef which is the 2nd largest reef in the world, snorkeling is a must do activity in Isla Mujeres.
To snorkel in Isla Mujeres without a tower, you can go near the MIA hotel in Playa Norte, but I recommend the beach clubs like Kin Ha, Garrafon de Castilla and especially Parc Garrafon  which provide the equipment.
On the other hand, taking a snorkeling tour allows you to see a lot more things!
El Farito 5 min by boat is the most popular snorkeling spot on the island. It is the smallest lighthouse on Isla Mujeres, surrounded by a reef with fish and corals. There is also the submerged statue of La Virgen del Farito, the patron saint of fishermen.
It is possible to get there with a 1 hour tour, but I recommend the longer tour which also includes part of the Museum of Underwater Art in Manchones Reef. As it is 30m deep, it is possible to snorkel or dive there.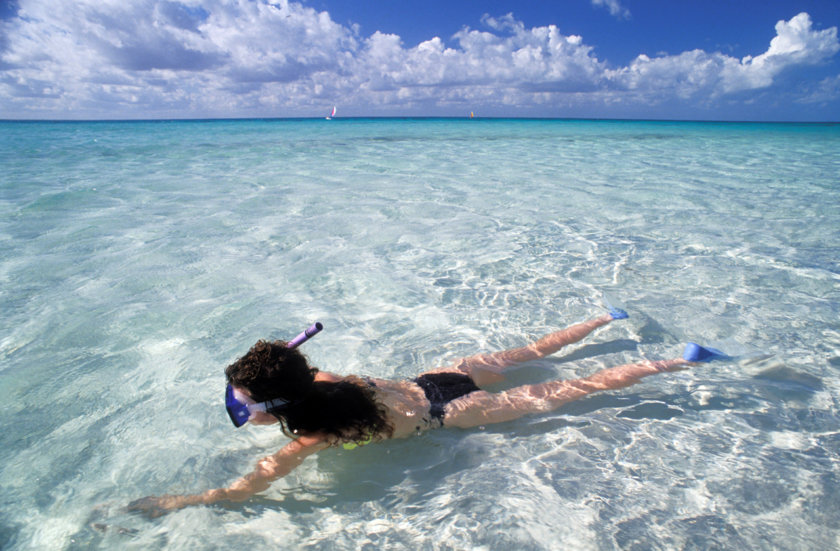 9. Diving in Manchones
There are around fifty diving spots in the region for all levels (beginner to advanced).
My best recommendation is to explore the  800m long Manchones reef at Isla Mujeres with its many corals and fish.
It is part of MUSA, the largest underwater museum in the world.
With its 473 sculptures 8m underwater, it is definitely the best place to snorkel in Isla Mujeres!
These statues were created to replace the corals that had disappeared due to pollution mass tourism. It is therefore a second habitat for the biodiversity that inhabits the seabed.
It is impossible to dive in Manchones alone, because you need the equipment a boat, so you have to take a tour.
You can book the Manchones diving excursion here. It includes snorkeling equipment and boat transport from Cancun to the bay of Isla Mujeres where you can see up to 400 statues!

10. Taste the Local Mayan specialty
A specialty of Isla Mujeres is Tikinxik fish: a grilled fish with onions, achiote and other spices.
This is a Mayan cuisine recipe that I had already tasted during my visit to Isla Contoy, but I really recommend trying the fish from the restaurant in Playa Lancheros or Playa Tiburon.
It's a big plate to share (about 290$MXN) with rice and salad.
In addition, the view is very pretty and the waves are calm so it is a perfect place to enjoy Isla Mujeres with children.
Tips for your Isla Mujeres itinerary:
I recommend arriving around 1:30 p.m. to make sure the food is ready and you have to calculate about 30min for the preparation.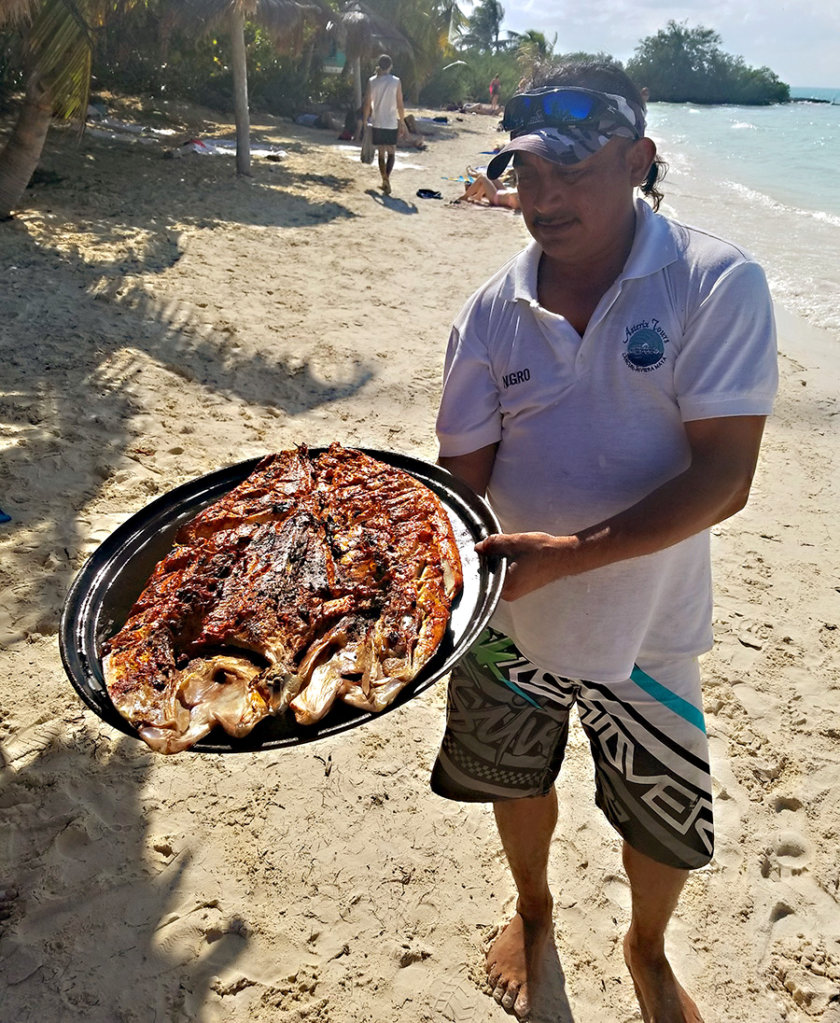 11. Discover Isla Contoy
Just 30km from Isla Mujeres is Isla Contoy : one of the most beautiful destinations in Mexico!
This tiny, virtually deserted island is a national park that is home to Mexico's most important Caribbean seabird nesting ground!
Its access is limited to 200 people per day   so it is very important to book to have the chance to enjoy its calm, fine sandy beaches and transparent water.
The visit to Contoy includes free time on the beach, a small guided tour on its paths (for those who wish) and a good Tikinxik fish lunch .
it's heaven on earth!
Tips for your Isla Mujeres itinerary:
Tours to Contoy depart from Cancun or Isla Mujeres around 9am.
For my part, I did a day trip to Contoy and Isla Mujeres from Cancun, which can be booked here.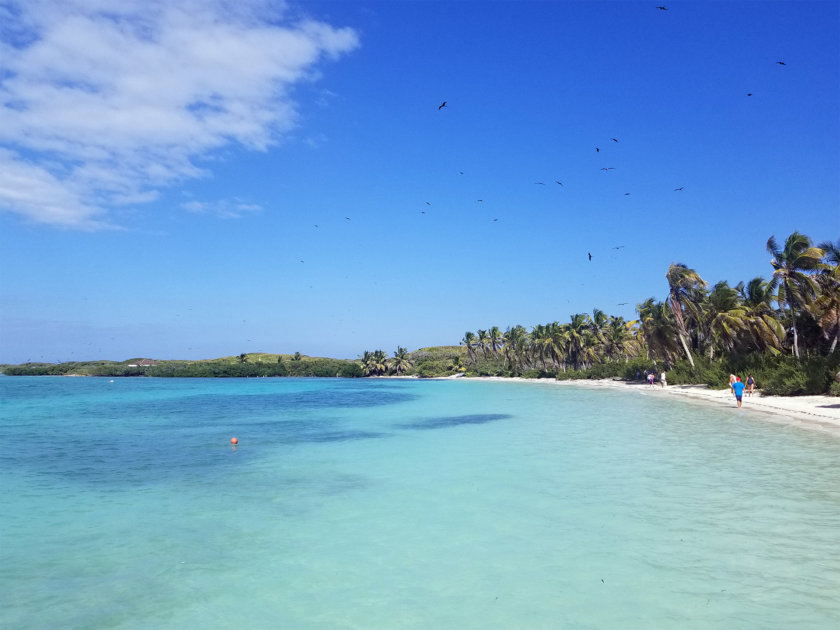 12. Swim with Whale Sharks
Here is a great activity to do in Isla Mujeres while respecting the environment!
From May to September, whale sharks come to enjoy the warm waters of Isla Mujeres and Holbox and this is an opportunity to observe them a little closer.
Fortunately, they are protected. You can swim with whale sharks with a guide by respecting certain rules:
– it is forbidden to dive with them
-we can approach it by swimming or snorkeling at a safe distance of 2 m
– it is forbidden to touch or feed them
– it is forbidden to jump into the water from a boat
There is nothing to be afraid of. With its 12m in length, the whale shark is the largest fish in the world, but it is harmless!
You can book this excursion to swim with whale sharks, which also includes pick-up from your Cancun or Riviera Maya hotel , all equipment, free time in Isla Mujeres and lunch.

13. Encourage Local Craftsmanship
If you want to bring back a souvenir from Isla Mujeres, I really recommend that you stop by the cooperative of women artisans of Isla Mujeres . It's a very small place where several craftswomen work and sell colorful bracelets, earrings and necklaces.
It's the best way to encourage the local economy, responsible and at a good price! In addition, they are very nice.
Address: L a Gloria MZA. 160 Lot 5, Isla Mujeres. PageFacebook 
Outside you will see a sign "The Women's Bead Cooperative" and "Artesanías de Mujeres de Isla Mujeres"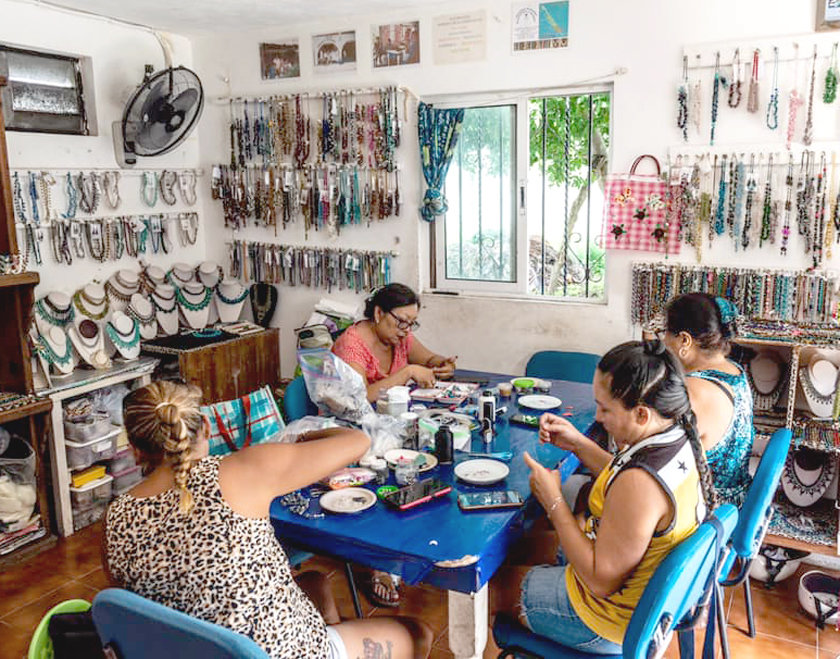 14. Take a Catamaran Ride
Catamaran sailing in Isla Mujeres is one of the best ways to enjoy the sun and the sea in the Riviera Maya!
It's a small one-day cruise from Cancun with music and unlimited drinks (with and without alcohol), perfect for relaxing in a festive atmosphere.
The tour takes you snorkeling in the reef (1h), offers free time at Isla Mujeres and includes lunch on the beach.
The right plan
I recommend this catamaran tour to Isla Mujeres from Cancun. It has the advantage of including transport from your hotel (which is not always the case!) and at a very good price. Easy to book here.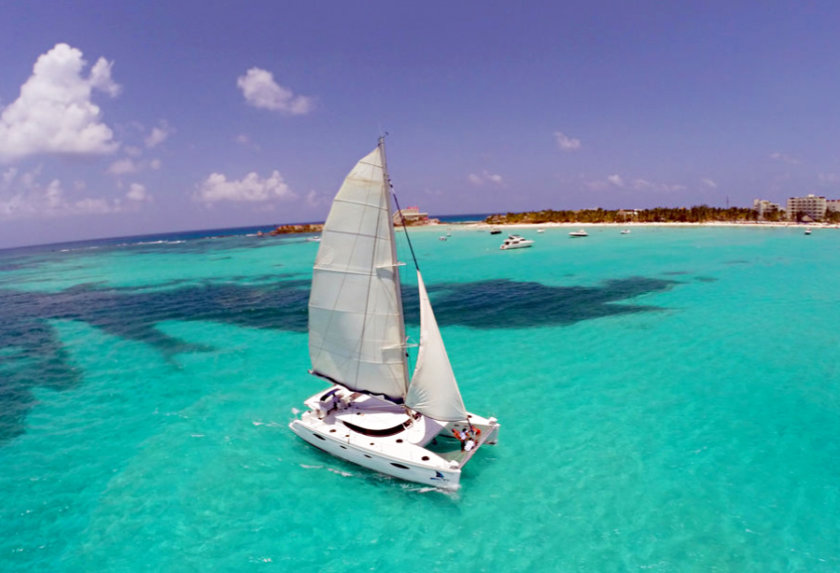 15. Mundaka Estate
Built by the "retired" pirate Fermin Mundaca in 1862, Hacienda Mundaca or Hacienda Vista Alegre at the time covered almost half of the island and was surrounded by beautiful gardens.
He dedicated it to a local beauty nicknamed the "trigueña" to convince her to marry him. but despite everything she decided to marry another.
Today you can visit what remains of the hacienda with its gardens, part of the house, some sculptures, cannons and a pond. There are also iguanas that roam around.
Admission 30$MXN, open from 9 a.m. to 5 p.m., the visit lasts 20-30 min
Located 300m from Playa Lancheros
To know
The hacienda is temporarily closed.
16. Go fishing
It is possible to fish in Isla Mujeres, on the coast and offshore, but there are several things to consider:
It is not easy to fish on the coast of Isla Mujeres: there are a lot of rocks, and in addition to swimmers and snorkeling areas, you have to be very careful not to fish in the reefs because they are protected.
On the coast, there are mainly barracuda, other species such as yellowtail. Instead of mahi mahi, sarda, king mackerel, etc.
The best season to fish off Isla Mujeres is from January until the end of June.
Tips for your Isla Mujeres itinerary:
In Mexico it is not necessary to have a license to fish on the coast, but you must be 200m from swimmers. To fish from a boat (even a kayak) it is absolutely necessary to have a permit.
It is best to go with a guide, whether on the coast or offshore. When renting a fishing boat, the captain includes the license in the price.
Fishing in Isla Mujeres represents a certain budget: around 200$usd for 4h or 400$USD to 2000$USD for 8h offshore fishing (it all depends on the type of boat, etc.)
17. See the Cemetery
I am always surprised by the colorful graves in Mexican cemeteries.
The Isla Mujeres cemetery may be an unusual visit for some, but I really enjoyed discovering it with its many shades of blue, flowers, candles and various sometimes original monuments.
There is also the tomb of Fermin Mundaca (remember, that of the Hacienda Mundaca?). We recognize her by the skull in reference to her years of piracy.
It is to the right of the entrance, but it is empty! Because he died in Mérida and was never repatriated to the island.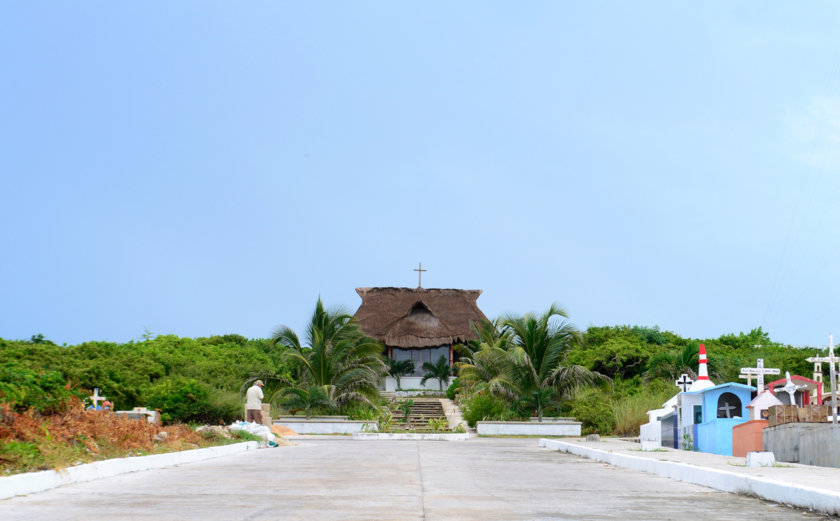 18. Visit the Turtle Sanctuary
The totugranja, or the turtle farm, is a must-see place of interest in Isla Mujeres.
It is not a place of exploitation of turtles where we swim with them, but a place of preservation!
There are sea and land turtles, as well as an aquarium with fish and several marine species.
Isla Mujeres is an important nesting ground for giant tortoises between May and September. They are now protected by the government and their eggs are placed in a safe place away from predators.
Small turtles are placed in tanks and then local school children and travelers help return them to their natural martin habitat.
Thus, several thousand turtles are saved each year!
Admission 30$MXN, the visit is short, but it's a good cause
Highway Sac Bajo Km 5, Mar Turquesa subdivision, Isla Mujeres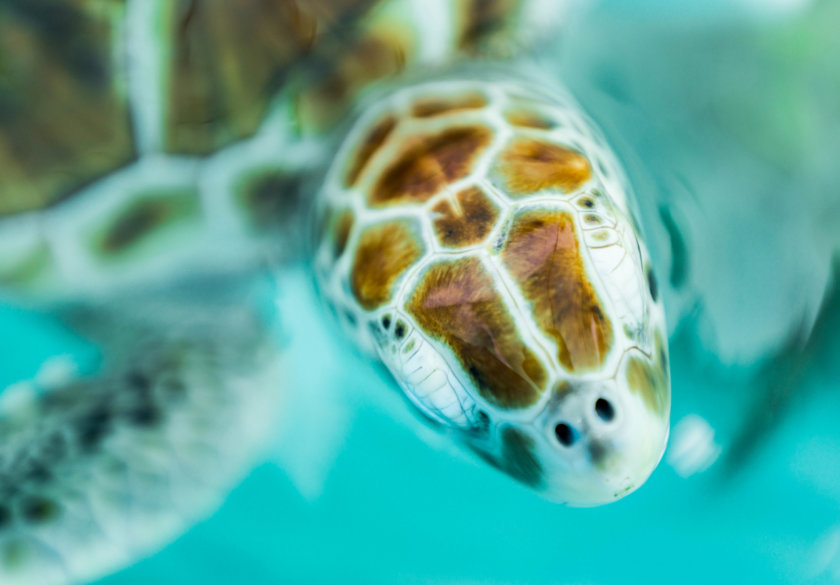 19. Treat Yourself to a Yoga Session
There are several yoga studios in Isla Mujeres, but the Treehouse is my favorite because sessions are on a loft facing Playa Norte.
It's the perfect place to wake up gently to the sound of the waves of the Caribbean Sea.
Classes are Monday to Saturday at 7:30 a.m. and 9 a.m., and Wednesday to Saturday at 6 p.m.
I recommend especially in the morning because there is hardly anyone on the beach and it is very quiet.

20. The Isla Mujeres Museum
This is the only museum on Isla Mujeres, and of course, it's a maritime museum!
The Capitan Dulche Museum features explorers Ramon Bravo, Jacques Cousteau and Ernesto Dulché Escalante. There are photographs, several beautiful ship models, anchors and various maritime objects related to the island.
In addition to the museum, there is a beach club with a restaurant and a bar, a volleyball court, a swimming pool, small cabins and deckchairs on the beach.
To know
The museum is temporarily closed.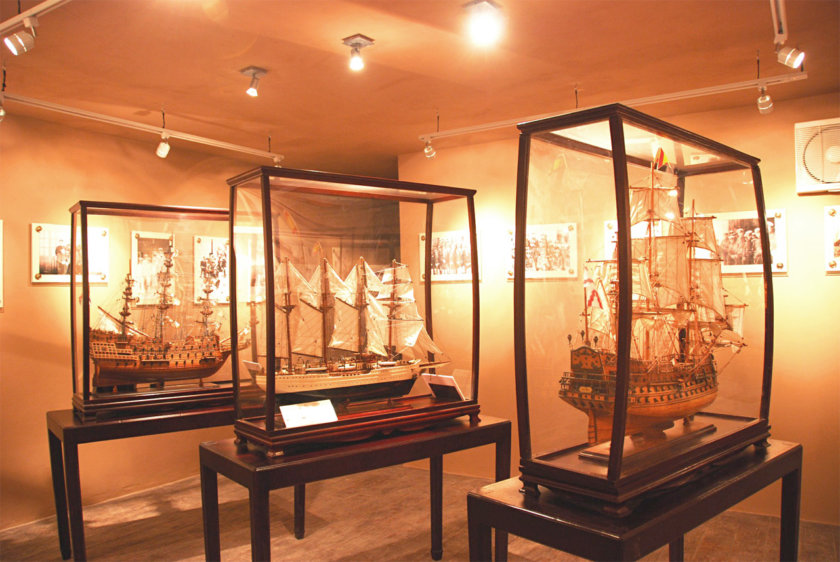 21. Dolphin Discovery
Here is an activity to absolutely avoid in Isla Mujeres.
Entertainment giant Dolphin Discovery offers overpriced packages to swim with dolphins and take photos with them.
It is not an eco-responsible activity, quite the contrary. Dolphins are kept in captivity like circus animals.
Unfortunately it is one of the most popular activities on Isla Mujeres with families. Make a difference and do not participate in this kind of activity.
If you like animals, why not see them in their natural habitat?
Swimming with whale sharks is done with respect for the species. Another responsible option is to swim with the turtles in Akumal!
Getting to Isla Mujeres
I do not recommend arriving without a reservation at Isla Mujeres. Prices go up easily and everything fills up quickly.
Here are my top accommodation recommendations for all types of budgets.
How to travel cheap to Isla Mujeres
Personally, I prefer to watch my budget to travel more often!
If you're like me, here are all my tips for visiting Isla Mujeres at a low price :
-The cheapest way to get to Puerto Juarez from the hotel zone of Cancun is the R-1 (red) bus which leaves you right here close to the landing stage. 12$mxn the ticket.
-To avoid buying drinks on the beach, it is best to buy everything (water, drinks, snacks) at the Oxxo at the Maritima terminal in Cancun or at the one in Isla Mujeres, on the left when disembarking.
-It is quite possible to go to Playa Norte without paying for a deckchair. Same thing in Playa Sol and it is easier to find a place in the shade under the palm trees! Remember to bring beach towels, a hat and sunscreen as the sun is strong.
-To eat cheap in Isla Mujeres, it is best to avoid the beach. The municipal market is always a good option, otherwise I found that the restaurant El Poc Chuc (corner Avenida Juarez and Calle Abasolo) was really good with big sandwiches (tortas) at only 35-40$MXN.
-To sleep cheap in Isla Mujeres I recommend without hesitation the superb Nomads youth hostel with its dormitories at 9 € per night. Otherwise Mi Alegria Studio is another very good option with wifi, air conditioning and a small kitchen with fridge at only 20 € per night!
-Sometimes taking a tour is cheaper than visiting solo. This is the case of Isla Mujeres! In Puerto Juarez, I recommend taking a tour to Isla Mujeres with the local cooperative.
For MXN$500, it's an all-inclusive tour to Isla Mujeres from 9 a.m. to 5 p.m. that includes: MXN$50 harbor fee, boat transport, 2 hours of free time at Isla Mujeres, snorkeling at El Farito and the lunch (fish or chicken tikinxik).
Depleted South Isla Mujeres
The car is not the ideal way to get around because there are not many parking spaces on the island.
The best options are the bicycle, or the golf cart and scooter if you prefer a motorized vehicle.
The golf cart to Isla Mujeres costs an average of MXN$850 for the day, from 10 a.m. to 5 p.m. It is important to have your driver's license.
There are several rental companies and the prices go down the further you get from the wharf. Avoid touts when disembarking from the ferry: they take a commission.
Note that it is also possible to have the golf cart "delivered" to your hotel in Isla Mujeres.
The island is quite small, so it is quite possible to discover it on foot. But the sun is strong so it is better to start the day early in the morning and wear a cap or a hat!
How long to visit Isla Mujeres
Many travelers make 1 day to Isla Mujeres from Cancun, but one can easily spend 2 or 3 days in Isla Mujeres to better enjoy the beach.
1 Day Isla Mujeres Itinerary
The vast majority of people stay in Playa Norte because you can find everything there (restaurants, deckchairs, etc.).
But if you prefer to see a little more of the island here is what to do in Isla Mujeres in 1 day :
-In the morning, take the ferry to Isla Mujeres – Book your ferry tickets here!
-Rent a golf cart or a bike to go to Parc Garrafon de Castilla and spend the morning there (snorkeling, relaxing, swimming)
-Walk around Punta Sur to see Sculpture Park and Ixchel Temple
-Go to Playa Lancheros for lunch the famous Tikin Xic fish
-Go to Playa Norte, the most famous beach on the island
-It is possible to do a snorkeling tour at Farito, but you have to wait for a group of 4+ to be formed (easy in high season)
-See the sunset at Playa Norte or Playa Sol next door
-Before leaving, you can take a walk on the lively Avenida Higaldo
Getting from Cancun Airport to Isla Mujeres
It is easy to get to Isla Mujeres from the Cancun airport (Terminal 2 for international flights).
You have to get to Puerto Juarez first . Here are the different options:
By taxi : the advantages are that there is no waiting time and the journey is direct, but it is the most expensive option.
By bus : ADO buses leave every 30 minutes and go to the center of Cancun. Tickets can be purchased on site at the ADO counter, around 90$MXN. Then you have to go from the center of Cancun to Puerto Juarez, by taxi (about $90 MNX) or cheaper, with bus 13.
By public transport : colectivos (shared taxis) are the cheapest option, but you have to wait for the van to fill up. Also, it is not guaranteed that there are people going there at the same time. But you can still try before taking the bus.
Going from Cancun to Isla Mujeres by Ferry
To go to Isla Mujeres, you have to take the ferry from Cancun.
There are different piers:
-Puerto Juarez  : just 3km from the center, there are 2 piers practically stuck together, the most recent of which with the best boats is called Gran Puerto. 30 min journey with Ultramar, departure every 30 min between 5 a.m. and 8:30 p.m., then every hour until 11:30 p.m. The ferry to Isla Mujeres from Puerto Juarez costs MXN$160 or MXN$300 return.
Spaces on the ferry are very limited, I strongly recommend that you reserve them as soon as possible!
To book your return ferry ticket to Isla Mujeres (return valid for 6 months after your outbound date), click here.
-Cancun hotel zone : there are 3 piers with the Ultramar company – Playa Tortugas, Playa Caracol, El Embarcadero (Playa Linda). Ferry schedules to Isla Mujeres see here. The ferry from the piers in the hotel zone is more expensive than from Puerto Juarez – 15$USD or 21$USD round trip.
From Playa del Carmen to Isla Mujeres
To go from Playa del Carmen to the Cancun ferry, the trip takes 1 hour either by bus or by car.
If you don't have a rental car, you can either take private transport (around 500-600$MXN one way) or the bus.
I recommend the ADO bus which leaves every 15 minutes from Terminal Alterna in Playa del Carmen for 80$MXN. Be careful to choose the right arrival terminal and not the one at Cancun airport!
Once you arrive at Terminal ADO in Cancun, it is possible to take a taxi to Puerto Juarez ($100 MXN) or a Ruta 1 bus which passes in front of the station.
Can we bring luggage on the ferry?
Yes, the ticket includes 1 piece of luggage up to 25kg max. Sizes: 45 x 70 x 27cm
Watch out for scams at the pier
In Puerto Juarez, it happens that you are approached saying that the ferry has been canceled (which is not true) to take you to private transport.
Transportation is real and does get to Isla Mujeres fine, but it's way more expensive and longer than the ferry.
Can we cross by ferry with a car?
There is little parking on Isla Mujeres, so it is not ideal to get there by car, but yes it is possible.
The only place to take the ferry with a car is Punta Sam, 8km from Cancun.
It takes about 45 minutes to get to Isla Mujeres. I really recommend arriving 1 hour in advance!
-Departures with Maritima: 5:15 a.m., 8:15 a.m., 11:15 a.m., 2:15 p.m., 5:15 p.m., 8:15 p.m., 482$MXN, included with passengers
-Departures with Ultramar: see Ultramar Carga schedules here, 400$MXN includes up to 4 people per vehicle.
Is there parking at the Cancun Ferry?
Yes there is a large multi-storey parking lot in Puerto Juarez.
The rate is 11$MXN per hour, there are also daily rates.
It is also possible to find free parking in the area (on the street).
Choose Isla Mujeres or Holbox? 
I am often asked which is the best, but they are completely different!
There are more activities to do in Isla Mujeres, more restaurants and shops, so it's a great place for friends, couples and families alike.
But there are also a lot more tourists, there is a lot of hustle and bustle during the day since the majority come on a tour from Cancun.
We do not come to Isla Mujeres to rest in peace, but to enjoy the sun in a more festive atmosphere.
Even though Holbox has grown in recent years, it is still much less touristy than Isla Mujeres. The roads are dirt, the atmosphere is very relaxed and even a bit hippie, with small hotels.
There are long sandy beaches with few people, however there are more mosquitoes and when it rains, the roads can flood.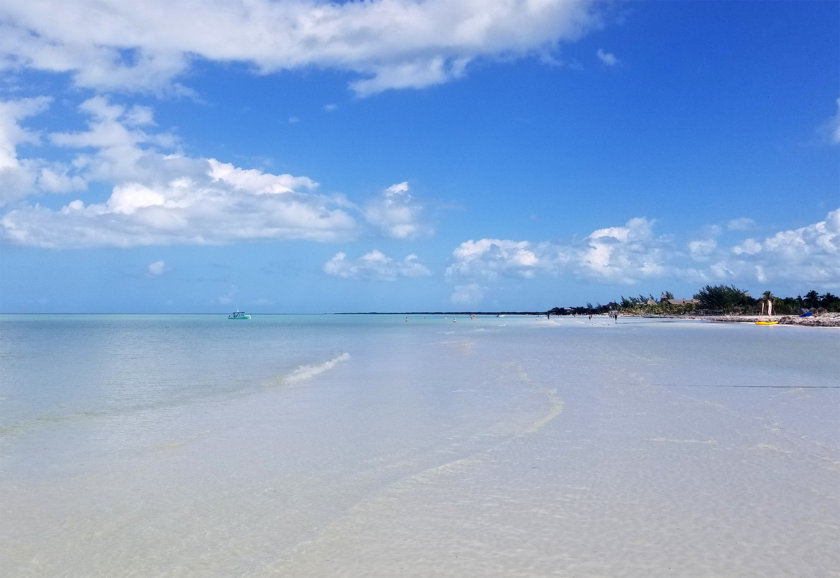 Money in Isla Mujeres
The US dollar is accepted in Isla Mujeres, but the exchange rate is not favorable: it is better to pay with Mexican pesos.
It is possible to change up to 300$USD per day (with passport) at HSBC, Banamex, Banco Azteca or CI Bank.
There are several automatic teller machines (ATM) where it is possible to withdraw pesos. It is important to only use the counters inside the banks.
There are unfortunately a lot of cases of card fraud on the island, so I really recommend only using the credit card to pay for the hotel.
Safety at Isla Mujeres
Isla Mujeres is safe and there is a police presence in the streets, but there are, like everywhere (and especially tourist destinations!), skilled pickpockets.
You must therefore be vigilant: do not leave your bag unattended, do not leave valuables (eg camera) in the golf cart, etc.
When to go to Isla Mujeres
The high season runs from November to April: it is dry and the temperature is around 25C
The low season is from June to October: risk of hurricanes, heavier rains, very humid
The best time to go to Isla Mujeres is from December to February.
As an example, the temperature in Isla Mujeres in January is 19C up to 28C on average
Practical chart of Isla Mujeres
Here is a map with the attractions to see in Isla Mujeres
Video of Isla Mujeres
Not convinced yet? Here is an overview of Isla Mujeres that allows you to see the beauty of the island!
Are you going to Mexico? Read also
All our articles on Mexico are here:  Find all our guides on Mexico!