The new coronavirus 2019-nCoV has been detected in the city of Wuhan (Hubei Province) in China. The outbreak caused by this virus is thought to have occurred following exposure to a seafood and live animal market in that city. This virus causes respiratory infections with symptoms of fever, cough and shortness of breath.The Regional Directorate of Public Health of Montreal invites the population and all circles (school, education, on call, working) to practice hygiene and respiratory etiquette at all times to prevent the transmission of infections.
For people returning from trip to China
If you have not stayed in Hubei Province (including Wuhan City), you can continue your usual activities, including work.
If you have stayed in Hubei Province, including Wuhan City, and have no symptoms, you can continue your usual activities, including work.
If you develop fever, cough or breathing difficulties within 14 days of your return from Hubei Province, including the city of Wuhan, please call Info-Santé at 811 for professional recommendations.
The deadly new virus that is causing a rapidly spreading epidemic in China is causing concern. The number of people with or dying from viral pneumonia caused by the new coronavirus is increasing rapidly, despite the quarantine of millions of people and other measures aimed at The virus has been transported by travelers to other countries, especially to United States. Stock prices have fallen, with investors worried about the potential global impact if the epidemic cannot be stopped.
Very little is known about this virus, which currently has the scientific name 2019-nCoV, which means "new coronavirus". Scientists rush to find out more. The key questions to answer are the length of the incubation period, the duration of the infectious disease and whether people can be asymptomatic and spread the virus, says Ian Lipkin, director of the Center for Infection and Immunity at the Mailman School of Public Health of Columbia University.
Here's what scientists and public health officials know so far.
It appears to be less deadly than a related pathogen — severe acute respiratory syndrome, or SARS, which erupted in China in 2002 and spread globally in 2003. SARS killed about 10% of the people it infected, while about 3% of the people confirmed to be infected with this new coronavirus have died. Many of those who have died are elderly or have other illnesses such as diabetes.
But the new virus may spread from one person to another more easily than SARS, some early disease modeling suggests.
This new virus belongs to a family of viruses known as coronaviruses. Named for the crown-like spikes on their surfaces, they infect mostly bats, pigs and small mammals. But they mutate easily and can jump from animals to humans, and from one human to another. In recent years, they have become a growing player in infectious-disease outbreaks world-wide.
Seven strains are known to infect humans, including this new virus, causing illnesses in the respiratory tract. Four of those strains cause common colds. Two others, by contrast, rank among the deadliest of human infections: SARS and Middle East respiratory syndrome, or MERS.
Researchers aren't sure how the novel coronavirus first infected people in China, but the viruses that cause SARS and MERS, which originated in bats, provide clues.

Proteins on the outer shell of the virus allow it to latch onto cells in the host's respiratory tract. The proteins' shapes are determined by the virus's genes.
To infect new hosts, the virus's genes undergo mutations that alter its surface proteins, allowing them to latch onto the cells of new species.
In the case of SARS, the virus jumped from bats to civet cats before gaining the ability to infect humans. In the case of MERS, camels served as the intermediate host.
Coronaviruses can also jump directly to humans, without mutating or passing through an intermediate species.
Researchers aren't sure from what animal the novel coronavirus originated or whether it passed through an intermediate species before infecting humans.
Source: Timothy Sheahan, University of North Carolina
Alberto Cervantes and Josh Ulick /THE WALL STREET JOURNA
The new virus likely came from bats, scientists say. It isn't known exactly where or how it jumped to humans, though. Health officials believe the outbreak originated in a large animal and seafood market in Wuhan, China.
Epidemic Potential
Coronaviruses are jumping increasingly from animals to humans, creating new threats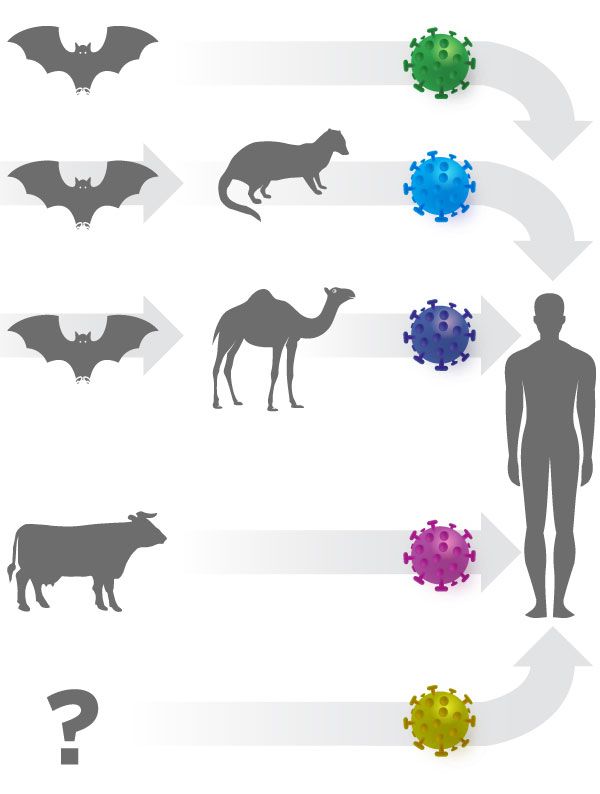 Source: Timothy Sheahan, University of North Carolina
Of the first 41 cases, 27 had some exposure to that market, according to a report in the medical journal the Lancet. But three of the first four people to become ill, on Dec. 1 and Dec. 10, said they had no contact with the market. Scientists say it will take some time to identify the exact source.
How is the virus spread among humans?
It is likely spread through a cough, kiss or other contact with saliva, Chinese officials say. MERS and SARS spread mainly through "respiratory droplets" produced when someone coughs or sneezes. Those two viruses spread mostly through close contact.
Can face masks protect you?
Health experts and mask makers say only a properly used reusable N95 respirator mask certified by an independent agency can both guard against the virus and protect others. Paper or polyurethane foam masks don't filter out smaller particles responsible for transmitting infectious agents.
How Effective Are Masks?

These traditional masks are less effective with small droplets, as they can travel farther and in unpredictable paths affected by wind and other gusts. The droplets can be inhaled around the sides of the masks.
Touch
A coronavirus can also be transmitted by touching an object where airborne droplets have settled.
The viruses can survive briefly on surfaces depending on conditions of humidity and temperature.
Wearing a mask prevents direct contact with nose and mouth, and could protect a user who may have touched a contaminated area.
Masks
Frequently changing disposable masks, and washing your hands after, are important steps to avoid contamination from pathogens that cling to the outer surface.
N95 masks offer more protection. But they only work if they fit properly, and aren't suitable for children or people with facial hair.
Surgical masks don't offer full protection against airborne viruses. They don't fully seal off the nose and mouth.
Sources: BMC Infectious Diseases; The Journal of Hospital Infection
Research: Lindsay Huth and Taylor Umlauf Graphic: Alberto Cervantes/THE WALL STREET JOURNAL
How easily does the new virus spread?
Disease-modeling experts at Imperial College London estimated late last week that on average, each infected person transmitted the virus to 2.6 others. The World Health Organization said last week early indications were that that rate is between 1.4 and 2.5. Those rates are higher than for some influenza viruses, but far lower than measles, in which one infected person can transmit the virus to 12 to 18 other people.
Public-health experts caution that these estimates are very preliminary, change over time, and can be lowered by measures to prevent the virus from spreading.
Is it safe to travel to China?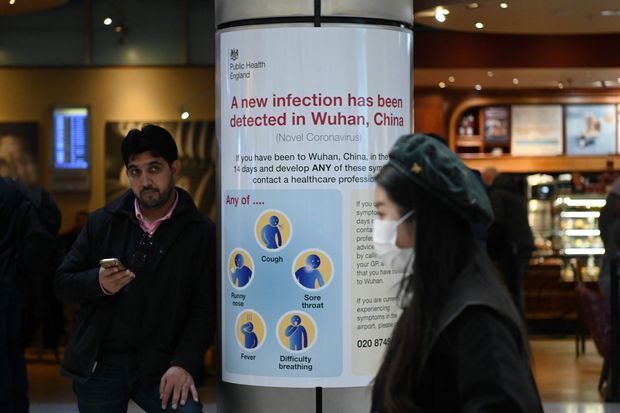 Should foreigners who are working in China or planning on visiting change their plans?
Companies in China are trying to head off the spread in their offices. Smartphone maker Xiaomi Corp., based in Beijing, has asked employees to wait for 14 days after traveling to Hubei to ensure they don't have symptoms before going into the office. Those in Hubei should work from home until further notice, the company said in an email to staff.
TikTok-owner ByteDance Inc. issued a notice urging employees in mainland China to work from home until a week beyond the extended holiday. Shenzhen-based games and social-media giant Tencent Holdings Ltd. sent out a note telling local staff to do the same.
Can you catch the virus from someone even before they have symptoms?
It's possible. But little is known so far. In Macau, a 15-year-old resident of Wuhan, the epicenter of the outbreak, tested positive for the coronavirus despite having no fever or cough, said that special administrative region of China. Scientists reported in the Lancet that they identified the coronavirus in a 10-year-old boy who developed no symptoms, even though others in the child's family fell ill. Chinese news outlets have reported a handful of other potential asymptomatic cases.
How the First Patients Fared
By Jan. 2, Researchers identifed 41 novel coronavirus patients who had been admitted to the hospital in Wuhan, China.


Patients who either have no symptoms or haven't developed them yet appear to be able to spread the virus, according to Ma Xiaowei, head of China's cabinet-level National Health Commission.
The U.S. Centers for Disease Control and Prevention says it hasn't seen evidence of patients being infectious before symptom onset, but is monitoring for them in the U.S.
What are the symptoms of illness and how do you know if you have it?
The virus infects the lower respiratory tract. Patients initially develop a fever, cough and aches, and can progress to shortness of breath and complications from pneumonia, according to case reports. Some patients become only mildly ill. Others are mildly ill for a few days, then rapidly develop more severe symptoms of pneumonia.
Prevention
All respiratory infections are spread from person to person, including through droplets that are thrown into the air when an infected person coughs or sneezes, as well as through contact with the hands. If you have symptoms of a respiratory infection (fever and cough), limit your contact with other people to avoid contaminating them. If this is not possible, take the following precautions:
Hygiene and respiratory etiquette to practice
When coughing or sneezing, cover your mouth and nose with a tissue. Then throw it out and wash your hands well.
If you don't have facial tissue, cough and sneeze into the crease of your elbow or upper arm.
Wash your hands regularly with soap for at least 20 seconds or use an alcohol-based antiseptic solution.
Mask not recommended for the population
If you are not sick, wearing a mask to protect yourself is not recommended. Washing your hands regularly and avoiding touching your face with your hands is the best way to protect yourself from respiratory infections.
What is the incubation period?
People become ill between two and 14 days after infection, according to the U.S. CDC.
Is there a test?
Public-health officials have developed and distributed diagnostic tests, which are being used to confirm whether a patient has the new coronavirus or another infection. The growing availability of tests is one reason more people are being diagnosed.
Who is most at risk?
Adults of all ages have been infected. Nearly three-quarters of the initial 41 patients were male. Many of the first patients who died were over 60 years old, had other illnesses such as diabetes and were admitted to hospitals when their illness was advanced. Few children have been reported with the infection, but that could change.
Is the virus mutating, particularly in a way that would make it more contagious?
No. The virus has remained stable genetically thus far, according to the World Health Organization and the U.S. CDC.
What is being done to contain the spread of the virus?
China imposed quarantines on Wuhan, the epicenter of the outbreak, and several other cities, affecting millions of citizens. Officials are also building a large field hospital in Wuhan to isolate and care for patients, and investigating chains of transmission. But these measures are failing to slow the spread.
Many people left ahead of the quarantine. The new virus hit during a heavy travel period for China, when tens of millions of people visit family and sometimes tack on additional leisure travel. The mayor of Wuhan, whose population is 11 million, said Sunday that five million people had left. It isn't known how many of those people were fleeing the virus or just embarking on holiday trips.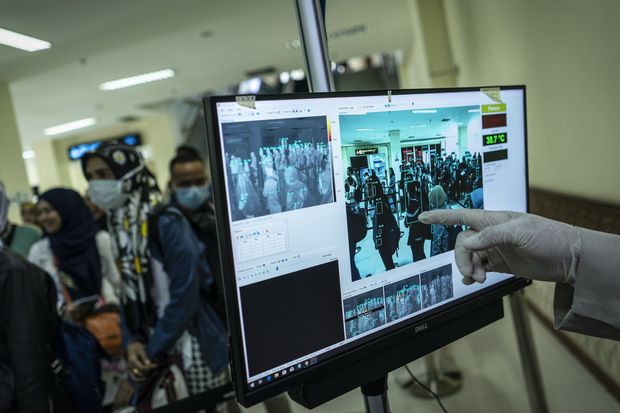 Other countries are screening passengers arriving from China.
Hong Kong now requires visitors from mainland China to fill out health declaration forms before entering the city through the airport or high-speed rail station and is working to implement that at other points of entry, according to city authorities. Hong Kong Chief Executive Carrie Lam said Saturday that health authorities are also working to screen more aggressively for fevers at the border.
The U.S. is screening passengers arriving from Wuhan at five major airports. Those who have a fever are then screened for other symptoms. U.S. officials are considering expanding the screening, but haven't provided details.
There aren't any drugs or vaccines approved specifically for the new virus. No antiviral treatment has proven effective against coronaviruses. But one hospital in Wuhan has started a clinical trial using a combination of two drugs that had been tested on MERS patients in Saudi Arabia. The therapy, sold under the brand name Kaletra in the U.S., is normally used to treat HIV patients and belongs to a class of drugs known as protease inhibitors, which block a key enzyme that helps viruses replicate. Researchers are also investigating other antivirals. In addition, a few vaccine makers are developing products targeting the virus.
How at risk is someone in the U.S.?
The risk to the U.S. public is low, the CDC says. In addition to screening arriving international passengers, the agency has urged health-care providers around the country to be on the lookout for patients with symptoms and a history of travel to China. More than 100 potential cases have been screened, with five cases confirmed. There has been no human-to-human transmission in the U.S.
Could goods imported from China carry the virus?
That's unlikely, the CDC says. Coronaviruses generally don't survive long on inanimate surfaces, according to the agency.