Top Things to Do in Puerto Morelos
To visit Puerto Morelos is to discover a small seaside town that has managed to escape mass tourism, even though it is located between Cancun and Playa del Carmen!
It is a privileged oasis of relaxation which is fortunate to be located between the famous Route des cenotes and the 2nd largest coral reef in the world.
Without forgetting its long beaches with crystal clear water, its many animal shelters and its ecotourism parks.
To help you organize your trip, here is my ultimate guide to Puerto Morelos with the 15 activities to do and places of interest to see around.
I have also included my recommendations for restaurants and hotels to stay.
So what to do in Puerto Morelos?
1. Walk around the City
Puerto Morelos has kept its traditional fishing village atmosphere.
Its heart is Javier Rojo Gomez Square, on the main street of the same name, with a church, shops, restaurants, cafes, and the Hunab-Ku craft market.
From the market, you are a stone's throw from the beach and the Puerto Morelos lighthouse, which has become the emblem of the city.
It's tilted due to the many hurricanes it's faced, but it's still holding up!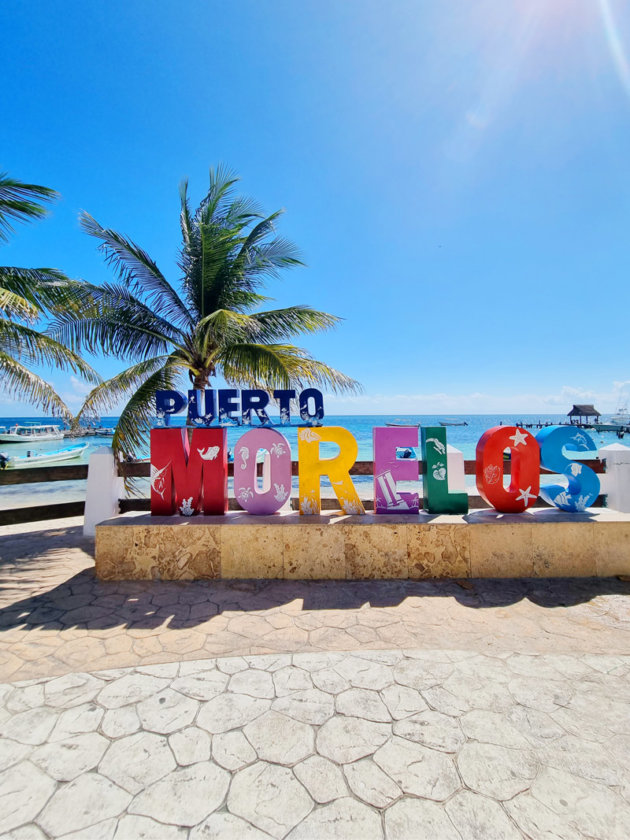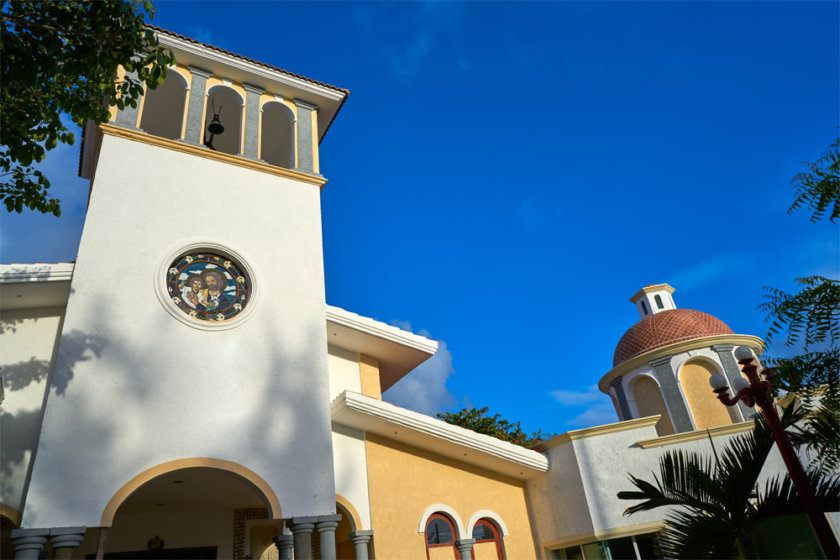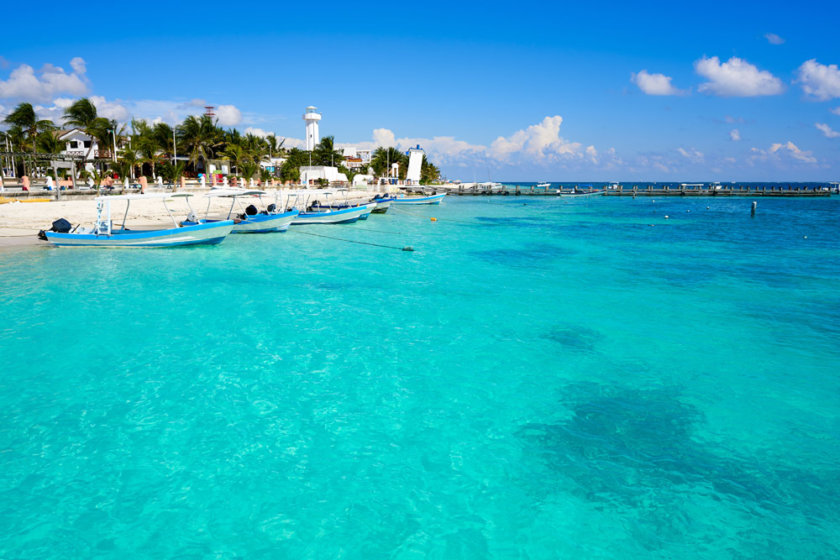 2. Diving in the reef of Puerto Morelos
Puerto Morelos is near the Mesoamerican Barrier Reef, the 2nd largest barrier reef in the world , which runs along the Yucatan Peninsula .
The reef of Puerto Morelos has become a national park and can boast of being one of the most beautiful and best preserved reefs in the Riviera Maya!
The area between the beach and the barrier is covered in seagrass which is the best place to see sea turtles, although they are more shy than in Akumal.
For its part, the bottom of the reef is rich in corals, including some magnificent purple gorgonians and elk horns.
Flamingo tongues and many colorful fish can be seen: abudefduf saxatilis, blue grunts, butterflyfish, parrotfish, triggerfish and even large barracudas.
Of course, with such an ecosystem, diving or snorkeling is a must-do activity in Puerto Morelos!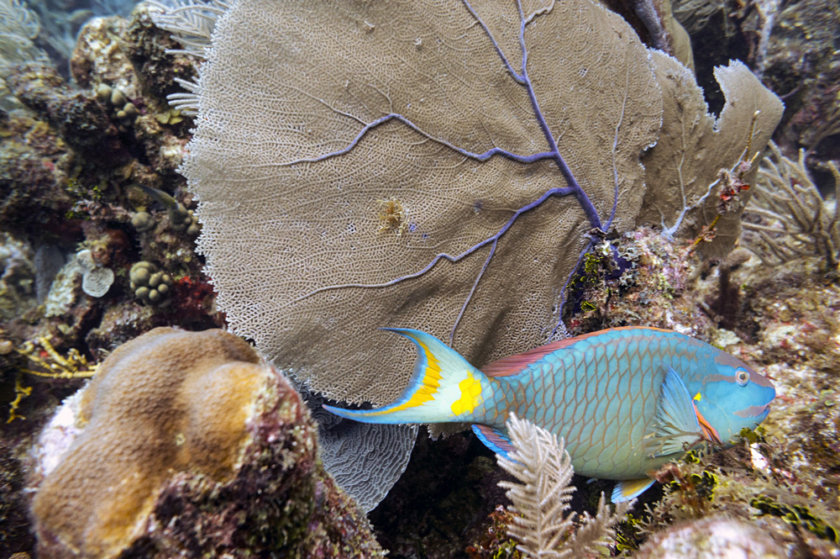 3. Explore the C-56 John Scutia
In addition to the barrier reef, another place to snorkel in Puerto Morelos is the Juan Escutia boat.
There are many stories of pirates and ships sinking with their treasure, but it ended up at the bottom of the water for a nobler cause.
In 2000, this old warship was deliberately sunk 2km from the coast to become an artificial reef.
Over the years, a rich ecosystem has developed there (rays, corals, barracudas, moray eels, etc.) and it has become an essential place to see in Puerto Morelos, 30m underwater.
It is easy to access and you can explore certain parts of the boat such as the engine room, which really makes the experience unique!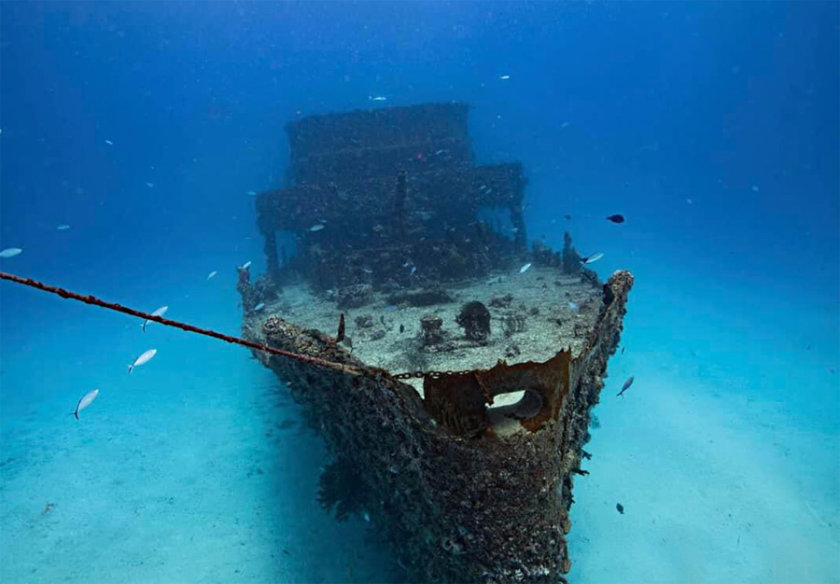 4. Enjoy the Beach
With their fine sand and gentle waves, it is impossible to miss the  beaches of Puerto Morelos!
They are suitable both for lovers of water activities (kayak, windsurf, standup paddle) and for families with children, and above all: they are not invaded by crowds!
The main beach : the main beach of Puerto Morelos is public and free. It is lined with bars and restaurants, perfect for having a cold beer.
Playa Ojo de Agua : a beautiful, lively beach, easily accessible from Avenida Javier Rojo Gomez, and located between the Ojo de Agua hotel and the Unico beach club. It takes its name from the "ojo de agua" (a sort of small freshwater cenote) found there!
Playa del Secreto : 14km south of Puerto Morelos, the "secret" beach is aptly named because it is not very touristy. It is one of the most beautiful beaches in the Riviera Maya and it is a sanctuary where turtles come to lay their eggs.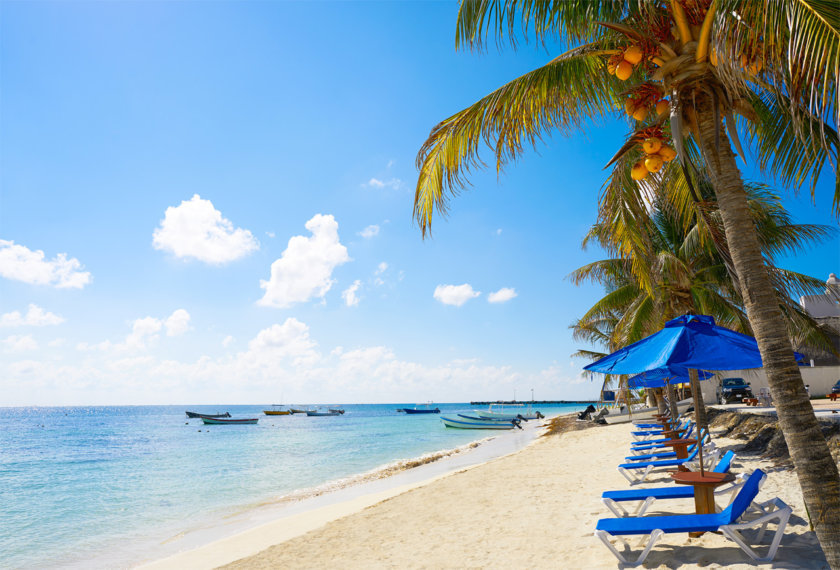 5. Taste Cerveza Pescadores
You should know that Mexico is a major producer of microbrewery beers. And there are some very good ones!
Puerto Morelos has its own beer: the Pescadores, a craft beer without chemicals, without preservatives.
It can be found in a few restaurants in Puerto Morelos and elsewhere in the state of Quintana Roo, but if you are a fan of craft beer, I especially recommend that you visit their brewery where you can taste all their styles and eat on site.
Normally my favorite bottled is the IPA, but the Mango Blonde on tap on site was very good!
The Pescadores brewery is located here 10 minutes by car from Puerto Morelos
Brasserie open Monday to Saturday 11:30 a.m. to 7 p.m., Sunday 11:30 a.m. to 5 p.m.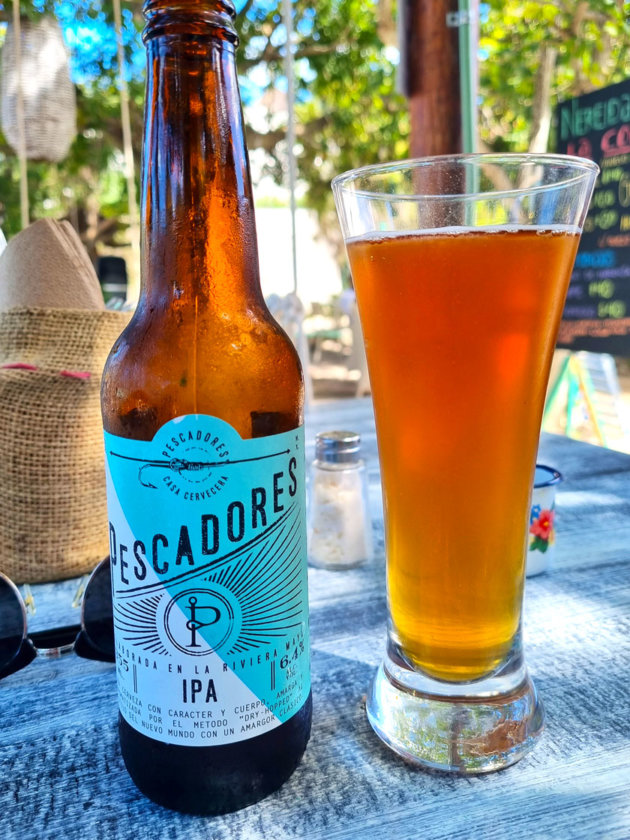 6. Punta Maroma
20km south of Puerto Morelos is Playa Maroma, one of the most beautiful beaches in Cancun!
It is a large and beautiful white sand beach with crystal clear water, very clean, perfect for diving or snorkeling.
There are a few very nice hotels there that have settled in to take advantage of the pristine vibe of the place, but I found the beach to be very quiet!
To get there, you have to either stay on site, take an excursion, or go through the Marina Adventure beach club .
Entrance to the beach club costs 200 pesos and allows you to enjoy the deck chairs, umbrellas, restaurant, toilets with shower.
How to get to Punta Maroma
By car : from Puerto Morelos, follow the 307 (24 min) towards Playa del Carmen
By public transport : colectivo de Puerto Morelos towards Playa del Carmen (45 pesos). Be careful then you have to walk 3km to Playa Maroma or take a taxi (120 pesos)
Tips for your Puerto Morelos itinerary:
Unless you sleep there, taking a day trip is the best way to visit Punta Maroma.
The 4-hour tour includes pick-up from your Cancun or Riviera Maya hotel, a guided quad bike tour through the jungle and mangroves, jet skiing, and a snack.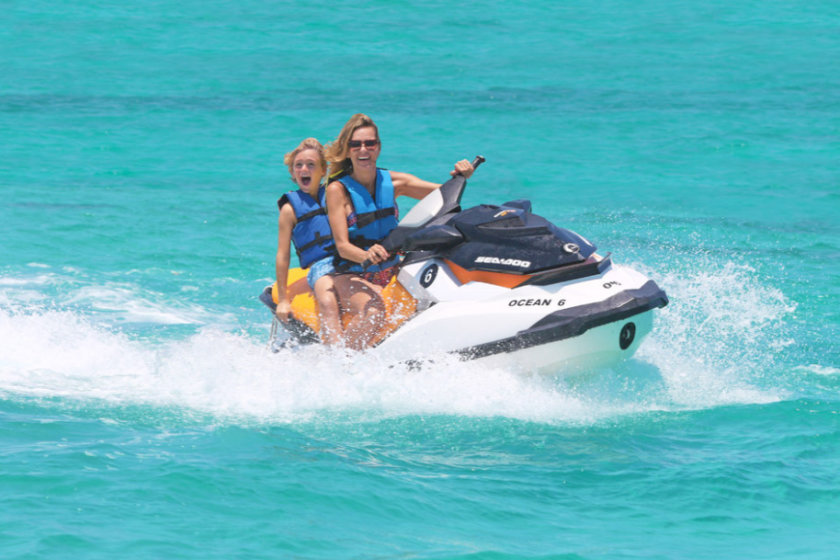 7. Take a Catamaran Ride
Among all there is to do and see in Puerto Morelos, the catamaran ride is definitely the one that makes you dream the most!
This is a 3 hour excursion between Puerto Morelos Bay and  Punta Maroma  that takes you into the waters of the Great Mayan Reef where you can swim and snorkel.
It includes hotel pick-up, equipment, lunch and free time in Playa Maroma.
You can also choose the open bar option by booking here.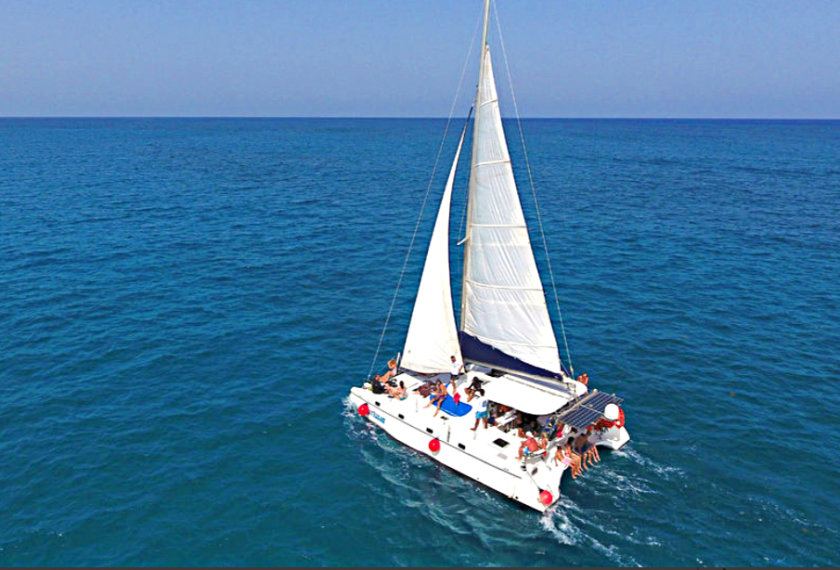 8. Follow the Route of the Cenotes
There is a route of about 35 km dotted with cenotes, from Puerto Morelos towards Leona Vicario, which has been nicknamed the "  Ruta de los Cenotes ".
There are several cenotes in Puerto Morelos :
Cenote Las Mojarras: This outdoor cenote is the largest cenote in Puerto Morelos. You can do several activities there, but I found that it was poorly maintained. 200 pesos
Cenote Boca del Puma: it is a large natural park with open cenotes and others underground (stalactites, stalagmites, fossils). There are 7 zip lines, you can also go quad biking, abseiling, horseback riding. 300 pesos
Cenote Siete Bocas  : it has 7 different entrances and a network of underground galleries. Between its rock formations, roots and play of light, it is one of the most beautiful cenotes in Puerto Morelos! 400 pesos
Cénote Verde Lucero : it is a large open cenote that I like because it is well maintained, the welcome is friendly, it is cheaper than the others and there are even monkeys on site! 200 pesos
Cenote La Noria : it is a large underground cenote 18m deep and 47m wide which is home to bats and small fish. 450 pesos (650 pesos with zip line and meals; camping 250 pesos)
Cenote Kin Ha : it is a 50m deep cenote which is part of a network of underground rivers. This is the perfect place for snorkeling! 300 pesos or 100 pesos more to also have access to the cenote Blanca Flor.
Cenote Zapote : near Kin Ha is this superb open cenote with a 10m platform from which it is possible to jump into the water. It is also nicknamed Hells Bells because of a strange bell-shaped rock formation that can be observed while diving. 300 pesos
Cenote Popol Vuh : this is the farthest from Puerto Morelos on the cenote route. It is an open cenote with a restaurant and the possibility of sleeping on site. 320 pesos
Tips for your Puerto Morelos itinerary:
The easiest is really to take an excursion or drive there.
If you decide to go by public transport, there is a colectivo that runs between Puerto Morelos and Leona Vicario (first departure 6am, last return 7pm) which leaves you on the main road.
You will then have to walk, so it is important to know in advance how far the cenotes are located from the highway.
Some are close (eg Boca del Puma and Lucero Verde), others are several km away (eg Kin Ha, Zapote, La Noria).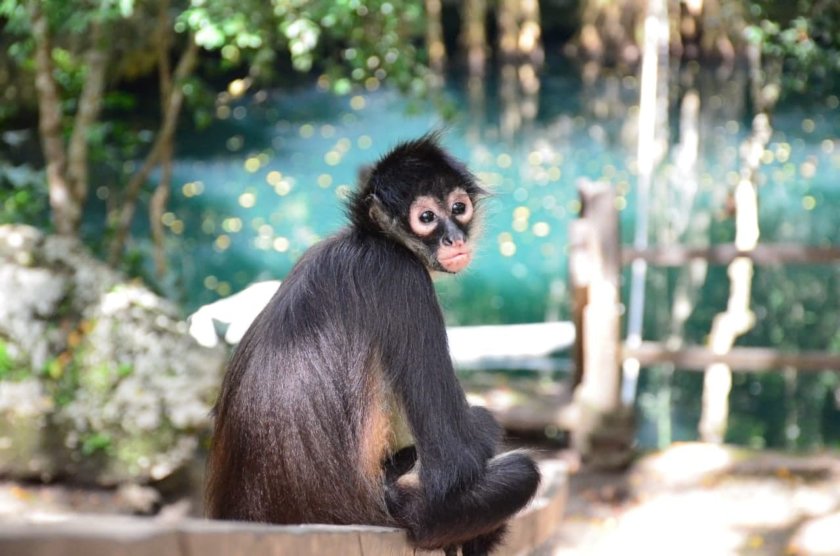 9. Selvatica Adventure Park
Selvatica is a must in Puerto Morelos, especially for adrenaline junkies!
It has been recognized as the best adventure park in Latin America at the World Travel Awards and named among the 35 best adventures in the world by Travel+Leisure magazine .
It is an adventure park that allows you to fly over the jungle thanks to a circuit of 12 zip lines, which follow international safety standards.
There is also a hidden cenote which can be accessed by quad, and Tarzania, a mix between roller coaster and zipline.
The big advantage here is that as access is limited and the tours are in small guided groups, there is no waiting!
Visit Selvatica
The park is on the Cenote Route. To get there from Puerto Morelos, take the road towards Leona Vicario (20 min)
Another option to not worry about transport is to take a day trip to Selvatica.
The 5-hour tour includes pickup from your hotel in Puerto Morelos or elsewhere in the Riviera Maya, ziplines, access to Tarzania , a safari truck ride to access the cenote, and a light lunch.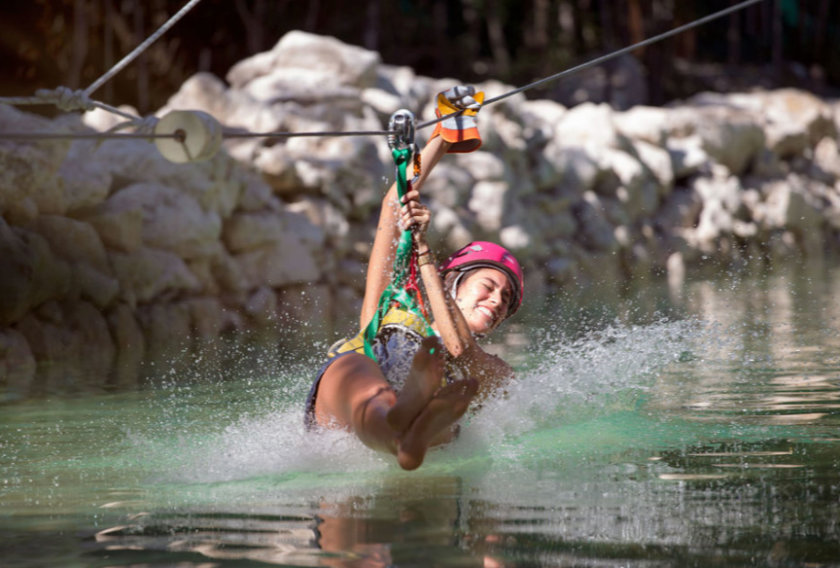 10. Immerse Yourself in the Jungle of Xenotes
Xenotes Park is ideal for nature lovers who want to enjoy the cenotes of Puerto Morelos with a good dose of adventure: zip line, slide, abseil, kayak.
It is a park with 4 private cenotes of different types (open, underground, semi-open): Cenote K'aak, Cenote Lu'um, Cenote Ha' and Cenote Iik.
With tree roots, stalactites and bats in an 8 million year old cave, Cenote Lu'um is my favorite, but they are all beautiful!
Getting to Xenotes: take the cenotes road towards Leona Vicario, then turn left towards Kin Ha (30 min)
To avoid worrying about transport, you can also book entry to Xenotes with pick-up at your hotel, access to the 4 cenotes with activities, and lunch! Easy to book here.
Xenotes is part of the Xcaret group , all of whose ecotourism parks are must-sees in Yucatan, each in their own style:
Xel-Ha is a large water park (with a section for children) with a river, lakes, caves, a large observation tower at 40m. Easy to book here
Xcaret revolves around nature (hiking, caves, snorkeling) and Mexican culture. This is where the famous Xcaret Mexico Espectacular show is located . Buy tickets easily here!
Tips for your Puerto Morelos itinerary:
The best way to enjoy the parks is to stay at Hotel Xcaret
In addition to meals, you will have full and free access to all the parks! (Xcaret, Xplor, Xplor Fuego, Xenses, Xoximilco, Xel-Ha and Xenotes)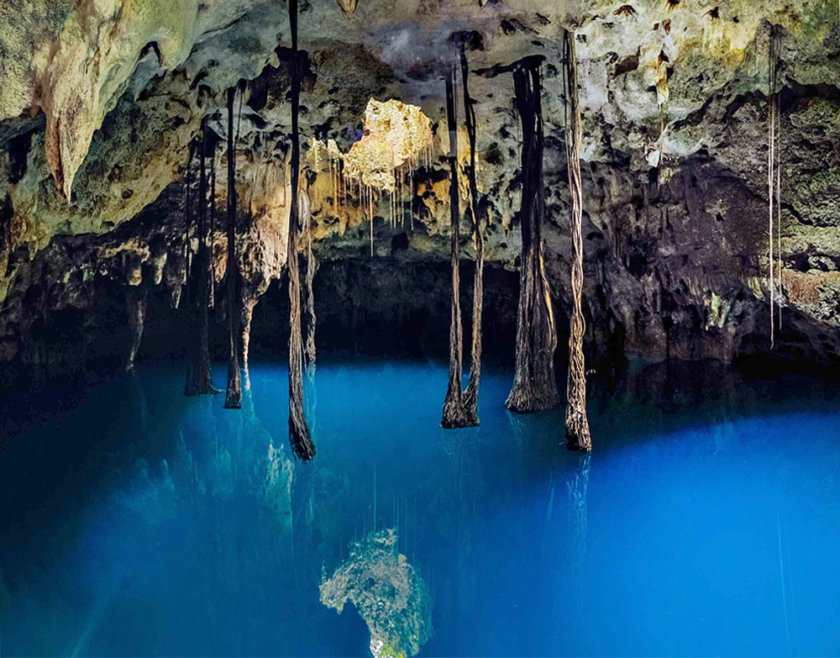 11. Birdwatching in the Toh Reserve
On the way to the cenotes is the Toh Reserve, a must-see place in Puerto Morelos for nature lovers.
It is an ecological reserve of 500 hectares where important conservation work has been done to protect the local fauna and flora.
In addition to three cenotes, there are many hiking trails here where you can come across 100 species of birds (especially early in the morning) and sometimes tapirs, deer and monkeys!
They also organize night hikes which must be really cool, but I haven't had a chance to test them yet.
Entrance 200 pesos (at the moment it is necessary to book to visit: [email protected])
Tips for your Puerto Morelos itinerary:
Better to make a reservation in advance to have a specialized guide because there are not always one on site, but the experience is well worth it!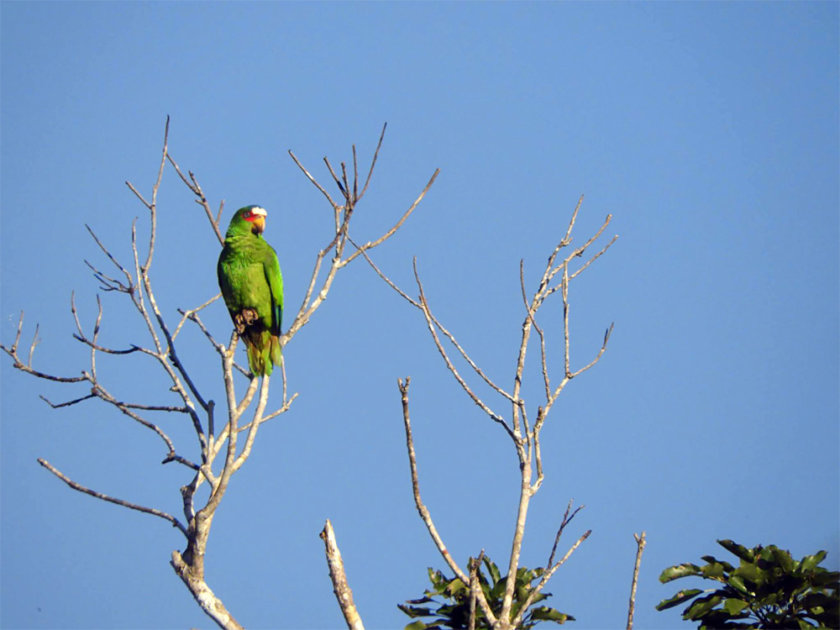 12. Take a Walk in the Botanical Garden 
The Dr. Alfredo Barrera Marin  Botanical Garden  is truly magnificent!
It extends over 65 hectares, and is home to a rich biodiversity (monkeys, coatis, cacti, palm trees, medicinal plants) between the mangroves and the Caribbean forest.
To see in the botanical garden:
-Rubber extraction process (which was very important in Puerto Morelos)
-Reconstruction of a Mayan village
– Suspension bridge and viewpoint
-Trail to the Mayan archaeological site "El Altar"
-Space dedicated to melipone bees which were sacred to the Mayans
Admission 120 pesos, children 50 pesos
Bring mosquito repellent!
Tips for your Puerto Morelos itinerary:
If you're a bird watcher, I really recommend taking the tour with a naturalist guide who specializes in bird watching.
This is an excursion that includes early morning hotel pick-up and will take you into the jungle where you can observe exotic birds and migratory birds.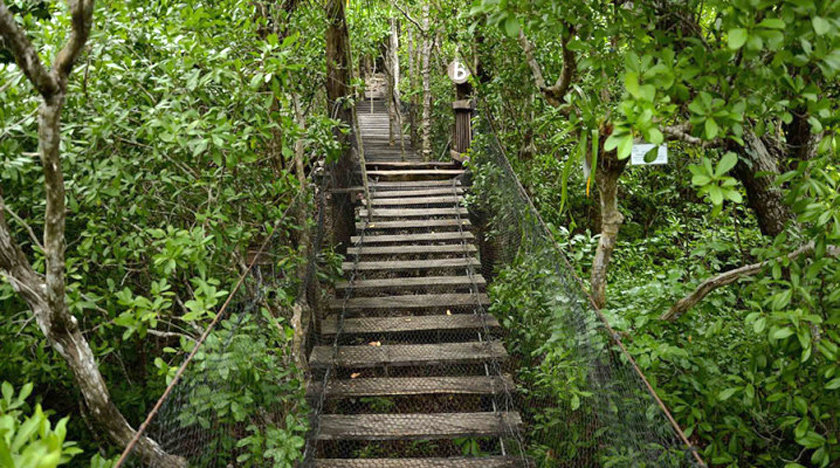 13. Visit an Animal Sanctuary
Not only is it an ideal activity to do with children in Puerto Morelos, but I encourage you to go because it's for a good cause!
There are two places that are dedicated to wildlife preservation: Croco Cun Zoo and Toolok Kaan
Croc Con Zoo
It's not really a zoo as its name implies, it's a natural park that houses a refuge for animals that are cared for and fed there.
There are mainly crocodiles, but also ocelots, deer, boas, monkeys, parrots, turtles.
The guided tour is mandatory and lasts approximately 1h15
It allows you to learn more about the local fauna, to feed and even touch certain animals, with all the precautions not to stress them.
Entrance 32$usd, 22$usd for 6 to 12 years old, free 0 to 5 years old
Open from 9 a.m. to 5 p.m.
Just 2km from the cenote route is Toolok Kaa'n.
It is a sanctuary founded by the government to promote initiatives to protect wildlife, including endemic species threatened with extinction.
A specialized guide takes us through the trails to learn more about the fauna that inhabits them, mainly reptiles (crocodiles, caimans, iguanas, snakes), and to interact with a few animals.
Admission 200 pesos, 100 pesos children

14. Delphinus: Avoid!
The Delphinus in Puerto Morelos is located in the marina of the El Cid hotel and offers several packages to swim with dolphins.
Part of me understands that, for lack of awareness, this is a popular activity with families because dolphins are the stuff of children's dreams.
But honestly I'm still surprised that these animal-exploiting attractions are not only legal, but still very popular these days.
If you like animals, rather encourage one of the refuges of Puerto Morelos or simply observe them in the middle of nature 😉
15. Bonus: The Trilobite Museum
Not only is the Regreso al Pasado (Return to the Past) Museum the only museum in the world dedicated to trilobites, but it's free!
Trilobites lived over 500 million years ago and were the first complex living things on our planet.
The museum houses the largest collection with 300 different species from 14 countries, accompanied by a video that presents the underwater world of the time.
The museum is accessible through the lobby of the Hotel Azul Sensatori
Free admission, open from 9 a.m. to 5 p.m.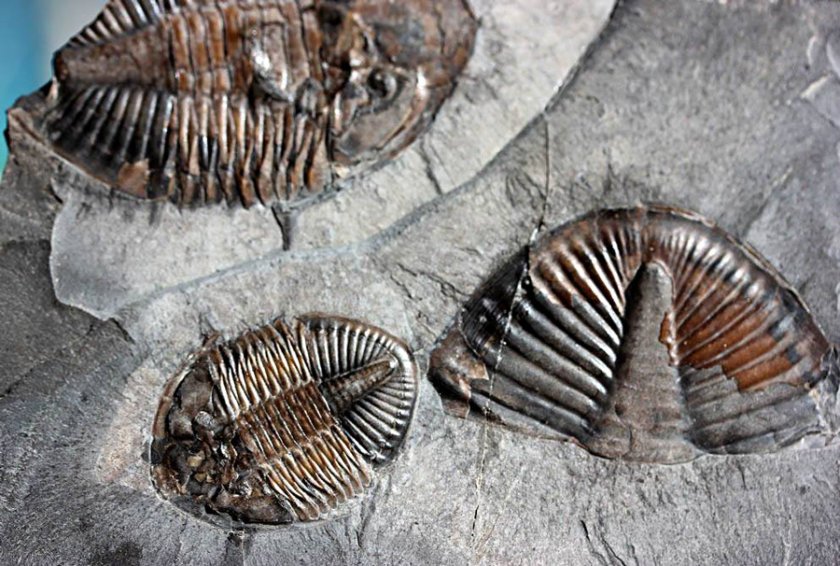 Puerto Morelos: also to know
There are several ATMs in Puerto Morelos around the main square, but the best is to go to the Chedraui Selecto.
There are ATMs of Citibanamex and Scotiabank. It's safer than private ATMs (which don't always work), you can withdraw more money, and they also distribute 200 peso notes, not just 500 pesos. Practical!
In addition to the Chedraui Selecto which is the big supermarket, for quick purchases there are several Oxxo, 7Eleven, Six.
1 block from the main square on Niños Heroes street is Farmacia Similares, the only pharmacy close to the port, the others all seem to be in the urban area (2km). It is practically glued to the entrance of Hostal Cuca Macuca, that's how I knew the hostel!
Where to sleep in Puerto Morelos
There really are hotels for all budgets, ranging from small budget hotels to luxury hotels with spas facing the sea.
Here are my recommendations of the best hotels in Puerto Morelos for all budgets:
Hacienda Morelos Beachfront Hotel : it is a  hotel on the beach, very well located  100m from the main square, opposite a supermarket, very close to restaurants, bars and cafes. Very good restaurant on site. From 78 euros per night.
Aldea Maya-Ha : comfortable cabins for up to 4 people, located in lush nature with private cenotes . Ideal for relaxation, meditation space, spa, restaurant.  From 110 euros per night!
Oom Bubble Boutique Riviera Cancun : romantic and original accommodation with spacious transparent bubbles in the Mayan jungle , with air conditioning, swimming pool, good restaurant. From 251 euros per night!
Hotel Marina El Cid Spa & Beach Resort : this all-inclusive hotel is ideal for families with children . Children's playroom and waterslide, 4 restaurants, large swimming pool, beach with beds, lounge chairs and hammocks. From 522 euros per night!
How to Get to Puerto Morelos
Puerto Morelos is very easily accessible since it is located on the road that runs along the Riviera Maya, halfway between Cancun (40 km) and Playa del Carmen (35 km).
From Cancún
By car : 35 min on the Tulum -Cancun/México 307  highway
By public transport : take a "playa express" van towards Playa del Carmen and get off at Puerto Morelos (40 pesos) or an ADO bus. Then, you have to take a colectivo ($10mxn), a taxi ($35mxn) or walk (2km) to the beach.
By Private Transportation : The quickest and most comfortable way to get to your hotel in Puerto Morelos is to take a private air-conditioned van transfer from Cancun Airport.
To book directly here, choosing the one-way or round-trip option.


From Playa del Carmen
By car : 31 min, using the Cancun-Tulum/Chetumal-Cancun/Mexico 307 highway
By public transport : take a colectivo towards Cancun to Puerto Morelos (30 pesos) at the corner of Calle 1 Sur and Avenida 45 north or an ADO bus, then take a taxi or another colectivo to the beach (but note: I had to walk 30 min -and the same on the way back- because at no time did I come across a colectivo)
Tips for your Puerto Morelos itinerary:
Don't forget to tell the driver that you are getting off at Puerto Morelos (as a landmark there is a Pemex).
Without realizing it, I went much further! If like me you come from Playa del Carmen and it happens to you, tell him that you get off at the Moon Palace and you can cross to take a colectivo in the other direction. 😀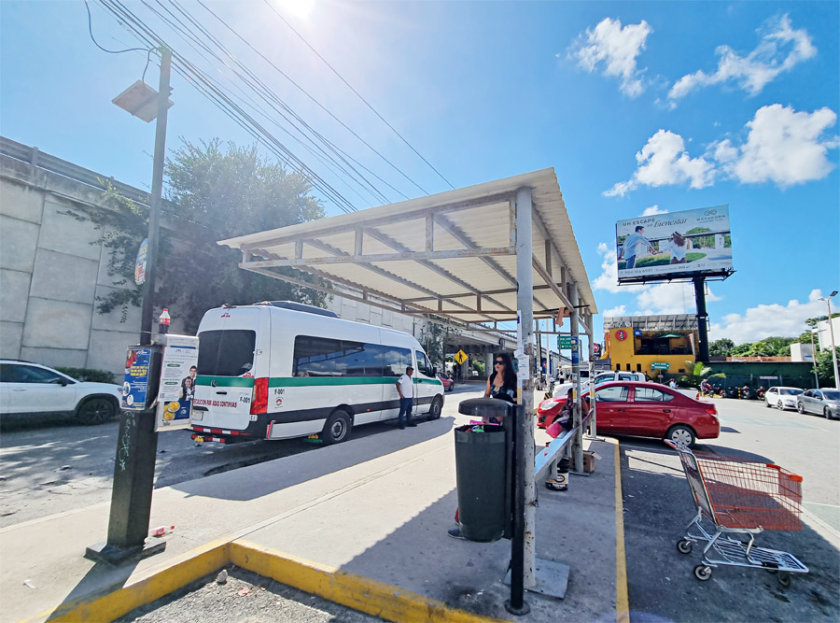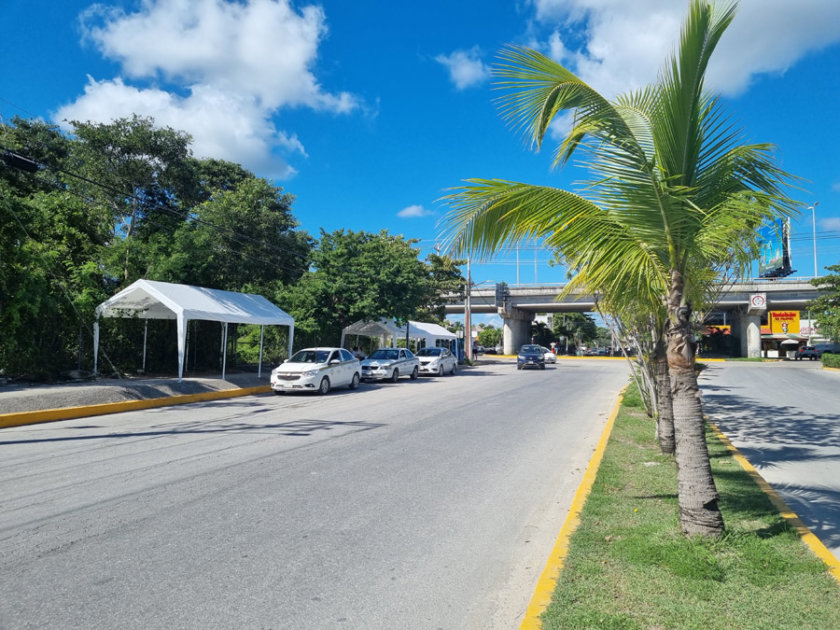 Go to Puerto Morelos by Plane
The closest airport to Puerto Morelos is Cancun. It is a large airport that receives many national and international flights from major cities in Europe and North America.
Getting around Puerto Morelos
To better situate yourself, you have to understand that Puerto Morelos is divided into two parts:
The area near the sea : where the majority of the hotels are located, the nice restaurants, with a beautiful seaside atmosphere.
The La Colonia district : much more local atmosphere, with more affordable prices.
The two areas (2km) are separated by Highway 307 and mangroves which are home to a rich ecosystem.
It is thanks to their protection by the government that the development of Puerto Morelos has been limited and that it has been able to keep its intimate side.
A chance that many other Yucatan destinations have not had!
There are two van routes (combis, colectivos) that travel between the beach and the village near the ADO bus station (or Multiplaza), passing through the main square.
They pass every 10 min, until 10 p.m., 8$mxn the ticket.
Otherwise a taxi costs 30$mxn (for max 4 people) and leaves you at the entrance of the village.
Where to eat in Puerto Morelos
For a good breakfast, head to Café Layla. Relaxed atmosphere, wifi, very friendly service, delicious eggs bene with smoked samon (230 pesos), juices and smoothies, several vegan options for breakfast and lunch. Apparently vegan pizzas are THE specialty!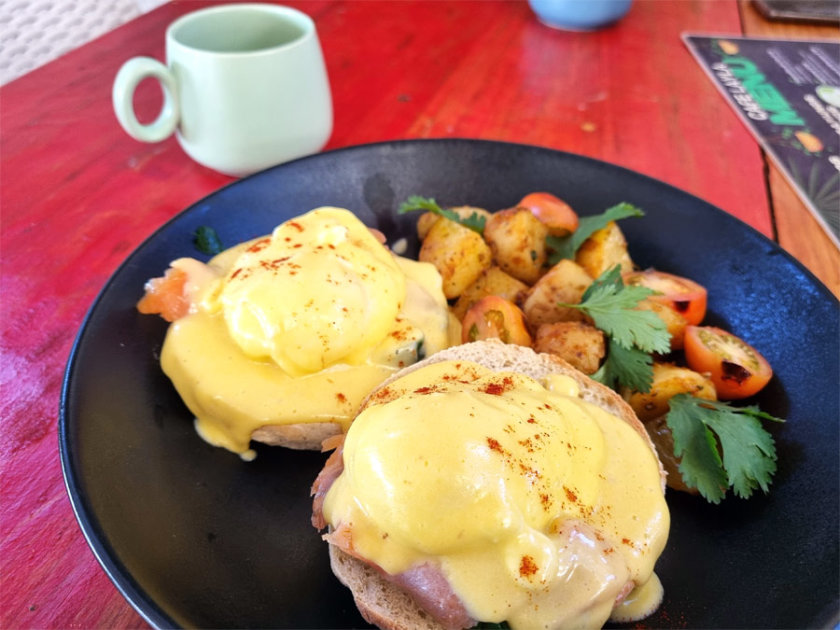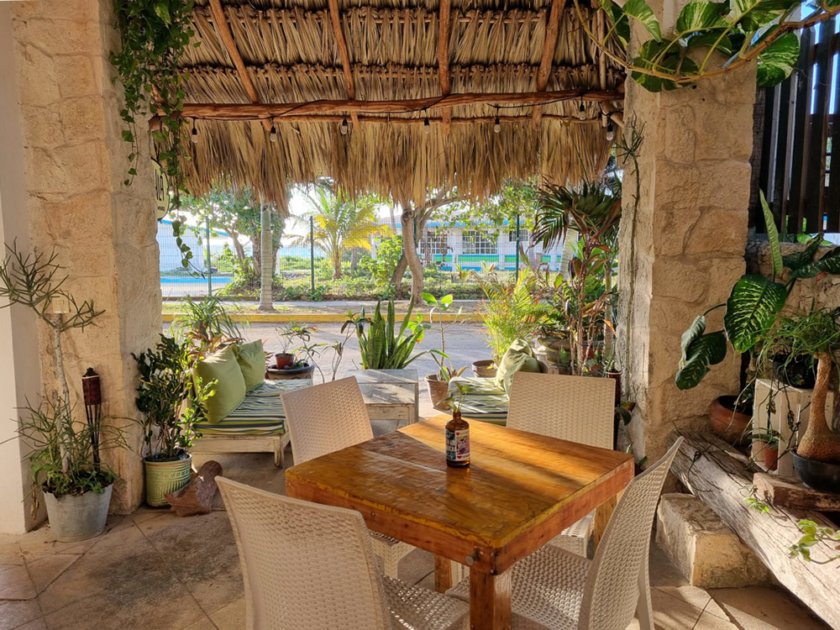 For cheap, very good, and local lunch, I recommend Amor y Pez. Delicious shrimp taco (45 pesos), fish taco (45 pesos) and cheese and shrimp burrito (115 pesos).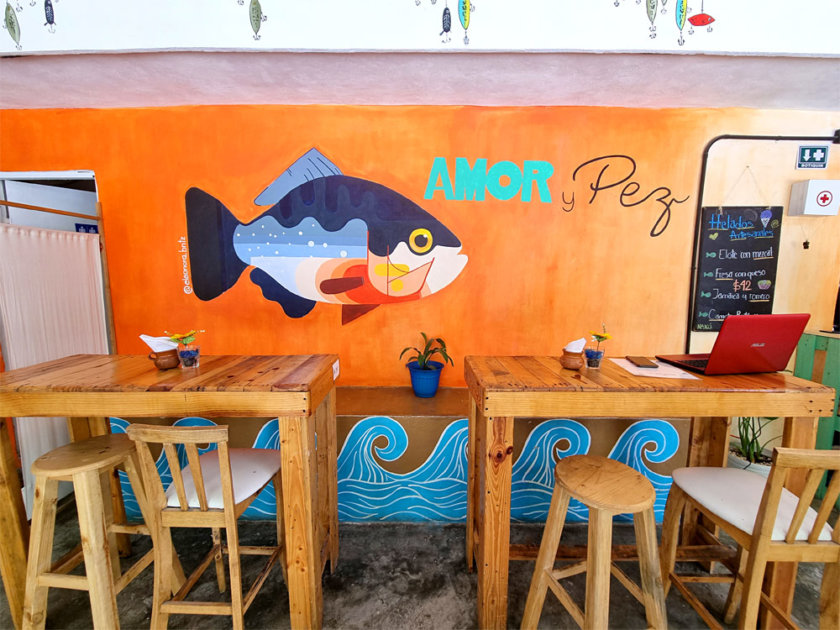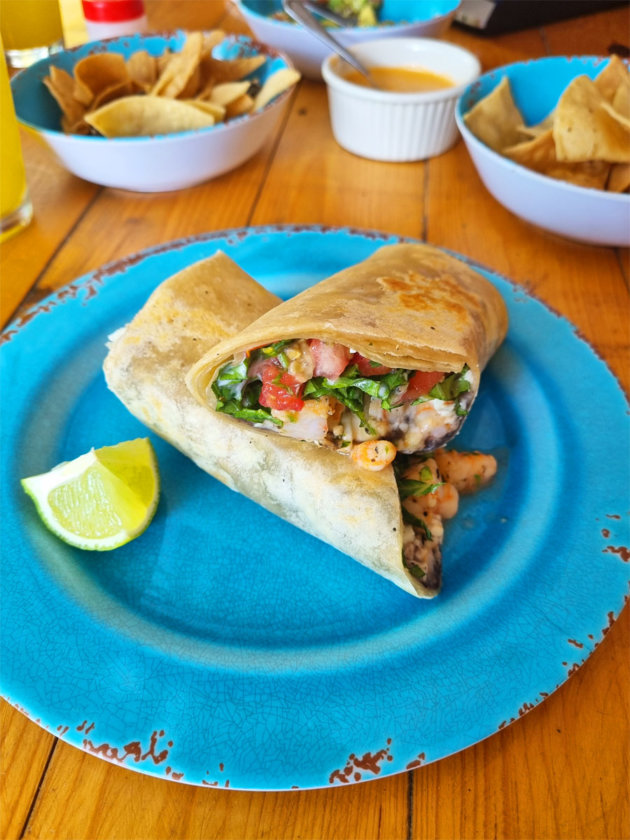 To eat facing the sea and enjoy the beach : I highly recommend Boquinete and Muelle Once.
Both are located next to each other, right in the center of Puerto Morelos, with a superb view of the sea, very good service, a covered terrace and an area on the beach with deckchairs and tables.
To taste in Boquinete : Mezcalita Pina Spicy cocktail (150 pesos), linguini with clams (255 pesos) and for dessert the delicious apple pie with ice cream (135 pesos)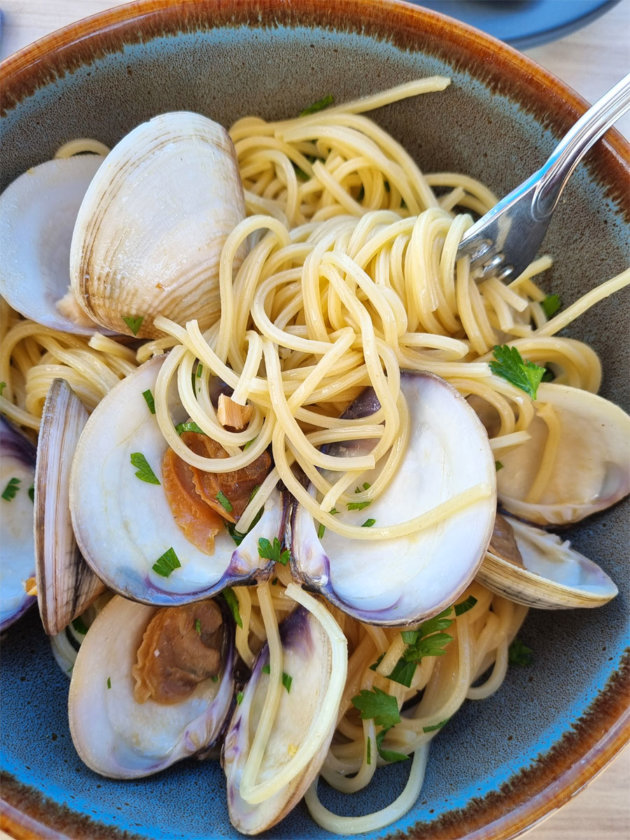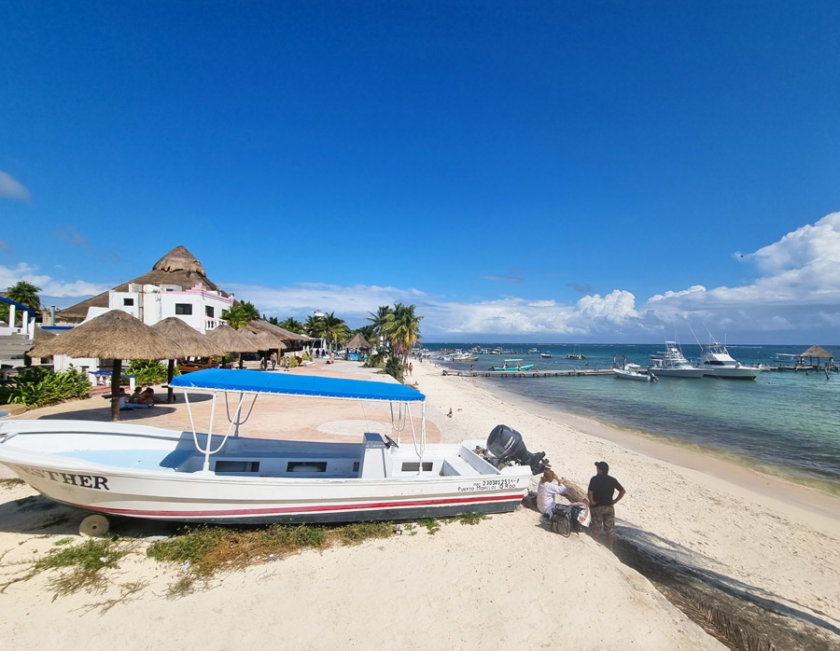 To taste at Muelle Once : margarita, guacamole (125 pesos), tuna tartare (225 pesos), fresh oysters au gratin with gruyère and parmesan cheese (6 for 290 pesos), seafood flatbread (320 pesos)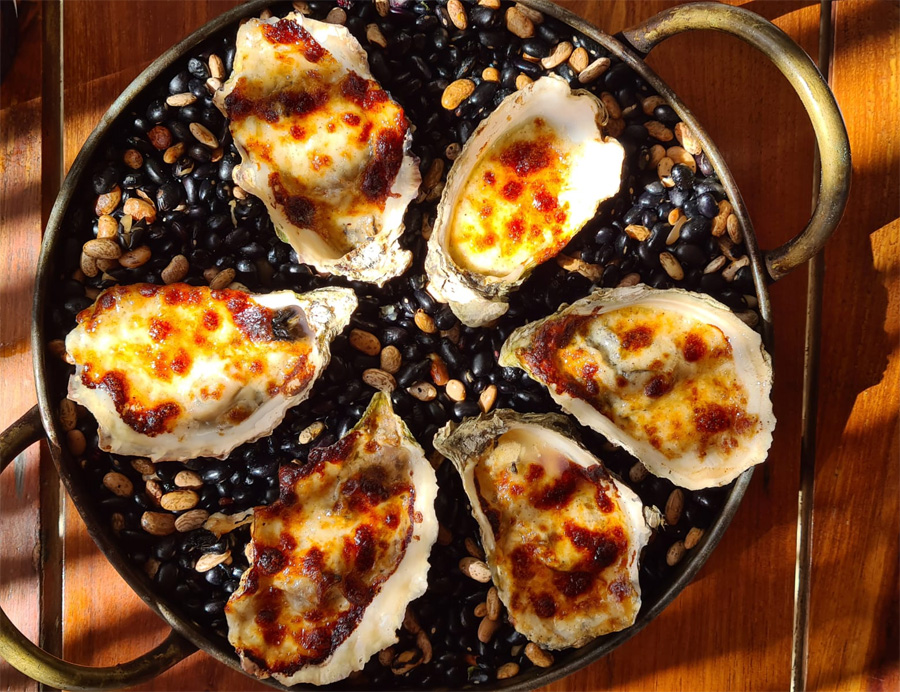 On my first visit, I had been to the Unico Beach Club. Good atmosphere, no cover (entrance), you can rent deck chair + umbrella for 120 pesos.
If you're looking for a cafe with wifi, the best place is Local Coffee + Shop. Despite its name, it's not very local as it's mostly foreigners, but the terrace is nice, the coffee is good, the wifi works great and they open very early (7am). Only good qualities when you want to work remotely!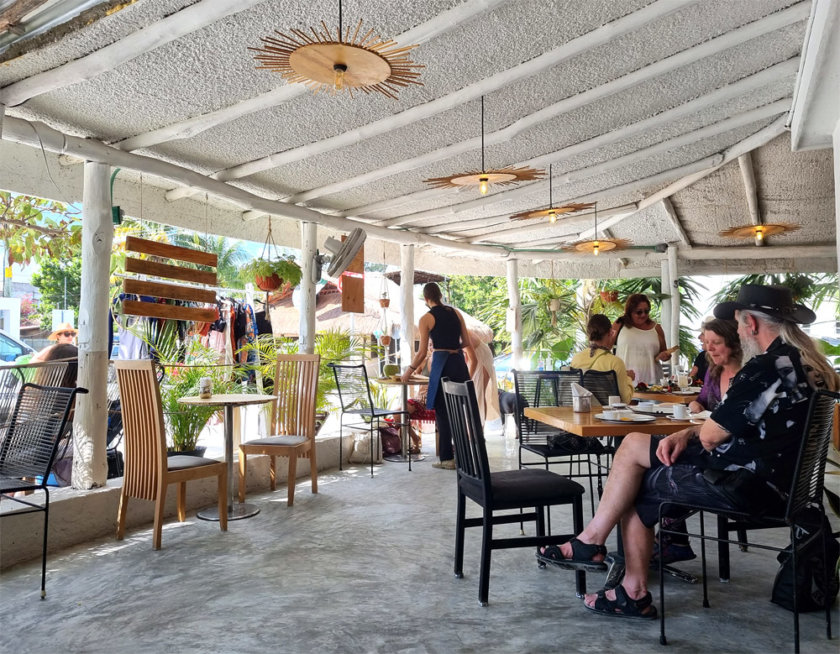 Tourist Map of Puerto Morelos
Here is the map with all the attractions to see in Puerto Morelos, mentioned in the article.

When to go to Puerto Morelos?
You can visit Puerto Morelos all year round, but like everywhere in the Riviera Maya, the hottest, humid and rainiest months are from June to November with the risk of hurricanes between September and October.
The rains are short, but intense.
On the other hand, it's low season on the international tourism side, so it's much quieter with mainly domestic travelers and locals coming on weekends.
In terms of temperature, the ideal is really from December to April, but the high tourist season extends between December and February.
In my opinion, the best time to go to Puerto Morelos is March-April when it's dry and there are relatively few tourists.
Are you going to Mexico? Read also
All our articles on Mexico are here:  Find all our guides on Mexico!