When to visit Oman and what to do in Oman? After several trips to the Sultanate of Oman, I had the opportunity to visit many places in Oman. So I decided to publish a summary ticket, a kind of guide to visit Oman.
When planning a trip to the Sultanate of Oman, one often wonders what to do in Oman as there are places to visit: wadi, forts, cities like Nizwa, Sour, Muscat or Salalah, beaches, … Force is to note that it is necessary to make a selection on the places of interest of Oman that one wishes to visit … The tourism in Oman is not yet hyper developed but the points of interest do not miss however!
After giving you some practical tips to visit Oman , I will continue this guide on Oman by listing the essentials to discover in the Sultanate of Oman. Finally, I will help you to define a route to Oman after answering the question what to see in Oman! And this is the crucial point: knowing how to decide and select what you want to do in Oman.
Visit Oman: Practical Advice
Before talking about the places of interest of tourism in Oman, here are some practical information that can be useful if you visit Oman for the first time!
In the first part of this guide to visit the Sultanate of Oman, we will discuss the classic questions that arise when preparing a trip: should a visa for Oman, what budget should we expect, where to rent a car, where to sleep in Oman, … If you have additional questions about the sultanate, do not hesitate to send them to me via the comments of the blog. I try to answer quickly the various questions asked on the blog.
Tourism Visa For Oman
If you plan to go to Oman soon, the easiest way to get a visa is to go for the visa on arrival that you can have at your arrival airport – certainly Muscat – but also at border posts if you come for example United Arab Emirates.
This visa is valid for 30 days from the date of issue and is a multi-entry visa. We will see later that this may be of interest, especially if you intend to go to the Musandam Peninsula by road (it is an Omani enclave in the territory of the UAE). This period of one month allows to visit Oman without hurrying 😉
The cost of this visa is 20 OMR is about 40 euros at the current rate of Omani rials. The visa is obtained very quickly, whether at a border crossing or at the airport. Possibility to pay in cash (Omani rials only) or by credit card.
From now on, from the beginning of the year 2018, the e-visa application is required to enter Omani territory. The fee remains the same but it is necessary to apply for an online visa before visiting Oman. The e-visa application for Oman is here:  https://evisa.rop.gov.om/
Air Ticket To Oman
Coming from Europe, it is very likely that your flight is to Muscat, the capital of the Sultanate of Oman. Direct flights will be operated by Air France or Oman Air , an excellent airline.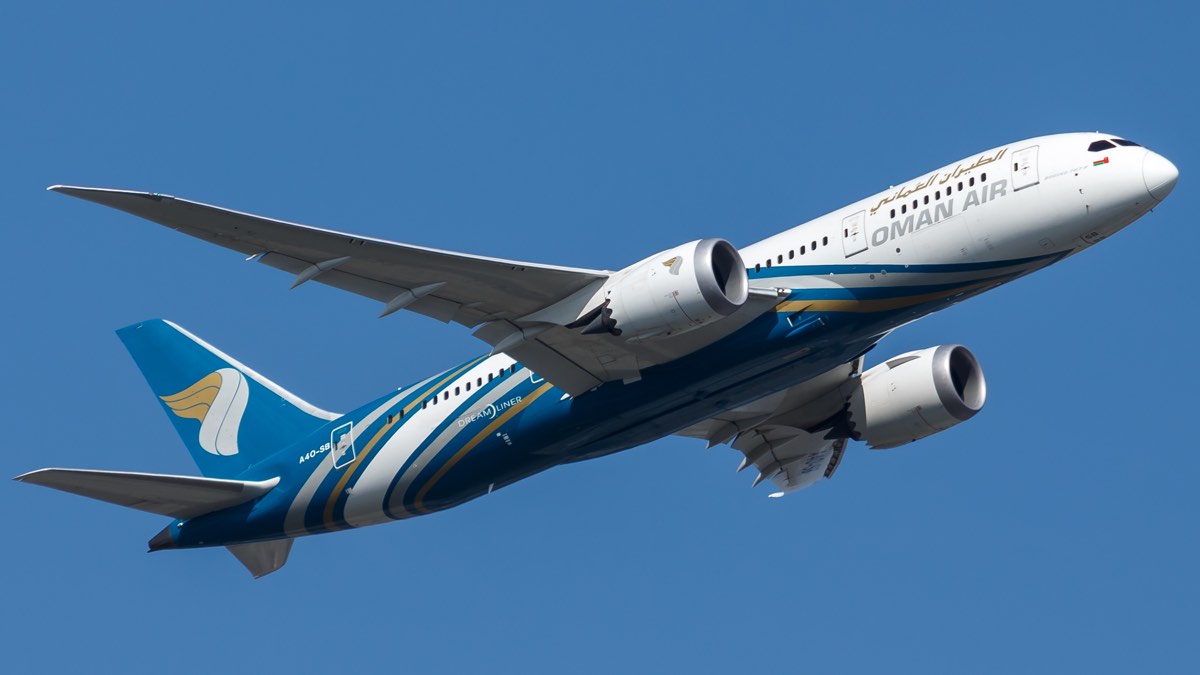 If you prefer the price of the ticket to the company (which is a great idea …), I recommend you to go through BudgetAir which is for me the most reliable comparator. It compares all airlines, it offers the possibility to have a table by date if your travel dates for Oman are flexible and above all, we can book directly on the comparator and without added charges at the last minute … Unlike comparators like Skyscanner, which redirect to other sites / comparators and where we discover payment fees after completing all the forms. Pretty annoying! In short, Budget Air is an excellent site to book its air tickets and it offers 7.50 euros voucher for a next ticket at each resa, top!
Side price, it takes between 350 and 400 euros for a round trip Paris – Muscat.
If you plan to visit the Dhofar located in the south of the Sultanate of Oman, know that it is possible to book a flight to Salalah or an open jaw flight arriving in Muscat and leaving Salalah. When traveling with Qatar Airways you will only have one stop in Doha to reach Salalah. If for the moment you have not heard too much about the Dhofar and Salalah, do not panic, you will understand better after reading the part of the ticket that will tell you what to do in Oman …
Rent A Car To Visit The Sultanate Of Oman
To visit Oman and discover the main places of interest of the Sultanate, nothing like to opt for a road trip.
Public transport is very little developed in the Sultanate of Oman and the cities are often spread out. Also, to enjoy wadi, deserted beaches or to reach small villages, the best mode of travel is clearly the road trip to the Sultanate of Oman .

For your car rental in Oman, I recommend you to go to RentalCars . This site makes it possible to compare the rates of the various international renters located at the place where you wish to recover your vehicle and it also offers several advantages:
possibility to cancel the rental without charge until 48 hours before the recovery of the vehicle
you benefit from a negotiated rate, more interesting than by renting directly from the lessor
RentalCars directly displays all the costs such as the one-way charge if you take your car in Muscat and return it after your visit to Oman Salalah
nothing to pay on the spot because the payment is done online and that avoids the bank charges related to the exchange of currencies …
I always go through RentalCars  for my road trip and the rates are really interesting!
To Stay In The Sultanate Of Oman
During your visit to Oman, several accommodation options are available to you:
luxury hotel / lodge in Muscat or Jebel Al Akhdar
small basic hotel but accessible price level all over the country: we are staying almost everywhere in Oman for 40/50 euros per night in double room
night in a camp in the desert at Wahiba Sands
possibility to camp anywhere in Oman because wild camping is allowed everywhere, outside the cities of Oman: practice in winter if your budget is limited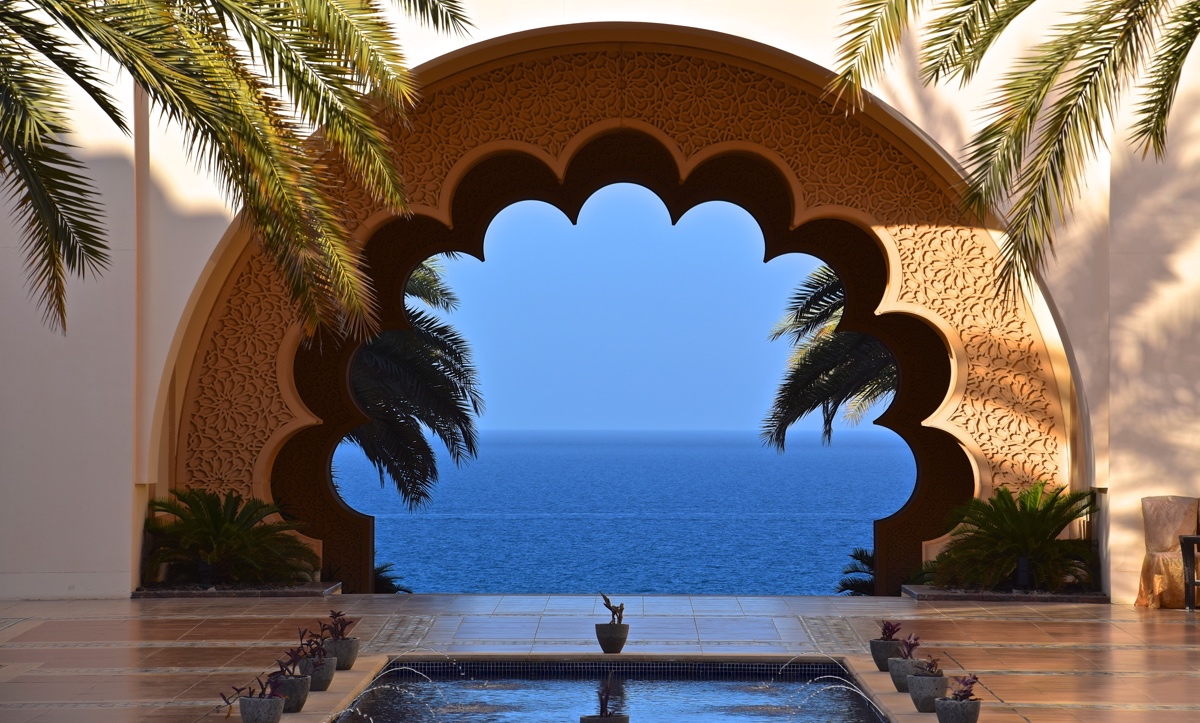 What Budget For A Trip To Oman?
In order to help you set your budget for a stay in Oman, here are some price ideas:
return flight Paris Muscat: around 350 euros on average with stopover
Classic tourist car rental: around 25/35 euros a day (unlimited mileage)
car rental, 4 × 4 / 4WD: about 70/80 euros per day
fuel: about 0.40 euro per liter of gasoline
meal in a tourist restaurant or for expatriates: 20/30 euros the meal per person
meal in a small restaurant: less than 10 euros or even less than 3/4 euros in some places
night in a hotel (double room): around 40/50 euros per night for a medium standard hotel
budget excursion: to see according to the wished activities. From memory, a boat trip to observe the dolphins off Muscat costs about 30 euros
Visit Oman is not necessarily a given stay but it is not too expensive. The reputation of the Sultanate of Oman to be an expensive country is not necessarily proven if one pays attention on the spot …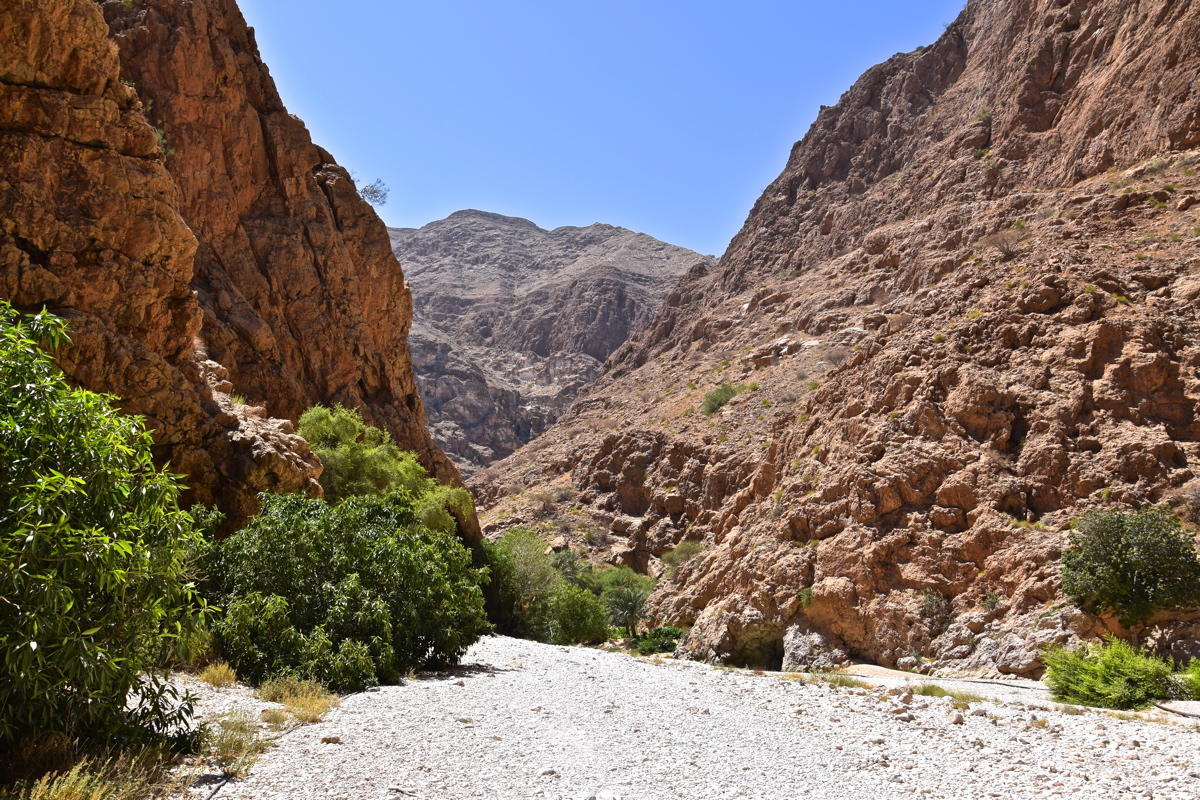 When To Go To Oman?
Overall, the best season to visit Oman is winter, between November and March. The temperatures will be ideal, you can swim in the sea and you will not be too hot for wadis hikes.
The best season for Dhofar is between mid-June and mid-September. But as soon as you leave the area where it can rain in summer, the temperatures are around 40 ° … For a first stay where you intend to visit Oman in its entirety, I recommend rather winter.
April and October can be very hot, but they are still bearable months.
Avoid May to September, when the mercury reaches 40 ° every day. Wild camping becomes complicated with the heat, the cities empty during the day. It is also better to avoid the Ramadan period because the activity during the day is low even if the evenings are animated in the cities.
What To Do In Oman: Places Of Interest In Oman
The Sultanate of Oman has no shortage of places of interest to discover during a tourist stay. Very varied, the different things to see in the Sultanate of Oman will seduce all travelers, whatever their preferences: nature, culture, city or villages, hiking, arid and desert landscapes, paradisiac beaches. In this part of the guide, we will see what to do in Oman: what to visit in the Sultanate of Oman, what hikes are unavoidable, what to do in Oman and in the cities of the country?
Understand The Geography Of The Country To Better Visit Oman
To put it simply, we can divide the Sultanate of Oman into 3 very different parts:
the northern part of the Sultanate of Oman which forms a rectangle along the side and sinking a hundred kilometers into the land: this is where we find most Omani cities including Muscat, Sour and Nizwa but also the wadis , beautiful beaches, many forts. Much of this area is occupied by the Hajar Mountains (Hajar Occidental) and it is here that we find the famous Omani wadis.
the Musandam Peninsula, which is an Omani enclave in the Emirati territory. Located north of the Emirates, Musandam is a small, very rural area. The main town is Khasab and is the starting point for dhow cruises in the Oman fjords (or for a kayak trip)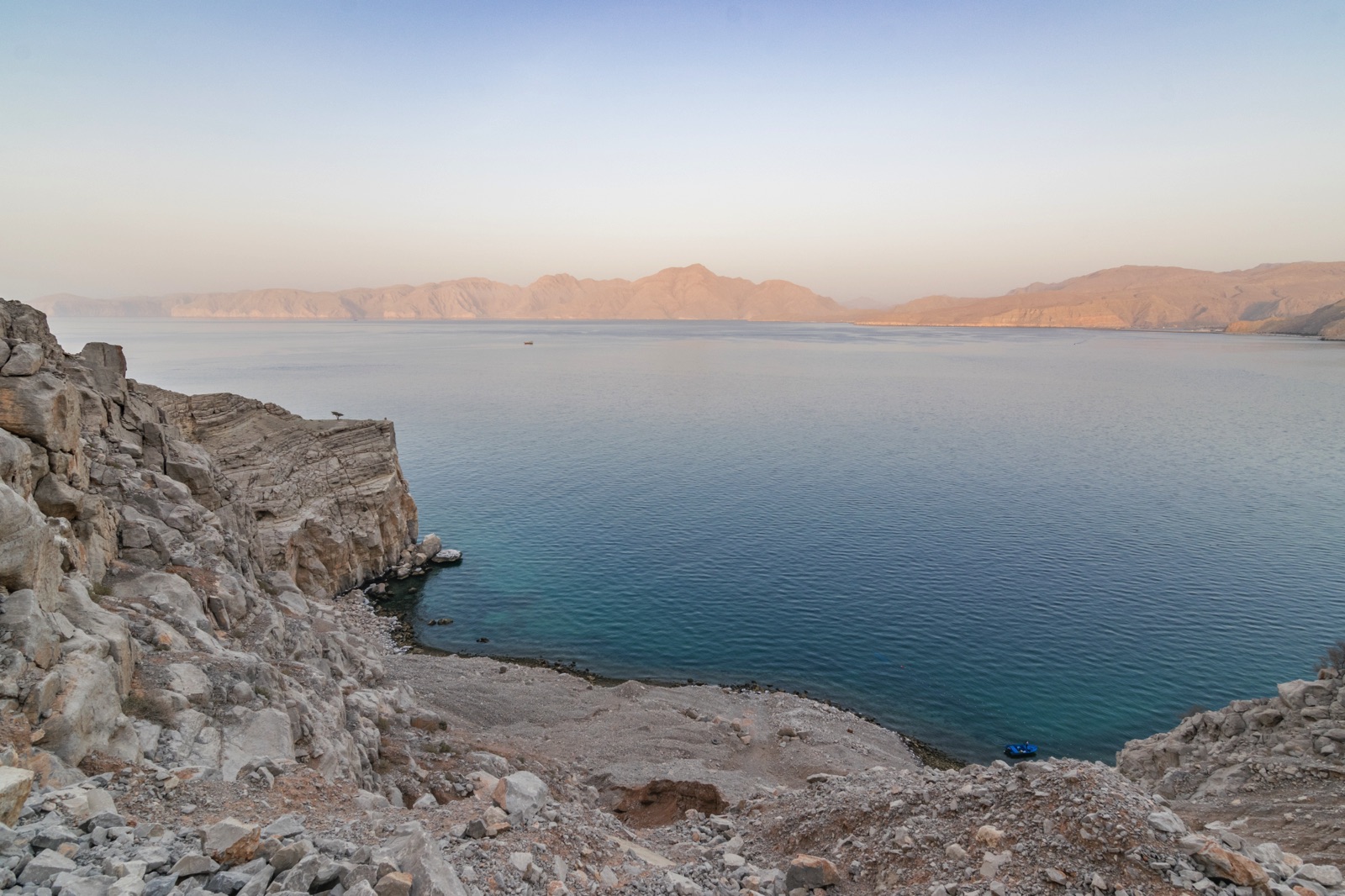 the Dhofar located in the south of the Sultanate of Oman, close to the border with Yemen. This region is marked by a "small" rainy season in summer called khareef . This region is the cradle of incense. There are also beautiful beaches. In summer, a small part of the Dhofar is very green, lakes are formed and there are many small waterfalls. The main town of Dhofar is Salalah .
Of course, this is a summary, in the desert area of ​​Rub al Khali, there may be other things to see including the coast where are the beautiful Sugar Dunes also called Khaluf Dunes. Nevertheless, this area of ​​the country is more difficult to access. It is absolutely necessary to go in 4 × 4, to drive in the sand tracks and it is even recommended to go there with 2 vehicles in case of silting. This is not necessarily the first place we go when we visit Oman.
We will now see what to do in Oman, in these different regions.
What To Visit In Oman: Forts & Castles!
The Oman forts are often considered as the number 1 assets of cultural tourism in Oman. There are many forts and castles in the Sultanate of Oman. It is found in the Musandam Peninsula and Dhofar, but most of the Omani forts are in the northern part of the Sultanate. These forts often had a military objective: to defend a city.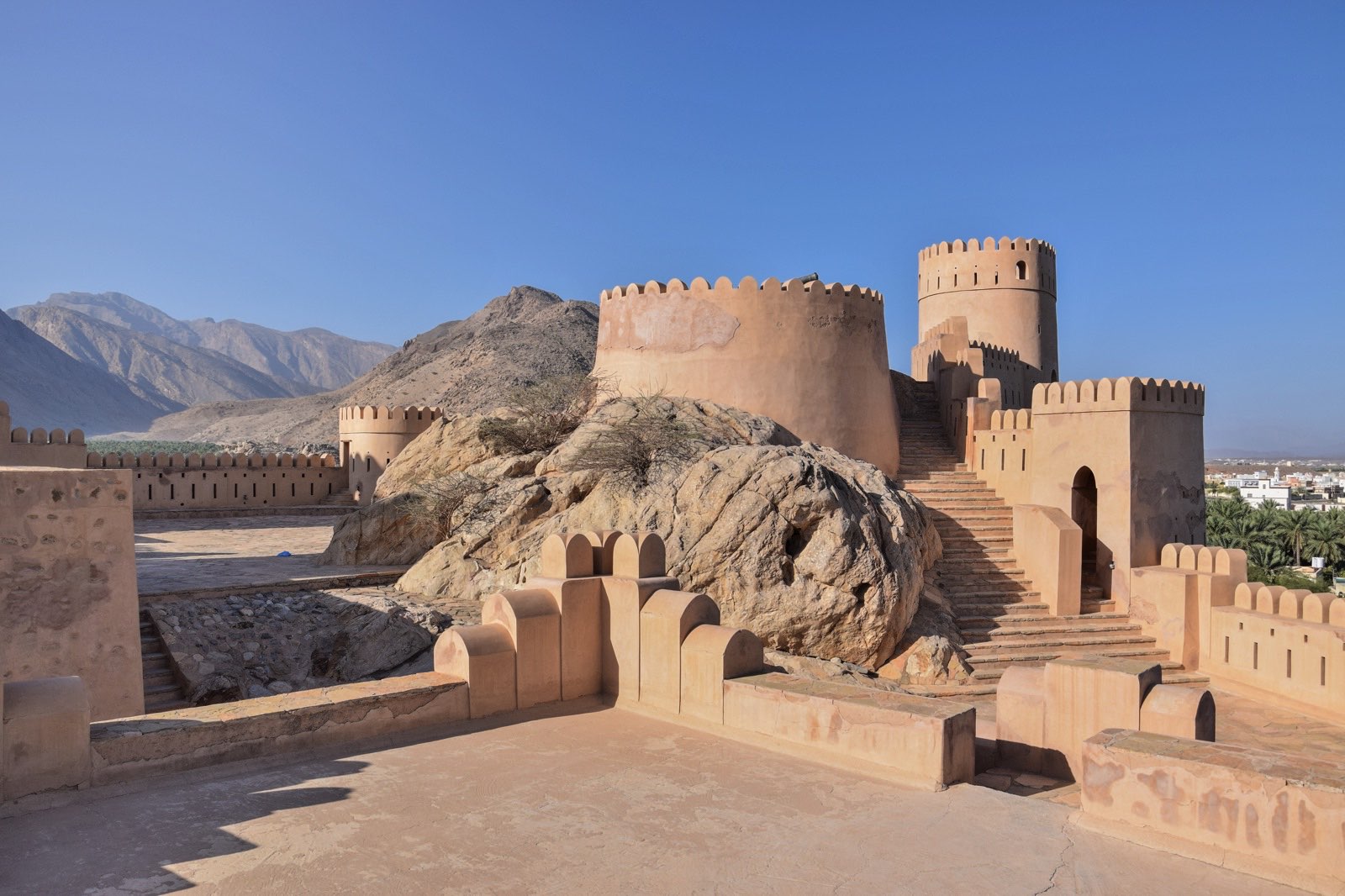 From an architectural point of view, the Omani forts are very similar. Nevertheless, the geographical location of the forts makes each fort unique. Some Omani forts are located by the sea, others in an open plain or on a rocky promontory to dominate and have a clear view.
When you want to visit Oman, discover these forts is unavoidable. Plan to visit at least 2/3 forts during your stay. I recommend Bukha Fort at Musandam or Fort Nakhl.
Jabreen Castle is also worth a visit. More refined than the forts, the interior is beautiful!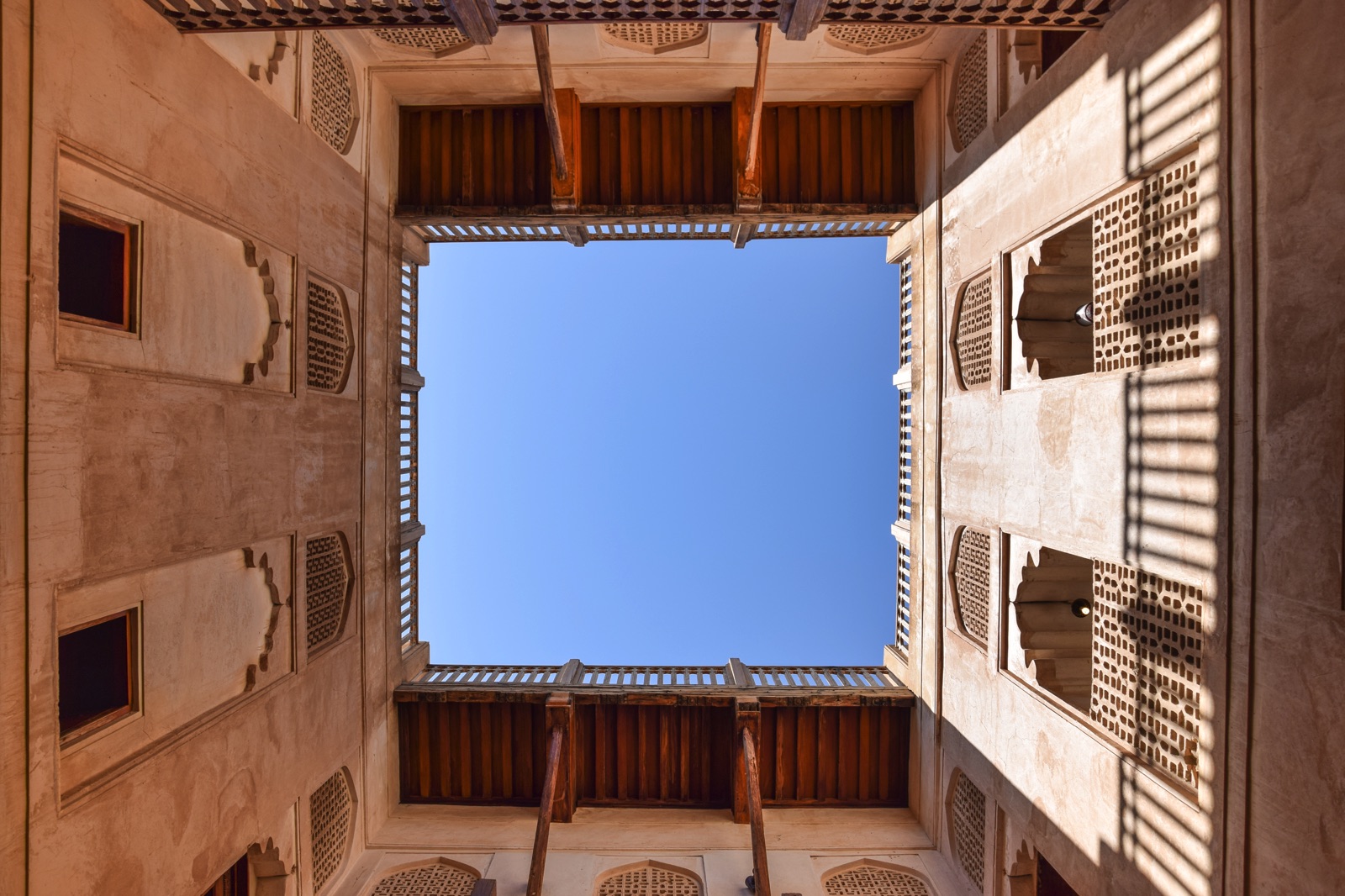 Visit The Cities Of The Sultanate Of Oman
Visiting the Sultanate of Oman is also discovering the main historic Omani cities.
In the north of Oman, the capital Muscat , Nizwa and Sour are for me essential. They are part of places of interest in Oman to visit absolutely.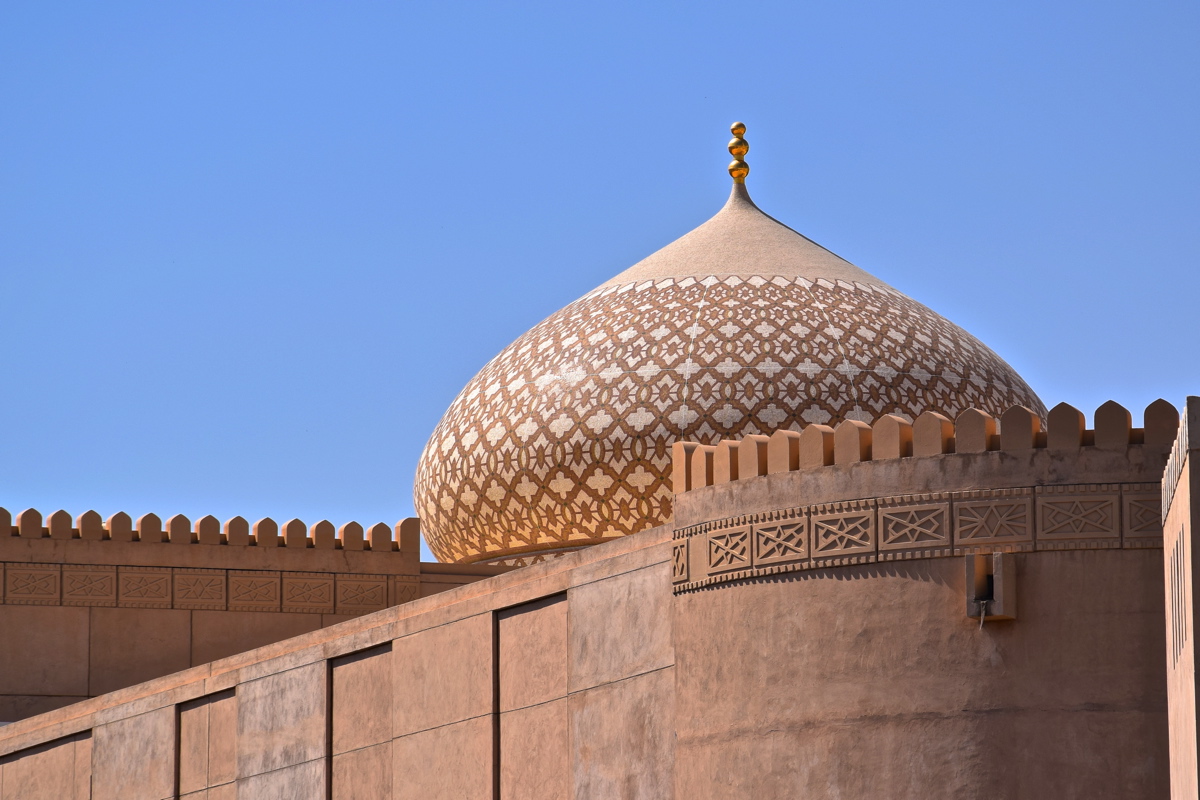 Several tickets are available on the blog to give you more information and practical advice on the main cities of Oman. This advice can include places to sleep, souks not to be missed, good addresses and various tips and varied!
The cities of the sultanate allow to better understand the Omani culture but also to see the contrast of the way of life between the Omani cities and villages. Cities are not necessarily the main assets of the sultanate but visiting Oman without going through Nizwa or Muscat would be a shame. You can spend 2 days in Muscat and a big day for Nizwa. Sour can be visited on a half day or a day.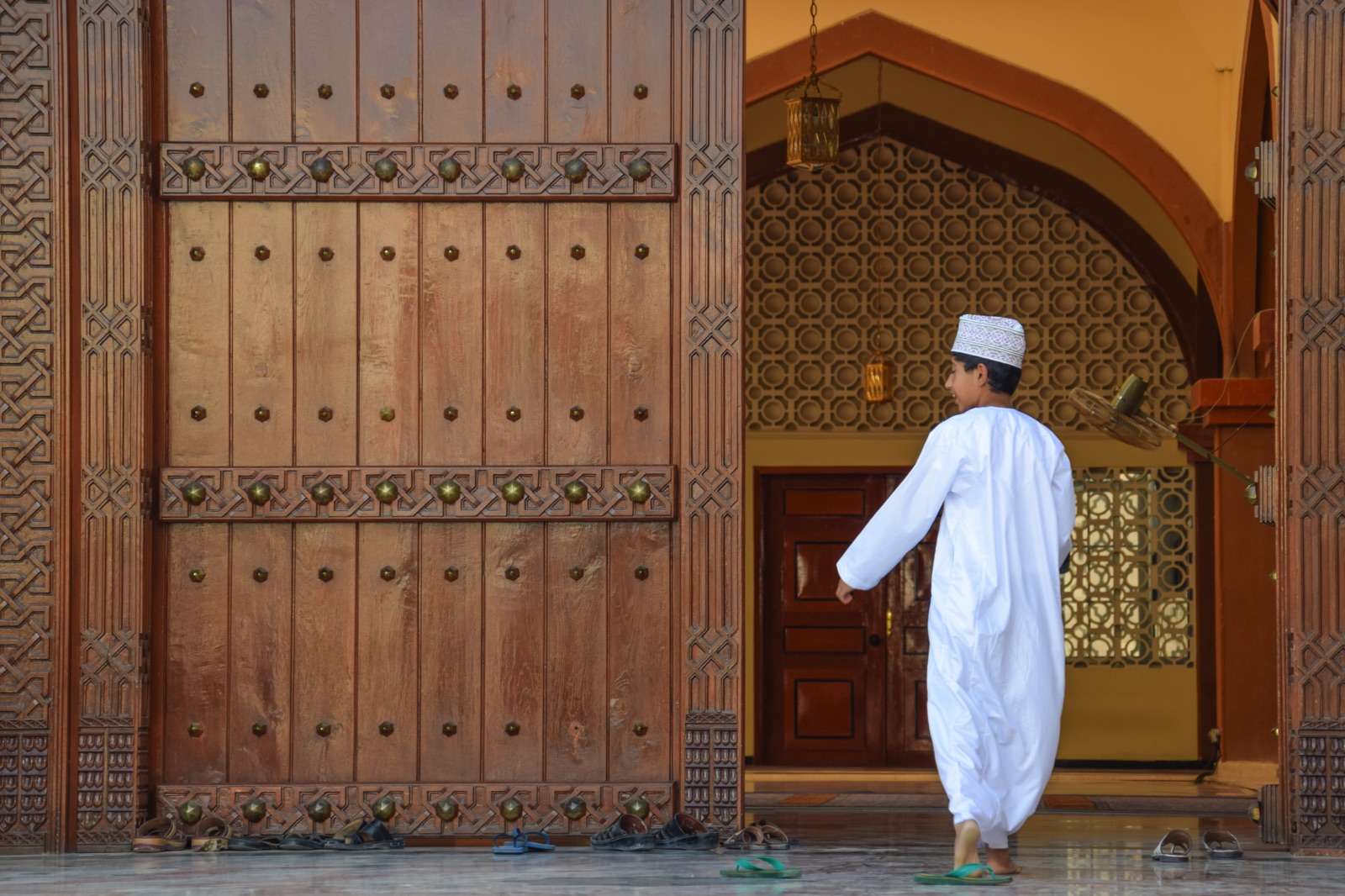 What To Do In Oman: Enjoy The Beaches!
We do not necessarily think before leaving to visit Oman but the beaches of the Sultanate are beautiful! Huge, empty, turquoise water, it's a treat …
In Muscat, some hotels I mention in my guide on Muscat allow you to enjoy the beach with the facilities of a hotel: deckchair, umbrella, …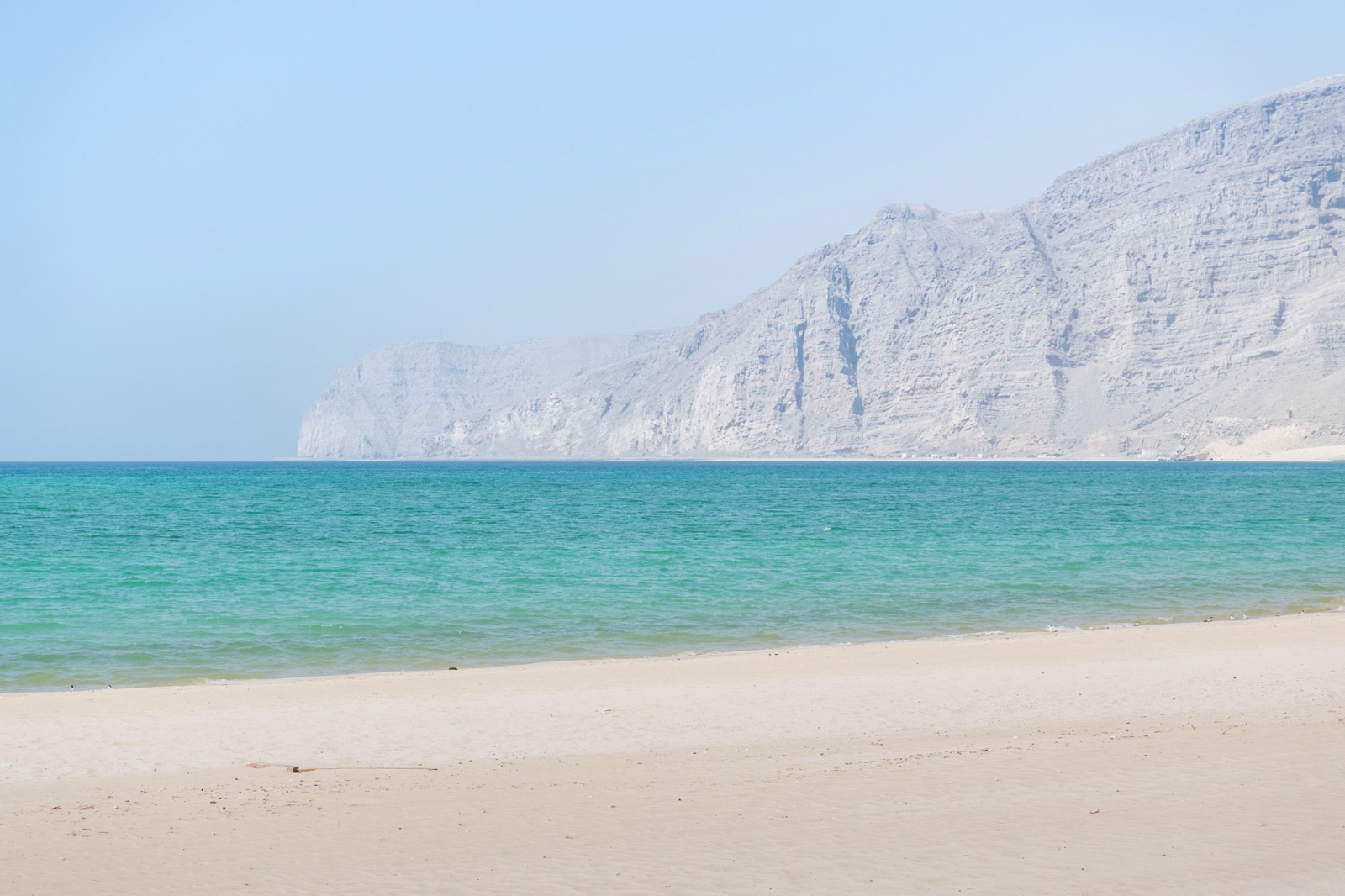 If you like the wildest beaches, you will enjoy the Sultanate of Oman. There are beautiful and empty beaches in the Musandam peninsula, in the Dhofar but also in the north of Oman, for example on the side of Tiwi and Fins.
Omani Wadis
When one wonders what to do in Oman, it is often the wadi moment that comes up first! It must be admitted that the Omani wadis (which are numerous) are beautiful!
They are mainly in the north of the sultanate, in the Hajar Mountains. It would take a full ticket to talk about the wadis of Oman as there are!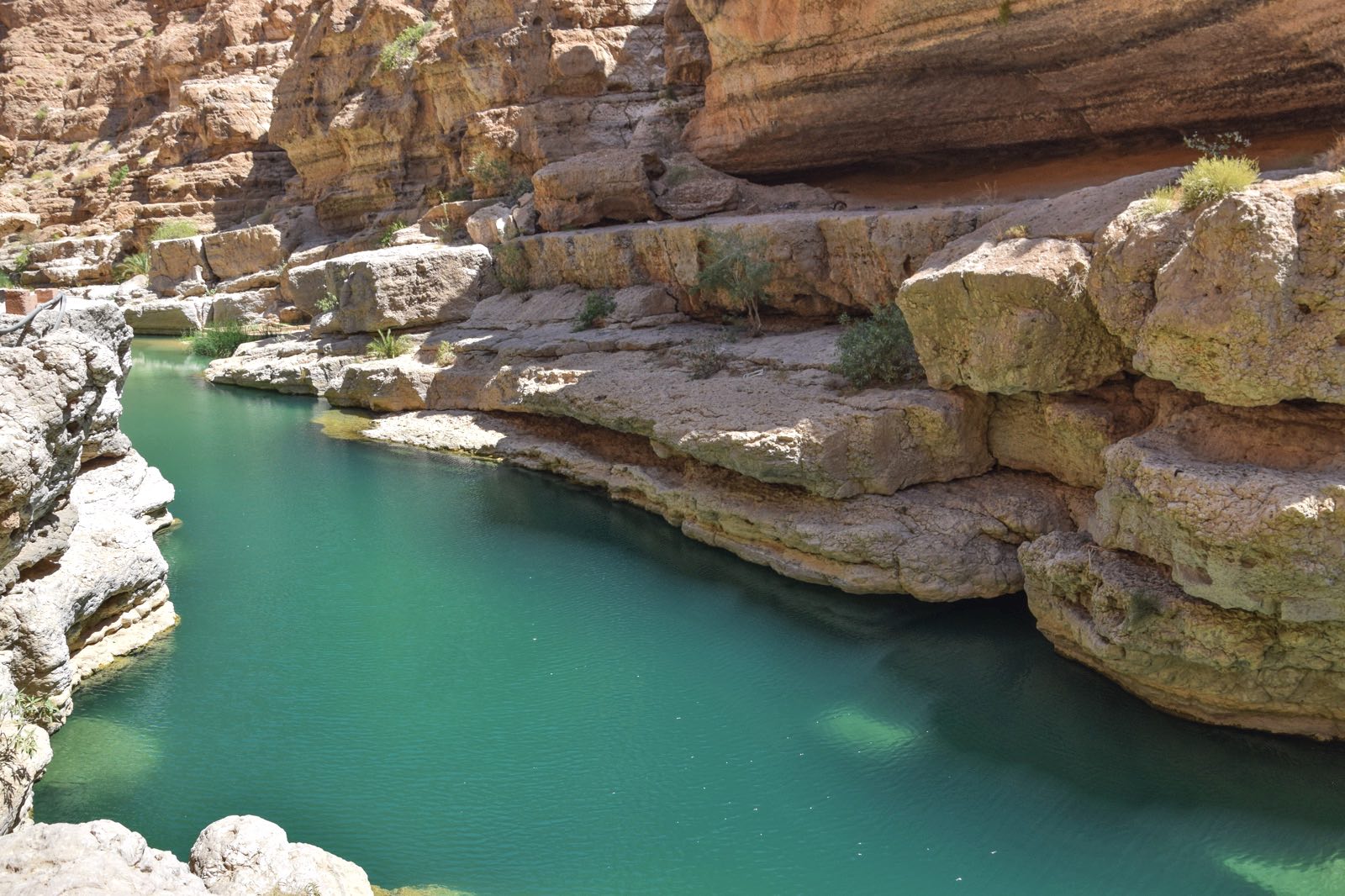 What you need to know before visiting Oman and enjoy wadis:
some are accessible by classic car, others require a 4 × 4
we can hike for hours but also to bathe in the natural pools
it is an opportunity to see small Omani villages that remain very traditional, to see palm groves, to better understand the culture of dates and in particular to discover the irrigation system called falaj
Among the main wadi of Oman are:
Wadi Tiwi
Wadi Shab
Wadi Bani Khalid, the best known!
Wadi Al Abyadh
Wadi Al Arbeyeen, my favorite in Oman!
Wadi Damm
Wadi Bani Awf
Snake canyon
and even more …
For a first stay in Oman, if you want to visit the Sultanate of Oman by varying the discoveries and activities, I advise you to select 2 wadis. Discovering a wadi and enjoying it for hiking and swimming takes time. No need to chain them by spending 1 hour …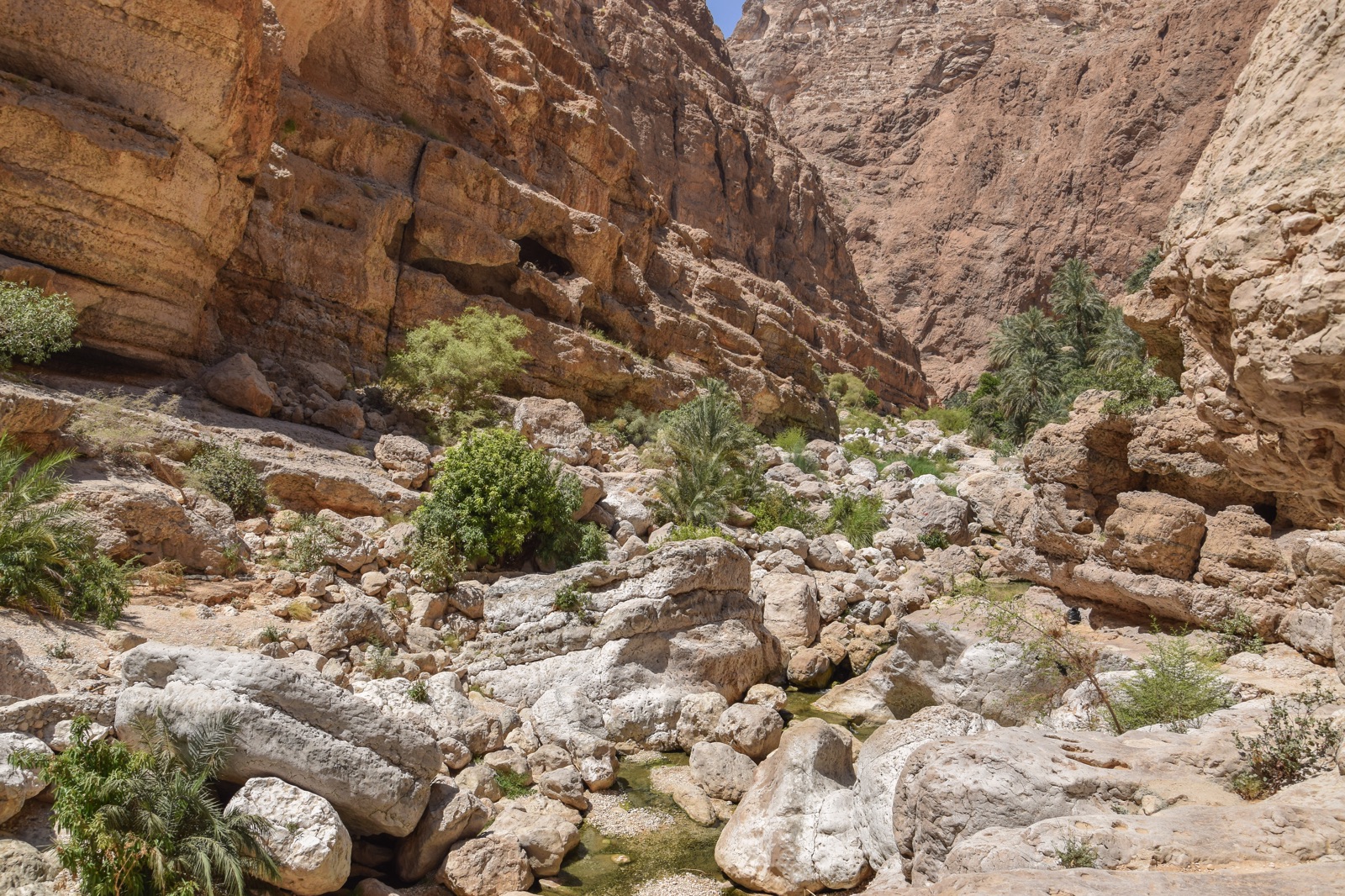 Musandam Peninsula
The Musandam Peninsula is the Omani enclave north of the United Arab Emirates. This part of Oman is very rural. There are only 30,000 inhabitants and almost half live in Khasab, which is the largest city in this governorate.
The population lives mainly from fishing and agriculture (date palms in particular).
In this part of Omani territory, you can discover small villages, some forts including Khasab and Bukha, beaches but also and especially the fjords of Oman also called fjords of Arabia.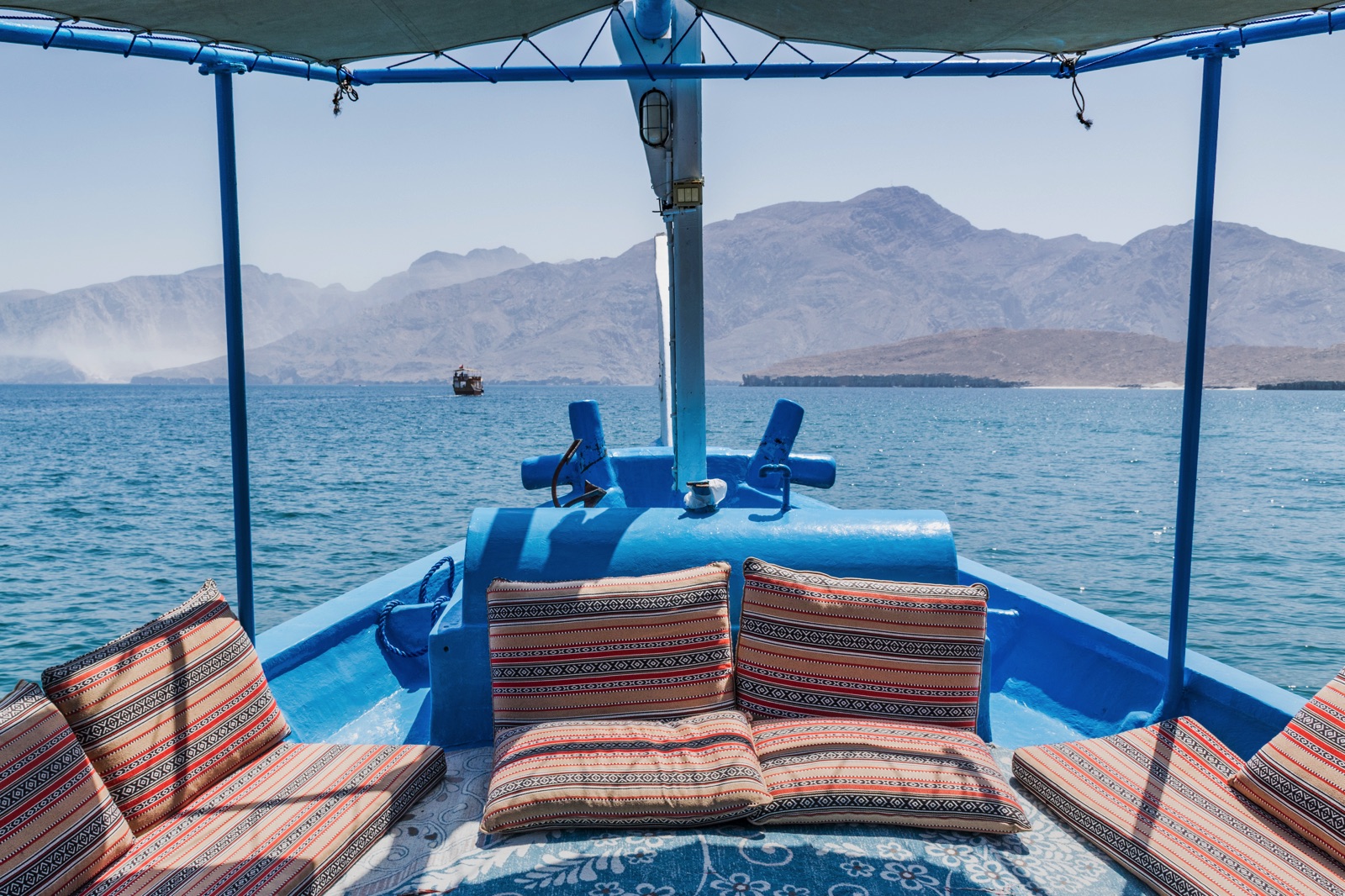 2 possibilities are available to you to discover the fjords:
a dhow trip (traditional wooden boat) to discover the landscapes of the Omani fjords, snorkel and watch dolphins
a kayak trip with the possibility of camping in a small uninhabited bay / cove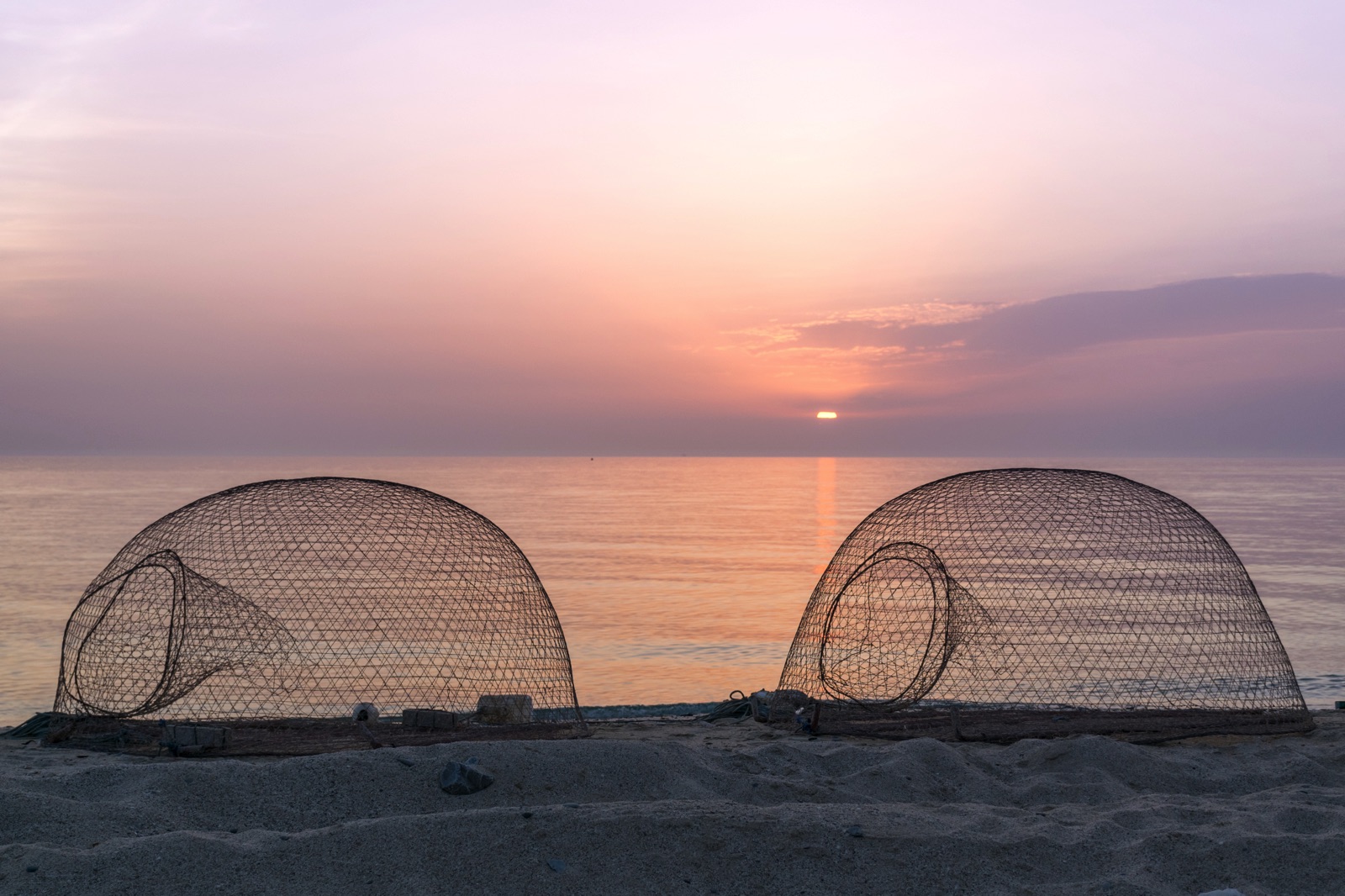 Dhofar
The Dhofar is located south of the Sultanate, more than 850 kilometers from Nizwa. It is possible to go by car, with a simple passenger car because the road is entirely paved. The journey is long, a good option may be to take a flight from Muscat to Salalah.
The best season to discover the Dhofar is between mid-June and mid-September because a small part of the region enters a mini-monsoon and the landscapes become greener, small waterfalls are formed, … Another vision of the sultanate d Oman!
The Dhofar is famous for its beaches, for the cultivation of incense as well. The desert near Salalah is also much quieter than the Wahiba Sands in the north. If you plan to visit Oman from north to south, opt for a night in your tent here rather than the 4 × 4 highway that is Wahiba Sands.
Discover Omani Cuisine
Although it is not a must during a trip to Oman, it is interesting to discover Omani cuisine.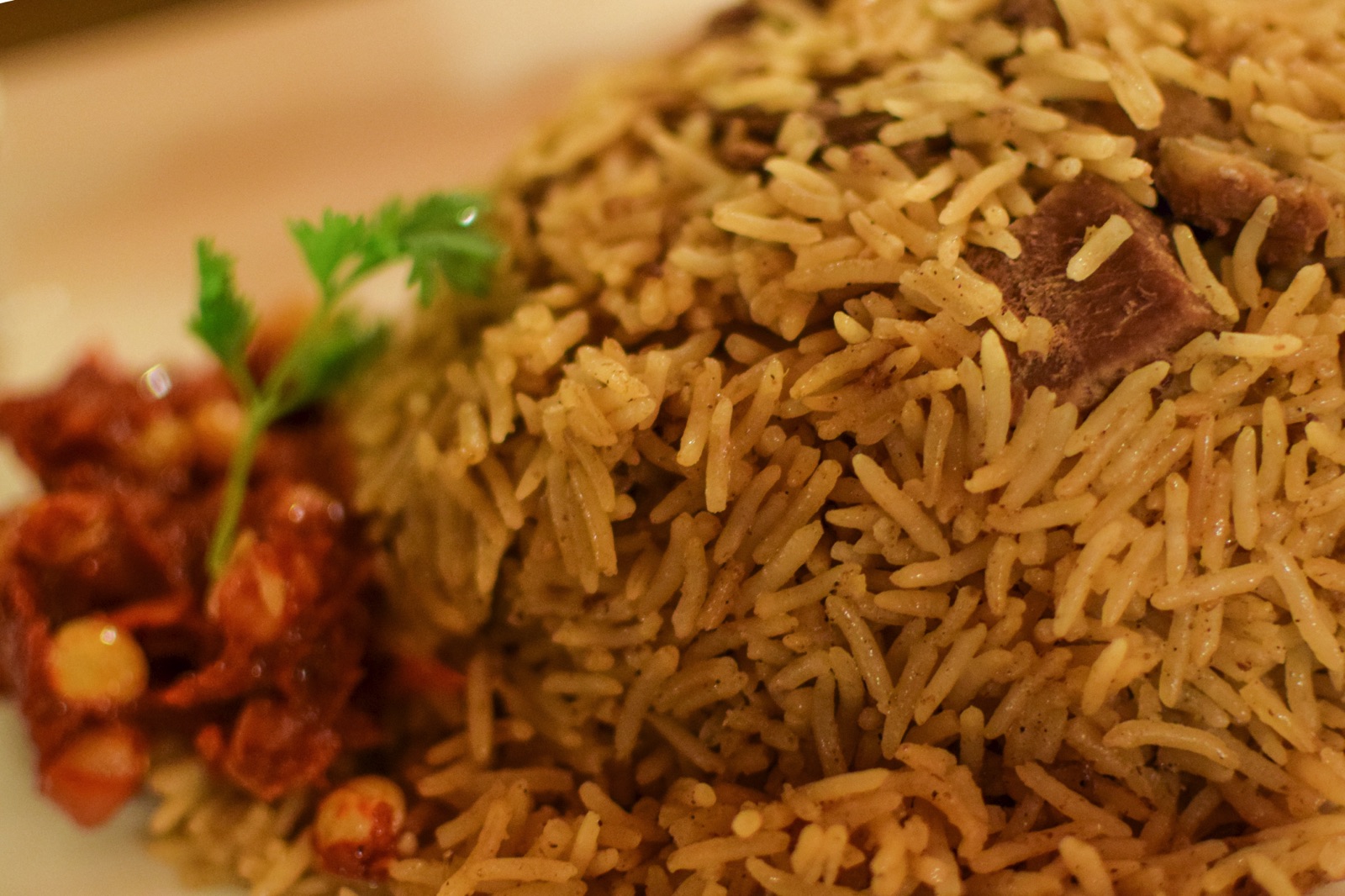 Omani cuisine is not the main asset of the country but you can still taste some Omani specialties during his trip:
discover the different varieties of dates
taste Arabic coffee (ask for an arabic coffee, not all restaurants do not use) with cardamom
to eat a machboos , the traditional dish that is a kind of biryani
taste the very sweet omani halwa
Oman Turtles
East of Sour, an eco-tourism center allows you to observe the nesting of turtles in their natural environment, without disturbing them. It is therefore possible to witness the laying of turtles in Oman, on the beach of Ras al Jinz .
If you are going to visit Oman soon, I highly recommend going there, this place is really magical! Reservation recommended in high season (November to March).
Also, it is sometimes possible to swim with turtles at the Daymaniyat Islands north of Muscat. It is possible to camp on uninhabited islands in Daymaniyat (compulsory permit, you have to go through an agency) and sometimes to observe turtles that come to lay their eggs.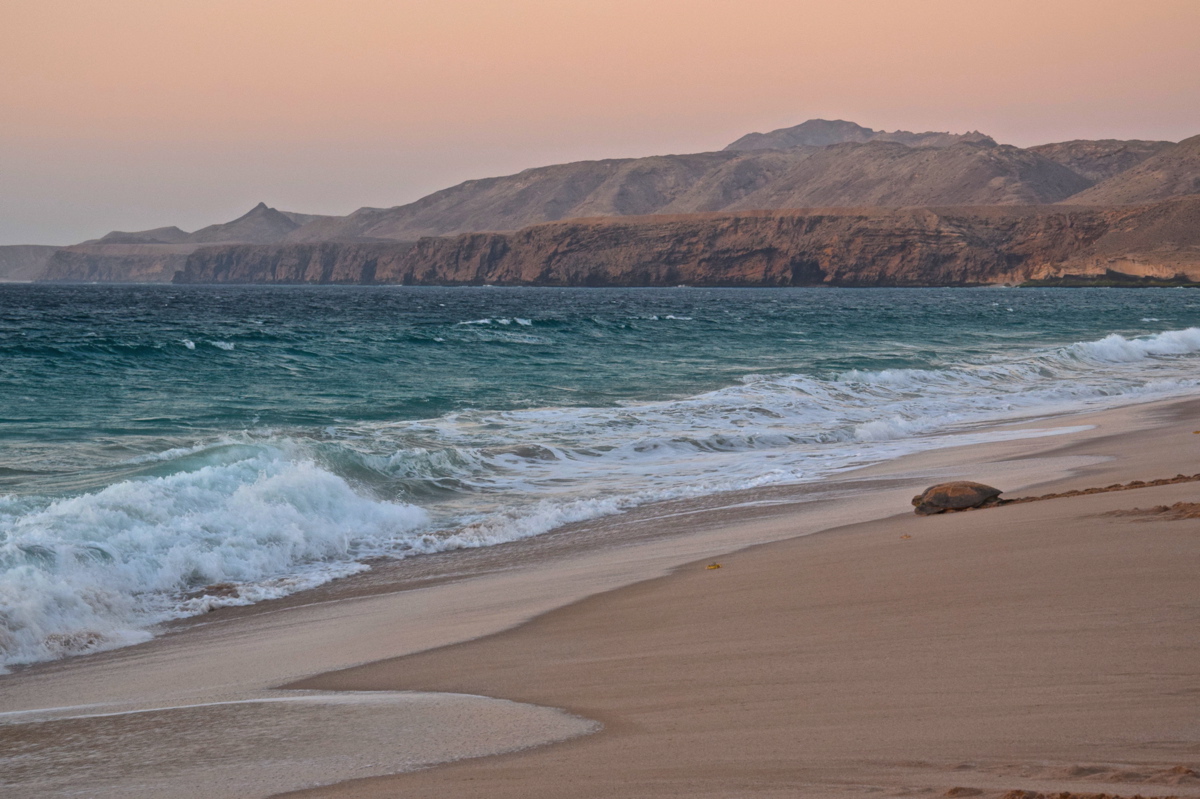 Dolphin Watching
In Musandam but also off Muscat, it is possible to observe dolphins at sea. You can even see them on every trip to the sea, whatever the season! When one wonders what to do in Oman, one does not necessarily think of dolphins … And yet, there are many off the coast of the sultanate!
If you plan to spend a day at sea in the fjords of Musandam, you do not need to go see them from Muscat …

Wahiba Sands: Discover The Rub Al Khali
South of the Hajar Mountains, at the entrance of Rub al Khali, a portion of the desert Rub al Khali ( Empty Quarter ) is nicknamed Wahiba Sands . This name comes from the name of a tribe.
This portion of the desert forms a rectangle of 190 kilometers out of 80 approximately. To visit Oman without going through the immensity of the desert would still be a pity …
Having discovered another part of Rub al Khali in the United Arab Emirates, it is difficult for me to really recommend the Wahiba Sands.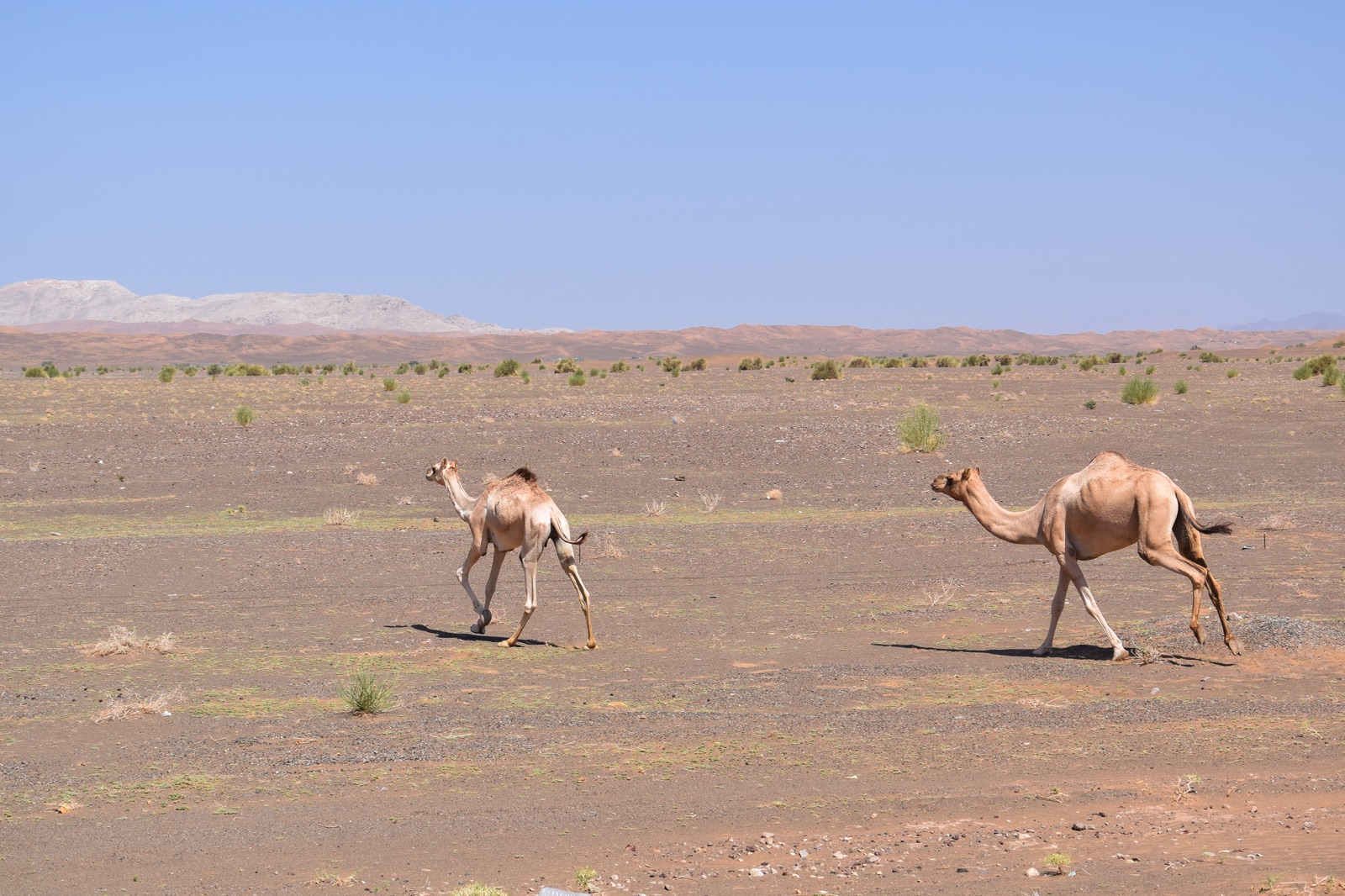 So certainly, it's desert, dunes as far as the eye can see. Nevertheless, there is not much relief in the dunes but also and most importantly, there are a lot of camps in the Wahiba Sands. The experience of the desert being isolated and quiet, it is not necessarily for here … Especially the weekend where many Omanis come with their 4 × 4 for dune bashing …
In the end, if you spend a night in a Wahiba Sands camp, you will not feel like you're in the middle of nothing. The camps are big enough, the track to get there is a real highway where we always see dozens of traces of 4 × 4. So certainly, if this is your first experience in the desert, you will love it. But if you go to the Emirates, go to the dunes of Liwa. If you go to the Dhofar, go and pitch your tent north of Salalah.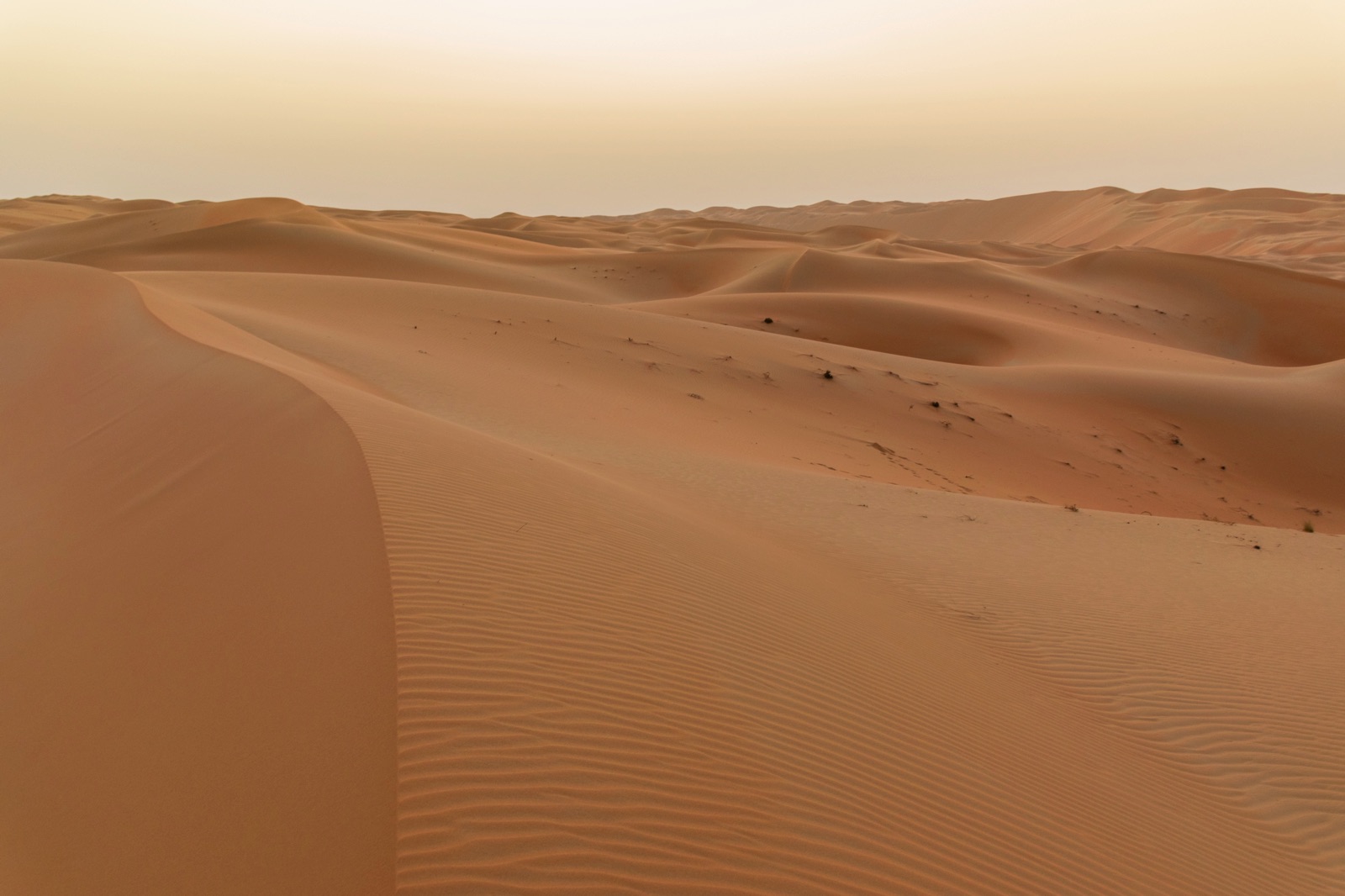 If you have a 4WD and you know how to drive in the sand, another option may be to overtake the Wahiba Sands camps and pitch your tent further, where calm prevails. Nevertheless do not rent a 4 × 4 just for this, set your route and depending on your route to visit Oman, take a 4 × 4 or a classic car. The difference in budget is important.
If you want to know more about the Wahiba Sands desert and in particular have recommendations on the camp to choose, you can consult my guide to prepare his visit of the Wahiba Sands in Oman .
Top 10 In Oman: The Essentials Of The Sultanate Of Oman
To close this guide on the Sultanate of Oman, I finish with a top 10 in Oman, the 10 experiences you have to live during a trip to Oman.
You understand this by reading this post, even if tourism in Oman is not very present, the country is full of places to see, places of interest to visit or unique experiences to live.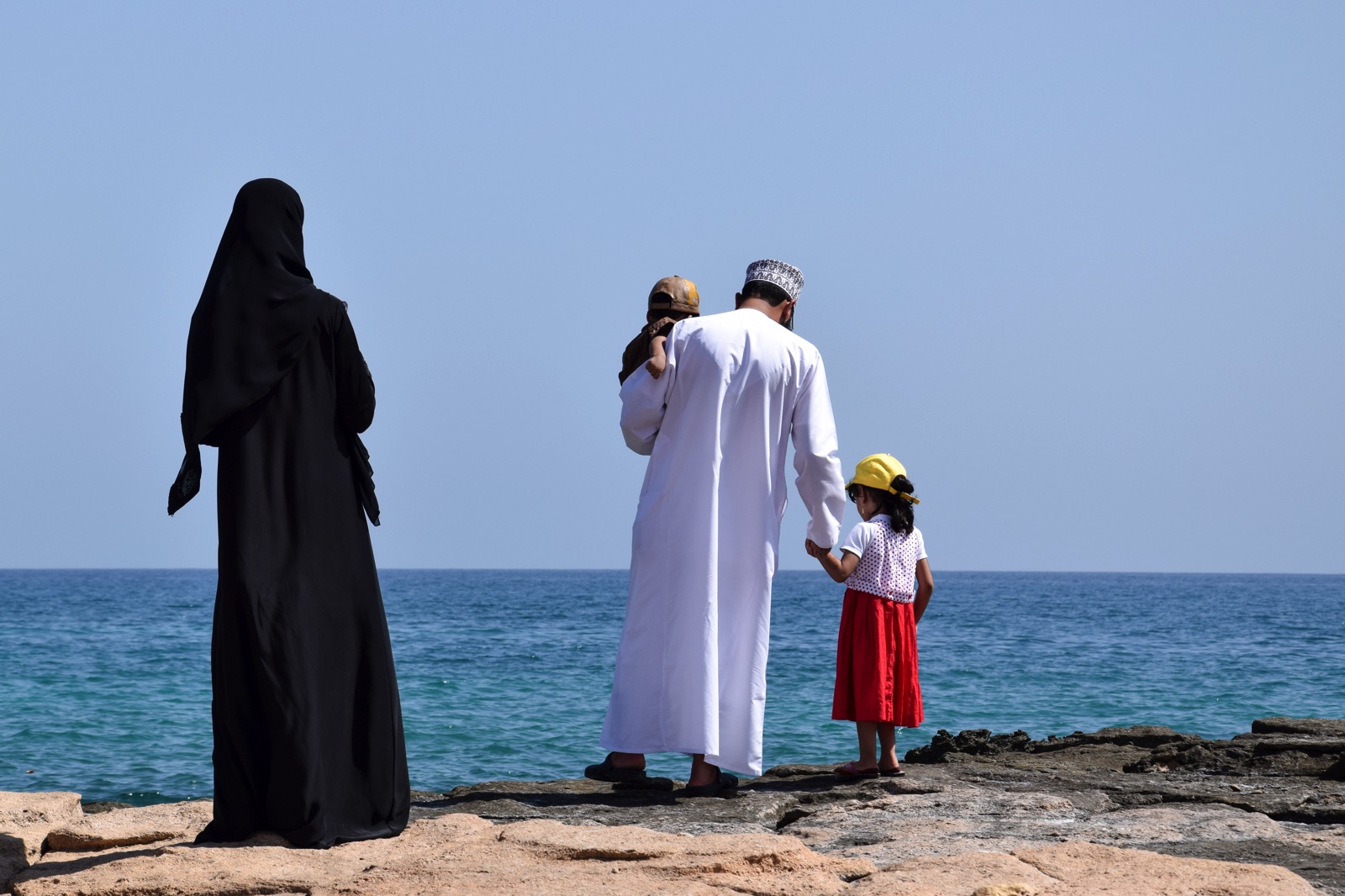 Instead of telling you what to visit in Oman specifically, I list here 10 experiences to live in the Sultanate of Oman. These are somehow essential for a first trip to Oman. It's up to you to model your itinerary to try to live these unique experiences. So here is my top 10 in Oman:
visit one or more forts, places of major interest in Oman for cultural tourism
hike in one or more wadi to discover small villages, palm groves and bathe in basins of crystal water …
see turtles come to lay their eggs on a beach of the sultanate
discover the historic cities of Oman such as Muscat, Nizwa, Sour or Salalah
relax on a deserted beach with miles of sand just for you!
observe dolphins at sea
go out at sea on a dhow in Musandam
walk the streets of a small Omani village respecting the calm and lifestyle of the locals
discover Omani cuisine including eating a machboos
spend a night in the desert to become aware of the immensity of Rub al Khali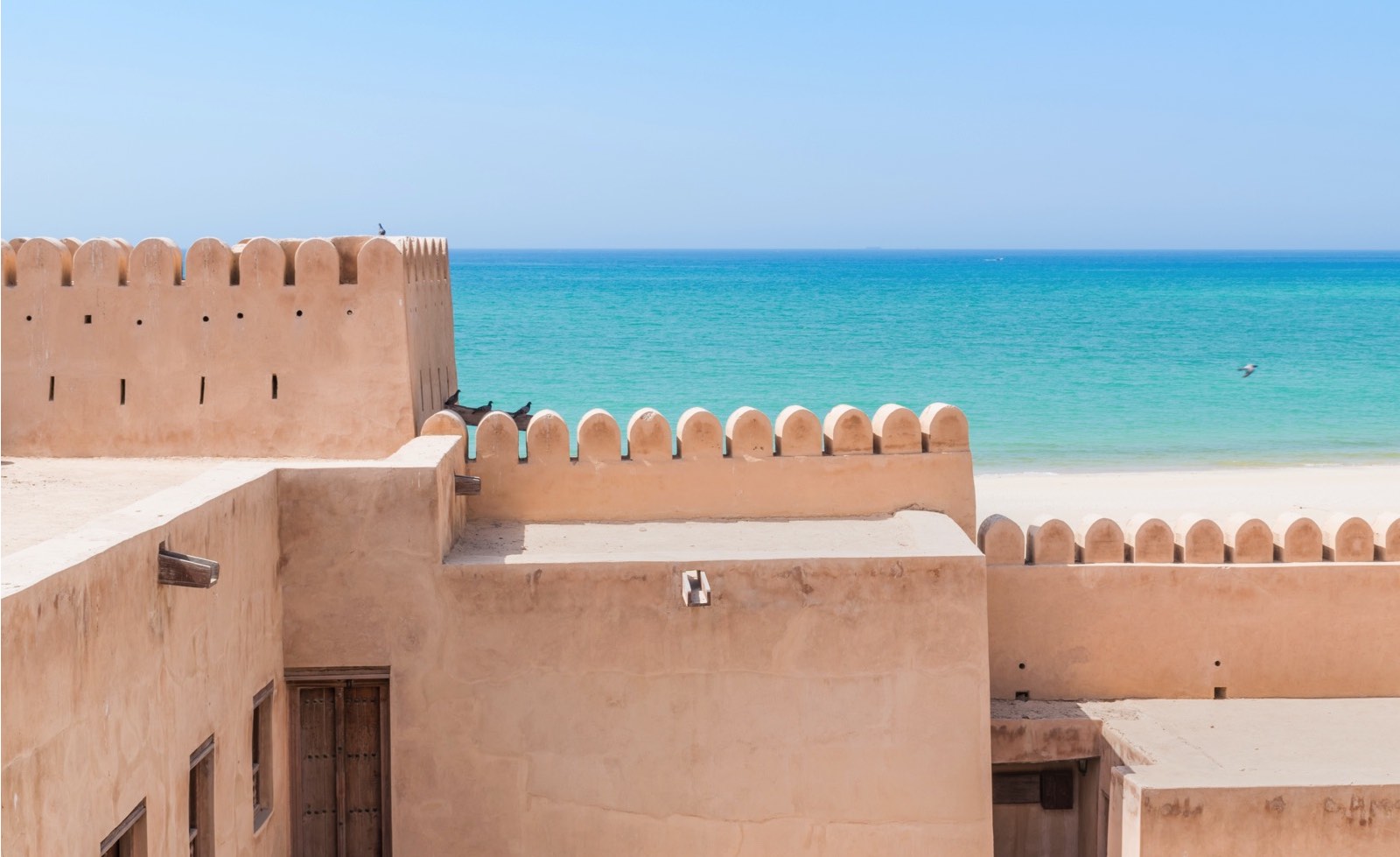 For each of these things to experience while in Oman, there are several options available to you. For example, for a night in the desert in Oman, you can sleep in a camp or pitch your tent in the dunes, a bit at random. Depending on your route and your vehicle, you can also opt for a night in the Wahiba Sands or rather to the south, in the Dhofar for a quieter experience. All you have to do is set a route to visit the Sultanate of Oman.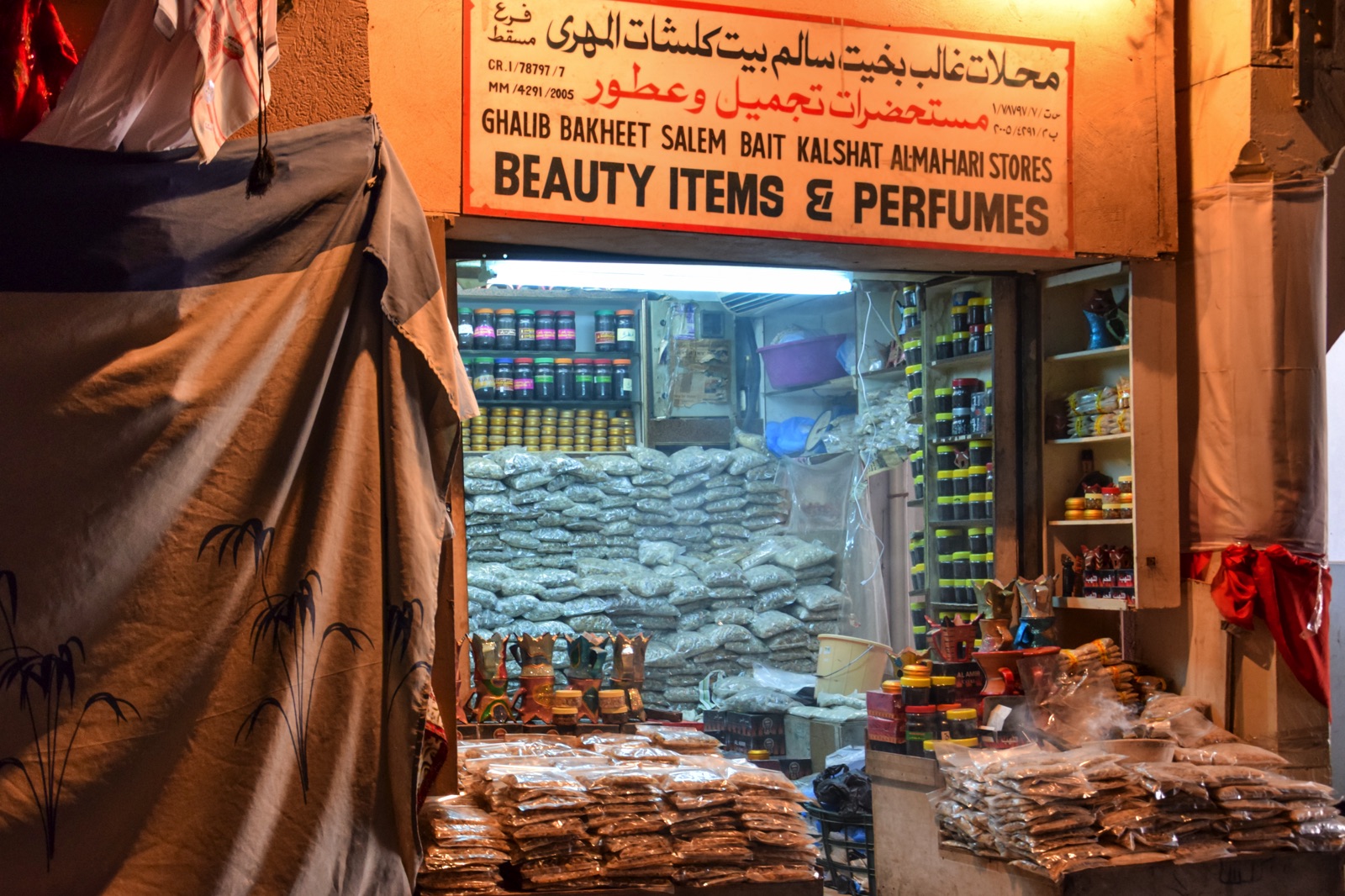 Hoping that this guide to visit Oman is useful to you! You should have seen that answering the question what to do in Oman is not easy as there are many things to see in the Sultanate of Oman …
Of course, I am available to answer any questions you may have about planning a sightseeing trip to Oman or selecting Oman points of interest for your itinerary.
Thank you to forward your questions via the comments of this post on the blog and not by email. Indeed, our exchanges may be useful to other readers of the blog who also intend to visit the Sultanate of Oman.
Searches Made Leading To This Travel Blog Post
What to do in oman, visit the sultanate of oman, to see absolutely in oman