Itinerary with Top Things to Do in Annecy
Are you looking for a destination for a short weekend in France by the water?
Look no further and go visit Annecy, in Haute-Savoie!
Whether in summer or winter, you will find what you are looking for and more than enough to keep you busy for 2 or 3 days by visiting the main places of interest in the city and enjoying a nice walk by the lake. Annecy!
Here is our guide to things to do and see in Annecy and its surroundings, as well as a selection of hotels offering the best value for money so that you know where to sleep in Annecy!

So, what to do in Annecy? 
Visit Annecy: the must-sees
1. Lake Annecy
When we talk about the city, it is impossible not to have in mind this postcard image: its lake with translucent waters reflecting the mountains that surround it. It really is the must-see tourist attraction in Annecy.
It will therefore be the first thing you will want to see when you arrive, so we will not upset you, start your weekend in Annecy with a short walk by the lake. You will be able to see for yourself the clarity of the water and the beauty of the place!
I suggest you start your walk from Le Paquier (the huge lawn bordering the lake) and follow it to the right as far as the  Jardins de l'Europe.
By following this route, you will pass through the obligatory passage for all lovers in Annecy: the love bridge with its hung padlocks.
From there you will then have the choice between multiple activities to do in Annecy to make the most of this gigantic expanse of water.
There is something for everyone, from the most tranquil to the most daredevil! I tell you about it below.
Tips for your Annecy itinerary:
If you choose to start from the other side of the Esplanade du Paquier, you can also go to the gardens of the Imperial Palace, the grand hotel of Annecy, located on the edge of the town of Annecy le Vieux .


2. Segway Ride on the Shores of Lake Annecy
For the quiet version, I advise you to opt for the Segway ride, a great activity to discover on the shores of Lake Annecy.
It is the ideal place to learn about this practice because it is completely pedestrianized and there is therefore no risk of being knocked down by a car.
Tours range from 30 min (around €17 per person) to 2 hours (around €55 per person). Don't worry, handling the Segway is learned very quickly and can therefore be a very good activity  if you have decided to visit Annecy with your family.
I recommend that you book your Segway ride in advance.

3. The Greenway – Bike ride around Lake Annecy
For the more athletic, you can cycle around Lake Annecy completely by following the greenway, which is about 33 kilometers of cycle paths.
Visiting Annecy and its surroundings by bike is the ideal activity to enjoy many views of the lake, find small, somewhat isolated beaches and get away from the crowds (especially in summer).
If you like pedaling and you have planned to spend a few days in Haute-Savoie, it is absolutely to do in Annecy!
Tips for your Annecy itinerary:
Would you like to rent a bike in Annecy?
It's simple, just click here! From only €16 for the day, it would be a shame not to take advantage of it.


4. Paragliding: Discover Annecy differently!
For adventurers and thrill seekers, I recommend paragliding over Lake Annecy, the view is simply splendid and the setting magnificent. 
Annecy is the busiest site in Europe for paragliding and regularly hosts the world championship in this discipline. You better understand why this is the best place to try your hand at this sport!
Several companies offer first flights from €95 for 15/20 minutes with the possibility of choosing with or without acrobatics. If you have a weak stomach, I recommend the first option!
Be aware that the start of the jumps is generally from the Col de la Forclaz or Talloires and that it is better to have booked the service in advance because there is little space and the times are generally fixed.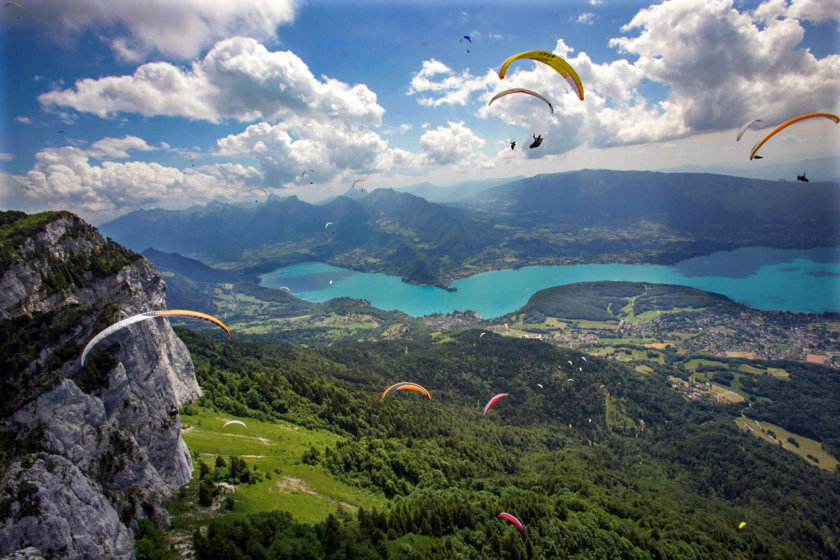 5. Boat Trip in Annecy and Cruise on the Lake
To enjoy the lake while being a little more calm, and why not take a dip a little further offshore, you will find, along the lake, various boats for rent.
On the program, a short trip in a pedal boat (at least €12 for ½ hour) or in a motorboat without a license (from €30 for ½ hour). To be sure of having availability, be careful not to do it at the last moment, because at Lake Annecy in summer, there are crowds.
For lovers of boating and good food, there is even the possibility of combining the 2 by opting for a mini-cruise on the famous "Libellule" boat-restaurant in Annecy.
2 departures per day, at 12 p.m. and 8 p.m. for a tour of around 2.5 hours. For 65€ you will be entitled to the cruise and a meal (starter + main course + dessert).
The Annecy boat company also offers commented cruises lasting 1 to 2 hours. Information and reservations on the  official website.
6. Nautical Activities at Lake Annecy

If you are wondering what to do at Lake Annecy, I recommend that you try out one of the many water activities.
And thrill seekers will once again be delighted, because you can learn water skiing or wakeboarding.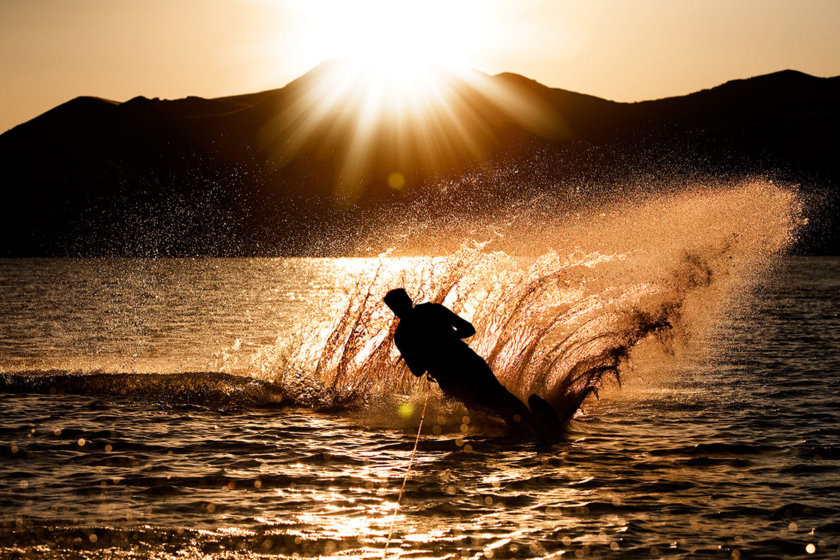 7. The old town of Annecy and its canals
In addition to its magnificent lake, there is another must-see tourist site in Annecy. 
The city is indeed also famous for its old town and the Thiou canal which crosses it, hence its nickname " Venice of the Alps".
With its cobbled streets and arcades, old Annecy has an undeniable cachet, making it an unmissable place of interest.
From here you can also take the famous postcard shots representing the flowery lock or the Palais de l'Isle (a former prison) located at the junction of 2 canals.
Don't hesitate to stroll through all the small alleys and also to follow the canal along the Louis-Lachenal promenade which will take you through pretty tree-lined passages.
It is also in the old town of Annecy that the restaurants are concentrated (admittedly touristic but for some really very good), all the small souvenir shops (and yes you can buy the famous table set with the lake in the photo ) and grocery stores, delicatessens and cheese shops representative of all the good products of the region.
Tips for your Annecy itinerary:
Regarding these good products, I advise you to buy them directly at the market in the old town.
It is held every Tuesday, Friday and Sunday morning along the canal from 7 a.m. to 1 p.m. Do not hesitate to negotiate a little, it may be that a free sausage is the key!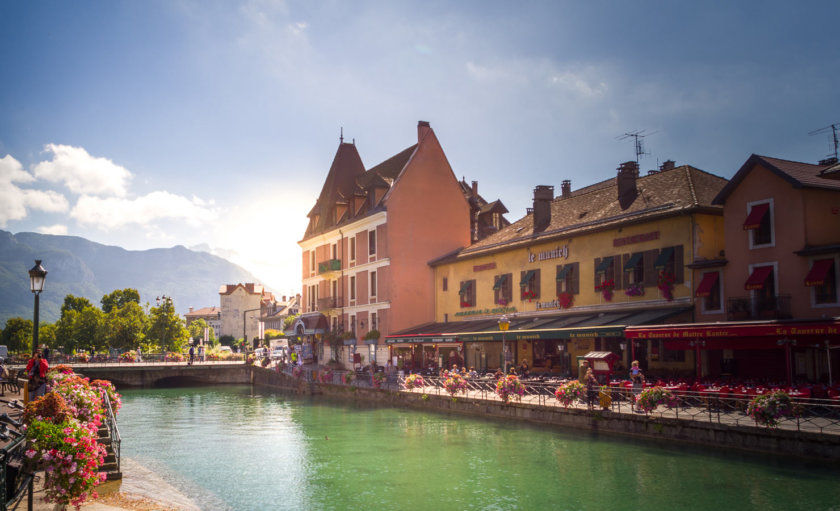 8. Where to Eat in Annecy – Discover the culinary specialties of Haute-Savoie
Strolling through the streets of the old town is good, but doing it while eating an ice cream is even better!
Especially since there is an excellent glacier in Annecy: Le glacier des Alpes, considered one of the best in France. They offer over 45 flavors, so the hard part is choosing!
If you are not from the region, your stay in Annecy will also be an opportunity to taste a good tartiflette, croziflette (made with crozets, Savoyard pasta), fondue, diots de Savoie or fish from the lake such as perch, trout or arctic char.
Beware, however, of certain restaurants considered to be "tourist traps".
Look at the latest reviews on TripAdvisor to be sure of the quality and not to be scammed.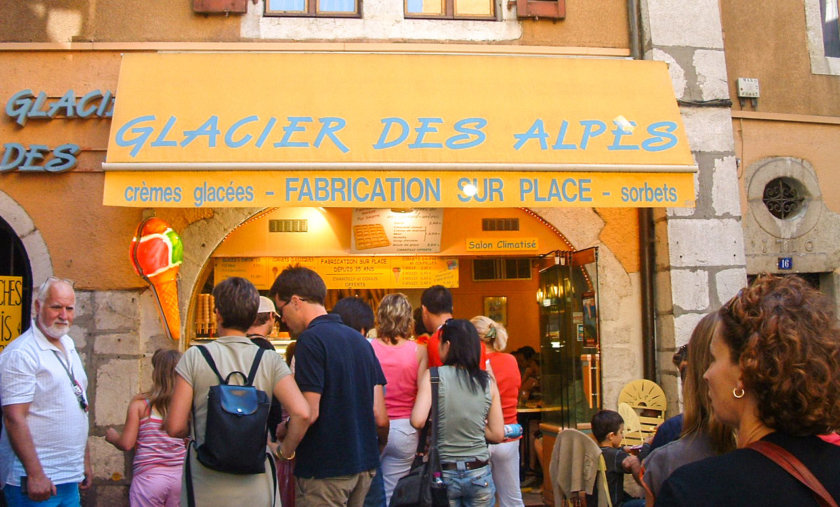 9. The Château d'Annecy and its museums
Among the main places of interest to see in Annecy, I advise you to discover its castle.
From the old town, you can reach the castle on foot, but be careful, it's a bit steep all the same. The less steep path is the passage of the castle ramp.
You can visit the castle of Annecy and also discover its exhibitions  in 3 small museums:
The Regional Art Museum  exhibiting everyday objects and a model of the castle
The Museum of Contemporary Art  and its temporary exhibitions on various themes
The Regional Observatory of Alpine Lakes  dedicated to the main lakes of the Alps.
You will find prices and practical information  on the official website.
The visit to Annecy from the castle lasts about an hour, but we must not hide it, it is especially the view from up there that is worth the detour.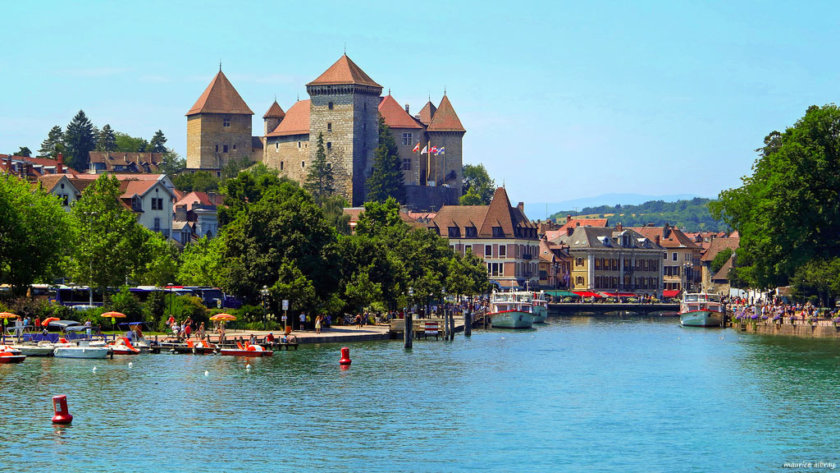 10. The Beaches of Annecy
It would be a shame not to take advantage of your visit to Annecy to take a dip in the lake. Especially since it is very difficult to resist the call of transparent water!
Here are the beaches where to go to swim in Annecy and around the lake:
Imperial Beach, on Avenue d'Albigny. Paid beach.
Marquisats beach, on the western shore of the lake. Free.
Albigny beach, the largest beach on Lake Annecy. Free access, in Annecy-le-Vieux.
The 2 beaches of Sevrier.
Saint-Jorioz beach, fitted out with a diving board, pontoons and toilets/showers + lifeguard station. Paid beach in summer.
Angon beach, a well-shaded beach crossed by a stream. Paid.
The beach of Talloires where there is a paddling pool, ideal with young children. Paid.
Menthon Saint-Bernard beach with playground, volleyball court, petanque. Paid.
11. Other Activity to Do in Annecy
You want to take advantage of your stay in Annecy to do activities, I give you the list of the best, from the classics to the most unusual!
In addition to the paragliding I told you about above, you can also do:
Hang-gliding, to have even more the impression of flying like a bird! From €95 for a discovery flight.
A glider flight, from 180€. Departure is from Albertville, 45 minutes from Annecy. Flying over the mountains in total silence is truly an unforgettable experience!
Canyoning. Several formulas and different canyons to choose from on the O'Speed ​​Canyoning website. They are open all year round and also offer Ice Canyoning sessions in winter!
From the Via Ferrata to explore the rock walls.
An introduction to cliff climbing
The descent of the Semnoz by mountain bike (1300 meters of negative altitude difference!) to fill up with sensations!
A ride on an all-terrain electric scooter in the middle of nature
A hot air balloon flight over Lake Annecy to enjoy a magnificent view
A two-seater helicopter flight for a unique experience
An electric skateboard ride on the shores of Lake Annecy
Archery tag: mixture of paintball and archery
You rafting.
Tree climbing for great ideas for family activities during your weekend in Annecy!
You paintball
Go-karting.
And if you ask what to do in Annecy in winter, I recommend that you go on a snowshoe hike. These walks are organized from December to March and last between 4 to 7 hours.
12. The Venetian Carnival
I continue this Annecy tourist guide with one of the unmissable events that takes place every year at the same time: the Venetian carnival. 
As I told you, Annecy is nicknamed the "Venice of the Alps  " because of the canals that run through it, but it also borrows from the famous Italian city its very famous carnival.
Every year, usually at the beginning of March, hundreds of people dressed in magnificent costumes having nothing to envy to those of Venice, parade and march in the street.
Various make-up or mask-making workshops are organized for the occasion during this weekend of festivities.
Tips for your Annecy itinerary:
If you have chosen to go to Annecy at this time, remember to book your accommodation in advance so that it is not full!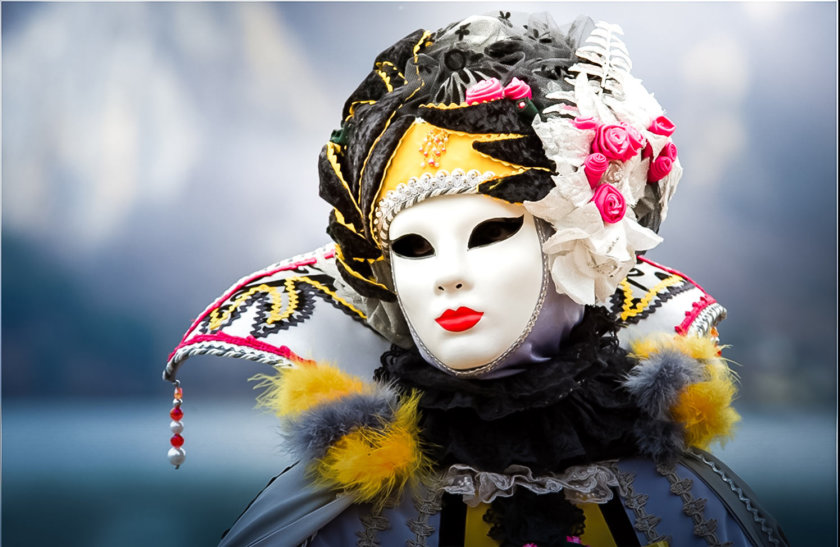 13. The International Animation Film Festival
Every year in June, in Annecy, the international animation film festival is held .
Professionals from all over the world come to present their films, whether cartoons, Chinese shadows or modeling clay.
But the must is that every evening, a film is projected on a giant screen in the Paquier gardens so that everyone can enjoy it.
Ideal for a family evening with, for example, the screening of " Ice Age " or " Finding Nemo ".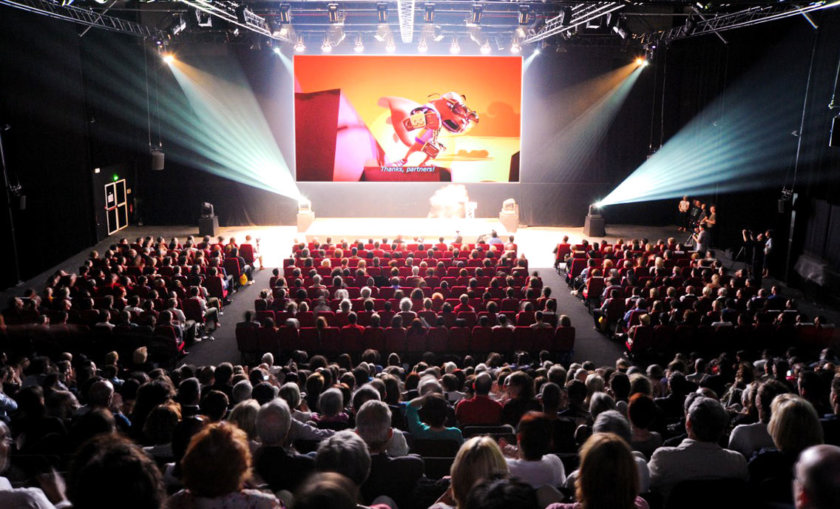 14. Lake Annecy Festival
This is the unmissable event for Annecy residents and tourists every year. If you want to know what to do in Annecy in summer, don't miss the lake festival!
The lake festival takes place on the first Saturday of August , a grandiose pyrotechnic show combining music and fireworks. Lasting approximately 2 hours, it is the largest show of its kind in Europe.
The fires are drawn from Lake Annecy and bleachers are set up all over the lawn so that everyone can enjoy them.
These places (approximately 46,000) are chargeable but as you well know fireworks can be admired from multiple places so it's up to you to get there early enough (very early) to find the best location.
There is indeed competition because the show attracts no less than 100,000 spectators each summer on the shores of Lake Annecy.
More information and reservations on the official Annecy website.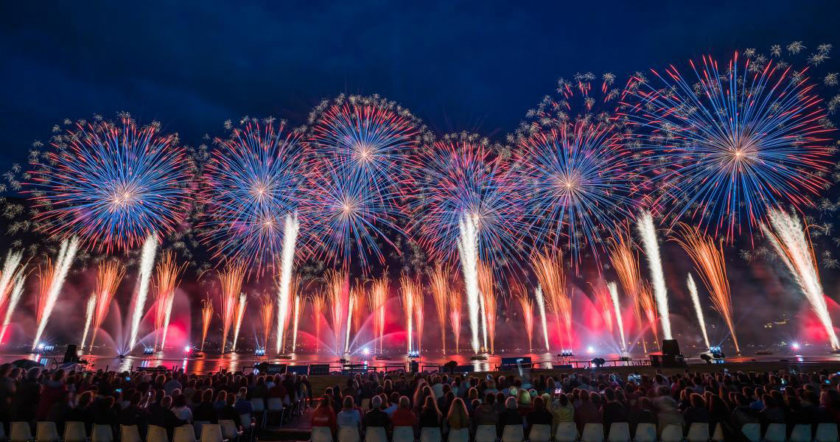 What to do around Annecy?
If you feel like visiting Annecy and its surroundings, I have prepared a list of the best things to do nearby.
15. Take a hike in Annecy
All around Lake Annecy, you have the possibility of doing several super nice hikes to have beautiful viewpoints. There are itineraries and walks suitable for all levels.
The Semnoz
This is the easiest walk around Annecy.
Take your car and climb to the top, no worries about parking, there are plenty of parking spaces. From there you will have beautiful views of the lake and the surrounding mountains.
You can also indulge in hiking in the mountain pastures, mountain biking in summer and sledding, skiing and snowshoeing in winter.
If you want to get your fill of thrills, I strongly advise you to book your downhill mountain biking session at Le Semnoz, it's great! And it's perfect for beginners 😉.
Mount Veyrier
The hike starts from the towns of Annecy-le-Vieux and Veyrier.
You can walk for several hours without too much difficulty (even if it's only uphill) and you will be protected from the heat because the majority of the paths are shaded.
You will also have a magnificent unobstructed view of the entire lake.
Also accessible by car from smugglers pass.
Tips for your Annecy itinerary:
For a short walk with a beautiful view of the lake, I advise you to go to "Talabar", a meadow with a view of Lake Annecy.
The Tournette
Reserved for seasoned hikers, this hike is difficult especially in its last part which includes chains, cables and ladders in addition to a slippery rock.
At the end of your efforts, you will be able to contemplate the lake as well as the Mont Blanc massif.
The Gorges du Proud
It is not a hike strictly speaking but rather a short walk in a natural site set up about ten kilometers from Annecy.
The Gorges du Fier result from the erosion of water on the rock which has dug a large canyon more than 25 meters high.
You can walk through these gorges along secure walkways that run along the bed of the torrent. At the end of the promenade, do not miss the sea of ​​rocks. This natural site is quite spectacular, people prone to vertigo should abstain.
The visit lasts approximately 1 hour.
Timetables and prices on the official Gorges du Fier website.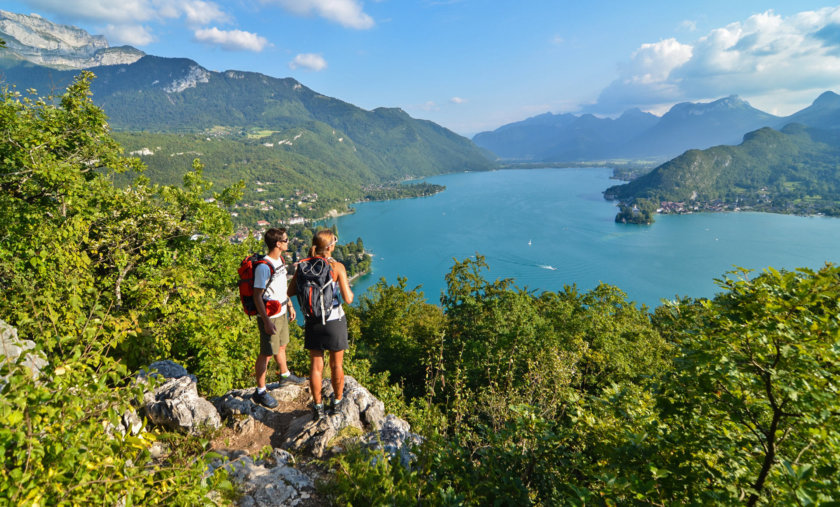 16. Village to Visit around Annecy
Around Lake Annecy, you can also visit some charming villages, including:
Annecy-le-Vieux: not to be confused with old Annecy which corresponds to the old town! Here you will find Albigny beach and the restaurant "Le clos des sens", 3 stars in the Michelin Guide!
Veyrier du lac, 5 km from Annecy, located at the foot of Mont Veyrier, a popular place for its hiking trails offering superb views of Lake Annecy
Menthon Saint Bernard, which houses a magnificent 12th century castle that you can visit. You have the info here. 
Talloires located in a small bay of Lake Annecy which is very photogenic and which even inspired Paul Cézanne for his painting "Le lac bleu".
Duingt, village known for its 2 castles
Saint Jorioz where you will find the only sandy beach on Lake Annecy.
17. Geneva
Still around Annecy, I recommend that you visit Geneva, a Swiss city located on the French border, just 42 km north of Annecy.
Just like the city of Annecy, it is located on the edge of a huge lake, Lake Geneva, which gives it a lot of charm.
What to do and see in Geneva:
The old town which is home to several places of interest not to be missed, including Saint-Pierre Cathedral in Geneva.
The Jet d'eau, symbol of the city

Parc de la Grange and Parc des Eaux-vives, by the lake
A walk or a cruise on Lake Geneva.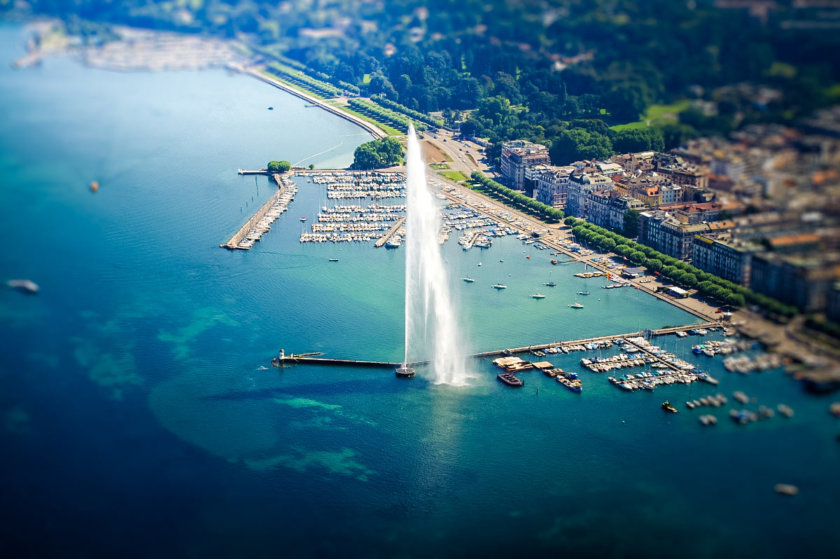 18. Chamonix and Mont Blanc
Do you rather want to discover the mountains around Annecy?
So head for Chamonix and Mont-Blanc, just 1h10 away. This is for me one of the best tours around Annecy!
On the program for the day: take the Aiguille du Midi cable car and discover an exceptional view of the entire Mont-Blanc massif.
Then opt for a ride on the cogwheel train on the largest French glacier: the Mer de Glace. And don't forget to visit the Ice Cave and its collection of ice sculptures.
And if you want to do something a little more sporty, I particularly recommend 2 activities:
An introduction to winter mountaineering in Chamonix
The ascent of an icefall, a winter sports activity to try at least once in your life!
Whichever program you choose, I recommend that you end the day with a good Savoyard dish in a restaurant in Chamonix. Tartiflette, croziflette, fondue, cheese and charcuterie lovers will be delighted!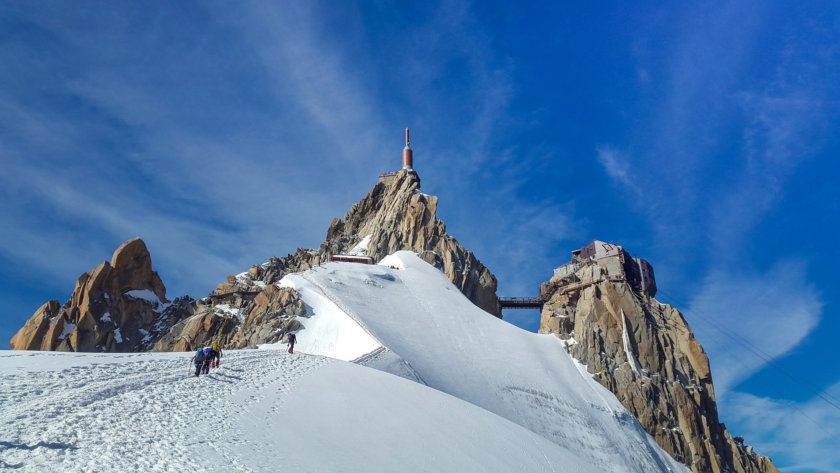 19. Other Places to See near Annecy
Still on the shores of Lake Geneva and in the list of things to do near Annecy, I recommend that you discover:
Yvoire, a pretty medieval village ranked among the most beautiful villages in France. You can discover its castle and the small local craft shops.
Evian-les-Bains, a small spa town known worldwide for its mineral water. The walk in the center and by the lake is very pleasant.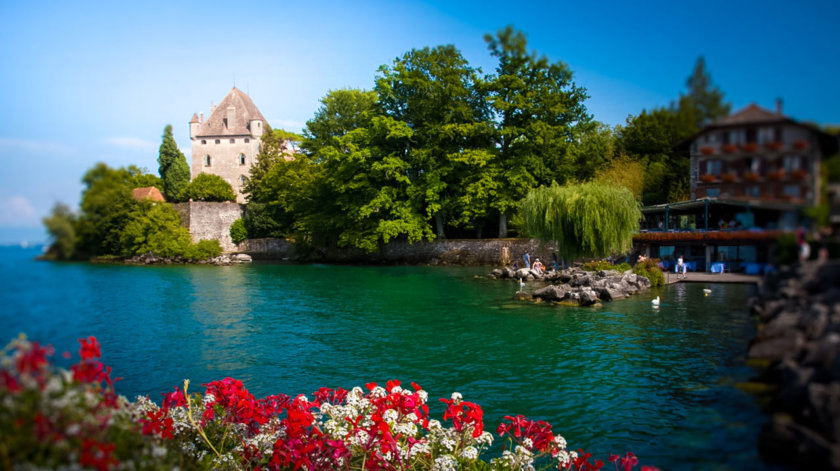 How many days to visit Annecy?
To visit Annecy, I advise you to plan 2 days. 
If you intend to leave 3 days or more on vacation in Annecy, you can discover the surroundings of Lake Annecy or do other hikes.
1 Day Annecy Itinerary
If you only have 1 day to visit Annecy, you will unfortunately have to make some concessions!
Here are the things to do that I recommend to you in order to make the most of your short stay in the Venice of the Alps:
Take a stroll along Lake Annecy to start the day off right
Then head to old Annecy and its canals
For the lunch break, have a bite to eat in the old town (a tartiflette if it's not too hot!) and finish with a good ice cream at the Glacier des Alpes!
Climb to Annecy Castle
Then head to Lake Annecy for a nautical activity  ( wakeboarding, water skiing, paddle or pedalo) or a boat trip
Take to the skies for the end of the day: take a paragliding tour and observe Annecy and its lake from the sky! As it is quite possible that the flight schedule will be imposed on you, you may have to adapt the program according to that or do this activity the next day instead.
As you have seen, it is quite possible to visit Annecy without a car and to do everything on foot.
But if you're tired of walking, you can also rest for a while by taking Annecy's little tourist train. It allows you to walk around Lake Annecy.
2 Days Annecy Itinerary
In 2 days in Annecy, you will have time to do a nice hike in the surroundings!
In addition to the program for the 1st day presented above, I suggest that you take a trip to Le Semnoz, with for example this walking route which offers a magnificent panorama of the lake.
For the more seasoned, the La Tournette hike is an excellent alternative to occupy your day.
For the rest of the day, head for the beach, near Annecy le Vieux, which will allow you to rest while enjoying the crystal clear waters of Lake Annecy.
And if you want to do a fun activity in Semnoz, the downhill mountain biking is really great!
Tips for your Annecy itinerary:
To organize your short stay in Annecy, all my advice is in my other article: Visit Annecy in a weekend.
3 Days Annecy Itinerary
If you have 3 days in Annecy, that will give you time to take a tour of the lake, with, why not, a night in one of the villages on the water's edge such as Talloires or Menthon-Saint-Bernard.
Take the opportunity to take some pictures of the castle of Menthon-Saint-Bernard, or even visit it depending on the day and the season (more info on their website ). Another place that offers a superb panorama is the Château de Duingt, on the other side of the lake.
You can also go to Geneva, discover the villages of Lake Geneva or even go to Chamonix and Mont-Blanc.
And if you are with friends, why not go for example tree climbing or a game of paintball in the forest, near Annecy?
Tips for your Annecy itinerary:
If you want to know more about the specific events that can take place during your holidays in Annecy, I invite you to visit the Annecy tourist office located at the Bonlieu Cultural Center, 1 Rue Jean Jaurès.
Accommodation in Annecy
Here are the best hotels to stay in Annecy, depending on your budget. Remember to book as soon as possible to pay the best price!
Best Hotel Annecy : located 5 minutes by car from the center of Annecy. Double room from €71, breakfast at €11.90. The pluses: sensory relaxation area with spa-jacuzzi, sauna, top notch hospitality.  An excellent choice for cheap accommodation in Annecy!
Campanile Annecy Center – Gare : Located 5 minutes walk from the old town and the lake. Spacious and comfortable room from €90, breakfast at €10. The plus: preferential rate for parking right next door.
Le Bel Abri: located just in front of the lake, 1 minute walk. Comfortable and cozy double room with a view of the lake or the mountains from €99, breakfast €10. Most: the privileged location, the very friendly staff, the tasteful decor. It is our favorite for its price-performance ratio in Annecy!
Hotel du Palais de l'Isle : located in the heart of Old Annecy. Double room with refined decoration overlooking the canals or the castle from €120, breakfast €12. The pluses: the very warm welcome, the ideal location for visiting Annecy on foot, the comfort.
Les Tresoms Lake and Spa Resort: this beautiful hotel with a view of the lake is located a 15-minute walk from the historic center. It offers elegant, designer and colorful rooms from €170, breakfast at €25. Most: the swimming pool, the spa, the sublime view, the excellent gourmet cuisine, the setting. One of the best hotels for a romantic weekend in Annecy!
Imperial Palace: Located on the edge of Lake Annecy, 1.5 km from the city center. Modern and elegant double room with a view of the lake and the mountains from €200, breakfast €25. The pluses: the setting, the view, the spa with swimming pool, sauna, hammam, the gourmet restaurant. This is our recommendation for a luxury stay in Annecy. 
And if you prefer  the camping option for your holidays, you will also find the list of all the campsites near Annecy and can easily book online by clicking on the button below.
A tip: book quickly as long as there is space 😀
Annecy Tourist map
To help you visualize the city a little better, I made you a  tourist map of Annecy listing the places to visit that I talk about in this top 17 things to do in Annecy. You can display the map legend by clicking on the top left button with a small arrow.
And you, what are you planning to do in Annecy?
FAQ – Questions about Annecy
What to do in Annecy as a family?
If you are planning to visit Annecy with your children, I recommend the following activities:
Take a walk on the shores of Lake Annecy or by Segway (from 12 years old)
Rent a pedal boat or a small boat without a license
Go eat an ice cream at the Glacier des Alpes! 
Bathe at one of the many beaches – With young children, Talloires beach is great as it has a paddling pool.
Discover the Gorges du Fier  or the Grottes de Cerdon park
Tree climbing – A great idea for activities to do with children in Annecy!
Le Semnoz: for an easy hike and a summer toboggan run.
What to do in Annecy in summer?
So, it's very simple, if you have chosen to visit Annecy in July and August, you can do everything that I recommend in my Annecy guide:
The walk along Lake Annecy: by segway, by bike, on foot, by little train – It's really unmissable!
The walk in the old town
Nautical activities in Annecy: boat, pedal boat, wakeboard, paddle, cruise
Paragliding over Lake Annecy – This is clearly the best activity to do in Annecy in summer!
Sports activities : hang gliding, canyoning, Via Ferrata, mountain biking and even hot air ballooning or a helicopter ride!
Attend the fireworks of the lake festival in August.
What to do in Annecy when it rains?
If unfortunately the rain prevents you from doing some sightseeing in Annecy, until it calms down, I advise you:

The visit of the castle of Annecy and its museums
Un escape game
Test virtual reality
Un laser game
A short film session.
Visit Annecy in winter: the best activities
Around Annecy, you can test several winter activities between the months of December to March-April:
A snowshoe hike 
A snowmobile trip in the Alps
A segway ride on the snow, in Le Grand-Bornand, 45 minutes from Annecy
A 6 km night toboggan run
Speedriding that combines downhill skiing and sailing
Driving a team of sled dogs
Learn how to build an igloo and sleep in it!
When to Visit Annecy?
I recommend that you plan your visit to Annecy and its surroundings between the months of May to October to be able to do all the things and activities that I recommend.
In winter, the city and the shores of the lake are much less lively, except during the Venetian carnival (end of February-March) which attracts a lot of people.
Are you looking for other travel ideas in France? Read also
Discover all our articles on France: All our tips on Mauritius are listed here.