Kenting National Park, Taiwan: top things to do
Visiting Kenting, Taiwan, means discovering the most visited national park on the island.
With its heavenly beaches and splendid natural landscapes, we understand better why Kenting Park is truly a must for a trip to Taiwan!
In this complete guide, I have prepared for you all the things to do and see in Kenting. I will also give you all the practical information and advice on how to organize your visit.
And at the end of the article, you will find my selection of the best hotels to sleep in according to your budget as well as a map with all the places not to be missed.
So, where to go and what to do in Kenting?
Kenting Park: a must-see for a stay in Taiwan
What to do and see in Kenting?
As there are many places to visit, we will start with the things to absolutely see during your visit to Kenting National Park.
1. Kenting Forest Recreation Area
In the heart of Kenting National Park, I suggest you go for a walk in the forest part of the park.
Several well-marked paths allow you to discover the tropical forest and its fauna. Keep your eyes peeled for monkeys and birds endemic to the island. There are also some caves where you can observe stalactites and stalagmites. 
Don't miss the park's tower, the top of which offers a panoramic view of the entire south of the island.
Access to the Kenting Forest Recreation Area is chargeable, between NT$100 and NT$125. At the entrance, you will be given a map of the site with the paths.
Tips for your Kenting itinerary:
During your tour in Taiwan, you will notice that there are tons of places marked "recreation areas". These are developed areas with parking, toilets and marked trails which lead to one or more places of interest.
If you see "recreation area" on the map, you are sure that there is always a nice little walk to take or a viewpoint to admire.
Access can be paid or free.
2. Jialeshuei Area
Jialeshuei is located on the east coast of Kenting.
The area brings together several rocks in the shape of animals (frog, pig) or unusual rocks sculpted by erosion. One of them even represents the exact shape of the map of Taiwan. At the end of the route, we discover the Jialeshui waterfall.
This visit is done only in a small shuttle containing around twenty people and with comments and stops to locate the rocks.
It takes around 1/2 hour for NT$80 per person + car parking at NT$50.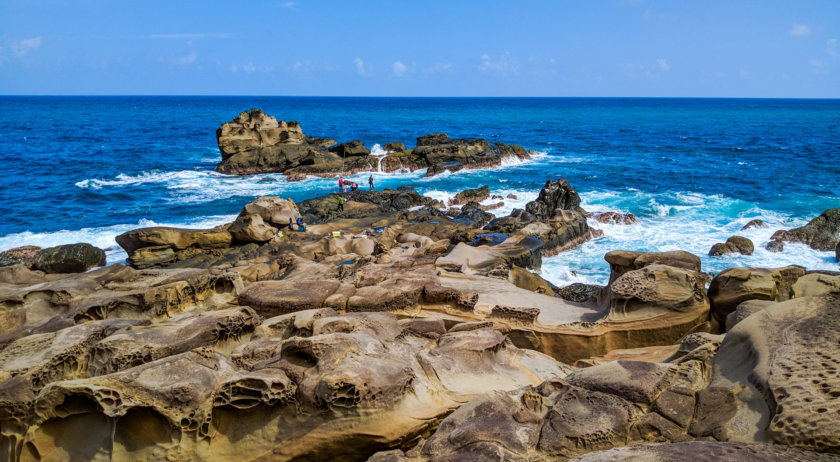 3. Gangkou: Surfing in Kenting
If you want to go surfing during your stay in Kenting, head to the place called Gangkou.
After passing this small town with a few restaurants, and before the Jialeshuei site, you will find several beaches where all the surfers gather to tame the wave.
No underwater rocks and warm water in all seasons, and you will have the best surf spot in Southern Taiwan!
In Gangkou, it is also possible to rent kayaks and enjoy a beautiful view of the bay by taking the suspension bridge (NT$20).
Tips for your Kenting itinerary:
Trying surfing is truly a must-do activity in Kenting.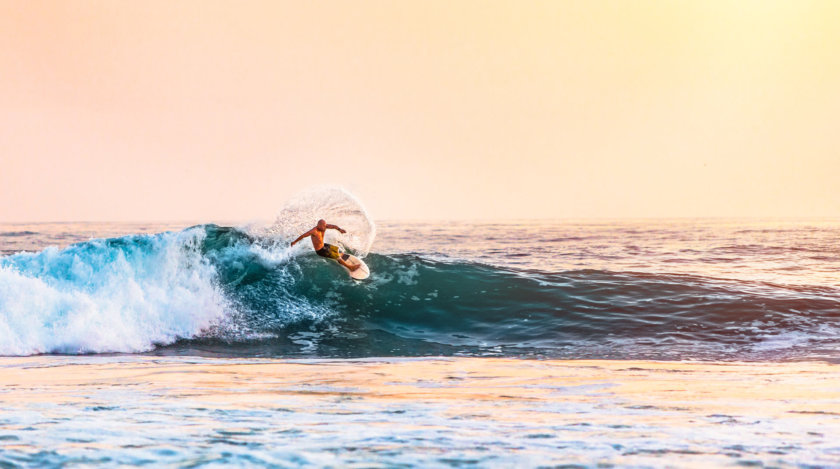 4. Fongchueisha
Visiting Kenting also means enjoying some very beautiful views.
At Fongchueisha, a clear panorama of the coast awaits you.
If you take a road trip to Taiwan, you will notice that this part of the coast is really different from the rest of the island, there is less jungle and vegetation.
It makes the landscape truly unique and for me it is one of the most beautiful panoramas in southern Taiwan.
5. Longpan Park
Just past Fongchueisha, you will have another beautiful view of the Pacific Ocean at Longpan. 
Be careful not to get too close to the edge of the cliffs as the rock is very crumbly and it is often very windy.
Tips for your Kenting itinerary:
If you are an early riser, feel free to head to Longpan for sunrise.


6. The Southernmost Point of Taiwan
Then continue on the road past Longpan and you will arrive at the southernmost point of Taiwan.
A short walk of around 1/4 hour, most of which is in the forest, will allow you to reach a monument built on a wooden platform and symbolizing the end of the island. You can admire the rocky coast and the Pacific Ocean.
Paid parking at NT$50.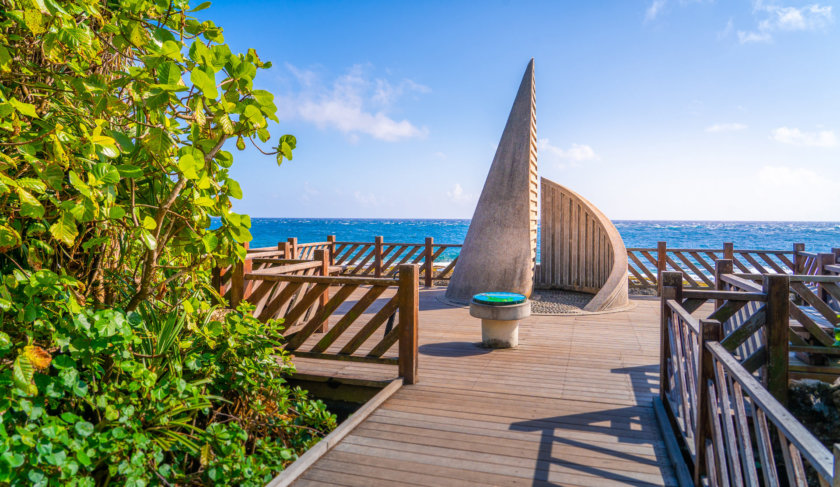 7. Eluanbi Park
This is one of the most famous places to visit in Kenting National Park: Eluanbi Park and Lighthouse.
You will get there by always following the same route after having discovered the southernmost point.
This large park allows you to walk in the middle of the jungle along developed paths. There are also some unmissable places with specially shaped trees and caves .
Several belvederes also offer beautiful views of the sea and the volcanic rocks torn by the wind.
The other attraction of the park is its small white lighthouse, which you can climb to the top to enjoy the panorama. There is also a small museum next door.
Entrance to Eluanbi Park costs NT$60 per person + car parking at NT$40 (scooter NT$10). The park is generally open every day (except closed Mondays) from 7 a.m. to 5:30 p.m./6:30 p.m. depending on the season.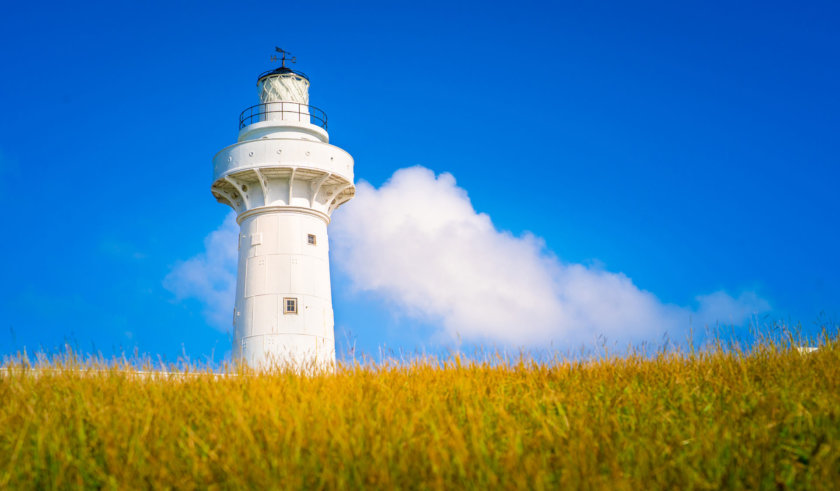 8. The Beaches of Kenting
If many people choose to visit Kenting during their stay in Taiwan, it is mainly to enjoy the beautiful sandy beaches.
They are very popular because you can swim all year round on this part of the island. Taiwanese love to come to Kenting for their vacation. And it must be said that they are right because these are truly the most beautiful beaches in Taiwan!
Here are the beaches where you can go swimming in Kenting:
Baisha Beach or White Sand Bay: a large sandy beach where you can rent jet skis or go banana riding. It is also very popular for snorkeling. For me, it is the prettiest beach in Kenting.
South Bay/ Nanwan:  a long sandy beach + water activities. It is the most popular and the most touristy. This is where you will find the majority of hotels and restaurants.
Little Bay Beach: a small beach located before the village of Kenting arriving via the Eluanbi road.
Not to mention a real beach, you also have several famous spots for snorkeling in Kenting: at Sail Rock, towards Banana Bay or at Little Bali Bay.
Tips for your Kenting itinerary:
Some scenes from the film "Pi's Odyssey", which won 4 Oscars, were filmed on Baisha beach.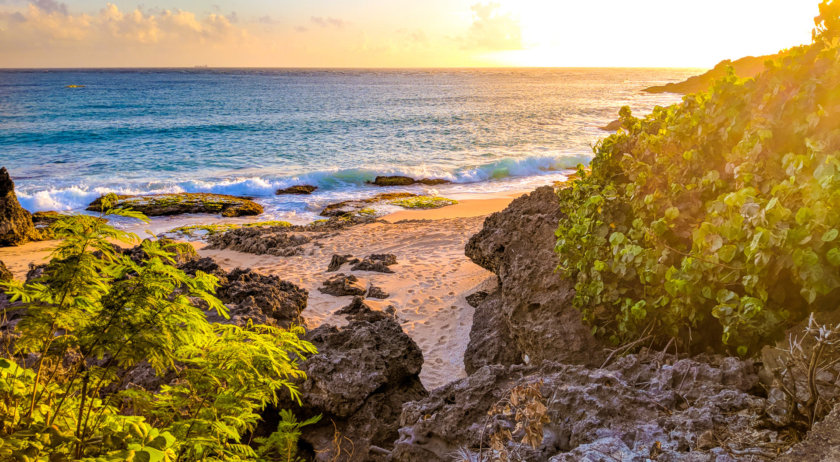 9. Maobitou Park
Maobitou is located in the southwest of Kenting National Park.
The attraction of the park is its rock in the shape of a cat which is about to pounce on its prey, which also earned it its name. Maobitou actually means "Cat Nose". This rock is THE selfie spot for all Chinese tourists!
Apart from this rock formation, you will also find in Maobitou some beautiful views of the sea and the Taiwan Strait.
The place is renowned for being one of the best places in Kenting to watch the sunset. 
Paid parking at NT$40 (scooter NT$10). Entrance to Maobitou Park is free.
10.Hengchun
Hengchun is the only small town located within the national park.
There isn't much to do in Hengchun, apart from a quick tour of the old town surrounded by its walls.
The fortified city is above all a good base for visiting Kenting. There are restaurants, hotels and there is a night market every Sunday evening.
If you have children, you can also take them to see the island's endemic deer at "Paradise of Deer". They will be able to feed them and take care of them.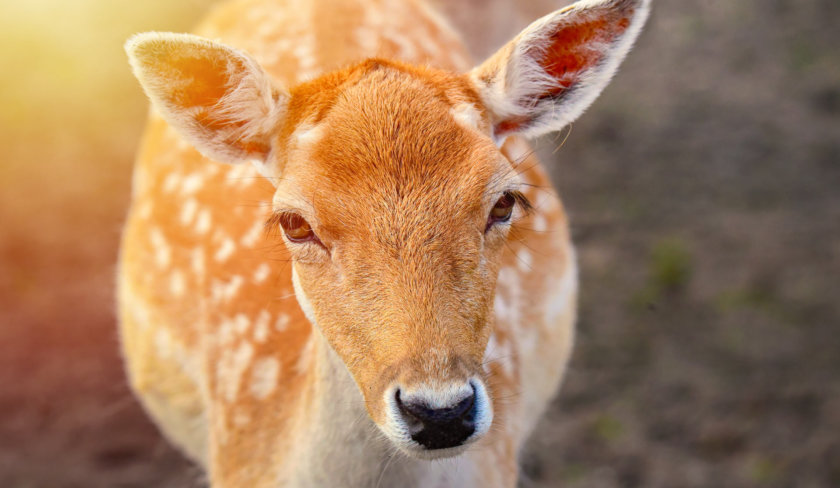 11. Chuhuo
Just a few kilometers north of Hengchun, you can see a rather unique phenomenon: an eternal fire.
Thanks to the presence of an underground gas pocket, the Chuhuo area is home to several small fires that burn constantly.
If you can, it is better to see it at night so that it is more spectacular but personally I did not find it essential and not that interesting. There was only a small flame when I passed.
At least parking and access are free, so if you drive past, why not.
12. Cikong Cascades
Continuing on the road after Chuhuo and taking the left fork, you will reach the start of the path leading to Cikong Waterfalls.
The path, which at times requires climbing using ropes (and yes it's quite sporty!), provides access to several natural swimming pools fed by waterfalls. Stop whenever you want for a well-deserved refreshing swim!
Tips for your Kenting itinerary:
This is one of the few places in Kenting that is still a little off the beaten track, as you have to walk a bit to get to the first pools and waterfalls. Bring at least some sneakers to go there.
13. The National Marine Biological Museum/Kenting Aquarium
If you are doing this Kenting tour with your children, I recommend taking them to visit the National Marine Biological Museum.
It is the largest aquarium in Taiwan. In particular, you can observe whales, belugas, sharks and of course all kinds of tropical fish. 
And for those who would like to treat themselves to a VIP experience, I even suggest spending the night at the aquarium!
You can visit the museum with a guide once all the other tourists have left and sleep just below the glass tunnels where the animals roam. Dinner and breakfast are also included in the price.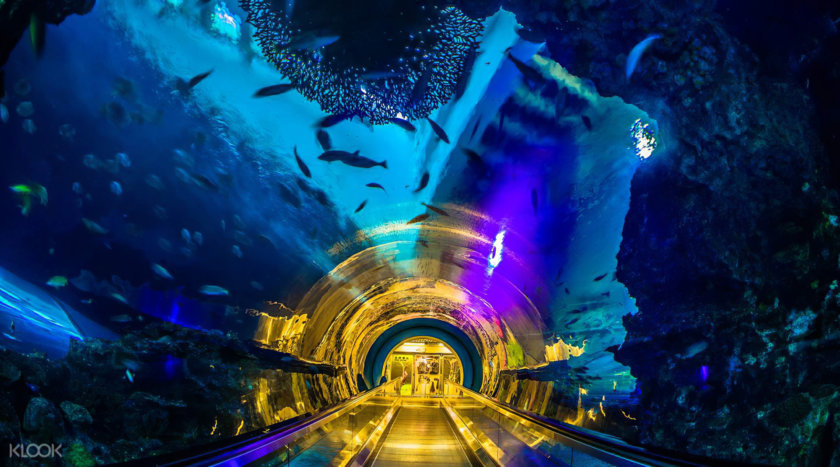 14. Other Activities to Do in Kenting
If you want to add some cool activities to this list of things to do in Kenting, I recommend:
An all-inclusive package of 8 water activities in Kenting.
The best way to spend a fun day doing towed tubing , banana boating and jet skiing. There are also several inflatable platforms on the water.
Access is unlimited and you can do as many tours as you want!
A 2.5 hour cruise to enjoy the sea and admire the Kenting National Park from another angle.
A first dive.
What to do around Kenting National Park?
As the park is located in the very south of Taiwan, it is a little isolated.
We can't really say that there are things to see around Kenting but I have prepared for you my selection of the closest places to visit (which are still at least 1 hour 45 hours away by transport).
15. Kaohsiung
It is the largest city located around Kenting and the 3rd largest in Taiwan.
It is approximately 1 hour and 45 minutes by car from the national park.
Things to see and do in Kaohsiung:
Discover the Tiger and Dragon Pagoda on Lotus Lake
Climb the Sky Tower and enjoy the panoramic view
Stop at Formosa metro station and admire its dome of light made up of 4,500 glass panels
Stroll around Cijin Island
Take a walk or boat ride on the Love River
Visit Bywood and Sugar Factory, an old disused sugar factory left as it is with all the machinery.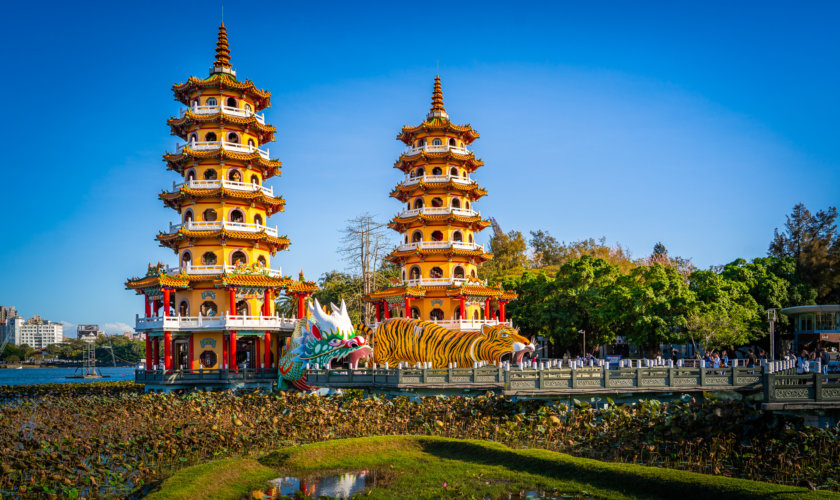 16. Liuqiu Island (or Lambai Island)
This very small island is located in the northeast of the national park.
To reach it, you will first have to go to Donggang (about 1 hour 20 minutes by car) and take the boat. The journey takes only 30 minutes.
To visit Liuqiu, which is only 7 km², it is best to rent a scooter, electric bike or small golf cart when you arrive.
You can then go around the island, stop to swim on the beautiful beaches and enjoy water at least 25° all year round.
Liuqiu is also famous for its snorkeling spots where you will have the chance to observe sea turtles and swim with them.
17. Taitung
Taitung is the largest city around Kenting located on the east coast of Taiwan. It is still more than 2 hours away.
There aren't necessarily many attractions to see in Taitung but many travelers choose to stop there during their itinerary in Taiwan because it is the ideal stopover to spend 1 night.
The city is indeed located between the Taroko Gorges and Kenting Park and there are not really any other major cities on the route.
If you have some time to visit Taitung, you can stroll through the Taitung Forest Park, visit the National Museum of Prehistory and enjoy one of the 3 night markets for dinner.
Accommodation in Kenting
To visit Kenting National Park, you have 2 places to stay:
Hengchun, the largest city in the park.
Kenting Street, a long seaside road where you will find only restaurants and hotels.
In both cases, try to book your hotels in Kenting as far in advance as possible because it is really touristy and a lot of Chinese and Taiwanese come there on vacation.
To help you choose, I have prepared my selection of the best hotels to stay in Kenting:
Best accommodation in Hengchun
Tips for your Kenting itinerary:
Kenting Grand Bay Resort Hotel: located in the old town. This hotel is particularly suitable for a stay with children thanks to these family rooms starting from €130 per night, breakfast included. The extras: the huge games room with ball pool, climbing wall, slide, the large indoor swimming pool, the children's swimming pool. This is the ideal hotel for a family vacation in Kenting!
The best hotels in Kenting Street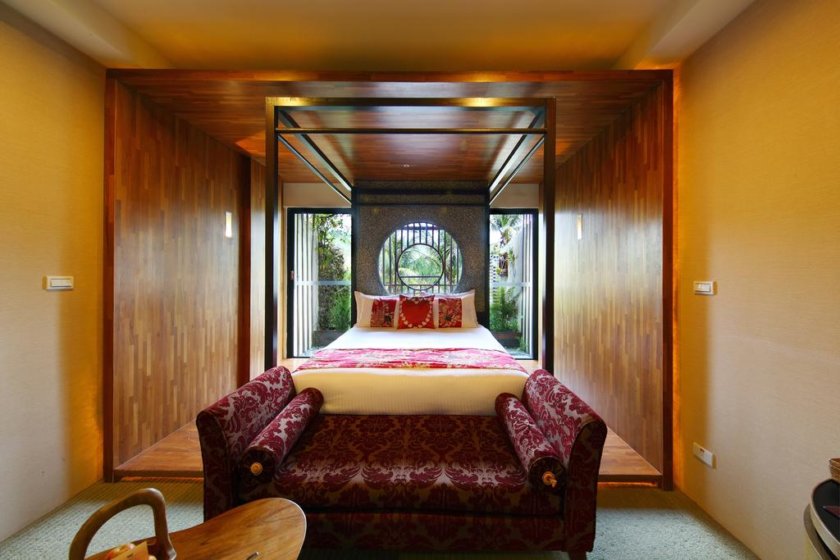 How to visit Kenting National Park: practical information
To finish organizing your visit to Kenting Park, I will now give you some practical information, particularly on how to get around Kenting.
To discover all the places of interest in Kenting, you will need a means of transport. Here are the different options:
By Car
Visiting Kenting by car allows you to be completely independent and go everywhere. You won't have any problems parking, there are parking lots at all the spots.
And there is no risk of getting lost since almost all of Kenting's must-see attractions are located along the main road or are well signposted.
Tips for your Kenting itinerary:
To rent a car in Taiwan, you need an international license in addition to your "normal" driving license.
By Scooter
The scooter has the same advantage as the car: moving everywhere and easily. 
You will find scooter rentals in Hengchun and Kenting Street. Don't hesitate to ask your hotel for advice, they will always have someone to recommend.
You will have the choice between 2 types of scooters:
Those with gasoline which require an international license and the mention ticked above stipulating that you can drive a two-wheeler.
Electric scooters for which you do not need an international license because they are limited to a maximum of 35km/h.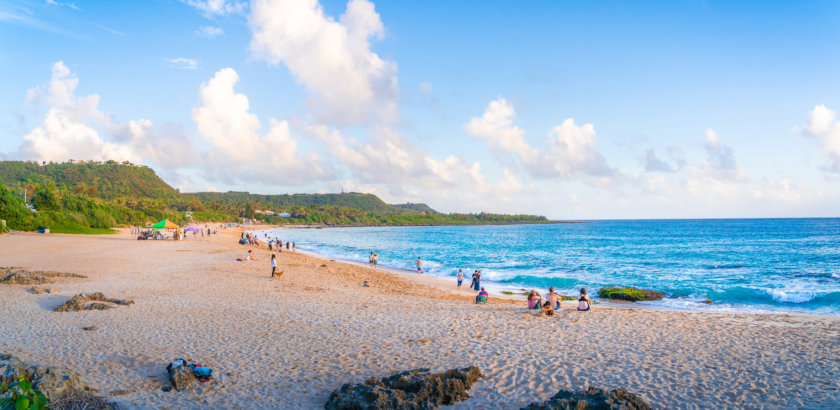 By Bus
Several shuttle buses crisscross the national park and reach the main places to see that I mentioned above.
A day pass allowing unlimited travel costs around NT$100. It is also possible to take the 2-day pass. 
You will find the bus route map, stops served and timetables by clicking here: Kenting Shuttle Bus Timetable.
By bike
During my trip to Taiwan, I noticed that there were a lot of cycle paths and that this means of transport (outside of the big cities) was quite popular.
You will find bike rental companies in Kenting if you want to discover the park by pedaling. The roads are rather flat and in good condition but Kenting being still vast, you will not be able to do everything, unless you plan to spend 3 days there.
And it still remains a little dangerous with the many buses, scooters and cars circulating.
How many days to visit Kenting?
I recommend that you plan at least 2 full days to visit the national park. And even more, if you want to quietly enjoy the beaches.
When is the best time to visit Kenting?
The best time to visit Kenting is from March to May. It's warm but not stifling and the water temperature is perfect.
Between June and September, I recommend that you avoid Kenting and even Taiwan in general. Quite simply because it's typhoon season and it's scorching hot!
From October to February, you can also visit Kenting Park but it is possible that you will be treated to rain and especially quite a bit of wind.
The water temperature is not that cold (at the beginning of February people were swimming) but the currents can be very strong and swimming is not recommended. But if you want to discover the places without spending your days at the beach, it can be a good option.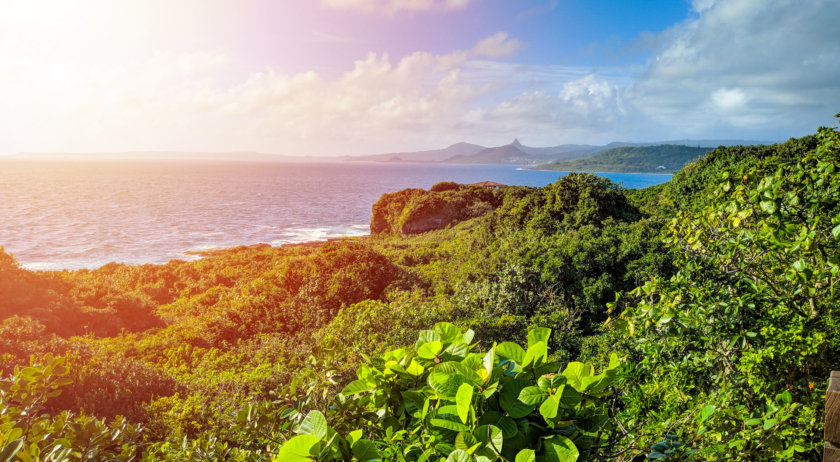 How to get to Kenting?
As I told you, Kenting is located in the very south of the island, completely opposite to the capital Taipei, which is located in the very north.
So I end this Kenting guide by giving you the different ways to reach the national park.
From Kaohsiung
From Kaohsiung, it takes about 1 hour 45 minutes to drive 110 km to Kenting National Park.
Still departing from Kaohsiung, you can also take the bus to go to Kenting.
The Kenting Express Bus departs from Kaohsiung Airport and Zuoying High Speed ​​Rail Station. There are buses approximately every 30 minutes.
It takes about 2 hours to go to Kenting by bus from Kaohsiung. The bus stops at Hengchun and Kenting Street.
There is no train between Kaohsiung and Kenting.
From Taipei
To go to Kenting from Taipei, you will first need to take the train to Kaohsiung.
There are 2 types of trains:
The HSR (High Speed ​​Train) which allows you to cross a large part of the island in just 1h30!
The classic train (Normal Train) which takes between 5 and 6:30 hours. 
Once you arrive in Kaohsiung, you can follow the instructions I gave you just above for the bus.
From the east coast of Taiwan (Taroko/Hualien/Taitung)
From Hualien (towards Taroko Gorge) and Taitung, you will have to take the train to Fangliao, a town located 1 hour south of Kaohsiung.
From Hualien, the train journey takes between 4 to 5 hours, and from Taitung, around 2 hours.
In Fanglio, you will then have to take the bus at the Fangliao Station Bus Stop to go to Kenting. It takes about 1 hour to reach the national park.
Tips for your Kenting itinerary:
By car, Taitung is a 2-hour drive from Kenting.
Kenting National Park Tourist Map
To help you visualize the places a little better, I have made a  tourist map of Kenting  listing all the places to see and which I mention in this article. You can view the map legend by clicking the button at the top left with a small arrow.
And you, are you planning to visit Kenting during your stay in Taiwan? 
Are you going to Taiwan? Read also: