What to do in Alberobello, Italy?
To visit Alberobello, in Italy, is to discover a unique village in the world!
As part of the Castel del Monte, a UNESCO World Heritage Site, the "Trulli Capital" is one of the must-see destinations in Puglia.
It is located in the Itria Valley, renowned for its vast expanses of olive trees and its villages classified among the most beautiful villages of Italy.
With our advice and our complete guide, discover the neighborhoods to visit and things to do in Alberobello : you will not miss anything of this must-see tourist site!
And if you spend a few days in the area, find also our list of places of interest to see around Alberobello as well as our selection of the best accommodations in the city.
Alberobello: a must for a stay in Puglia
History and culture: What are trulli?
All the feature of Alberobello, and its authentic charm, based on its famous trulli. But if you are like me and you did not necessarily hear about "trulli" before organizing your trip to Puglia, a cultural minute is required!
The trulli (plural) or "trullo" (singular) are small circular houses, built from loose stones covered with lime, and whose roof, conical, is often decorated with a primitive symbol, magical or religious.
They are supposed to protect the family and bring them abundance and prosperity for many generations.
These traditional houses of the Itria Valley, whose origins go back to prehistoric times, appeared in Puglia at the beginning of the 15th century. And that's not at all by chance!
The counts of Conversano reigning on the territory were subjected to an edict of the government of Naples which stipulated that all construction of a new village was subjected to authorization and thus to the payment of a tax.
To escape, they forced the peasants to build and live only in trulli, which, during inspections, were easy to dismantle  quickly and could not be considered as a "stable dwelling".
It was not until the 18th century that Alberobello was recognized as a village in its own right. Impossible then to imagine that in our time, they would always be in state and visited by thousands of tourists every year!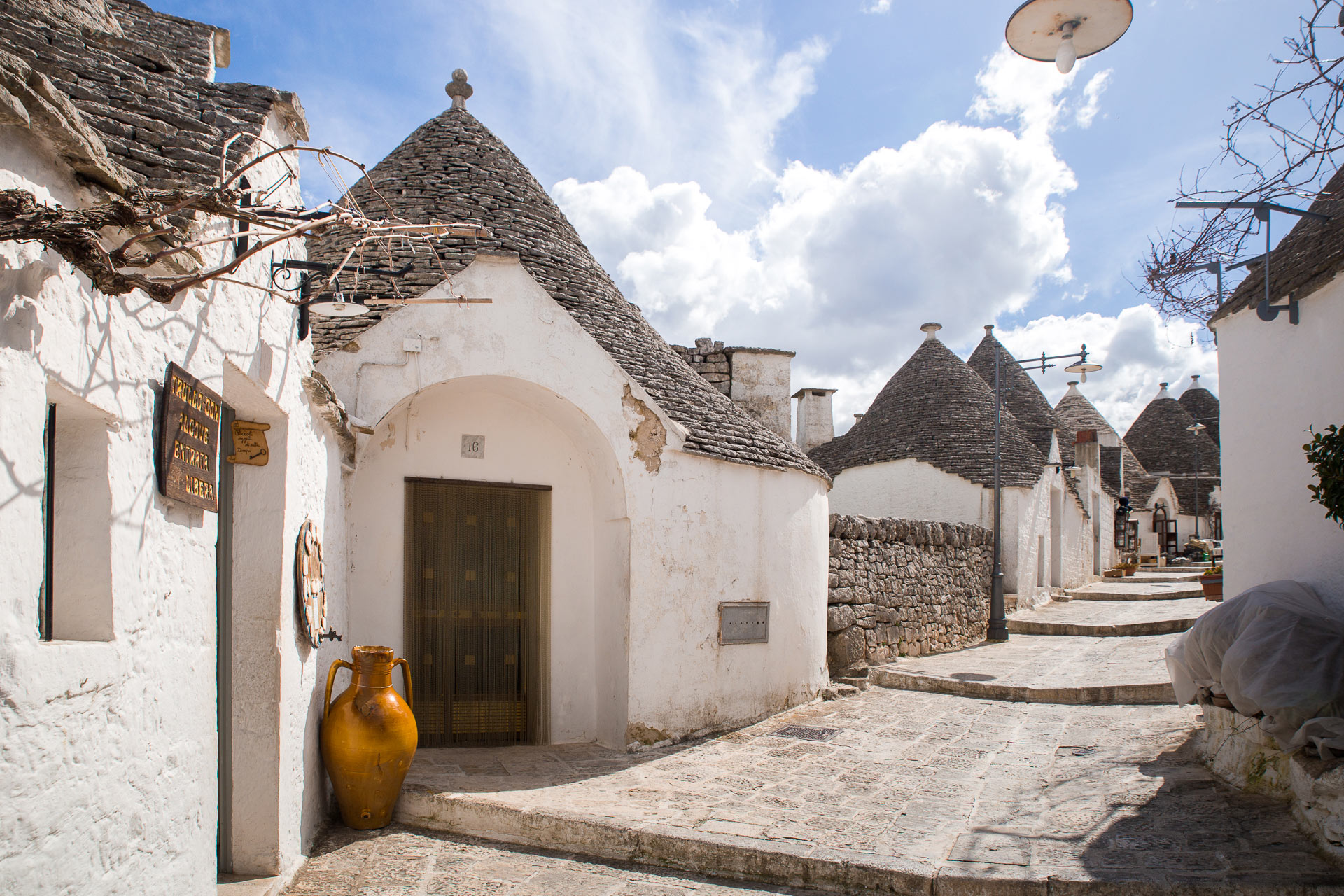 The districts to visit in Alberobello
Alberobello is today made up of more than 1,600 trulli divided into 2 districts to visit:
The Monti district is the main tourist area of Alberobello. Everyone is in a hurry to admire the trulli. In the neighborhood, the majority of them have been converted into souvenir shops or local crafts, restaurants and of course, hotels or bed and breakfasts to live the unique experience of sleeping in a trullo. 
The neighborhood Aia Piccola: a much more authentic neighborhood of Alberobello because some of the trulli are still inhabited. Much less commercial, still spared by mass tourism, it offers a less sanitized view of the past. About 1/3 of the trulli of Alberobello are now inhabited, 1/3 is converted to "tourist use" and the last third is unfortunately abandoned.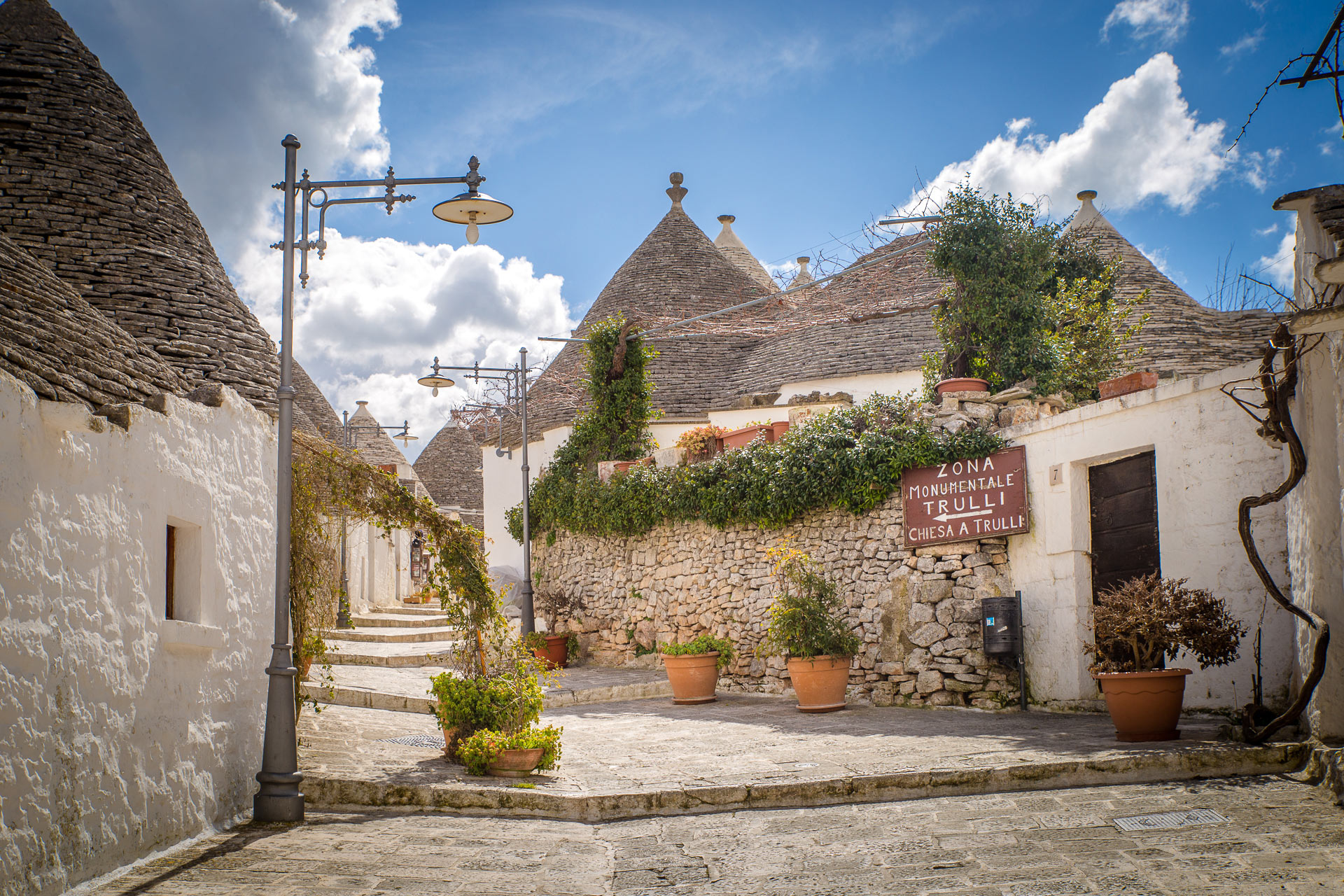 Things to Do and See in Alberobello
To visit Alberobello, nothing more simple, just walk at random steep streets to admire the trulli.
You can enjoy some souvenir shopping, taste the local gastronomy or even spend the night in a trulli, the most unusual accommodation in the Itria Valley and Puglia!
However, there are 3 other places of interest not to be missed in Alberobello:
The Trullo Sovrano or trullo ruler: named so because it is the largest trulli of Alberobello. Measuring 14 meters in height, it is the only one to have a floor and a staircase. Inside you can admire furniture and various period objects, perfect for discovering local life. A unique example of trulli to see in Alberobello. For access information and schedules, it's on the official website. 
The Museum of the Territory: the museum is installed in a complex of 15 trullli communicating between them. It traces the life in the trulli thanks to many objects, tools and testimonies on the popular traditions of the Valley of Itria. 
San Antonio Church also nicknamed the Trulli Church. Built in 1926, its architecture represents a giant trullo, which is quite surprising. A unique church in the world to see in the Itria Valley.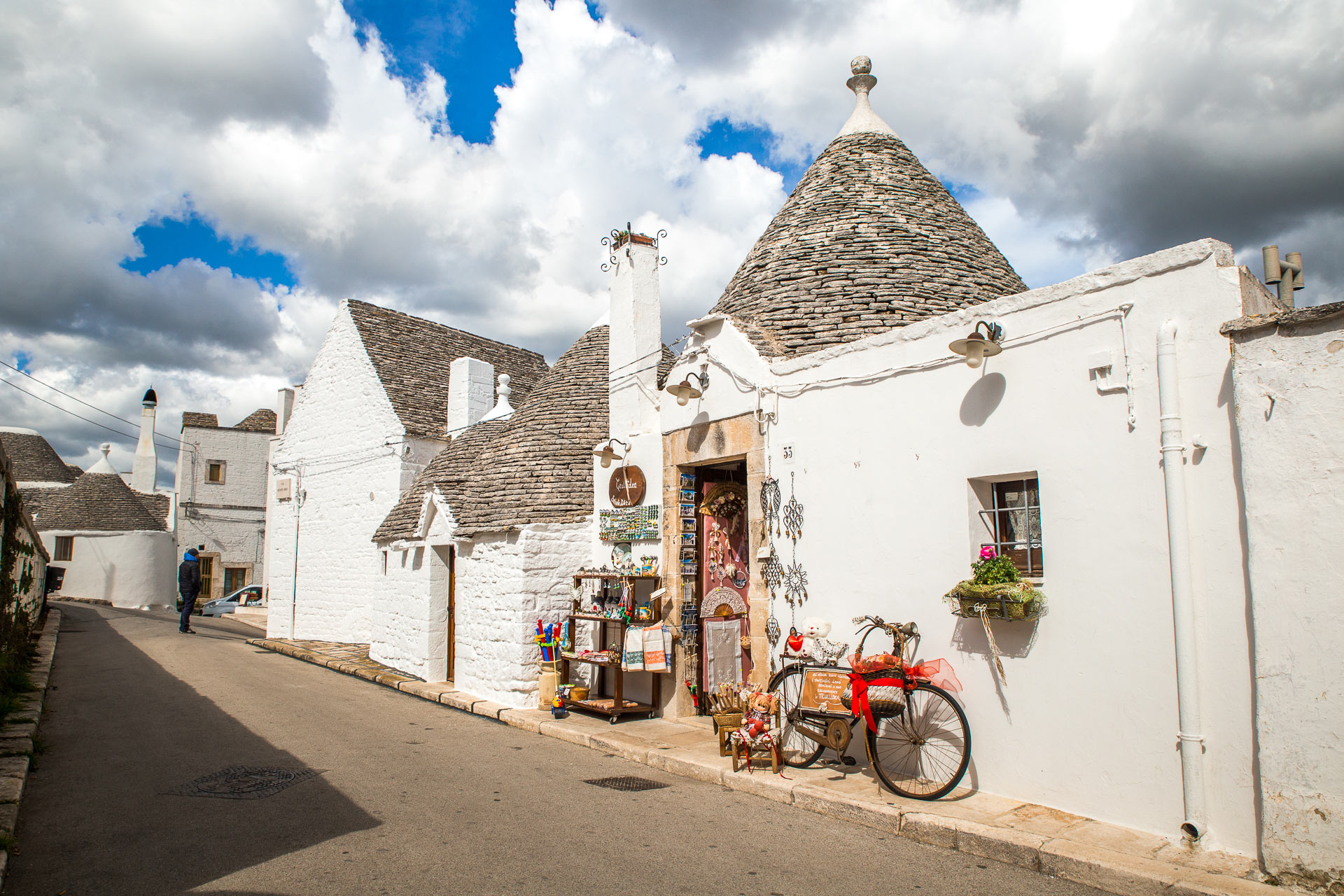 How long to spend in Alberobello?
To visit Alberobello, I advise you to plan about 2 hours or a maximum of half a day if you want to eat more.
The Trulli are all grouped, you can walk at random and not follow a particular path. Museums are quite small, so they do not take much time to visit.
However, if you want to avoid the crowd, go early in the morning (before 10am and the multitude of tourist buses that pour into the small town) or late afternoon.
In addition, it will be easier to park, because parking (pay) at the entrance of the city are quickly complete.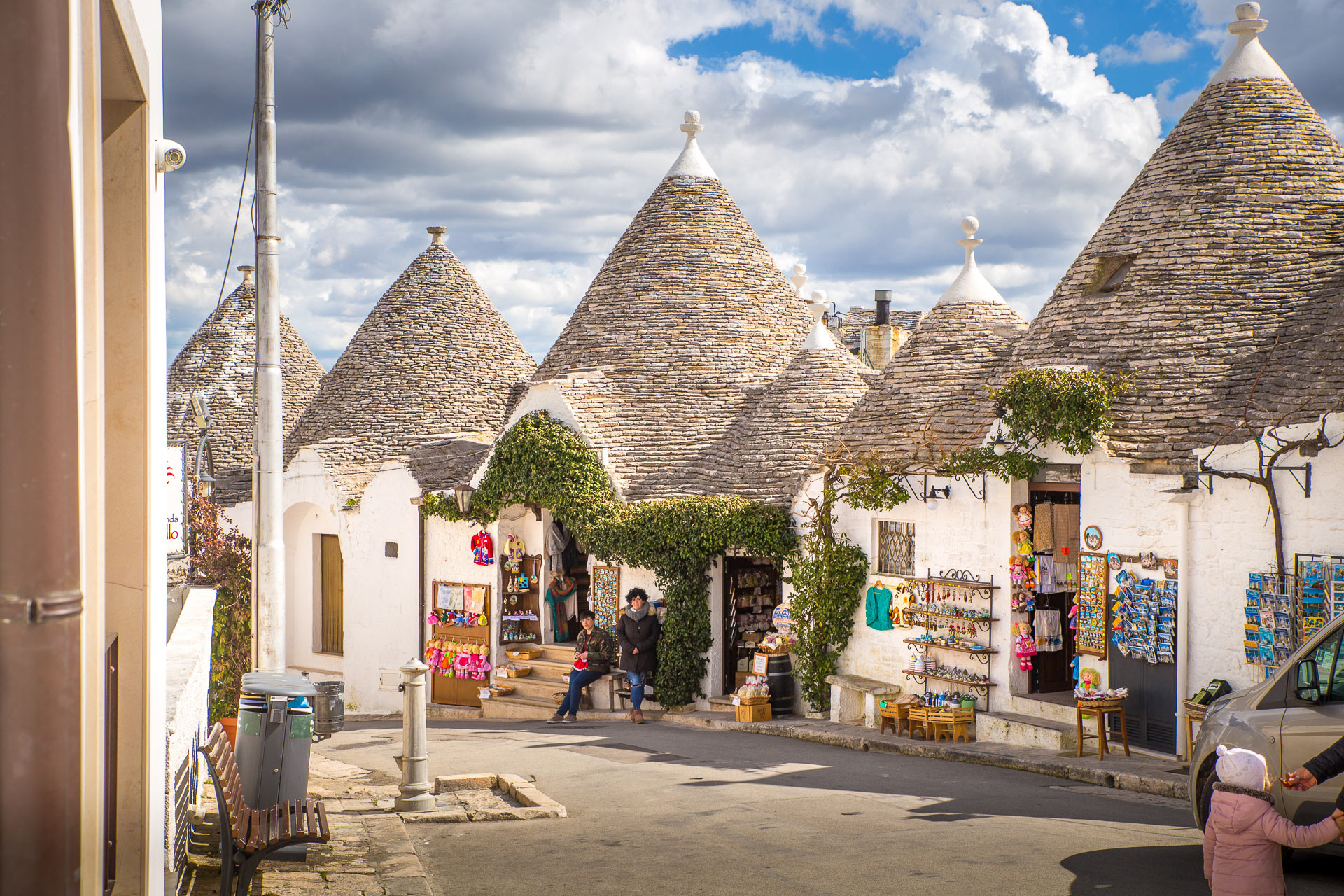 My impressions of Alberobello
I enjoyed walking around Alberobello. We went in March and early in the morning, there were few people and we really enjoyed the place. But even then, when we left, the parking lot was starting to fill up.
Given the narrowness of the streets and the size of trulli, I understand the opinions that say Alberobello is much less pleasant to see in high season!
I was pleasantly surprised by the size of the village, I was expecting to see a dozen trulli and not a whole so big. By cons, the conversion of trulli dozens of souvenir shops more or less similar, it's a little less my thing! After, it must be said that it is precisely tourism that allows this beautiful village to be as well maintained.
Even if you're not a fan of ultra touristic places, Alberobello is well worth a visit for its unique architecture and the impression of visiting a variant of the "Lord of the Rings" hobbits village!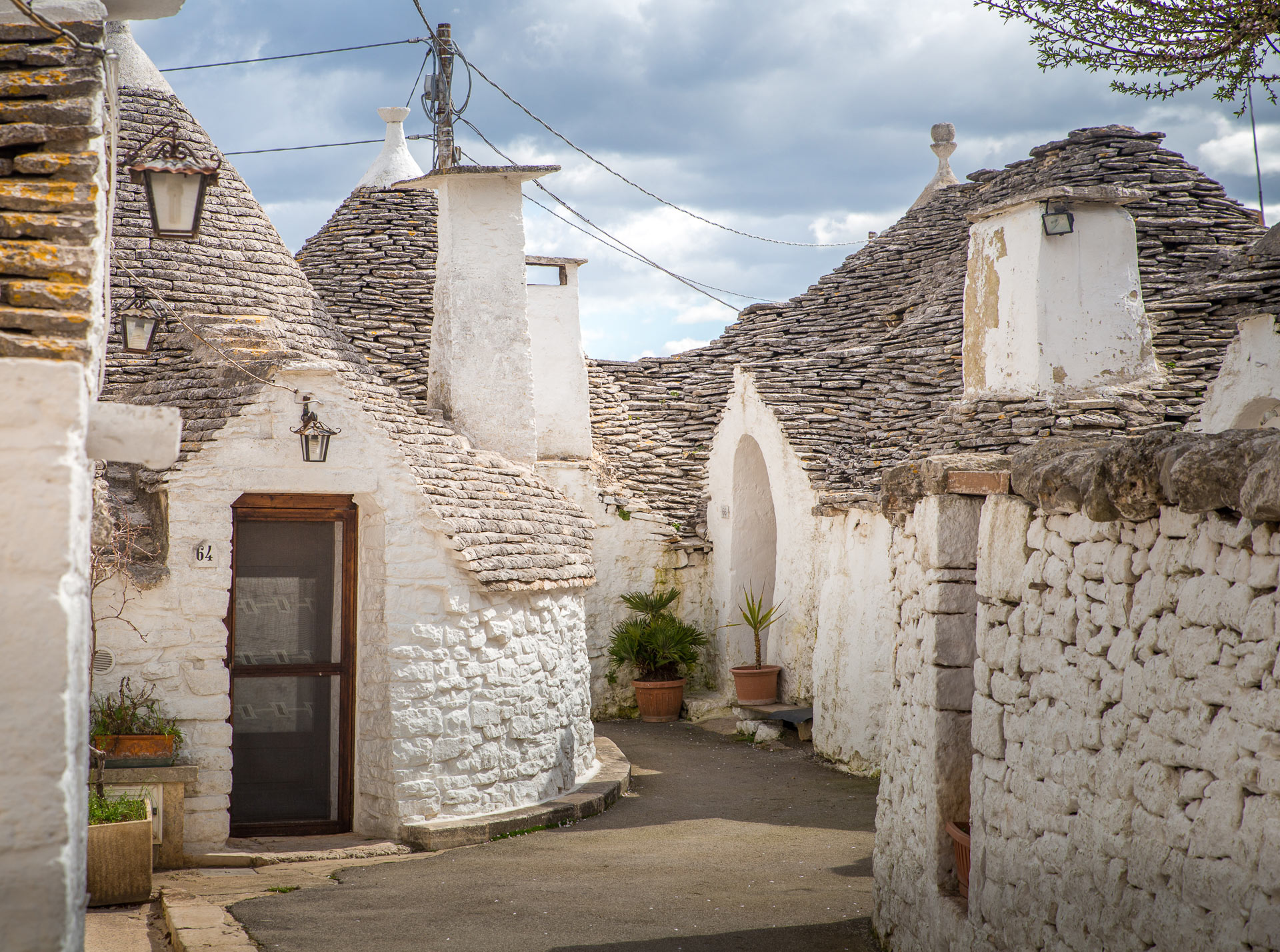 What to do around Alberobello?
As a visit of the trulli will not take you all day, I recommend 3 other sites to see in the vicinity of Alberobello. 
Castellana Cave
The Castellana Caves are less than a 20-minute drive from Alberobello.
Every day, guided tours are organized to discover some of the largest and most interesting caves to visit in Italy. You can admire the stalactites and stalagmites or the different caves and rooms during visits ranging from 50 minutes (short route) to 2 hours for the full itinerary.
Some tours are even offered in French.
If you want to visit the Castellana Caves, check the official website for times and rates.
One of the tourist attractions to do around Alberobello!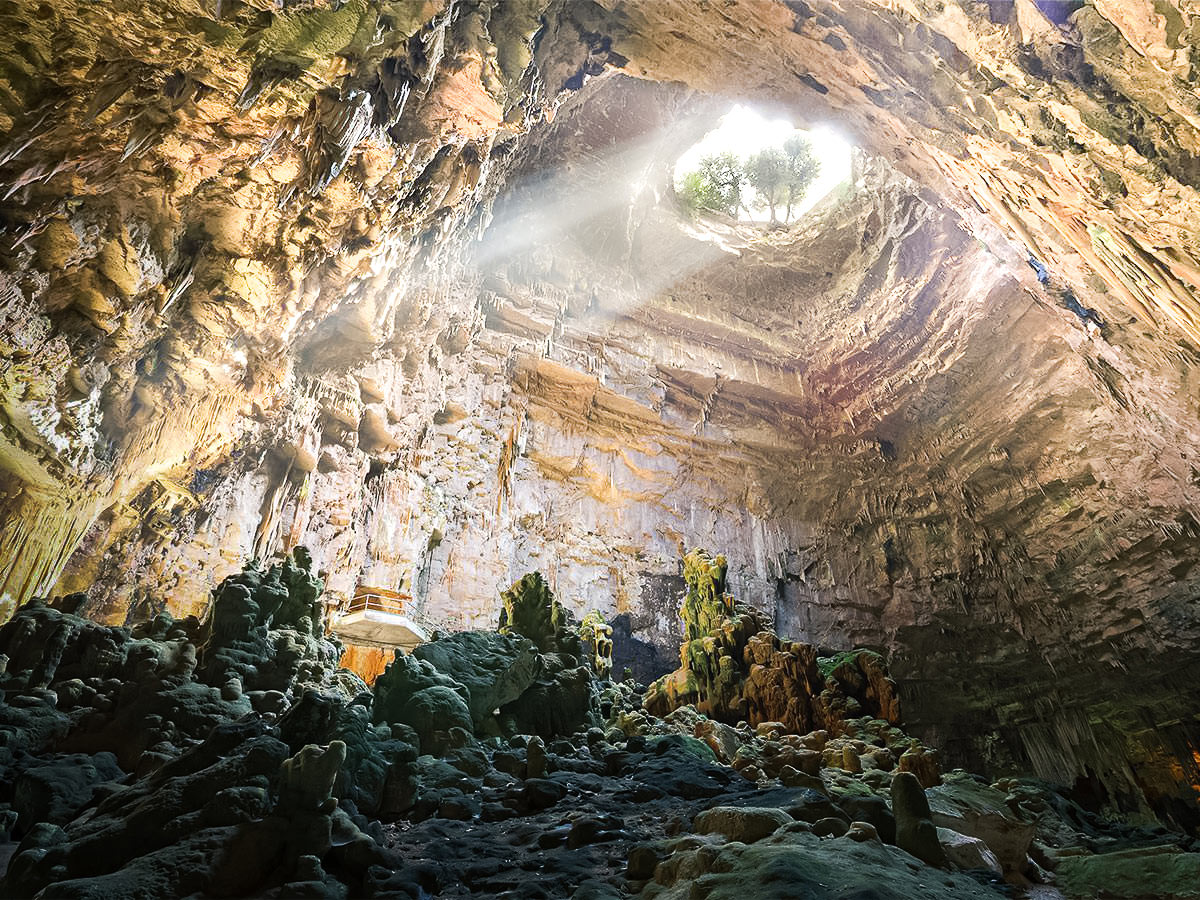 Locorotondo / Cisternino
2 stops that I advise you to do around Alberobello:
Just 10 minutes to Ostuni, go for a walk in the pretty village of Locorontodo. Ranked among the most beautiful villages in Italy, it has a charming historic center with many views of the Itria Valley below.
Another village classified in the most beautiful villages of Puglia, that of Cisternino. Located 30 minutes from Alberobello and just after Locorotondo, you can also stop there to visit its old town more like an oriental village with its houses with white facades and many alleys.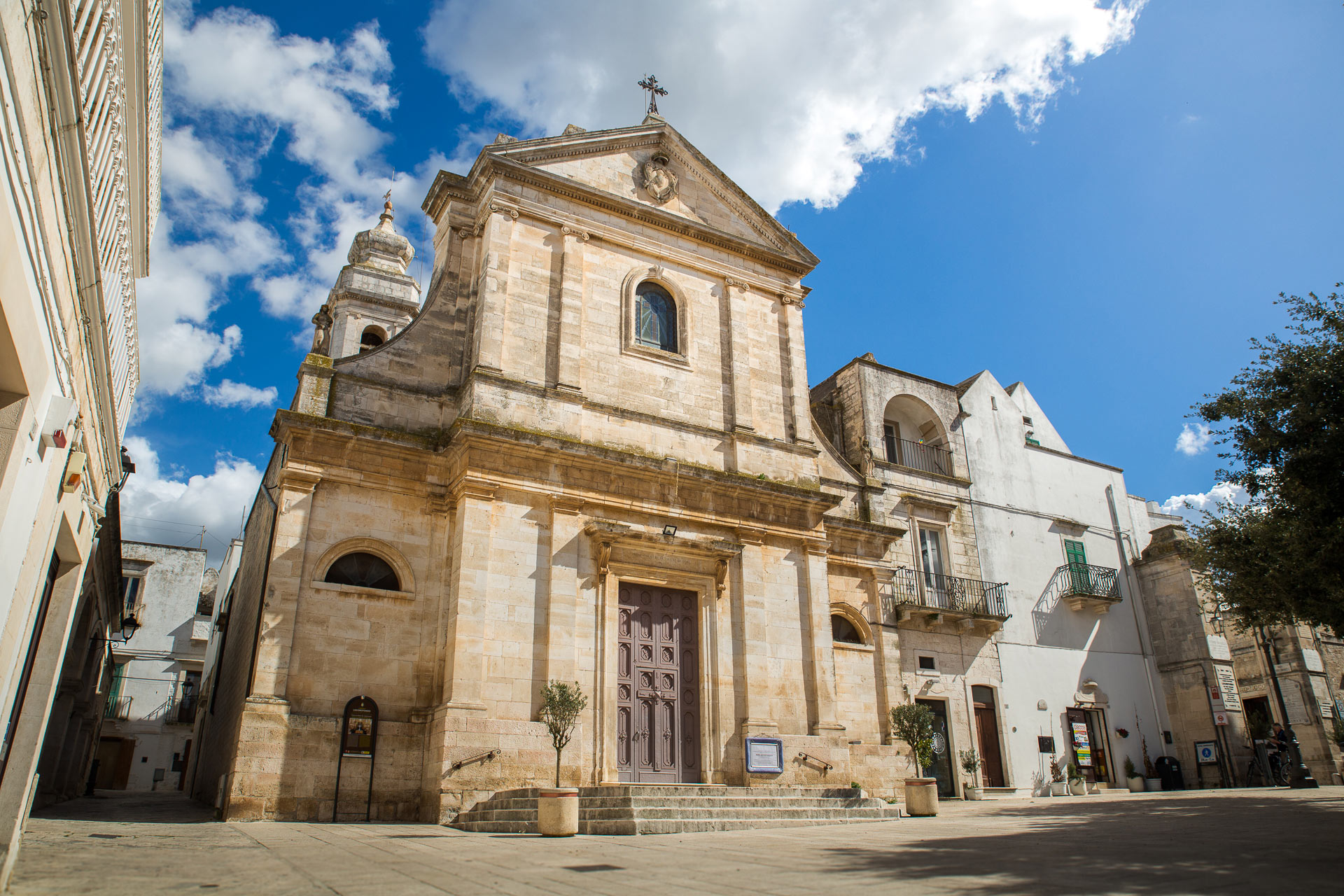 Ostuni
Close to Alberobello, about 45 minutes drive away is another tourist village of the Itria Valley, Ostuni.
Visible from a distance on its hill, the Citta Bianca, as it is nicknamed by the whitewashed facades of the houses, is very pleasant to visit.
To see in Ostuni, near Alberobello:
the historic center
Piazza della Liberta
Cathedral
the museum of preclassical civilizations
And even more things to do in Ostuni in our dedicated article: Visit Ostuni, in the Itria Valley.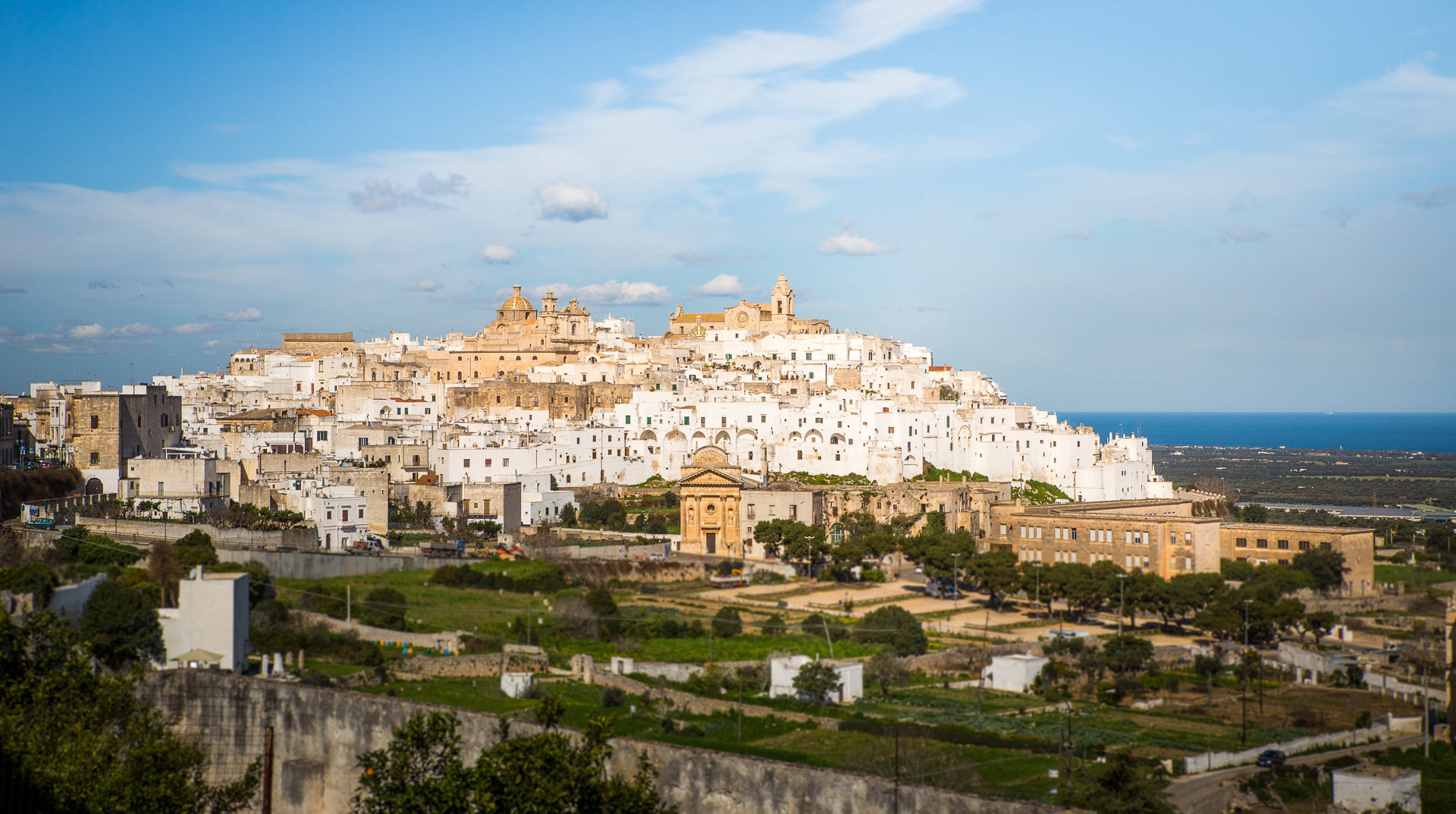 Recommended Accommodation in Alberobello
Agriturismo Paretano: Located 10 minutes drive from Alberobello, in the countryside of the Itria Valley. Brand new double room, spacious and comfortable from 70 € per night, breakfast included. Most: the quiet location, the home owner, breakfast home, the large pool.
Tipico Resort: Located in the center of Alberobello. The hotel offers to sleep in the trulli, traditional habitat of Puglia. Elegant double room with exposed stone from 100 € per night, breakfast at 5 €. Most: the central location, the charm of accommodation, quality breakfast. This is our favorite for its benefit / price ratio. 
The Alcove Luxury Hotel: Located in the heart of Alberobello. The hotel consists of renovated trulli for a mix of traditional and modern comforts. Double room comfortable and well equipped from 230 € per night, breakfast included. The plus: the location to visit Alberobello, the decor, the staff available. This is our recommendation for a luxury stay in Alberobello. 
How to get to Alberobello?
From Bari: Allow 1 hour by car.
From Brindisi: Join Alberobello by car in 1 hour also.
From Lecce: Alberobello is a 25-minute drive from Lecce.
From Taranto: 50-minute journey to Alberobello.
Are you going to Puglia? Read also
Check out all our articles about Puglia : All articles about Puglia are listed here.