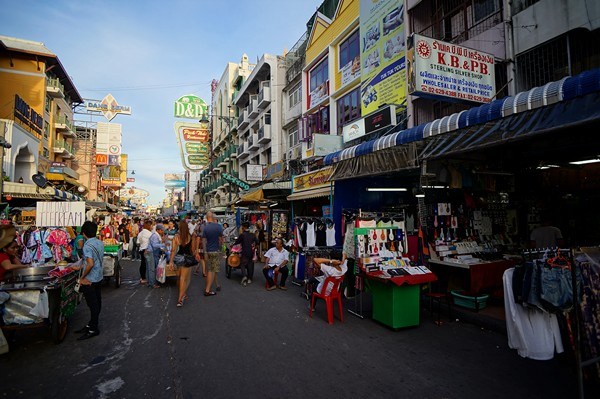 What is Khao San Road?
Khao San Road (or Khaosan / Kaosan ) is a street in Phra Nakhon District , Bangkok, Thailand. It is located west of the city, not far from the Chao Phraya River , the Grand Palace and the Wat Pho and Wat Arun temples ( Wat means temple).Khaosan and the surrounding streets attract a lot of travelers because of the cheaper guest houses and hotels in the city , as well as many travel agencies, bars, cheap restaurants, but also travel accessories stores, tee shirt, souvenirs etc …
In a nutshell, this is the ideal base for a trip to Asia . You can get a visa for Burma, Laos etc … You can organize your trip and buy bus or plane tickets, sell / exchange your used travel equipment, buy travel guides, travel books, Pirated DVDs or CDs, leave your suitcases if you have too much luggage, and meet other backpackers and exchange travel anecdotes.
Sooner or later, any traveler to Asia passes through Khao San Road .
How to get to Khao San Road?
From Suvarnabhumi Airport: Take the Airport Link City Line train to Phaya Thai Station, then take a taxi (100 Baht) or tuk-tuk to Khao San (200 Baht).
Note: It is no longer possible to take the bus from this airport.
Bus # 15, which stops in front of the MBK shopping center, goes to Khao San Road, if you are broke and have free time.
From Don Muang Airport: By Bus: Take the bus
How to get to the airport from Khao San Road?
By taxi: about 300 Baths. Do you agree on the price of the race before going up, or even better: ask the driver to use the meter .
By minivan: Book your trip the day before in one of the agencies you will see in the street. Price between 100 and 120 Baht.
How to get to the center of Bangkok from Kaosan?
You have to take bus N ° 15 which stops in front of the supermarket opposite the bank at the corner of Soi Rambutri. The bus is red. It stops in front of the MBK shopping center.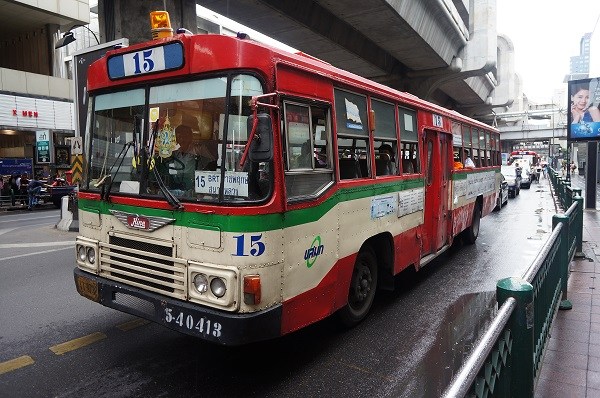 To return to Khao San road by bus, you have to wait at the bus stop in front of where he dropped you off, along the main road coming out of MBK. The bus sometimes takes a long time to arrive … better to share a taxi with other tourists waiting there (and there will be).
How to get around Khao San Road?
It's simple: there is a Burger King at the east end of Kaosan, and a Starbucks at the other end. If you arrive by bus, taxi or tuk tuk, from the moment you pass the canal bridges and you see the big avenue with the  Democracy Monument , you'll know you're on the right path.
Khao San Road or Sukhumvit?
The advantages of Khao San Road:
Many travel agencies to get a visa, train ticket, bus etc …
The perfect place if you have a tight budget
Located near Bangkok's major tourist attractions
Many souvenir shops and opportunities (to buy Lonely Planet or Guide du Routard for cheap)
The disadvantages of Khao San Road:
Quite noisy, unless you find a hotel in the parallel streets (at Soi Rambuttri for example).
Festive atmosphere quite tiring.
Very few hotel classes / mid-range
No Skytrain or Metro. You will have to take a bus, tuk-tuk or taxi to get to the city center.
Far from major shopping centers.
In summary, if you want to be quiet, looking for a classy hotel, want to go shopping and be near major shopping centers, go to Sukhumvit . If you want to meet people and party, be near sites like Wat Pho and Wat Arun, and have everything ready to organize your next trip to Asia, go to Khao San .
Where to stay in Khao San Road?
You will have no trouble finding accommodation in Khao San Road, even if you have not booked anything in advance. There is something for every taste.
If you are a couple: I recommend the Rambuttri Village Inn which is pretty good. Bad service, slow internet, but the rooms are big and there is a rooftop pool. One of the least worst addresses …
If you are solo: I usually stay at New My House Guesthouse . 220 Baht room with bathroom and fan. Basic but the rooms are rather big I think. WIFI extra (40 Baht for 4h). By sneaking around the corner you will find hotels at 150 Baht a night.
Where to eat in Khao San Road?
It's simple, there are restaurants and street food vendors everywhere, 24 hours a day. Get away from Kaosan, search the adjacent streets and find booths on the street where you can eat a thai pad for 40 baht.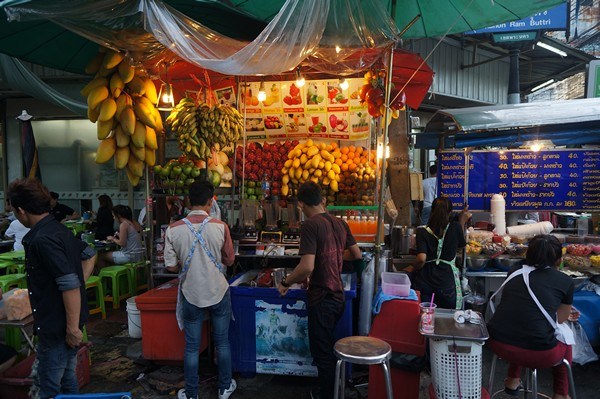 Otherwise, you will easily find a Mexican, Indian, Pizzeria, Macdo and Burger King (expensive!), Starbucks, and many 7Eleven where to buy beers, coffees etc …
For the more courageous you can also eat grilled insects sold on booths in the street.
What is there in Khao San?
There is a very practical package of services :
Cheap hotels / guest house, dormitory or double room
Most hotels offer Luggage Storage, they keep your luggage for 10 to 20 baht a day (more convenient than lugging all its business on the islands of South Thailand).
Travel agencies that can get you a Visa for Vietnam, Laos, Cambodia, Burma, India … and you can arrange the trip by minivan to the airport
Pharmacies, hairdressers, massage parlors, tattoo artists …
Fish massage: you dip your feet in an aquarium and fish come to peck your skin!
Two Burger King, a Mac Do, a Starbucks
Excellent and cheap street food stalls (fruit shake, thai pad, spring roll …)
Bookstores second-hand books (with copies)
Tailors who harass you to buy a suit
Internet cafes
Laundry facilities (30 baht per kilogram of linen)
Exchange offices (better rate than at the airport)
Souvenir vendors, t-shirt, electrical plug adapters, sleeping bag and mosquito nets, fake and fake diplomas, suitcases and backpacks etc …
A post office
A school of Muay Thai (Thai boxing)
A police station
7Eleven open 24 hours a day at every corner, where you can buy a SIM card, drinks, ice cream, cakes, toothpaste etc …
But there is also …
Stray dogs
Some beggars
Kids selling roses to tourist couples on evenings
Thai women dressed with a tribal hat and selling wooden frogs
Some monks
Cops
Hippies
Ladyboys
European, Australian, American and Israeli drunk
If you stay several days in Khao San Road, you will certainly meet the same heads several times.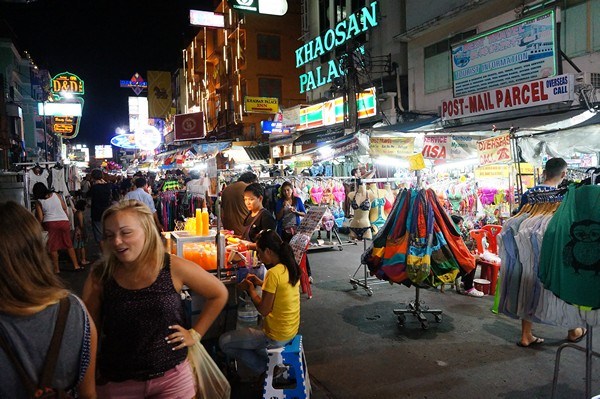 What to visit around Khao San Road?
From Khao San Road you can easily visit (on foot or tuk-tuk):
the Grand Palace : located south of Kaosan Rd.
the Wat Pho (Temple of the Reclining Buddha).
the Wat Arun : take the boat to cross the river and access. Go late in the evening, the light is more beautiful.
There is a nice park and a cafe with air conditioning and wifi at the northwest corner of Phra Athit street (near the old white building with cannons).
If you want to go to the big shopping centers in the city center, take the bus n ° 15 (20 min / 6.5 Bath). The stop is in front of Soi Rambuttri.
Travel agencies in Khao San Road also organize day trips to Ayutaya, Erawan National Park, Kanchanaburi …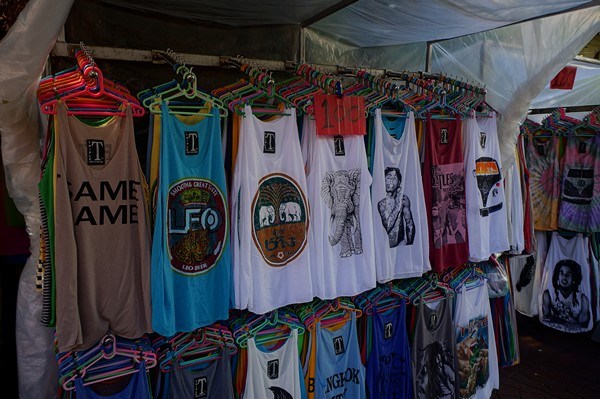 Security at Khao San Road
Although it may seem rather chaotic when you first arrive, do not worry, it's pretty safe as a place. Stay out of the mess of alcoloo and nothing should happen to you.
However, be careful not to leave anything in your hotel room . My very first night in Kaosan, I went to the cybercafe. Guys were fighting in the street, and cops were waiting in front of my hotel when I returned: a Japanese woman comes to me in panic to tell me that she got all her belongings stolen from her room and that thieves did the tour of the other piaules. Fortunately, nothing has been stolen, but be very careful: lock your belongings if you can.
It makes sense but also avoid getting drunk especially if there is no one to watch you.
Do not drink tap water, only bottled water.
Be very careful not to fall when you get on the bus ! they restart sometimes too quickly.
Finally, if you need to go to the hospital in Bangkok , go to Bumrungrad ( website ). It is near Nana Station (Skytrain).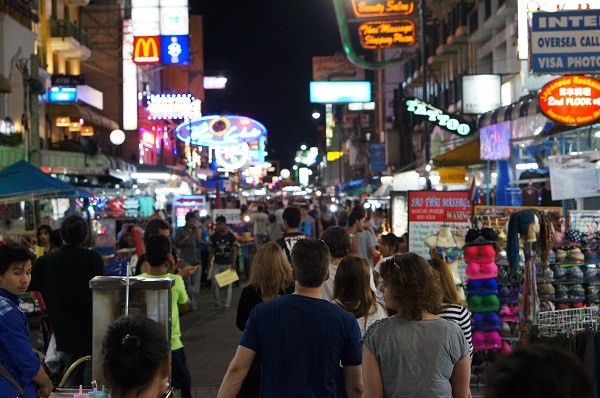 The scams at Khao San Road
Watch out for scams: Unless you know exactly what you're doing, avoid Indians selling costumes in the street. They can become aggressive if you do not want to buy anything.
Also, avoid the tuk tuk and taxi that hang around each end of Khao San Road : they ask prices much more expensive than what it's worth, and anyway if you do not agree on the price, 10 minutes later they will find a tourist that they can scam.
Do not accept that your driver will take you to visit a jewelry store on the way to your destination. You will lose time and money suddenly (same for the ping pong show, go there yourself).
Have plenty of time for you to change because, by chance, tuk tuk drivers never have one.
By taxi, if your driver asks to take the ' highway ' and you do not have to go outside the city, refuse . You will have to pay the supplement otherwise.
Before leaving: