Weekend in Barcelona: what to do and see for 2 days?
Have you decided to go to Barcelona for 2 days ? Wondering how to see the most things?
To help you organize your short stay, I have prepared a suitable itinerary for you to visit Barcelona for 2 days.
I will first give you my tips for avoiding queuing in front of the main tourist attractions. The best way to save as much time as possible during your weekend in Barcelona!
I continue with the detailed program of these two days with an optimized order of visits, all accompanied by advice and tips to make the most of your stay.
And I end with my selection of the best hotels in Barcelona according to your budget.
So where to go and what to do in Barcelona for 2 days? 
Our advice to avoid queuing in Barcelona
It's no scoop if I tell you that Barcelona is one of the most touristic cities in the world. Like London, Rome or Lisbon, the city welcomes tens of thousands of tourists every day.
All year round, summer and winter, school holidays or not, many want to visit the emblematic monuments of Barcelona such as the Sagrada Familia, Casa Batlló or even Park Güell.
Hence a large queue as soon as the tourist sites open! And yes, it is no longer enough to get up early to hope to avoid the crowds…
Fortunately, if you follow my advice to optimize your visit to Barcelona for 2 days, you can avoid waiting hours before visiting. Want to know how?
I give you the best 2 solutions below:
1. The Barcelona City Pass
The first possibility that I advise you to save the most time during your 2-day trip to Barcelona is to buy the Barcelona City Pass.
If you have already visited other major European cities, you may already be familiar with this kind of pass which is very practical for avoiding the queue in front of the most famous sites.
And the Barcelona City Pass also has a considerable advantage: all skip-the-line tickets are sent directly by email. You won't have to look for an office to exchange them when you arrive in Barcelona, ​​just present them on your smartphone.
For a weekend in Barcelona where you have to focus on the essentials, it's really appreciable as an operation!
This Barcelona City Pass is the most practical and complete way to visit Barcelona for 2 days.
I give you here all the visits that are included:
A skip-the-line ticket for the Sagrada Familia
A skip-the-line ticket to Park Güell. Here too, you will have to give the desired date and time.
A ticket for the hop-on hop-off tourist bus,  a good choice if you don't feel like walking.
An audio guide to download including explanations of all the places of interest to see in a weekend in Barcelona.
Discounts on museums and attractions including Casa Batlló, Casa Milà and flamenco shows. You will receive your 10% discount code once you have ordered the Barcelona City Pass. You will then have to book your visits on the same site to benefit from the promo code.
Buy your Barcelona City Pass now, by clicking the button below:
Buy the Barcelona City Pass now!
2. Skip-the-line tickets for tourist attractions in Barcelona
You can also choose to take skip-the-line tickets on a case-by-case basis, depending on your visit schedule. Buying a ticket in advance for museums or emblematic tourist sites will allow you to have quick access.
The majority of activities to do or attractions not to be missed during these 2 days in Barcelona are listed. So you will be spoiled for choice!
I have prepared for you the list of tickets corresponding to the 48-hour itinerary in Barcelona that I am suggesting to you. Just click on the links in orange to reserve them now or as the article progresses:
3. The Barcelona Card
The Barcelona Card is the other type of card that exists to visit the city.
But I warn you right away, it will not be useful for your weekend in Barcelona because it mainly allows you to benefit from free public transport.
If you follow my program, it will not be amortized given the few times it is necessary to travel by bus or metro.
In addition to that, the Barcelona Card rather offers discounts and advantages for museums but not for the main attractions. It is therefore not the best card for a first 2-day stay in Barcelona, ​​where it is better to focus on the essentials.
On the other hand, if you already know the city a little and want to discover the museums, the Barcelona map may be of interest to you.
At that time, you can reserve it by clicking here:
Buy the Barcelona Card now!
Visit Barcelona for 2 days: the best itinerary
After these few useful tips, we move on to serious things with my 2-day itinerary in Barcelona. I have prepared a visit route and a map with the sites to see for each day.
For this program, based on 2 full days in Barcelona, ​​I count on the fact that you have already purchased your Barcelona City Pass or skip-the-line tickets in advance.
If you still have questions about organizing your vacation after reading it, don't hesitate to ask me your questions in the section dedicated to comments, at the very end of the article.
So what to visit in Barcelona for 2 days?
Day 1: The historic center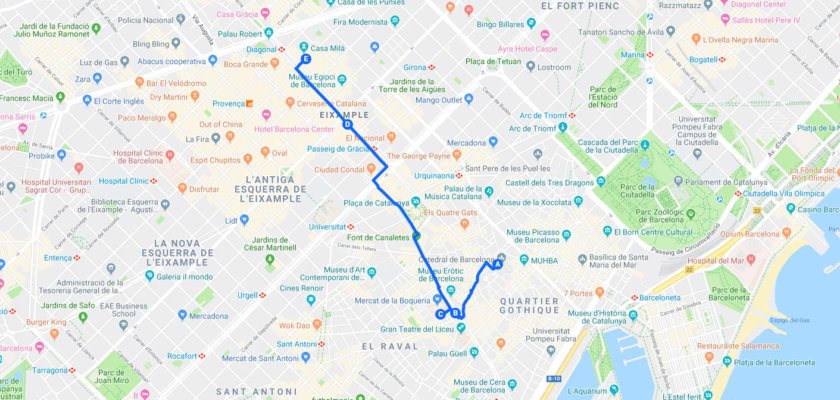 The visits of day 1:
A. Santa Cruz Cathedral and the Gothic Quarter
B. La Rambla
C. Boqueria Market
D. Casa Batlló
E. Casa Milà,
F. Flamenco Show
A. Sainte-Croix Cathedral and the Gothic Quarter
For this first morning of your 2-day stay in Barcelona, ​​I suggest you visit the Gothic Quarter: the Barrio Gòtico.
It is one of the busiest in Barcelona and is also the historic center of the city. There are a good number of monuments dating from medieval times.
The Sainte-Croix Cathedral is surely the most emblematic. Admire its impressive and detailed Gothic architecture from the outside, then step inside to access the cloister, chancel and chapels.
From the terraces, you will also have a great view of the city.
A small painting museum is also open to the public inside the cathedral.
After this first visit, take the time to stroll through the many winding streets of the district. Along the way, you will have the opportunity to see:
Sant Jaume Square
Plaça del Rei (King's Square)
Barcelona History Museum
Placa Nova
Placa del Pi
Tips
Depending on the location of your hotel, you can walk to the Gothic Quarter or take the metro to the Jaume I stop.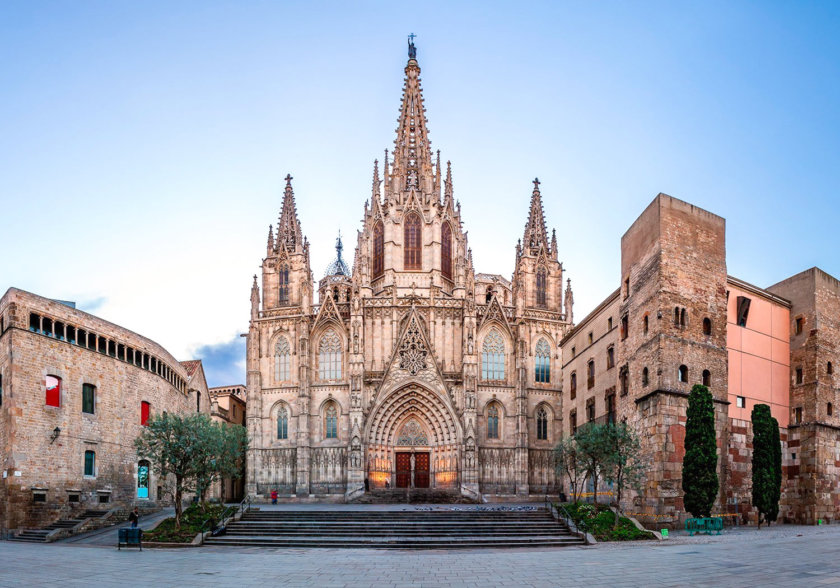 B. Walk on the Ramblas Avenue
Las Ramblas, also known as "La Rambla", is a busy pedestrian avenue and another must-see in Barcelona.
It connects the Port of Barcelona to the Plaza de Catalunya (Plaça de Catalunya). You will find La Rambla and its 2 km promenade about 10 minutes on foot from the Gothic Quarter, passing through Plaça del Pi and Plaça de la Boqueria.
Arriving on the Rambla, you will have the choice of going down to the port or going up to Plaça Catalunya. Here is the circuit that I propose to you:
Start by descending towards the port and on the way admire the Gran Teatro del Liceu (Barcelona's oldest theatre), the Joan Miro mosaic and Plaça Reial (a pleasant square to have a drink).
After visiting the port, walk up the Rambla to Plaça Catalunya, passing the Canaletes fountain and the Palau de la Virreina (which regularly hosts temporary exhibitions).
La Rambla is also lined with many shops, bars and restaurants. You can also observe street artists: musicians, magicians, living statues.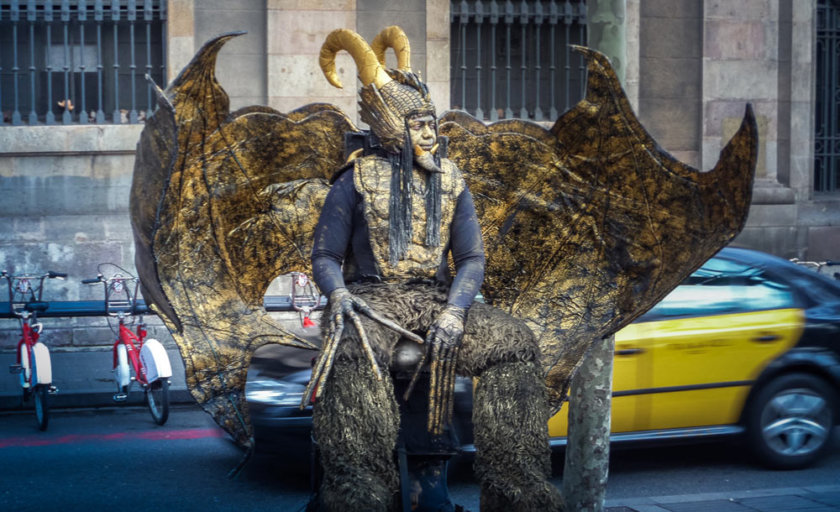 C. The Boqueria market
The Boqueria market is another highly touristic site not to be missed during your 2-day trip to Barcelona.
This is the oldest market in the city and it is along the Rambla, on the left as you go up the avenue towards Plaça Catalunya.
You can't miss it since the entrance to the market is framed by a huge gate in the Art Nouveau style (and the crowd is also a good indicator of the entrance to the market, I won't hide it from you!).
Take a stroll through this quaint market and experience its friendly and bustling atmosphere. The colorful stalls, the multitude of local products and the smells will probably whet your appetite!
It will then be an opportunity to taste tapas, fresh fruit and other Catalan products on sale in the market.
Tips
You can also choose to take a culinary tour of the market in the company of a chef who selects the best products with you and prepares several tapas and a paella in front of you to taste.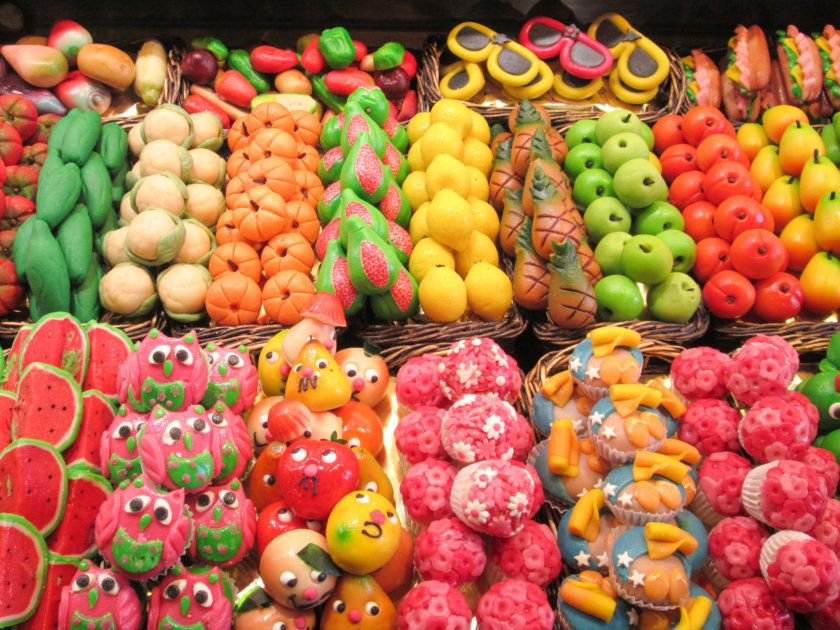 D. Casa 

Batllo
Now I suggest you visit one of the symbols of Barcelona: Casa Battlo.
This masterpiece by famous Barcelona architect Antoni Gaudi is listed as a UNESCO World Heritage Site.
 This architecturally stunning villa is located on Passeig de Gracia. From Plaça Catalunya you can get there on foot in just 5 minutes.
The surrealist architecture of Casa Battlo is characteristic of Gaudi's work. You will notice its very particular curves, its amazing colors and the many small balconies in the shape of a skull which have earned it the nickname of Casa del Ossos (the house of bones).
Casa Battlo is impressive from the outside but also very interesting to visit. The visit takes about 1 hour.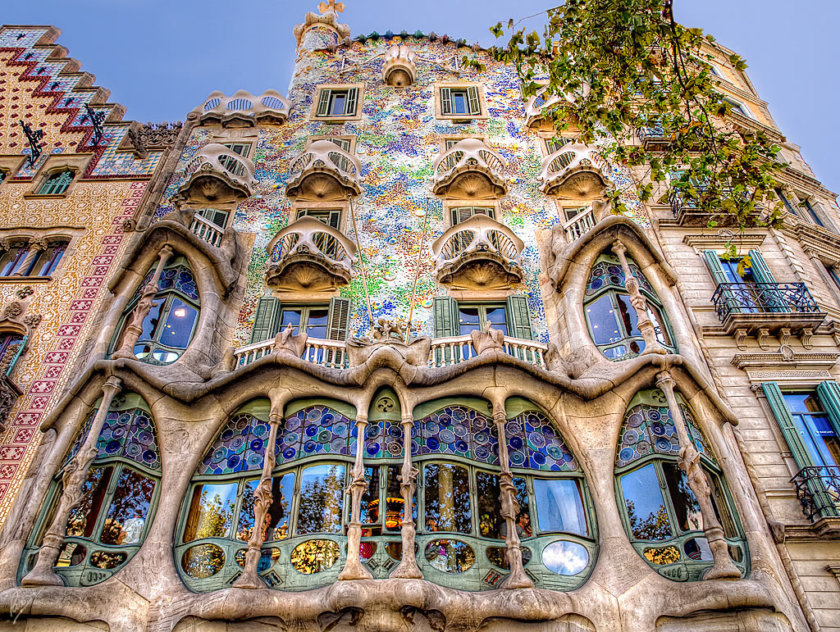 E. La Casa Mila
Stay on Passeig de Gracia and go north to arrive this time in front of Casa Milà, another Gaudi masterpiece.
Once again, this is an unmissable stop on a 2-day circuit in Barcelona. From Casa Battlo you will get there in about 7 minutes on foot.
The inhabitants of Barcelona call Casa Milà, "La Pedrera", which can be translated as: "the quarry". This name refers to the cliffs which would have inspired Gaudi for the design of the villa.
Casa Milà, built between 1906 and 1910, is also a UNESCO World Heritage Site. You can recognize it at first glance with its all-white facade and its characteristic wavy lines.
After admiring it from the outside, I of course recommend that you visit the inside. The 5 floors of the Casa will allow you to discover all the genius of Antoni Gaudi.
From the roof terrace, you can also enjoy a magnificent view of the city of Barcelona.
Just like for Casa Batlló ,  remember to buy your entrance ticket for Casa Milà on Tiqets with the discount you get when you buy your Barcelona City Pass.
Tips
You can again choose to take a night visit for a more unusual experience.
At 9 p.m., audiovisual works are projected in several parts of the villa and on the roof, with the added bonus of a free glass of champagne.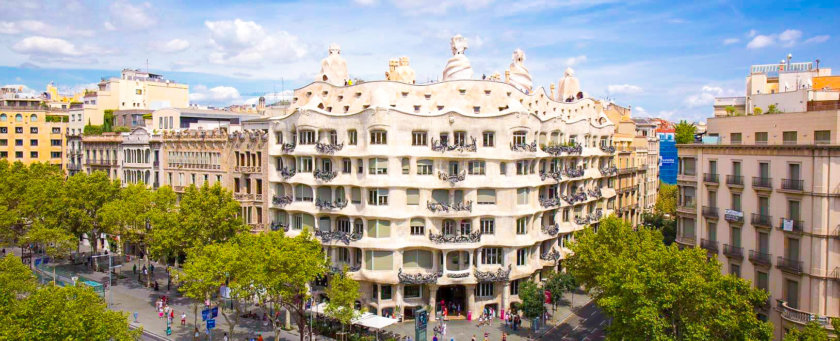 F. Attend a flamenco show
To end this first day in Barcelona in the best possible way, you must of course go see a flamenco show!
Performances take place throughout the year in the tablaos of Barcelona. These are small, intimate establishments where you can have a drink, taste tapas and local dishes while attending dance and singing performances.
The one I recommend is called Los Tarantos and it is one of the oldest and most famous tablaos in the city.
It is located in Plaça Reial, very close to the Rambla. From Casa Milà, you will reach it in 30 minutes on foot, going back through Plaça Catalunya and then going back down La Rambla.
I advise you to reserve your places in advance directly by clicking here.
Tips
If you prefer to get there by public transport, you can also get there by metro using line 3 at Diagonal station (2 minutes walk on Passeig de Gracia north of Casa Milà) towards Zona Universitària .
In this case, get off at the Liceu stop. You will then have a 3 minute walk to Los Tarantos.
Day 2: what to do and see?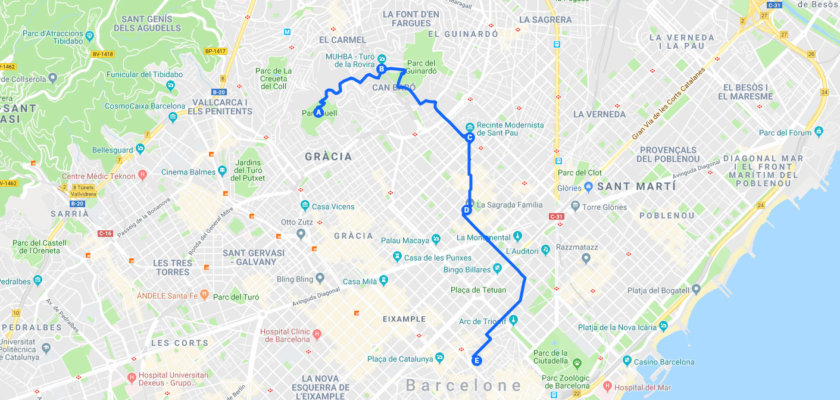 The visits of day 2:
A. Park Güell
B. Bunkers del Carmel
C. Recinta Modernista de Sant Pau
D. Sagrada Familia
E. Born district
A. Park Güell
Let's go for this second day in Barcelona for which I have prepared a full program for you!
To start, I suggest you go for a walk in Parc Güell. It is once again a work of Gaudi, built between 1900 to 1914.
This colorful and original park was originally intended to house several gardens and around sixty houses. But for lack of sufficient means, only 4 houses were finally built there. Despite everything, Parc Güell remains a real gem of modernist and Art Nouveau architecture.
To get there, take metro line 3 and get off at the Vallcarca stop.
When you arrive, you will find that the park is divided into 2 parts and that the area called "Monunmental" is paying. This is where you can see Gaudi's famous undulating bench but also the salamander and the columns in the shape of tree trunks.
Take the time to explore Park Güell in depth because you won't see this type of place anywhere else. This will probably take you a good part of the morning.
Not to be missed: the Mirador de Virolai and its superb panorama over the most beautiful sites in Barcelona (the ascent is a bit strenuous but well worth the effort).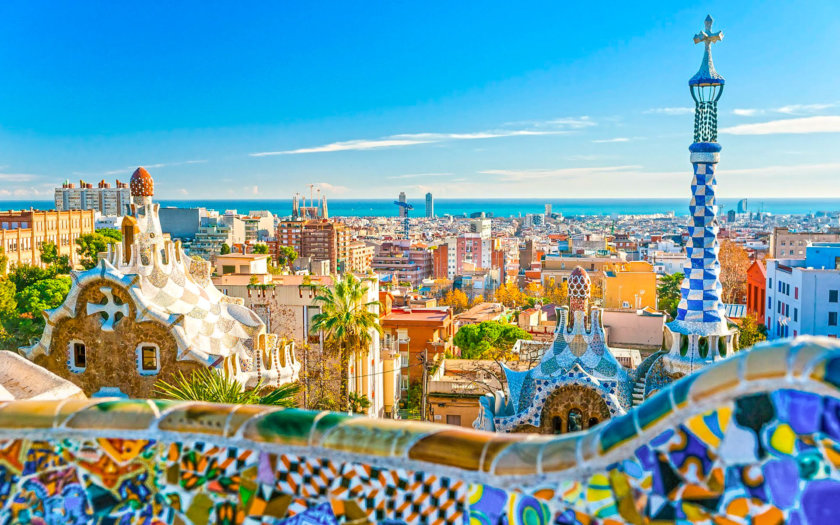 B. The Carmel Bunkers
After this morning walk in Park Güell, now head to the Bunkers del Carmel.
This place is renowned as one of the most beautiful viewpoints in Barcelona, ​​perched 262 meters above sea level.
This former airbase once served to defend the city during the Peninsular War. Today, only ruins remain, but the site offers a breathtaking 360° view of all of Barcelona.
From Park Güell, you can get there on foot in 20 minutes, but you can also get there by bus (line 24 or 86) or by taxi.
Access to the Bunkers del Carmel is free and free, and the climb to the top does not require great effort. This is a must stop on your 2 day visit to Barcelona.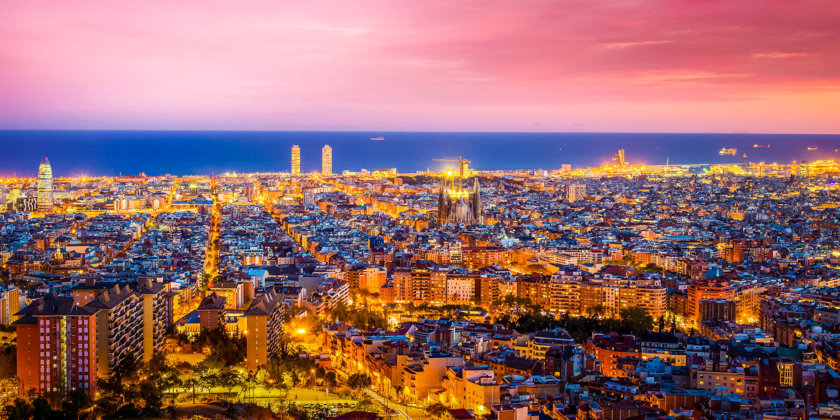 C. The Recinta Modernista de Sant Pau
I then suggest that you head to the Recinta Modernista de Sant Pau.
This former public hospital is right on the way between the Bunkers and the Sagrada Familia (the next visit of the day). It now hosts exhibitions and you can therefore stroll through the various buildings to immerse yourself in the history of the place.
Entrance tickets for the Recinta, it's here.
Even if you don't feel like visiting, I really recommend that you pass by to contemplate its architecture.
To get there from the Bunkers, count 30 minutes on foot.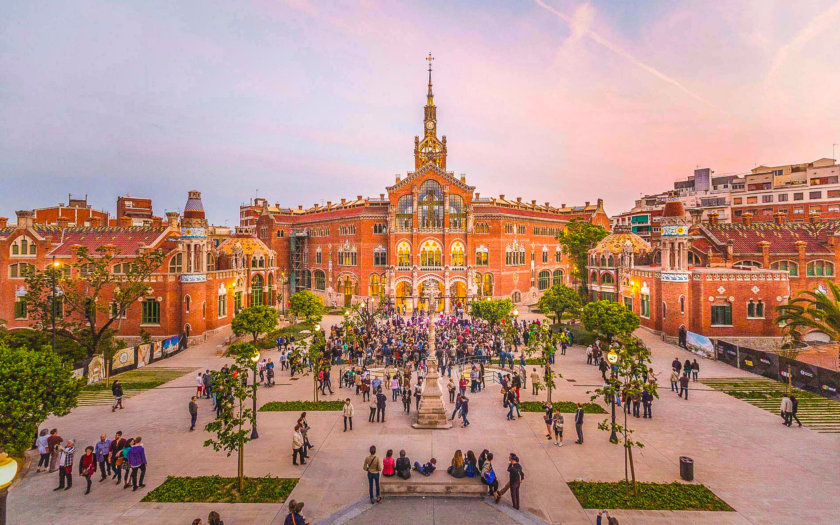 D. The Sagrada Familia
This is THE monument not to be missed under any circumstances during your 2-day stay in Barcelona: the Sagrada Familia, a major and world-famous work by Gaudi.
This impressive basilica, listed as a UNESCO World Heritage Site, is also the most visited monument in Spain.
To get there from the district of Gracia, it will only take you 20 minutes on foot. You can also take the metro via line 5 to get there in 10-15 minutes.
You will immediately notice Gaudi's unmistakable architectural style, a mixture of Gothic and Art Nouveau. The Sagrada Familia is truly unique and spectacular.
You can of course admire it from every angle from the outside. And to discover it from the inside, you can also opt for a guided tour in French.
To book by clicking directly on this link: Guided tour of the Sagrada in French.
Don't forget that if you have taken your Barcelona City Pass, you will have the chance to enjoy priority access to the Sagrada Familia. This will allow you to avoid queuing and to visit the basilica at the time scheduled when you made your reservation.
If you only want to buy a skip-the-line ticket to the Sagrada without the full City Pass, just click here.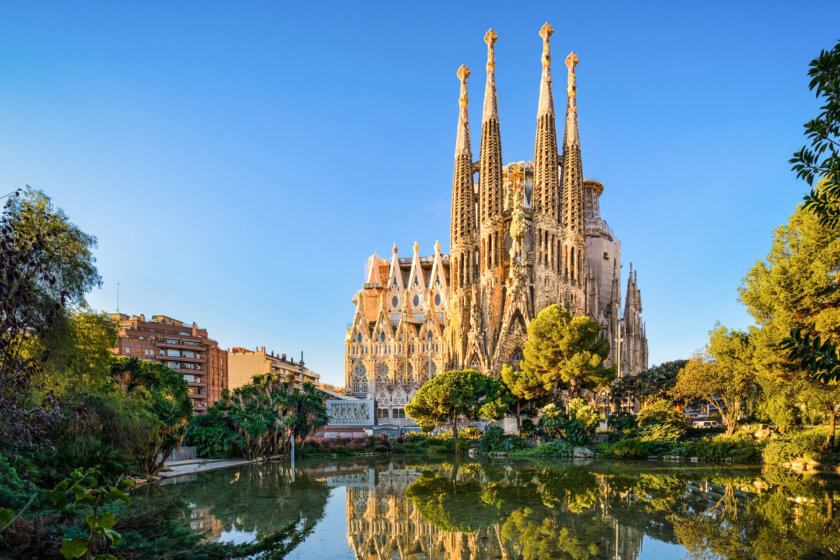 E. El Born neighborhood
We have already arrived at the last stage of this two-day trip to Barcelona.
I suggest that you end your stay by visiting the El Born district, a pretty little historic district in the form of a village.
This charming medieval quarter has a very authentic atmosphere, making it one of the trendiest in the city. Here you will find small cobbled streets, period shops, a few Gothic churches, tapas bars and trendy restaurants in which to spend a pleasant evening.
The Picasso Museum and the Palace of Music are also located in the El Born district.
I highly recommend visiting the Palais de la Musique, which is one of the most beautiful concert halls in the world if you have the time. The guided tour (compulsory) costs 20 euros per person and lasts 50 minutes.
Also to be seen in the Born, the park of the citadel and the triumphal arch.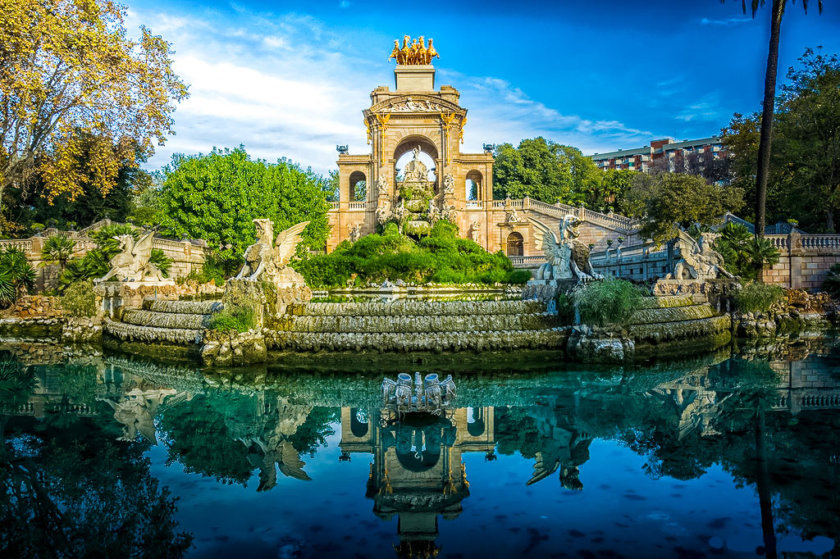 Accommodation in Barcelona
You now have the majority of information on how to visit Barcelona for 2 days.
I still have to address the question of accommodation: where are you going to sleep during this weekend in Barcelona?
To help you a little, I have prepared a selection of the best hotels to stay in Barcelona:
Tips
It is possible that these hotels are full on your dates of stay or that they do not correspond exactly to what you are looking for. If so, you'll find a wider selection of accommodations sorted by neighborhood and budget in my other article .
All you have to do is click here to read it: The best hotels in Barcelona.
Visit Barcelona for 2 days with the family
Have you decided to spend 2 days in Barcelona with your children? Depending on their age, the program may need to be adjusted slightly.
Here are my tips for a successful 48-hour family stay in Barcelona:
Instead of visiting the Palace of Music, take a trip to the Ciutadella near the El Born district. It is a very nice park with a nice playground for children.
If you wish, you can include in the program the visit to Poble Espanyol (15-20 minutes from the Rambla). It is a life-size reproduction of a village, grouping together all the types of existing Spanish houses. This artificial village includes 117 houses and represents 33 different Spanish regions.
Activities in Barcelona that appeal to young and old alike:
Park Guell
The Boquería market
The walk on the Rambla
Tapas tastings (with your hands!)
Flamenco shows.
If you have chosen to visit Barcelona with your children, you can also take them to Barcelona Zoo. Tickets on sale here!
And to save money during your stay in Barcelona with your family, I recommend 2 packs including the visit to the zoo (click on the links to book):
More things to do and see in Barcelona for 2 days
If you have followed our sightseeing program for this 2-day Barcelona itinerary, and you still have time, do not hesitate to read my complete guide to Barcelona.
Here you'll find the top 10 things to do and see in Barcelona.
You will be able to complete or modify the schedule a little according to what interests you the most and thus concoct 2 days of holidays in Barcelona to measure.
You just have to click on the following link to read it: What to do in Barcelona? The ultimate guide!
Map of your 2-day Barcelona itinerary
To help you visualize your itineraries during these 2 days in Barcelona, ​​I made you a map listing the places to visit day by day. You can display the map legend by clicking on the top left button with a small arrow. You will then be able to view the routes for each day.
Need help planning your 2 day Barcelona itinerary? Do not hesitate to ask me your questions in the comments.