Discover the 6,000 terracotta warriors of Emperor Qin's mausoleum in Xi'an, China, and enter a legendary place!
A little over 2,000 years ago, Chinese Emperor Qin wanted his army to protect him after his death in the next world. It was then decided to model an army of terracotta statues that was destined to be buried with him. Today, this Xi'an terracotta army is considered the eighth wonder of the world.
A life-size masterpiece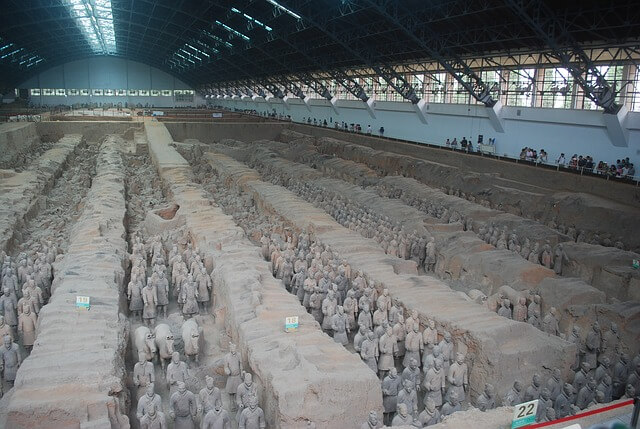 Pixabay – PublicDomainPictures
The terracotta army is estimated at about 6000 soldiers (there would be up to 8000) that were shaped by 70 000 artisans but there are also a hundred tanks and nearly 30 000 real weapons. This discovery of the Terracotta Army dates from 1974 and excavations have already made it possible to update 3 pits until now.
While in the daytime, like any tourist, you can contemplate this marvel out of the bowels of the earth, the archaeologists are busy at night to continue their meticulous excavations and to restore the statues discovered. Thanks to the latest technologies, statues can now be detected on the ground and unearthed intact without losing their color and being broken.
Sense of the visit
The site of the Xi'an Terracotta Army is an archaeological site and therefore it is possible to visit several strata of this site with care. There are 4 buildings:
the first is a museum containing 2 bronze tanks and the other three are the famous excavation pits where the army is discovered day after day. The museum contains a first battle tank and the second is a tank of the Imperial family and weighs about 1.2 tons, decorated with gold and silver and 35 000 pieces. It is often advisable to start the visit by the pit number 2 because the excavations are still at an early stage then to go crescendo by passing the pit number 3 (the smallest pit of the site) and ending with the pit number 1 because it is totally disproportionate and will delight you.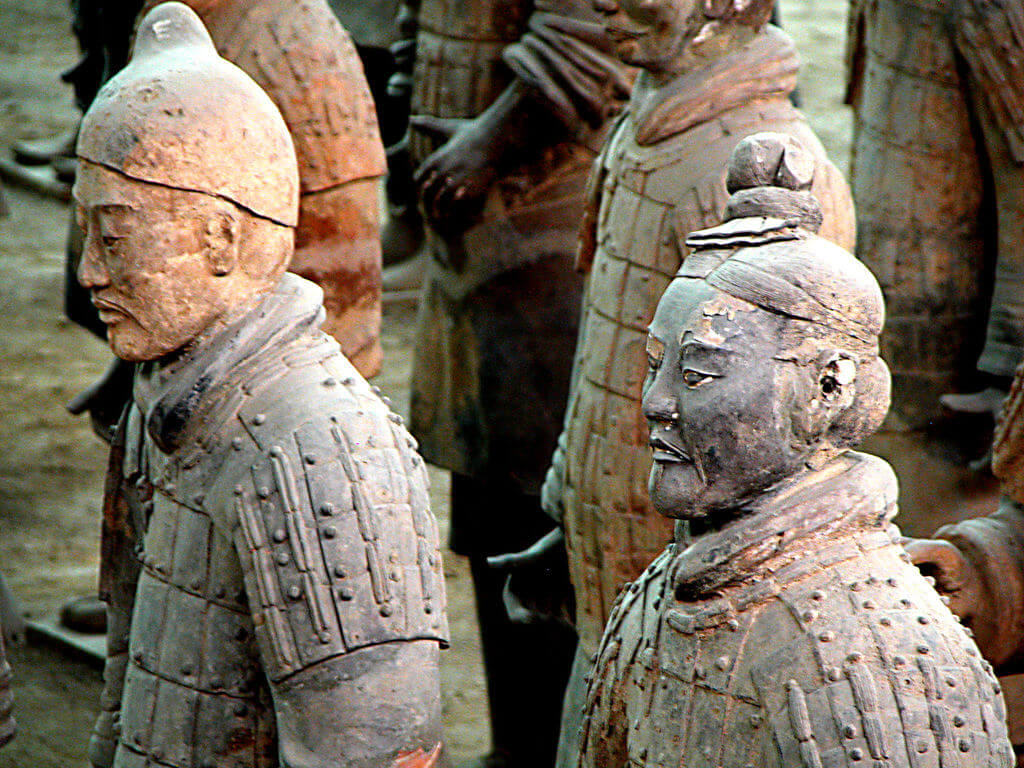 Flickr – Peter Morgan
The 3 pits
The Pit # 2 was updated in April 1976. It is a form of L pit with an area of over 6,000 m² with a depth of 5 meters. Compared to the other two pits, this one contains the 4 groups of soldiers, namely the infantry, the cavalry, the archers and the tanks .
The Pit No. 3 was discovered in June 1976 and is U-shaped with a surface of 250 sqm, of about 5.3 m deep. This grave suffered serious deterioration and "only" 68 statues could be updated as well as a bronze tank and 34 weapons.
The number 1 pit is the highlight of the Xi'an visit: discovered in 1974 by a farmer, it covers about 14260 m² and contains 2000 statues and horses but also about 20 wooden carts.
Have you visited the Xi'an Terracotta Soldiers Army?