3-4 Weeks in Borneo: Ultimate 3-4 Week Itinerary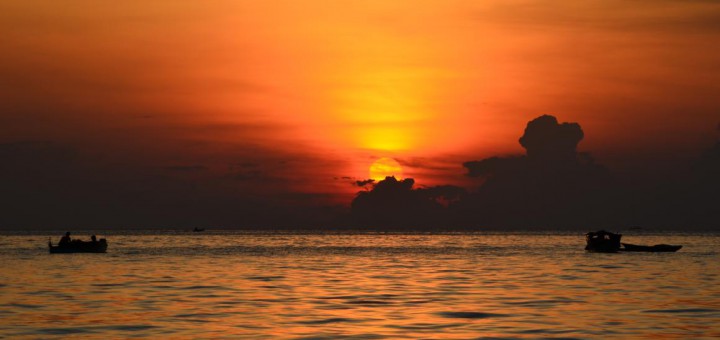 The perfect Borneo itinerary: rainforest, mountains, beaches and underwater world
I put together a route recommendation for Borneo. What should one look for in Borneo and how to get from A to B? Here you can learn more! In addition, there are tips on travel time, arrival and a list of things that are essential in your luggage.
Borneo Itinerary (3-4 weeks)
Day 1-4: Kuching
Start your journey in Kuching, the largest city in the state of Sarawak. " Kuching"Means" cat "in Malaysian and its name Kuching owes its name to the numerous cats that live there.
In addition, the cityscape is characterized by cheesy colorful cat monuments. In Kuching there are some very nice parks, mosques and fully loaded markets, where you can try out the tropical fruit offer and taste typical foods like dried fish.
In the evening you can stroll on the river promenade, the street kitchens are delicious and cheap. Here are also many small artisan shops where you can buy great souvenirs.
Locals and tourists meet in the market square to chat, dance or light catapults together.

Kuching – the cat town. Cats in real and as monuments.
Kuching is the starting point for numerous fantastic excursions, for example in Bako National Park, 40 km north-eastand in the surrounding fishing villages.
You can get there by bus or by adventurous scooter.
The Bako National Park is the oldest national park in Sarawak and lies on a peninsula. You can only get there by boat.
From Kuching, a road called Jalang Kampunk Bako leads directly to the "Bako National Park Jetty", from where you can rent a motorboat including driver.
It's best to share the costs with other visitors. The ride first leads across the village across the river Sungai Tabo.
Keep your fingers in the boat, because in the waters and on the shore there are many crocodiles. 10 minutes later, you'll reach the open sea and can see deep-sea fishermen at work.

Fisherman in Borneo at work on the open sea.
The Bako National Park announces itself with a steep cliff. The pier of the Bako National Park is located directly on a small mangrove forest. Monkeys, wild boars and mud jumpers welcome you to the island.
There you have to register first in the Forest Office and decide on a route that you wanted to run. Sufficient information materials and hiking trails are available on site.
No matter which route (s) you are traveling, you should definitely bring enough water and provisions with you, because apart from the small pier there are no restaurants, takeaways or anything else on the island.
Just a few meters behind the information center of the national park begins the wilderness. You will cross the rainforest with its exotic animals, huge trees and beautiful plants.
The Bako National Park is the home of the proboscis monkeys, which exist in the wild only on Borneo. With luck, you'll spot some of these strange-looking monkeys.
Mosquitoes are here in abundance, packing mosquito repellent! Those who have enough time should consider spending the night in the Bako National Park and participating in a night safari.

Borneo is home to a strange monkey species: proboscis monkeys.
From Kuching you can reach Jong's Crocodile Farm in Simburan, home of the "flying crocodiles", in about 40 minutes by bus .
The lodge crocodiles lurk dangerously under their prey, until they finally jump out of the water and snatch at the prey. The sound of clenching jaw bones goes through the pith and leg.
On the farm you can also admire numerous species of birds and plants.

Jumping crocodiles on Borneo: Hands off!
Equally worthwhile is a trip to the National Park Semenggoh about 25 kilometers from Kuching.
You can also get there by bus or scooter. Borneo is the only place in the world apart from the Indonesian Sumatra, where the endangered orangutans still live in the wild.
To experience orangutans in the wild, a trip to the National Park Semenggoh is worthwhile. There is also a rehabilitation center in which injured or parentless orangutans are nursed and reintroduced.
In the associated visitor center you can inform yourself about state measures and organizations for the protection and release of red forest people.

Natural Paradise Borneo: Free-living orangutans
Accommodation in Kuching
You can find all types of accommodation in Kuching, a lot of hostels that offer beds in dormitories or really cheap double rooms for broke backpackers and establishments that are a little more upscale. Kuching being the base point for visiting Borneo and more particularly Sarawak, we will have no trouble accommodating you. Here are some good places to sleep in Kuching during your trip to Borneo:
Day 5-9: Gunung Mulu National Park
An absolute highlight and compulsory program on a tour through Borneo is the Gunung Mulu National Park.
The best way to get there is with a propeller aircraft from the airline MASWings from Miri and Kota Kinabalu.
According to my information, it is also possible to reach the national park on the waterway with a long boat, which is very time consuming. There is no fortified road so far.
The Gunung Mulu National Park is best known for its huge, partially unexplored cave systems. Locally there are some accommodations, which are best  booked in advance on the homepage of the National Park or at a travel agency in Miri or Kota Kinabalu.

Huge unexplored cave systems in the natural paradise of Borneo: a mecca for adventurers!
In the Gunung Mulu National Park you move primarily on foot or by boat on one of the rivers. For most walks and tours, the accompaniment of a local guide is required.
Spectacular is the Deer Cave, which contains the largest cave chamber in the world. Millions of bats live here, noisily hanging from the ceiling and the walls of the rocks.
With a bit of luck you can see the bats fly out of the holes of the cave at dusk and watch them hunt. Other must-see caves include the Lang Cave and the Clear Water Cave.
The latter has not been fully explored, but is estimated to be around 60 kilometers long. In front of the entrance of the Clear Water Cave, there is a turquoise natural pool and invites to a refreshing dip in the Regewald.

Natural pool in the tropical rain forest: a soothing oasis!
Around the cave system you can also visit some traditional villages with the Long Boat, where the locals sell their crafts and enlighten about the life in the rainforest.
For example, you can try out hunting with a blow pipe. Not so easy! Does not look too pretty:-)

Piteous attempt: shoot arrow with blowpipe
Another highlight in the Gunung Mulu National Park are the Pinnacles, a limestone formation in the middle of the rainforest. Go on a multi-day trekking tour and experience rainforest day and night.
With a longboat you get deeper into the rainforest, then a multi-hour hike across densely wooded terrain awaits you, where you would be lost without a leader without hope.
Beware, there are many leeches that treacherously cling to your legs, even on long pants! Only special leech socks or leggings help.
Your destination is a small, idyllic camp at the foot of the Pinnacles, which is picturesquely fringed by mountain and located on a refreshing river. Here you spend the night in an open hut in your sleeping bag together with other trekking participants.
In the evening you discuss the firm ascent of the mountain and the associated safety precautions. The hike starts before sunrise and leads steeply uphill with some (partly unsecured) climbing passages. On a distance of 2.4 kilometers, you will cover 1,800 vertical meters at one go.
But the effort and the sweat worth it, because from the top you have a breathtaking view of the pinnacles. Life in the camp is more comfortable, they cook together, play cards and swim in the river.

Natural paradise Borneo: The Pinnacles are a must!
Accommodation in Mulu National Park
Mulu accommodation ranges from dirt cheap to extremely pricey and luxurious.
For those who desire 5* luxury even in the jungle, surprisingly, there is also something for you.
The Mulu Marriott Resort and Spa is just five minutes down the road from the national park and has all the perks you would expect from a luxury hotel, including lavish cabin-style accommodation on stilts that offers views of the surrounding jungle; bathrooms with huge bathtubs and rain showers; satellite TV and WIFI.
The AA homestay and Mulu Village homestays are some of the best places to stay outside the national park if you are travelling on a budget.
Day 10-11: Kota Kinabalu
The city of Kota Kinabalu was completely destroyed during the Second World War and rebuilt only in 1967.
Accordingly unspectacular is the architecture of the city. There are only a few very nice mosques and port buildings to visit. However, if you can make you happy with colorful market activities and fresh fish, then Kota Kinabalu is the place for you, with plenty of big, open street markets.
Try the incredible variety of local dishes and fish. The fresh fish lands after catching in the sea directly on the local markets and can be prepared individually and for small money according to own Gusto.
Especially in the evening, there is a lot going on in the open street markets. People meet, dance and laugh, talk and enjoy the delicious fish.

Fresh catch right on the table: fish bazaar in Kota Kinabalu
Also beach-friends get their money's worth in Kota Kinabalu, because here are some very beautiful offshore islands like Pulau Sapi or Pulau Mamutik, which can be visited as a day trip by boat or ferry.
If you are looking for white sand beaches, palm trees, sea and rest, then you can take a boat or a ferry to one of the island at the harbor and spend the day there.
But beware, between the bathing pack comes now and then sometimes a monitor. In the turquoise blue sea teeming with fish, so do not forget snorkeling and diving goggles!

Even before Kota Kinabalu there are very nice diving areas!
The Tunuk Abdul Rahman Marine Park is also located on the outskirts of Kota Kinabalus, with an excellent 50-acre dive site. In the marine park you will find everything that has fins and gills!
Diving trips including transport and equipment (both one-day and multi-day) are best organized at one of the dive centers in Kota Kinabalu.
Accommodation in Kota Kinabalu
If you're on a budget book a bunk bed at Escape Backpackers – super cheap, simple and well located. You can book Escape backpackers here.
Alternatively, if you have a little more freedom in your budget consider the Horizon Hotel. Watch out for deals at Horizon.
If you're looking to splash out for something really special check out Le Meridien.
Day 12-16: Mount Kinabalu and Kinabalu National Park
The Mount Kinabalu at 4,093 meters, it is the highest mountain in Southeast Asia. The ascent of Mount Kinabalu is possible within two to three days (depending on physical fitness and weather conditions) including overnight stay in the base camp.
The beds are very simple, but the cost of the night relatively expensive. It would be best if you took care of a guide (obligatory!)
And overnight accommodation if you wanted to climb Mount Kinabalu, because the beds are limited and spontaneous hikers usually pay heavily.
The downside, of course, is that the weather on Mount Kinabalu is unpredictable and tours are often canceled due to bad weather conditions.
Often, Mount Kinabalu is so thickly covered in fog that you can barely see 10 meters. Then a climb to the summit is life threatening and should be adjourned.
It is best to get informed in advance about the level of aspiration and the risks of the Mount Kinabalu summit ascent.
On the official website of Mount Kinabalu you can find out about the current weather and also plan your trip and book accommodation and the prescribed guide: To the website of Mount Kinabalu.

The Kinabalu National Park offers hiking trails for all levels of difficulty.
If you are lucky with the weather, you will be part of a beautiful mountain flora and fauna during a Mount Kinabalu summit ascent and can enjoy a fantastic panorama on Southeast Asia's highest mountain. Sturdy shoes and weather-resistant clothing are of course mandatory!
Frequently, travelers only come to Mount Kinabalu to "complete" the summit ascent, and usually leave the area after three days.
However, in my opinion, this is an absolute waste, the surrounding national park has a lot to offer for an extended stay of three to four days!
The Kinabalu National Park is about 754 square kilometers and also very attractive for nature lovers. The area is home to exotic species of birds and butterflies that can be observed undisturbed in mild mountain climates.
The flora is also very diverse, including the largest flower in the world, the Raflesia.

The biggest flower in the world: Raflesia on Borneo
To enjoy nature to the full, you can follow one of the numerous hiking trails.
Or you go on a dizzying height on a Canopy Skywalk and looks at the rain forest from above from 41 meters height. Suspension bridges have been attached between the trees, which can be dangerously unsteady.
After a strenuous ascent of Mount Kinabalu and sweeping walks through the fantastic rainforests of Kinabalu National Park, you should treat your feet and legs to some rest and care, for example in the natural hot springs of Poring, about 25 kilometers from the National Park near the small town Ranau away.
The hot springs are located in the middle of the rainforest. There are several small pools for 2 to 6 people, which you can always refill with the hot mineral water.
However, you should not expect a spa, the hot springs are relatively Spartan and everything else than wellness-suitable. The best way to get to Poring from the busy Visitor Center of Mount Kinabalu is by taking one of the local minibuses. Just put on the road and waving the buses.
Ask the driver about Poring or Ranau. Locally there are some very nice and at the same time cheap accommodation, for example in tree houses with free view of the rainforest.
In the immediate vicinity of Poring is also a beautiful waterfall, which is used by the locals as a natural slide, and a butterfly park with oversized large insects.

Butterflies as big as the palm of your hand – that's what Borneo is all about!
Accommodation in Kinabalu National Park
If you'd prefer to stay in the park over taking a Kinabalu National Park day trip from Kota Kinabalu, then you have a couple of options:
Staying Inside the Park: SUTERA SANCTUARY LODGES
This one is a little more pricey, but still isn't going to break the bank at roughly $28 for a twin room.
You also have the choice of staying in nearby Ranau or Kundasang, both of which have several lodges and hostels to choose from. You can compare all the best accommodation deals around the "Mount Kinabalu Landmark" by clicking these links to Booking.com.
Day 17-19: Sandakan and Kinabatangan River
After many days in the tropical rainforest and islands, the city of Sandakan is a welcome respite for many travelers to Borneo, with its shopping malls, cinemas, various fast food chains and western food.
What sounds unnecessary, can be quite tempting after three to four weeks in the wild nature.
In addition, there are numerous travel agencies and trip organizers in the bustling port city of Sandakan, where you can organize your transport to and from the Kinabatangan River.

River Safari on the Kinabatangan River: See Orangutans and Co!
The Kinabatangan River is the longest river in Sabah with 600 kilometers and the surrounding secondary forest is home to numerous wild animals, including orangutans, proboscis monkeys, elephants, and monitor lizards. This is best observed from the water as part of a river safari.
Most of them have their own boats and drive out tomorrow and evening. The boaters are knowledgable and can contribute many exciting details about local flora and fauna.
In addition, night safaris are offered. Armed with rubber boots and headlamp, one explores the rainforest on foot and meets numerous nocturnal animals.
Most accommodations on the Kinabatangan River are simple green cottages with breakfast and common rooms.
Make sure you have sufficient mosquito protection, because there are plenty of bad mosquitoes on the water.
Accommodation on the Kinabatangan River
For jungle river cruises and access to the Kinabatangan Wildlife Sanctuary, the best place to stay on the river is in a small town known as Sukau. There are a few accommodation options here and many river guides live in this town.
Sukau Accommodation
Budget Rainforest Lodging: RB LODGE
The cheapest Kinabatangan River accommodation you'll find in Sukau. This is where I stayed. The rooms are a bungalow style and located right on the edge of the river. Breakfast is included and a double room costs less than $14 USD per night.
Backpacker Vibe: SUKAU BACKPACKER'S B&B
Located a few hundred meters from the RB Lodge, this B&B costs a few extra dollars but has more comfortable and cleaner rooms. The breakfast is also a buffet style.
You can also compare all Sukau and Kinabatangan River accommodation options on Booking.com.
Day 20-23: Sipadan Island and Diving
Believe the usual diving magazines, there are around Borneo some of the best diving areas in the world. Even though I do not have any worldwide references in terms of diving, I can not imagine meeting such a breathtaking underwater world anywhere else.
Above all, the island of Sipadan in the Celebes Lake has enchanted me with their biodiversity and their beauty.
Pulau Sipadan is considered the "Top Dive Destination in the World" and only 120 divers per day are allowed to dive here with a pre-arranged permit and accompanied by local dive masters.
If you want that too, you should take care of it in time.

Turtles aplenty: Diving on Pulau Mabul and Pulau Siapdan.
The island of Sipadan is a nature reserve and therefore uninhabited.
It rises out of the water in the form of a 600-meter-long needle and is ideal for relaxed drift dives and smaller cave dives. Here you can meet turtles, barracudas and mackerel swarms, reef sharks and Co.
To find out more about the necessary diving permits, you can best inform yourself directly on the official website of Sipadan Island.

Travel with turtle at Sipadan
Not far from the island of Sipadan is Pulau Mabul and Pulau Kapalai, two islands in the midst of many fantastic diving spots where you can even spend the night. Rent a cheap accommodation on one of the two islands and enjoy the fantastic underwater world.
The local, very simple and family-run dive centers offer diving courses and dive packages. So you can indulge yourself for a few days of the local underwater world with up to three dives and one night dive per day. In the breaks between the dives simple, local food is served.
The evenings can be comfortably spent with other divers on the open lounges on the jetty. Pure relaxation!
To get to one of the designated beautiful island, you travel by land, preferably by intercity bus, in the small port town of Semporna. Many dive operators have branches here where you can organize dives or multi-day stays on one of the islands.

Port city of Semporna: starting point for trips to the island of Sipadan, Kapalai and Mabul.
Accommodation around Semporna, Mabul and Sipadan
As there is no accommodation on Sipadan Island itself, so you need to find a place to stay at some of the neighboring islands. Budget travelers usually chose to stay at Semporna; where more affordable accommodation can be found.
You can also compare all Semporna accommodation options here.
More information for your Borneo round trip
Getting there
In order to travel to the Malaysian part of Borneo, you have to accept a longer journey, as there are no direct flights from Germany. It's best to book a long haul flight from Germany (eg Frankfurt am Main or Munich) to Kuala Lumpur or Singapore.
For this you should plan about 400 € – 600 €, depending on the airline and travel period. From there, you can travel for 30 € – 40 € to Kuching or Kota Kinabalu on Borneo, for example with AirAsia.
Best travel time
There is a tendency to travel to the island of Borneo in any season, as there is no holiday season. The climate is warm and tropical with frequent rainfall. Rain is just part of a Borneo trip. There is no bad weather, only the wrong clothes!
Be prepared for a warm, tropical climate. In your luggage include light and airy cotton clothing, bathing suits and rainproof clothing. If you travel to Borneo, you are mostly out in nature.
Accordingly, you need good, stable and waterproof hiking boots. At night, the temperatures can drop, which is why a fleece or thermal underwear does not hurt.
Equipment required Borneo
What should not be missing in your luggage on a Borneo tour? Here are my tips:
Waterproof, breathable (best ankle-high) hiking boots
Outdoor gaiters for protection against leeches in the rainforest, for example. Waterproof outdoor gaiters
slicker
rain pants
headlamp
Breathable trekking backpack including air comfort zone and rain cape
Rain cover for camera
mosquito protection
Hydration system for the backpack incl. Hose, eg Deuter hydration system
Borneo travel guide, for example Borneo: Sabah Sarawak Brunei