Ultimate 3 Days London Itinerary
Have you decided to go to London for 3 days ?
Excellent choice!
To help you organize your trip, I have prepared the perfect 3 days London itinerary for you.
I'll first give you all my tips for avoiding the queues, then I'll move on to the day-to-day program to make the most of your visit to the city.
At the end of the article, you will also find my selection of the best accommodation in London according to your budget. As always, everything is accompanied by my best advice and tips to make the most of your stay!
So where to go and what to do in London in 3 days? 
Our advice to avoid queuing in London
I'm not telling you anything if I tell you that London welcomes tens of thousands of visitors every day. And yes, the capital of England and the United Kingdom is one of the most touristic cities in the world, and this at any time.
There are many who dream of discovering its emblematic monuments such as Buckingham Palace, the Tower of London or the Palace of Westminster. And they are just as numerous to crowd every day in front of the entrance to each site and sometimes to wait several hours to visit.
But I assure you, there are a few tricks to avoid queuing and make the most of your visit to London in three days.
In fact, you have 2 solutions to avoid wasting time and avoiding queues on your trip. Here they are!

1. London Pass
First solution to save time during your 3-day London itinerary: buy the London Pass.
Virtually all major cities now offer this type of City Pass, which is super practical for avoiding queues by gaining direct access to the most famous sites. And London is no exception to the rule!
The London Pass is valid for stays of 1 to 10 days. It is in fact an electronic card available on smartphone and which you will have to present at the entrance to the attractions.
It comes in the form of a tourist credit which is deducted at each entry to the main tourist sites: for example the London Pass 3 days at 430 credits which corresponds to 430€ of entries while it only costs 114€ purchase!!
It is quite simply the most complete Pass to visit London in 3 days.
Here is everything included in this London Pass:
To buy your London City Pass here.
There is also another Pass, the London Go City Explorer Pass which offers passes based on the number of attractions you want to visit. There are therefore Passes for 2, 3, 4, 5 or 7 attractions.
2. Skip-the-line Tickets to London Tourist Attractions
Second possibility to benefit from quick access to the most important sites: buy your skip-the-line tickets one by one according to your program.
There are really a lot of them, whether for the main historical monuments to see or the activities to do in London during these 3 days. I list some of them below but you will also find them throughout the article.
Again, it's very simple: you just have to click on the name of the monuments or on the buttons present in the article to be able to reserve them:
Visit London in 3 days: The essentials
Last tip for a perfect 3 day stay in London
If you already know your travel dates (or as soon as you have them!), I highly recommend that you book your accommodation.
And yes, London is quite simply one of the most touristic cities in the world and the hotels offering the best value for money fill up very quickly.
Being used to travelling, I can guarantee you that it's always by going as far in advance as possible that I've found the best accommodation.
It would be a shame to partly ruin your stay in London by finding yourself in a terrible hotel that will have cost you a fortune, right?
So take 5 minutes now to take a look at the list of travelers' favorite hotels in London.
And if you like a hotel, book it!
Cancellation is often free, it's quick, easy, and it will protect you from the inconvenience of finding nothing, except mediocre rooms at exorbitant prices.
To see the best deals in London right now, just click here.
Once you have booked your hotel or apartment, it's time to continue reading this guide!
Visit London in 3 days: the best itinerary
Discover now my 72-hour itinerary in London, with the program of day-to-day visits.
For this schedule, I assume that you are spending 3 full days in London and have opted for the London Pass or purchased your skip-the-line tickets in advance. This is the best solution to maximize the number of visits per day.
And if after reading the article, you have other questions or need help planning your stay, do not hesitate to ask me for advice in the comments!
So what to visit in London in 3 days?
Day 1: The Historic Center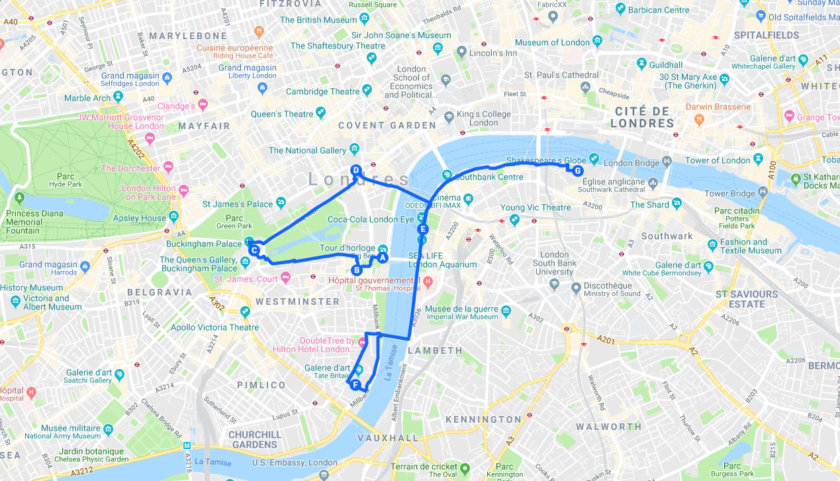 The visits of day 1:
A. Big Ben
B. Westminster Abbey
C. Buckingham Palace
D. Trafalgar Square
E. London Eye
F. Tate Britain and/or Tate Modern
A. Big Ben
I suggest you start your 3-day London itinerary by going to admire the famous Big Ben.
Located in the historic center of the city, on the banks of the Thames, it is impossible to miss the most emblematic building of the English capital.
In reality, Big Ben is the name given to the huge bell located inside the tower. The tower in question, adorned with 4 clocks 7 meters in diameter on each of its faces, is called the Clock Tower.
106 meters high, it was erected in 1858 and is part of the Palace of Westminster, also known as the Houses of Parliament.
Be aware that only Brits are allowed to visit inside the Clock Tower (after making an official request months in advance!). It will therefore be enough to admire it from the outside, which is already worth the detour!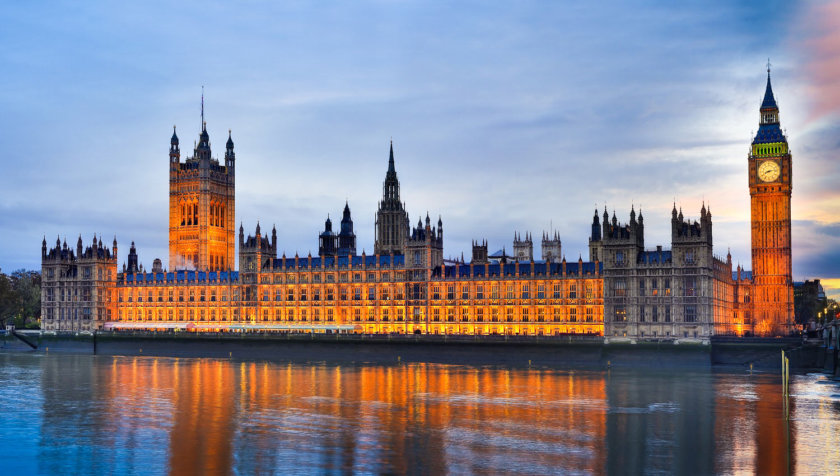 B. Westminster Abbey
Right next to the huge, world-famous clock, you will find Westminster Abbey. It is of great historical importance to the British.
It is indeed there that took place the coronation of many kings and queens of England, including the current sovereign Elizabeth II.
Westminster Abbey also houses several tombs of sovereigns, including that of Mary Stuart. Poets' corner also houses the tombs of several famous authors such as Charles Dickens or Thomas Hardy.
During the visit, I strongly recommend that you take the audio guide, which is really useful to learn more about the history of the monument.
Several routes are possible for a visit in 30 minutes or 1 hour. What's cool is that there's even a fun version for kids!
As I told you, it is essential to take a skip-the-line ticket to visit Westminster Abbey if you don't want to wait 2 hours in line.
If you have purchased the London Pass, the visit is included in it, otherwise you will need to purchase the fast-track ticket by clicking here.
Tips for your London itinerary:
Regarding the program for the day, I advise you to be at the abbey when it opens (9:30 a.m. on weekdays, 9 a.m. on Saturdays, closed on Sundays).
C. Buckingham Palace
Third tourist site not to be missed during this first day in London: Buckingham Palace.
The Queen's Palace is just 300 meters from Big Ben and the Abbey. Take the Birdcage Walk that runs along St Jame's Park to reach it.
I advise you to go there in the morning to attend the changing of the royal guard, an essential tourist activity to immerse yourself for a moment in the world of the English monarchy.
At 11 a.m. every Monday, Wednesday, Friday and Sunday, dozens of Royal Guards leave Wellington Barracks to join the courtyard of Buckingham Palace and take the place of their colleagues. All in a grand ceremony to the rhythm of the brass band.
The changing takes about 40 minutes and attracts thousands of tourists. So, a little advice, to get a good seat and not miss the show, be there around 10:30 a.m.
In case of rain, the handover ceremony is cancelled. You can consult the calendar made available online to check if it takes place.
Tips for your London itinerary:
The interior of Buckingham Palace can only be visited 2 months a year, generally in August and September. Provided you book well in advance, you will have the choice between 3 visits: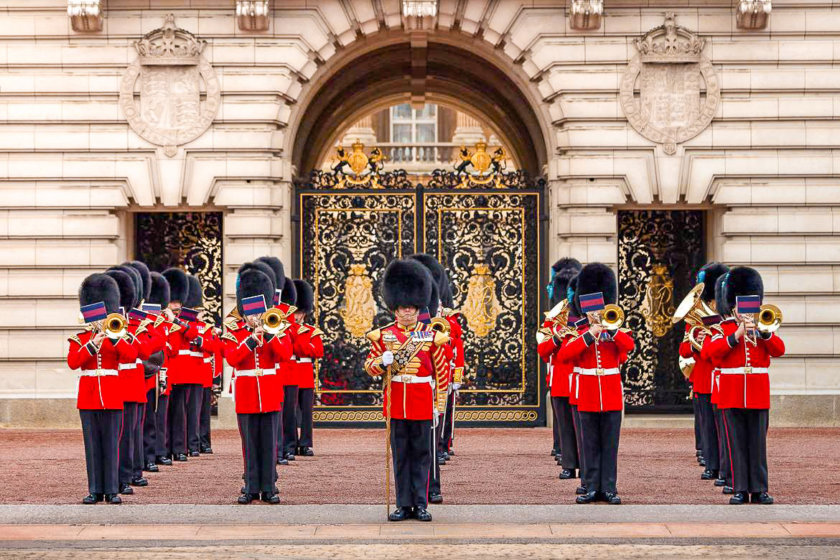 D. Trafalgar Square / National Gallery Museum
After this discovery of the 3 essential places of a 3-day London itinerary, I suggest you head to Trafalgar Square.
For that, do not miss to pass by Saint Jame's Park which is located just in front of the palace. It is a very pretty flowery green space with a body of water, many ducks and squirrels, footbridges and very well maintained paths. Allow 20 minutes on foot.
Trafalgar Square is a world famous square, surrounded by 4 large black lion statues. It is very lively and you can attend all kinds of street performances here.
The National Gallery museum overlooking this square is an opportunity to go for a little cultural getaway. It's one of the most beautiful museums in London and it's free, so it would be a real shame to miss it!
Founded in 1824, the National Gallery is renowned worldwide and exhibits one of the richest collections of works of art in Western Europe, including Van Gogh's famous sunflowers. There are also works by Monet, Cézanne, Leonardo da Vinci, Michelangelo, Picasso, Rembrandt … It is a paradise for lovers of painting.
Several visit routes are possible with an audio guide, including a route suitable for children which lasts approximately 1 hour.
The timetables can be found on the official website.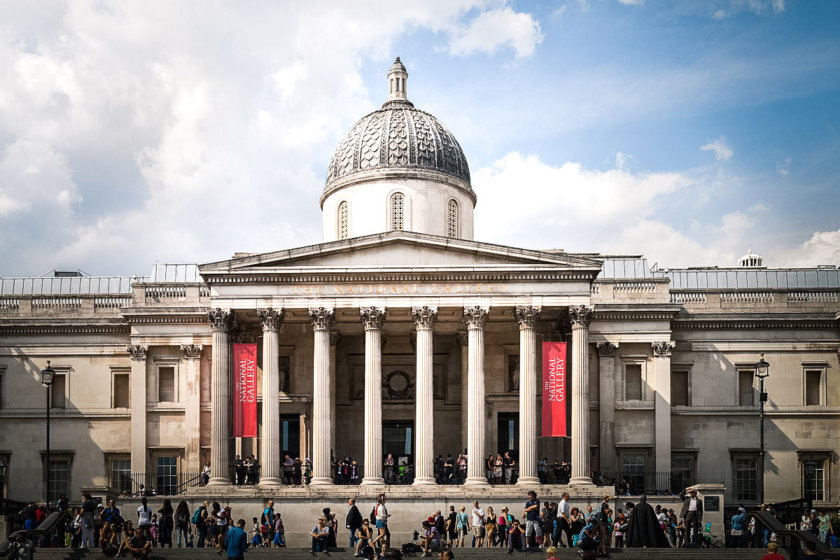 E. London Eye
Once you've finished visiting the museum, I suggest you take a little ride on the biggest Ferris wheel in Europe: the London Eye. It takes just 15 minutes on foot from Trafalgar Square to the London Eye.
Installed very close to Big Ben on the other bank of the Thames, it allows you to enjoy a panoramic view of all of London, at more than 130 meters in height. Each capsule of the wheel can accommodate 25 people and a complete turn takes 30 minutes, because it turns very slowly.
The view from the top is truly exceptional. An activity that will amaze young and old alike.
It is imperative to reserve your places in advance to go up in the London Eye (it is not included in the London Pass). Just click here.
To save money, you can also book this combination ticket: London Eye + Thames Cruise + Hop-on Hop-off Bus.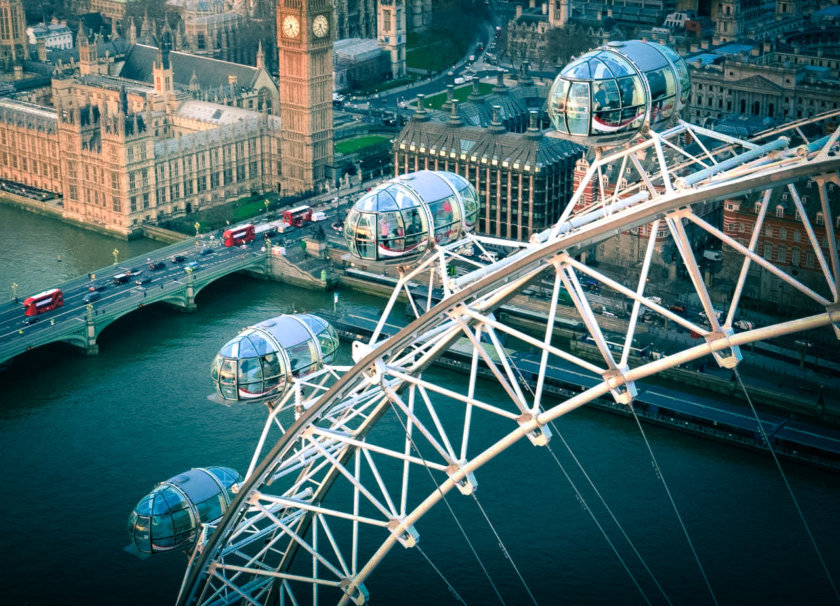 F. Tate Britain and/or Tate Modern
Continuation and end of the walk in London with two other essential and free museums in London: the Tate Britain and the Tate Modern.
The first is located on the North Bank, in the district of Westminster. It is dedicated to classic British art and exhibits the works of many artists including Turner, Hogarth, Francis Bacon and William Blake.
To reach it, count about 30 minutes on foot. If you don't want to walk, the other option is to take a river shuttle from the London Eye.
The Tate Modern is located a little further on the south bank, but a river shuttle connects the two museums every 30 minutes, which allows you to visit them in succession if you have time left at the end of this first visit. day. The Tate Modern focuses more on modern art in general.
For opening hours, they can be found on the official website.
There you go, not bad for a first day of visit!
Tips for your London itinerary:
If you want to admire London at night, you can completely swap the Tate museums with the Ferris wheel ride, to do it rather at the end of the day.
After your visit to the National Gallery, head to the River Thames and the Embankment Pier. Take the river shuttle to Milbank Pier which will stop outside the entrance to Tate Britain. For the Tate Modern, stop at Bankside Pier.
Then take the shuttle in the opposite direction to reach the London Eye. With a bit of luck, you'll be there right at sunset!
Day 2: What to do and see?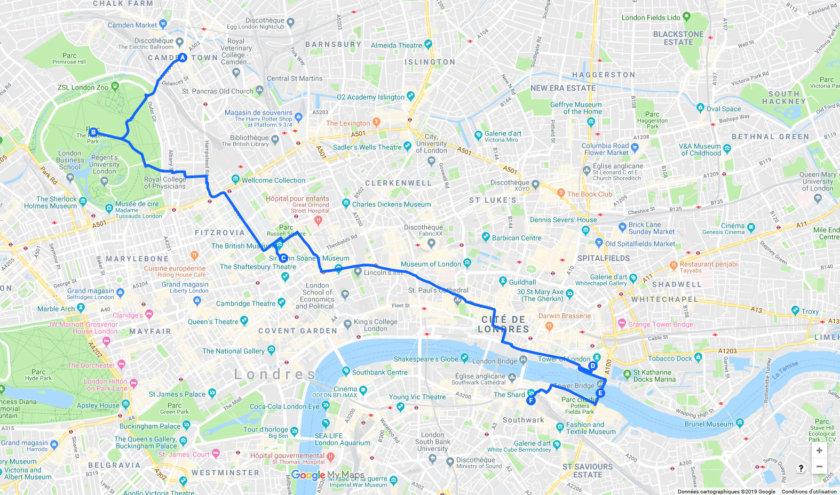 The visits of day 2:
A. Camden Town
B. Regent's Park
C. The British Museum
D. Tower of London
E. Bridge Tower
F. The Shard
A. Camden Town
For the second day of this three-day itinerary in London, I suggest you start with the Camden Town district.
To reach it, take the tube to the Camden Town stop.
Located in the very north of the city, this area is one of the trendiest and most eccentric in London. Mixing the punk, gothic and anti-globalization universe, it is a compendium of wacky shops, piercing and tattoo parlors, thrift stores…, all in a welcoming and very good-natured atmosphere.
The facades of the shops are impressive, decorated with giant figurines and flashy colors.
The district is very famous, in particular thanks to its market, the Camden Lock Market, open daily from 10 a.m. to 6 p.m. This flea market is clearly a must in London!
You can unearth vintage treasures, unusual gadgets, original clothes, taste street food from around the world or simply stroll along the Regent's Canal while listening to live music.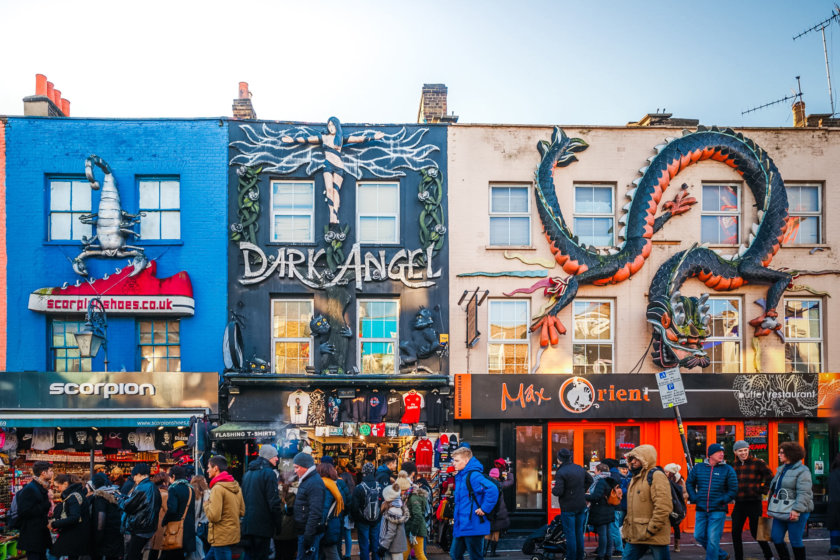 B. Regent's Park
Then head to Regent's Park, a London park just a 10-minute walk from Camden Town.
This large 166-hectare green space is one of the most beautiful in the city and is open daily from 5 a.m. to 6 p.m. It is surrounded by beautiful neo-classical residences built in the 19th century.
In spring, Regent's Park is very flowery and it is particularly pleasant to walk there. This park is the favorite meeting place for athletes who come to jog or train in the open air for football, rugby, field hockey and even rowing.
The park's lake also allows you to go boating or pedaloing. There is also an open-air theater (at Queen's Mary Gardens), children's play areas, cafes and restaurants.
An excellent idea for a romantic or family walk in London!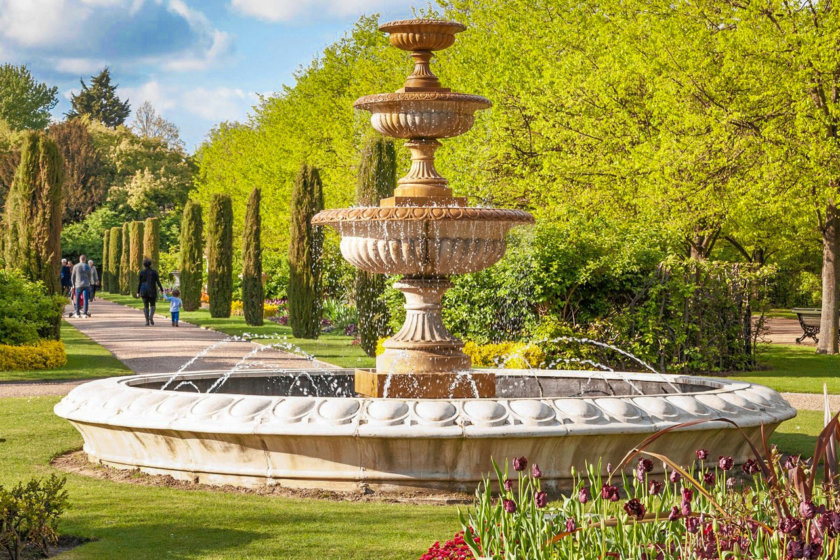 C. The British Museum
Leaving the park, take the A501 and A400 to reach the British Museum in 25 minutes on foot.
It is one of the most visited sites in Britain. It exhibits more than 7 million objects related to human history and culture.
The museum has been open to the public since 1759 and initially exhibited the personal collections of Dr. Hans Sloane. It was then enriched over time to become one of the most prestigious museums in the world. The archeology section is particularly interesting with many remains, mummies but also the famous Rosetta stone.
The building that houses the museum is an architectural masterpiece. The entrance, called The Great Court, is laid out under a glass and steel roof with a magnificent central rotunda.
The museum is so rich that you can spend a whole day there without having seen everything!
But considering that you are visiting London in 3 days, I advise you to spend 1-2 hours of your time there to see the sections that interest you the most. This will leave you enough time to make the other visits of the day.
Like almost all London museums, the British Museum is free. It is open daily from 10 a.m. to 5:30 p.m.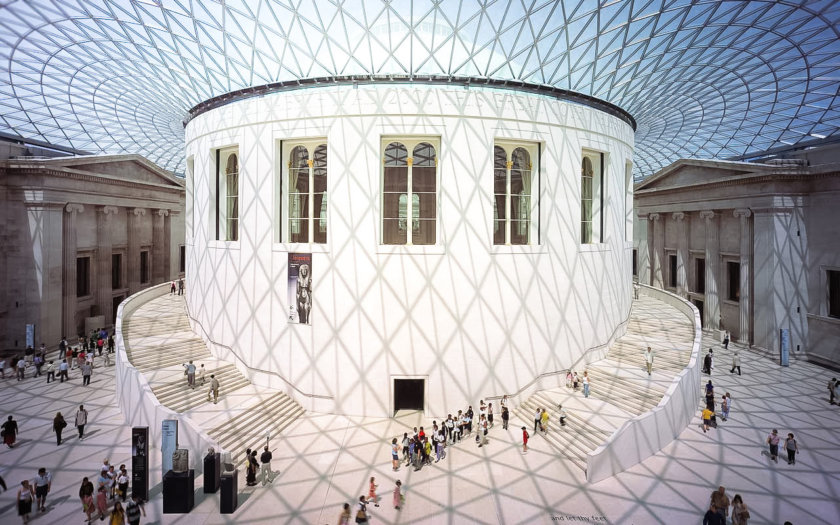 D. The Tower of London
Now go to the other side of the city, to the east, on the banks of the Thames to meet the famous Tower of London.
It is a fortress dating from the year 1066 which once served as a royal residence but also as a prison and place of execution. The site is listed as a UNESCO World Heritage Site.
Today, the tower is transformed into a museum on medieval history. Above all, we discover the macabre face of the history of London, through the many stories of executions that took place in the tower.
Several rooms in the castle are set up for visitors, including the torture chamber, with all that horrible period equipment. You can also see the Crown Jewels (one of the main attractions of the site). The outdoor gardens are also worth a visit.
This is the kind of visit that is very popular with children. Free guided tours led by Royal Guard halberdiers start approximately every 30 minutes from the main entrance.
There is always a queue at the entrance to the Tower of London, so I strongly recommend that you buy your tickets in advance to avoid wasting time.
The visit is included in the London Pass or you can also buy your tickets separately here.
Tips for your London itinerary:
To go from the British Museum to the Tower of London, it is better to take the underground (50 minutes on foot if not for the bravest).
Take the central line at Tottenham Court Road to Liverpool Street. Then the circle line to Tower Hill.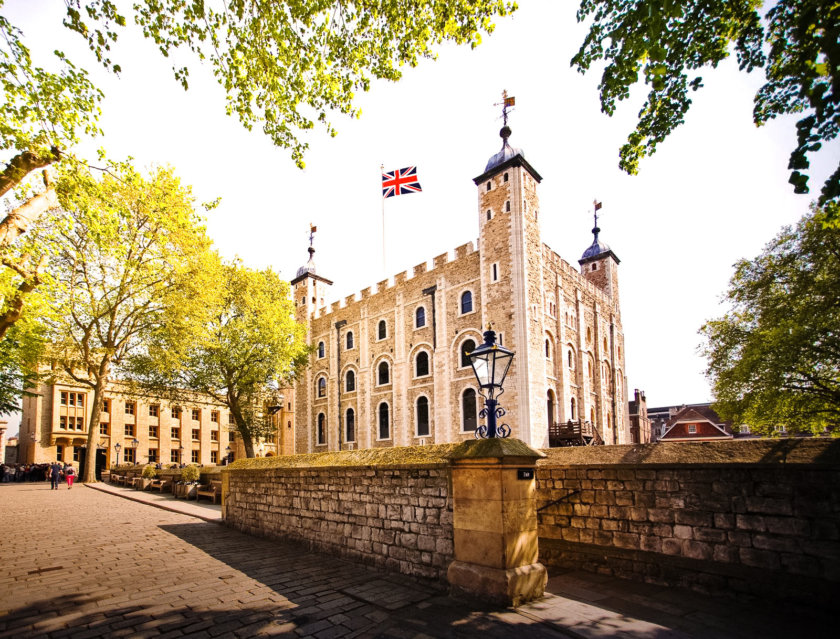 E. The Tower Bridge
Right next to the Tower of London, you can't miss the imposing Tower Bridge, another iconic landmark of the city.
With its two huge Gothic towers and its sky blue frames, it is recognizable at first glance. Illuminated at night, it is even more impressive.
This bridge was built over the Thames in the 19th century and has since been the link between the North Bank and the South Bank of London. At the time of its construction, it was the most sophisticated weighbridge in the world. You may also be lucky enough to see it open in two to let a large boat pass.
You can admire the Tower Bridge from the banks of the Thames but you can of course also cross it and even visit the old engine room installed inside one of the towers.
On each of the upper decks, you can also have fun walking on a glass footbridge to have the impression of flying over the Thames (not recommended for people who suffer from vertigo!).
The visit to Tower Bridge is included in the London Pass. Or if you just want to buy a skip-the-line ticket for this attraction.
Tips for your London itinerary:
At the foot of Tower Bridge, don't miss the charming little port of St Katharine's Docks where you can stroll and spend a pleasant evening in one of its many restaurants overlooking the Thames.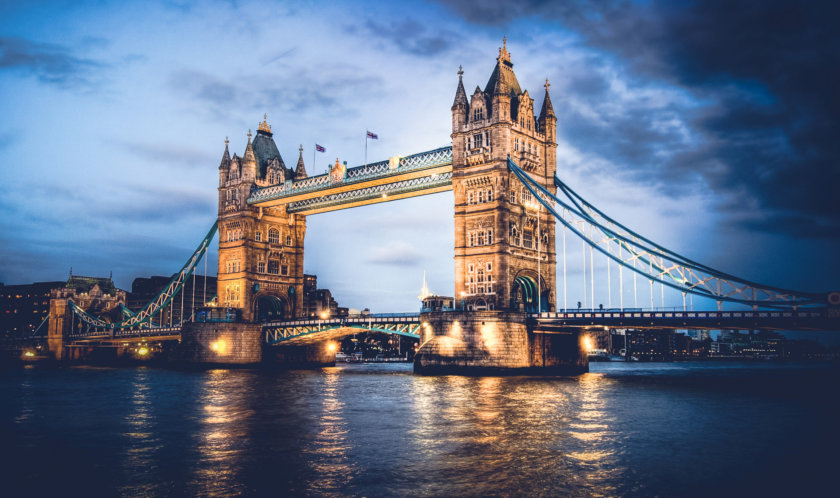 F. The Shard
I then advise you to end this second day of your 3-day London itinerary on a high note by climbing to The Shard panoramic tower.
It will take you 10 minutes on foot to reach it.
On the 72nd floor of the tower you will find the highest observation deck in Western Europe. Suffice to say that the view of London is spectacular!
The climb is included in the London Pass otherwise you can book your tickets in advance.
Day 3: Places to Visit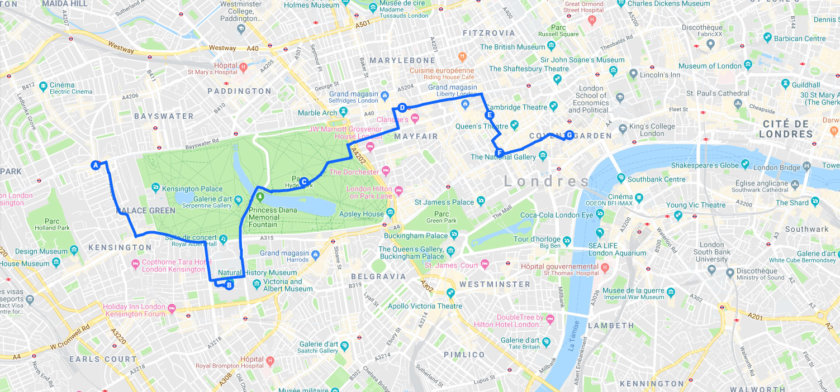 The visits of day 3:
A. Notting Hill
B. The Natural History Museum
C. Hyde Park
D. Oxford Street
E. Soho
F. Piccadilly Circus
G. Covent Garden
A. Notting Hill
For the third and last day of your 72-hour stay in London, start with the Notting Hill district .
You can reach it by tube, exit at Notting Hill Gate Underground.
This chic district of the British capital has become world famous thanks to the film "Love at first sight in Notting Hill" with Julia Roberts and Hugh Grant. Fans will also be able to go in search of the filming locations of the film.
Notting Hill looks like a peaceful little village and its elegant pastel-colored houses give it a crazy charm.
The Portobello Road flea market, which takes place every morning, is one of the main tourist attractions in this upscale district. Many second- hand clothing stands, vintage objects, accessories, antiques and culinary specialties to eat on the go await you.
The other major event in the district is the annual carnival organized every last weekend of August. It is a parade over more than 5 km, to the sound of Caribbean music. A show not to be missed if you are lucky enough to be there at the right time.
To not miss anything of the neighborhood, I advise you to book this guided tour.


B. The Natural History Museum
Then drive through Kensington to the Natural History Museum (25 minute walk).
It is the most visited natural history museum in Europe, with 5 million visitors each year. Huge and housed in a splendid building, it is extremely complete and full of things to admire and discover. And it is of course free!
Zoology, botany, volcanology, archaeology, dinosaurs, anthropology, mineralogy…, the sections of the museum are numerous, rich and varied. There are also plenty of fun activities for children to do.
You can easily spend a whole day there, but in order to save time for the other visits of the day, I advise you to devote a maximum of 2h to 2h30.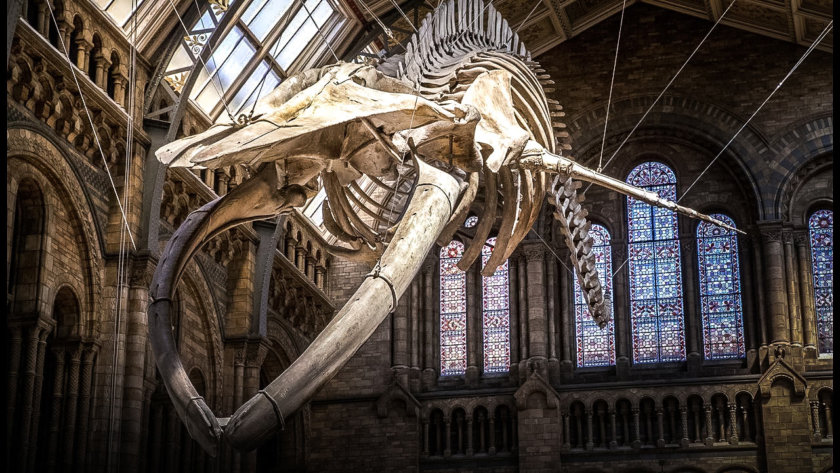 C. Hyde Park
Visiting London in 3 days on foot also means having time to walk in the parks. And that's good, Hyde Park is only 10 minutes from the museum.
Hyde Park is the city's largest green space. Like Central Park in New York or Parc Mont-Royal in Montreal, it is one of the most beautiful "city parks" in the world.
If you follow the program I suggest, you will have to be there for lunch. You will find many snacks and restaurants around the park and inside. If the weather is nice, it's an opportunity to picnic on the huge expanse of green grass or have lunch on the terrace by the water.
At the northeast corner of the park, you can also attend one of the small local curiosities: every Sunday, anonymous people come to express themselves and pass on messages, very often with humor. This corner is called the "Speaker's Corner".
During the festive period, a huge Christmas market takes over Hyde Park, accompanied by the Winter Wonderland funfair and the largest ice rink in the United Kingdom.
If you are in London in summer, you will have the opportunity to attend concerts and festivals.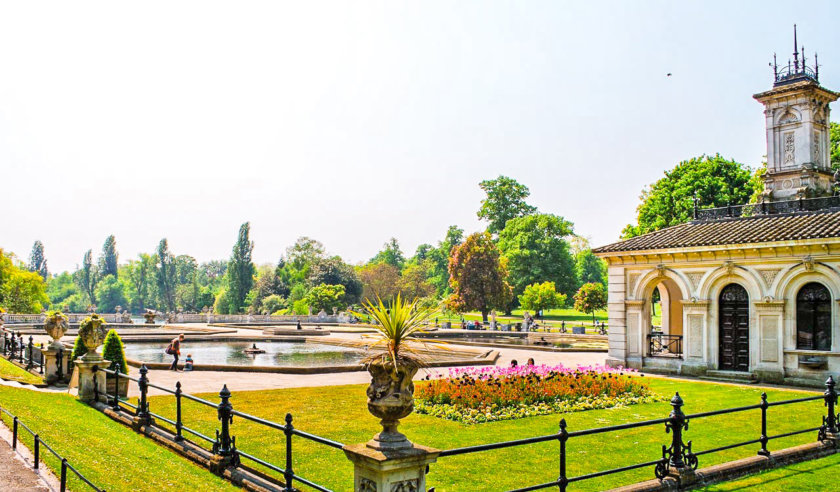 D. Oxford Street
Then I suggest you go do some shopping.
Oxford Street is the London equivalent of the Champs-Élysées in Paris. It is about fifteen minutes from the exit of the park.
During a short stay in the English capital, it is pleasant to go for a walk there to do some shopping or simply to admire the shop windows.
This more than 2.5 km long street is home to more than 600 fashion, decoration, cosmetics, high-tech shops… The prices are quite affordable and you have access to the best-known English chains such as Mark & ​​Spencer, TopShop, The Body Shop, Primark, Urban Outfitters…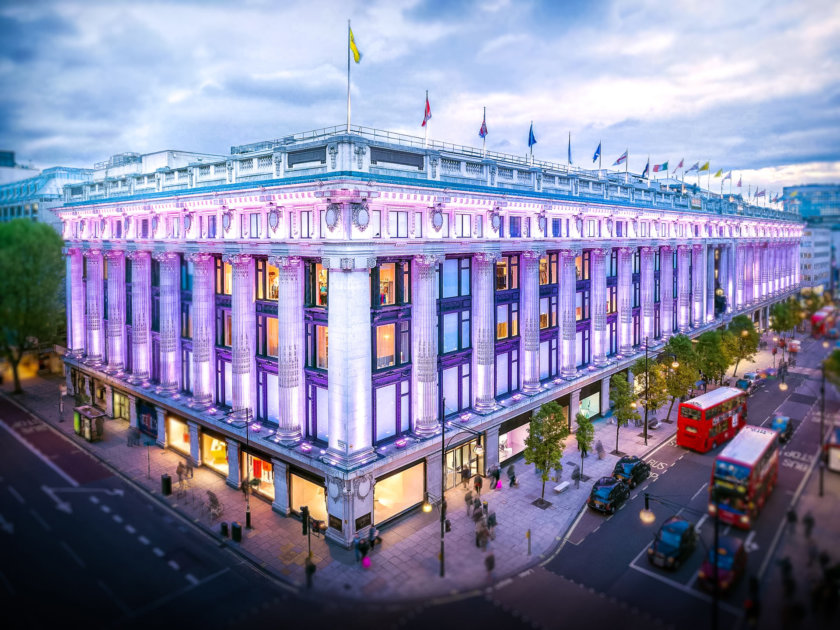 E. Soho
Next stop on your 3-day London itinerary: Soho, London's liveliest area ! It adjoins Oxford Street.
It is very small but it concentrates an impressive number of pubs, theatres, restaurants, cinemas and discotheques. In short, this is the area where all Londoners go out to party!
There are always a lot of people and a great atmosphere whatever the day of the week.
It is in Soho that you can see the best London musicals. They are very popular so remember to reserve your places in advance.
To attend the famous musical "Les Miserables" at the Queen's Theater in London, be sure to buy your tickets in advance here.
And if you prefer the no less famous "Phantom of the Opera", it's this way!
Tips for your London itinerary:
If you're looking for a quirky experience to do in Soho, I particularly recommend picking up a Harry Potter-themed walking tour.
Departing from Soho, your guide will take you to iconic film locations including Diagon Alley, Gringotts, Pier 9 3/4, Knockturn Alley and more. It's really well done and the guide is super nice.
To book your Harry Potter guided tour here.


F. Piccadilly Circus
From Soho, you can push on to Piccadilly Circus to admire the lights and enjoy the festive atmosphere of this famous square with its giant advertising screens.
G. Covent Garden
I suggest you end your 3-day itinerary in London by Covent Garden.
The area was once the location of the London Market Halls. They were moved in the 1970s but the place has fortunately kept its beautiful glass roof which now houses several shops, restaurants, workshops and the London Transport Museum.
This area is very touristy. There are many shopping streets, street performances and a craft market on Saturday mornings.
Now all you have to do is enjoy your last evening before flying back the next day.
There you go, London has no more secrets for you! There remains the question of housing, which I address just below.
Best Accommodation in London
You now know how to visit London in 3 days but one question remains unanswered: where to stay?
We're not going to hide it from you, finding cheap accommodation in London isn't that easy. Very large tourist city requires, the rates charged by hotels in central London are quite high.
I can therefore only recommend that you plan ahead to benefit from the best rates. Do you know your travel dates? Book your night now!
For those who prefer inexpensive hotels in London, I recommend the "Z Hotel" chain. They are in quite a few different areas of London and prices start at €60 per night. This is the right plan for cheap accommodation in London.
You have not found your ideal hotel in this selection?
No problem, I strongly advise you to consult our dedicated article with a wider selection of hotels and hostels, classified by neighborhood and budget: The best hotels to stay in London.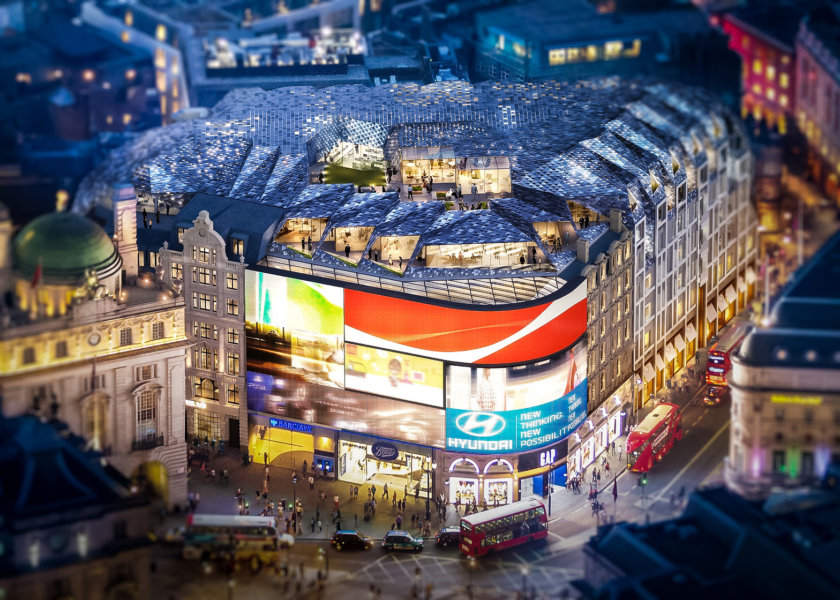 Visit London in 3 days with the family
Visiting London with your children for 3 days is a great idea!
If your children are accompanying you, you will still have to adapt the program slightly. Most of the visits will surely please them, but they may need to spend a little less time in the museums, as they can find it quickly boring.
However, in most museums in London, fun trails and special workshops for children are offered and they generally last no longer than 1 hour.
Among the activities to do absolutely with the family in London, I recommend:
The musicals that play in Soho theaters are also a big hit with kids. It's a great idea for a family night out to watch a show together.
In terms of routes, all the sites of the first day are close to each other and I therefore advise you to follow the program by walking on this first day, which in my opinion is more interesting for a first overview of the city.
If your children are tired or too small to walk, you can opt for bus trips. It is sure that they will love traveling in the red double-decker buses, preferably at the top and right in front.
You can book this hop-on hop-off double-decker bus tour by clicking here!
You can also take them on a cruise on the Thames, which will allow everyone to admire the main sites without getting tired.
More things to do and see in London in 3 days
You have followed our visits program for 3 days in London and you still have time?
I recommend that you read our complete tourist guide. You'll find even more things to do and see to end your 3-day vacation in London in style.
It's simple, just click here: What to do in London? The ultimate guide!
It may even make you want to extend your stay in London! Why not spend 4 or 5 days there?
Map of your 3-day London itinerary
To help you visualize your routes during these 3 days in London, I made you a map listing the places to visit day by day. You can display the map legend by clicking on the top left button with a small arrow. You will then be able to view the routes for each day.
Need help planning your 3 day London itinerary? Do not hesitate to ask me your questions in the comments.
Are you going to London? Read also