2 Days in Dubai: What to do and see?
The time to put together a roadmap to travel to a place we've never visited is one of the most complicated, isn't it?
A very common question is, how many days to stay in Dubai?
That's why we made this post with some suggestions and tips for an itinerary in Dubai. So, you can choose which one best fits your trip, follow the tips and enjoy a lot!
It is not necessary that you strictly follow the suggested itineraries here, but I hope that it can serve as a guide for you and help you discover the best sights and attractions of this amazing city that is Dubai.
So let's start our Dubai 2 days itinerary!
Day 1: Deira and Downtown Dubai

I recommend starting your 2-day trip by visiting Dubai 's gold and spice souks in Deira. From this point, and taking advantage of the occasion, you'll board an abra (a kind of boat) to go straight to Bur Dubai.
At this point, it only remains to reach the center and visit the three most famous areas of Dubai: Burj Khalifa, Dubai Mall and the Dubai Fountain.
1. Deira Gold & Spice Souk

The Gold and Spice Souk is located in Deira**, the old part of Dubai**. Deira is located in the north of the city, very close to the airport. You can opt for bus lines 11A and CO1, or a taxi which will take around 8 minutes to reach Deira.
Most shops in Deira are open between 9am and 10am, except on Fridays when they open a little later, so I recommend showing up early before the crowds flood the area.
There's a lot to see and do in Deira, like visiting some of Dubai's iconic neighborhoods, shopping for souvenirs, clothing (including Arabic clothing), gold, spices, small rugs, and all sorts of other items.
Prices are much lower than in the malls, so if you plan on shopping for a lot of souvenirs, you might want to do that in Deira.
Deira is also the ideal place for a cheap lunch : you will find many different cuisines in the gold and spice souks. I suggest having lunch there or a little further south in the La Mer area.
Recommendation : When shopping in Deira you have to know how to haggle, it's part of the culture of this area; although in reality, if you know how to do it, it's quite a bit of fun .
2. Bur Dubai in Abra

Take advantage of the proximity for a short and intense abra ride, abras are popular and super cheap traditional water taxis.
The most authentic abra ride is usually taken from the gold and spice souk.
You can walk to Deira Gold Souk abra station and get to the other side (Bur Dubai) by taking an abra (water taxi).
It will only cost you a few cents and is a nice and inexpensive way to get to the other side of the creek to continue your journey.
For centuries it has remained one of the most widely used means of transport in Dubai, becoming a symbol of Dubai's history and a heritage site in its own right.
You can also have the entire abra to yourself for 5 euros. This allows you to take pictures much more freely without anyone else being in the picture, although you also have to hurry as the trip only takes a few minutes.
3. Bur Dubai
Once you get to Bur Dubai, you'll see some museums and a smaller souk where you'll find more spices, gold and other things. You can of course spend a whole day exploring this part of Dubai, but if you only have 2 days in Dubai, I recommend spending between 2 and 5 hours to see these two interesting areas of Dubai.
4. Burj Khalifa

From Bur Dubai you can take the metro (22 minutes), bus 29 (44 minutes) or taxi (12 minutes) to get directly to the Burj Khalifa, the bus being the cheapest option.
Burj Khalifa is the tallest building in the world at 828 meters. You can enjoy incredible views from the Burj Khalifa Observatory.
It will probably take you between 2-4 hours to enjoy the views and areas of this building (depending on how busy you are), but the queues to get to the top can be very long.
You can get Burj Khalifa tickets for levels 124 and 125 or get a ticket for levels 124 and 125 and 148. Of course, level 148 is the most expensive, but the beauty is that with level 148 you can skip the queues, which is vital if you're short on time.
To save even more time, I recommend that you find out what you can see and do inside the Burj Khalifa .
5. Dubai Mall

The Dubai Mall is located right next to the Burj Khalifa, so there's no travel time. Visiting the Dubai Mall is definitely worth it even if you don't consider yourself a shopper, as it's not just for shopping.
Inside you will find Dubai Aquarium and Underwater Zoo (an aquarium and aquatic zoo with 300 species of marine animals) Dubai Dino, a Diplodocus fossil, VR Park Dubai, a virtual reality theme park and other interesting places and attractions to spend hours. and hours.
Bearing in mind that you are only in Dubai for 2 days, try to spend a maximum of 2 hours in Dubai.
The Dubai Mall also has a food court** offering a huge variety of foods. Of course, there are luxury restaurants too * if you're in the mood to indulge on your first dinner in Dubai.
6. Dubai Fountain


Next to the Dubai Mall is the Dubai Fountain. Here you can see amazing water and light shows.
I recommend ending your first day in Dubai here as it's a great way to rest your eyes and enjoy a night in Dubai to remember.
Nighttime fountain shows run from 6:00 pm to 11:00 pm, and occur every 30 minutes.
The show is free to watch, although the area fills up quickly, so be sure to arrive at a good time if you feel like taking pictures or videos in a more comfortable way.
If you have time, you can also take a walk around the area , Dubai is as safe at night as it is in the morning.
Day 2: Discovering the Dubai Coast


On this second day, I recommend that you visit the coast of Dubai and its most interesting areas. I suggest you start your day at the famous Dubai Marina and then, taking advantage of its proximity, spend some time at the famous JBR-The Walk beach.
Afterwards you could take a walk through Madinat Jumeirah and stroll through its famous alleys and finally I recommend you to take a look at the Dubai Canal (bridge), one of the most attractive and new places in the city, and then finish your day in the center from Dubai.
1. Dubai Marina

Start day two with a leisurely stroll around Dubai Marina, one of the most enjoyable places to be in Dubai and one of the largest man-made marinas in the world. There are also many things to do at the marina.
The marina will amaze you with its huge canal along with the yachts that can be seen, giving the marina a luxurious feel. You can spend a few hours wandering aimlessly and having a drink or two at one of the many bars along the way.
If you have time, you can take a cruise around Dubai Marina ; otherwise, go straight ahead to end up at the famous JBR-The Walk beach.
2. JBR Beach – The Walk

As it is within walking distance (20-30 minutes) of Dubai Marina, JBR-The Walk Beach is the closest and most sensible option.
There's no entry fee to JBR-The Walk, and it's the ideal place for a swim. You can also rent water sports equipment and enjoy a great afternoon at the beach.
Off the beach, you'll find plenty of street art, live music and a lively atmosphere.
I also recommend that you hop on the "Flying Cup", a new attraction that will give you a 360-degree view of the beach. Best of all, they also offer food services, so if you want lunch with a panoramic view from 40 meters above, you'll know where to go.
And, believe it or not, both the entrance fees and lunches are reasonably priced. There are also several restaurants in the area for a quieter, less adrenaline-filled lunch.
3. Get Lost in Madinat Jumeirah

Continuing straight ahead for a pleasant 15-minute walk to JBR beach – The Walk you will find the famous Madinat Jumeirah, a city (as the name suggests in Arabic) full of entertainment, accommodation, restaurants and many places for different leisure activities. However, for this occasion, I recommend heading to the souk of this mini-city paradise.
This souk is not as overwhelming as the Dubai Mall and you can find gifts, clothing and more. You can also walk around the area while breathing in the fresh air, the alleys are very traditional and the atmosphere is very pleasant. Madinat Souk also has many good licensed food outlets if you want to grab a bite to eat. For dining in Madinat Jumeirah there is everything from humble traditional food stalls (near the souk) to high end restaurants.
4. Dubai Canal

After a stroll through the Jumeirah Souk, I recommend that you continue up the hill and head towards the amazing Dubai Water Canal. The quickest option would be to take a taxi (12 minutes and approximately 6 euros).
The canal is Dubai's newest addition, the water canal cost around 660 million euros and is approximately 5 kilometers long.
The downside of the channel is that during the day the sun hits hard because it is completely uncovered, so it can be a little uncomfortable. However, nowhere is more romantic for a peaceful evening than the Dubai Canal. Dubai's water canal is the perfect place to say goodbye to the city, enjoy the incredible lights that are projected onto and from it and listen to the pleasant sound of the water moving underneath.
Accommodation in Dubai
Now you know what to do in Dubai in 2 days!
But there is one last essential question to tackle: did you manage to choose your hotel from the hundred or so offers available in Dubai?
If you don't want to waste time comparing everything, I have good news, I have prepared for you my selection of the best hotels to sleep in Dubai according to your budget and by geographical area.
And as Dubai concentrates an impressive number of magnificent luxury hotels, I have also dedicated a special section to them. If you have a special occasion to celebrate during your weekend in Dubai, now is the time!
In any case, I advise you to book as far in advance as possible to get the best rates.
The best hotels in Downtown Dubai (near the Burj Khalifa)
DoubleTree by Hilton Dubai – Business Bay : located 1.5km from Burj Khalifa and Dubai Mall. Very spacious and comfortable room, well decorated and equipped from €110 per night, breakfast included. The pluses: free shuttle to the Dubai Mall, breakfast with a lot of choice, comfort, calm. It is our favorite for its price/performance ratio in Dubai.
Rove Downtown: located just 600 meters from Dubai Mall. Bright and clean double room with some views of the Burj Khalifa, from €150, breakfast at €15. Pros: walking access to Dubai Mall, helpful staff, free shuttles to the beach, Dubai Museum or Souk Madinat.
Taj Dubai: located 800 meters from the Burj Khalifa. Modern and luxurious room with bay window overlooking the city and marble bathroom from 220€, breakfast at 32€. Most: the splendid view from the rooftop, the decor on the theme of India, the large swimming pool. An excellent choice to stay near Downtown Dubai!
Palace Downtown: located on the edge of the Burj Khalifa lake, this 5* hotel offers splendid rooms with balconies offering an exceptional view of the Burj Khalifa. From €380, breakfast €39. Most: the exceptional location, the magnificent setting, the caring staff. This is our recommendation for a luxury stay closest to Dubai's must-see attraction!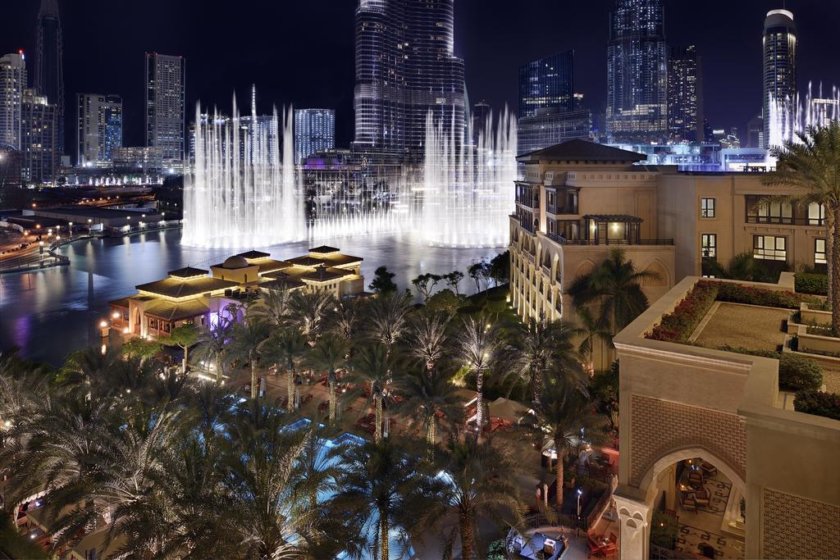 The best hotels in Old Dubai (Deira and Bur Dubai)
The best beachfront hotels in Dubai
The most beautiful luxury hotels to stay in Dubai
I hope these itineraries have helped you plan your trip to Dubai.
Are you going to Dubai? Read also: