2 Days in Dubai: What to do and see?
The time to put together a roadmap to travel to a place we've never visited is one of the most complicated, isn't it? A very common question is, how many days to stay in Dubai? That's why we made this post with some suggestions and tips for an itinerary in Dubai. So, you can choose which one best fits your trip, follow the tips and enjoy a lot!
It is not necessary that you strictly follow the suggested itineraries here, but I hope that it can serve as a guide for you and help you discover the best sights and attractions of this amazing city that is Dubai.
Accommodation in Dubai
Now you know what to do in Dubai in 2 days!
But there is one last essential question to tackle: did you manage to choose your hotel from the hundred or so offers available in Dubai?
If you don't want to waste time comparing everything, I have good news, I have prepared for you my selection of the best hotels to sleep in Dubai according to your budget and by geographical area.
And as Dubai concentrates an impressive number of magnificent luxury hotels, I have also dedicated a special section to them. If you have a special occasion to celebrate during your weekend in Dubai, now is the time!
In any case, I advise you to book as far in advance as possible to get the best rates.
The best hotels in Downtown Dubai (near the Burj Khalifa)
DoubleTree by Hilton Dubai – Business Bay : located 1.5km from Burj Khalifa and Dubai Mall. Very spacious and comfortable room, well decorated and equipped from €110 per night, breakfast included. The pluses: free shuttle to the Dubai Mall, breakfast with a lot of choice, comfort, calm. It is our favorite for its price/performance ratio in Dubai.
Rove Downtown: located just 600 meters from Dubai Mall. Bright and clean double room with some views of the Burj Khalifa, from €150, breakfast at €15. Pros: walking access to Dubai Mall, helpful staff, free shuttles to the beach, Dubai Museum or Souk Madinat.
Taj Dubai: located 800 meters from the Burj Khalifa. Modern and luxurious room with bay window overlooking the city and marble bathroom from 220€, breakfast at 32€. Most: the splendid view from the rooftop, the decor on the theme of India, the large swimming pool. An excellent choice to stay near Downtown Dubai!
Palace Downtown: located on the edge of the Burj Khalifa lake, this 5* hotel offers splendid rooms with balconies offering an exceptional view of the Burj Khalifa. From €380, breakfast €39. Most: the exceptional location, the magnificent setting, the caring staff. This is our recommendation for a luxury stay closest to Dubai's must-see attraction!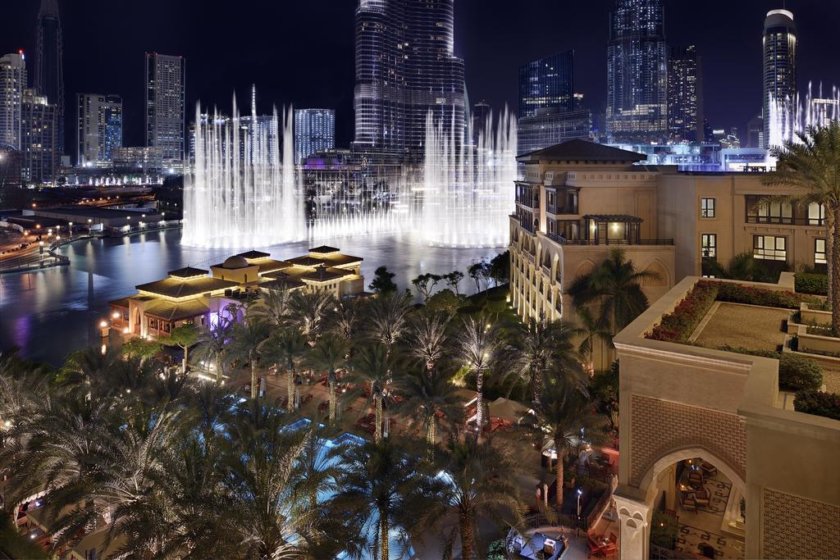 The best hotels in Old Dubai (Deira and Bur Dubai)
The best beachfront hotels in Dubai
The most beautiful luxury hotels to stay in Dubai
I hope these itineraries have helped you plan your trip to Dubai.