What to do and see in Oaxaca?
To visit Oaxaca de Juárez is to discover one of the most beautiful cities in Mexico, whose historic center has been declared a World Heritage Site by Unesco.
Capital of the State of Oaxaca, its region is known for its gastronomic, artistic, historical and archaeological richness.
To help you make the most of your  time in Oaxaca, here's  my guide to Oaxaca  with all the best  things to do and see.
You will find my advice and tips, the  20 must-see places of interest  and activities to do in the city and its surroundings.
I offer you suggestions for itineraries  to  visit Oaxaca in 1, 2 and 3 days, the best restaurants and my  hotel recommendations  for all budgets.
I also give you all my tips for cheap travel to Oaxaca!
So, what to do in Oaxaca? 
1. Discover the colorful streets of the city
Oaxaca is a city full of charming places to stroll.
In addition to its brightly colored facades and its pretty papel picado that can be seen floating in several places, it is also an important street art destination in Mexico.
Randomly explore the city and you will find small squares and narrow streets. Don't forget to visit the picturesque neighborhoods of Xochimilco and Jalatlalco : it's like walking through a village!
If you prefer to be guided to know the most beautiful murals of Oaxaca, I suggest you book this bike tour that will allow you to discover the most beautiful murals, and learn more about their meaning and their authors, in addition to visit workshops. You can book it directly here.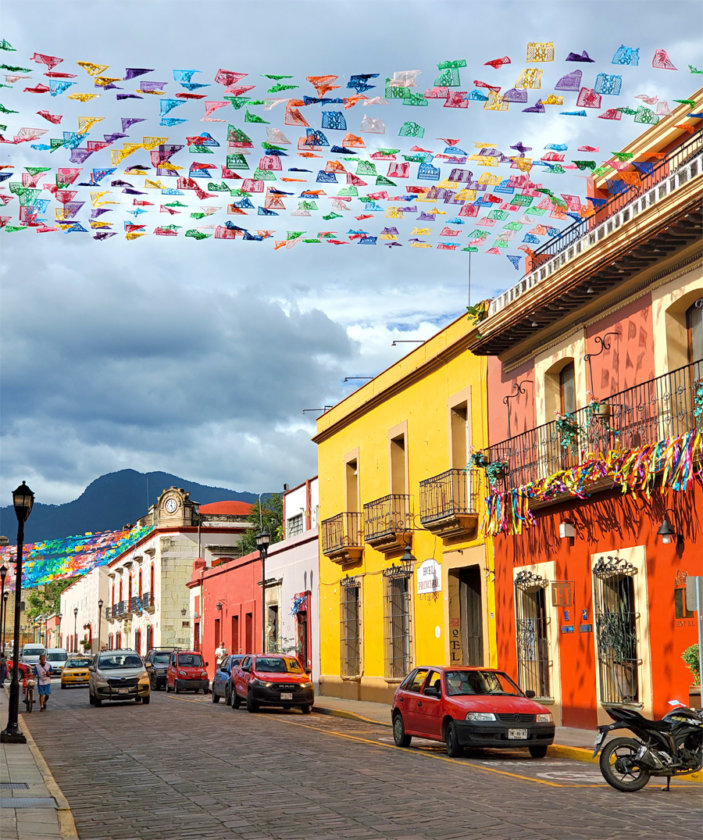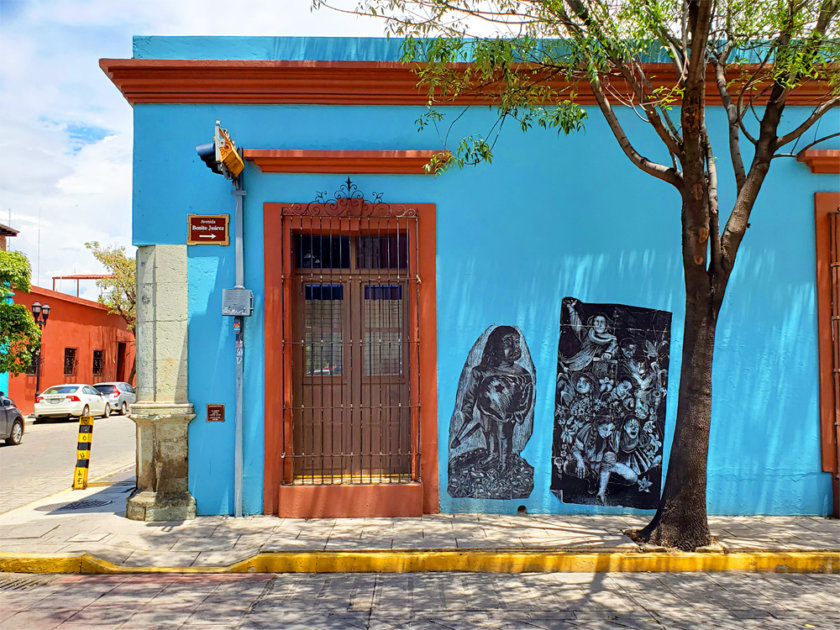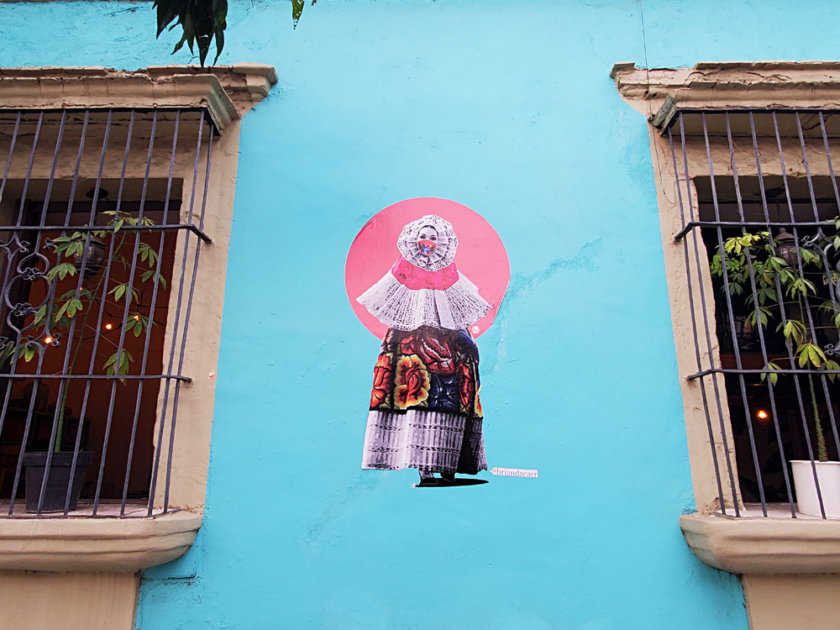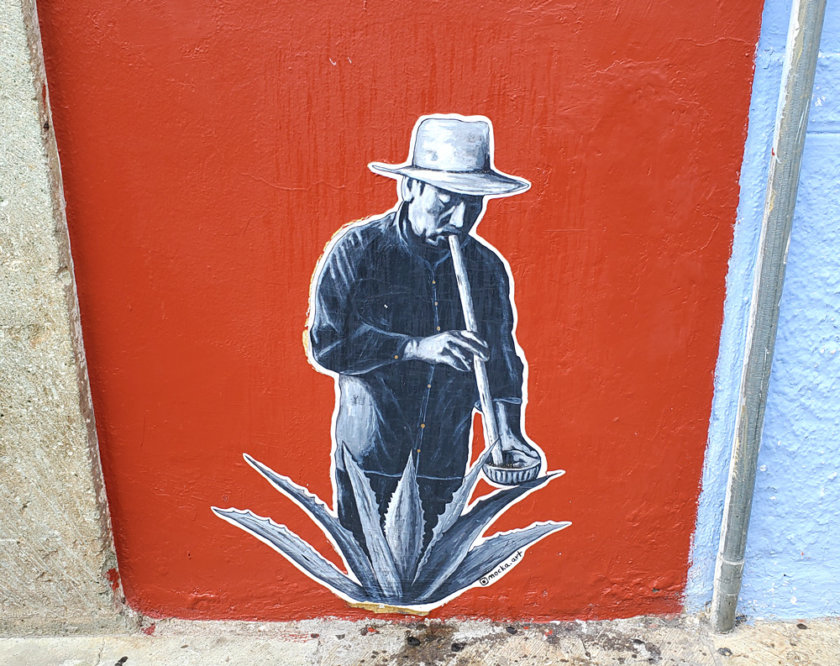 2. Jardin Ethnobotanique
The ethnobotanical garden is a must in Oaxaca. It is a botanical garden located in the heart of the historic center, within the grounds of the former convent of Santo Domingo.
The visit (mandatory guided – duration 1 hour) allows you to discover 2 hectares of plants native to Oaxaca, including several magnificent cacti, and discover their importance and their traditional use by local communities.
Visits at 10 a.m., 11 a.m. and 12 p.m.
Groups are a maximum of 15 people (there were 2 groups when I visited at 10 a.m.: one with a guide in Spanish, one in English)
Entry 50 pesos
There is no reservation possible, so arrive in advance!
A word of advice: there is no shady area while waiting outside, and not much either once in the garden, so bring water!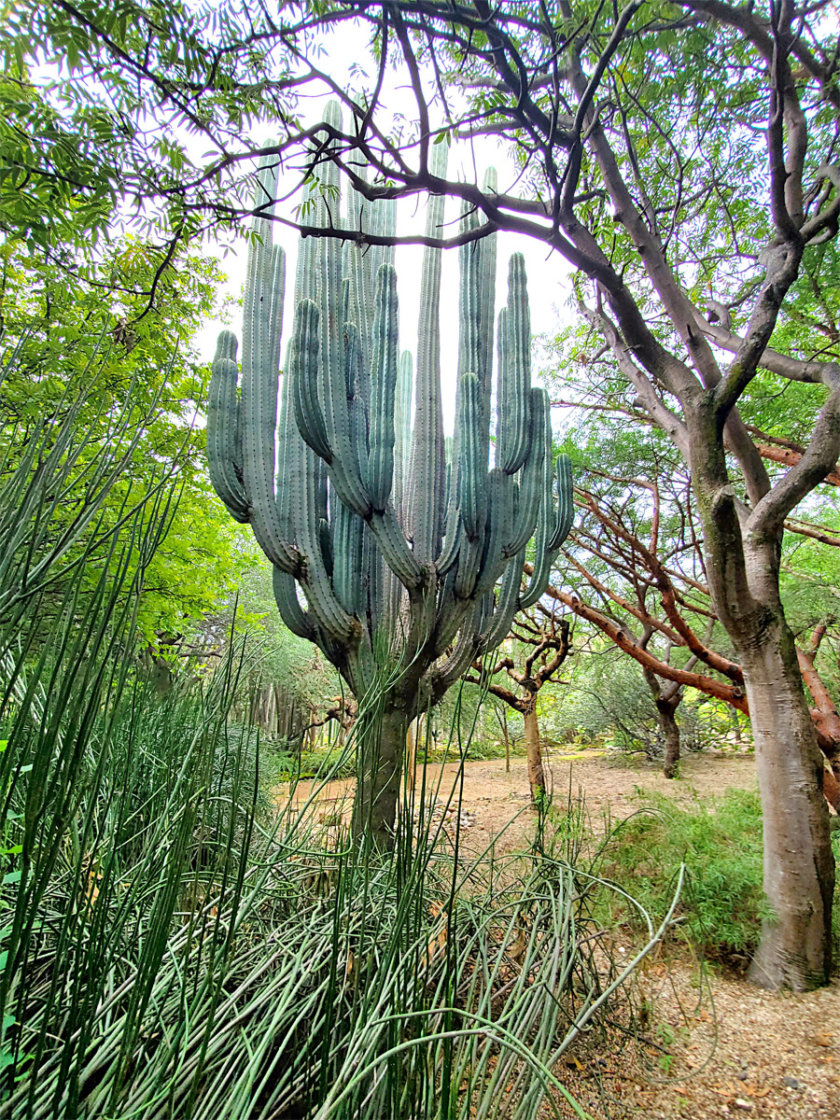 3. Santo Domingo de Guzmán Temple
The Church and Former Convent of Santo Domingo de Guzmán is a must-see in Oaxaca.
This Dominican convent has had a rather complex history: built from 1551, it also served as a university, but was then occupied for a very long time by the military, under different regimes.
It was officially returned to the Church by President Porfirio Diaz in 1902.
It was with the return of the Dominicans to Oaxaca in 1938 that major restoration work began in order to bring this magnificent work of Baroque architecture from New Spain back to life .
It is today a true symbol of the city, widely photographed with its agaves that surround the building, but above all you have to enter to be able to appreciate its architectural and artistic richness.
The complex also houses the Museum of Cultures : a very interesting museum of Oaxaca with an important archaeological, historical and ethnographic collection where you can discover both the traditions of Oaxaca (art, gastronomy, etc.) and many artifacts. The museum is temporarily closed. 
Church open from 9 a.m. to 10 a.m. and from 5 p.m. to 6 p.m.
Impossible to miss: the church is on the pedestrian street Andador Turistico (Calle Macedonio Alcalá), which is the most touristic street in the city.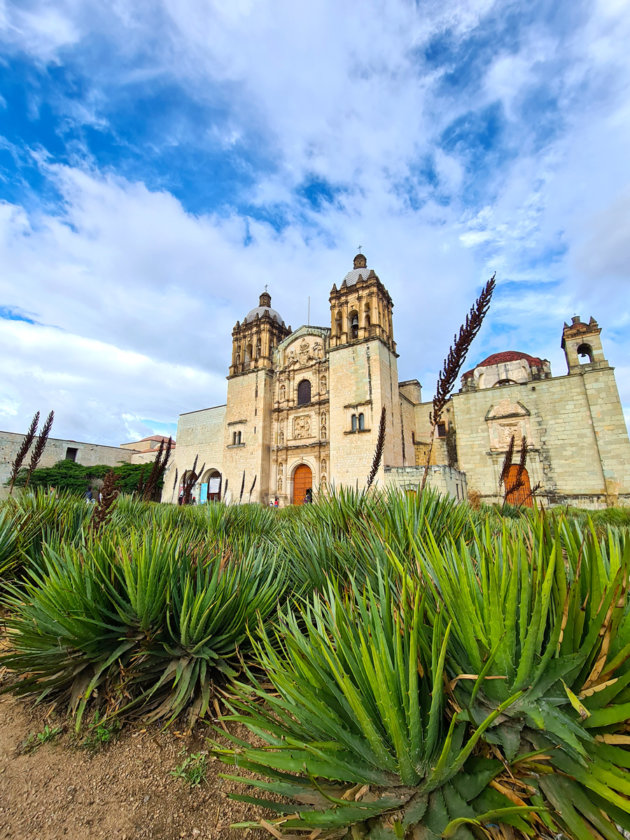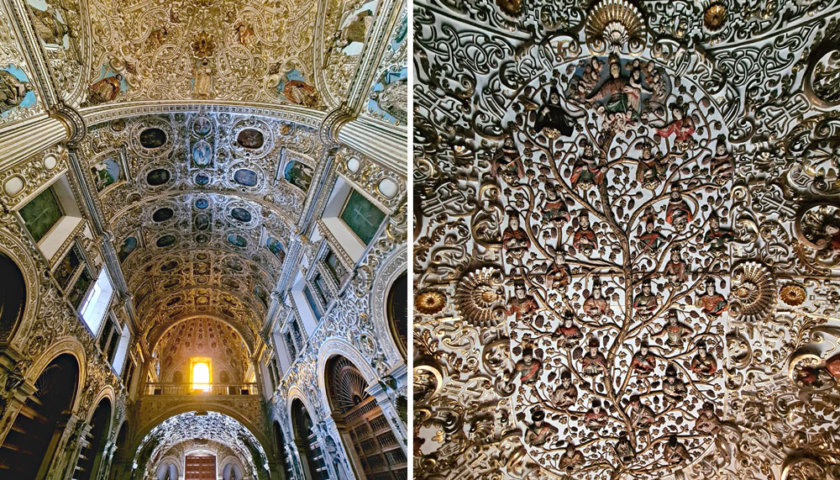 4. Visit the best museums in the city
There are several interesting museums in Oaxaca, many of which are free.
The Textile Museum of Oaxaca : it is worth a look for its architecture and its textile collection. At the moment some rooms are closed, but the visit is worth it – free entry
San Pablo Cultural Center : it is located in the building of the first convent built by the Dominicans in Oaxaca, which was renovated by the architect Mauricio Rocha. Free admission, Mon-Sun 11 a.m. to 6 p.m.
The Museum of Painters of Oaxaca : museum that presents local artists from Oaxaca (paintings, sculptures), free admission
Pre-Hispanic Art Museum : collection of more than 1000 pre-Hispanic archaeological pieces, and temporary exhibitions (painting, sculpture, photography). Currently closed, but possibility to have a private guided tour (call 9511779584)
Museum of contemporary art: temporary exhibitions of photography, plastic arts, graphic arts, etc. Currently closed.
Philatelic Museum : a hidden treasure, to visit whether or not you are a philately enthusiast. Collection of 200,000 pieces, including Penny Black, the world's first stamp, and letters written by Frida Kahlo, all in a magnificent house with a patio. Free admission.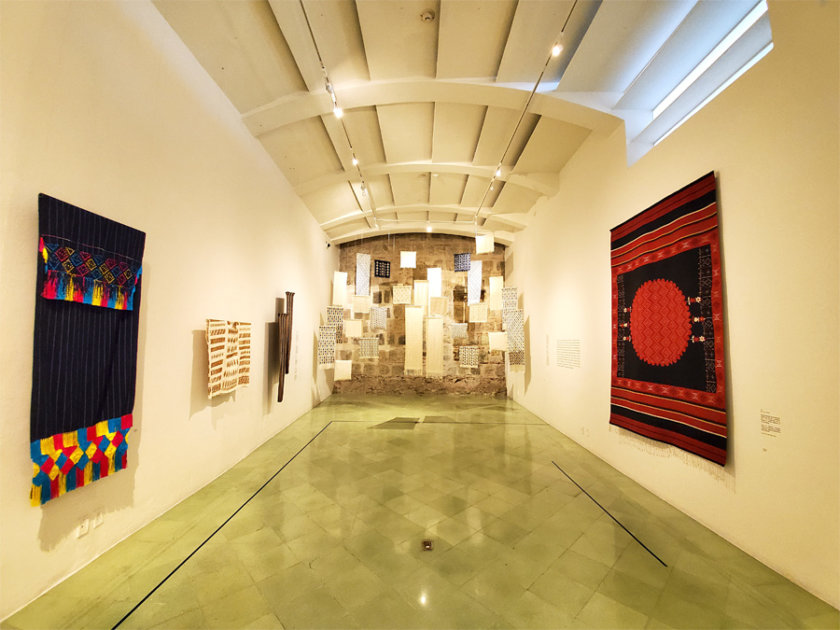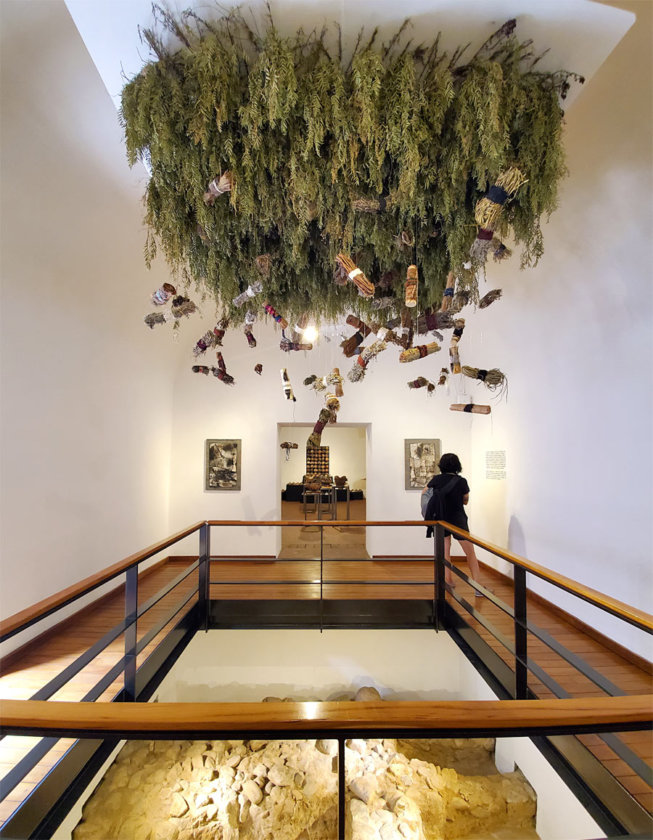 5. Discover Traditional Drinks
Incredible but true: there are more than 70 traditional drinks in the Oaxaca region!
Among them, you can taste, for example,  tejate, a drink of pre-Hispanic origin prepared with grilled corn, cocoa, mamey pit and the flower of Cacahuaxóchil, a tree found in the village of San Andrés Huayapam.
Tejate is a word of Nahuatl origin which means "floury water" and indeed it has a rather particular texture which reminds me of cocoa butter with a creamy side.
A lady was selling her tejate at the entrance to Casa Mayordomo on Calle Macedonio Alcala – 70 pesos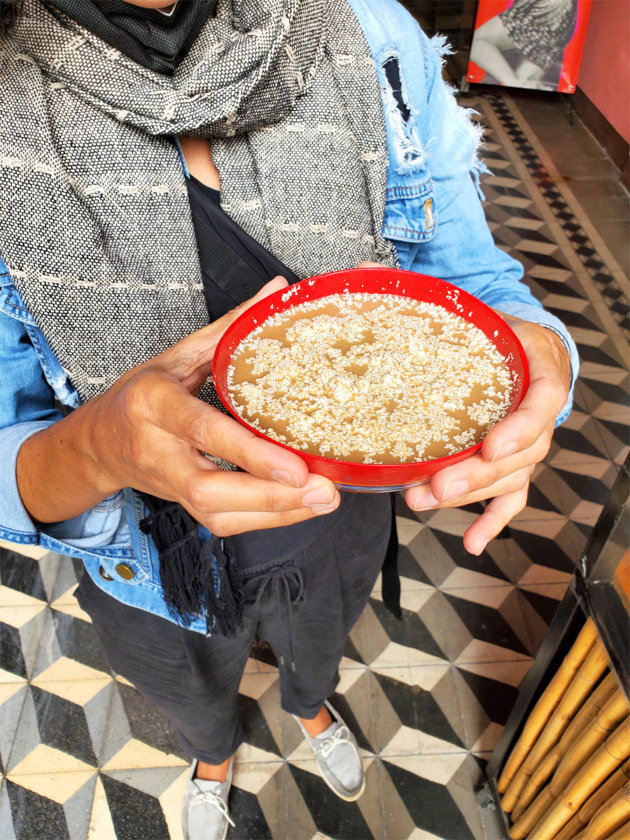 You can also take a trip to Pulqueria Mayahuel to taste pulque, a drink of Mesoamerican origin .
It has a somewhat particular taste since it is produced from the fermentation of agave, but personally I like its particular character.
Anyway, in addition to natural pulque, all pulquerias also offer "curados" pulques prepared with fruit or nuts to sweeten the taste.
That day there was passion fruit pulque and guava pulque (45 pesos).
And it must be said that in general the pulquerias which are rather colorful, so it's worth a look!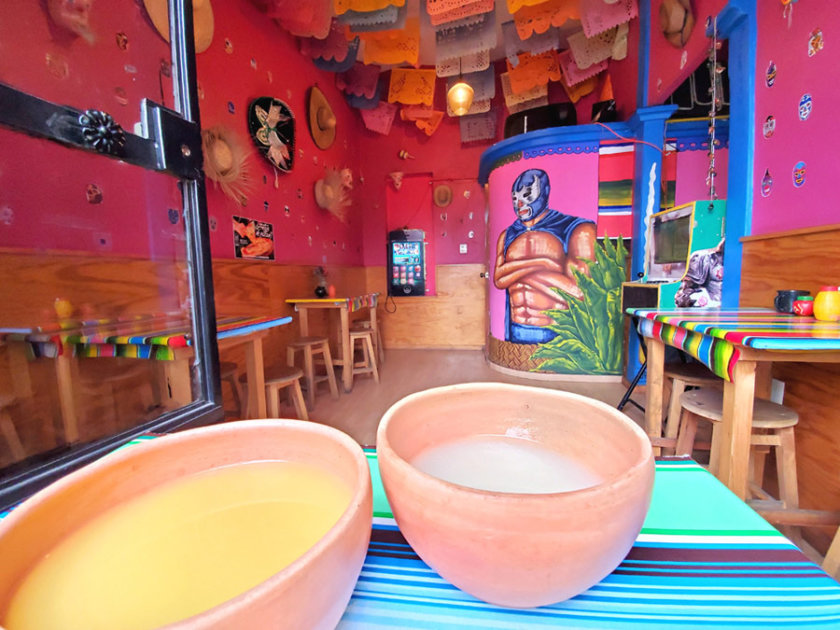 My advice
If you are interested in this vast subject, discover Bebidas de Oaxaca, Salvador Cueva's project that presents these drinks, their ingredients and the communities that prepare them.
6. Drink a good hot chocolate
Of course, you can't miss the chocolate from Oaxaca!
I sat on the terrace of La Chocolateria Mayordomo on the Zocalo, with a view of Oaxaca Cathedral and music.
They offer several chocolates, hot or cold, milk or water, from 35 pesos.
I ordered a 100% cocoa sugar-free milk hot chocolate (under the doubtful gaze of the waiter who insisted that my choice had no sugar or sweetener and that it was very bitter :-D) and I found it really de-li-heavy!
They also have several traditional Tlacolula breads and the pan de cazuela (18 pesos) was great to go with it.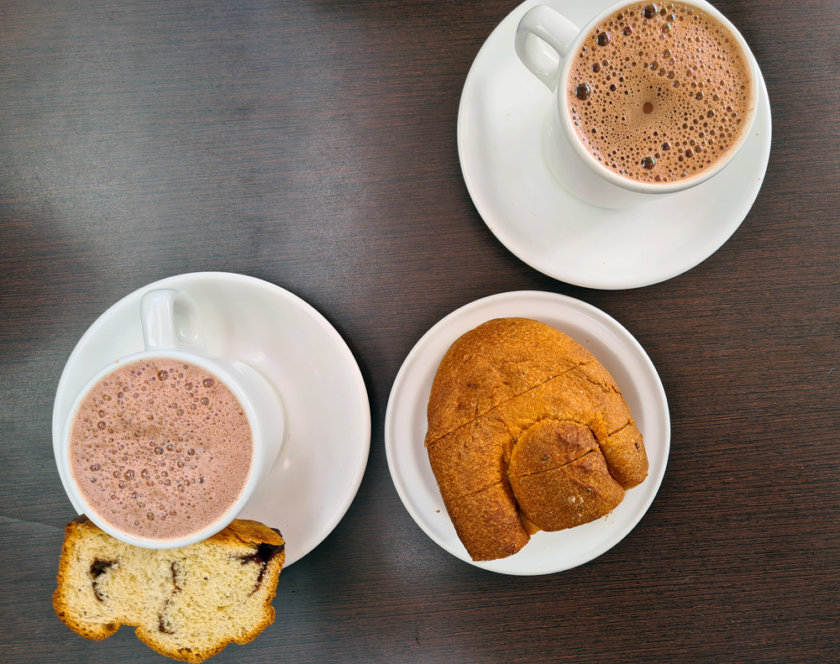 7. Explore the markets of Oaxaca
From the main square, take 20 de Noviembre street : you arrive at Mercado Benito Juarez and Mercado 20 de Noviembre which are located next to each other.  
These are two essential places to visit in Oaxaca with all kinds of local products: good food, clothes, souvenirs, flowers, etc.
For my part, I returned several times to the Mercado 20 de Noviembre to eat:
At the famous Pasillo de Humo (which I talk about in the next point)
The typical combinaison «  chocote with water and egg yolk bread  » (30 pesos) chez Comedor Bety
Au Comedor Tipico La Abuelita: tamale from Oaxaca with mole noir et poulet (40 pesos, huge portion), la délicieuse tlayuda (85 pesos)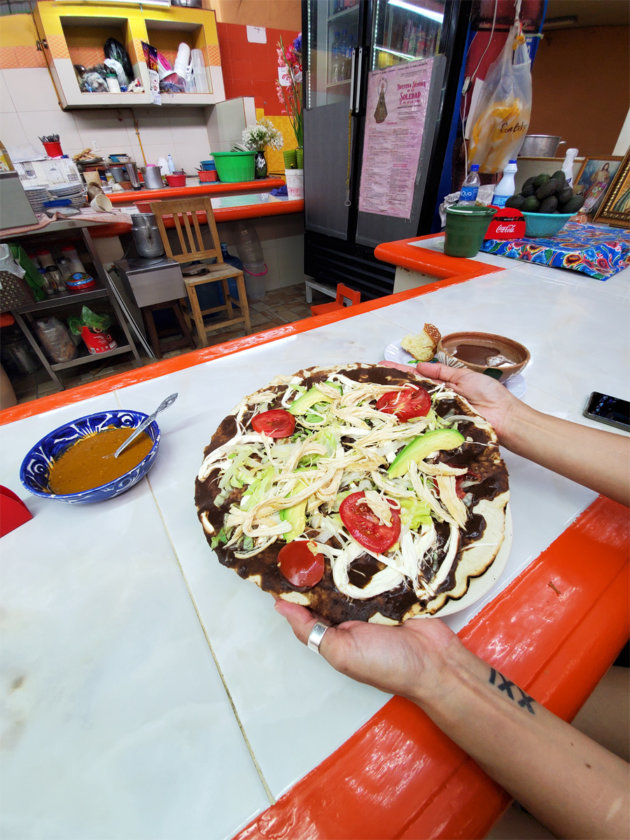 Just around the corner, you'll also find the Mercado de Artesanias, another great market, this one dedicated to local crafts. And 5 min walk away is the Mercado de Abastos which is the biggest market in Oaxaca.
In a completely different genre, there is also the Mercado Organico La Cosecha which is also worth a visit. It is a space with several local and organic products and dishes . Open 8 a.m. to 6 p.m. (closed Monday and Tuesday).
8. Hall of Smoke
The Pasillo de Humo is located in the Mercado 20 de noviembre. He is famous across the country and there is even a restaurant named in his honor in the Condesa neighborhood of Mexico City.
I wanted to go there for a long time and I was fascinated by the place. It is indeed, as the name suggests, a hallway filled with smoke (and a delicious smell) since it is lined with grilled meat.
First you choose the meat, then you go sit down and order the sides (tortillas, grilled vegetables) and drinks on the side.
We ordered  1/4 of tasajo, 1/4 of chorizo ​​and 1/4 of cecina at Lety for only 150 pesos. Really delicious and more than enough for 2 people (even a little too much, it's better not to have eaten before!)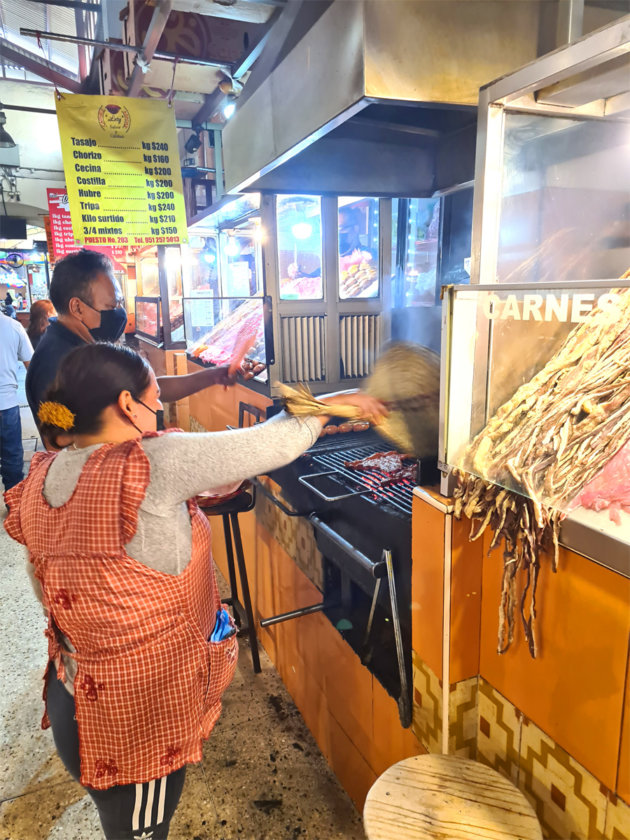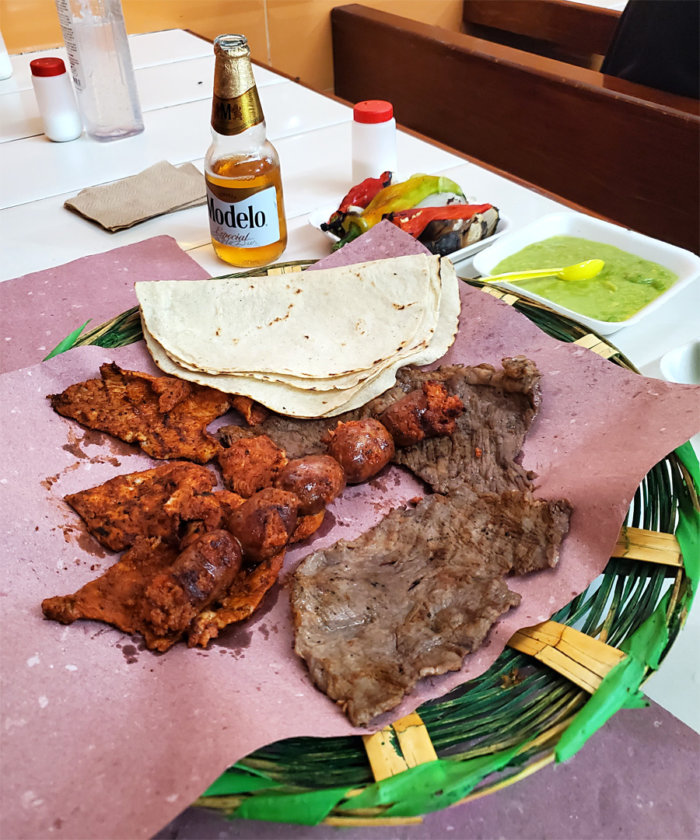 9. Take a cooking class
Mexican gastronomy has been declared Intangible Heritage by UNESCO and as the region of Oaxaca is considered a true pillar of Mexico's gastronomic identity , it is certainly the best place to learn about its traditional cuisine!
I recommend this very complete activity with pick-up at your hotel, visit to a local market, preparation of tortillas and typical drinks (with and without alcohol). Book the food tour here.
Of course, you can discover the local gastronomy of Oaxaca by yourself (I talk about it everywhere in this article!). The region has a lot of specialties: don't forget to taste mole (with chicken or tamal and chicken), tasajo , tlayuda and of course mezcal!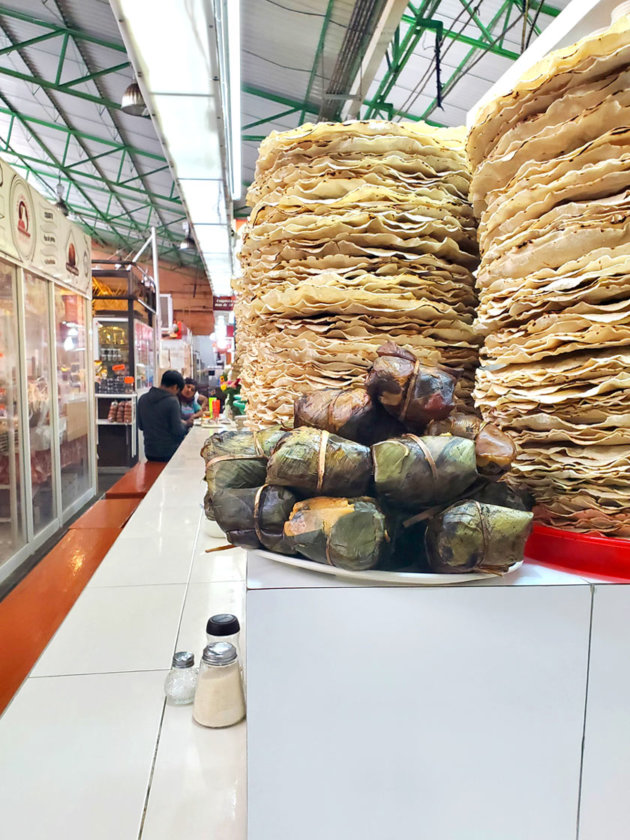 10. Visit a mezcal producer
Mezcal is a traditional Mexican drink produced by the fermentation and distillation of agave , also called maguey, and  Oaxaca is the country's largest producer (about 80%).
Obviously, tasting mezcal is one of the best activities to do in Oaxaca and even better by going directly to a producer to discover the whole manufacturing process.
If you don't have a car and prefer to stay in town, there are also several bars in Oaxaca perfect for having a good mezcal (see my recommendations in the next point ;-D).
There are plenty of mezcal palenques in Oaxaca, but I chose to visit Lalocura, by Eduardo "Lalo" Angeles, who is a living legend in the field.
When you arrive, you will be asked if you prefer to do only the tasting or the guided tour and the tasting. I chose the 2nd option that I recommend since it's still the whole point of coming to a producer!
We first visit the agave fields, then we discover the whole process of making mezcal.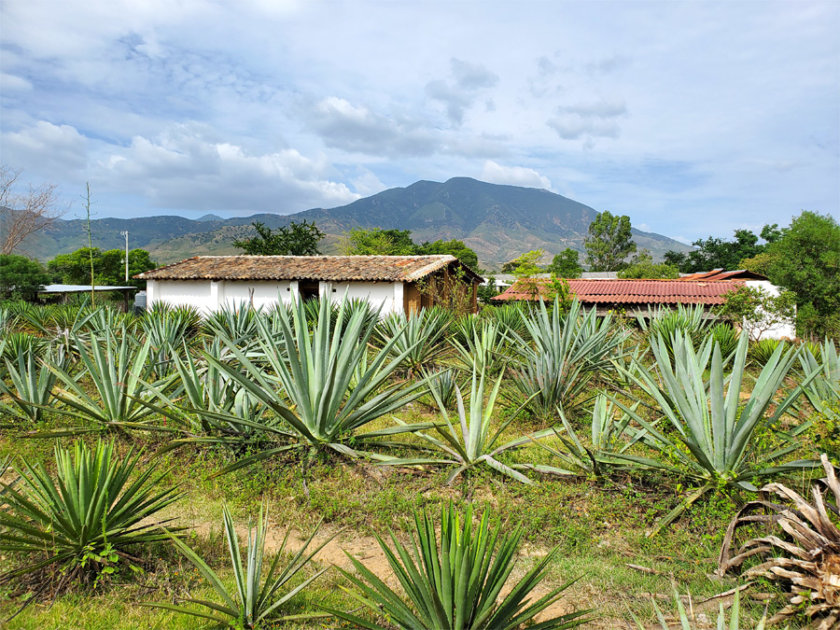 Agave hearts ( called piñas) are cut and then baked in a floor oven.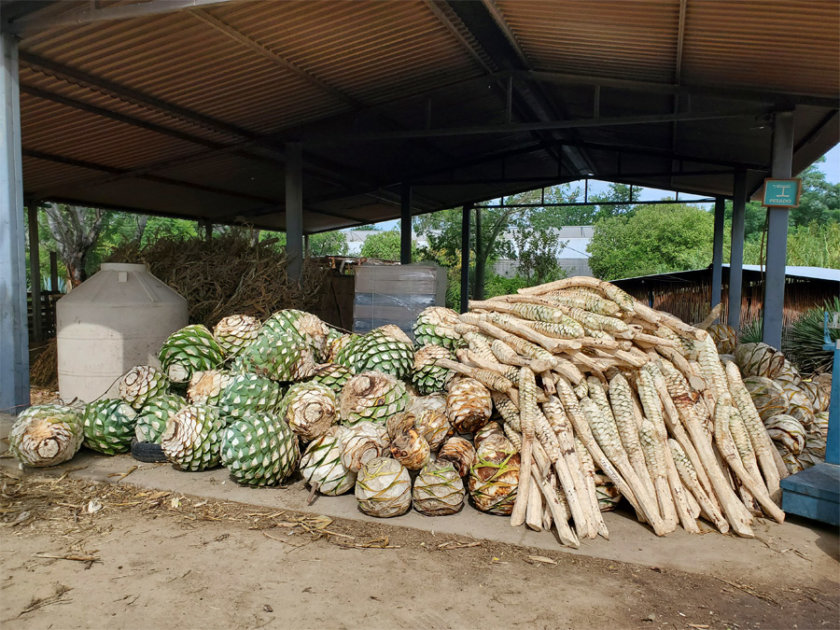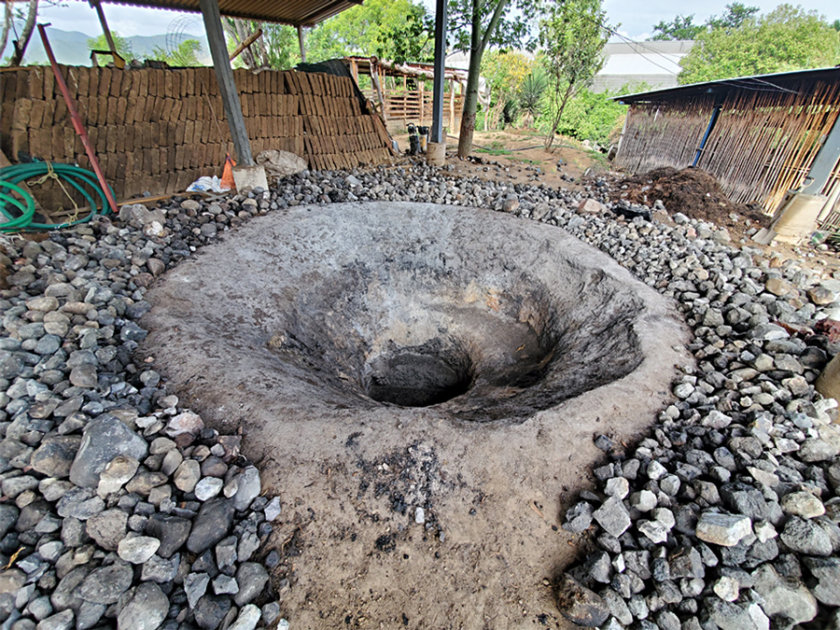 They are then crushed by hand. It looked easy, but it's still heavy!
If you have the chance, taste a piece of cooked agave, it reminded me of sugar cane
The crushed agave is then fermented in wooden vats for 3 to 7 days. The fermented juice, called bagazo, will then be distilled in terracotta pot stills .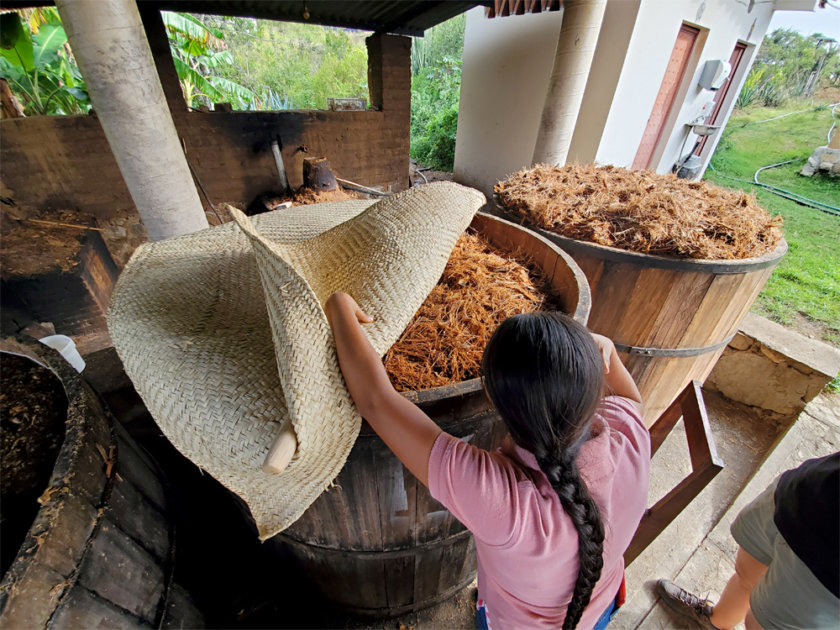 Finally, we end with the tasting of 16 mezcals produced on site, with different varieties of maguey (cuishe, madrecuishe, espadin, tobasiche, tobalá, etc.).
And of course, you can buy a few bottles of mezcals before leaving!
Having often bought some since I live in Mexico, I can say without hesitation that these are among the best products I have had, and at a really interesting price! Stock up.

Visit Lalocura:
To Santa Catarina Minas, 50 min from the center of Oaxaca
Tasting 200 pesos, tasting and guided tour 300 pesos per person
11. Discover Mezcal in the City
There are several nice bars in Oaxaca, but here are my 3 favorites:
Sabina Sabe is a nice bar with very good service and a relaxed atmosphere. It's a young team that knows mezcal very well and is very happy to answer all your questions (and we had some!).
Original and well-balanced cocktails, with or without alcohol. There are also a few thoughtful little dishes. It's not for nothing that they won the Discovery award at the World's 50 Best!
I recommend the Jamaicon ( mezcal, ancho reyes, spicy hibiscus flower infusion) 130 pesos, and Refresque Limonede (lemon, basil, verbena, cardamom, pennyroyal, homemade soda) 60 pesos.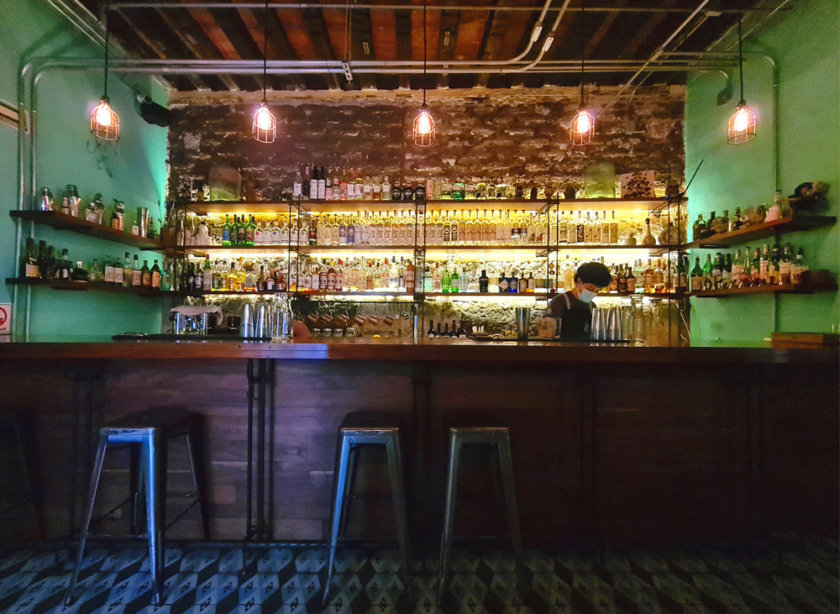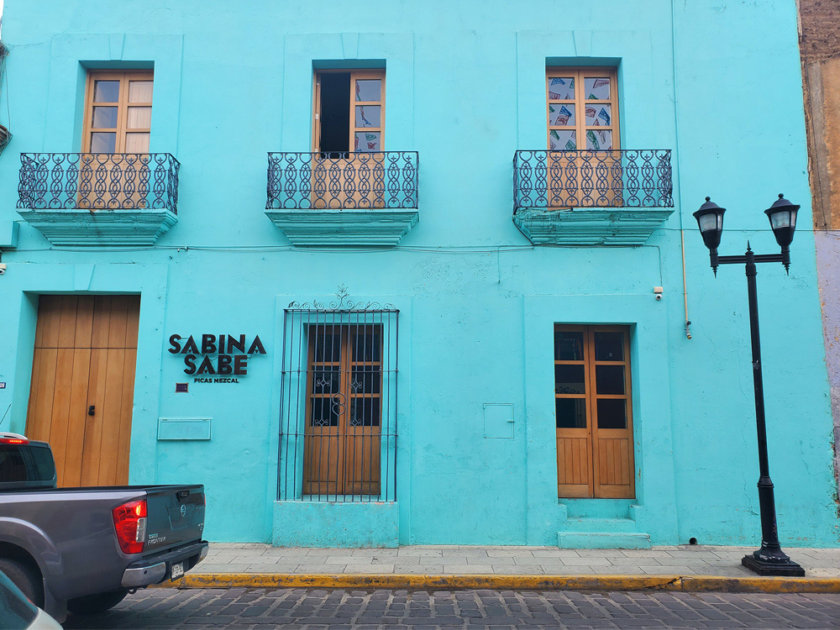 Mezcalogia is smaller, warmer, perfect to end the evening with friends with good live music.
They have an impressive variety of mezcal bottles, as well as other Mexican products (rum, vodka, whiskey, etc.). The bartender is a real connoisseur, who answered all our questions with pleasure, even in the middle of a rush. You can see that he is passionate!
Upon entering I noticed that a couple was having a mezcal tasting, and I know that they also organize visits to a producer. So contact them if you are interested.

La Selva Oaxaca Cocktail Bar
I'm absolutely a fan of the early 1900 aesthetic (let's be more specific, 1920-1940) and that's probably why I fell for La Selva.
It was by going up to a 2nd floor by chance that I arrived in this place which seems to have come straight out of the world of Agatha Christie. A chic space, tastefully decorated, with many plants, velvet, leather.
I thought I saw Hercule Poirot, tasting his blackcurrant syrup, deep in thought to elucidate a new mystery in a distant land.
But if my favorite detective has always been conservative, the cocktails here are far from it.
As I sat at the bar, after following the delicious smell of the passion fruit being cut, I could see some of their treasures: local ingredients from different communities in Oaxaca, and bitters prepared on site, including some very original ones such as mole bitters.
PS: the view of the city from the balcony is very pretty, it's a good photo spot!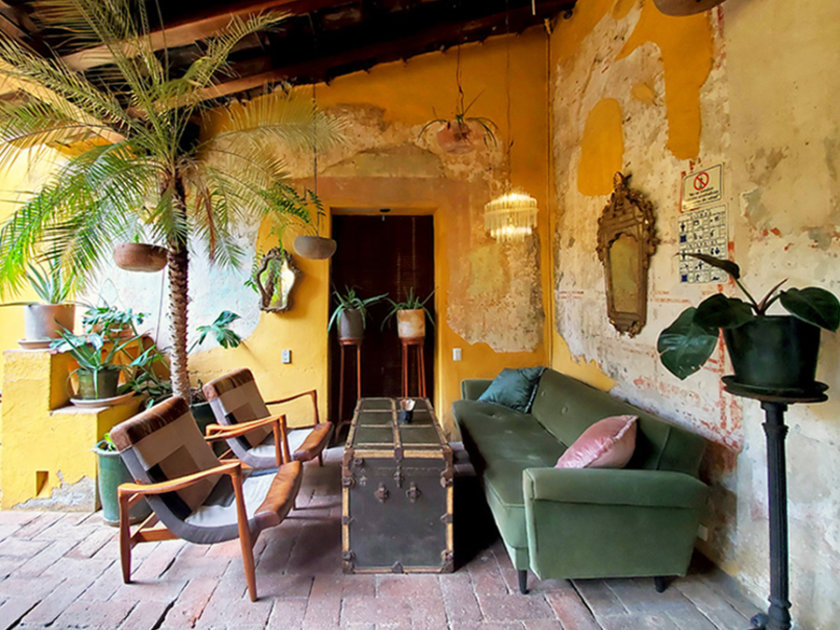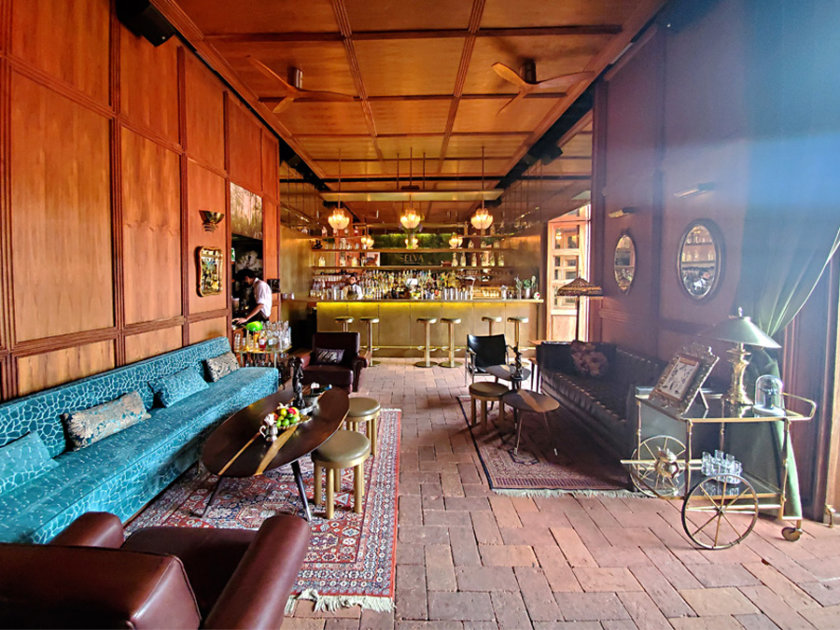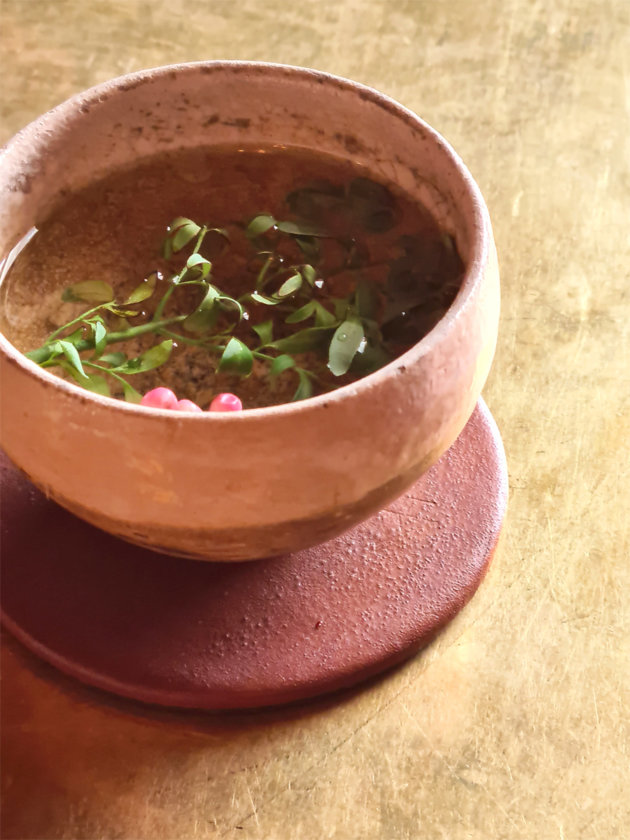 My advice
If you are looking to bring back a few bottles of mezcal, head to Candiza DeliMezcales in the Benito Juarez market ( Instagram / Facebook ).
The place was recommended to me by a mezcal fan and they have a great selection of good quality products.
12. Art galleries
Oaxaca is recognized for its great cultural richness.
Traditional, certainly, but also modern and very anchored in the news. This is why walking through the city, one finds a vibrant scene, with many exhibition spaces, workshops, street art, moreover very often protesting.
Something to please all lovers of art and design!
There are a lot of interesting (and free) addresses, here are a few to note:
Espacio Zapata : a workshop that presents serigraphs and engravings. A space created by the Assembly of Revolutionary Artists of Oaxaca, a collective of highly committed artists. – Mon-Sat 11 a.m. to 8 p.m.
Taller de grabado Gabinete Gráfico : young artists who have a small studio and an exhibition space. Different engraving techniques and formats.
Instituto de Artes Gráficas de Oaxaca : a magnificent place in a small colonial house, with its green patio, a library and exhibitions. 9:30 a.m. to 8 p.m., closed on Tuesdays.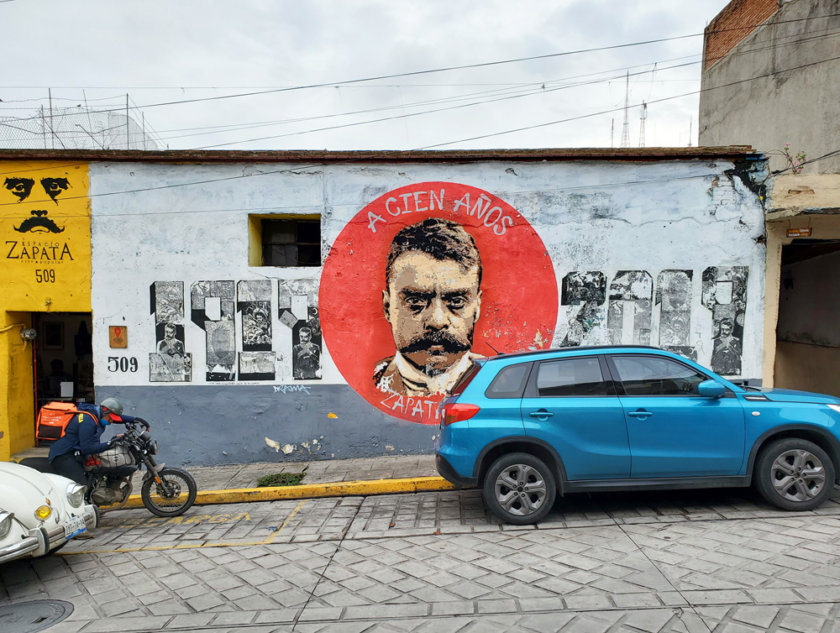 13. Buy Local Crafts
Oaxaca is a real paradise for traditional Mexican crafts.
You can of course find them of all prices and of different qualities, whether at the market or in the small shops of the city (even if the best thing to do in my opinion is to visit the craftsmen's villages directly – I'll talk about it to the next one dot )
Here are some interesting addresses to note:
Andares del arte popular : this shop is really the perfect place as an introduction to the crafts of the Oaxaca region because you can find very beautiful pieces (pottery, clothing, carpets, etc.) from different communities in the region. On the other hand, it is a bit expensive, but watching it is free.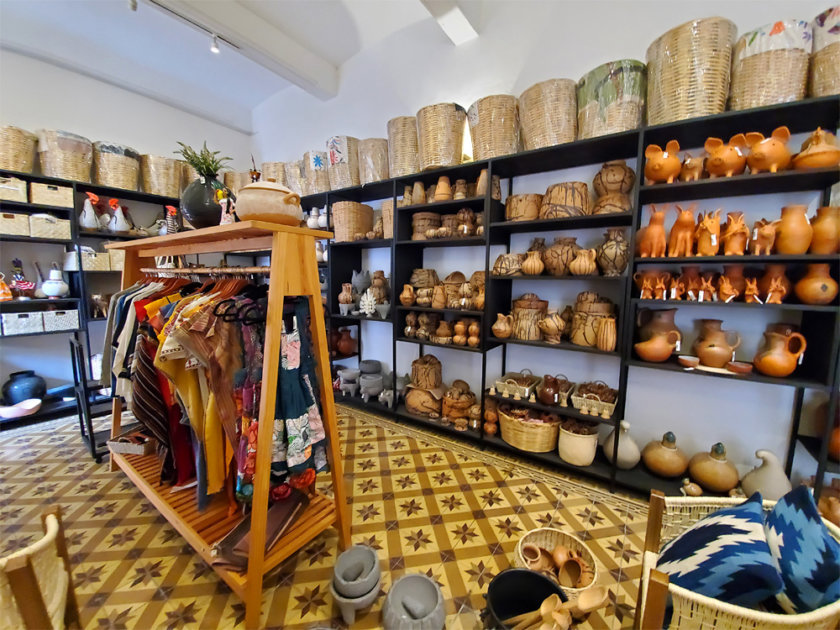 Casa del Artesano Colectivo Familiar : a place that does not look like much from the outside, but there are many pieces (clothes, etc.) from a collective of artisans from Oaxaca of very good quality and at attractive prices. The lady is very knowledgeable about all of her products and the communities that make them.
Casa Martinez : Without a doubt, this is the place to go to find beautiful handmade rugs from Teotitl á n del Valle, of quality and at very reasonable prices. There are many choices, count around 1300 pesos for a medium-sized carpet. Next door is Marías Arte & Diseño, a modern local design boutique that is also worth a look.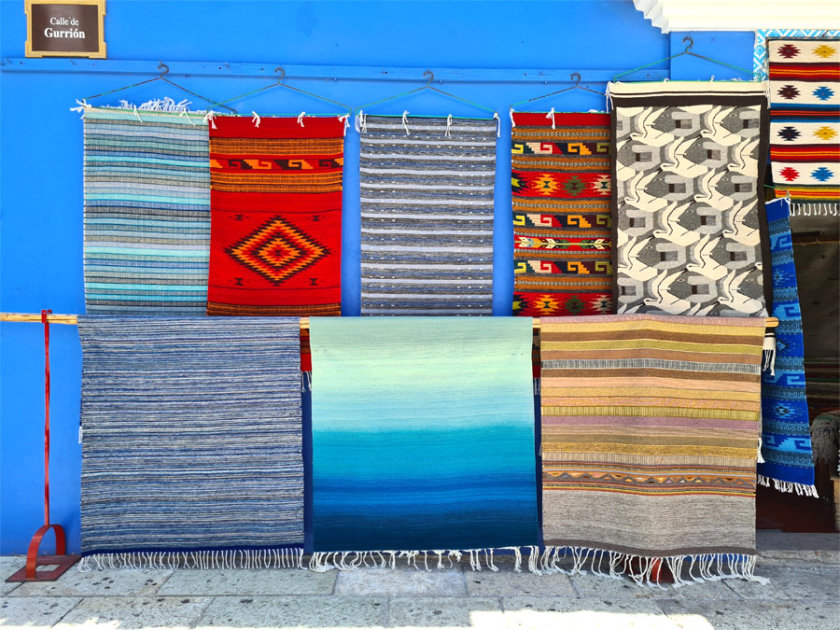 Around Oaxaca
14. Artisan villages
If you have half a day or a day ahead of you, I really recommend that you visit the artisan villages of Oaxaca.
I was really surprised by the quality of the works, but also by the diversity of the region since several communities each have their own specialty!
In reality there are a lot of villages to see in Oaxaca, but here are the ones I had time to see:
San Martin Tilcajete
The village considered the birthplace of "alebrijes", colorful figurines representing fantastic characters, which have an important place in Mexican folk art. 
There are very "basic" alebrijes and other very complex ones, necessarily much more expensive but whose price is justified considering the quality of the work.
There are a few workshops and shops in the village, some very well known like the Taller de Jacobo y Maria Angeles.
On our side, we just walked a little in the streets, stopping at different addresses, since it's very small and it's impossible to get lost.
There is another town known for its alebrijes: San Antonio Arrazola, much closer to Oaxaca and Monte Albán
How to get to San Martín Tilcajete from Oaxaca de Juárez :
By car: 45 min on Carretera 175
By bus : go to Central de Abastos, take a bus towards Ocotlán de Morelos and get off at the entrance to the village of San Martín Tilcajete 
With an organized excursion : for an immersion in the world of alebrijes, here is an interesting activity with pick-up in Oaxaca, discovery of the process of making alebrijes in a family of artisans and painting of your own work that you can bring back to the house. Book here.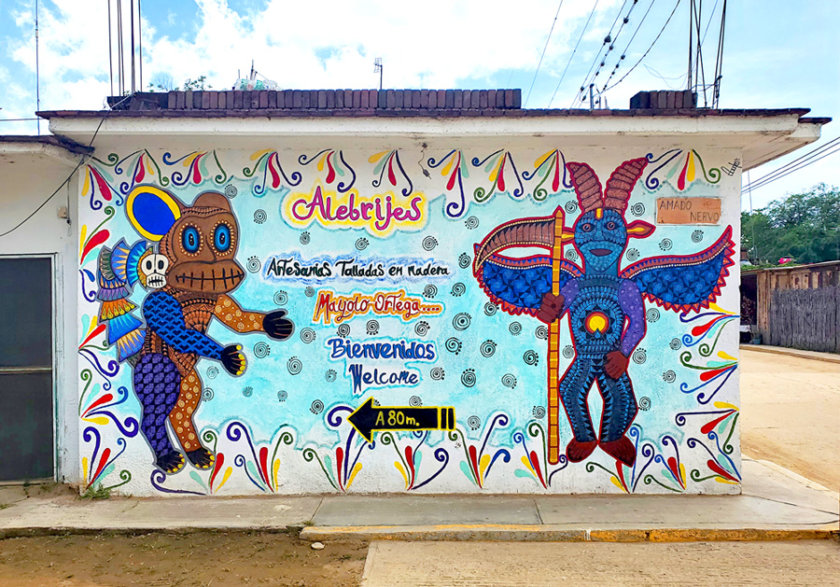 Santo Tomás Jalieza
It is a village of farmers and craftsmen especially specialized in the manufacture of belts (leather base with weaving).
There were a few shops and workshops, but we decided to go straight to the craft market. It's small, just like the village, but we found some nice pieces there at good prices (belts, but also bags, shawls, cases, etc.) and made some great people.
Moreover, this is the place where we bought the most items. In addition the ladies were so adorable and happy to see visitors despite the pandemic, that it was difficult to resist encouraging them.
How to get to Santo Tomás Jalieza from Oaxaca de Juárez :
By car: 45 min on Carretera 175
With an organized excursion : it includes the visit to the traditional communities of Ocotlán de Morelos, Santo Tomás Jalieza and San Martin Tilcajete to discover their typical crafts.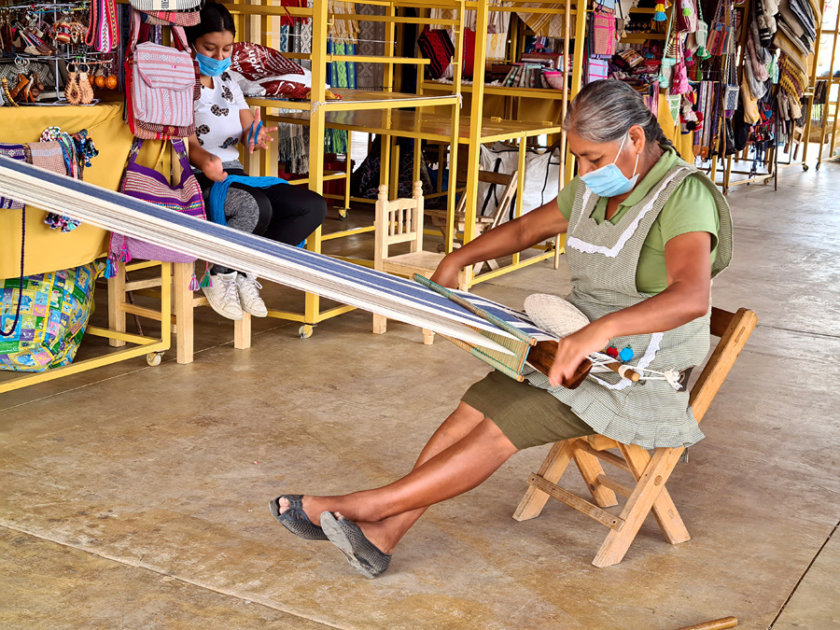 San Bartolo Coyotepec
The village is known for its barro negro, black-colored pottery, with a metallic sheen (although you can also find some with a matte finish – which I prefer).
Here, about 600 families produce it!
In addition to visiting different shops and workshops, you can visit the Popular Art Museum with 2 rooms, 1 on the barro negro, the other with pieces from other areas of Oaxaca (10 a.m. to 6 p.m., Monday closed, entrance 20 pesos).
How to get to San Bartolo Coyotepec from Oaxaca de Juárez :
By car: 30 min on Carretera 175
By bus : from Central de Abastos 30 min by bus (or taxi)
With an organized excursion : a much more comfortable option is to take this organized excursion with hotel pick-up, archaeological site of Monte Albán, village of San Antonio Arrazola, monastery of Cuilapam de Guerrero and black pottery making demonstration in San Bartolo Coyotepec.
Teotitlan del Valle
The village is best known for its beautiful rugs, and it's definitely the best place to get them. They come in all sizes and of different quality.
I bought a carpet that I LOVE with very pretty colors at 1300 pesos. I don't have the heart to negotiate with the craftswoman who took so long to make it. You should know that it is a very long job, which involves a lot of time and patience.
I really recommend that you take a trip to the Balaa Xtee Guech Gulal museum, run by the local community.
It's a great way to encourage them (15 pesos entry), but it's also an opportunity to discover artifacts found in the region, an introduction to spinning techniques, traditional customs, etc.
In addition, the two gentlemen at the entrance spoke Zapotec and asked us what language we spoke. A moment of mutual fascination that I found adorable.
How to get to Teotitlán del Valle from Oaxaca de Juárez :
By car: 40 min on Carretera 190
By bus : direct bus (or taxi) from Central de Abastos  
With an organized excursion: so as not to worry about transport, I recommend this excursion which includes pick-up at your hotel, visit to Mitla, free time in Hierve el Agua, visit to a  mezcal distillery with tasting, and stop in Teotitlan del Valle.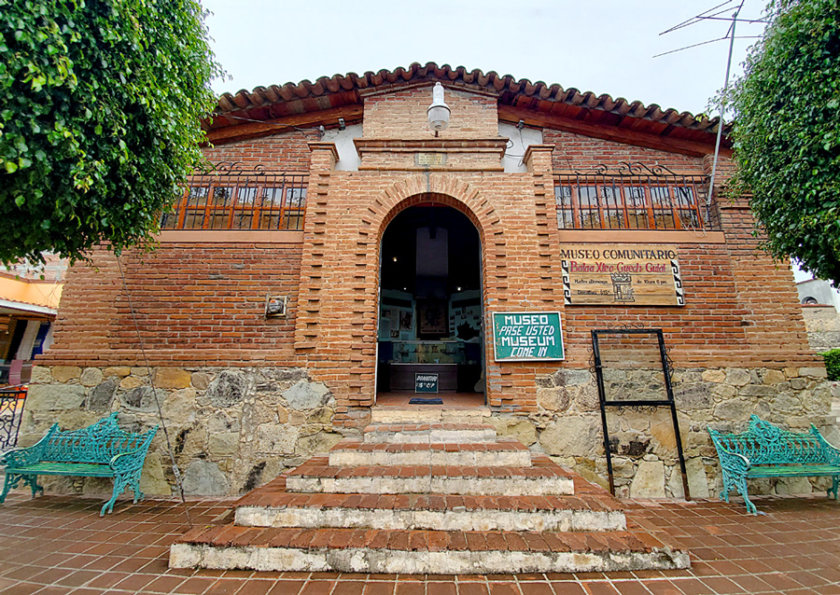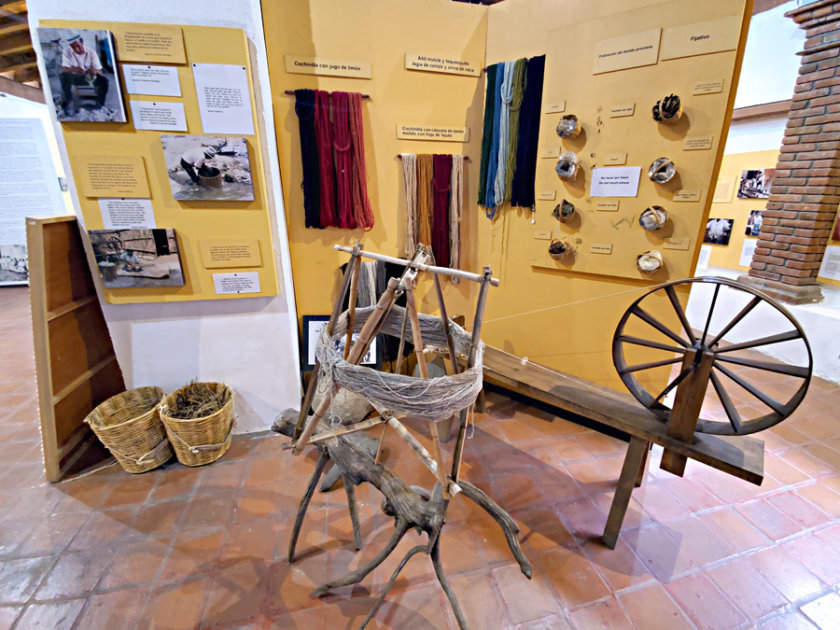 15. Tlacolula Market
On Sundays, one of the largest and most interesting markets in Oaxaca is held: the Tlacolula de Matamoros market.
Since pre-Hispanic times, women from the communities of the region have gathered here to sell flowers, spices, fruits and vegetables, handicrafts, animals, etc. You can also hear several local languages ​​such as Zapotec, Mixe, Chinantec, etc.
It's a show full of colors and smells, since you can also find all kinds of local dishes there : hot chocolate with pan de cazuela (like at the Mayordomo I mentioned above!), tlayudas, cheese, enfrijoladas, tacos, etc.
Go there with a little hunger to make the most of the market
How to get to Tlacolula de Matamoros from Oaxaca:
By car: 40 min taking the Carretera 190
By bus: direct bus from Central de Abastos, 15 pesos one way, 40 min. There are also taxi colectivos that go there from the Eduardo Vasconcelos baseball stadium.
As an organized excursion: you can book this excursion with pick-up at your hotel, which includes the church (16-17C) of San Jeronimo Tlacochahuaya, the archaeological site of Yagul, and a visit to the Tlacolula market.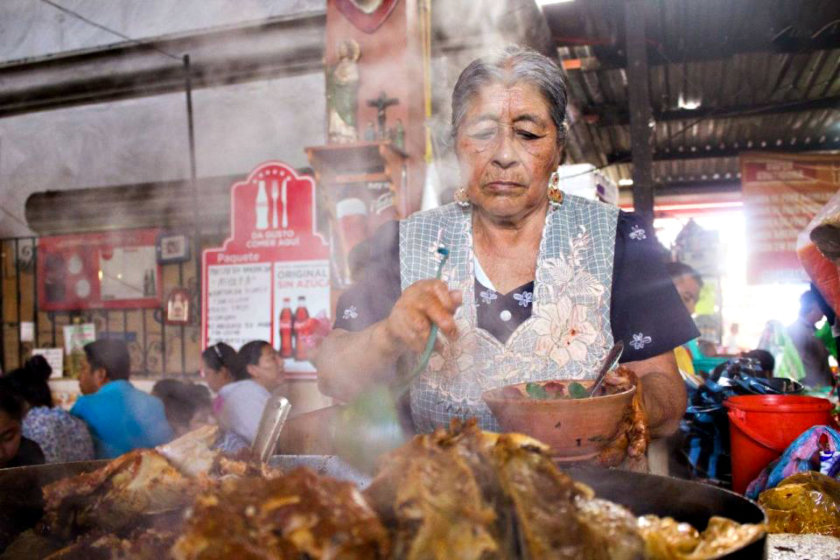 16. Monte Alban
The importance of Monte Alba n is indisputable: built from 500 BC, this capital of the Zapotec civilization was one of the first and most important cities of Mesoamerica!
It is now listed as a Cultural Heritage of Humanity, and is considered the most important archaeological site in the state of Oaxaca.
In 2h-3h you can visit the tombs, squares, stelae, the pelota court, the Palace and the Grande Place, in addition to the museum which is very interesting.
I really recommend getting a guide because there is so much to see, and the one we chose at the entrance was really excellent. He was a real enthusiast who allowed us to really understand the importance of the ancient city and to better visualize its magnitude.
Open from 10 a.m. to 4 p.m. (last admission at 3:30 p.m.)
Entry 90 pesos
How to get to Monte Albán from Oaxaca:
By car : 20 min on the Carretera a Monte Albán
By bus : take the bus in front of the Hotel Rivera del Angel, it goes directly to Monte Albán (departures every 30 min, from 8 a.m. to 3:30 p.m.)
By guided excursion: for more comfort, you can take a guided excursion with hotel pick-up. For example, I suggest this guided tour of Monte Albán, or the more complete excursion with a visit to Monte Albán, as well as the villages of San Antonio Arrazola and San Bartolo Coyotepec.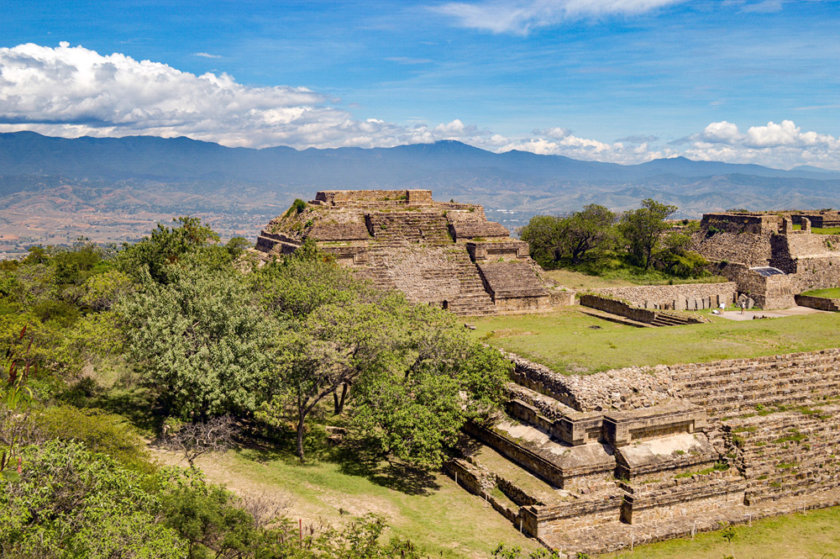 17. Ex-convent of Cuilápam de Guerrero
Cuilápam de Guerrero is a small village whose main attraction is its former Dominican convent Santiago Apostol de Cuilápam. 
Its construction began in the 16th century, but was never finished.
Despite everything, today it is considered one of the most emblematic buildings of colonial architecture in Oaxaca.
Among other things, you will see his open chapel: it's not because he lacks a roof! It was designed this way to facilitate the evangelization of natives who were accustomed to open religious spaces.
It is only 30 minutes from Monte Albán and Oaxaca de Juárez
Getting to Cuilápam de Guerrero by public transport from Oaxaca : take the bus on Calle Bustamante.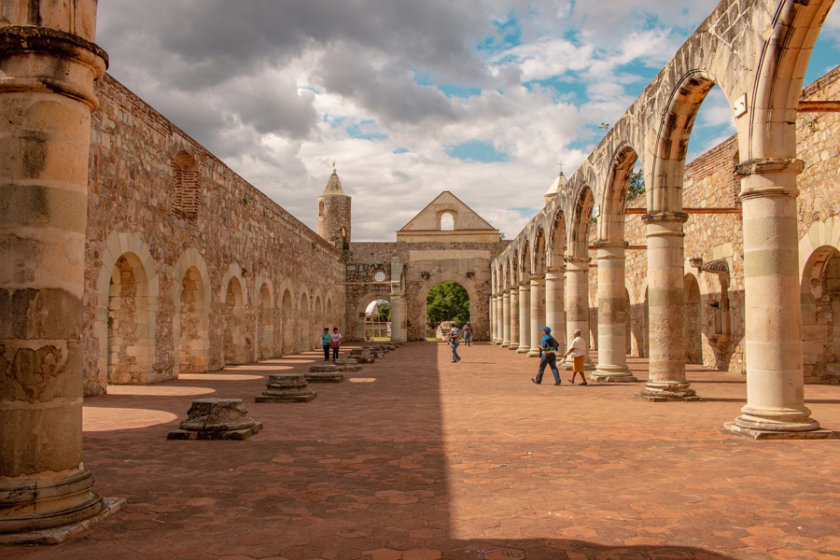 18. The archaeological site of Mitla
Mitla is the second most important archaeological site in Oaxaca, just after Monte Alban.
Political and religious capital of the Zapotecs after the fall of Monte Alban, it experienced its peak in the 9th century. until 1521, date of the arrival of the Spaniards.
The city is divided into 5 architectural complexes : the Columns Group (the most important), the Church Group, the Adobe Group, the Arroyo Group and the South Group.
Open Thursday to Saturday 10 a.m. to 3 p.m. (last entry at 2 p.m.)
Entry 85 pesos
How to get to Mitla from Oaxaca:
By car : 1 hour via Carretera 190
By bus : take the bus in front of the Eduardo Vasconcelos baseball stadium (1h) which takes you to the entrance to the village of San Pablo Villa de Mitla.
With an organized excursion : for more convenience, you can book this excursion (by clicking directly on the link) with pick-up at your hotel, visit to Mitla, free visit to Hierve el Agua, visit to a mezcal distillery  and stop at the village of Teotitlan del Valle.
19. Boil the Water
Hierve el Agua is an unmissable site in Oaxaca with its petrified waterfalls 200m high and its transparent water basins overlooking the valley.
Formed millions of years ago, the site today offers a surprising sight and an ideal place to take magnificent photos.
Bring your swimsuit because you can swim, and don't forget to take the paths and get different points of view.
Entry 50 pesos
Open 7 a.m. to 6 p.m. daily
Best to go early in the morning or after 4pm to avoid the crowds
How to get to Hierve el Agua from Oaxaca:
En voiture : 1h through Highway 179 and 30 min through Emiliano Zapata and Reforma in the direction of Hierve el Agua
By public transport  : there is no direct bus from Oaxaca to Hierve el Agua. You have to take a bus to Mitla (from the Eduardo Vasconcelos stadium) 50 min, 18 pesos one way. Ask the driver to leave you at the bus stop that goes to Hierve el Agua. Mitla-Hierve el Agua 45 min – 75 pesos one way.
On a guided excursion : this is the easiest option so you don't have to worry about transportation! I recommend this excursion with pick-up from your hotel in Oaxaca, visit to Mitla, free visit to Hierve el Agua, visit to a mezcal distillery (with tasting) and stop at the village of Teotitlan del Valle.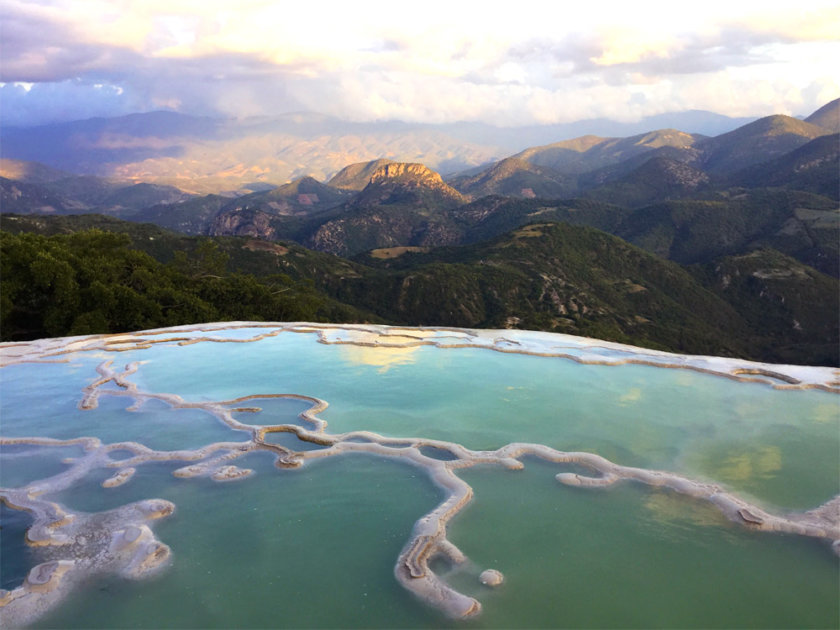 20. Explore the coast of Oaxaca
If you are thinking of doing a road trip in Mexico, the Pacific coast of Oaxaca is definitely worth the detour!
About a 6.5-hour drive from the state capital, you'll find some of Mexico's finest beaches, in a completely different style than the Caribbean.
Between small villages and surf spots, you can spend several days exploring the region: Playa Zicatela, Zipolite, Playa Salchi, Playa Carrizalillo, Puerto Angelito, Mazunte and Punta Cometa, the beaches of Bahias de Huatulco, etc.
How to get to the coast of Oaxaca:
By car : 6h20 by Carretera 131 to Puerto Escondido or 6h15 by Carretera 175 to Mazunte. Be careful, there are a lot of curves, be careful.
By Air : You can fly to Puerto Escondido International Airport or Huatulco International Airport which receive direct flights from Mexico City, Oaxaca and other destinations.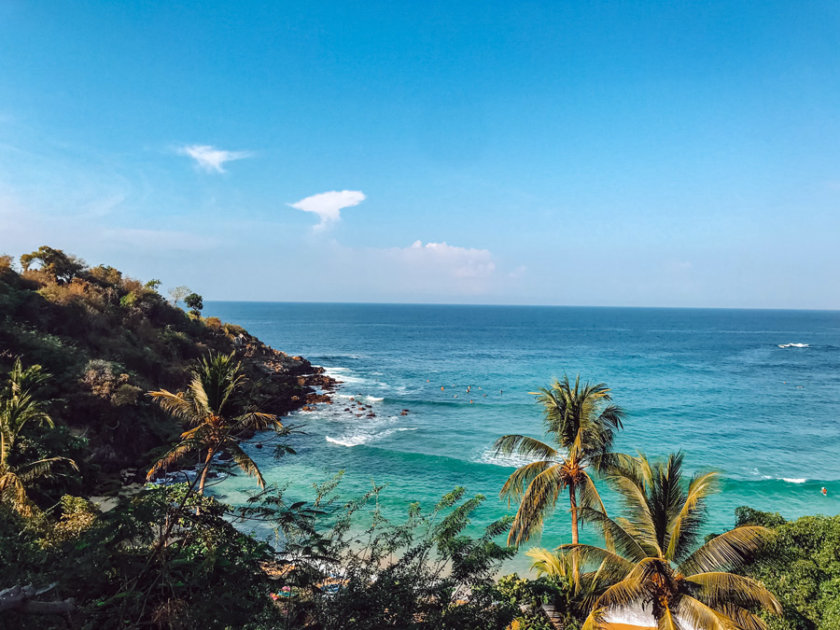 Accommodation in Oaxaca – the best hotels
Andaina Youth Hostel : here is the  best option to sleep cheap in Oaxaca. It's a small hotel  perfectly located  a stone's throw from the zocalo, with a  roof terrace, clean rooms and a good atmosphere. From only 13 euros in a dormitory or 21 euros for a room per night! 
Casa Barroco Oaxaca : the hotel is located a stone's throw from the main square, in a  colonial house  classified as  Historic Heritage  with two pretty patios. From just 90 euros per night!
Casa de Sierra Azul : for more comfort, here is a  19th century house  with a lot of charm, with very welcoming, green and carefully decorated common areas. Bicycles available to guests and  a good restaurant  on site. From just 120 euros per night!
Quinta Real Oaxaca : this  boutique hotel located in a former 16C  convent is the  ideal place for lovers. It has retained its  authentic character  while offering modern comfort and a  romantic atmosphere. Beautiful gardens, swimming pool, gym, restaurant, mezcal bar and live music on weekends. From 272 euros per night
Where to eat in Oaxaca?
For breakfast
Pan:Am for breakfast, and especially the Abasolo branch with its patio and the pretty embroidered clothing shop (a bit expensive, but of good quality – I bought a denim jacket there that I can't take off! ).
À goûter : veggie Benedictines (160 pesos) and cinnamon and cardamom roll (28 pesos)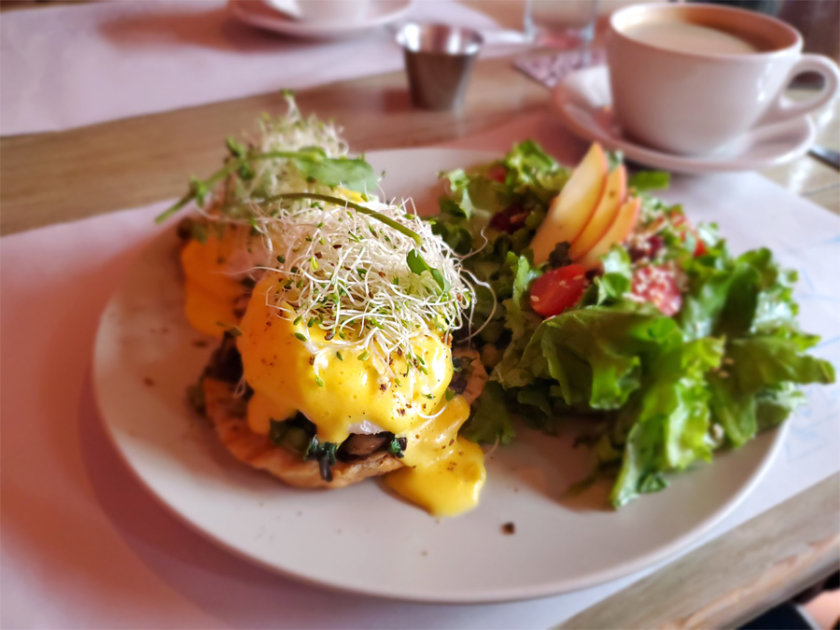 To drink a coffee
We are not joking with coffee here: the state of Oaxaca is one of the main coffee-producing regions of Mexico : 7 of the 8 regions that form the state are cultivators!
We often mention in the articles  Café Brujula which has a few branches in Oaxaca, but the 2 places I visited were a bit "soulless" and gave me the impression of a small local Starbucks with customers working on their laptop.
I often look for cafes with wifi to work, but I wanted a special place to have my espresso.
So I kept walking and happened to come across Muss Café  which seemed to be a very small one, but which hid a beautiful patio of a traditional Oaxacan house , where the hotel Casa Antonieta is also located .
They offer a 100% organic coffee from Finca las Nieves, to taste in peace while reading one of their books on plants.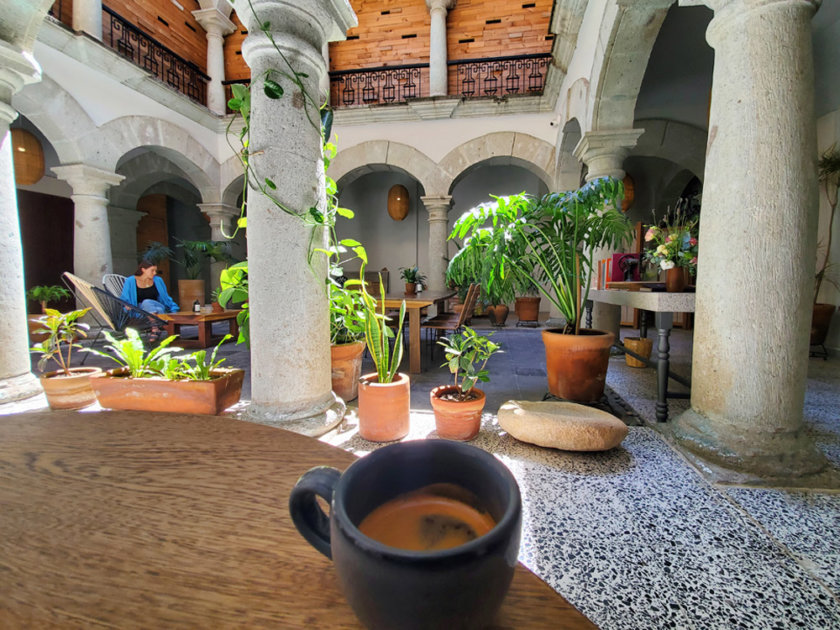 A good croissant
Boulenc is the benchmark bakery in Oaxaca, and it fills up fast!
You can buy at the counter for take out or sit down in the restaurant.
As it was already afternoon and I was very hungry after the long drive from Mexico City, I wanted something a little more substantial than a simple croissant or pain au chocolat, and I didn't not disappointed!
The pizza (135 pesos) was good, but the 3 cheese sandwich (86 pesos) was in-believable, to accompany with a glass of good Baja California Mexican wine (90 pesos). ;-)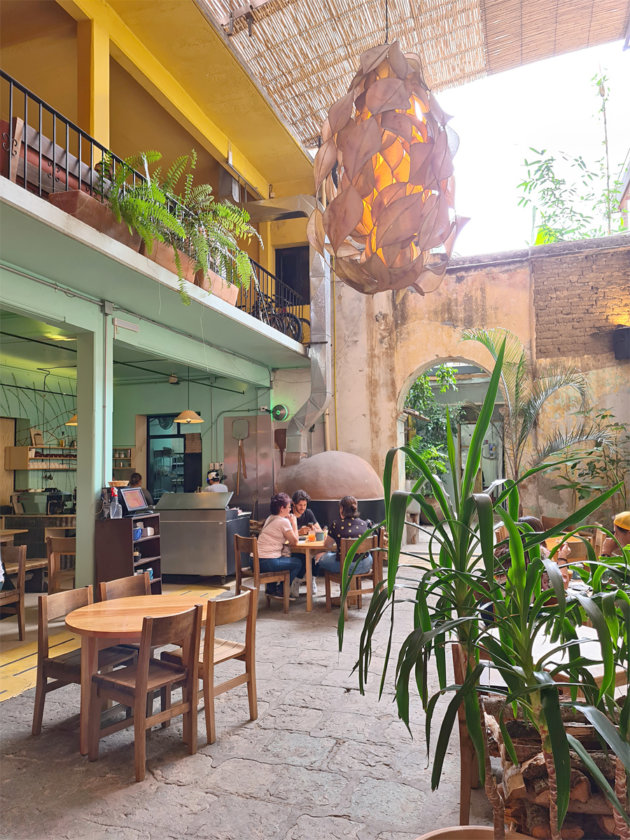 The typical cuisine of Oaxaca
Of course the Mercado 20 de noviembre or the Mercado Benito Juarez which I have already mentioned earlier in the article are essential places to eat (for example a good tlayuda!), but there are also several good restaurants in Oaxaca which are worth a deviation:
I am thinking for example of Las Quince Letras which has a lot of charm and which offers a good trio of mole (220 pesos).
The mole is of pre-Hispanic origin and was used as an offering to deities. It is a fairly complex sauce made from chiles, spices and dried fruits, and which generally accompanies a small piece of meat. It is estimated that there are 50 varieties of moles in Mexico so there are a lot of possible combinations…and some moles contain several dozen ingredients!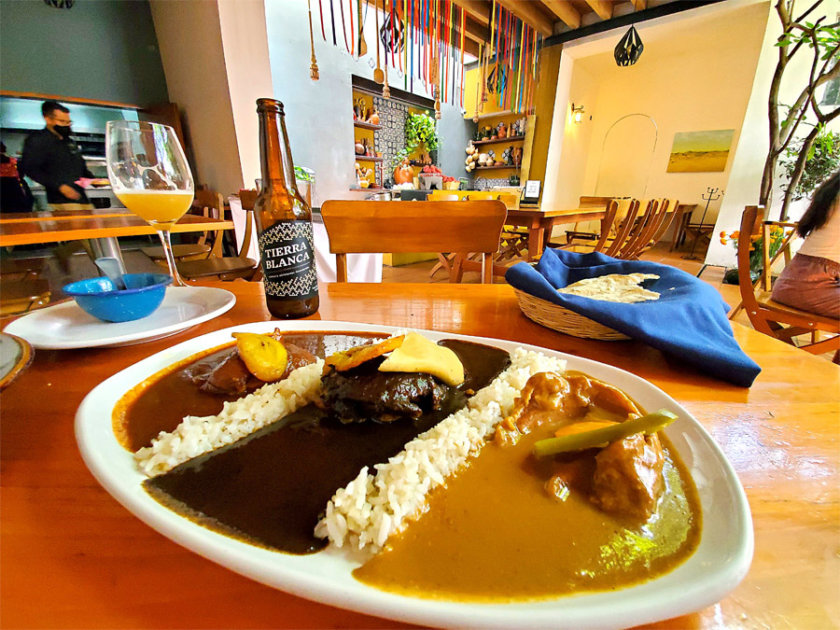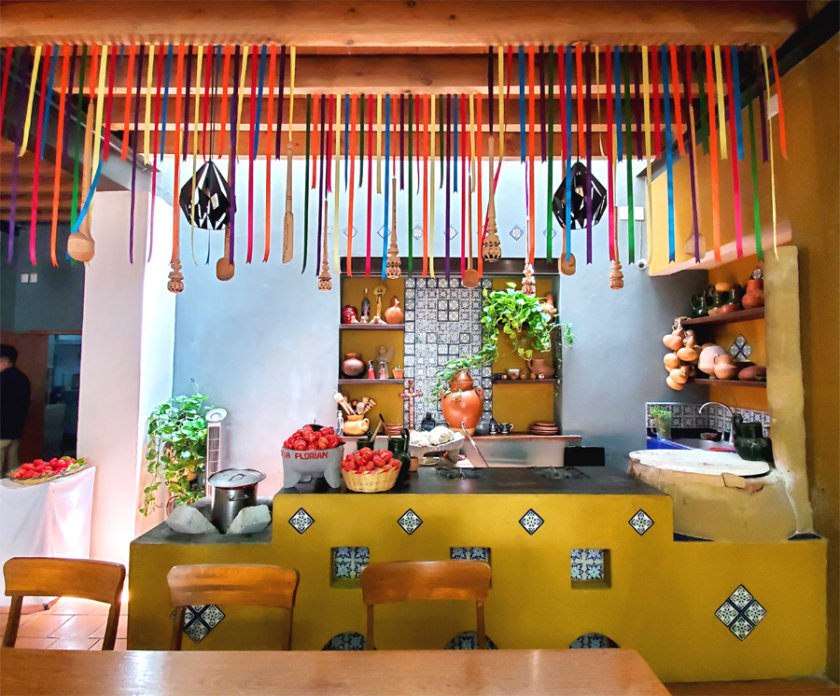 I also think back to Maguey y Maiz, a restaurant with a beautiful interior terrace a stone's throw from the Santo Domingo church: 
His esferas de queso istmeño (150 pesos), balls of a cheese from the Isthmus of Tehuantepec are delicious.
I would love to come back to try their breakfasts next time.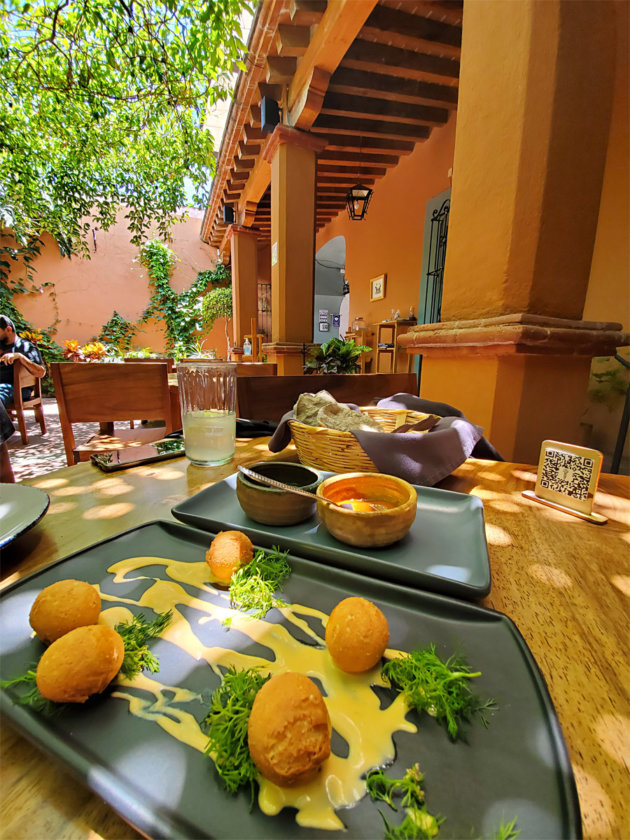 How to travel cheap to Oaxaca
If you are thinking of traveling on a small budget in Oaxaca, I can reassure you right away: it will be rather easy because it is generally a very affordable city!
Budget Hotel in Oaxaca
There are several good budget hotel options in Oaxaca, with kitchen access  (great for saving!):
Eat cheap in Oaxaca
What's great about Oaxaca is that you can easily eat well at a low price.
For lunch, many local restaurants also offer very affordable menus of the day (starter + main course + drink and sometimes even dessert), around 50-80 pesos for everything, and a good portion!
Another option is of course to go to the Mercado 20 de noviembre or the Benito Juarez Market which I mentioned earlier in the article. There are plenty of local dishes that are very accessible.
In the evening, like everywhere in Mexico, the good plan to eat cheaply is to taste the street food. One of my big favorites is elote : corn on the cob with mayo, cheese, lemon and a little spice.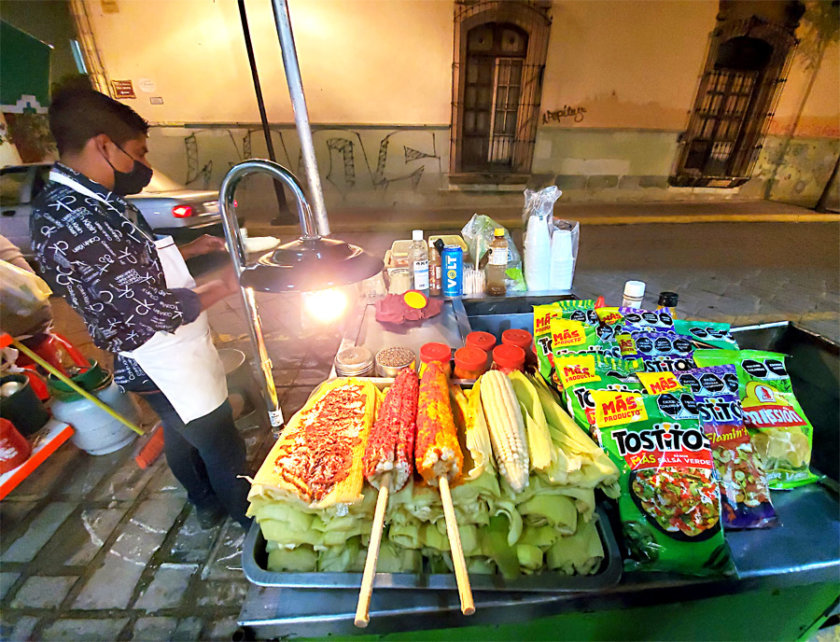 My other tips for saving money in Oaxaca:
Choose your travel dates carefully as prices can vary wildly, especially at the end of July when the Guelaguetza is held, a huge celebration that brings together participants from all over the state of Oaxaca and visitors from all over the country. 
There are a lot of free things to do in Oaxaca : see the street art, the Zocalo and the cathedral, the temple of Santo Domingo de Guzman, the markets, the museo textil de Oaxaca, the philately museum, the painters museum of Oaxaca.
Take a  free guided tour of Oaxaca : with  Estacion Mexico  or  Destination Mexico (but don't forget the tip!)
How long to visit Oaxaca?
In my opinion, one day in Oaxaca is not enough. The ideal is to spend at least two or three days in Oaxaca because there is a lot to see in the city and in the surrounding area.
Here are my itinerary suggestions to see the maximum in 1, 2 or 3 days in Oaxaca
1 Day Oaxaca Itinerary
If you have only one day in Oaxaca :
Dedicate the morning to the complex of the Ex Temple of Santo Domingo : the Templo Santo Domingo, the Ethnobotanical Garden
Promenez vous au Mercado 20 de Noviembre, the Mercado Benito Juarez and the Mercado de Artesanias
For lunch, go to the Pasillo de Humo of the mercado 20 de noviembre
Go to the Zocalo where the cathedral is located. You can have a hot chocolate for dessert at the Mayordomo
Stroll through the Jalatlalco district  to see its colorful streets
In the evening, you can have a drink in one of the many bars, such as Mezcalogia, Sabina Sabe or La Selva
2 Days Oaxaca Itinerary
If you have two days in Oaxaca, the first day, follow the program above. Then the 2nd day:
Start with a visit to Monte Albán (it's better to be there when it opens, at 10 a.m.)
Continue ensuite to the villages of artisans : San Antonio Arrazola, San Bartolo Coyotepec, San Martín Tilcajete, Santo Tomás Jalieza
If you still have time, and the desire, continue on the same road and you will arrive at Mezcal Lalocura 
If you wish, you can also take a day trip from Oaxaca with a visit to the archaeological site of Monte Albán, stopping at the village of San Antonio Arrazola, the monastery of Cuilapam de Guerrero and San Bartolo Coyotepec
3 Days Oaxaca Itinerary
If you have three days in Oaxaca, day 1 and 2 follow the same program, then day 3 :
In the morning, visit Mitla – Important: Mitla is only accessible from Wednesday to Sunday. If necessary, you can reverse the visit days.
Continue to  Hierve el Agua
Take the road back to Oaxaca and stop at the village of  Teotitlan del Valle
If you prefer not to worry about the organization of the day, you can also book this excursion which includes hotel pick-up, Mitla, Hierve el Agua and Teotitlán del Valle.
Is Oaxaca safe?
Oaxaca City is safe.
Of course, basic precautions should always be taken, i.e.:
always very careful with personal belongings (do not leave them unattended)
do not accept drinks from strangers
use the counters inside the banks
avoid carrying high-value items,
never venture into a remote area without finding out about the situation there
All the places mentioned in this article are touristic, and do not present any particular risk.
How to get to Oaxaca from Juarez?
By car
From Mexico City it takes about 6 hours to Oaxaca City.
Many travelers decide to visit Oaxaca by rental car. And the advantages are many: freedom, speed, flexibility of routes and schedules.
Especially since it is much easier to access attractions around Oaxaca by car as public transportation is very, very limited.
My tips for driving from Mexico City to Oaxaca:
Important: leave early to avoid as much traffic as possible!
The cost of tolls between Mexico City and Oaxaca is 511 pesos. To know the details of the tolls, you can consult Traza tu Ruta (put "Distrito Federal as State of origin)
Avoid driving at night – it's important
To make it easier to go through the tolls (not stopping and not having to linger around for change), it is best to buy the TAG (electronic toll badge). It can be recharged easily via the application ( Android  –  Iphone ) or  at a partner.
Enjoy the view! Having made the round trip between Mexico City and Oaxaca, I can confirm that some landscapes are magnificent, especially towards the Tehuacan Reserve where some areas are carpeted with cacti.
If you prefer to cut the road, you can make a stop in Puebla (2h15 drive from Mexico City). I invite you to read: The 25 best things to do in Puebla!
By plane
The Xoxocotlán International Airport receives flights from Mexico City, Cancun, Guadalajara, Tijuana and other national and international destinations, mainly with the companies Aeroméxico and Volaris.
To then get from Oaxaca International Airport to your hotel, you can:
By bus
From Mexico City, it takes about 7 hours by road.
Buses to Oaxaca leave from the TAPO station (Terminal de Autobuses de Pasajeros de Oriente) in Mexico City.
There are day and night departures with several companies, but I especially recommend ADO (or AU, which is the same company) –  See timetables and prices on the ADO website. 
Tourist map of Oaxaca
Here are all the must-see attractions in Oaxaca that I talked about in the article:
Are you going to Mexico? Read also
All our articles on Mexico are here:  Find all our guides on Mexico!