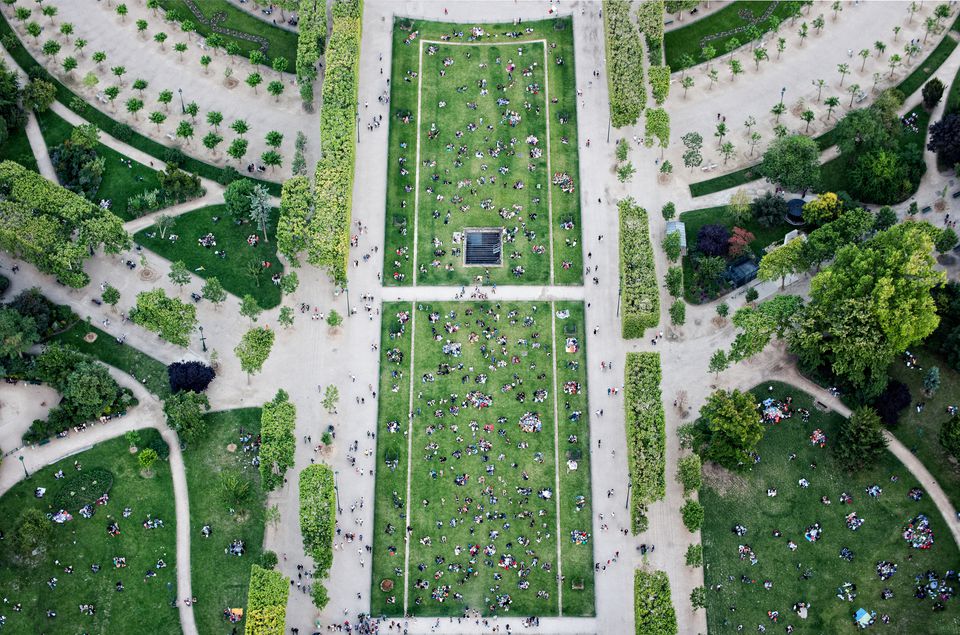 What's the crime rate in Paris? Check out our safety tips before visiting Paris.
According to Numbeo, following is the latest Paris crime index in 2018:
Crime Index: 52.25
Safety Index: 47.75
Index uses the scale [0, 100] for values.
Paris Crime Rate 2018
| | | |
| --- | --- | --- |
| Level of crime | 56.05 | Moderate |
| Crime increasing in the past 3 years | 68.68 | High |
| Worries home broken and things stolen | 50.69 | Moderate |
| Worries being mugged or robbed | 55.37 | Moderate |
| Worries car stolen | 43.8 | Moderate |
| Worries things from car stolen | 51.57 | Moderate |
| Worries attacked | 53.03 | Moderate |
| Worries being insulted | 60.76 | High |
| Worries being subject to a physical attack because of your skin colour, ethnic origin or religion | 45.16 | Moderate |
| Problem people using or dealing drugs | 53.94 | Moderate |
| Problem property crimes such as vandalism and theft | 63.14 | High |
| Problem violent crimes such as assault and armed robbery | 49.61 | Moderate |
| Problem corruption and bribery | 40.77 | Moderate |
Safety in Paris, France
| | | |
| --- | --- | --- |
| Safety walking alone during daylight | 66.54 | High |
| Safety walking alone during night | 46 | Moderate |
Besides, the National Observatory of Delinquency and Penal Responses unveils its annual report on violence in Paris, and the most affected neighborhoods are not what we expect …
This X-ray of delinquency  tells us that Paris dominates the regions of France in terms of insecurity, just behind the Seine-Saint-Denis. With an average of 15.72 violence per 1,000 inhabitants in 2015, Paris is more than double the national average (in mainland France). A very bad note that has different repercussions depending on the boroughs.
By consulting the figures of crimes and offenses of Paris, one realizes that the podium of the most dangerous districts consists of 1st, 2nd and  8th districts!
On this first map, we discover the figures of physical violence by district. Leading in the order: 1st, 8th and 10th. Exit prejudices on the 19th … The most sought – after neighborhoods of the capital obviously attract as much trouble as Parisians.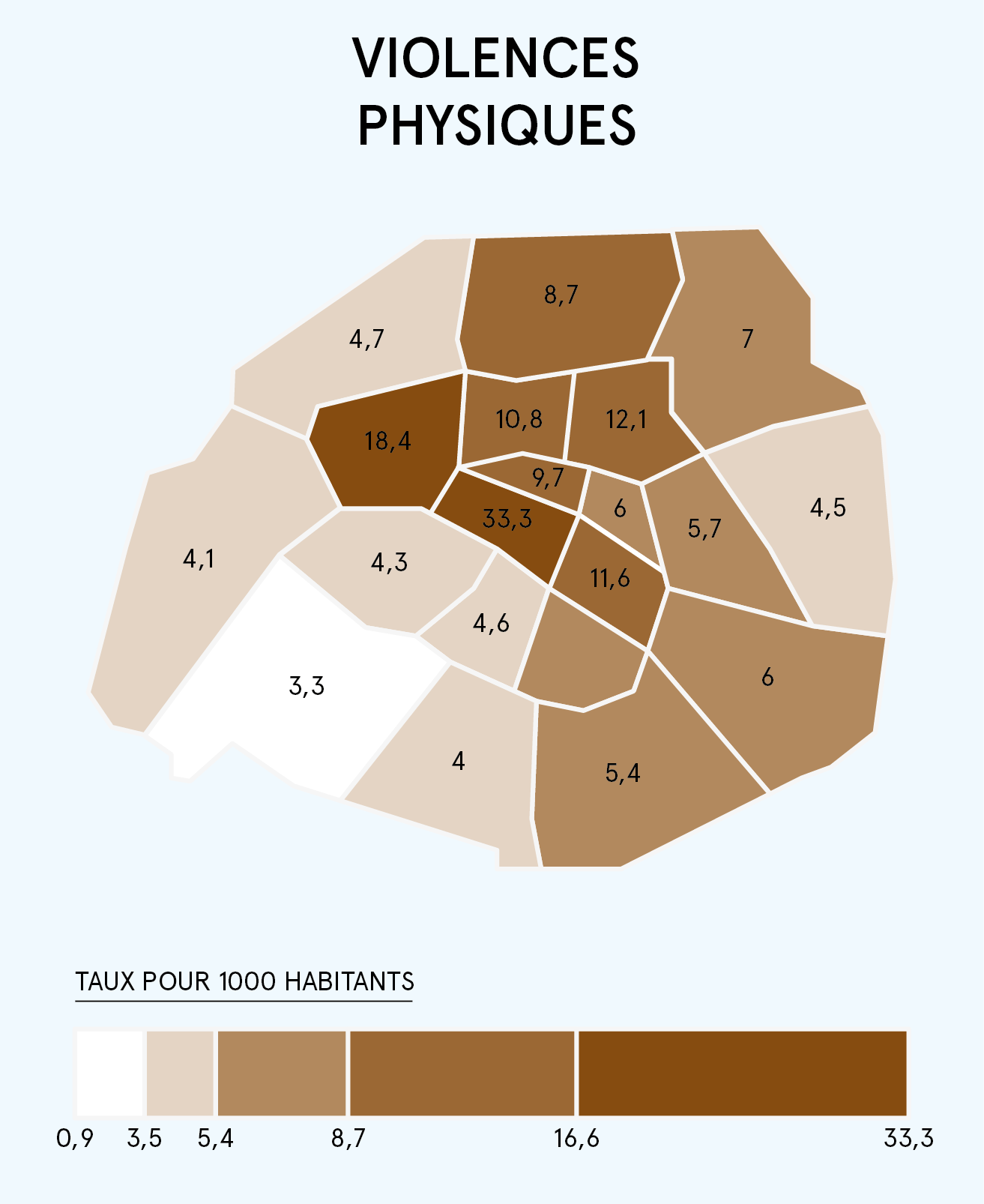 Same thing on the burglary side: this time the 2nd takes the first place, followed by the 1st and 18th. If the first two places of the podium surprise, the reputation of the 18th arrondissement follows in this ranking, with neighborhoods like Barbès or Clichy. I also recommend you to read our article: How to Avoid Pickpockets and Thieves?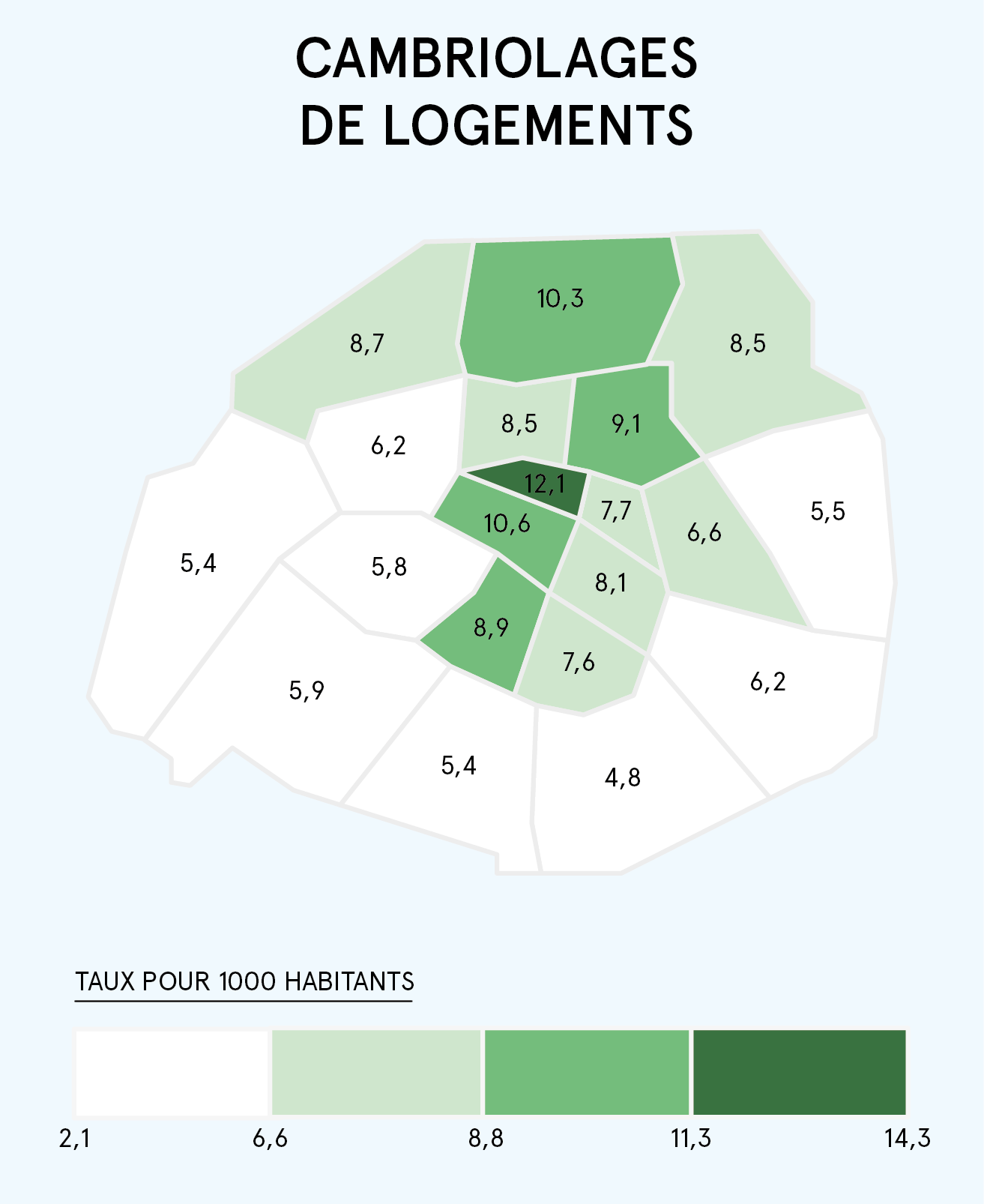 At the level of car theft now, it is the 8th which passes in the lead, again followed by the 2nd and 1st districts. So we can deduce that thieves are looking for cars that are worth stealing, and operate in beautiful neighborhoods?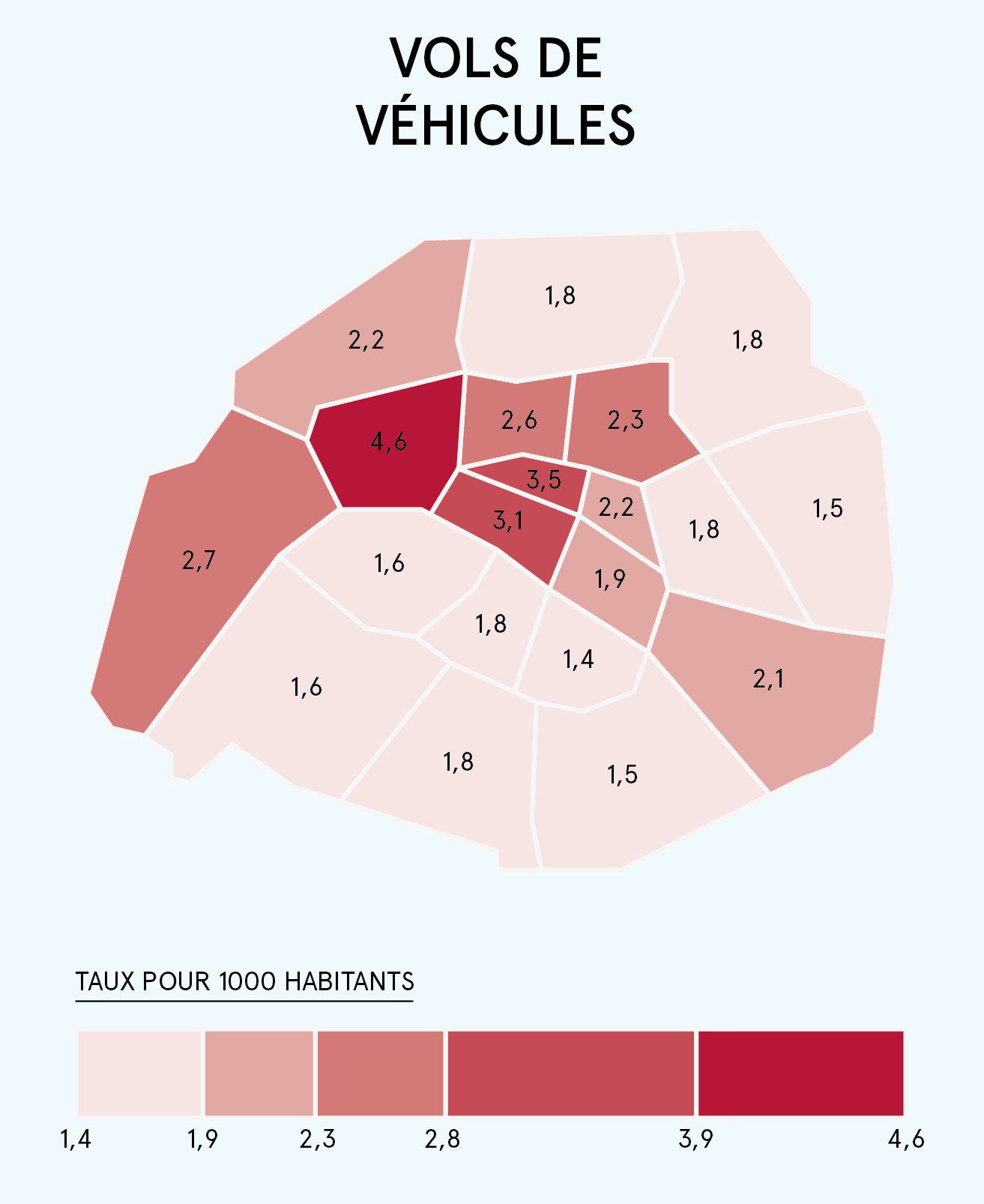 Finally, the drug side, always the same trio of the head: the first registers 33.7 narcotic offenses per 1000 inhabitants, the 8th district a rate of 18 and the 2nd district a rate of 13. Obviously, these neighborhoods thus identify the majority of consumers Parisians. Do you feel concerned?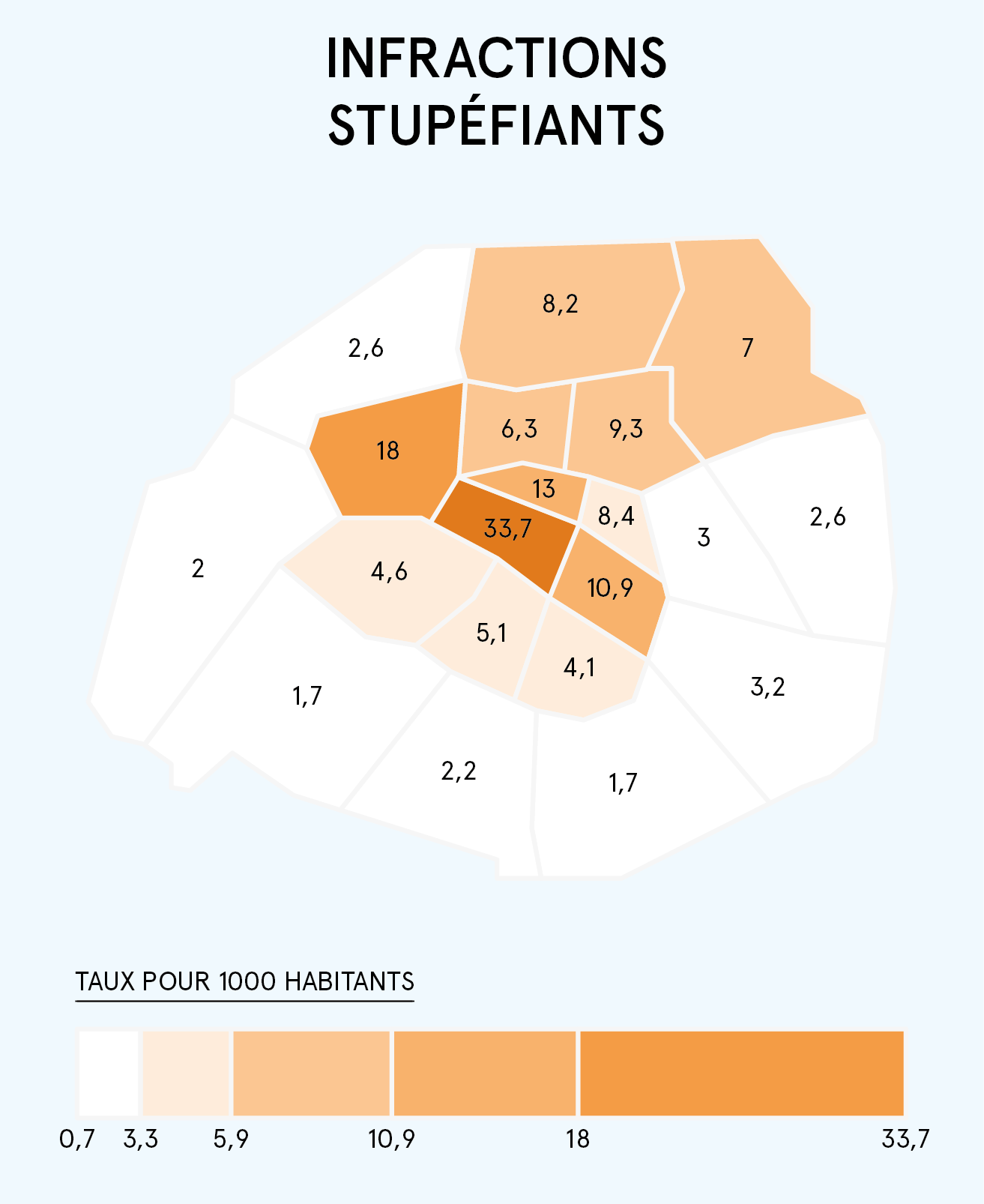 If you want to settle in a quiet area, it is better to avoid the heart of Paris, and instead move to the 7th, 14th, 15th and 20th districts. With crime rates 10 times lower than those of the 1st, they are obviously the safest and quietest areas of the capital.
Self Defense Products
We hope you never need most of the products on this list, but just in case… Here, five clever devices to help you feel safe (and help you kick some ass should the occasion arise). What will be your choice? Maybe you want to have a stun gun, a personal alarm, a pepper spray or an ultrasonic repellent?
Best Selling Stun Gun Flashlight
Regarding the voltage and penetrating capabilities of this stun gun, we have to say that all the parameters of this device are exemplary. Here's what people write in their reviews: "Extremely potent and effective. I am 6'3″ 230 lbs and it put me on the ground in half a second". The manufacturer claims that this device has a voltage of 230,000,000 (!) volts, which is pretty impressive, because even the loud cracking of this device will make your attackers change their mind and run away. This stun gun has a very practical construction: Spike Electrodes are located a bit outside of the case, allowing the charge to penetrate thin clothes and creating the maximum shocking effect.
Many experienced robbers know how to unarm all average users who are carrying a stun gun. In the majority of cases, they will try to take your stun gun away by holding its case above the area with electrodes in order to avoid direct contact. This model will make our clumsy robber totally disappointed, because the case part of this stun gun below the handle is made of steel, thus the attacker will be shocked even if he tries to grab your stun gun. Take your time and run away, while he's falling on the ground.
THE SOUND GRENADE
Want a self-defense weapon but not quite ready to carry around a set of brass knuckles? This portable SOS alarm is simple yet effective. Activate it by removing the pin and an ear-piercing 120-decibel alarm will sound for 30 minutes (or until the pin is re-inserted), thereby scaring off attackers and grabbing the attention of anyone nearby. It's lightweight and small enough to fit into the pocket of your tightest jeans. This handy device also works as an animal repellent (great for those weekend hiking trips).
SELF DEFENSE FLASHLIGHT
This is no ordinary flashlight—it basically has magical powers. Its powerful beam's strobe function is strong enough to temporarily blind an attacker. It's also made out of aircraft grade aluminum. Translation? It's strong enough to be used as a self-defense baton if necessary.
PEPPER SPRAY KEY RING
Hey, it's a self-defense go-to for a reason. Spray in the direction of an attacker (up to ten feet away) and it will temporarily irritate the eyes, skin and respiratory system. We like this pepper spray in particular for its UV marking dye that can help authorities identify the assailant, and its useful how-to-use video. It's worth noting that while using pepper spray is legal, there might be restrictions in your state, so check before you buy one.
BSAFE APP
bSafe App (free)
Leaving the bar early to walk home alone? Install the bSafe App on your phone first. Here's how it works: You create a network of bSafe friends who can then follow you via GPS and receive alerts when you reach your destination. If you don't arrive where you're supposed to, it'll then send an SOS message to your designated contacts. Extra cool feature? You can also activate the alarm to automatically record audio and video from your phone, just in case you run into trouble.