What to do in Shangri-la?
The first Tibetan city in northern Yunnan, Shangri-la attracts many foreign and Chinese tourists every year. If it attracts so many tourists it is not a coincidence. Indeed, the Chinese authorities have decided to make this former peaceful village Mecca tourism in China. How? Simply by renaming the city by the name of a mythical place: Shangri-la and building everything. Transforming much of  its old town: Dukezong Ancient Town into a tourist center.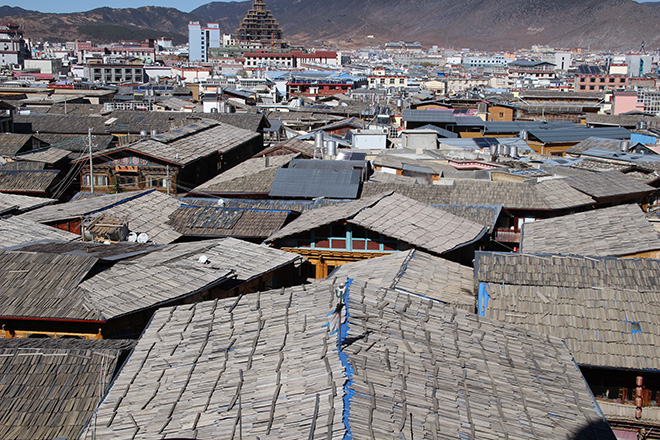 An old city of more than 1300 years that was unfortunately partially destroyed in January 2014 because of a fire. Today, there are some vestiges of the fire although many shops of all kinds: restaurants, cafes, hotels, shops, counterfeit shops, … have settled in the old city. Turning a little more towards tourism than it was before …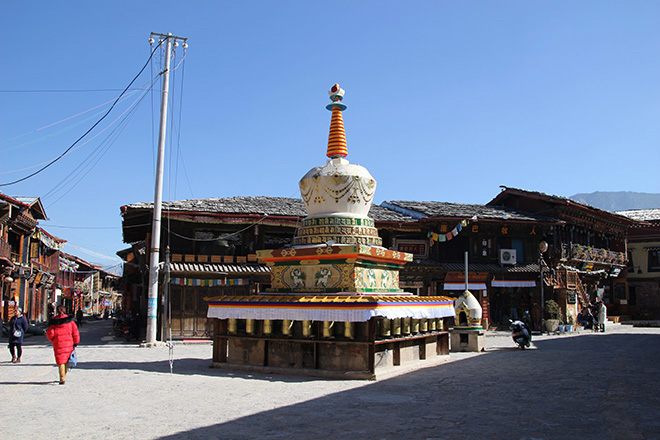 Walk in the old town of Shangri-la
Just like the old town of Pingyao. it is very pleasant to walk in the old town of Shangri-la. The buildings are beautiful (all made of wood) with welcoming storefronts and it's completely pedestrian. For the first time in China, we discovered very cozy places including restaurants, cafes and even a bookstore.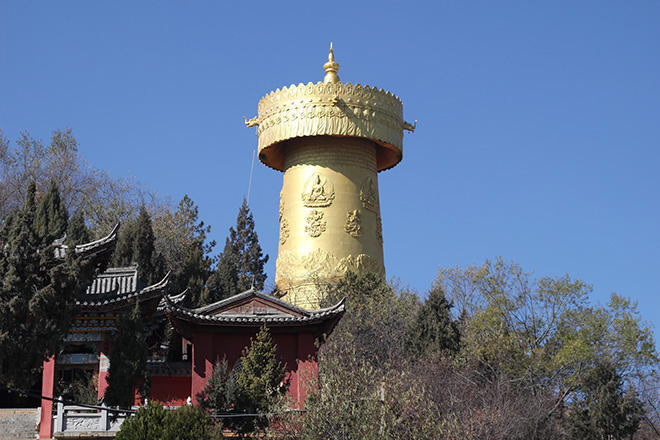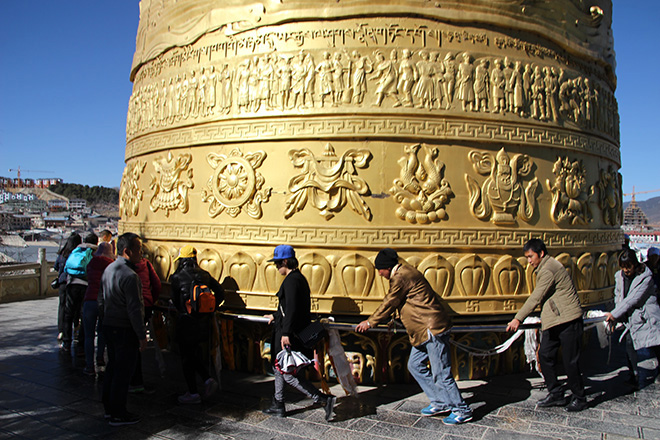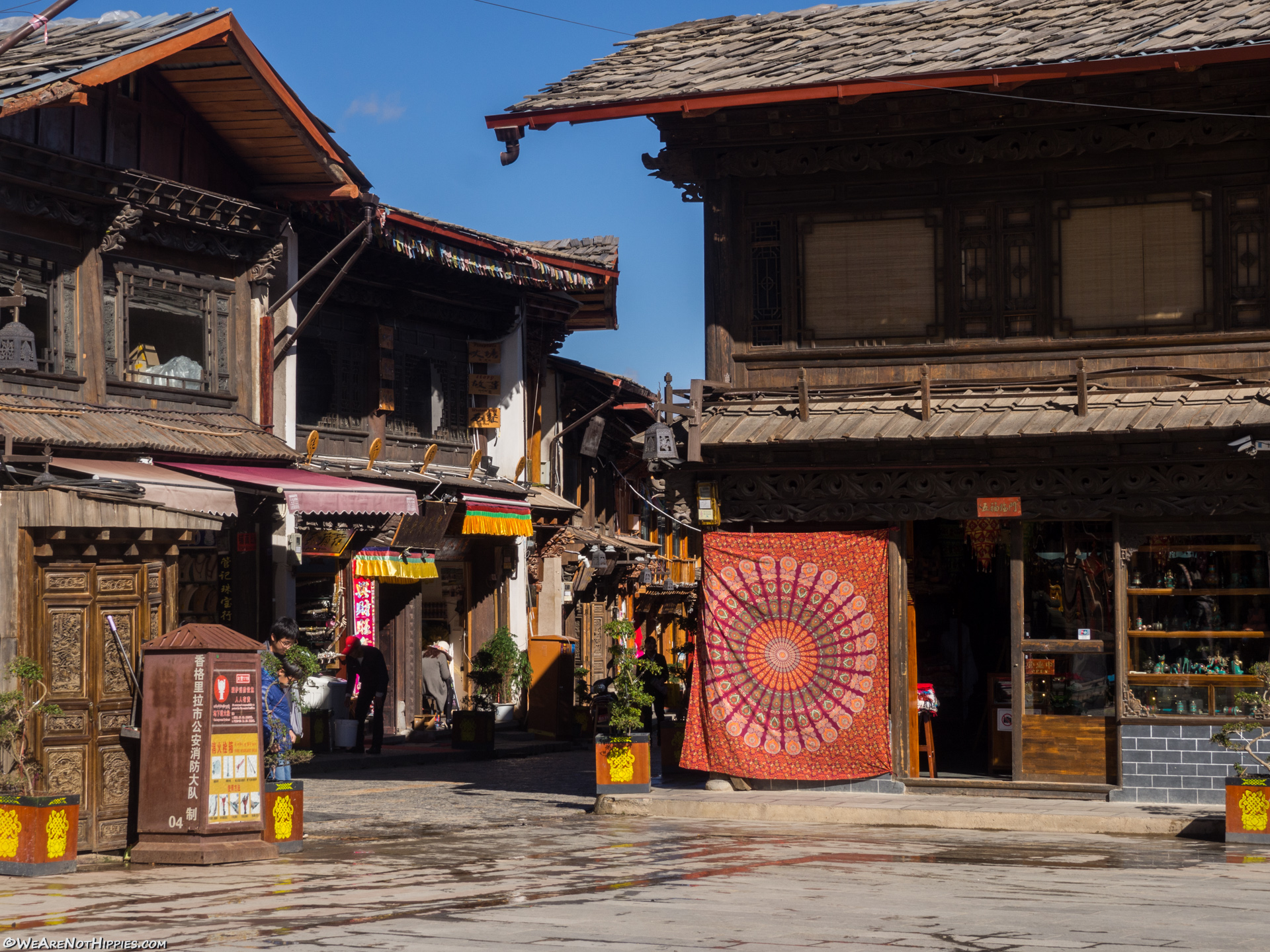 In the old city of Shangri-la, one must not miss the biggest Tibetan prayer  wheel in the world(Guishan). A huge Tibetan prayer wheel 24 meters high. You have to be at least 10 and a good organization to run it. Right next to the prayer wheel is Da Gui Shang Temple.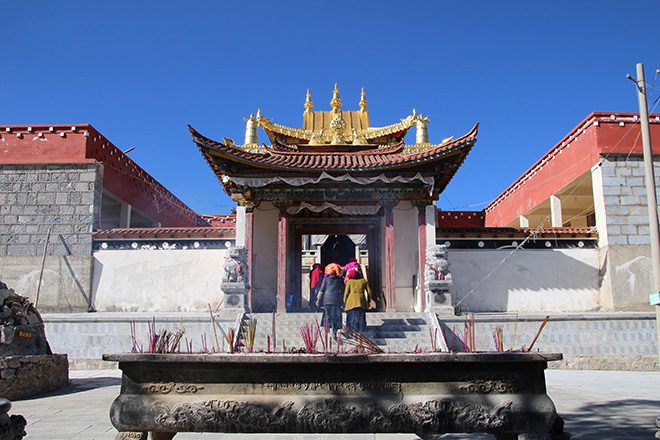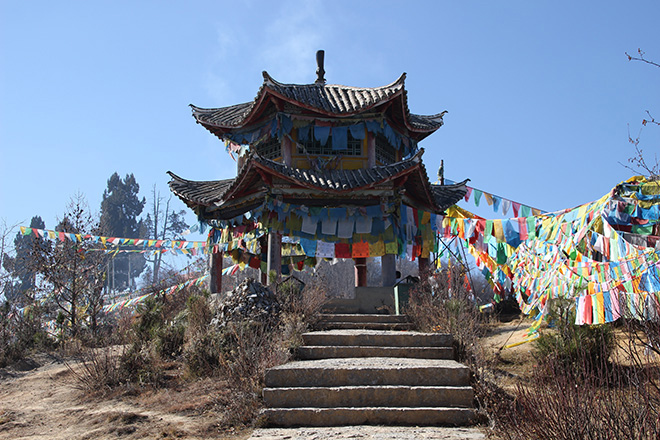 On the heights is the small monastery Baiji which is accessed after a 20-minute climb from the old town. The climb although tiring and quite pleasant with the view of Shangri-la. And especially with the prayer flags all along. At the top of Baiji Monastery, the view of Shangri-la is very beautiful.  The monastery (also called the chickens temple because of the chickens wandering around the temple) in itself is quite nondescript. But the prayer flags and the local people coming to pray are very interesting.
The imposing but disappointing Songzanlin Monastery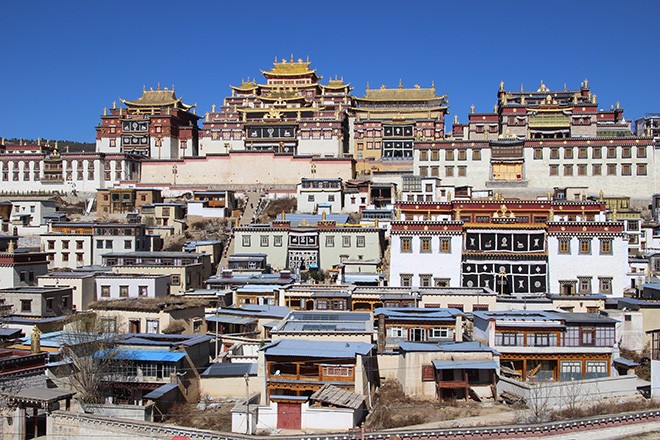 Along with the old city, Songzanlin Monastery (115 ¥ or ¥ 55 reduced for students under 24, passport required) is the other must-see place of Shangri-la. Located 1 hour walk or 20 minutes by bus (bus 3 1 ¥), the Songzanlin Monastery is actually a monastic village.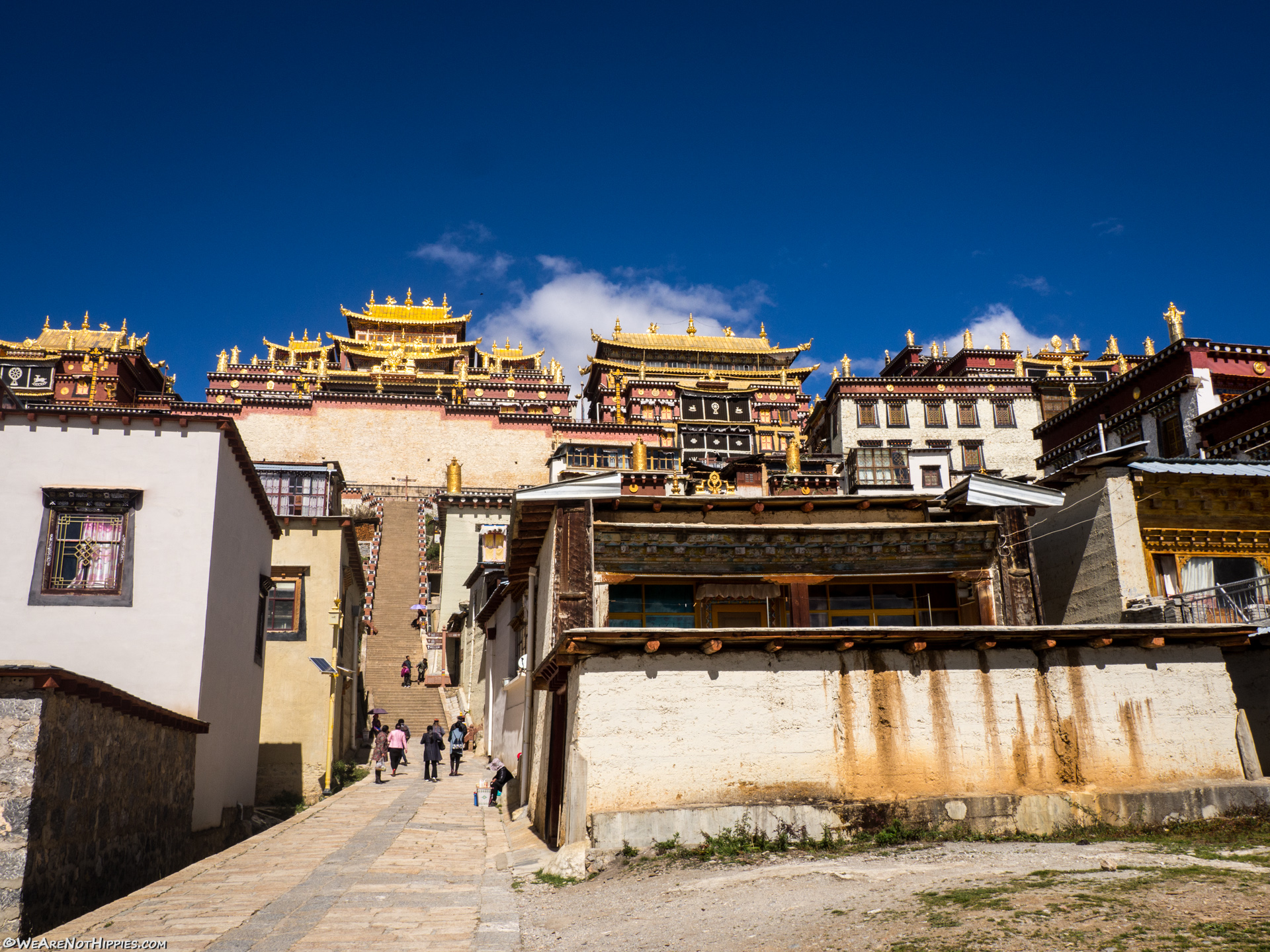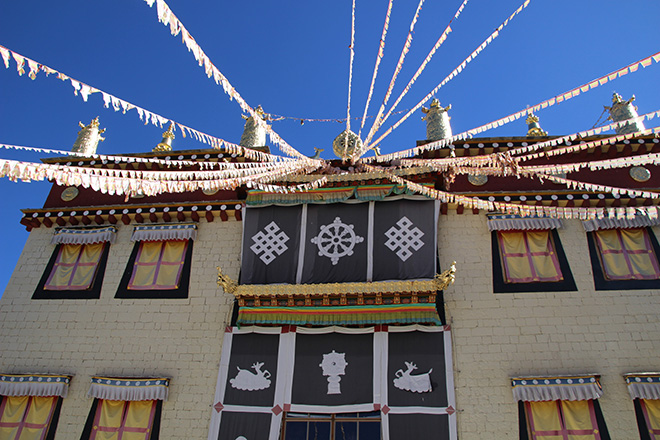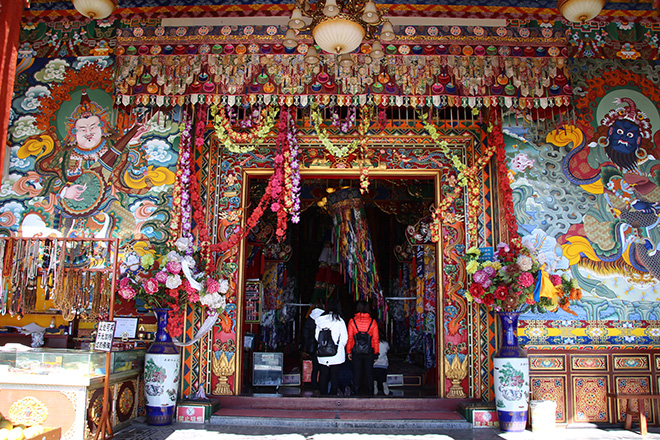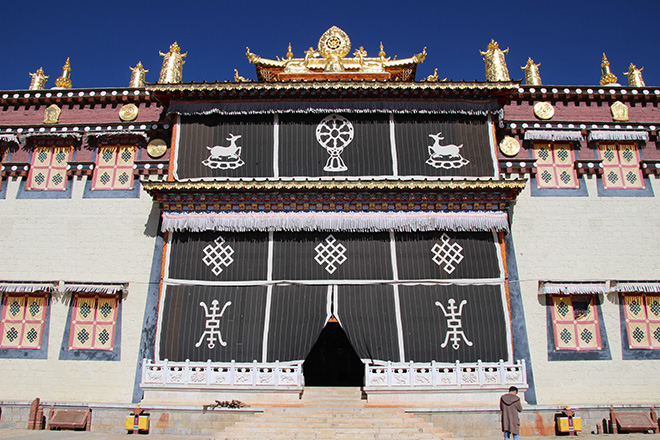 A monastic village composed of dwellings and monasteries. From the outside, the Songzanlin Monastery is very beautiful, but from the inside, it's something else. Everything is under construction and nothing is finished. Apart from the monasteries which are very beautiful, the rest is much less so. The monks are not accessible at all, some are even violent! It is forbidden to take pictures inside and it feels like a money machine. While the entrance ticket is already very expensive 115 ¥!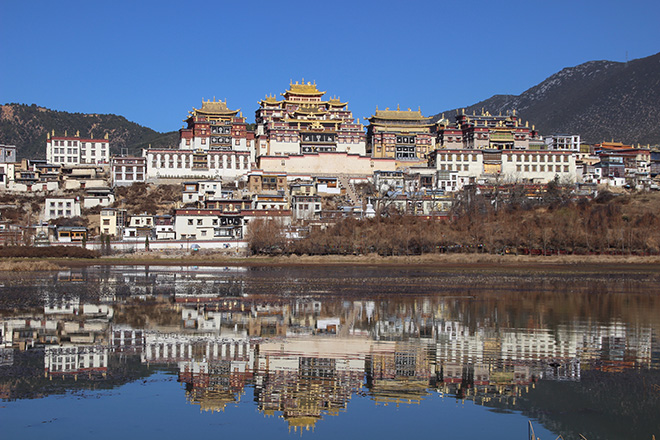 In front of the Songzanlin Monastery, there is a lake that offers a magnificent view of the monastery. It is also possible to go around the lake on foot in 40 minutes via a landscaped path.
Honestly, this visit will remain a big disappointment for us (price, atmosphere, …) and is not a must. Go your way.
Where to stay in Shangri la?
The old town of Shangri-la is home to (very) many hotels and hostels. During our 3 days in Shangri-la,  we stayed at the Shangajoy Seasons Inn. An inn located on one of the main streets of Shangri-la Old Town. Its location is ideal. We paid 230 yen for 3 nights in a private room with bathroom and heating :-D. Shangajoy Seasons Inn also has 6-person dormitories (¥ 30).
While strolling, we discovered some hotels and inns that looked very nice including the Zen hotel. Bodhi Yododo Inn or Yi's Hostel .
Find your hotel in  Shangri-la .
Where to eat in Shangri la?
As much as it is possible to stay for cheap in the old town of Shangri-la, as much eating is expensive.  Whether for eating or shopping,  the rates are higher than in the rest of China. All the restaurants practice more or less the same rates. On the other hand, we were not disappointed by the quality.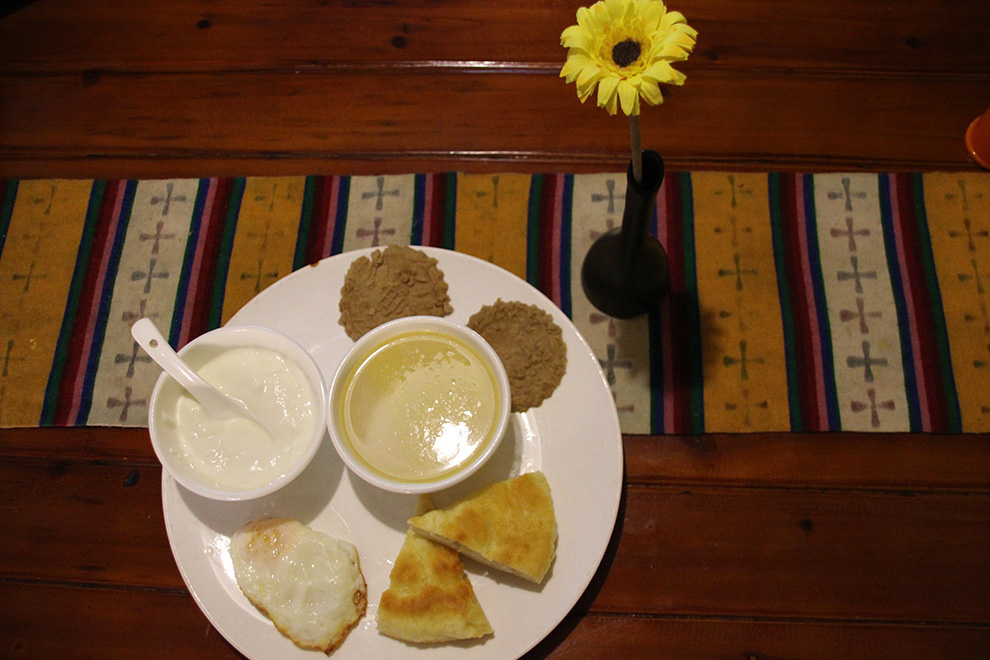 In the old town of Shangri-la, it is possible to eat Tibetan, Chinese, Indian, Italian, American and even French. From our side, we ate twice Tibetan (traditional breakfast at Bodhi Yododo Inn and yak cheese pasta at Lhasa restaurant). And once Indian (nan and chicken curry) at Bhaskar Resto. Lhasa and Bhaskar Resto are two good places to eat in the old Shangri La. Count about ¥ 50 for 2 courses at Lhasa and ¥ 100 for two courses at Bhaskar Resto.
There are also many cozy cafes in Shangri-la's Old Town including Compass Cafe and Noah Cafe.
How to get to Shangri-la?
To reach Shangri-la from Sichuan (Daocheng or XiangCheng), you have to take a bus. In our case, from Daocheng, there is only one bus to reach Shangri-la (111 ¥). It leaves at 6:10 and theoretically takes 12 hours (we have half "that" 10:30) counting the pee and meal breaks.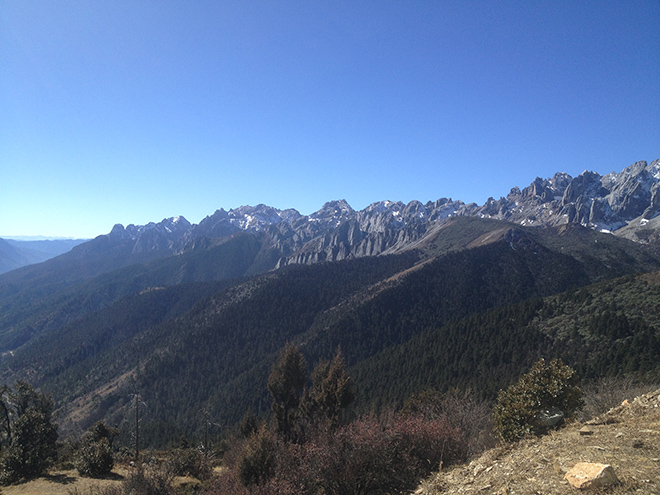 Beware the journey between Sichuan and Shangri-la is not easy. We drove for at least 7 hours through the mountains on tracks and not roads. Once at the bus station, take bus 1 (1 ¥) ​​to reach Shangri-la Old Town.
It is quite possible to reach Shangri-la by plane because the city has a small airport  (Diqing, code DIG). Direct flights to Kunming, Lhasa and Chongqing and flights to Chengdu and Guangzhou are operated from Shangri-La.
My opinion about Shangri-la
We spent three pleasant days in Shangri-la where we took our time. Walking in the old town of Shangri la is pleasant. On the other hand, big disappointment for the Songzanlin monastery. In low season, we did not really notice the tourist side of Shangri la. However, we imagine how it should be in high season. Many shops, hotels and restaurants were closed and given the prices,  we feel the tourist side of the old town.
And you, what did you think of Shangri la?
Continue your trip to China with the discovery of our 3 weeks itinerary in China.