Top things to do in Peru
The Peru fascinates travelers with its rich biodiversity and its millennial cultural heritage. But how to choose the places to visit in such a big country?
My guide to top things to do in Peru will help you prepare your trip and establish your route. You will find classic attractions, but also other unavoidable Peruvian of great importance, which we still speak little abroad and who deserve to be known!
Here is my top 30 things to do in Peru  with practical information, do not miss this fabulous country:
1. Machu Picchu 
The Machu Picchu is one of the most important archaeological sites in the world and most known Inca sites. Hidden strategically between the high mountains of the Urubamba Valley, it was never discoveredby the Spaniards, which certainly contributed to its preservation.
Today it is a must in Peru which can be reached via the village of Aguas Calientes by train or by walking.Here are 3 ways to get there:
By train  : trains leave from Cusco (3h one way) or Ollantaytambo (1h30 one way). There are 2 companies that operate the route, Peru Rail and Inca Rail .
Walking  is the cheapest way to get to Machu Picchu. You must first take a colectivo to Hydroelectrica, then walk 2h-2h30 following the railway tracks to the village.
Make a trek: there are several treks possible. The most popular and the only one to get directly to Machu Picchu is the Inca Trail. Inca Trail ). It is limited by strict quotas, so you have to book several months in advance! There are also several other treks like Salkantay. Lares. Huchuy Qosqo or Jungle Trek .
Once there, in addition to many attractions to see, it is also possible to climb the Wayna Picchu or Machu Picchu mountain to get an exceptional view of the site and the surrounding area. Make sure you choose the right ticket at the time of purchase. There are 3 types of tickets for Machu Picchu:
Machu Picchu (regular or Vespertino)
Machu Picchu + Huayna Picchu
Machu Picchu + Mountain Machu Picchu
Find all the practical information to organize your visit to Machu Michu in our article: How to visit Machu Picchu ?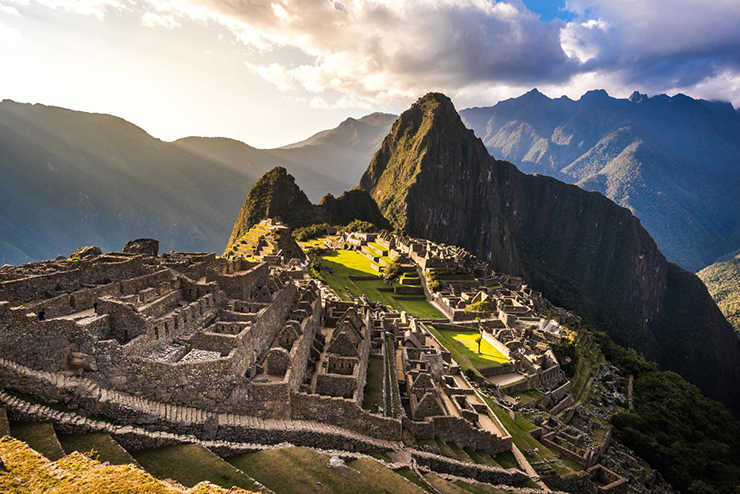 2. Cusco
Capital of the Inca Empire, declared World Heritage, the beautiful city of Cusco (also Cuzco) is a must seein Peru. Nestled in the Andes at 3400m above sea level, it is a unique blend of Inca heritage, churches, palaces and squares with Baroque and Neoclassical architecture. It is also the starting point for excursions to the Sacred Valley and Machu Picchu. Here are the main attractions not to be missed in Cusco  :
The Place d'Armes
Basilica Cathedral
Church of the Society of Jesus
Church of La Merced
Coricancha and Santo Domingo Convent
Stone of 12 angles
The many museums (eg Folk Art Museum, Inka Museum, MAP, Regional History Museum)
San Pedro Market
Mirador of the White Christ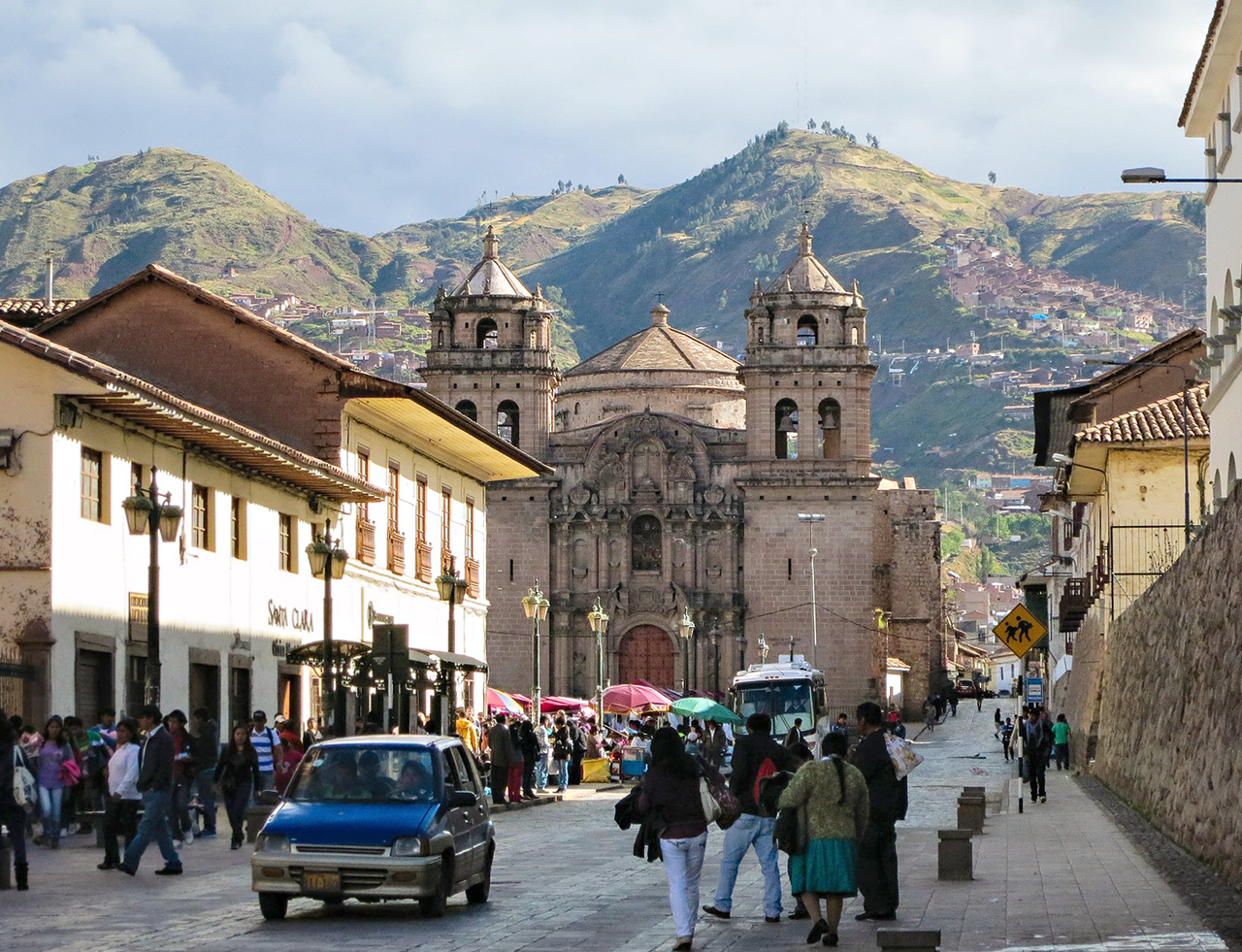 3. The Fortress of Sacsayhuaman
Located on a hill with a magnificent view of Cusco, it is a fortress that is a good example of Inca's remarkable building techniques  : walls made of so well-cut blocks of stone that fit perfectly and require no cement. It is (partly) here that the great celebration of the Inti Raymi, the famous feast of the Inca sun, takes place on June 24th.
Sacsayhuaman is the best known and largest archaeological site around Cusco and it is mandatory to get the tourist ticket to visit it.
How to get there :
By taxi  : this is the fastest way (10 min)
In combi  : much cheaper, we must look for vans in the direction of "Cristo Blanco"
On foot  : 30h to 1h rise from Place d'Armes according to your physical capacity and acclimatization to the altitude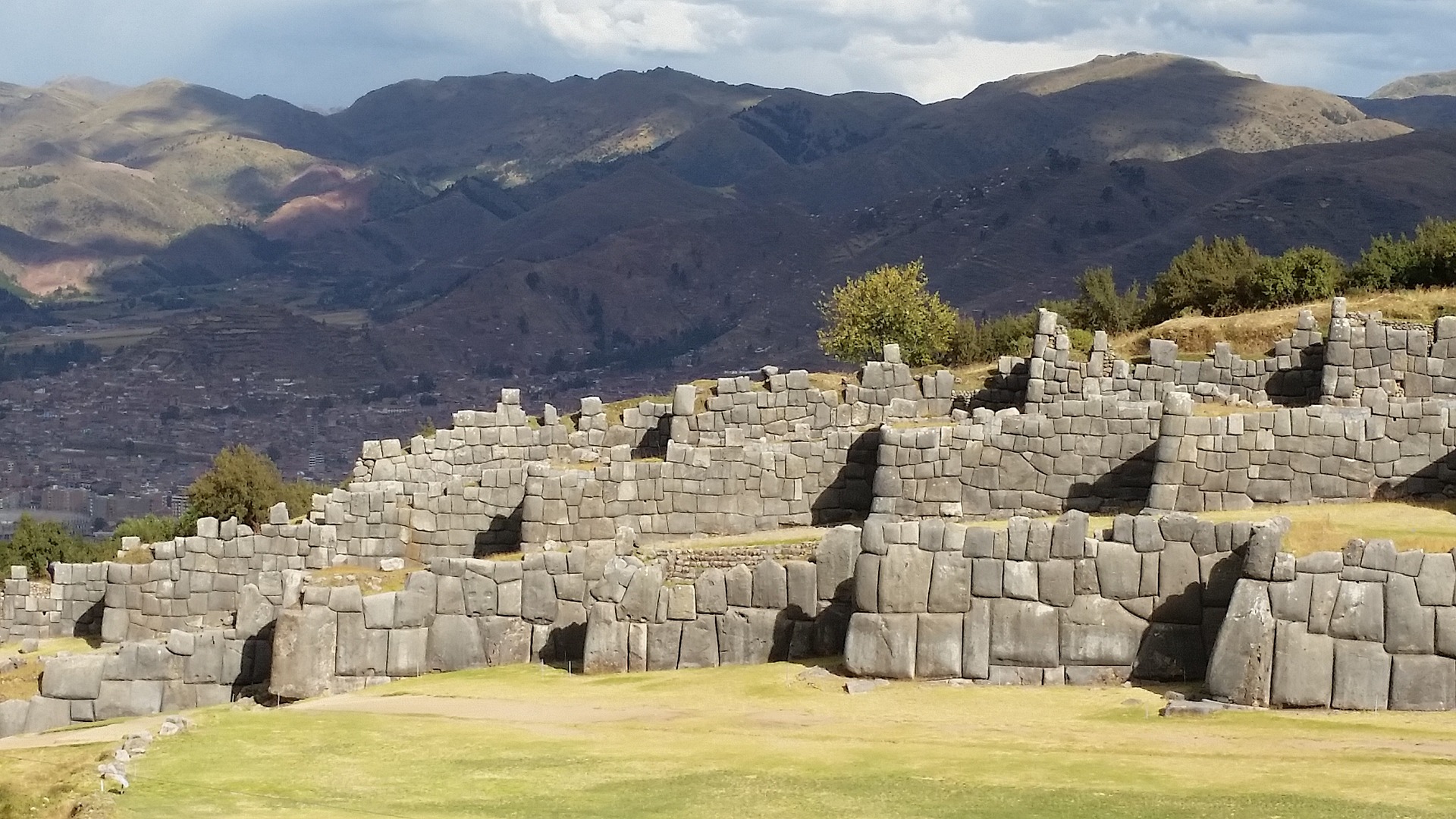 4. Maras and Moray
Maras  has been used since the Inca era to extract salt by evaporation from a source of very salty natural water. Today, there are more than 3000 pools used by 800 families in the region: one of the most beautiful shows in the Sacred Valley and an excellent spot to take photos !
Only 7 km  away,  Moray  was an agricultural research center during the Inca era . There were 20 different microclimates, with an irrigation system that allowed to cultivate several plants of the Andes and even of the jungle. To know that it is necessary to obtain the tourist ticket to be able to reach it.
There are 3 ways to get there from Cusco:
By private taxi 
In organized tour
In colectivo + taxi
Do not miss anything during your visit, see our article on Maras and Moray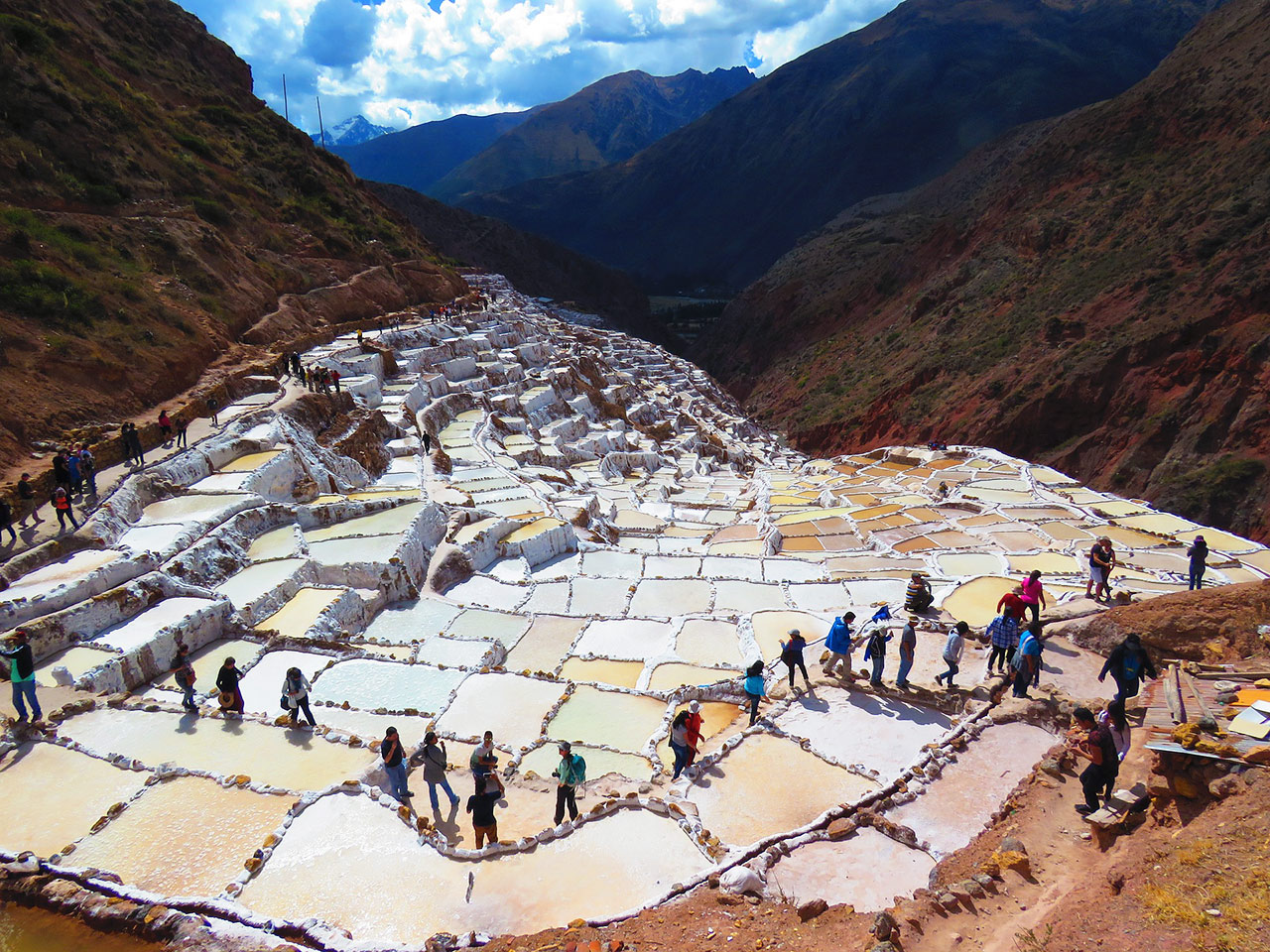 5. Ollantaytambo
It was one of the most important villages of the Inca Empire as it served as a checkpoint for the road to Machu Picchu. Today it is a charming village with small cobbled streets that have retained their original layout. The main archaeological site is its Inca fortress, to be visited with the tourist ticket. Here is what to see in Ollantaytambo:
Fortress of Ollantaytambo
Pinkullyuna  : access is free and offers a fantastic view of the ruins and the surroundings
Naupa Iglesia  : it is an inca ceremonial site free of access and very little frequented by which one arrives while walking via the small village of Pachar, just next to Ollantaytambo
Cerveceria del Valle : one of the best microbreweries in the country, which has been awarded several times worldwide, located just outside Pachar
Intipunku (the door of the sun)
Temple of Pumamarca
Ollantaytambo is one of my favorites of Peru and deserves, in my opinion, at least one day of visit. Do not miss Ollantaytambo's complete guide to know everything about the village and the surrounding area.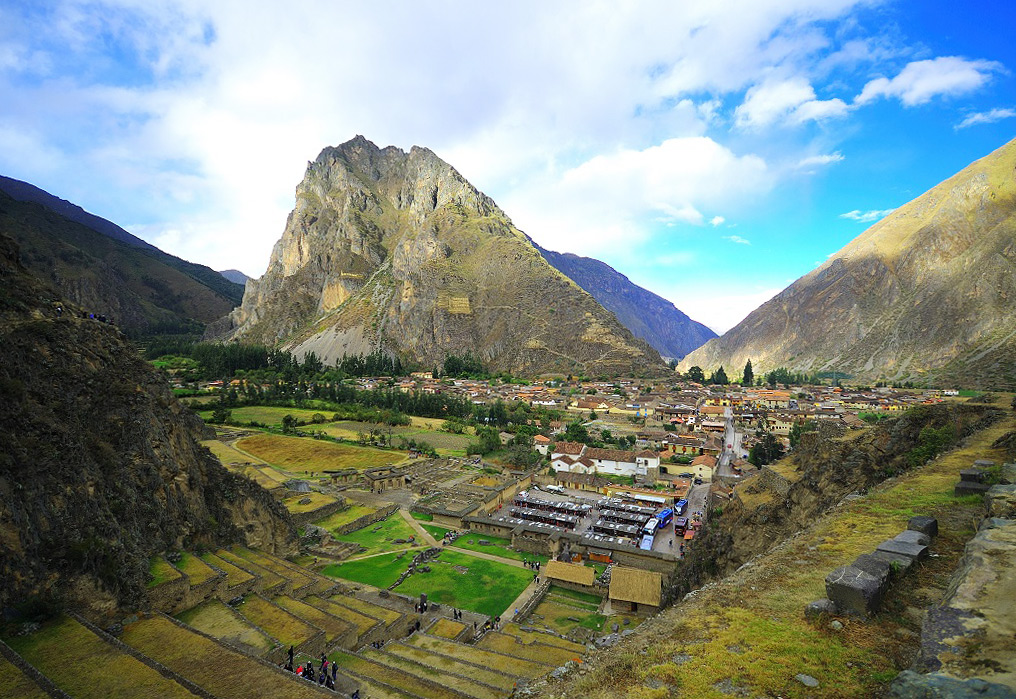 6. Pisac
It is an ancient Inca village, known mainly for its ruins and its typical market that is held mainly on Sundays.
Its archaeological complex, former royal residence of the Inca Pachacutec, is one of the most beautiful sites of the Sacred Valley. There is an agricultural section, residential and still functional pipes. It is necessary to have the tourist ticket to have access to it.
To learn more, read our article on Pisac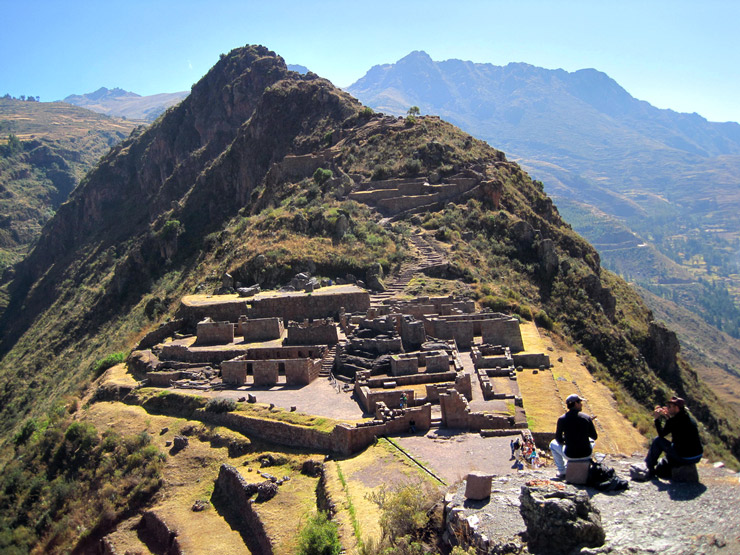 7. Choquequirao
Located at over 3000m altitude, Choquequirao is an Inca complex similar to Machu Picchu in its structure, with several buildings and terraces. While it is smaller, but it has the advantage of being much less touristbecause it is only accessible on foot. It is magic!
How to get there  : from Cusco it is possible to do a trek (physically demanding) alone or with a guide, which can go from 4 days to 10 days depending on the chosen route.
Check out the article on the trek of Choquequirao to learn more about the site and the details of the hike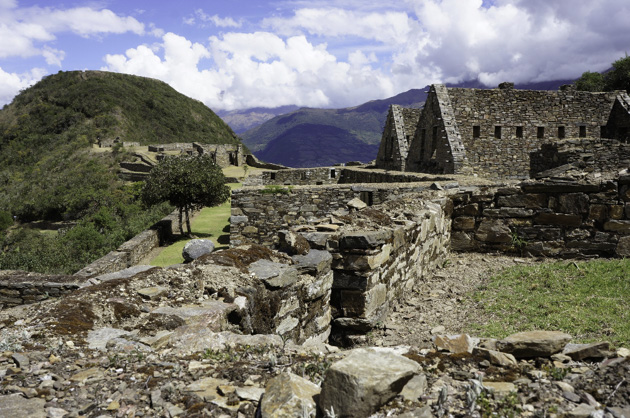 8. San Francisco Monastery 
This is one of the most interesting attractions of Lima, located a few steps from the Plaza de Armas. It is a monastery of the 17 th century, still partially occupied by monks, which houses a magnificent library, the paintings of the Cusco School and catacombs which contain at least 25,000 graves .
Discover here the monastery that is part of our  Top 5 things to do in Lima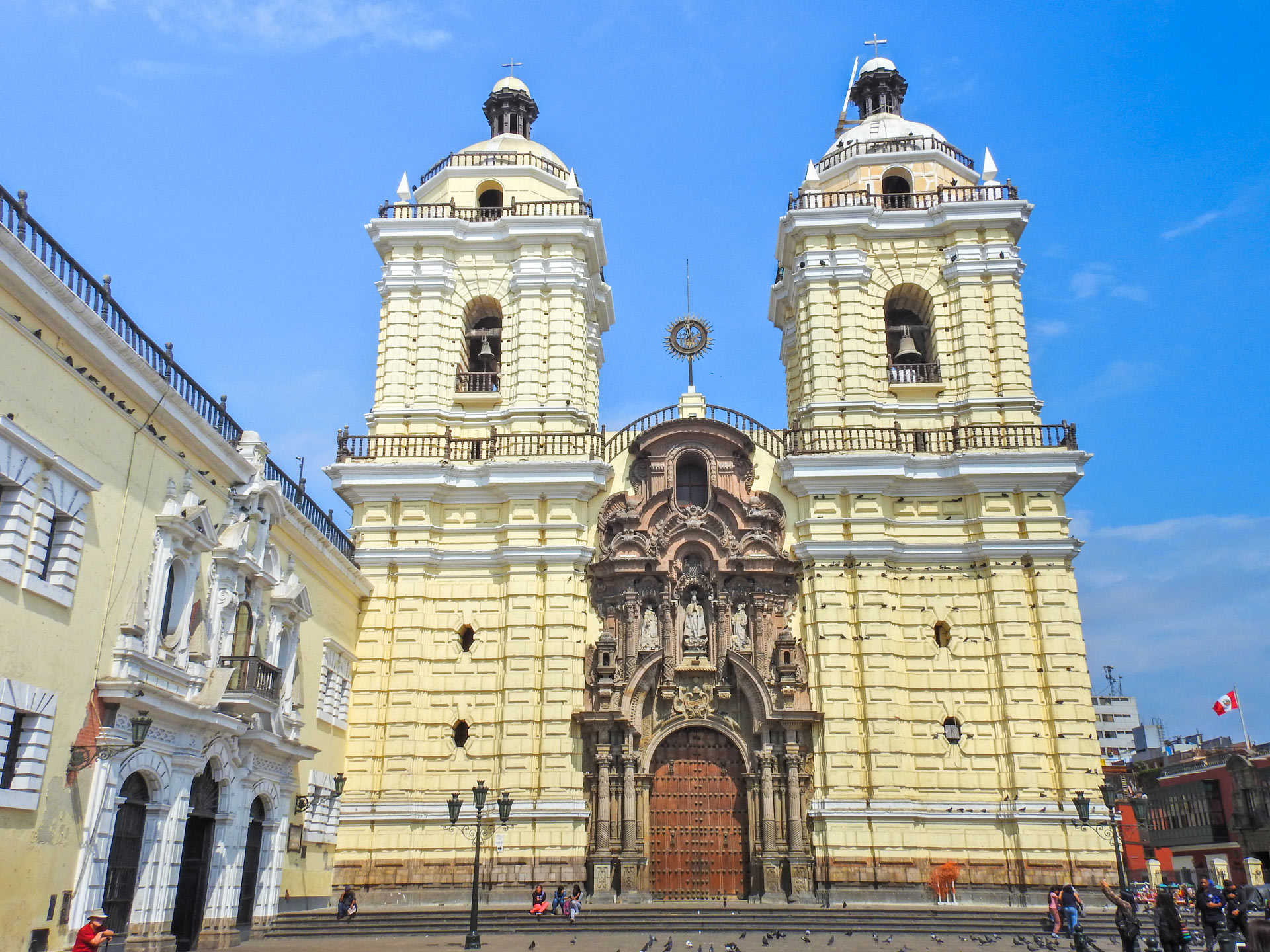 9. Larco Museum
The Larco Museum has one of the largest and most impressive collections of pre-Columbian art in the world. Located in a charming 18 th century, it holds 4000 years ' history through gold and silver jewelry, sculptures, paintings, textiles and ceramics  Inca and many pre-Inca cultures. There is also the largest collection of pre– Columbian erotic art in the world. Interestingly, the museum's reserve is open to the public.
Learn more about the Larco Museum and other must-see attractions in Lima in 48 hours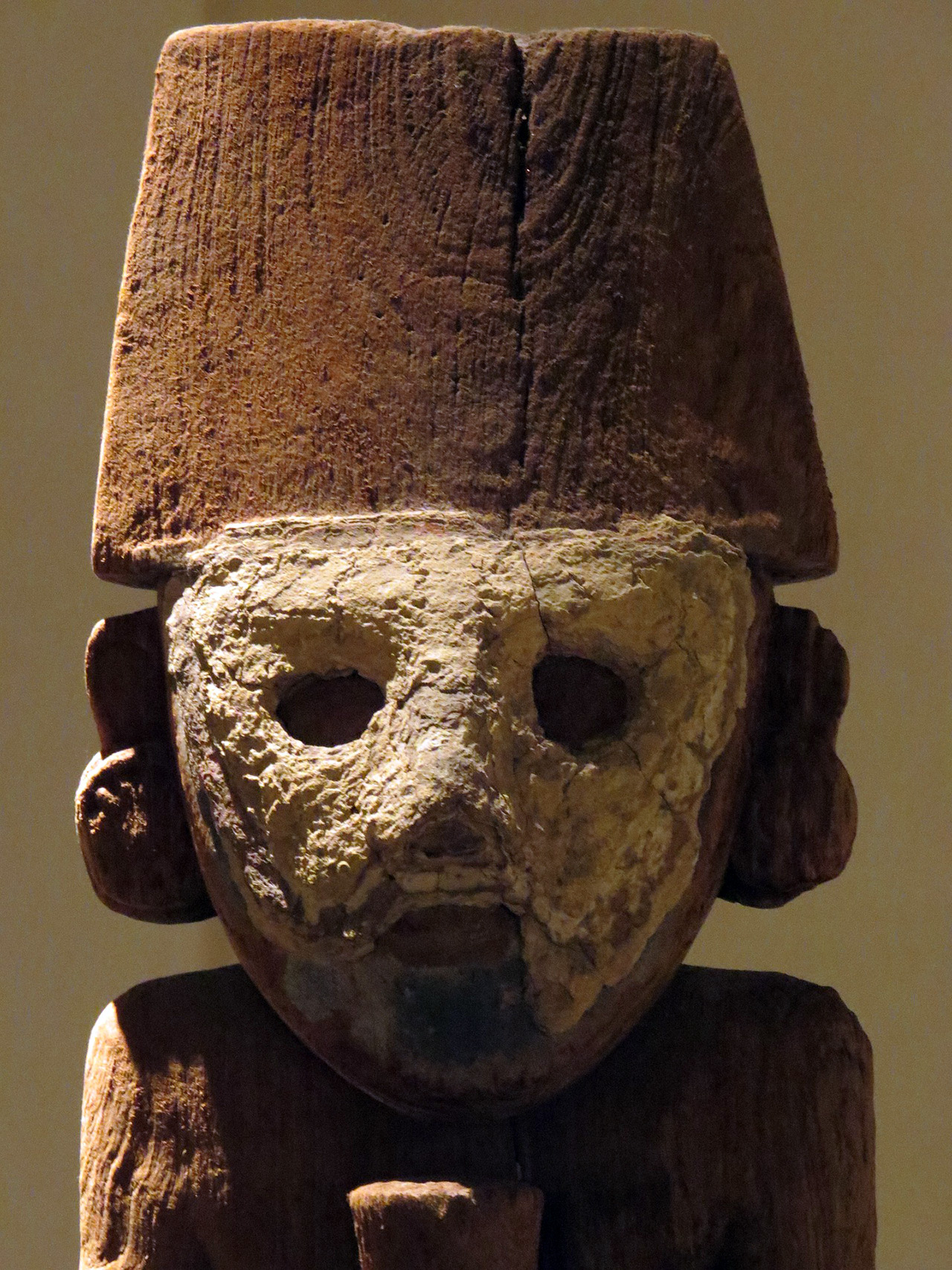 10. Pachacamac
Located 32km south of Lima, it is a sacred site of great importance, built more than 1000 years ago. Here followed the civilizations Lima. Wari. Yschma and Inca. It was a religious center, a commercial crossroads and an administrative center, but also a place of pilgrimage  (one of the most important in the Andean world!) Where offerings were made to the god creator Pachacamac and consult the oracle. 
How to get there :
In organized tour (much easier) either with an agency or mirabus since the Parque Kennedy
By bus to the station "Cruce de Pachacamac" + colectivo
Discover more about Pachacamac in my article about a city ​​tour in Lima
My personal advice : if you do not have enough time before you to leave Lima, but you want to discover an interesting archaeological site, you can also head to the Huaca Pucllana. a 1600-year-old pyramid,  in the heart of Miraflores !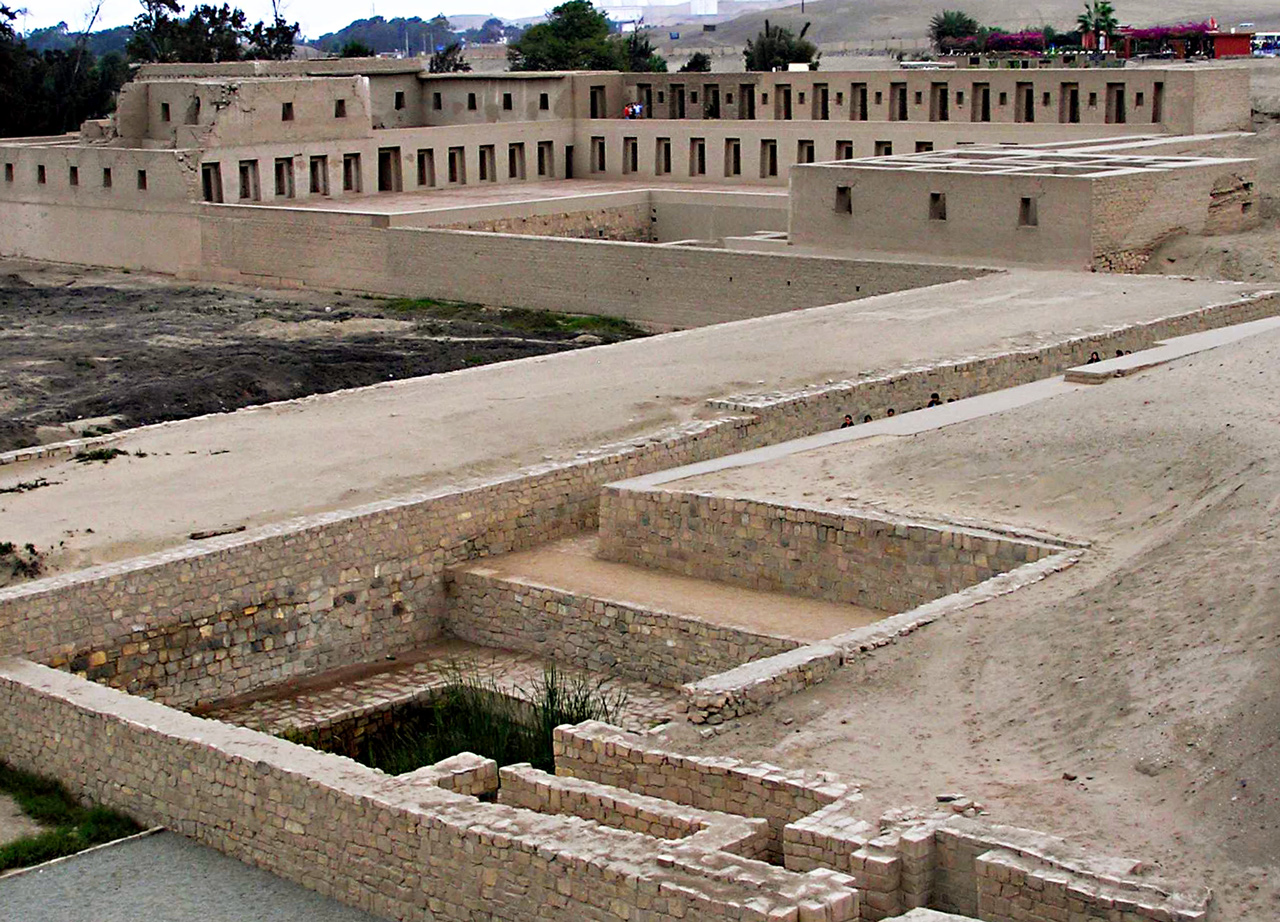 11. Nazca Lines
It is one of the most famous attractions of Peru and yet we do not know much about it. It is a set of lines, forming drawings and geometrical figures, drawn between 500 BC. JC and the year 500 by the Nazca people on an area of ​​750km². It is said that they could have been part of a cult of the god of water, particularly important in such an arid climate, or serve as an astronomical tool pointing to important coordinates.
You can see some of them from a watchtower, but the best way is of course to fly over the Nazca lines with a small plane. Attention to the stomach, it moves!
Here are the other attractions of Nazca, too often forgotten:
Chauchilla cemetery of Inca-Chincha culture with 1000 years old bodies very well preserved
Antonini Museum
Cahuachi, a sacred place Nazca
Aqueducts of Cantalloc
Ruins of Paredones
Marie Reiche Museum
Lines of Palpa
Buena Fe lines
Maria Reiche Planetarium
Make the dune buggy
Make sandboard on the Cerro Blanco, the highest sand dune in South America!
Check out our complete guide to Nazca to find out everything about lines and other attractions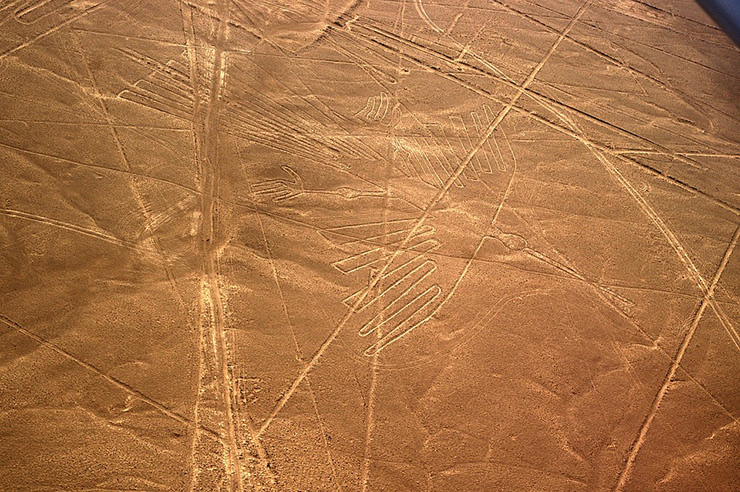 12. Make the Huacachina buggy
Unexpected in the desert dunes. Huacachina is a lagoon surrounded by palm trees, restaurants and inns. We come here to spend a weekend or a day to hit the dunes in sandboard or dune buggy, for more adrenaline. Try to go there for the sunset, it's an unforgettable moment in the desert.
See here how to visit the Oasis of Huacachina
13. Paracas National Reserve
It is a protected area of 335,000 hectares that covers the desert, sea and islands. In addition to its unique landscape and archaeological remains, it hosts dolphins. Humbolt penguins. sea ​​lions colonies and about 60 species of birds. Here's what to do and see in Paracas:
Enjoy beaches like La Mina
Eat fresh seafood at Lagunillas fishing port
Take a boat trip to the Ballestas Islands
See the collection of the Culture Paracas of Julio C. Tello museum
The Candelabrum  : a geoglyph of 120m traced in the sand
Make the buggy
Doing sandboarding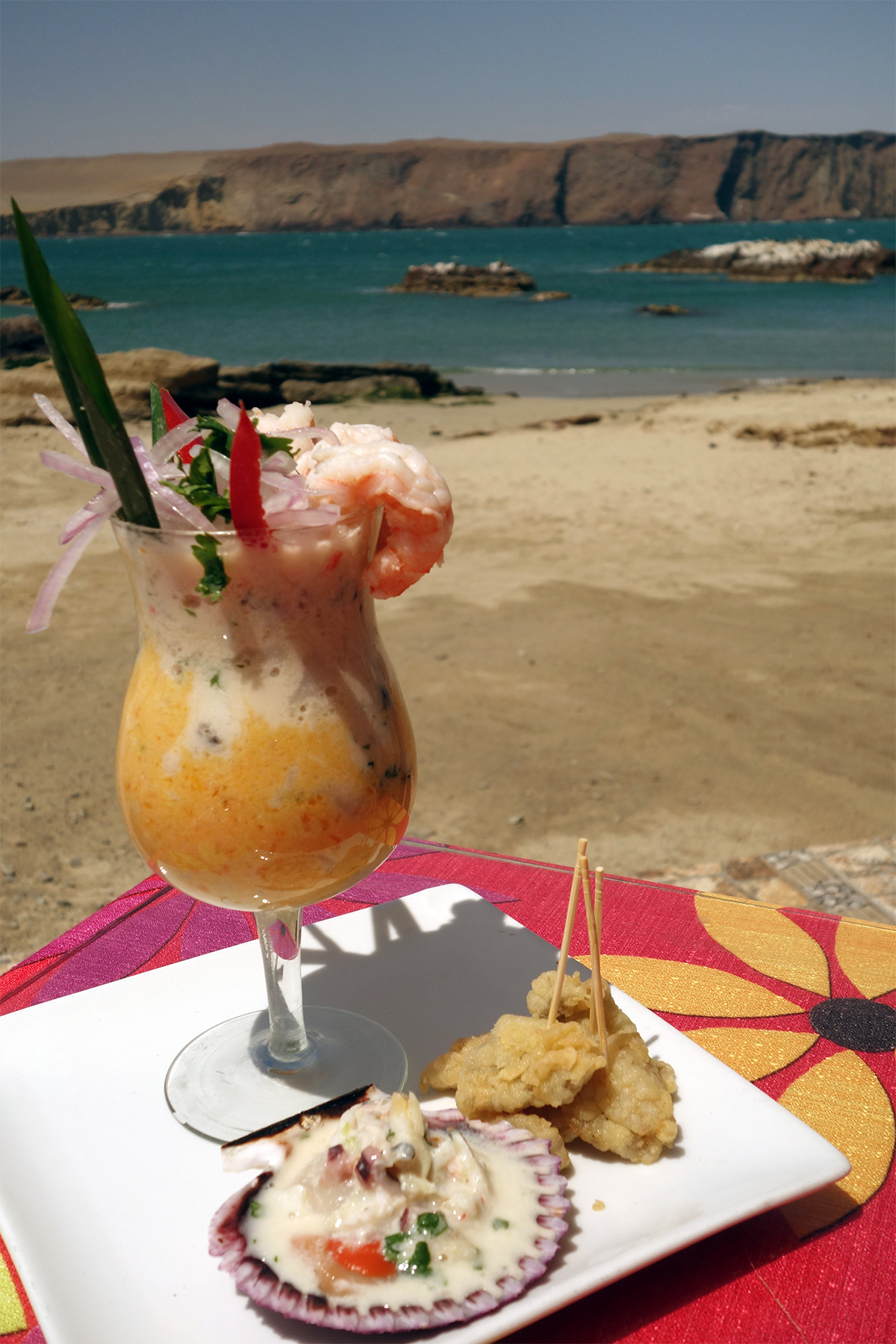 14. Santa Catalina Convent
With its 2,060 m², Santa Catalina in Arequipa, is the largest convent in the world, the largest religious building in Peru and definitely a must in Peru. It is open to the public today and we walk there to discover its charming narrow streets and squares in red and blue colors .
Learn more about Santa Catalina and other must-see attractions in Arequipa in 48 hours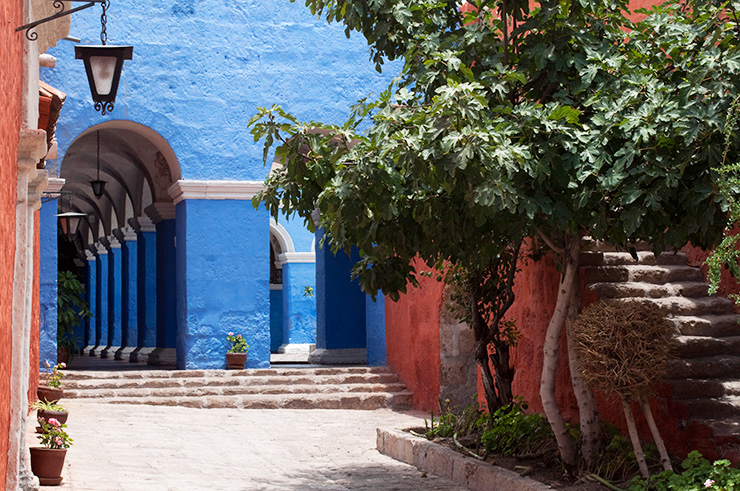 15. Colca Canyon
Twice as deep as the Grand Canyon, the 2 e deepest canyon in the world after its neighbor Cotahuasi Canyon. It is a must visit during a visit to Arequipa with its small villages, thermal waters, the famous Cross of Condor and superb agricultural terraces. We can visit it in several ways:
Day trip from Arequipa (too short, a lot of road, I do not recommend)
Excursion of 2 days 1 night on the spot (in Yanque or Chivay) from Arequipa
Trek from Cabanaconde of 1,2 or 3 days with or without guide (paths well indicated)
Discover all the information with our  article on the Colca Canyon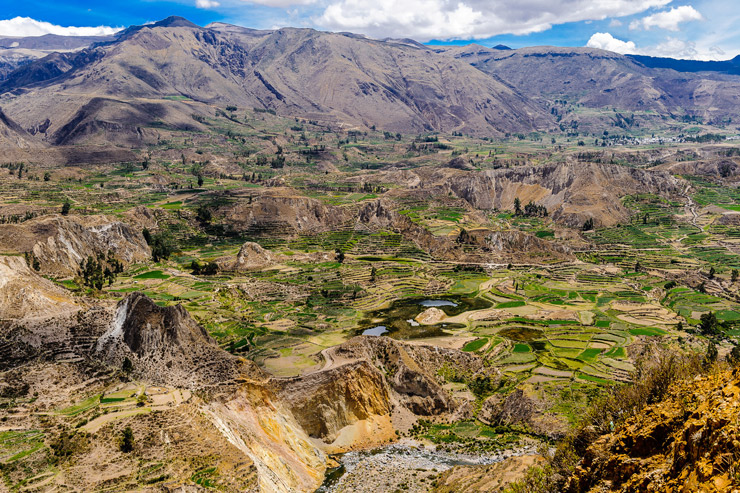 16. Lake Titicaca
Located at an altitude of 3812m, straddling Peru and Bolivia. Lake Titicaca is the highest navigable waterway in the world. It is possible to go there for a day trip or to sleep with the locals, on the islands or around the lake. Here are the places to see, Peru side:
Taquile
Amantani
The Uros
The community of Llachon
Sillustani and his pre-Inca burial towers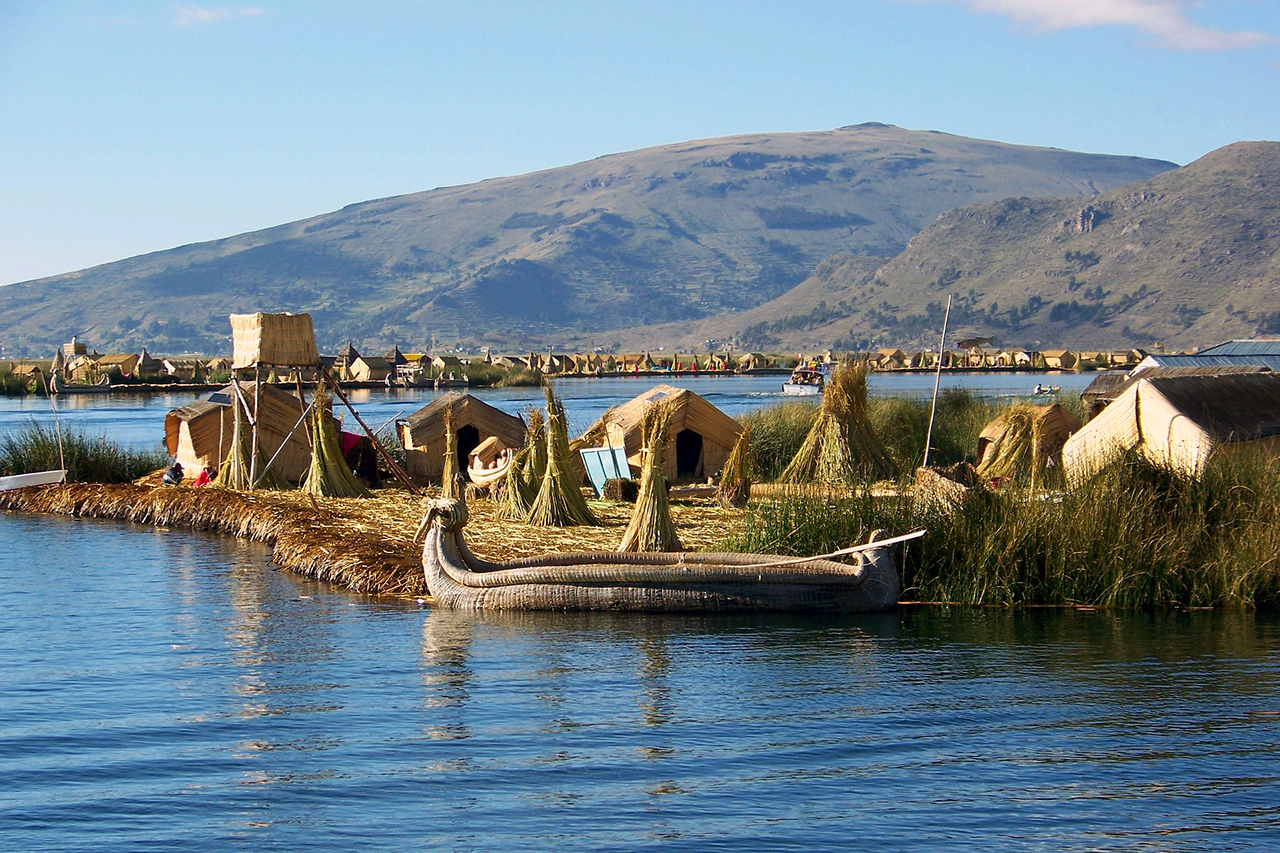 17. Kuelap Fortress
It is the fortress of the pre-Inca Chachapoyas people located in the region of the same name, whose name means "the cloud warriors  ". It is true that when you are on this site at 2334m altitude, above the clouds that float on the mountains, its name makes sense! Fortunately the site is not yet very touristy, but it is nevertheless the largest pre-Inca fortified city of South America !
How to get to Kuelap  :
In tower from the city of Chachapoyas
By cable car from Tingo Nuevo
In trek from Tingo Nuevo
Here is our article on Kuelap  to know all the practical information and to learn more about the site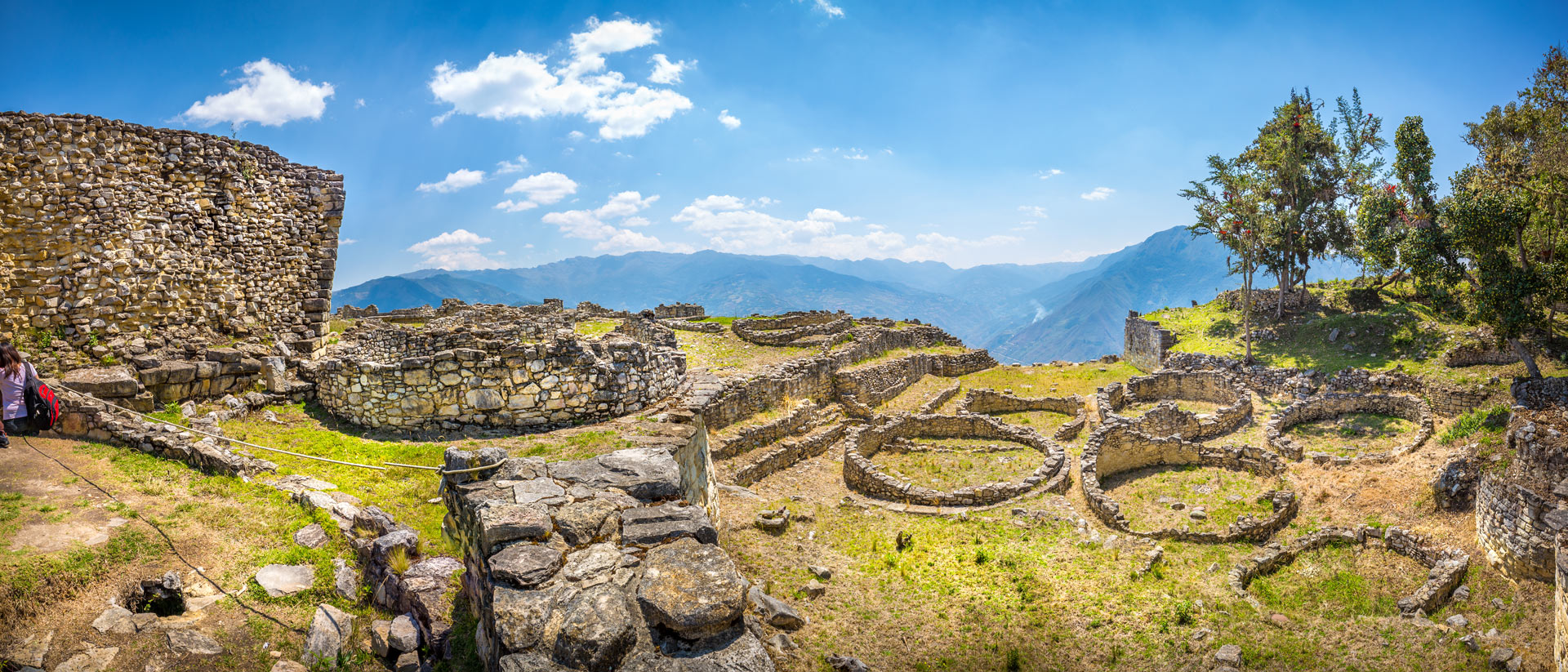 18. Gocta Falls
The falls of Gocta are one of the most beautiful natural wonders  Peru. It is a set of two falls located in the province of Chachapoyas, in the region of Amazonas in northern Peru. At a height of 771 m, Gocta represents the third highest waterfall in the world .
How to get there  : it is accessed by a trek of 3:30 through the rainforest from the village of Cocachimbathrough several small waterfalls. The path is as beautiful as the destination!
You can see all the details for a  visit to Gocta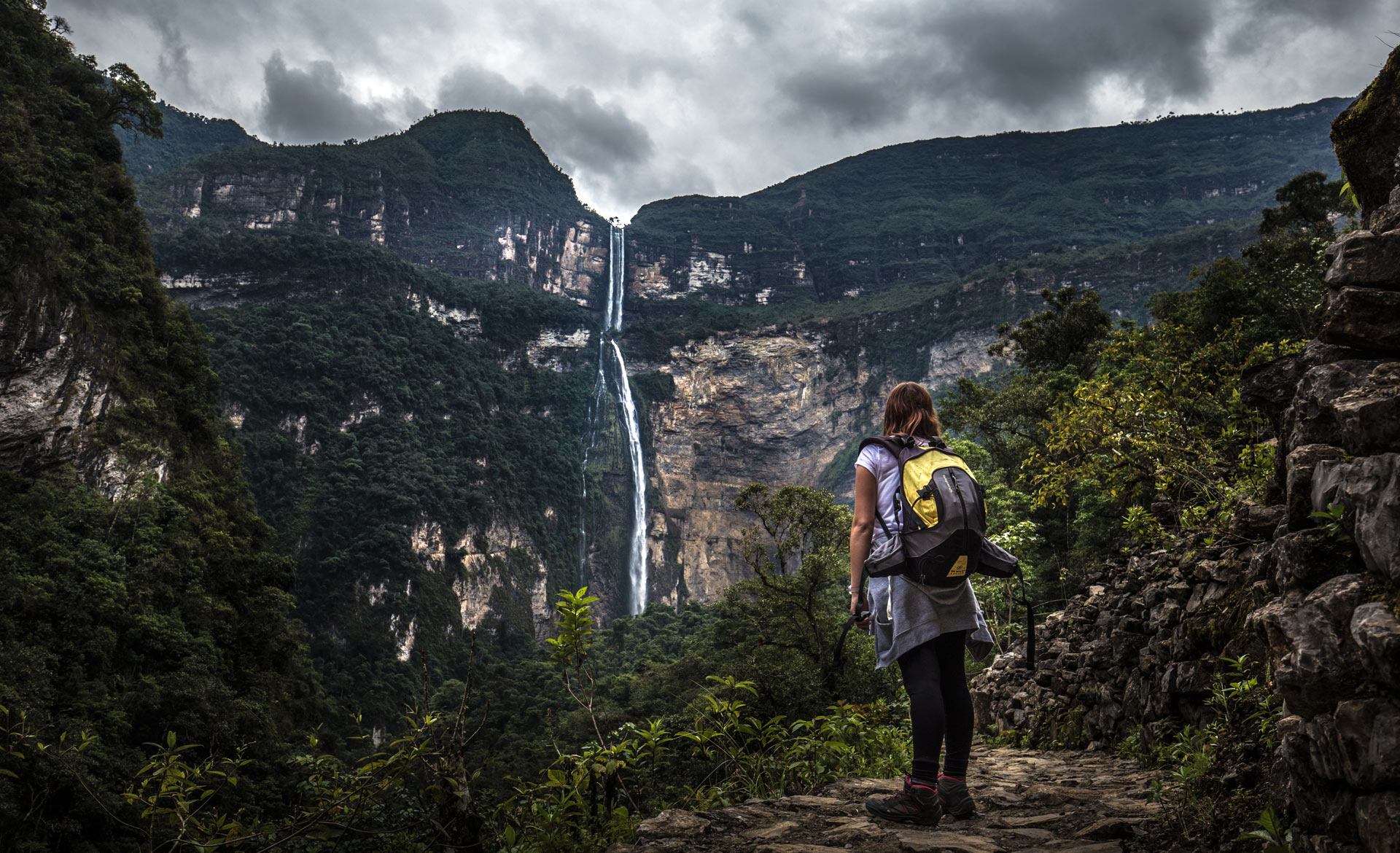 19. Mausoleums of Revash
Revash is a funeral complex located in the region of Chachapoyas and consists of small houses very well preserved, perched on the cliff. There is still a lot of mystery surrounding the site, but we know that thesemausoleums contained several mummies, only people of great importance. For further explanations on Revash, one can also visit the museum of Leymebamba .
To know everything about the site, discover our article on Revash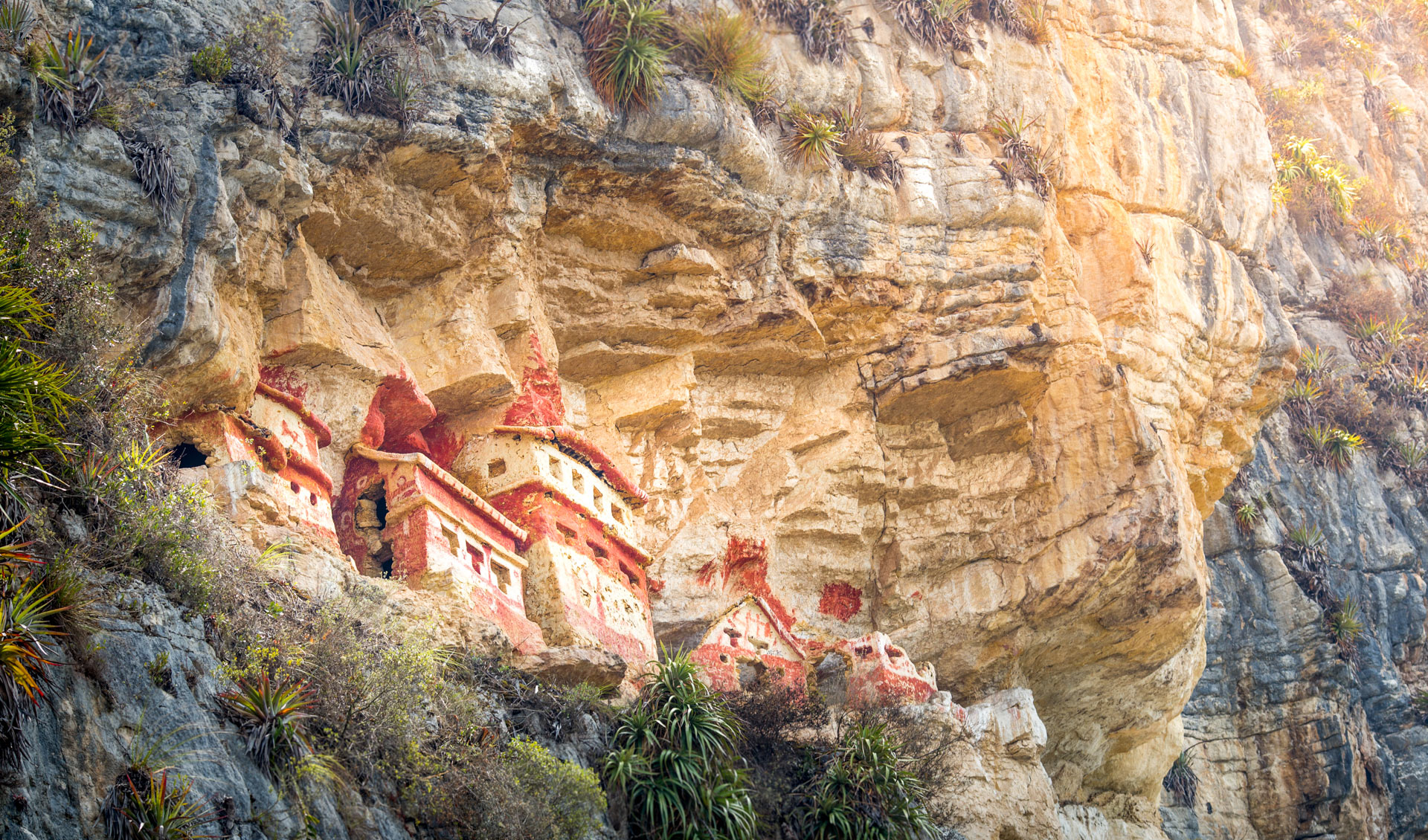 20. Huascaran National Park
With some 25 possible hikes and 102 climbing options, the Huascaran National Park is a paradise for ecotourism and adventure tourism enthusiasts .
Through its 340,000 hectares, this vast park contains the highest tropical mountain chain in the world, of which the Huascaran, the highest mountain in Peru and the 4 th highest in South America !
It also contains 33 archaeological sites, a multitude of lakes and glaciers and it is thanks to its wealth that it has been declared a Biosphere Reserve and Natural Heritage of Humanity.
My advice. Spend a night in Huaraz to give your body time to acclimatize to the altitude, it's very important!
Here are some activities to do and places to see in the Huascaran Park  :
Santa Cruz Trek
Pastoruri Trek
Quebarada Llanganuco (two glacial lagoons)
Laguna 69
Laguna Querococha
Mountain bike
Ski
Climbing (on ice and rock)
Here is our article on Huascaran National Park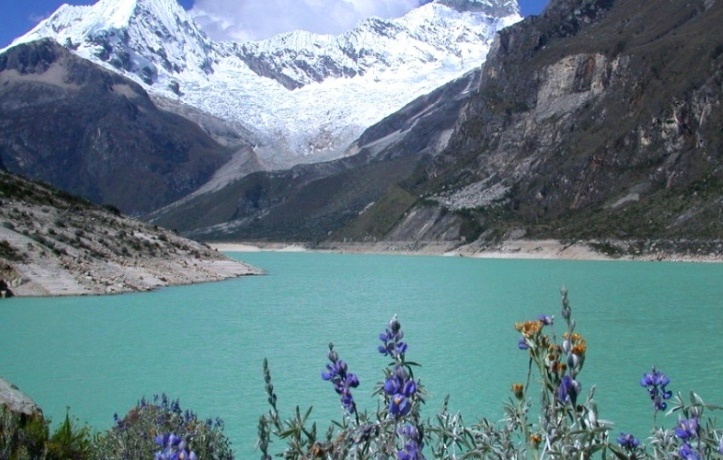 21. Chavin from Huantar
It is an important archaeological site of the Chavin civilization which is now part of the World Heritage list .
It was a great ceremonial and pilgrimage center, as well as a checkpoint of the Pacific trade routes to the Amazon. As many peoples came together from all over the coast, from the Andes and even from the jungle, it became an important place of ideological, cultural and religious exchange !
In addition to its temple, what the site had very special is a spectacular 3km labyrinth designed for the initiation of priests  : a complex set of tunnels and galleries practically without light and with acoustic effects (change of voice, strong echoes, etc.) used by priests to terrorize them. It must be thought that in addition they were under the hallucinogenic effect of San Pedro, enough to go crazy!
How to visit Chavin de Huantar  from Huaraz :
By public transport: it is technically possible but the return is complicated because the distances are long, I do not recommend it
With a tour (from 9:30 am to 8:00 pm): it is the best solution while, in addition to transportation, it includes a guided tour of the site to learn more about the site, the region, and the Chavin culture in general.
22. Caral
Capital of the homonymous civilization, declared World Heritage. Caral is the oldest city in America. Built 5000 years ago, it compares to the great cities of Mesopotamia. Egypt. India and China and yet nobody talks about it!
Huge complex on 40km2, it contains six pyramids, circular squares, amphitheatres, ceremonial rooms, altars, and various adobe complexes.
The best option is probably an organized tour from Lima (1 day), but otherwise here is how to get to Caralby public transport:
Bus to Supe Pueblo (get off at Mercado de Supe)
At 1 corner are the colectivos and taxi that go to the Centro Poblado de Caral
The colectivo leaves you 20 minutes walk from the entrance
The taxi takes you directly to the reception
For the return  : if you take the taxi you can set an hour back with the driver. If you take the colectivo, know that they do not spend after 16h.
If you have two days in front of you, another option more interesting in my opinion is to go to Barranca. enjoy the beach and  spend the night  (there are some small single hotels), then  visit Caral the next morning (tour, taxi or colectivo).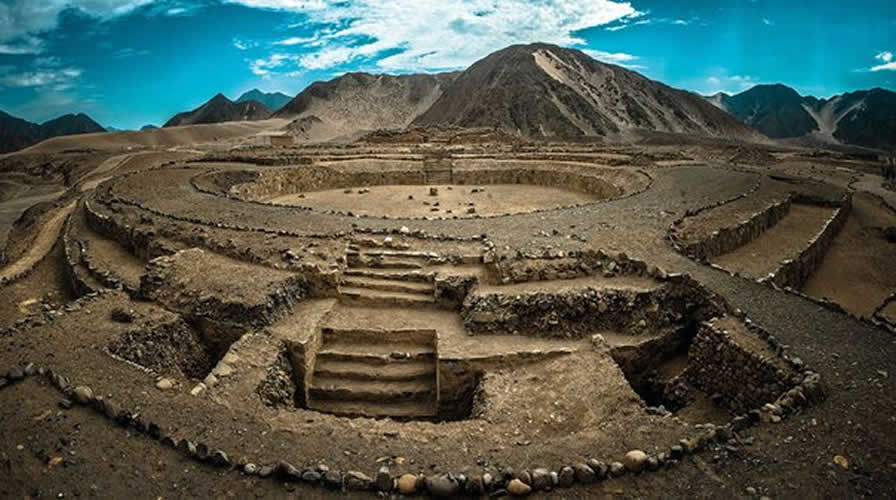 23. Trujillo
A pretty colonial town. Trujillo is considered the cultural capital of Peru, partly because of its numerous remains Mochica and Chimu, but also because it saw the birth of several great intellectuals of the country.
Today it hosts the great Festival of La Marinera, a beautiful dance typical of the coast, during which take place several events including the national competition Marinera .
To see in Trujillo:
Museum of Colonial Religious Art
Casa Urquiaga
Cassinelli Museum
Archeology Museum
Casa Ganoza Chopitea
Casa de los Leones
To see around Trujillo  :
The seaside village of Huanchaco
Huacas del Sol and the Luna
Chan Chan Archaeological Zone
Huaca Esmeralda
Huaca Arco Iris or Huaca del Dragon
El Brujo
Discover also our  guide of Trujillo  not to miss anything of the city and its surroundings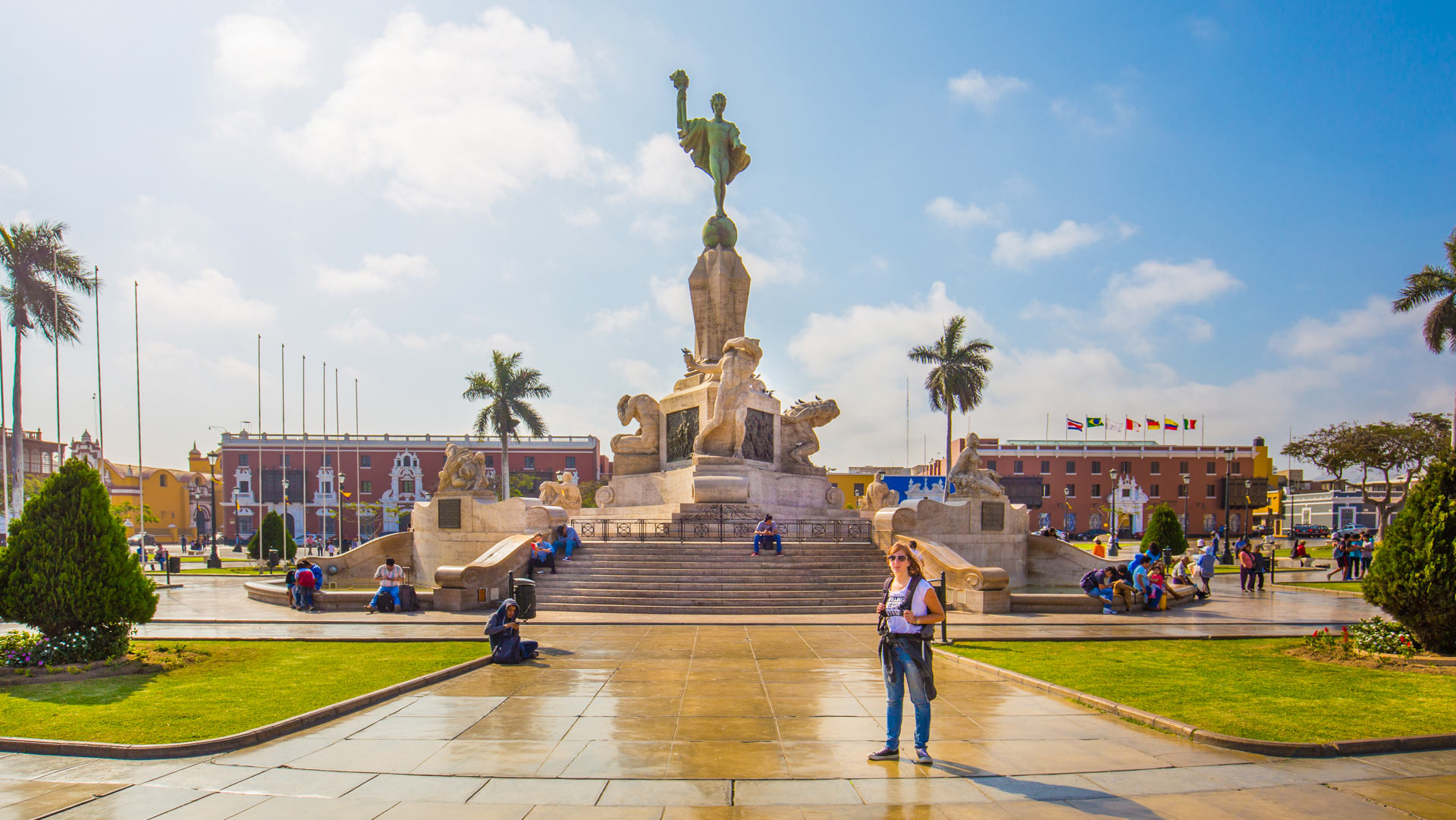 24. Chan Chan
Just a few kilometers from Trujillo is Chan Chan, which is nothing less than the largest precolumbian city in South America. Large adobe complex with magnificent reliefs, composed of 6 different types of structures (temples, palaces and houses), it was the capital of the Chimu empire before its conquest by the Incas. Its importance has earned it a place on the UNESCO World Heritage List. To see in Chan Chan :
The palace Tschudi
The museum presenting artifacts and ceramics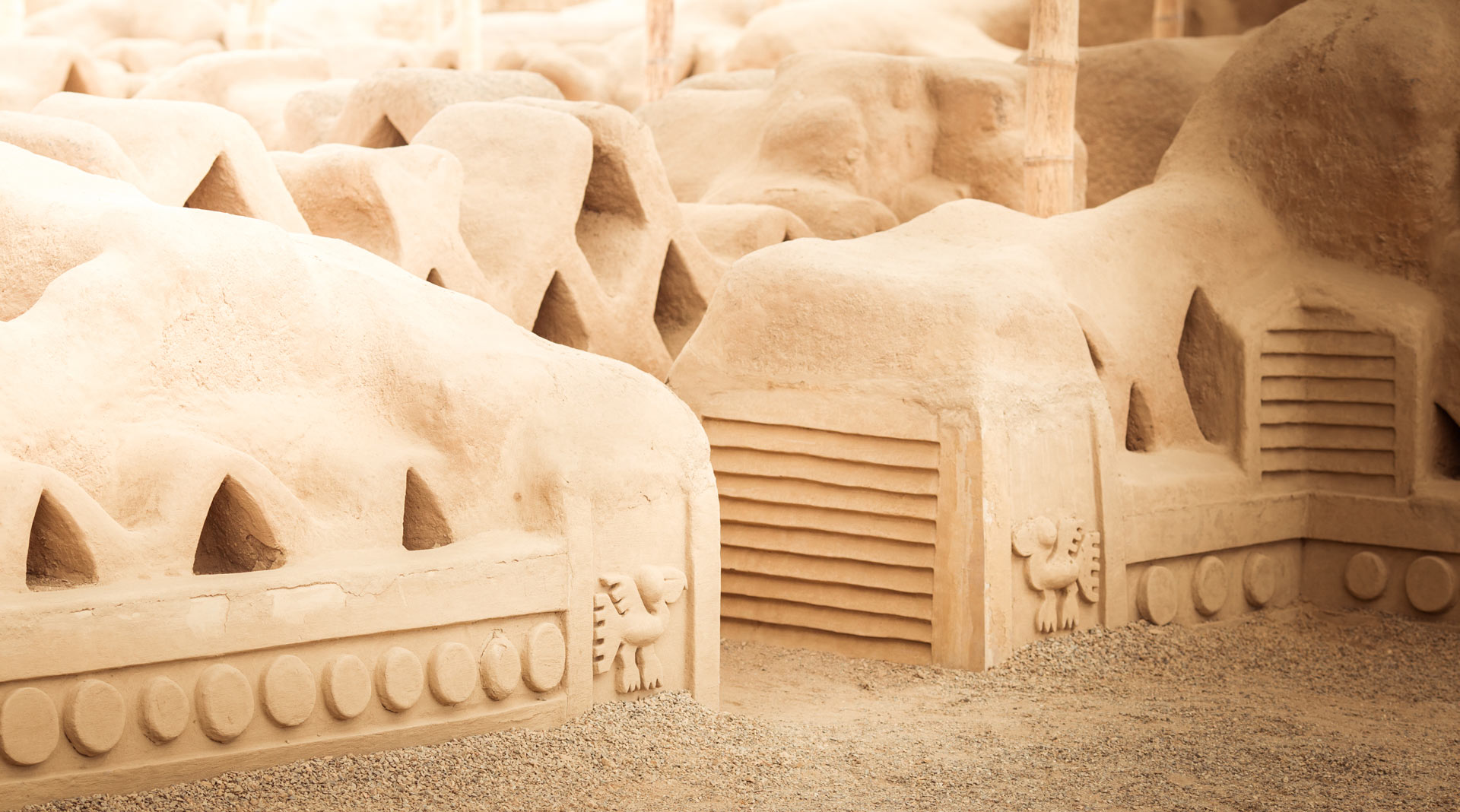 25. Huaca de la Luna
It is actually a mochica complex composed of two temples  : one dedicated to the Sun (Huaca del Sol) ,which is closed to the public , and the other to the Moon (Huaca de la Luna).
The visit of the Temple of the Moon is interesting and rather unique: not only we start at the foot of sacrificial pits where they were found numerous human remains, but we can observe reliefs representing Have Apaec god the " HHHH  ".
The ticket includes the guided tour (mandatory) which is a very good initiative because it allows to understand the scope and importance of the site.
How to get there  :
By bus and colectivo  : first take a bus from Trujillo to Ovalo Grau and then a colectivo (30 min ride) asking those who go to Huaca del Sol
To know how to visit the huacas, discover our article about Chiclayo and its surroundings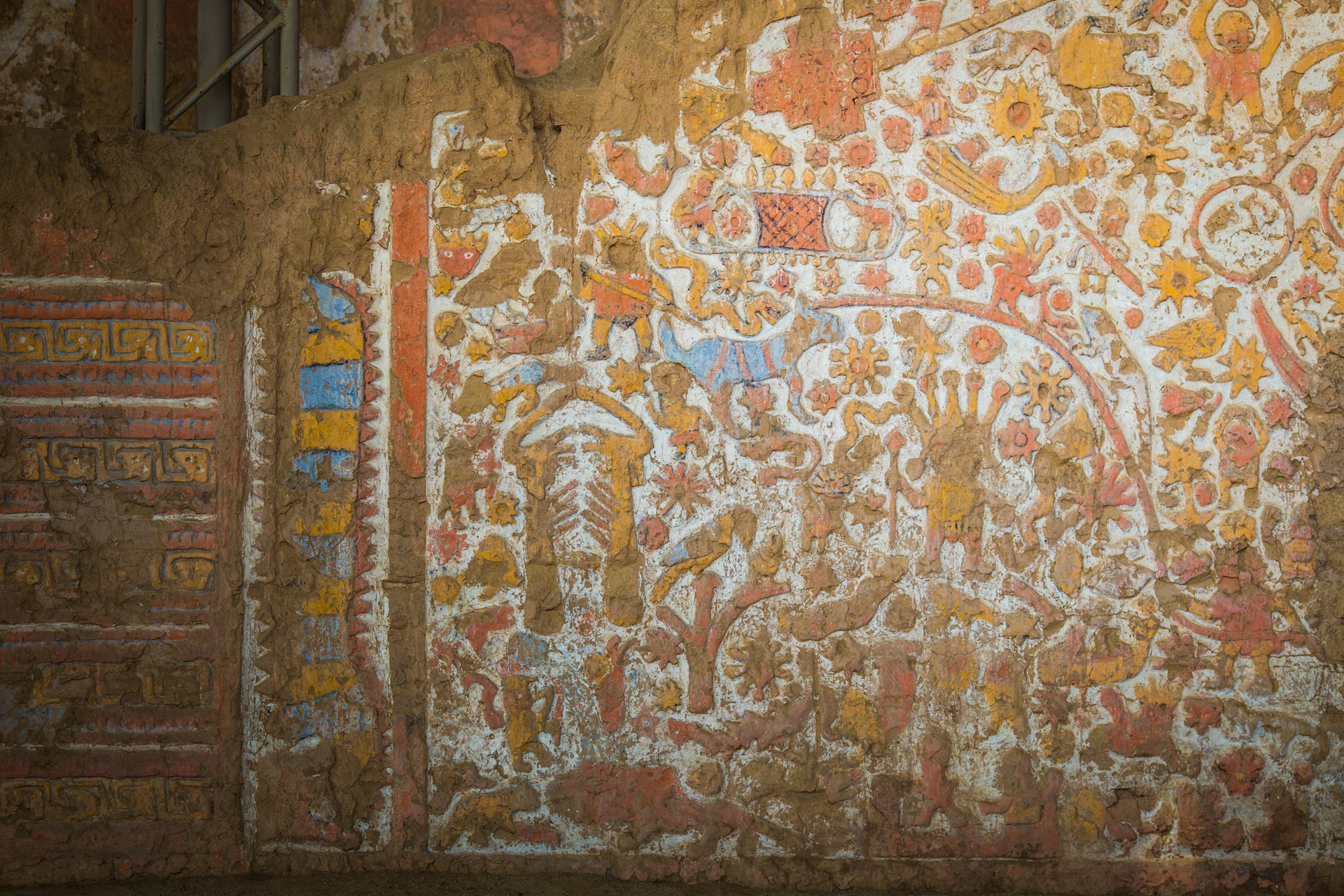 26. The Museum of Royal Tombs of Sipan
The Tumbas Reales Museum, also known as the Lord of Sipan Museum, is, according to some, the most beautiful museum in Peru. It contains an impressive collection of 2,000 objects (gold, silver, copper, ceramics) found in Huaca Rajada, the most important funerary complex of the Mochica culture, which housed the tomb of the 2000-year-old Sipan Lord. How to visit the Tumbas Reales Museum  :
By taxi: 30 minutes from the center of Chiclayo
Tour organized: the best option because the distances are large in the region and it finally returns the same price as a taxi with many more benefits! The minibus picks you up at the hotel and includes the guided tour to Tumbas Reales, but also the Tucume Pyramids and the Sican National Museum.
Check out our article about Chiclayo and its archaeological sites so you do not miss anything during your visit to the region.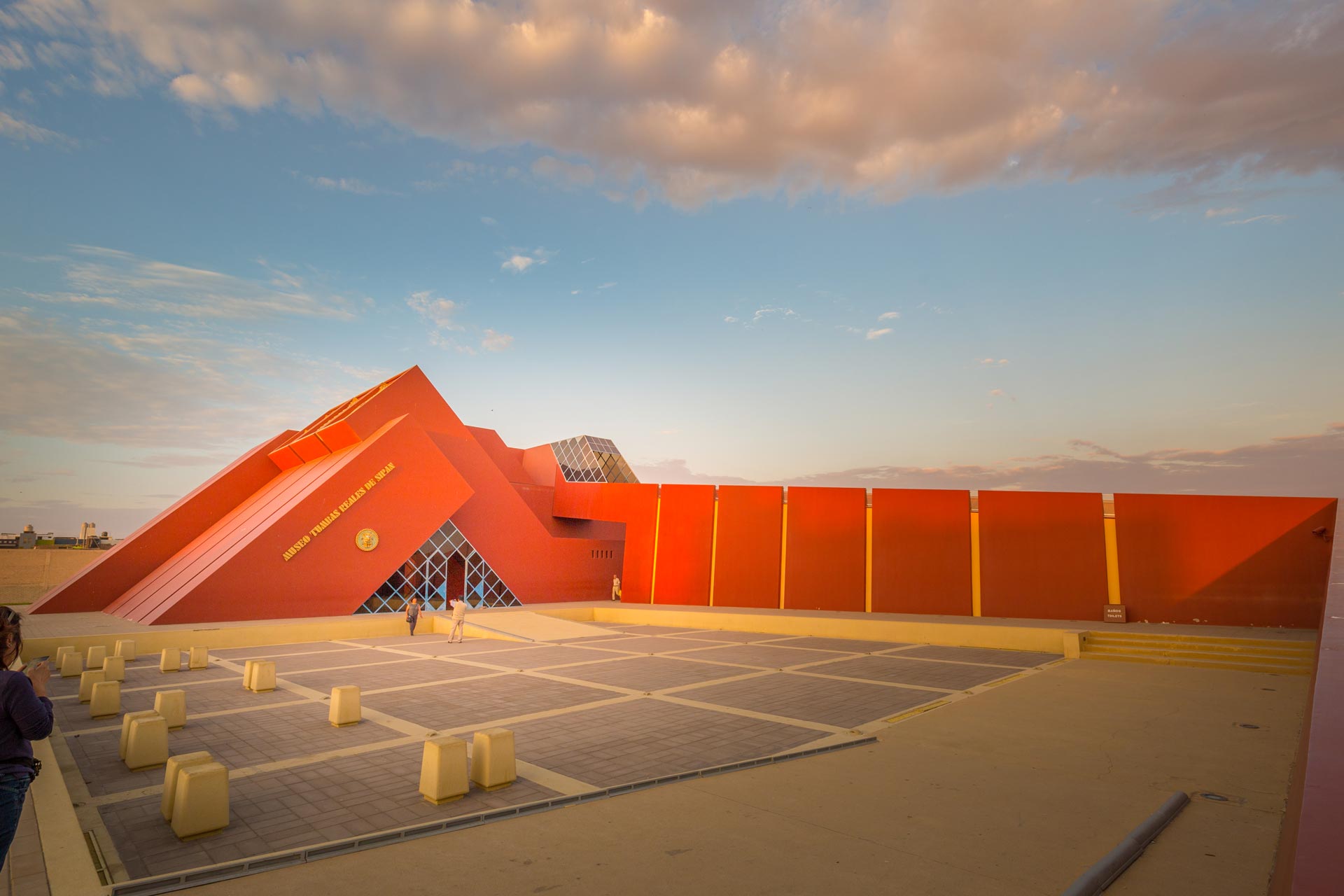 27. Tumbes Manglares
The Manglares National Sanctuary at Tumbes,  on the border of Ecuador, protects the most important mangrove  area (a marsh ecosystem) in Peru. The islets and canals serve as a refuge for many birds, fish, shellfish, in addition to a very particular tree called the Mangle .
The ideal is to stay there two days. You can visit it by canoe or kayak, go hiking, observe birds and flora. In the region you can also see:
Puerto Pizarro
La Isla del Amor, in front of Puerto Pizarro
Caleta de Cruz of Pizarro
The beach of Punta Sal
The beach of Zorritos
28. Ayacucho
Ayacucho is a colonial city known for its cultural, religious and architectural wealth, yet few international travelers go there because there is very little talk outside the country!
It is known for its 33 churches, each of which represents a year of Jesus and hosts the largest celebration of Holy Week in Peru. Attending is a must, but be sure to book your accommodation well in advancebecause everyone wants to attend the celebration, believers and non-believers !
Discover here the famous Holy Week in Ayacucho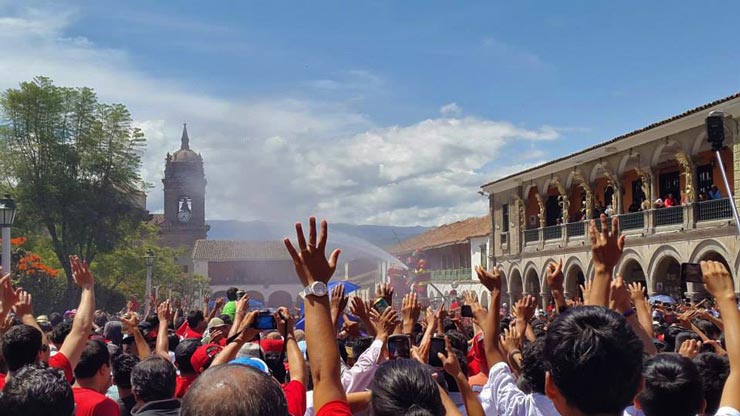 29. Pacaya Samiria Reserve
Located in the region of Iquitos in the Amazon, the Pacaya Samiria Reserve is 2 th largest protected natural area of Peru and definitely the most beautiful places in the country !
It is a destination still not very frequented by tourists because it requires some transfers and ideally 4 to 5 days to enjoy, but the tourism is well organized and accessible while you can go camping or sleep in a ecolodge .
There is an incredible diversity, including the famous Amazon pink dolphins, lazy, monkeys, caimans, giant tortoises, jaguars, snakes and a multitude of exotic birds! It is also an opportunity to visit one of the communities like the Boras who share their traditions.
To know that it is obligatory to go there with a guide, private or in small group, for the sake of preserving the environment.
Here's how to get to Pacaya Samiria from Iquitos:
Step 1: Lima-Iquitos (1h30 by plane)
Step 2: Iquitos-Nauta (2h by bus)
Step 3: Nauta – Pacaya Samiria (2h by boat)
It is also possible to get there from Tarapoto  or  Yurimangas
Discover our article to prepare your stay in Pacaya Samiria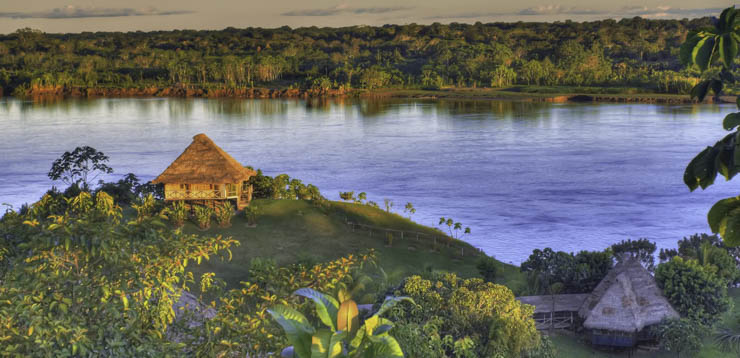 30. Manu National Park 
The Manu Park is another of the treasures of the Peruvian Amazon. Straddling the departments of Madre de Dios and Cusco, it has the advantage of being accessible from the city of Cusco and therefore represents a beautiful extension to a classic route to Peru .
There is a rich biodiversity, well preserved and hidden in the jungle. It is an ideal place for travelers who have a little time and are interested in experiencing a real immersion in the Amazon .
The proposed tours range from 3 to 12 days and usually include day and night hikes. boat tours. bird watching, monkeys and other species of exotic local wildlife. The ideal is to spend at least 5 days because it takes time to get there.
It must be said that there is something to see with 20 000 species of plants, 1200 species of butterflies, 1000 species of birds, 200 species of mammals and 13 species of primates!
Here is how to get to Manu from Cusco  :
Bus or van (9h) Cusco to Paucartambo
Boat (6h) to Boca Manu
To learn more about the park, read the article about the  Manu Park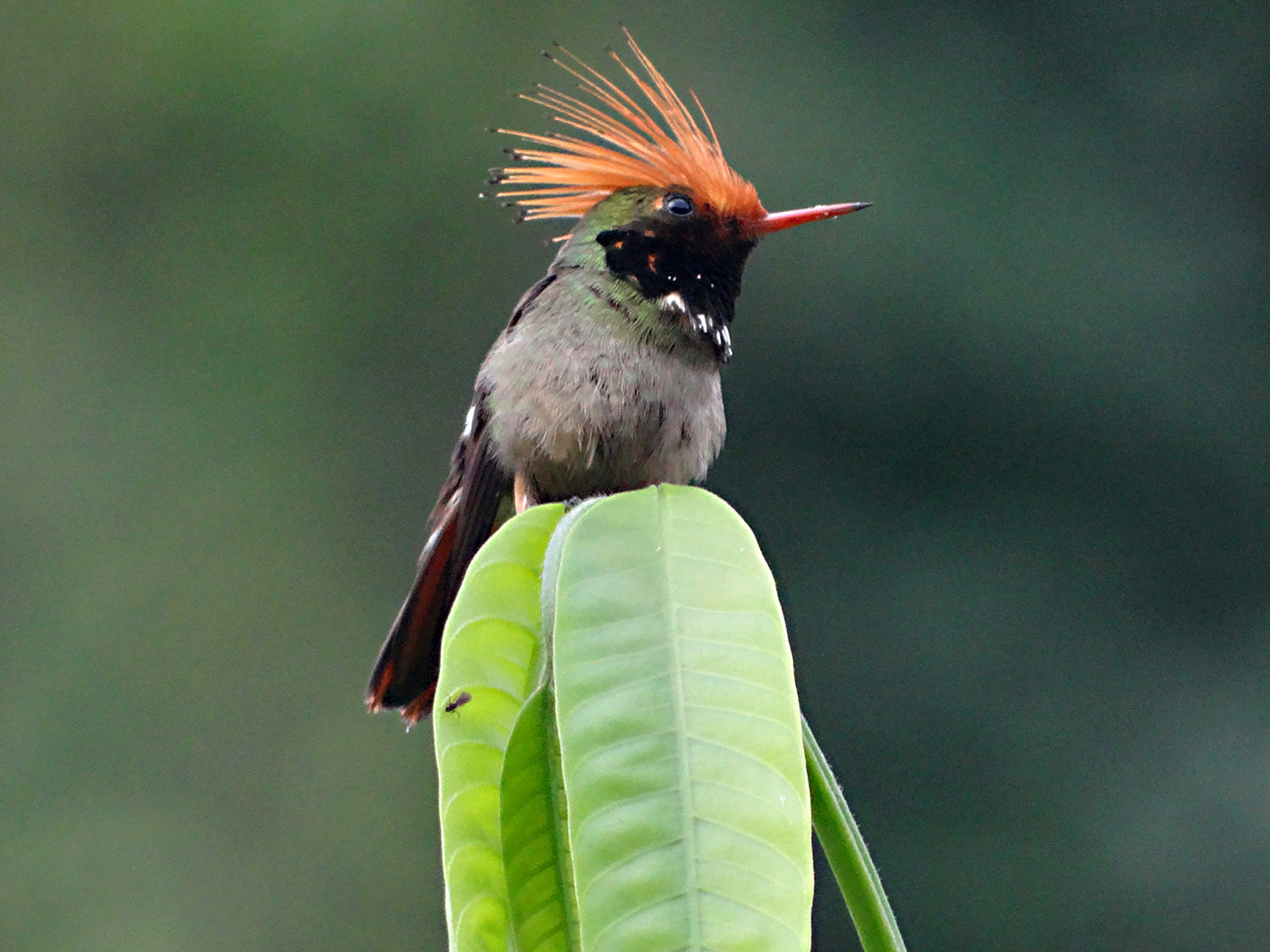 The top 30 to see in Peru: the practical map
Here is a map with all the main attractions, to be able to have a better overall idea and organize your routemore easily in Peru !
Of course, among all the wonders of the country, it was very difficult to establish the Top 30 in Peru  leaving aside some places and regions that are also worth the detour!
What places would you have added to this list?
Header photo: Stephen Bugno