Machu Picchu: general information

A must  see for a circuit in Peru and the greatest symbol of the  Inca civilization, its name means "old mountain" in Quechua. Named one of the new 7 wonders of the world,  the Machu Picchu  is now the No. 1 attraction in Peru and one of the largest archaeological site in South America.
Here is our complete guide, updated in 2018 with all the new practical information, to know how to visit Machu Picchu: choose and buy the tickets, understand the new groups, how to get to Machu Picchu by train, trek or foot, how long to plan on the site, what to see and do on Machu Picchu … and much more!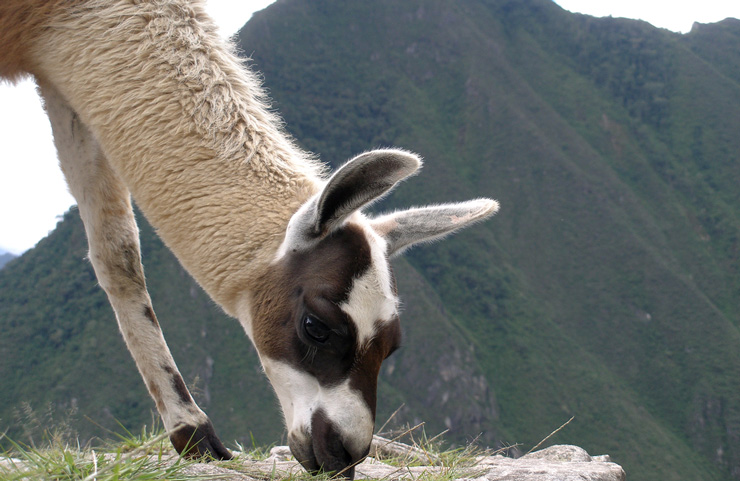 Opening hours of Machu Picchu
Machu Picchu is open every day from 6 am to 5 pm
The last entry is at 16h
The period of greatest affluence is from 10h to 14h
Which ticket to choose?
There are 3 types of tickets for Machu Picchu:
The Machu Picchu
The Machu Picchu Huayna Picchu +
The Machu Picchu Machu Picchu Mountain +
What is Huayna Picchu?
The Huayna Picchu or Wayna Picchu is the mountain we see behind all the classic photos of the site. It rises up to 2700m above sea level and from the top, you get an impressive bird's-eye view of the site. On the way, we go through archaeological sites like the temple of the moon, and farm terraces. As the Wayna Picchu is very popular, you have to book several months in advance.
Is the Huayna Picchu difficult: the climb is quite demanding and constant, with stairs, as well as narrow and steep paths. So yes, you have to be fit to ride it. If you tend to be dizzy, I advise against choosing this option, you may not necessarily have a good time. On the other hand, for a good dose of adrenaline, it is the ideal choice! The round trip is in 1h30-2h.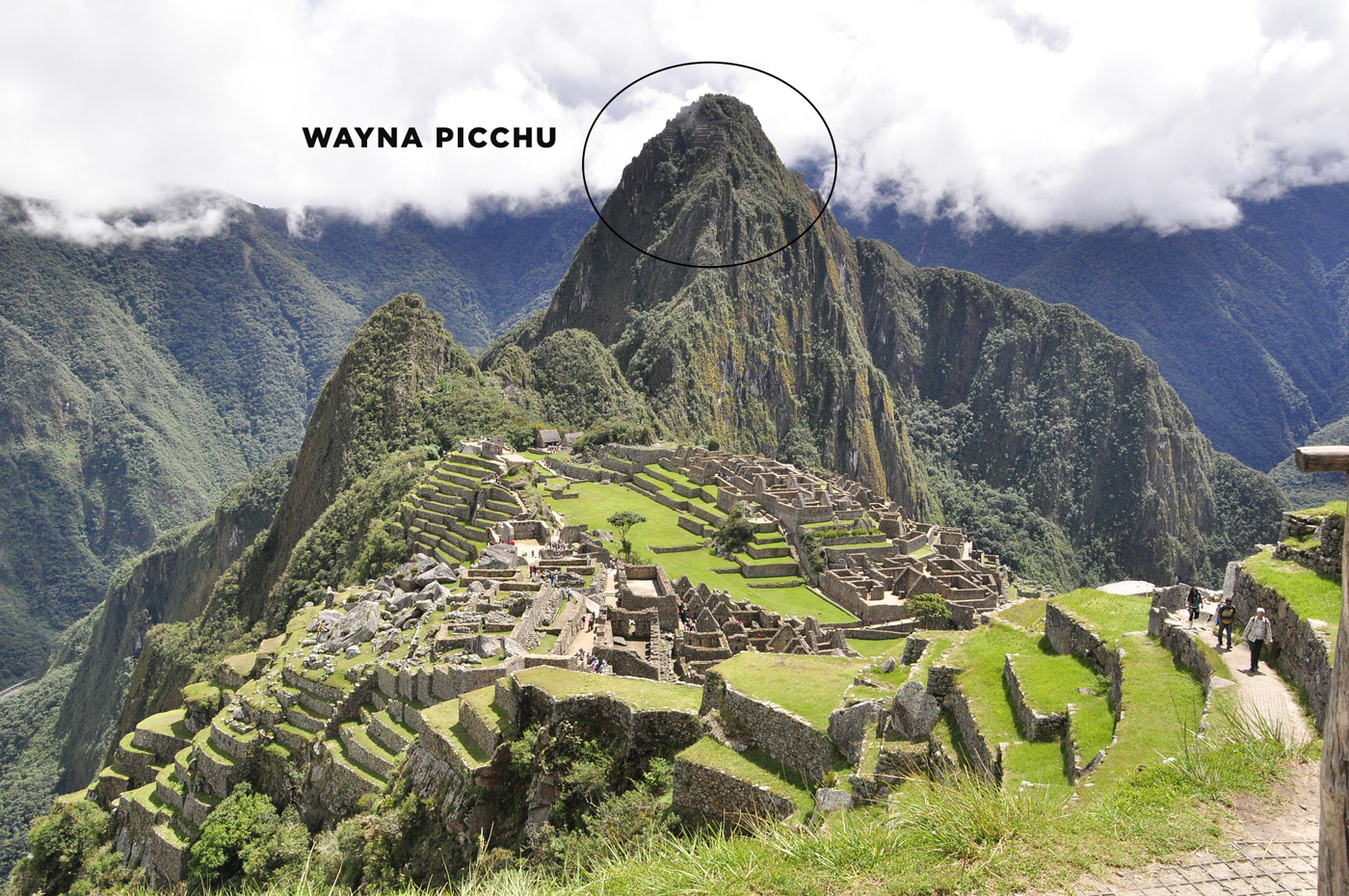 What is Machu Picchu Mountain?
Do not confuse the mountain Machu Picchu and the site Machu Picchu. It is the mountain in front of Wayna Picchu. It is higher than the latter (3082m) and offers another superb point of view on the site and the surroundings. As few people even know its existence, for lack of promotion, it is much less touristy than Wayna Picchu so we can enjoy it more calmly.
Is Machu Picchu Mountain difficult : the route is longer but less demanding than the Wayna Picchu, with more established trails, a less steep climb. It is a better option if you are traveling with children or are afraid of vertigo. Anyway at altitude, we lack of breath, so take your time to climb! The round trip is done in 2h-3h.
What are the groups for Machu Picchu?
Since the new regulation, access to each site (yes, even Machu Picchu) is organized in 2 different groups.
A group does not mean that one enters with the same large organized group, it is a time slot during which the group to which you belong (which you choose at the time of the reservation) has access to the site. For example, if you are part of Group 1 Huayna Picchu (7h-8h) you can ride between 7am and 8am. After 8am, it is impossible to climb, access will be refused, so do not arrive late!
Machu Picchu
Group 1: 6h-12h
Group 2: 12h-17h30
Huayna Picchu
Group 1: 7h-8h
Group 2: 10h-11h
Machu Picchu Mountain
Group 1: 7h-8h
Group 2: 9h-10h
To visit the Wayna Picchu or the Machu Picchu Mountain, you must therefore choose the group 1 of Machu Picchu. 
Where to buy the  tickets to Machu Picchu?
There are two ways to buy the ticket: online or on site (in Cusco or Aguas Calientes ). Attention, it is impossible to buy tickets at the entrance of Machu Picchu.
1. Buy the Machu Picchu ticket online
A short Google search is enough to realize that there are a multitude of sites that offer tickets for Machu Picchu in Peru, but know that there is only one official site Machu Picchu : machupicchu. gob.pe .
It can be complicated to buy tickets from Machu Picchu on the official website. First, because the site accepts only Visa cards, and they themselves are not always validated by the site. Moreover, as the site is rather old, there is also a whole series of bugs that happen from time to time which prevent the purchase on line. Some even do not receive confirmation of their tickets .
If you want to avoid this hassle, there is a slightly more expensive, but very effective and fast alternative, which is to go through GetYourGuide, an intermediary platform that allows you to buy tickets for Machu Picchu .
2 types of tickets are available:
Machu Picchu Ticket + Machu Picchu Mountain
Machu Picchu ticket only, entrance from 13h
How to buy the ticket for Machu Picchu on the website: the steps
One would think that the website of Peru's # 1 tourist attraction would be highly user-friendly, and yet no. I get a lot of questions about the website so to avoid confusion, here is the step by step to buy the Machu Picchu ticket  online:
Step 1: go to the website
The address is http://www.machupicchu.gob.pe/ and it is sometimes long to load, be patient.
There is often a "comunicado" that is displayed with information relevant to tourism stakeholders and / or visitors. Right now, it's a press release on the new regulation. Close the window to access the site by clicking on "cerrar".
The site is available in English, Spanish, Portuguese or Italian (not yet in French), you can make your choice by clicking on the flag at the top right.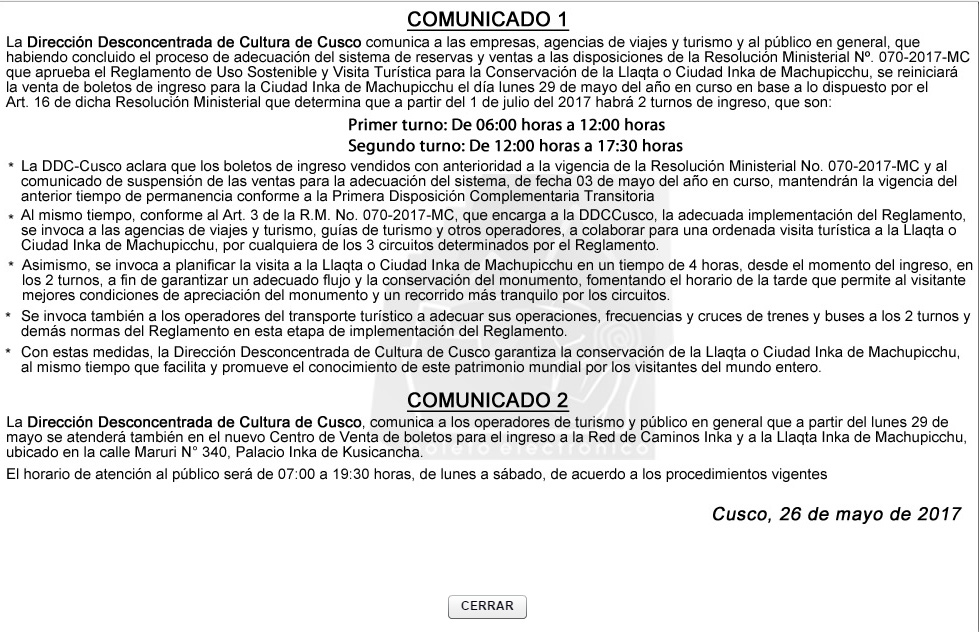 Step 2: choose the right ticket
It is very important to choose the ticket because once purchased, there is no change possible .
-Click on " lugar a Visitar " and Machu Picchu (or Museum Manuel Chavez Ballon, if it's the visit you want)
-Then on " seleccione la ruta ". There are 3 choices, you choose the time that suits you
Machu Picchu (to visit only the citadel)
Machu Picchu + Wayna Picchu G1 (7h-8h) or G2 (10h-11h)
Machu Picchu + Mountain Machu Picchu G1 (7h-8h) or G2 (9h-10h)
But which one to choose? Here are the differences between Huayna Picchu and Machu Picchu Mountain .
Step 3: Choose the date
By clicking on the calendar, a table appears with the square " Disponibilidad " which indicates the remaining places for the chosen date and option. 0 means of course that there is no more room.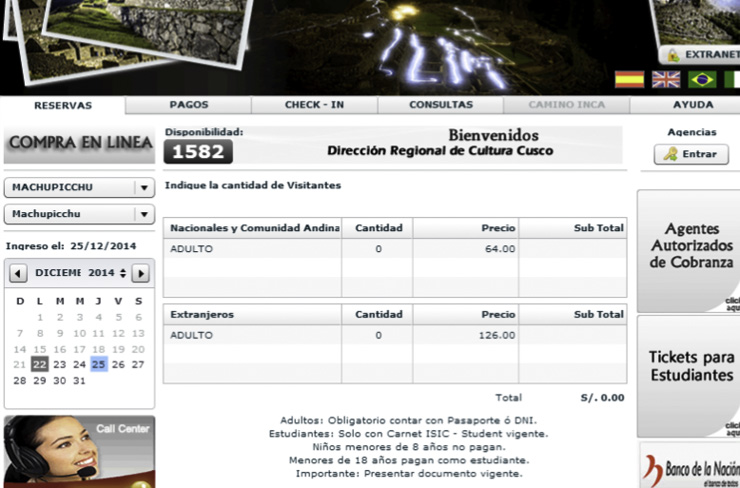 Step 4: Choose the number of tickets
Unless you are part of the Andean Community (Peru, Bolivia , Ecuador , Colombia ), you must indicate the number of desired tickets under "Cantidad" in the section "Extranjeros ". You will see the total amount in nuevo soles .
Reminder: It is only possible to buy tickets at regular price (adult) on the site. For child or student rates, you must buy them on site in Cusco or Aguas Calientes.
Then click on Paso 2 at the bottom.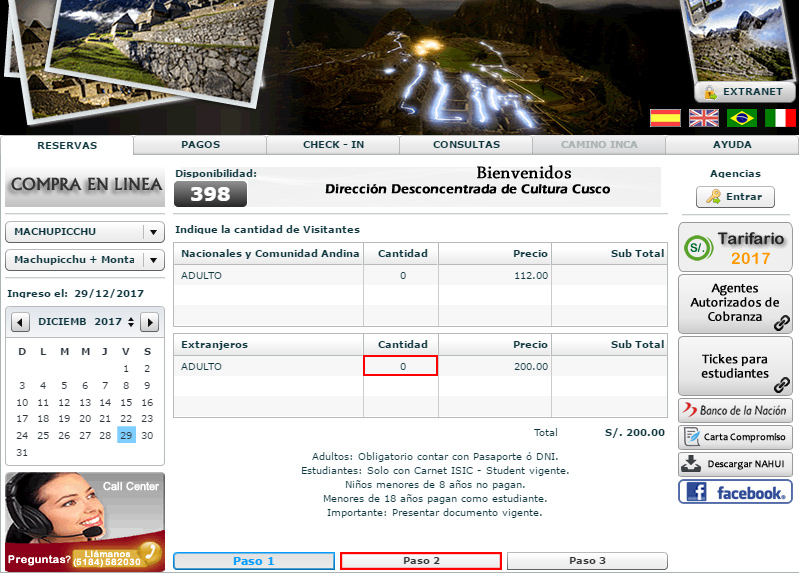 Step 5: Fill in the personal information
This is the moment to fill in the information of the person (s) who will visit Machu Picchu.
Given names and surnames (ie the full name as it appears on the passport)
Country of origin
The age
Genre
The type of document (passport in this case) and its number
Then click on Paso 3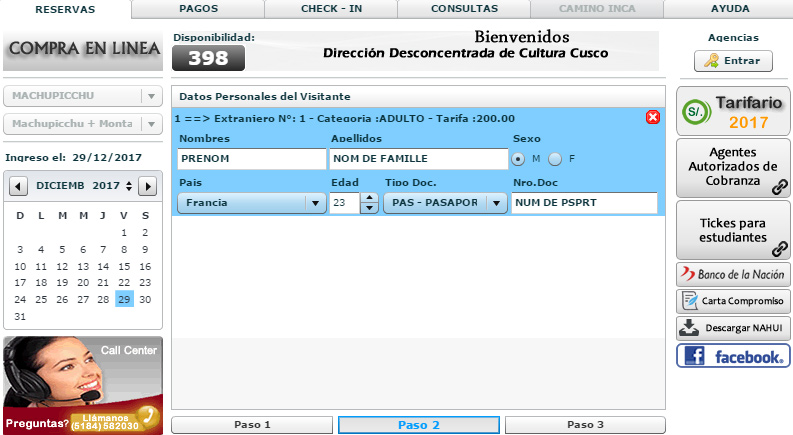 Step 6: Check the information and finalize
At this point, you need to do a final check to make sure you have entered the information, then add an email address, and check both boxes at the bottom (confirmation of information and accept conditions) before clicking Reservar .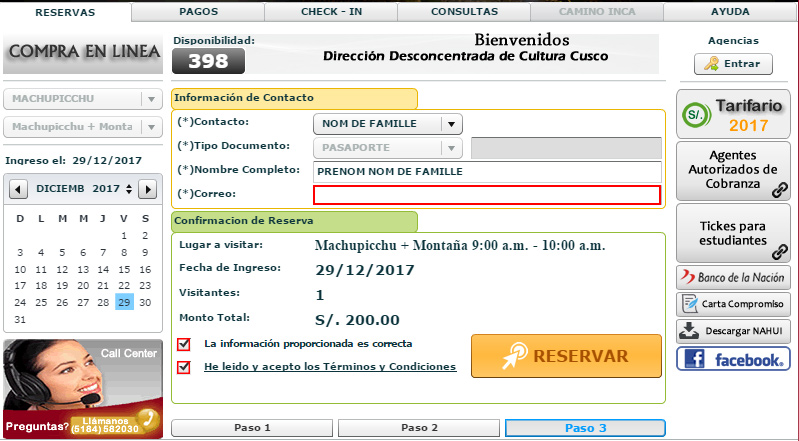 A pop-up window will appear: it is the booking form, it is NOT the ticket for Machu Picchu, since no payment has been made yet.
It is very important, do not close it. There is the reservation code with the details of the reservation made. It is only valid for a period of 3 hours, during which time the payment must be made. After this time, the reservation will no longer be valid.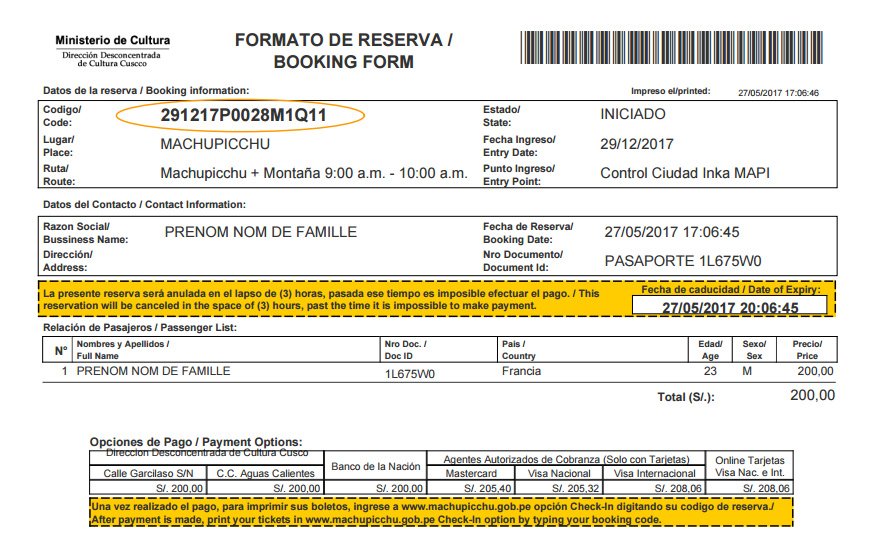 Step 7: Payment
It is usually this step that creates confusion. You have the booking code in hand and up to 3 hours to make the payment.
It is possible to pay online or in person. The ways to pay are indicated on the document in "opciones de pago / payment options".
To pay online you must click on the Pagos tab and enter the booking code. Click on Pagar.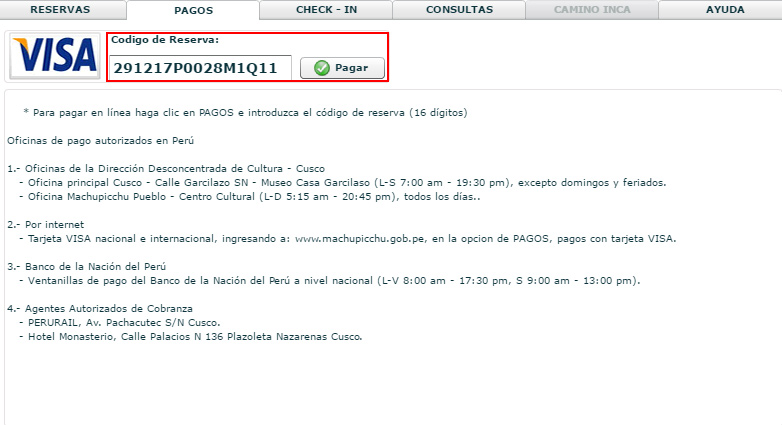 You will be redirected to the payment page to enter the credit card information. Once completed, click on Pagar and you will receive your tickets for Machu Picchu. Print them and keep them in pdf on your computer, it's always a good idea to have a copy!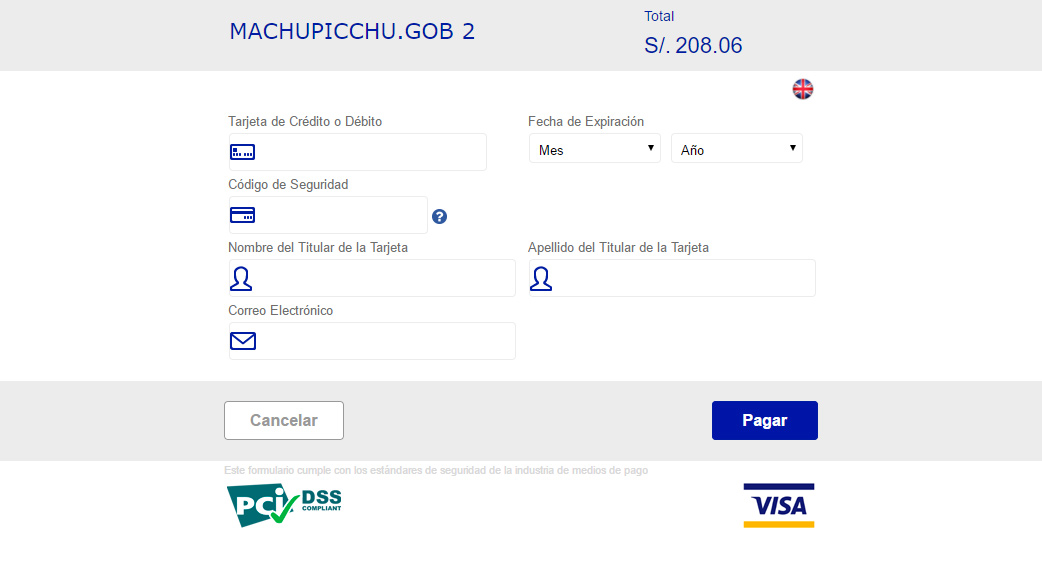 Buy a ticket with a credit card that is not mine
During the online payment, you may receive this notice specifying that the visa card used to make the payment must be presented and that it must correspond to the passport presented otherwise access to the site may be refused.
Do not worry, it's to avoid fraud. It is quite possible to buy a ticket for Machu Picchu for someone else.
Normally, no one asks once on site but as a precaution, I would advise to have a photocopy of the credit card and passport of the cardholder.
Once again: it would be really surprising that it happens.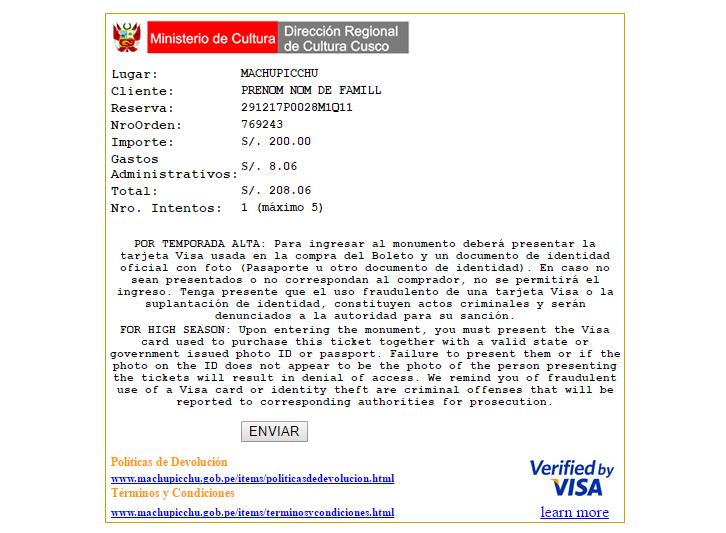 2. Buy Machu Picchu tickets on the spot
Buying tickets on the spot is the only way to take advantage of reduced prices (students with the ISIC card, or children)
In Cusco (with credit card or cash):  Palacio Inka of Kusicancha, Calle Maruri 340, 7h-19h30 Mon-Sat; Casa Garcilaso (in front of Plaza Regocijo), Mon-Sat 7 am-7.30pm
In Cusco (with credit card): at Inca Rail and Peru Rail (only for those who bought the train ticket with them, see addresses in point 3) or at the office of the AATC Association of Tourism Agencies, Calle Nueva Baja, 424, Mon-Fri 9h-13h, 16h-19h, Sat 9h-13h.
In Aguas Calientes (cash only): Centro Cultural Avenida Pachacutec, cuadra 1, Mon-Sun 5: 20-20: 45
What is the price of Machu Picchu?
Here are the rates (updated in 2017) for international travelers:
For adults
Machu Picchu  : 152 soles
Machu Picchu + Wayna Picchu Group 1 (7 am-8am): 200 soles
Machu Picchu + Wayna Picchu Group 2 (10 am-11 am): 200 soles
Machu Picchu + Mountain Machu Picchu Group 1 (7 am-8am): 200 soles
Machu Picchu + Mountain Machu Picchu Group 2 (9 am-10am): 200 soles
For kids
Entrance to Machu Picchu is free for children under 8 years old. Young people between the ages of 8 and 17 pay as students.
For students
The student rate offers a 50% discount. 
You can not buy the student ticket online, you must be in person at one of the purchasing offices with the ISIC card  (and be 25 years old or younger).
The discount is only valid with the ISIC card, it will not be accepted simply if you are a foreign student showing your university card.
Update : It was announced in January 2017 that the ISIC card will no longer be valid proof to take advantage of the student discount at Machu Picchu. It will now be necessary to have a student visa (issued by the embassy / consulate of Peru of your country or Migraciones ). But in practice, ISIC is still valid at the moment (at least seven 2017).
Should I buy tickets for Machu Picchu in advance?
It depends on the date and type of ticket
Only for Machu Picchu : the places for Machu Picchu are limited to 5000 / day (2500 per group) and sincerely, even in high season, it is rather exceptional that the quotas fill up completely. So it is possible to buy them at the last minute without problem.
Machu Picchu and Huayna Picchu : it's a different story. In addition to having much more limited quotas (200 seats per group, 2 groups per day), it is a very popular mountain and places fly off fast, either in high or low season. Better to book several months in advance, otherwise you may end up without a ticket.
Machu Picchu and Machu Picchu mountain : it's already less complicated than with the Huayna Picchu, first because there are double the available places (400 places per group, 2 groups per day), and still few people know his existence.
Is the guide mandatory?
An official document  announced that  from 1 st July 2017, it would be mandatory to visit Machu Picchu with a guide,  follow its route and even dating him (apart from Wayna Picchu, the mountain Machu Picchu, the Inti Punku (The Sun Gate) and Puente Inka).
Concretely, this measure has not yet been put in place  and it is possible to visit Machu Picchu freely .
Will it be mandatory in the future? Maybe because the government has not officially reversed its decision.
How to get to Machu Picchu?
It can be reached on foot (with local transport), by trek or by train. In any case you must first arrive in Cusco, then go to Aguas Calientes, the village at the foot of the citadel, also called Machu Picchu Pueblo. Check out our complete guide to Aguas Calientes not to miss anything!
1. Walking to Machu Picchu
This is the least tourist option, also the least expensive and generally chosen by the backpackers .
Here is a summary of the journey that combines bus and walking, from Cusco to Aguas Calientes via Hydroelectrica.
Way to go
Cusco – Santa Maria (5h by colectivo from the terminal Santiago 15 soles or by bus 30 soles)
Santa Maria-Santa Teresa (2h-colectivo 6 soles or 10 soles for shared taxi)
Taxi Santa Teresa-Hydroelectrica (20 min-6 soles)
Hydroelectrica-Aguas Calientes (10 km): it is possible to take the train for 50 soles, or to walk to Aguas Calientes (about 2h-2h30) following the railroad tracks. Really, walking is worth it while the scenery is really pretty and the path is easy, with a simple climb at the beginning. It's not like trekking at all.
To know also
The total journey is long (about 8h-10) from Cusco, so if you see the night arrive, do not hesitate to spend the night in Santa Teresa to resume the way the next day. It's safer.
There are also buses (or private vans) that make the journey Cusco-Hydroelectrica directly
Another option would be to go first to Ollantaytambo and take a transport to Hydroelectrica
2. Take a trek to Machu Picchu
Inca Trail or Inca Trail Trek : This is the most famous trek in Peru. Logically, it is therefore the most touristy and the most expensive. This is the only one that is subject to quotas (500 people per day including guides and porters). It is found in 4 days and 3 nights with camping, or in a short version of 2 days and 1 night hotel in Aguas Calientes. Its great advantage? It is the only trek that can reach Machu Picchu directly in the morning (without descending to Aguas Calientes), through the Inti Punku. That, it must be admitted, is a solid argument!
         To know : it is closed all the month of February. Also, plan several months in advance to book it!
Salkantay Trek : Among the "alternative" treks to the Inca Trail, it is undoubtedly the best known of all. It is still much less crowded than the Inca Trail. It has been named by National Geographic as one of the best treks in the world, and frankly it deserves it! There are several different routes depending on the agency that organizes it, but it usually runs around 5 days 4 nights. It is a hike through the Cordillera de Vilcanota, passing through some archaeological sites and witnessing an impressive biodiversity, going to high altitude to go down to the rainforest, between waterfalls and orchids. Two worlds, a trek.
Trek of Lares : it is a less known trek, little frequented, and which is more focused on the meeting of local communities, without archaeological sites, with of course very beautiful landscapes. Another important difference is that the walk is shorter, whereas on the third day it ends just before Ollantaytambo. The journey is then  with transportation to Aguas Calientes to spend the night before visiting Machu Picchu. It can be an interesting compromise for those who do not want to trek as long as the Salkantay or even the Inca Trail.
Huchuy Qosqo Trek : Huchuy Qosqo is the most important Inca site in the Sacred Valley after Ollantaytambo and Pisac. It is only possible to reach it on foot or on horseback (there is no road) and it is undoubtedly what contributed to its preservation. The advantage of the trek is its accessibility : it is considered as the easiest trek to Machu Picchu, with only 1 day walking (12km) visiting Huchuy Qosqo, before spending the night in Aguas Calientes, to visit Machu Picchu Picchu the next day. But there are also other versions of the trek, up to 4 days with camping and other sites on the way. Check the visits included with the agency on this trek!
Inca Jungle Trail : it's an adrenaline- fueled trekbut considered easy because instead of following the route only for hiking, it combines several activities (mountain biking downhill, zip line crossing, rafting), in addition to using the transport for some sections and to have the nights in hostel and not in camping. This is an interesting option for those who want to live a different experience! To learn more and book the Jungle Trail, go here
3. Travel to Machu Picchu by train
There are 2 companies that make the trip: Peru Rail and Inca Rail .
Peru Rail: there are 2 trips Poroy * – Aguas Calientes (between 80 and 403 $ USD one way, duration 3h) and Ollantaytambo-Aguas Calientes (between 60 and 83 $ USD one way, duration 1h30). Categories: Expedition , Vistadome or Belmond Hiram Bingham Deluxe
* From January 2nd to April 30th, the Poroy resort is closed: the first bus ride from Wanchaq (Cusco) to Ollantaytambo and then to Aguas Calientes. 
Buy the ticket with Peru Rail:
Cusco : Avenida Pachacutec (Wanchaq Station) Mon-Fri 7 am-5pm, Sat-Sun 7 am-12pm; Portal de Carnes, 214 (Place d'Armes) Mon-Sun 7 am-10pm; Plazoleta Regocijo, 202, Mon-Sun 7 am-10 pm
Ollantaytambo : Avenida Ferrocarril (station) Mon-Sun 4 am-9pm
Aguas Calientes : (station) Mon-Sun 6 am-9.30pm
Inca Rail:  Ollantaytambo-Aguas Calientes (between $ 50 and $ 60 USD one way, duration 1h30). Train categories: Machu Picchu Train and Inca Train
Buy the ticket with Inca Rail:
Cusco : Portal of Panes, 105 (Plaza de Armas), Mon-Fri 9h-21h, Sat 9h-19h, Sun and Bank Holidays 9h-14h
Ollantaytambo : Avenida Ferrocarril (station), Mon-Sun 6h-8h, 9h45-12h45 and 14h45-17h
Aguas Calientes : (station) Mon-Sun 7h-9h30, 12h30-14h30, 15h45-19h15
It is important to arrive  at the station 30 minutes before departure with 2 copies of electronic tickets (e-tickets), one for check-in and the other for boarding the train … and do not forget the passport !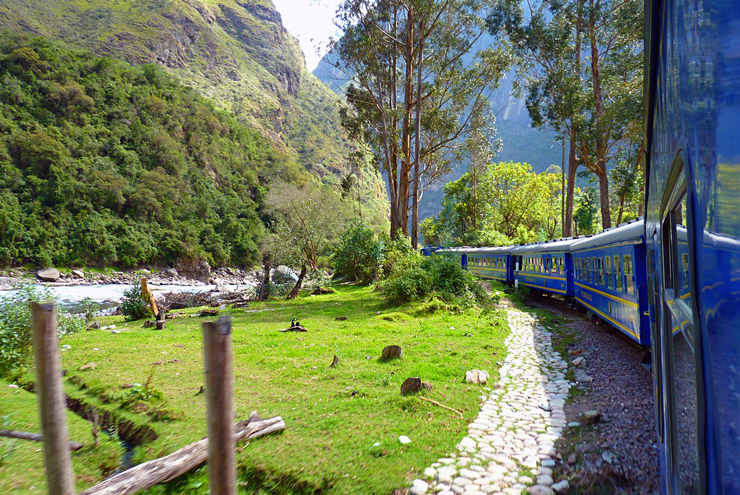 Traveling to Machu Picchu from Aguas Calientes
Once in Aguas Calientes, you can go to Machu Picchu on foot or by bus .
On foot : the climb (1h) is quite steep which if you want to save a ticket, you can instead choose the bus ride and the descent on foot. Tip of friend: if you plan to climb also Huayna Picchu or Machu Picchu mountain, better save yourself by taking the bus, question not to arrive already exhausted at the entrance of the site!
By bus: the bus ride takes 20 minutes. The view is beautiful, you can see the huge green valley and the Vilcanota River. Aguas Calientes is small, the resort is easy to find (Avenida Hermanos Ayar).
Bus schedules
The site of Machu Picchu opens at 6 am and the first bus leaves at 5:30 am. If you want to avoid the crowds, go there very early! At 5:15 am there is already a queue.
The last climb bus is at 15:30. For the return, the last bus leaves Machu Picchu at 17:30. If you miss it it will be a minimum of 1 hour on foot!
There is a departure every 10 minutes.
Bus ticket to Machu Picchu
Adults (international travelers) Round trip : $ 12 USD, Round trip: $ 24 USD
Children (international travelers) Roundtrip  : $ 7 USD, Roundtrip: $ 12 USD
Free for children under 5 (up to 4 years and 11 months)
Where to buy  bus tickets 
To avoid waiting the same day, you can buy your ticket in advance, online *, or in person at Aguas Calientes or Cusco.
Aguas Calientes Ticket Office:  Avenida Hermanos Ayar S / N, 5h – 21h30
Cusco ticketing: Avenida Infancia 433 (Wanchaq), Mon-Sat 8h-12h45 and 15h-18h, Sunday and Bank holidays 8h00-12h45. Or Avenida el Sol, 380 (Interbank) Mon-Fri 9h-13h and 14h-18h, Sat 9h-13h
* expect to show the credit card and ID used to make the booking.
How long do you expect in Machu Picchu?
With the new regulations, it is possible to visit Machu Picchu either from 6am to noon or from noon to 5.30pm, depending on the time group you have chosen at the time of booking. Of course, everything depends on the interest and pace of each, but normally in 6 hours, it is quite possible to have a good idea of ​​the whole site.
Visit Machu Picchu in one day 
From Cusco (only from May to December)
Going back to Machu Picchu the same day is not ideal, but it's feasible!
One way : to maximize your time, you must take the train, and think about buying tickets in advance, in Cusco (3 addresses: Wanchaq Station, Portal de Carnes, 214, Plaza de Armas , Plazoleta Regocijo, 202 ) or online .
You should know that because of the schedule of trains Cusco-Aguas Calientes (6:40 -9:54, 7:35 -10:52, 8:25 – 12:11), in one day it is impossible to be part of Group 1 Machu Picchu (6am to noon ). Unless of course to arrive in the middle of the time slot, but you will have much less time, to you to see.
It is from the station of Poroy (20 minutes from Cusco) that must be boarded. A bus will cost you 6 soles per person, a taxi 20-30 soles per car. Beware, it is only from May to December that the train operates from Cusco (Poroy), the rest of the year (January to April) it leaves only Ollantaytambo.
Once in Aguas Calientes, take the bus to Machu Picchu (25 min), avoid walking because the path takes about 2 hours.
The return  : the last train to Cusco leaves at 17:23 (15h20-19h05, 16h43-20h23, 17h23-20h52) and make sure to be at the station at least 20-30 min in advance! The bus descents from Machu Picchu pass every 10 min. Be careful if you miss the train, you will have to sleep in Aguas Calientes.
From Ollantaytambo (all year round)
Sleeping the day before at Ollantaytambo is a good idea, first of all because the village is very pretty and worth visiting, then because the journey to reach Aguas Calientes is shorter than from Cusco .
One way  : There are two companies that operate the Peru Rail and Inca Rail route. You can buy your ticket with Inca Rail online  or in person at Cusco (Portal de Panes, 105, Plaza de Armas) or Ollantaytambo (Avenida Ferrocarril). Same for Peru Rail (see above).
The first train to Aguas Calientes from Ollantaytambo is Peru Rail 5h05-6h35. Admittedly, it does not arrive at the beginning of the entry of group 1 of Machu Picchu (6h-noon) but it is the best opportunity to enter the site in the morning without having lost too much time.
Otherwise, there are some trains arriving in time for Group 2 of Machu Picchu ( Ex: Peru Rail 9: 15-10: 52). If you arrive in advance, you can take the opportunity to visit Aguas Calientes.
The return  : unlike the train to Cusco, there are many trains back to Ollantaytambo after the exit of group 2 of Machu Picchu, whether with Inca Rail (19: 00-20: 32, 20: 20-21: 59, 21: 30-22: 54) and Peru Rail (18h10-19h51, 18h20-20h05, 20h50-22h20, 21h50-23h35). No need to run!
Visit Machu Picchu in 2 days
To give yourself 2 days to visit Machu Picchu is the best option. Attention, I'm not talking about the site itself (the ticket is only valid for half a day anyway), but the logistics to get there. You can either sleep in Aguas Calientes or Ollantaytambo then visit the next day Machu Picchu, either in the morning or in the afternoon.
Sleep in Aguas Calientes
As it is the village at the foot of Machu Picchu, it is the ideal place for those who want to arrive in the early morning on Machu Picchu and therefore be part of Machu Picchu Group 1 (the mandatory option if you do Wayna Picchu or Machu Picchu Mountain).
But be aware that it is the most tourist village of Peru, which has its charm with some attractions, but which does not necessarily offer good value for money whether it is in terms of accommodation or restaurants. It must be seen as a strategic stop.
Sleep in Ollantaytambo
It is a pretty village which has preserved its Inca structure. Beyond the narrow streets, the square, cafes and the atmosphere in general, there are several attractions, some free and not tourist! Here's all you need to know about Ollantaytambo, my favorite of the Sacred Valley.
The problem is that since Ollantaytambo, the first train arrives at Aguas Calientes at 6:35, so if you're in group 1, it's not ideal. And even less for those who have the option Wayna Picchu or Machu Picchu Mountain. For those in Group 2 in the afternoon, no problem!
Where to sleep in Machu Picchu?
First we must know that we can not really sleep on the site of Machu Picchu, but rather in Aguas Calientes which is the nearest village to the citadel. There are a lot of hotels in Aguas Calientes, but since it's a must-do, it's not so easy to find good value for money. Here are some that are worth a look, for all budgets:
Hostels / Hostels: cheap deals
Aguas Calientes is a passing city, from where you usually leave very early in the morning to visit Machu Picchu , so many travelers are just looking for a bed to sleep in.
For a small budget, expect of course a basic comfort, not always hot water (by the way, ask them the question before and if they promised you: especially, insist!), And breakfast consisting of bread and butter, when included.
Casa Machu Picchu Hostel : The hotels are generally not very nice in Aguas Calientes and this one defends itself very well, especially for the price! Large bright common area with table football and billiards, river view, hot water and good wifi, friendly staff. A safe value. Only 7 euros in dormitory!
Casa Paz Hostel : This is a very simple hostel, but clean, and close to the train station. Wifi available, access to the kitchen and terrace overlooking  Aguas Calientes. Breakfast is served from 4.30am to have time to be in  Machu Picchu  among the first, convenient! From  8 €  in  dormitory .
Hotel Falcon : a simple but comfortable hostel with new mattresses, spacious rooms, hot water at all times and a very friendly and welcoming manager. From € 7 or dormitory or € 15 for a room. 
Camping: It is also possible to go camping in Aguas Calientes . Indeed there is a municipal campsite with toilets, showers (cold) and even kitchen space. It is located 15-20 minutes from the center of Aguas Calientes , next to the Mariposario. For 15 soles / night per tent, you have peace, far from the tourist chaos, surrounded by beautiful green mountains. However, it is not recommended during the rainy season (especially January-February). PS: remember to bring your toilet paper and food before arriving at the camp because otherwise it will return to Aguas Calientes to buy.
2 * Hotels – 3 * $$ – $$$
For a little more comfort, here are my suggestions for hotels in Aguas Calientes, simple, but clean and friendly:
Adelas Hostal : the hostel is located right in front of the train (do not panic, no train passes from 20h to 6h30). The thermal waters of Aguas Calientes are just a 10-minute walk away. Some rooms have river views and a continental breakfast is served daily. There is a restaurant with local and international dishes. From 40 euros per night.
Panorama B & B : yet only a few steps from the market, train station and bus to Machu Picchu, Panorama B & B is located in a quiet corner of Aguas Calientes. It offers panoramic views of the river and mountains. It is not a luxury hotel, but it is comfortable and the welcome is friendly. The owner Christophe is always happy to give information on Machu Picchu and the surroundings. From 71 euros per night.
Hotel Boutique Ferré Machu Picchu is a new hotel, modern, clean and comfortable, with rather spacious rooms some of which have a beautiful and great view of the Vilcanota River. From 80 euros per night.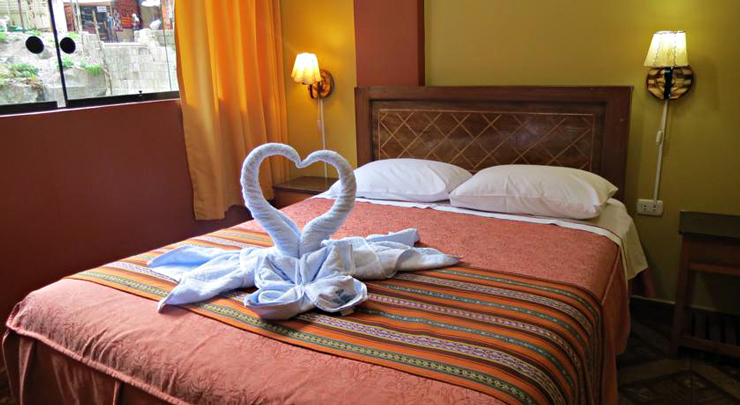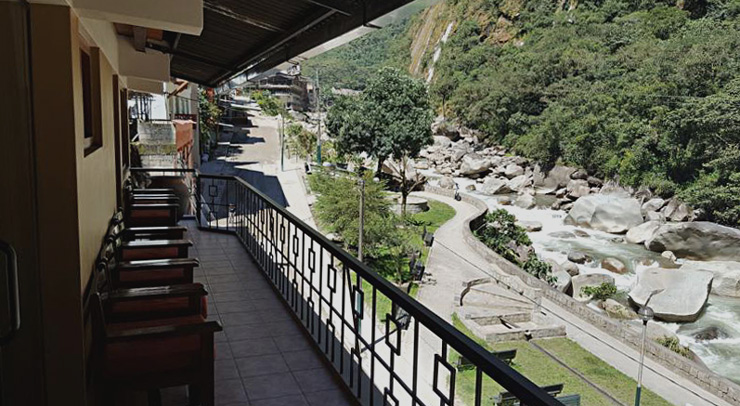 High-end hotels $$$$ – $$$$$
Do you want to enjoy an upscale stay, or even luxury at Machu Picchu ? Here are the establishments that offer the best value for money in their category:
Casa del Sol 4 * Boutique Hotel : This is an ideal hotel for a romantic getaway, with room overlooking the river and jacuzzi, a full spa (the K'intu Spa) on the 1st floor with pool, wet and dry saunas as well as a list of treatments and massages available. Breakfast and dinner are included with the night at Manko Restaurant. From 178 euros per night.
InkaTerra Machu Picchu Pueblo Hotel 5 * : The Inkaterra chain has been involved for a very long time inecotourism and the result is beautiful: a green oasis, on the banks of the Vilcanota river, which integrates perfectly with its environment with its garden. 5 hectares with 162 species of birds, 108 species of butterflies and even a cascade of fresh water. Fans of orchids hold well: there are also no less than 372 species of orchids! From 350 euros.
Machu Picchu Sanctuary Lodge 5 * : This hotel, a member of the prestigious Orient Express Company, is the only hotel on Machu Picchu. It is therefore a very exclusive hotel, with views of the Wayna Picchu, and this is its main argument for justifying the price of the rooms. From 950 euros.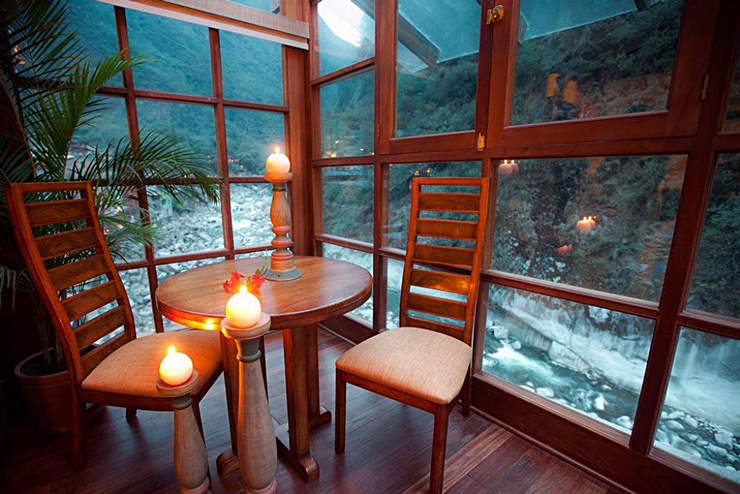 Sleeping in Machu Picchu: our practical tips
During your trip to Machu Picchu, the hotel can keep your luggage without problem, whether in Cusco, Ollantaytambo or Aguas Calientes.
Last tip for this section of the hotels in Machu Picchu: bring plugs for the ears ( earplugs ) Indeed, the windows are poorly insulated, the noise is very present in Aguas Calientes because it is a city of passage. You will see in hotel reviews that people complain very often about noise. So, unless you choose to choose a hotel a little out of the center, remember to bring to sleep well before Machu Picchu, especially since it does not take room in the backpack!
When to visit Machu Picchu?
Machu Picchu is open year-round, contrary to certain beliefs that circulate. What is closed is the trek of the Inca Trail during the month of February, for safety reasons, because of heavy rains. I specify, only the trek of the Inca Trail, not the other treks (ex: Salkantay ), not the Machu Picchu site, nor the Wayna Picchu, nor the Machu Picchu mountain.
The low season and the rainy season : it extends from December to April, but know that it is possible that it rains all year long. The most abundant rains are from January to February (this is the time to avoid as much as possible). In fact, the climate is very changeable in the region and it is difficult to predict the weather well in advance. The big advantage is that it is the season least frequented by tourists, but the climate is not necessarily ideal, whether to walk on the site, make a climb that can be slippery (ex : from Wayna Picchu) or take pictures as there is often fog. A tip: do not forget the raincoat !
The high season and the dry season : from May to September, Machu Picchu is more frequent, and especially between June and August where there is crowd. Sunday is the busiest day since locals also visit the site.
So: what is the best time to visit Machu Picchu? In fact each season has its significant advantages, so it is better to take the best of both worlds and go between the two seasons: from April to June and from September to November .
How high is Machu Picchu?
Machu Picchu rises to 2430m above sea level. In comparison, Cusco is 3400m.
Do we feel altitude sickness in Machu Picchu?
Normally the symptoms of mountain sickness or soroche can be felt from 2500m, especially if the climb has not been done gradually (arriving by plane). At this altitude it is normal to have shortness of breath, so you have to walk more slowly, take your time. On the other hand, concretely, the site is not particularly high and as the travelers generally spend at least 1 day (in Cusco or in the Sacred Valley) before going there, it is rather rare to feel bad on the site.
The Wayna Picchu (2700m) and Machu Picchu Mountain (3082m) are higher than the site itself. So you have to be extra careful if you plan to climb it: do not run, stay hydrated, and make sure you have allowed the body time to acclimatize.
The history of Machu Picchu
A Mecca of Inca architecture and the greatest symbol of Inca culture, Machu Picchu owes much of its preservation through centuries to the fact that it was never discovered by the conquistadors .
There are still many unresolved questions about the exact function of the site, but what we do know is that it was of great importance given its geographical location, with a religious and probably administrative function . It also served as residence to the emperor Pachacutec (1438-1471)
The discovery in 2016 of possibly pre-Inca drawings has opened a new perspective as to the age of the site. If the analysis confirms it, it would be the very first proof that there would have been a presence before the Incas on Machu Picchu. This is a possibility that is not at all far-fetched since it must be remembered that the Incas were great conquerors who invaded and dominated many civilizations throughout South America, occupying of course many of their buildings in passing.
Abandoned for an unknown reason, forgotten for centuries, it is Hiram Bingham, explorer and American professor who unveiled the existence of Machu Picchu internationally by publishing the discovery in the National Geographic of 1913 .
It is important to remember two things in order to relativize this "discovery":
Hiram Bingham did not discover Machu Picchu, he studied it with funding from Yale University, and made it known internationally through National Geographic. Even if the site had been abandoned by the Incas and was not inhabited, it was known by the local peasants and we even know that many foreigners went there before Hiram Bingham, adventurers and gold seekers among others. But nobody who had any interest in studying the site, nor revealing it publicly.
In discussion with Hiram Bingham 's expedition team in 1911 , Melchor Arteaga, a local farmer understood that they were looking for an Inca site. He mentioned that he knew a site (without knowing its importance) and guided him through the rainforest with his interpreter. Tired after hours of walking, they were greeted by Melquiades Richarte and Anacleto Alvarez with food water. It was then the little Pablo, an 11-year-old who took the baton to take them to the site. Without them, it's a safe bet that Machu Picchu would still be unknown! Their names deserve to be known.
What to see on Machu Picchu?
There is a lot to see on Machu Picchu, but here are the main attractions not to be missed on the site:
Agricultural zone : there are many terraces of agricultural culture on Machu Picchu. They grew corn and potatoes. Even today, it is a technique used by locals.
Urban area : there are several buildings and a main square that separates the "sacred" sector and the "administrative" sector. You will notice that to protect the citadel from rain wear, there is a pipeline between the urban and agricultural area to evacuate it.
Sacred area : if we still know little about Machu Picchu, its sacred function is indisputable because there are many temples and royal palaces. Recall that the Inca emperor was considered the son of the sun and Machu Picchu is an ideal place to dominate the region, strategically but also symbolically.
Temple of water : As for many pre-Columbian civilizations, water was considered sacred to the Incas, because agriculture was the base of their economy. This temple was a place of worship in the water.
Temple of the Sun : The Sun God was considered the supreme god among the Incas and the most imposing temples, like Coricancha in Cusco, were dedicated to him. One can admire their engineering talent with well polished and perfectly nested stones, without the use of cement. In the center is a half-moon shaped rock used for religious ceremonies.
Tomb of the Inca : being located under the temple of the Sun, without a natural cave, it is very likely that the deceased was a noble. The interior is a carved rock shaped staircase with an altar.
Ñusta dwelling : it is a two-storey building, located in the temple complex of the sun. The main hypothesis is that it served as housing for a priestess of great importance, who was highly respected by the Inca family. Given its proximity to the temple of the sun, it is clear that the building was very important.
Royal Palace : This is a large building with central patio and several rooms located at the bottom of the sun temple. It is therefore logical to assume that they had a strong connection with the sun and were therefore part of the royal family. The emperor probably resided there when he came to Machu Picchu
Sacred place : it is sacred because there are two great temples: the central Temple and the Temple of the three windows. In the center of the square is an altar-shaped rock, probably for lamas sacrifices, very widespread in the Inca period because human sacrifices were very rare among the Incas
Central Temple : there are small niches that were to contain sacred objects (probably gold). In the center of the temple is a rectangular rock on which were to be placed objects used during ceremonies.
Temple of the three windows : several hypotheses have been advanced for the symbolism of the three windows. One of them wants it to be related to the beginning of the Inca people since a legend states that 4 brothers came out through 3 windows. But according to the type of architecture of Machu Picchu, we know that it was not built at the beginning of the empire.
Mortar Palace : its name comes from the 2 cut mortars found in one of the rooms. It is believed that they were used to dye fabrics and were then dried on the stones coming out of the walls.
Intihuatana : more than a solar clock, it is a real solar calendar that was used by the Incas and with which they established the seasons and could predict the temperature.
Funerary rock: it is a cut rock of which a part comes out with a small hole. It was probably used to put the mummified body there to hold it. There is also a kind of stairs, probably used by the priest during the funeral ceremony.
House of the Guardian : we often wonder where do we take the famous classic photo of Machu Picchu? It is from the House of the Guardian (Casa del Vigilante), which is the highest building of Machu Picchu, located at the top of the farm terraces, next to the funerary rock.
Around the site
Inti Punku or the Sun Gate : this is the place that marks the end of the Inca Trail trek. It is also accessible from the site, without participating in the trek. It offers a magnificent view of Machu Picchu and the valley!
Wayna Picchu : This is the mountain behind the classic photo of Machu Picchu. It is very popular with travelers because its rise is quite an experience. To access it, you have to buy your ticket in advance.
Temple of the Moon : This is an Inca temple where you can access the Wayna Picchu
Machu Picchu mountain : not to be confused with the site of Machu Picchu itself. It is the other mountain that offers a panoramic view of the site and the surrounding area, facing Huayna Picchu. It is higher than the latter, with a longer mountain but less physically demanding.
What to bring to Machu Picchu
Do not load too much, it's useless. Take a small daypack and you can easily leave your biggest bag (or suitcase ), either at your hotel in Cusco or Aguas Calientes, depending on where you spent the night.
Here's what to bring for the visit to Machu Picchu:
Bottle of water
Solar cream
Hat or cap
Sunglasses
A t-shirt and a warm sweater (to put and remove as and when)
Good hiking shoes comfortable
Wool or polyester socks
Rain poncho or raincoat (it will be useful! Especially from November to March)
The bans on Machu Picchu
According to Article 19 of Ministerial Resolution No. 070-2017-MC, here is the list of restrictions on Machu Picchu:
The forbidden objects on Machu Picchu
The use of tripods, supports or extensions for camera / mobile phones (cell phones), or any other element of the genre including  selfie sticks  (except with special authorization from the National Commission for Culture)
The Backpacks / bags of a size greater than 40x35x20 cm (if they are to be deposited into a bin located at the entrance of the Inca citadel)
Of food (but small snacks appear to be tolerated)
Illegal substances or alcohol (or being under influence)
Umbrellas or parasols
The animals, except guide dogs and only in critical cases
Paint or aerosol
Musical instruments , megaphone , speakers
The high heels or shoes with rigid soles (only soft-soled, comfortable shoes kind of tennis, hiking shoes are accepted)
Strollers (baby carriers are accepted, but only without metal)
Sharp objects , sharp or weapon of any kind
Banners , posters , flags, banners, etc. (only guides with more than 5 travelers are allowed to use them, with subsequent approval of the format)
Clothing intended for advertising and promotional purposes
The tip sticks or hard metal (rubber-tipped sticks will be allowed for visitors to the 3 th age or with an obvious physical disability)
Other prohibitions on Machu Picchu
The use of applications for smartphones or electronic devices is prohibited in narrow places, trails, congestion areas on Machu Picchu. It is possible to use them in wide areas and explanatory points.
It is forbidden to jump, leap, run, create disorder or confusion
It is forbidden to climb or lean against walls or structures, touch , move or extract elements (lithic or cultural), extract, harvest or disturb native flora or fauna.
It is forbidden to carry out activities that distort the sacredness of Machu Picchu (dance, fashion show, ceremonies, etc.)
The lewd acts , contrary to morality or to morality  are forbidden (to be naked, disguise, lie)
It is forbidden to make any loud or disturbing noise such as applauding, shouting, whistling, singing, or disturbing the tranquility or sacredness of the Inca city of Machu Picchu .
It is forbidden to smoke or vapote (electronic cigarette), to light a fire, to throw residues .
It is forbidden to leave established circuits and routes
It is forbidden to feed animals
The paragliding are forbidden, as are the UAVs or any other device of its kind to film or photograph the site for advertising purposes or in high-risk locations.
Are you traveling to Peru?
Are you going to Peru? Read also!
All our articles about Peru are here:  Find all the guides we have written here!