Tuesday, May 8 opens the 71st Cannes Film Festival. 21 films are in official competition for the Palme d'Or, and 15 of them have received funding from European countries. So who to succeed The Square Swede Ruben Östlund?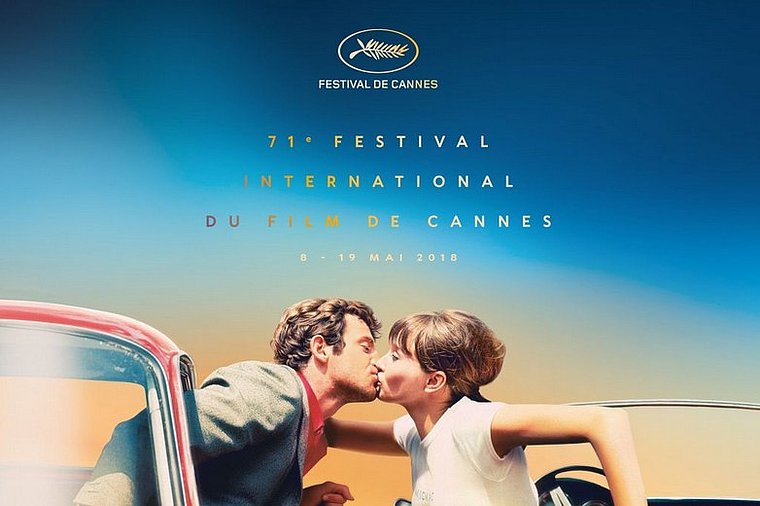 Official poster of the Cannes Festival 2018 – Credits: Model: Flore Maquin – Photo: Pierrot the Fool © Georges Pierre
As every year, to read the list of filmmakers whose films are selected in competition, we notice many regulars.
Jean-Luc Godard and Nuri Bilge Ceylan
Jean-Luc Godard, 87, and Franco-Swiss director of A bout de souffle (1960) and Mépris (1963) is probably the most famous. The official poster of the Cannes Festival 2018 is from another of his greatest hits: Pierrot le fou (1965). This year, he will present his latest feature film, a new cinematographic experiment entitled The Picture Book .
Another festival subscriber is Turkish Nuri Bilge Ceylan. He is the only one this year to run for a second Palme d'Or, with Le Poirier sauvage . He received the highest award in 2014 for Winter's Sleepafter receiving three other awards in previous editions. And as for all his films, Nuri Bilge Ceylan has resorted to a model of European co-production, with funding coming from … 7 countries: Turkey, Germany, Bosnia and Herzegovina, Bulgaria, France, Macedonia and Sweden.
4 films supported by MEDIA

In the official competition, four films received financial support from the MEDIA program of the European Union: Cold War , Dogman , Les Daughters of the Sun and Happy as Lazzaro . On all the selections of the festival, there are 18 films that received EU funds.
European favorites
Other favorite films for the Palme include several European productions.
This is the case of Cold War , the Polish Pawel Pawlikowski. Winner of the Lux Prize of the European Parliament and the Oscar for best foreign film for Ida in 2013, he returns in 2018 with a new historical and black-and-white feature film about the history of his country.
Dogman , detective film of the Italian Matteo Garrone, double winner of the Grand Prix of the Cannes Film Festival in 2008 for Gomorra and 2012 for Reality , could also emerge victorious.
Just like In war , French Stéphane Brizé, with Vincent Lindon. A film that is a continuation of The Market Act , the director's penultimate film, which also featured the actor, winner of the interpretation prize for his performance. After embodying a long-term unemployed person turned into a supermarket watch, he is this time a union leader at war against a plant closure.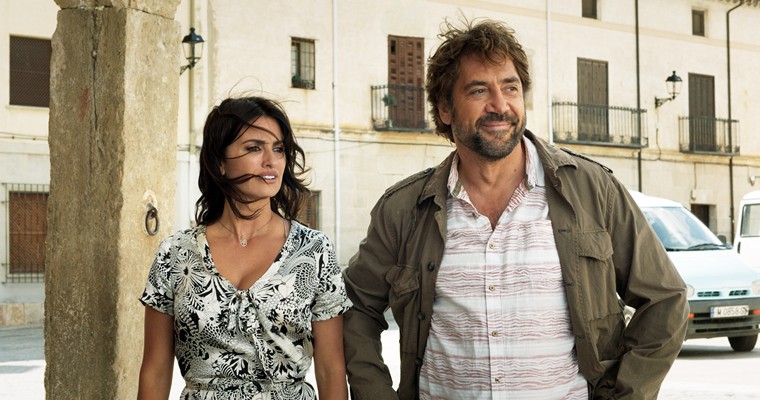 Image extracted from Asghar Farhadi's Everybody Knows – Credits: Memento Films
Everybody Knows , from Iran's Asghar Farhadi, author of A Separation , Oscar for best foreign film in 2012, also appears as a very serious candidate for the Palme d'Or. Co-produced by Spain, France and Italy, shot in Spanish with Penelope Cruz and Javier Bardem as lead actors, the film was chosen for the opening of the festival on May 8 and deals with a buried family story that resurfaces violently.
Happy as Lazzaro , the Italian Alice Rohrwacher, awarded the Grand Prix of the Cannes Film Festival in 2014 for Les Merveilles , is also on this list of European favorites for the 2018 Palme d'Or. This will be the opportunity to find Nicoletta Braschi, lead actress of La Vie is beautiful Roberto Begnini, also Grand Prix in Cannes, in 1998.
Finally, Pleasure, love and run fast , the new film by French Christophe Honoré, is also highly anticipated. In competition in 2007 for Les Chansons d'amour , the director of the Beloved (2011) tells the story of love between two men at the turn of the 1990s when AIDS is raging. The film will echo, in a softer and melodramatic style, at 120 beats per minute , César for the best film last February and Grand Prix at the Cannes Film Festival in 2017.
Where are the women ? 
In 2017, there were 3 women filmmakers (out of 19) competing for the Palme d'Or. In 2016, they were 3 out of 21, and in 2015, they were 2 out of 19. This year, they will be 3 out of 21. The Cannes Film Festival, like all the other highlights of world cinema, is therefore still far from parity. . Even if the jury of this 71st Cannes Film Festival will be the 12th to be presided by a woman, in this case the Australian actress Cate Blanchett.
Two French outsiders
Besides War and Pleasure, love and run fast , two other French films, less famous directors than Stéphane Brizé and Christophe Honoré, are also in official competition.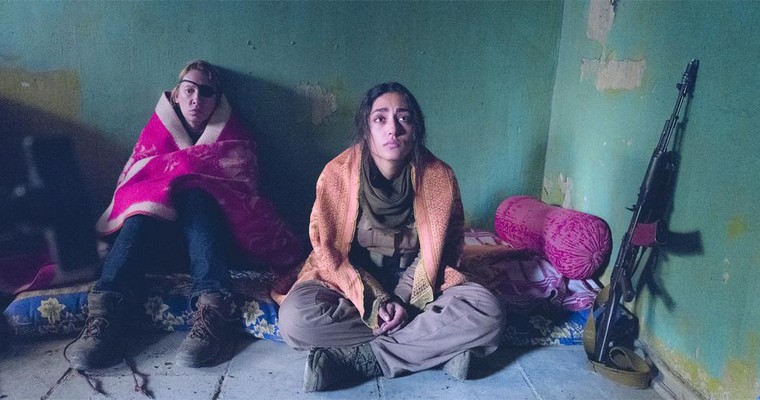 Image from Eva Husson's Girls of the Sun – Credits: Maneki Films
The first is the Girls of the Sun , Eva Husson, who follows the story of a battalion of Kurdish women led by Golshifteh Farahani. Particularly seen in Paterson , competing in Cannes in 2016, the Iranian actress has been banned in her country for several years for being shown the face discovered abroad.
And it is then A knife in the heart , a thriller of Yann Gonzalez, with Vanessa Paradis in pornographic film producer caught in a strange and violent investigation.
Finally, five other films in competition, made by non-European filmmakers, received funding from at least one EU Member State. German and Polish production companies participated in Ayka , by Kazakh director Sergei Dvortsevoy. Frenchmen have co-produced Asako from Japanese Ryusuke Hamaguchi, Eternals from Chinese Jia Zhangke and Capernaum from Lebanese Nadine Labaki. Finally, Yomeddine , Abu Bakr Shawky's Egyptian film, has received Austrian funding.
The other films in the running for the Palme d'Or

6 out of 21 films have not been produced or co-produced by European companies. It is BlacKkKlansman (United States, Spike Lee); Burning (South Korea, Lee Chang-dong); Summer(Russia, Kirill Serebrennikov); Three faces (Iran, from Jafar Panahi); Under the Silver Lake (USA, by David R. Mitchell); A family affair (Japan, from Hirokazu Kore-eda).
Lars von Trier and Terry Gilliam out of competition
They could have been part of the official selection but will eventually be screened out of competition: The House That Jack Built , Dane Lars von Trier and The Man Who Killed Don Quixote of British Terry Gilliam.
The first recipient of the Palme d'Or in 2000 for Dancer in the Dark was persona non grata at the Cannes Film Festival for uttering more than doubtful statements about Adolf Hitler in 2011. That's no longer the case .
While the latter has finally been able to complete a project dating back several decades and having suffered the worst setbacks that a director can know. It may not be over for the former member of Monty Python because the screening of his film at the end of the festival on May 19 is suspended in a court decision, his former producer accusing him of flouting rights he would have on the film …