Are you leaving for 1 week in Mallorca? Here is a route you can use to prepare your stay!

In August 2018, we went 1 week to Mallorca ! To tell you everything, a few months ago, Mallorca was not necessarily one of the destinations that made me dream … The first thing that evoked me this island of the Balearic Islands was mass tourism, disproportionate and anarchic! I imagined crowded beaches, bars of buildings and a concrete coastline … And I was not so far from the truth, it is indeed one of the facets of Mallorca! But luckily the island can not be reduced to that! She has many other facets much more enjoyable;-)
When I decided to leave a few weeks in the spring, I was interested more closely in the Balearic Islands and Mallorca in particular since the island is very easily accessible by plane from Paris or Lyon. I had then discovered an island with contrasting landscapes and much more preserved than I would have thought! Even if I had finally decided to spend these 1 week in Corsica , I had kept Mallorca in a corner of my head for a short trip out of season. The opportunity to discover the island finally came sooner than expected since a couple of friends decided to celebrate their wedding! A dream opportunity and a beautiful event:-)
1 week in Mallorca: my discovery itinerary …
Car rental in Mallorca
I advise you to rent a car to visit Mallorca! The prices are very affordable (I do not think I have already paid so little for a week of car rental!) And it's really the best option to discover the island at your own pace! To find our hire car at the best price, we have used Rentalcars offer comparison
The roads are in good condition, driving does not present any particular difficulties.
1 week in Mallorca
Day 1: Lyon – Palma de Mallorca
Palma de Mallorca is quickly accessible by plane from Lyon or Paris. To find our flight at the best price, we used the Skyscanner comparator . The easyjet company presented the best rates on our dates from Lyon airport (60th AR, duration: about 1h30).
Once arrived at Palma airport, we picked up our rental car for the week and we rejoined our hotel in the center of the city. For once I will not share the address of our accommodation because clearly we missed it there! And yes it happens even bloggers trip ;-)We took it at the last moment and we fell back what was left in our budget (a hundred euros all the same, the most expensive of all our hotels in Mallorca! ) … But help! He went directly to our top 5 worst hotels! In short, I can tell you that we quickly emerged to enjoy our evening in the bustling center of Palma and we came back very late, pushing the deadline again and again with great strokes of sangria:-D
Overnight in Palma de Mallorca – Find your accommodation in Palma de Mallorca at the best price here ! 
1 week in Mallorca
Day 2: Palma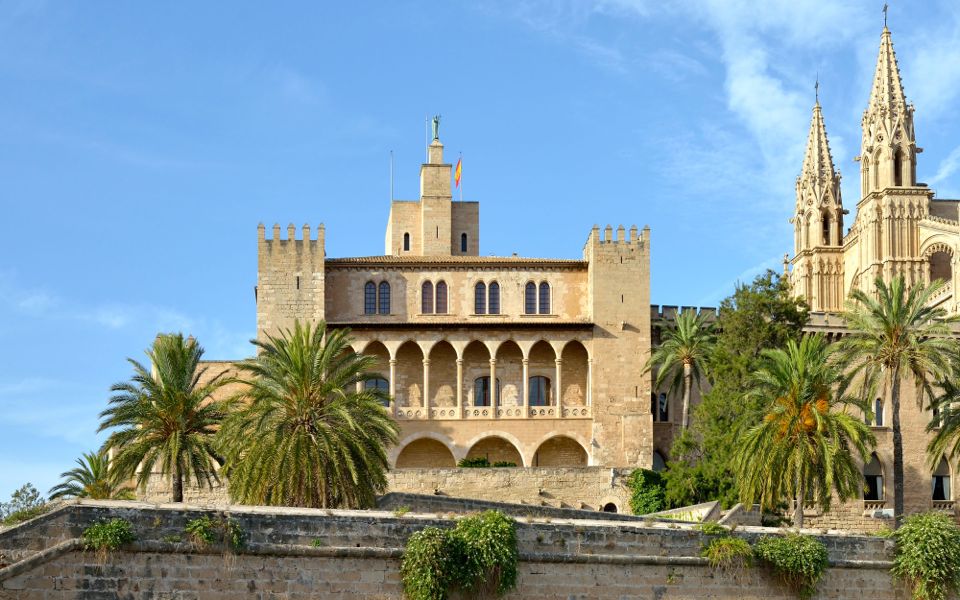 After a night as short as hectic, we went to discover the treasures of Palma ! We spent a good part of the day visiting the city and it was a real good surprise! Beyond its imposing cathedral, the old city has a charm. I loved to be surprised by its narrow and winding streets, its pretty squares, its old palaces and their adorable flowery patios …
At the end of the day, we left Palma to go to the wedding of our friends! Unless you also have a wedding ;-), you can continue your visit by the Pilar and Joan de Miro Foundation located on the heights of the city. We would have loved to make this visit but by strolling in the streets of Palma we ran out of time!
Overnight in Portals Nou, in Palma Bay – OD Port Portals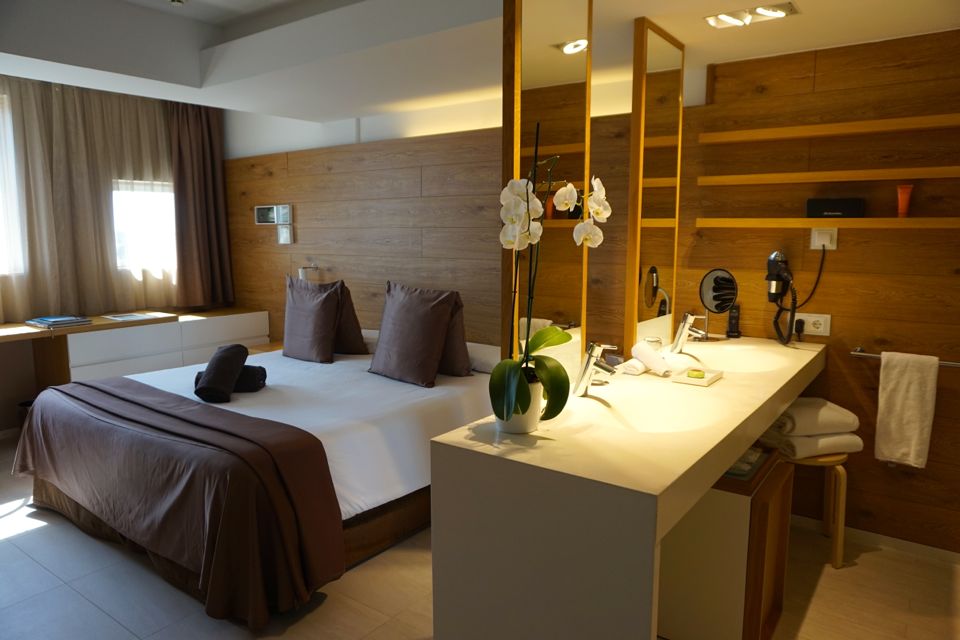 1 week in Mallorca
Day 3: Southeastern beaches and coves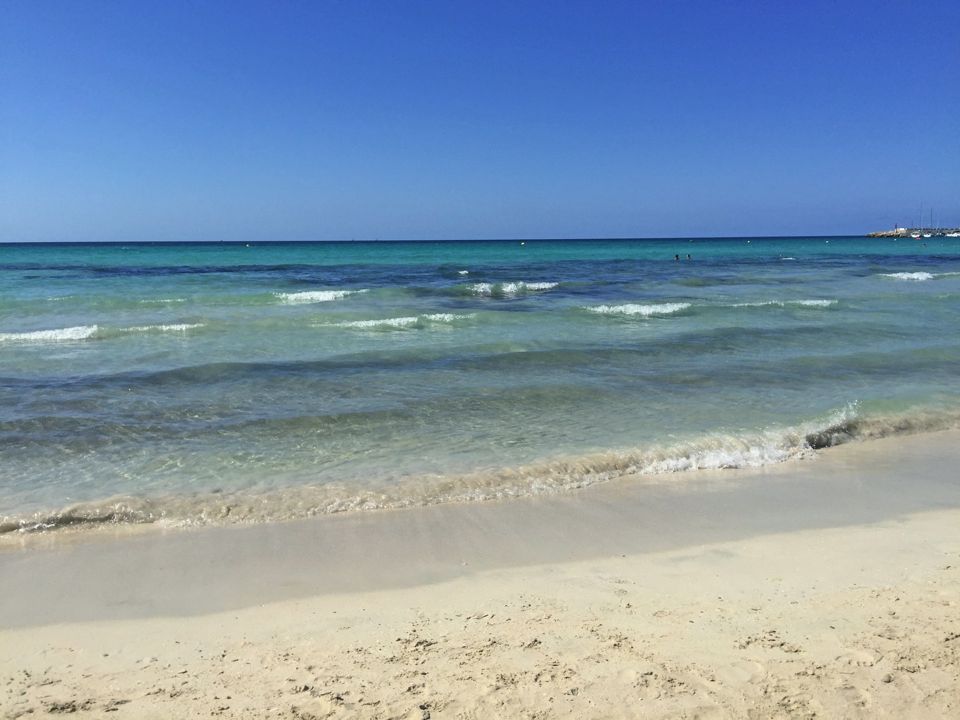 After a typical Mallorcan brunch on the large white sand beach of Sa Rapita, we went to discover some coves of the south east coast of the island: cala Llombards, cala Santanyi and cala Sa Nau. The Cap des Salines and the small fishing port of Cala Figuera are also worth a visit!
In September, the beaches are still well attended and the small coves are filling quickly so if you want to be quiet I advise you to arrive early.
Overnight in Manacor – Agroturisme Rafal Nou .
1 week in Mallorca
Day 4: Serra de Tramuntana – North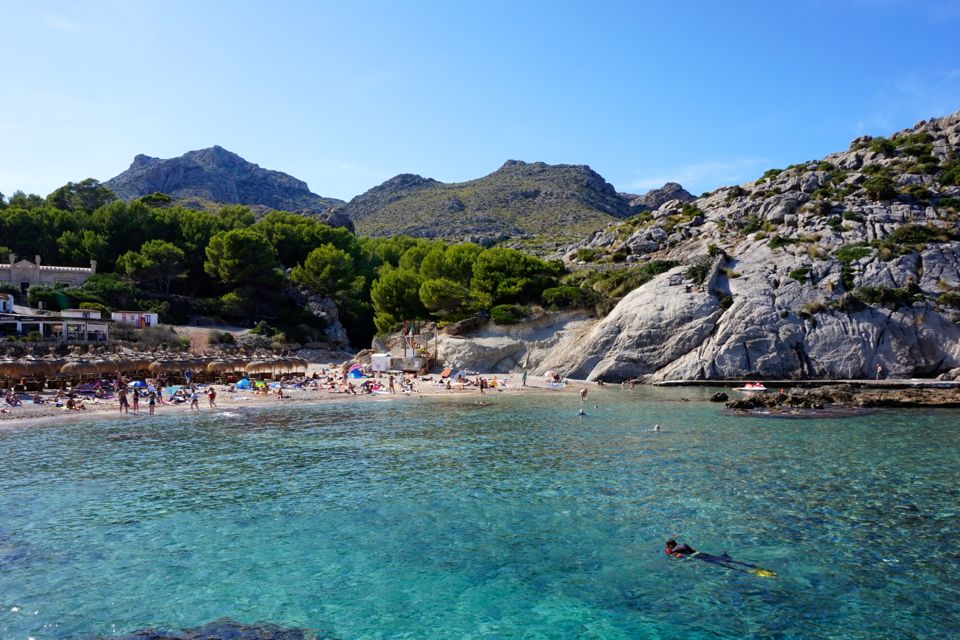 After the coves of the south east of the island, head to the northern tip with Cape Formentor ! After a first stop in the pretty village of Pollença, we advance on the winding road that leads to Cape Town. Difficult not to stop every 200 meters to take pictures so the landscape that runs before our eyes is spectacular. Steep, jagged cliffs that plunge steeply into a sea of ​​indecent blue … A little air of the end of the world … Here we are before a breathtaking panorama that is reminiscent of the tip of the grand watch in Guadeloupe .
We had our afternoon at the beach !! We have set our sights on Cala Sant Vicenc where 4 coves with turquoise water follow one another.
Night in Cala Sant Vicenc – Hotel Hoposa Niu .
1 week in Mallorca
Day 5:  

Serra de Tramuntana – Center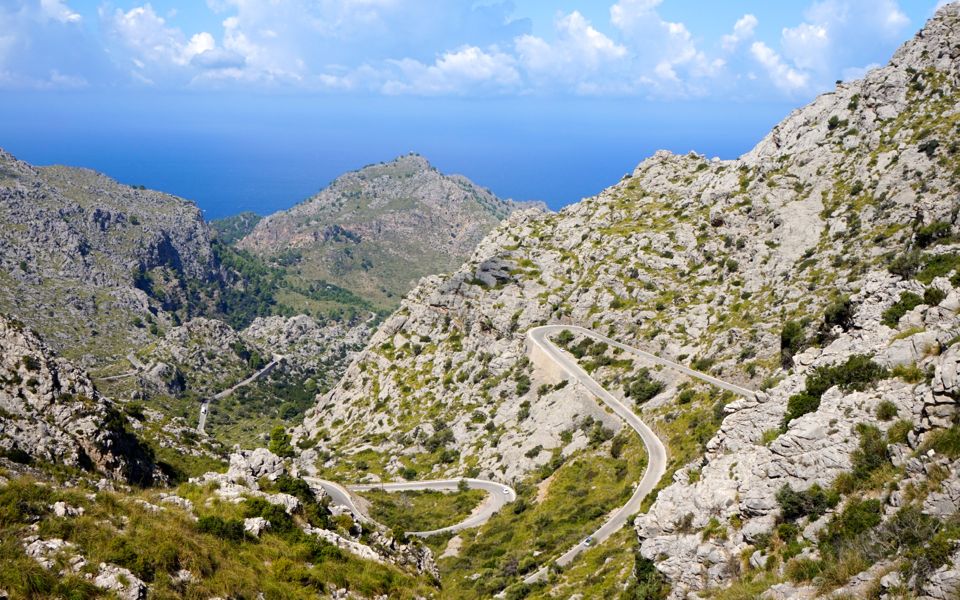 We go through Serra de Tramuntana, a mountain range classified as World Heritage by Unesco. Urbanization is less present to give way to a succession of wild capes, olive trees, orange trees, vineyards, turquoise coves and picturesque villages. The landscapes follow one another and amaze us. We reach the apotheosis on the road to Sa Calobra. This small cove is worthy. The road to access winds along the limestone cliffs. The turns are tight and you must have a good heart! The creek of Sa Calobra is pretty but it is especially the Torrent of Pareis, a long canyon, located at the end of the creek, which impressed me!
We devote the end of the afternoon to the visit of Soller. The old center is rather nice.
Night in Soller – Hotel Ca'l Bisbe .
1 week in Mallorca
Day 6:  

Serra de Tramuntana – South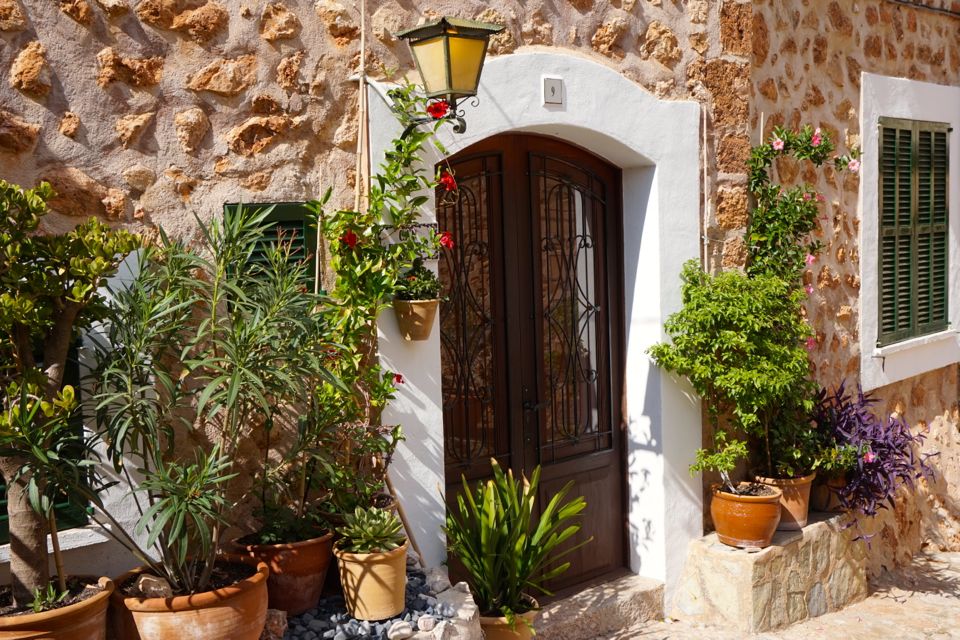 We dedicate this day to discover the small picturesque villages of Serra de Tramuntana! Fornalutx, Biniaraix, Deià, Valldemossa, Banyalbufar, Andratx … They all have a lot of charm even if Fornalutx is my favorite followed closely by Deià 😉 On the other hand I hung less with Valldemossa that I found certainly charming but not very authentic with its a string of souvenir shops.
The road to Andratx Corniche in Soller is beautiful, the views they offer on the coast and the sea are breathtaking!
Overnight at Carretera Palma Puigpunyent – Finca Hotel Son Bridge .
1 week in Mallorca
Day 7: Palma de Mallorca – Lyon
After a great breakfast and a last stroll, it's time to get back to the airport!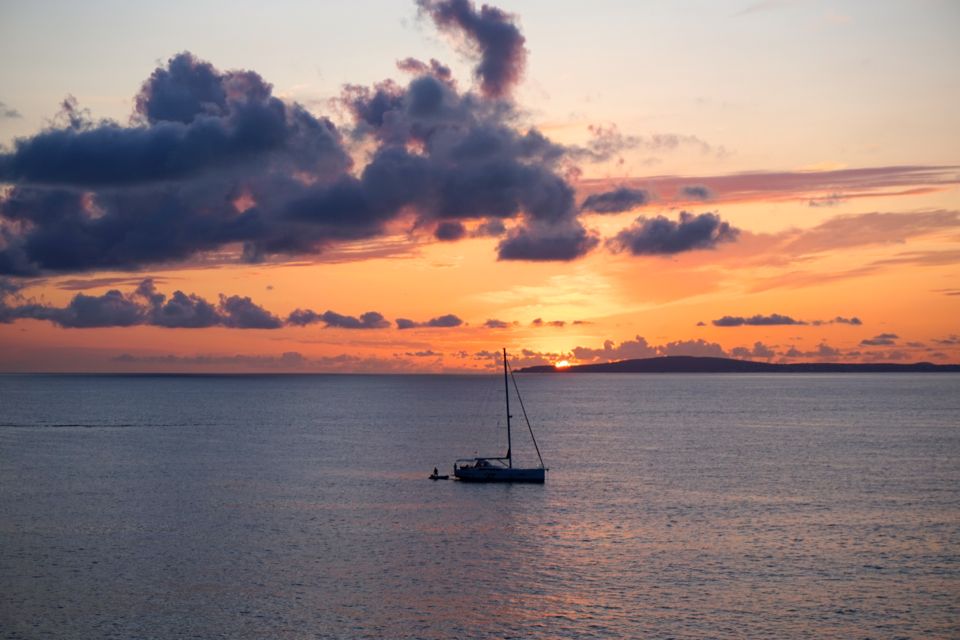 Visit Mallorca: When to go?
With 300 days of sunshine a year , there is not really a bad time to go to Mallorca!
The most favorable months are May, June, September, October : it is still hot, there are fewer tourists and prices are falling.
In winter, the sun shines and there are few tourists but be careful because many hotels close.
In summer it is very hot and there are a lot of tourists. Beaches and hotels are crowded, prices are blazing. I advise you to visit the hinterland, less run and yet beautiful!
Visit Mallorca: practical information
Health: no vaccine recommended

Paper (for EU nationals): valid identity card

Flight duration: 1h50 (direct flight from Paris)

Language: Catalan and Spanish

Currency: euro
Useful links: